If, like me, you're left with a surplus of carrots once you've practically eaten your body weight in homemade hummus and carrot sticks, then these healthy carrot cake muffins make a great brekkie or snack option!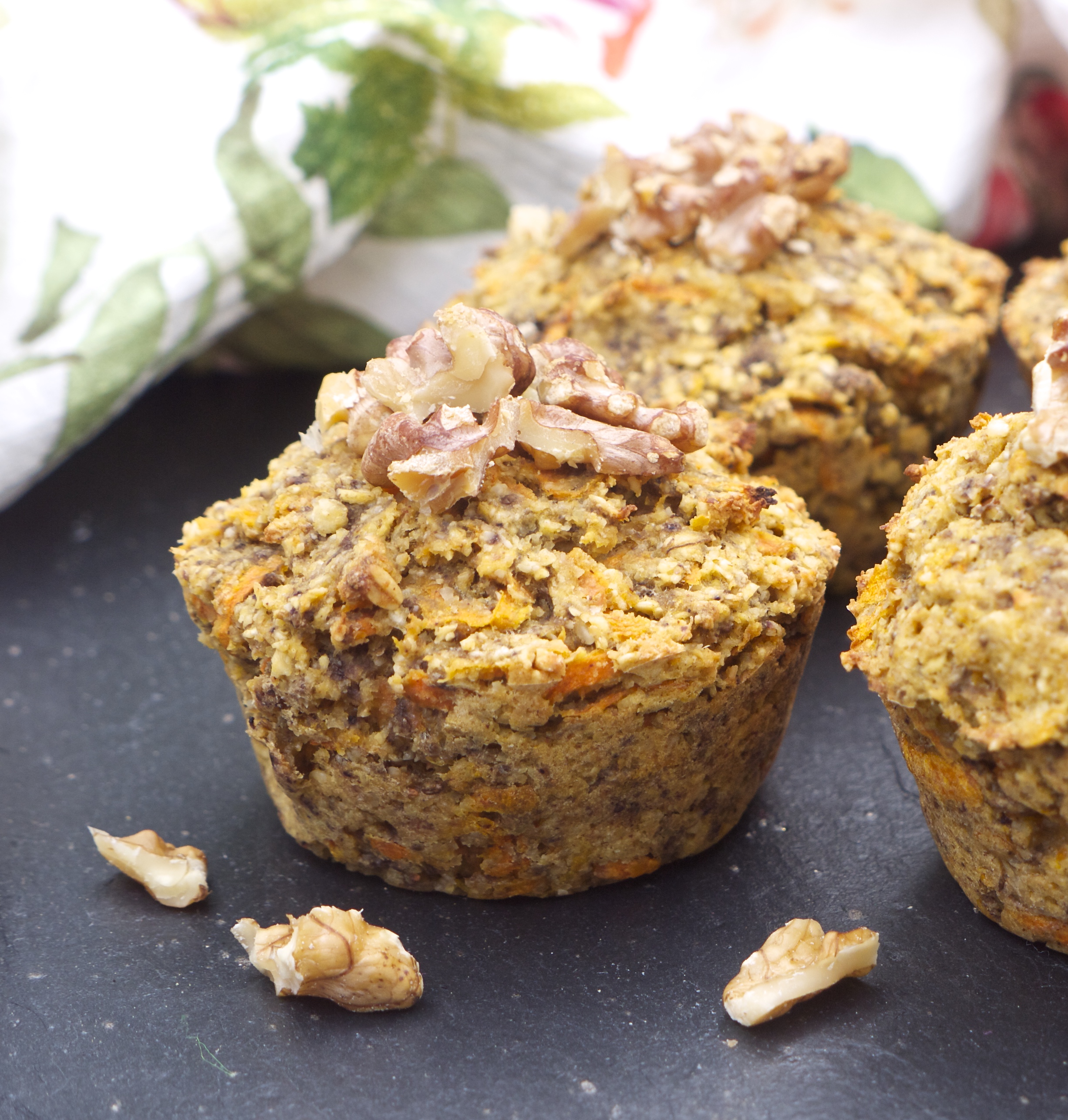 They're full of fibre and beta-carotene, that incredible antioxidant nutrient credited with brightening your complexion and helping to heal damaged skin cells.
Naturally sweetened with homemade apple puree, cinnamon, vanilla and the earthy sweetness of carrots, they make an excellent, portable brekkie, snack or post-workout pick-me-up.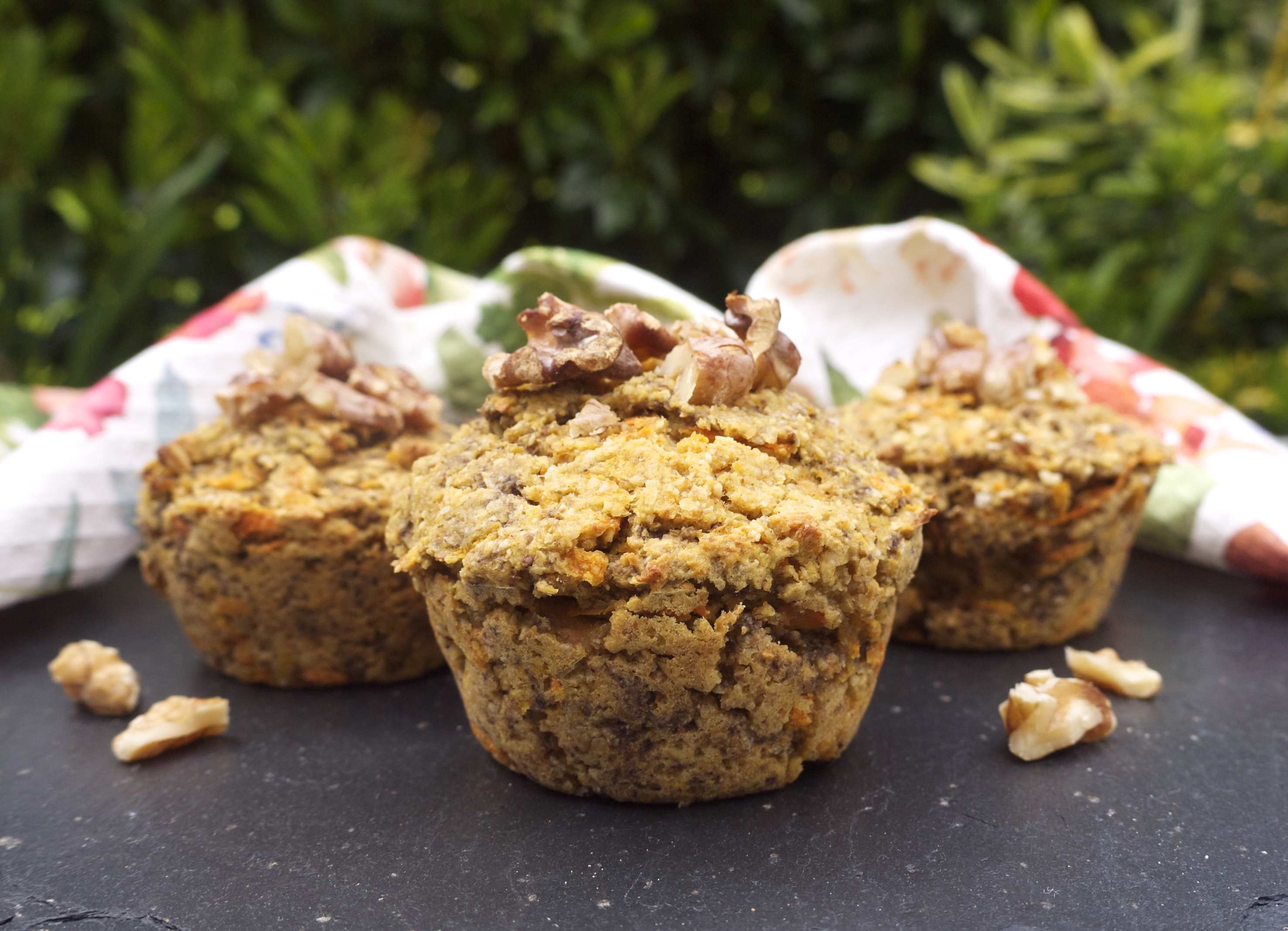 Porridge oats form the base of these muffins, but rather than using them whole, I simply whizzed them up in my blender for a minute to grind them down into a flour. It's a great to make your own healthy flour at home and works well in biscuits and pancakes too.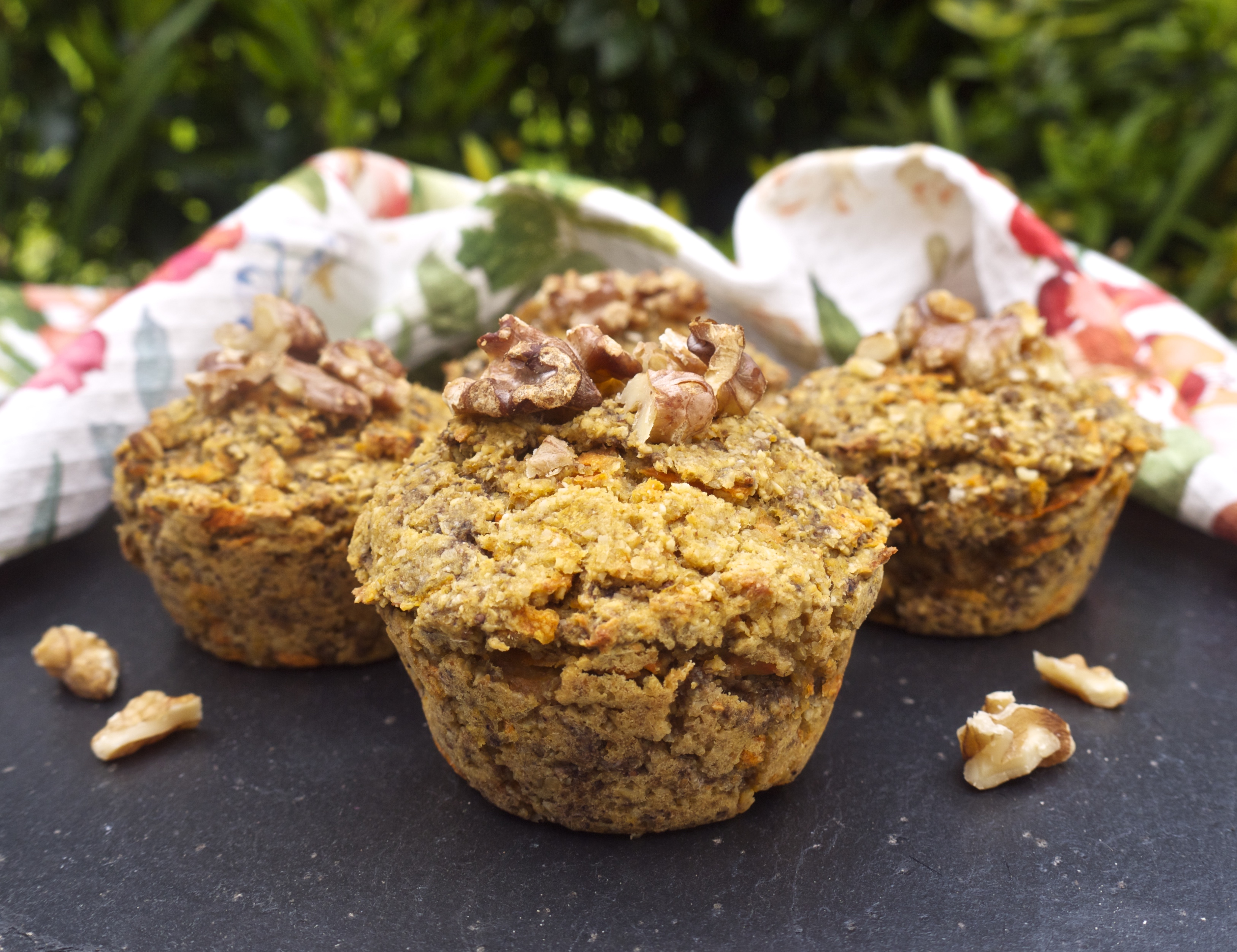 To really bump up the fibre, protein and healthy fat content, I used ground chia seeds and ground almonds. They lend a great dense texture and help to bind the ingredients together, meaning there was no need for me to add any sort of fat or oil. This helps to keep the energy content to below 200 calories each 🙂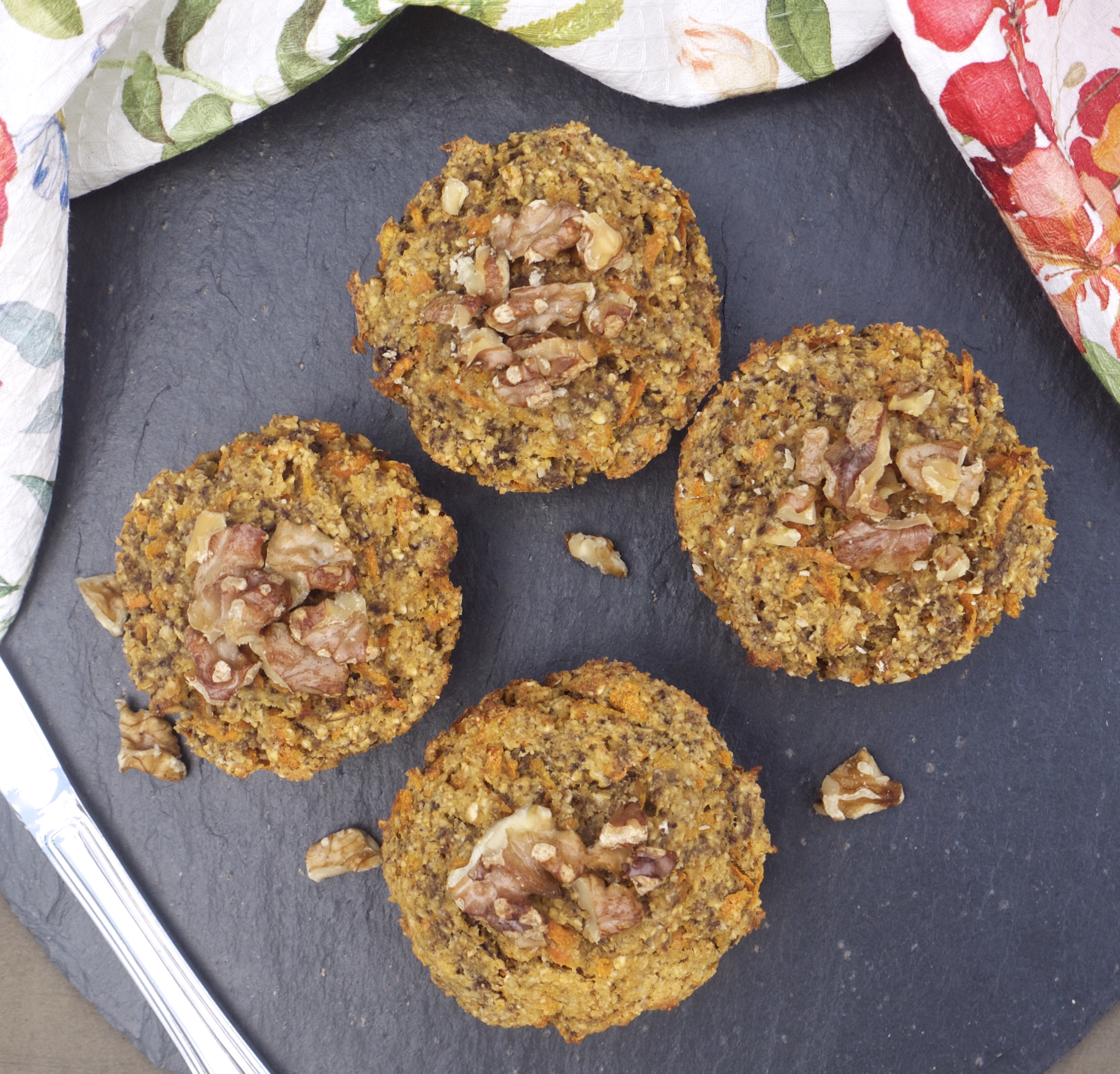 Feel free to experiment with filling additions for the muffins… raisins, dried cranberries or goji berries would add a tasty pop of sweetness, and rather than putting crumbled walnuts on top as I did, you could add them to the mixture. Like nutmeg or ginger? Add in a little of either or both to change up the flavour.
The circular slate I serve them on is from Slated.ie and helps to make the orange colour stand out even more!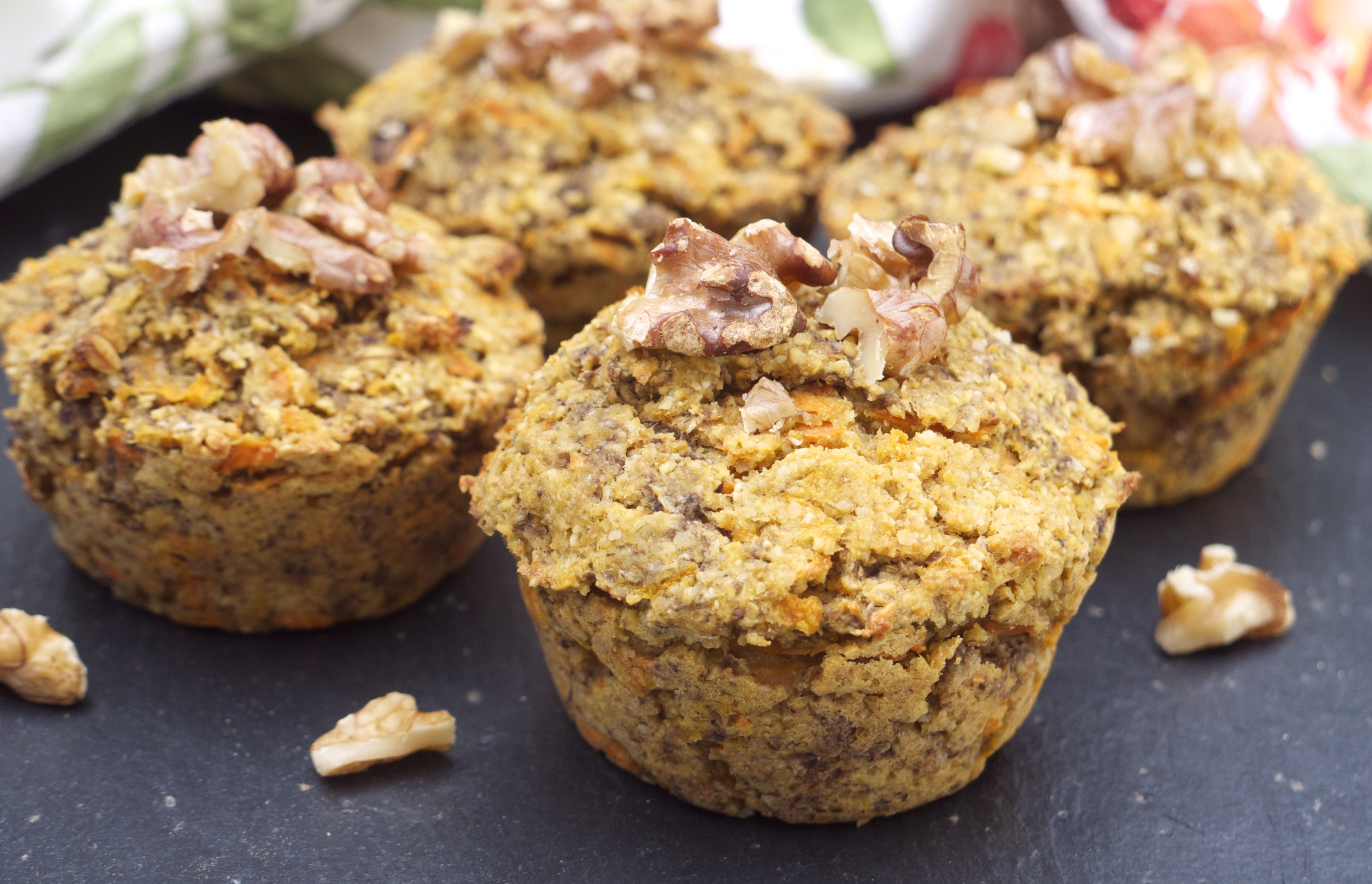 I would love to know if you get a chance to make these Healthy Carrot Cake Muffins! Simply tag #RosannaDavisonNutrition on Instagram or Twitter or come on over to my Facebook to say hello! 🙂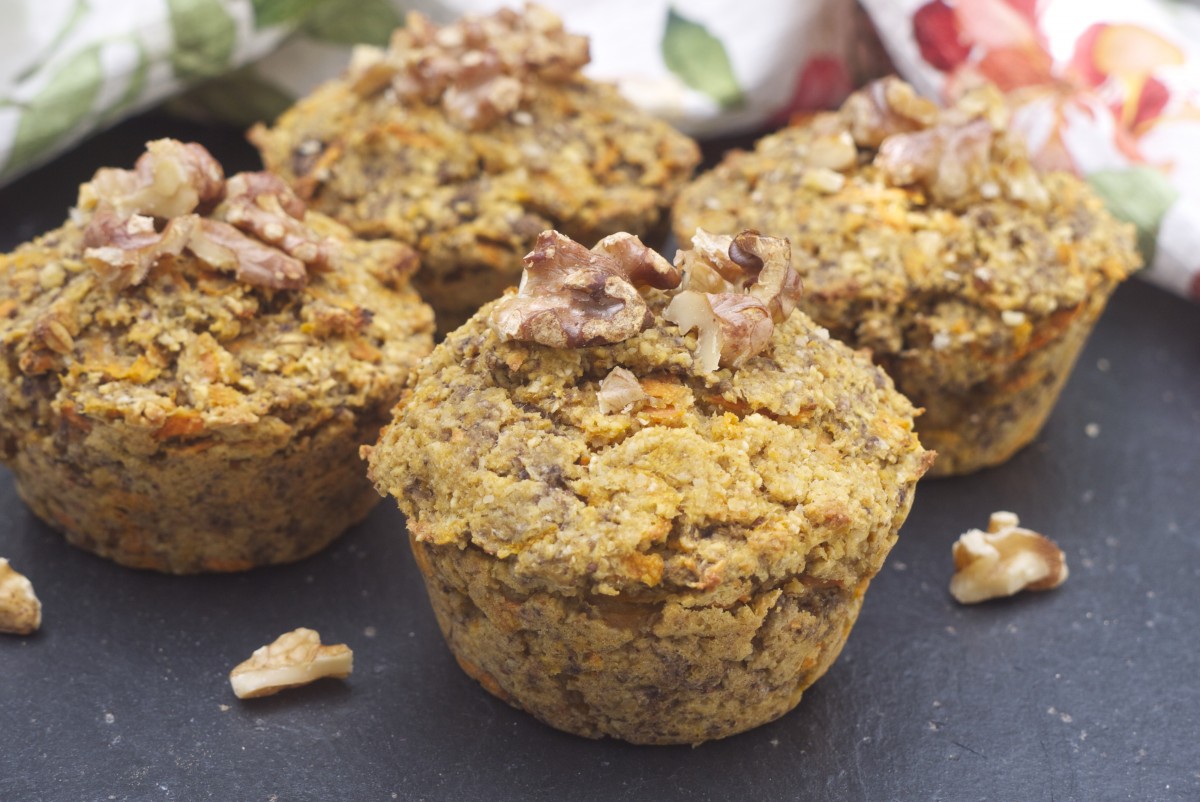 Healthy Carrot Cake Muffins
2016-04-25 13:51:22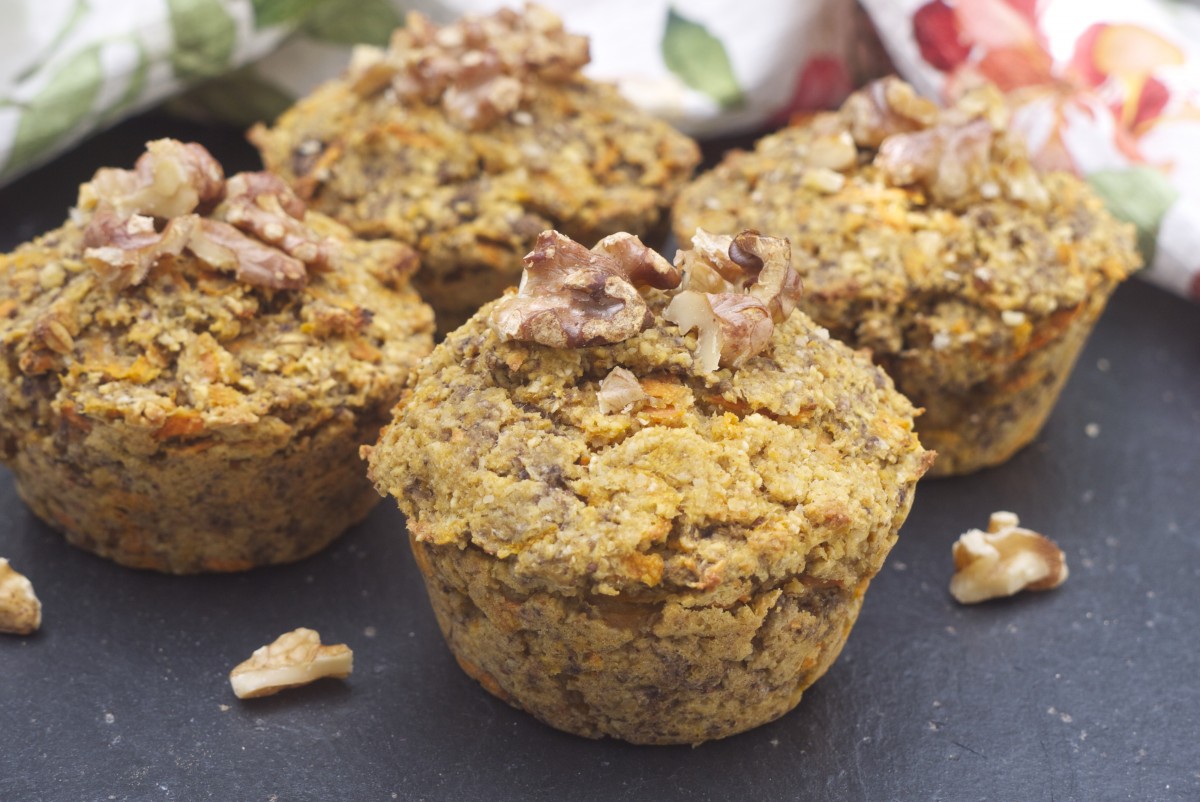 Healthy, nourishing and filling muffins, ideal for breakfast on the go, or as a satisfying snack. Naturally sweetened with apple puree and packed with fibre and beta-carotene, they're delicious served with nut butter. Nutrition Information Per Muffin: 198 calories, 6.8g protein, 29.9g carbs, 6.8g fat, 7.8g fibre
Ingredients
virgin coconut oil, to grease
2 tbsp ground flaxseed or chia seeds
6 tbsp cold water
135g (1.3 cups) porridge oats (I used a certified gluten-free brand)
3 tsp Natvia or 1 tbsp honey/maple syrup
1 tsp ground cinnamon
1 tsp vanilla extract
1 tsp baking powder
4 tbsp ground almonds
2 medium apples (I used Pink Lady), rinsed, cored and quartered
1 large or 2 small/medium carrots, peeled and grated
6 raw walnuts, crumbled, to serve
Instructions
Preheat the oven to 190C and lightly grease a muffin tin with coconut oil
In a small bowl, mix together the chia/flaxseed with the cold water and set aside for 5 minutes
Pour the oats into a blender and blend at high speed for 1-2 minutes until it forms a finely ground flour. Transfer to a large mixing bowl.
Add the Natvia, cinnamon, vanilla, baking powder and ground almonds to the oats and mix well.
Place the chopped apple into the blender and blend until a smooth apple puree forms, using water to blend if necessary.
Add six tablespoons of the apple puree to the oat mixture (any leftovers can be saved to use as a topping for porridge or added to smoothies).
Add the grated carrot and mix everything together well until a thick dough forms. Add the chia/flaxseed mixture and mix well, breaking down any lumps.
Spoon the mixture evenly between the greased wells of the muffin tin and top with walnut pieces.
Bake at 190C for about 25 minutes, until golden-brown and firm to touch.
Remove from the heat and allow to cool on a wire rack for 10 minutes before serving.
Notes
Any leftovers can be stored in an airtight container in the fridge for up to 3 days.
Rosanna Davison Nutrition https://www.rosannadavisonnutrition.com/