Morning guys!
I hope you all had a brilliant weekend 🙂
I made this sweet potato stuffed with black bean chilli last night for me and my husband, and it was a great success! He's a meat-eater, so I'm always trying to come up with meat-free meals that are really tasty and filling. He needs plenty of food, and especially on gym days. So his meals need to have plenty of protein, fibre and complex carbs to give him the energy he needs.
I had bought a couple of big sweet potatoes and was trying to decide what to do with them. They're so versatile and make awesome soups, dips, fries and even sweet recipes like sweet potato custard and sweet potato brownies. So much more delicious than they sound, I promise!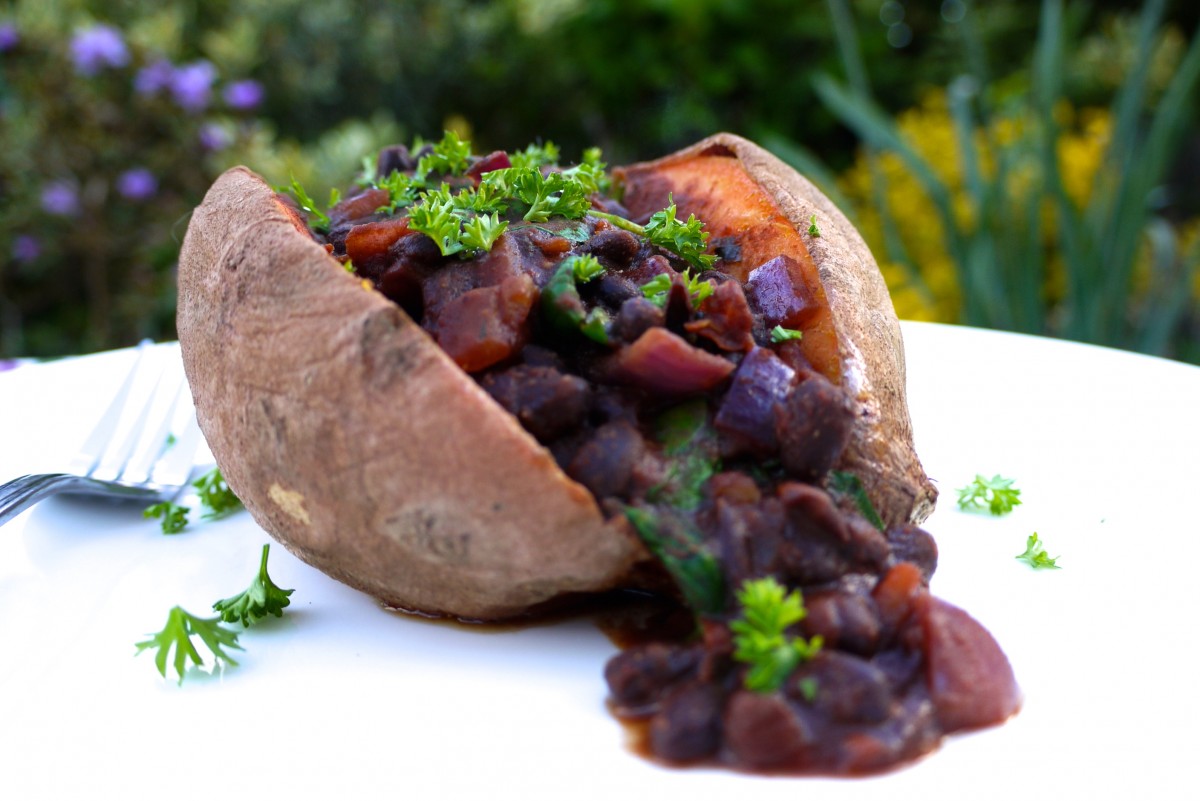 Sweet potatoes are full of beta-carotene, which gives them their bright colour, and it's incredible for keeping our skin healthy and glowing. Compared to normal potatoes, they're slower to break down in our digestive system, so that their carbs don't release quickly into our bloodstream, causing insulin levels to spike. They keep our tums feeling full for hours. Hurrah!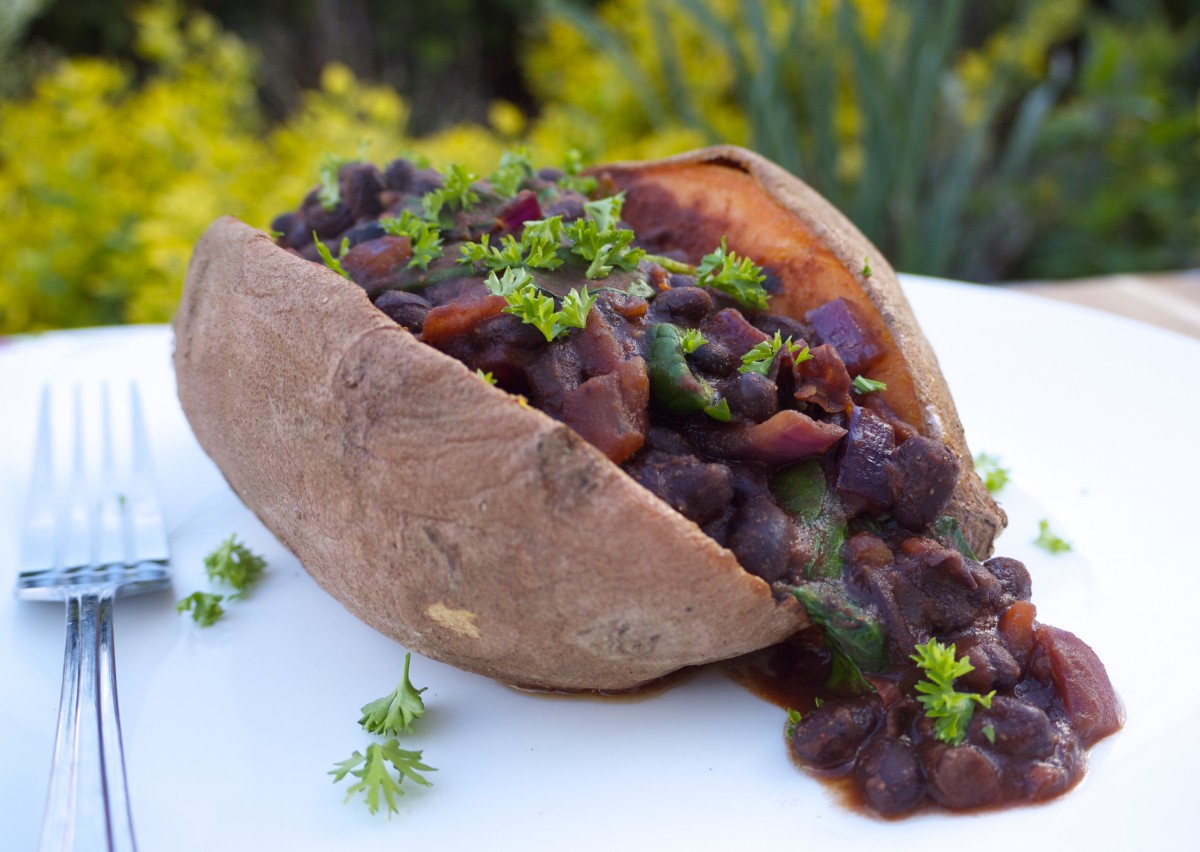 I love the flavours in the chilli, which include cajun spices, coriander, cumin, smoked paprika and a little pinch of cayenne pepper to give it the tiniest bit of bite. I'm not the biggest fan of spicy food, but a little hint of it can be nice. Also, cayenne pepper is known to help boost our metabolism. So that's a winner for me!
Black beans are a super source of protein, with 15.2g per cup.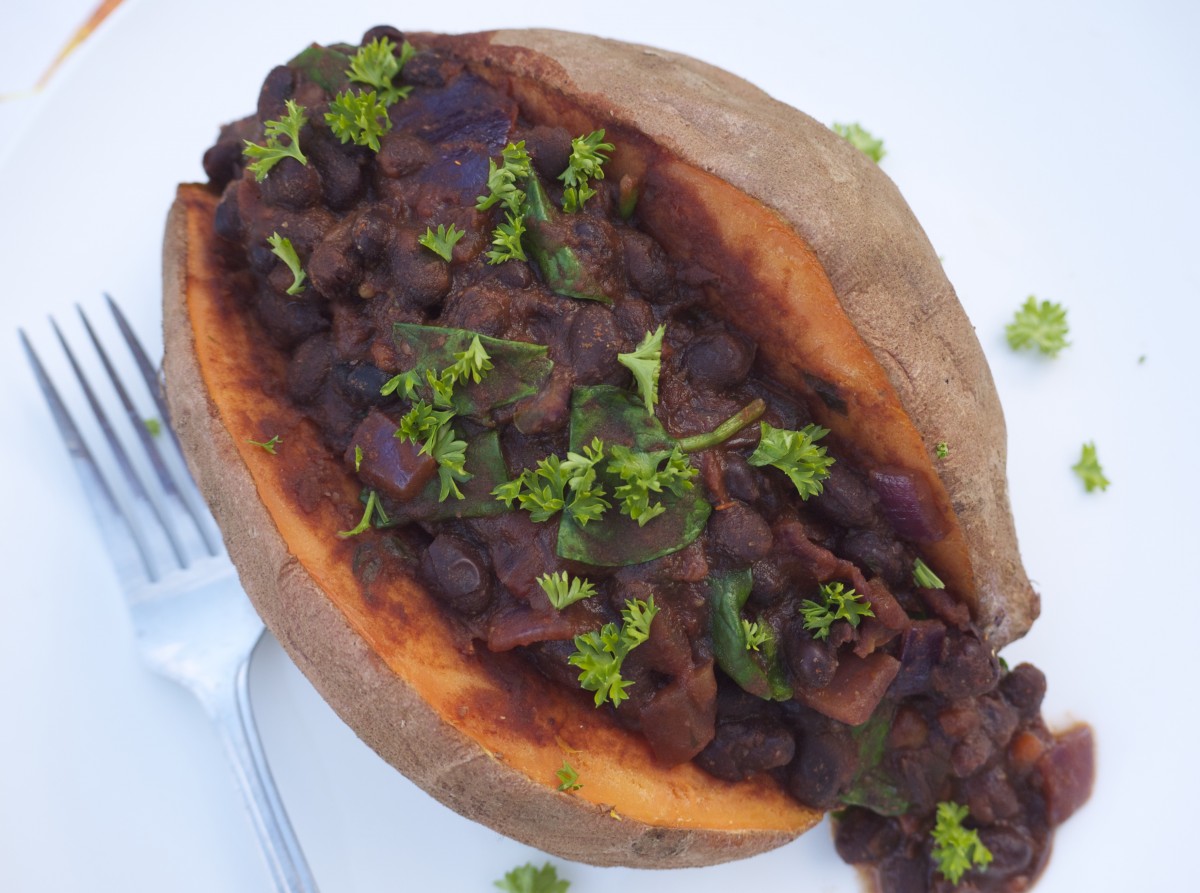 This recipe would also work well as a lunch the next day, or the chilli could be used as a great filling in wraps or tacos. In fact, cabbage leaves or iceberg lettuce leaves make a brilliant healthy taco shell 😉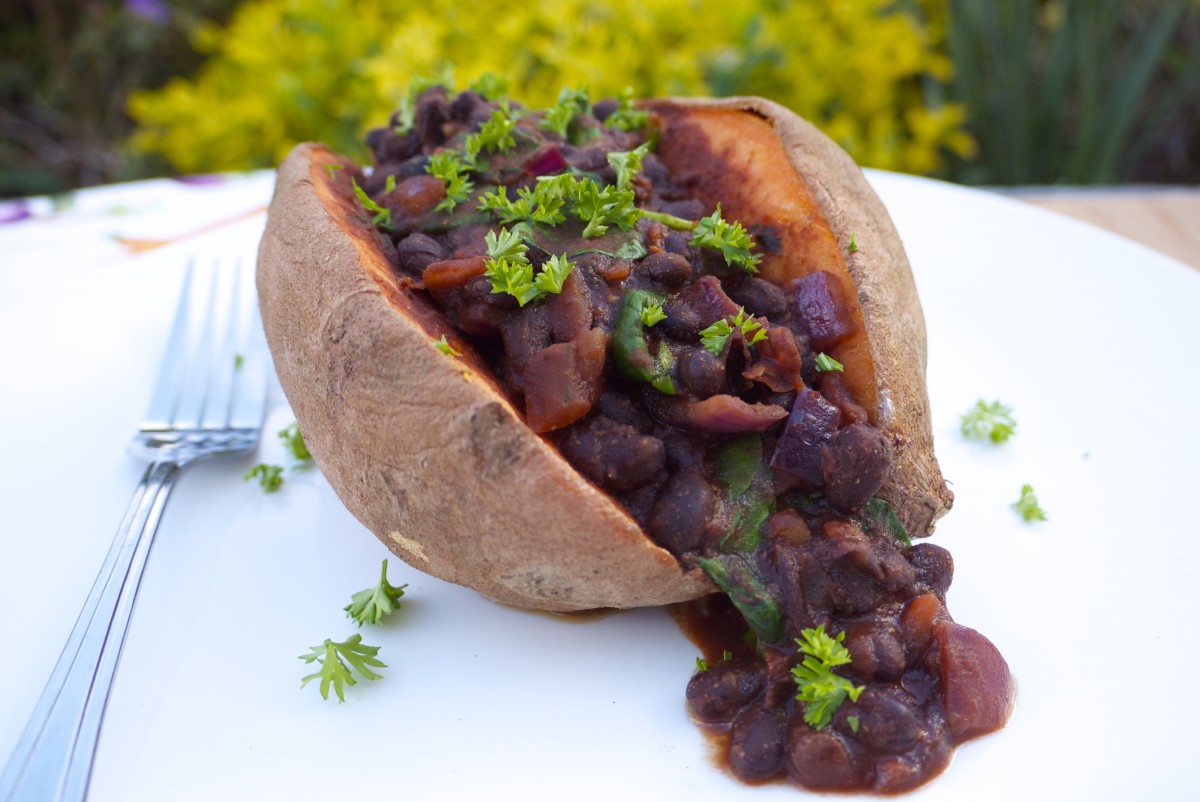 Sweet Potato Stuffed with Black Bean Chilli
2015-04-26 21:51:05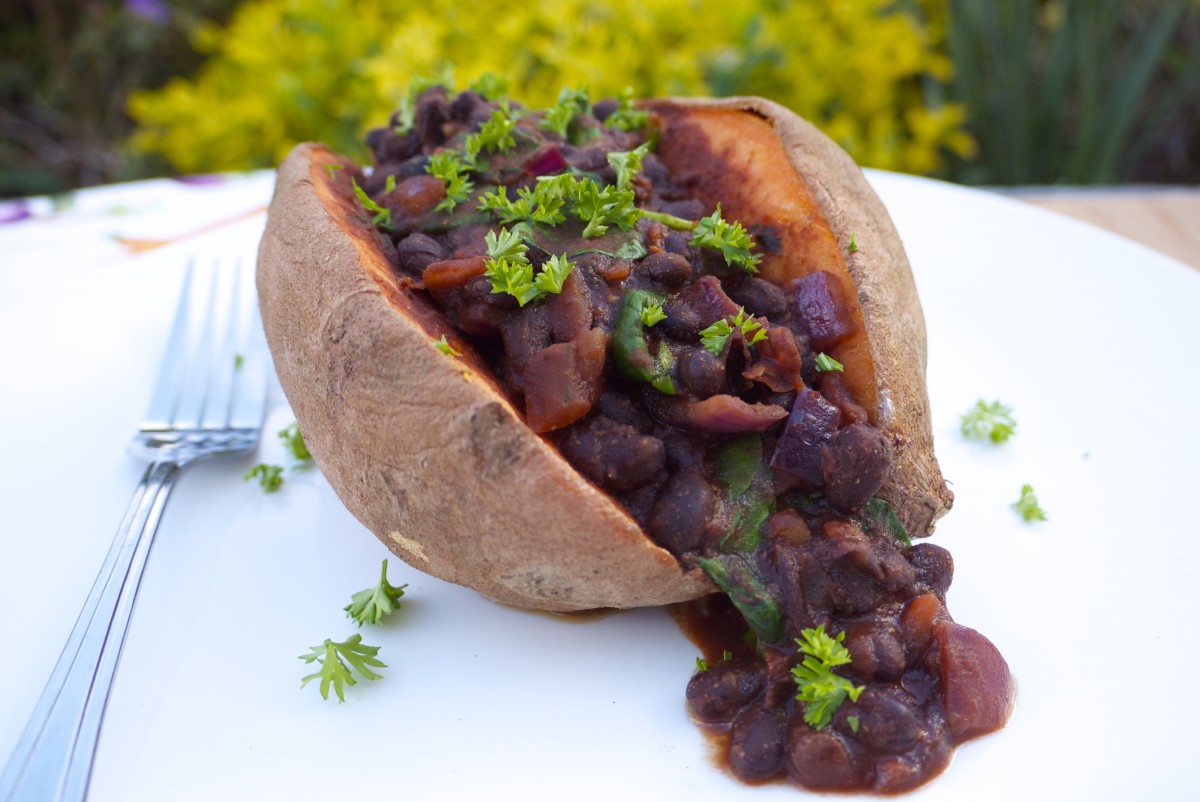 Serves 2
A hearty, healthy and filling meal packed with protein, complex carbs and fibre!
Ingredients
2 medium-large sweet potatoes
coconut oil, to cook with
1 clove of garlic, minced
1 red onion, finely sliced
1 red pepper, chopped
240g cooked black beans*
160g tomato passata (I buy an organic brand in a jar rather than a can)
1 tsp ground coriander
1 tsp smoked paprika
1/2 tsp ground cumin
Pinch of cayenne pepper
1 tsp cajun spices
handful of fresh baby spinach leaves
Salt and pepper, to taste
chopped fresh parsley, to serve
Instructions
Preheat the oven to 200C.
Place the sweet potatoes on a baking tray lightly greased with coconut oil and bake at 200C for 35-40 minutes, until soft and easy to slice.
Meanwhile, heat coconut oil in a saucepan over a medium heat and saute the garlic and onions until the onion softens.
Add in the red pepper and stir well.
Add the tomato passata, spices and seasoning. Stir it all together well.
Add the black beans and continue to gently simmer the chilli for another 5 minutes, until well heated through.
Remove from the heat and mix in the spinach leaves, allowing them to wilt.
When the sweet potatoes are baked, allow them to cool for 5-10 minutes before slicing down the middle.
Spoon on the chilli and sprinkle with fresh chopped parsley.
Notes
* To cook the black beans: The night before, soak the black beans in a large pot of water. The next day, rinse the beans, cover with fresh water and bring to a boil over high heat. Reduce the heat and simmer covered for 30 minutes, skimming off any foam. Check that they're tender and remove from the heat. Drain water well and rinse the beans.
Rosanna Davison Nutrition https://www.rosannadavisonnutrition.com/