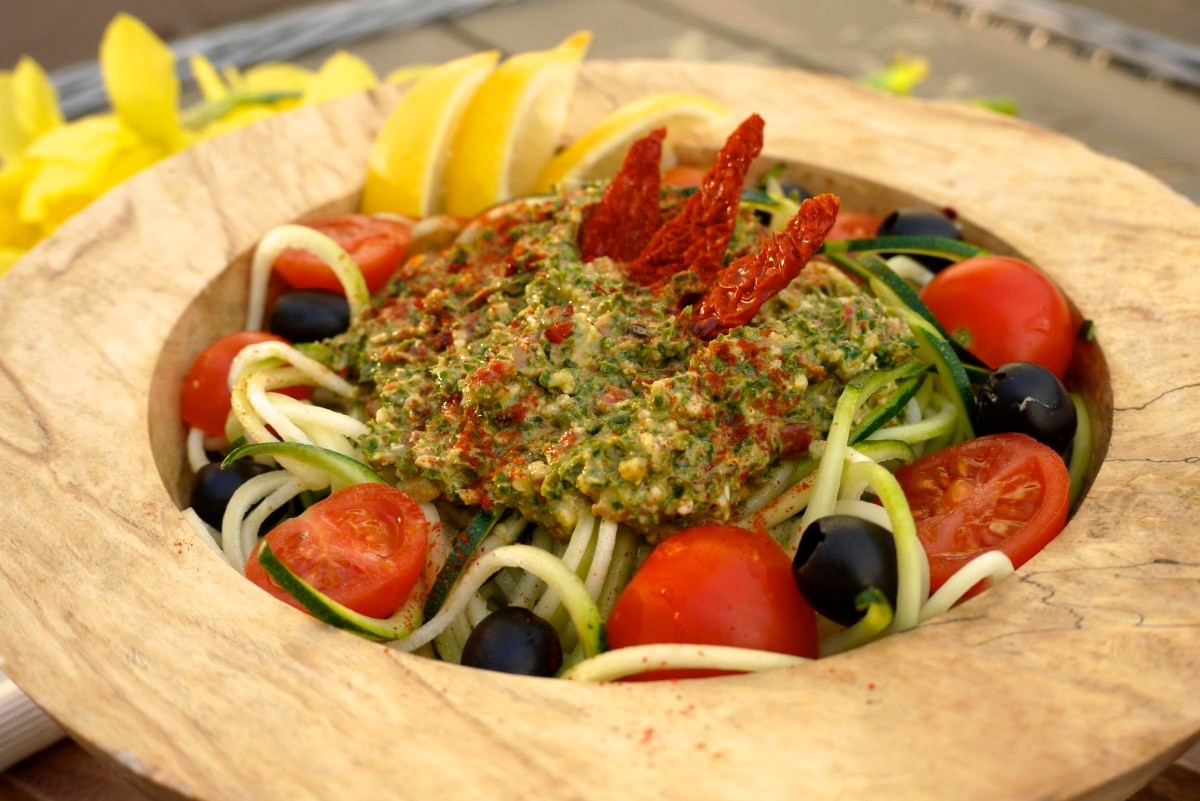 Good morning!
I made this dish for the first time a few weeks ago for dinner, and my husband ended up scoffing the whole thing. He arrived in from the gym starving and wondering what on earth the green gunk was that I was spooning onto the courgetti… I suggested he tried it and he snaffled the lot of it! So it has hungry man approval 😉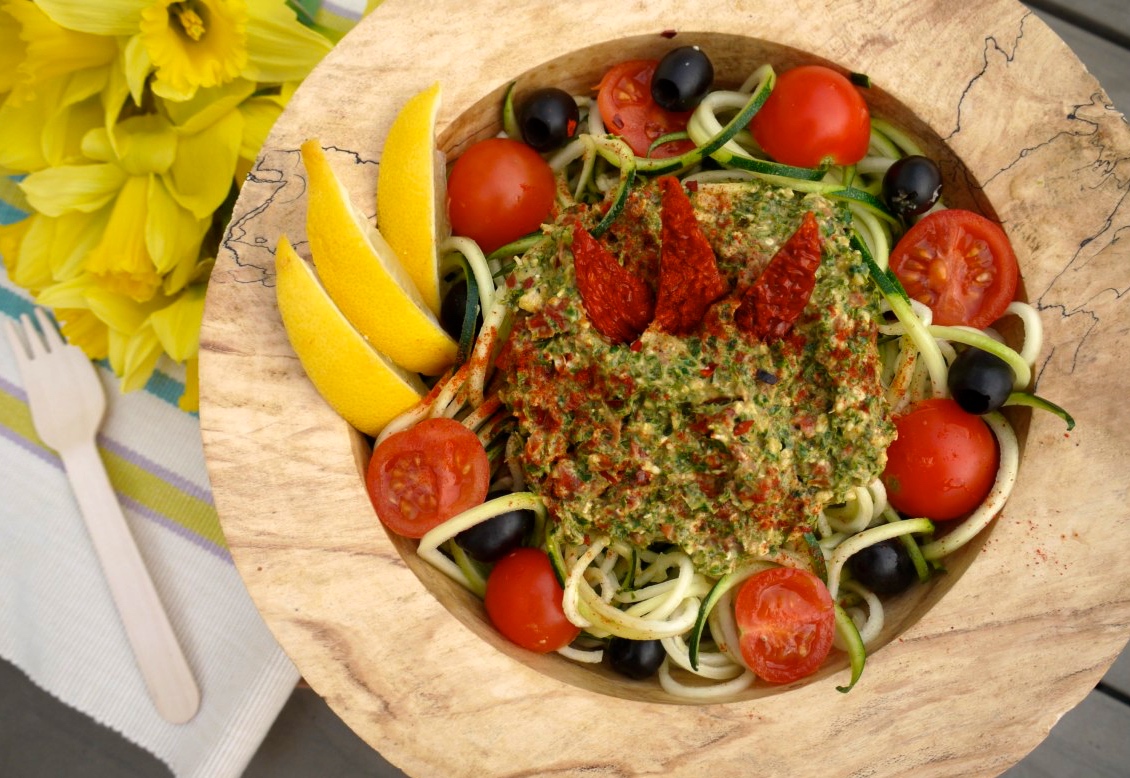 There's something about using sun-dried tomatoes that makes a dish feel a little bit special. Perhaps it goes back to my childhood, when the only place you could find sun-dried tomatoes was in Caviston's in Glasthule, and we were only allowed a few pieces at a time. Oh how things have changed!
They're easy to find in almost all supermarkets now and I buy a version that's not packed in oil. I've also substituted some of the oil usually put into pesto for unsweetened almond milk, which helps to give it the creaminess but for way less calories. Always a plus!
This is also a great way to sneak kale into your diet if you're not a huge fan of leafy greens. I try to include greens in every meal, as they're so nutrient-dense and kale is a true superstar veggie. It's rich in vitamins A, C and E for a smooth complexion, fibre for a flat tummy and essential minerals including iron and calcium.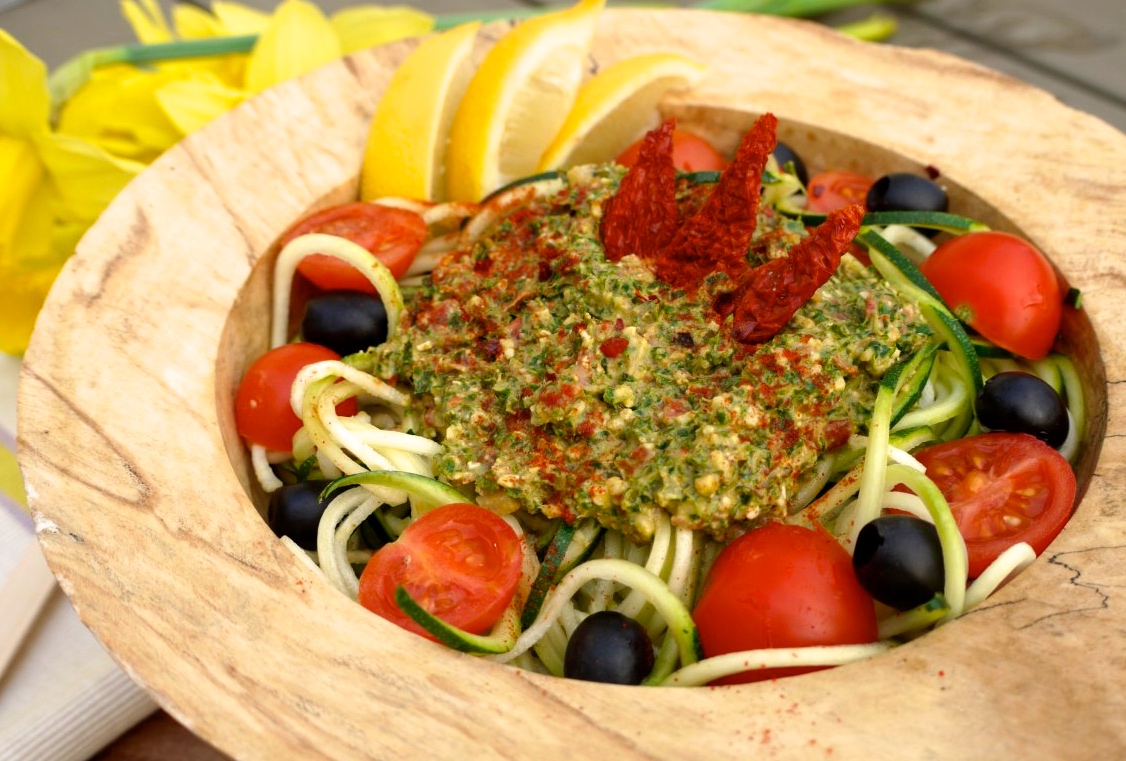 The garlic, lemon juice, smoke paprika and toasted pine nuts give the pesto such a gorgeous flavour, and I love to mix it all into the courgetti to coat it well before eating.
Top it with whatever you please. I just love the colour and flavours of the sweet cherry tomatoes and olives. It feels a bit Italian!
I love seeing all of your recipe creations on social media! Simply tag #RosannaDavisonNutrition on Instagram or Twitter or come on over to my Facebook to say hello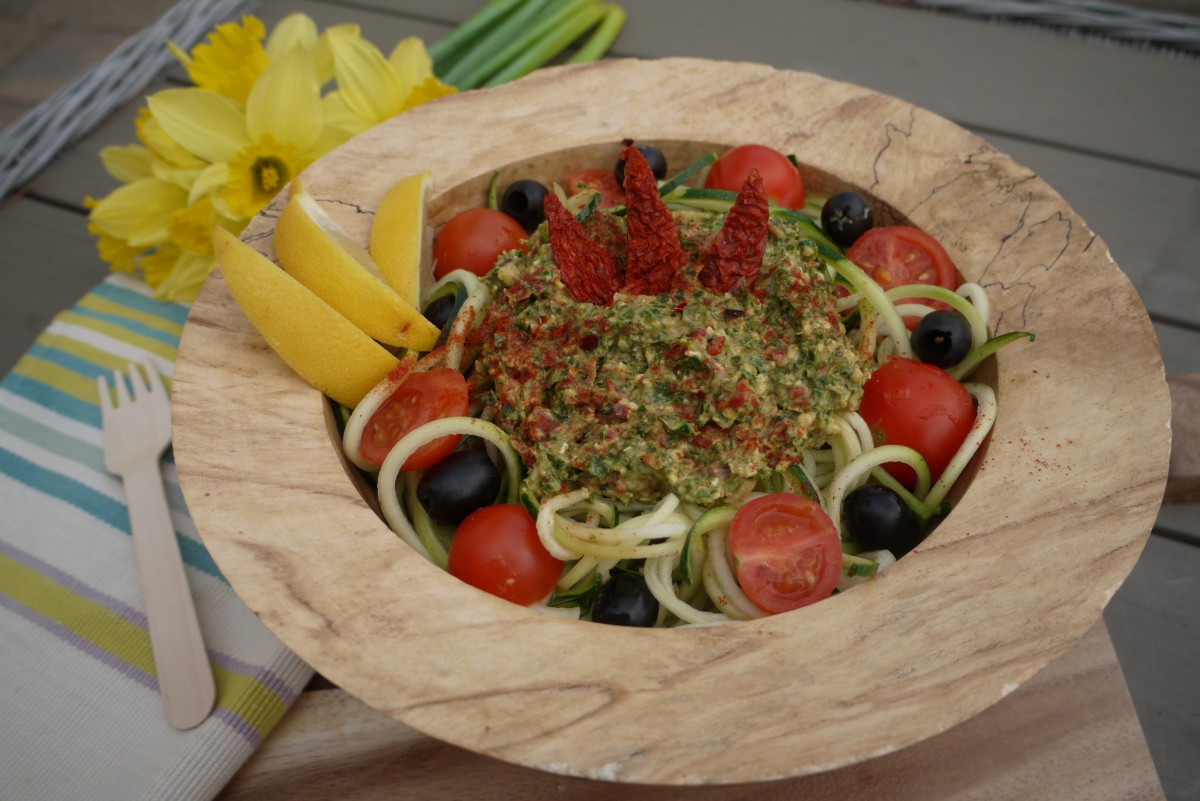 Zesty Courgetti with Sun-dried Tomato Kale Pesto
2015-05-24 11:55:01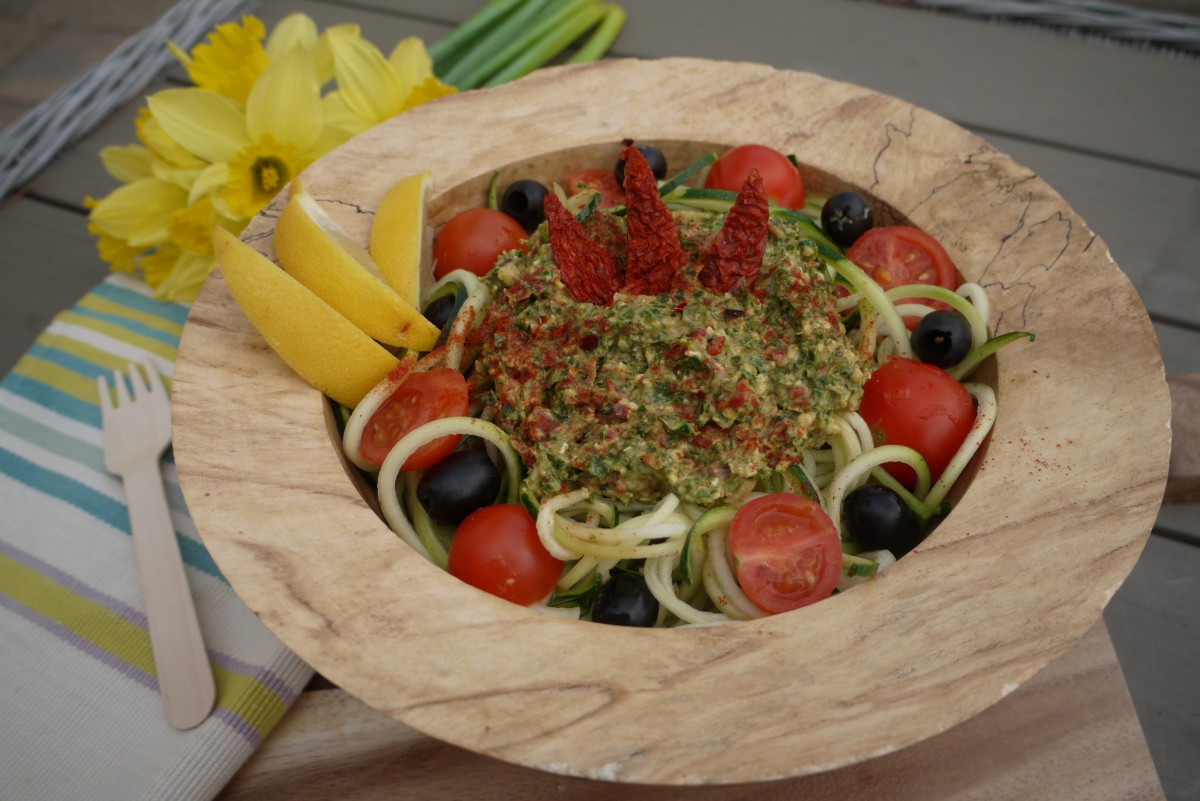 Serves 2
A simple, delicious and filling lunch or dinner option!
Ingredients
2 heaped tbsp pine nuts
2 courgettes
2 tbsp fresh lemon juice
Salt and pepper, to taste
32g (2 cups) fresh kale (I used curly kale) rinsed and tough stems removed
60g (1/2 cup) sun-dried tomato pieces (I used a dry rather than oil-packed variety)
1 tbsp cold-pressed extra virgin olive oil
2 tbsp unsweetened almond milk
1 tbsp lemon juice
1 clove of garlic, minced
1 tsp smoked paprika
pinch of cayenne pepper
salt and black pepper, to taste
8-10 cherry tomatoes, halved, to serve
10 black/green olives, to serve
Sun-dried tomato strips, to serve
Instructions
Preheat the oven to 190C and place the pine nuts on a small tray in the oven to lightly toast for 5-6 minutes until golden-brown. Remove from the heat and set aside.
Rinse the courgettes, top and tail them and process them through a spiraliser or vegetable peeler to create courgetti or ribbons.
Place them in a large mixing bowl, pour on the lemon juice, add seasoning and toss together.
Place the pine nuts, kale, sun-dried tomatoes, olive oil, almond milk, lemon juice, garlic, smoked paprika, cayenne pepper and seasoning in a blender or food processor and combine until creamy but some texture remains. Taste and add more seasoning, if required.
Divide the courgetti into serving bowls, top with the kale pesto and decorate with cherry tomatoes and olives.
Notes
Any leftovers will keep in a covered container in the fridge for 2-3 days.
Rosanna Davison Nutrition https://www.rosannadavisonnutrition.com/