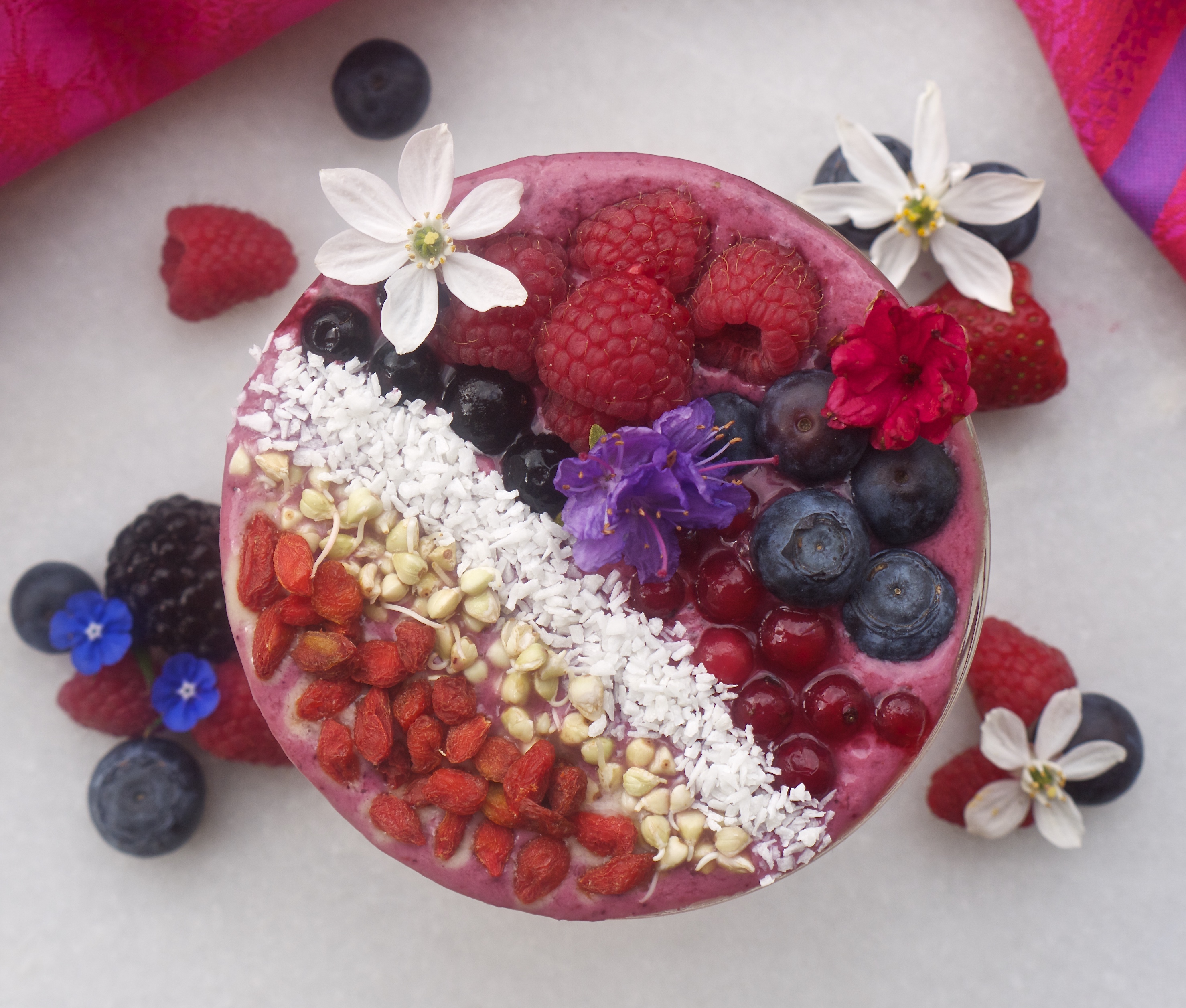 This pretty smoothie bowl not only looks beautiful, takes mere minutes to whizz up and makes the perfect summertime brekkie, snack or even a dessert, but its impressive level of antioxidants may even help to protect your body from the everyday toxins that can age us faster. These include pollution, cigarette smoking, chemicals, pesticides and even less than healthy food choices… we all have our moments with the food choices, right?! I do enjoy a cheeky chip or ten 😉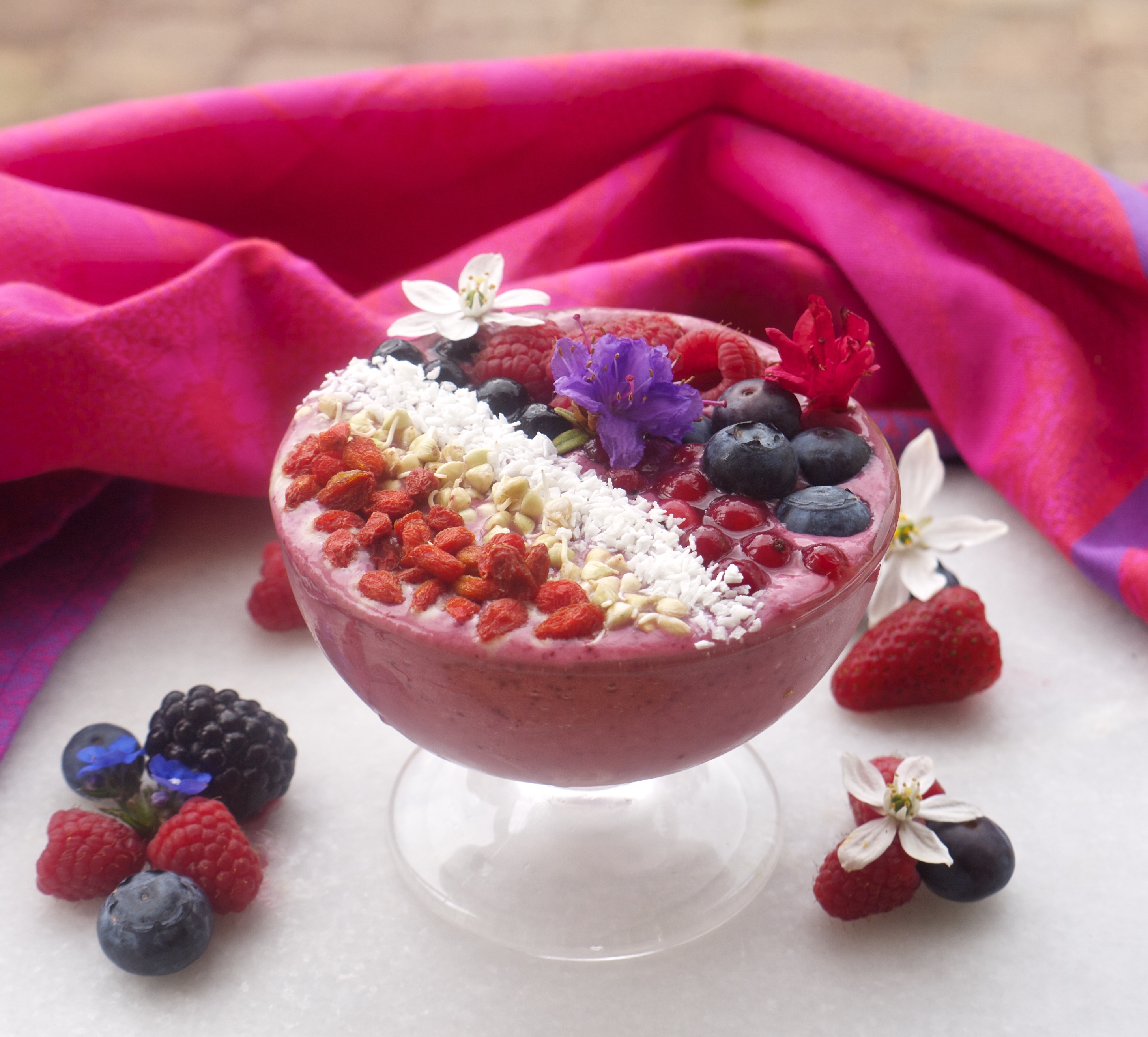 But for the most part, I try to make good food choices, and eat what will nourish my body and help to minimise the effects of premature ageing. Eating well is a lot cheaper than buying pricey creams, serums and beauty treatments at least!
This smoothie bowl is packed with berries, which are also the fruit lowest in sugar, making them ideal for anyone watching their weight or working on feeling their most body confident for summer.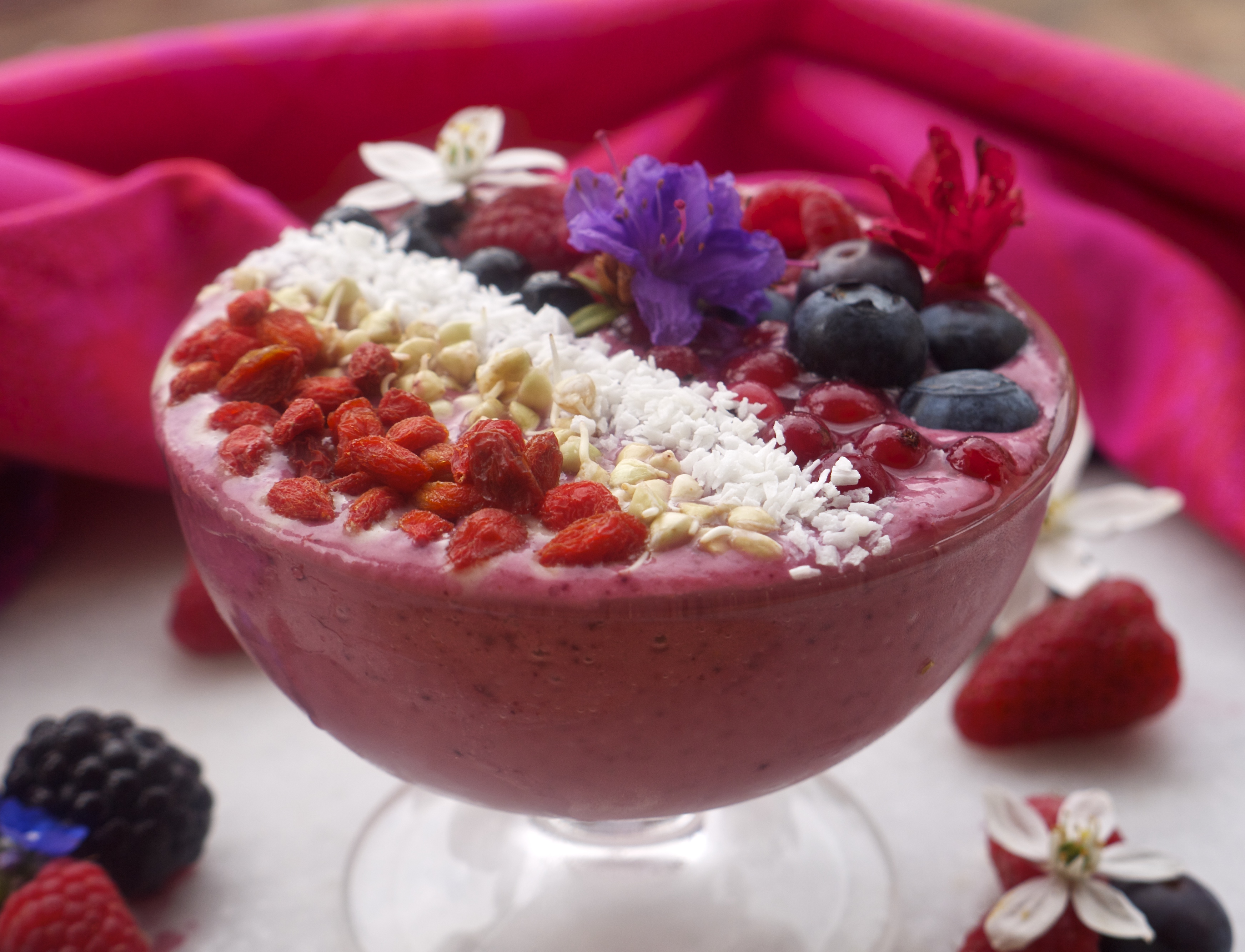 All types of berries are rich in antioxidants, which are compounds that prevent oxidative damage to our cells by scavenging free radicals. Such damage can cause accelerated ageing to our cells and organs and create the catalyst for diseases. It is the same natural oxidative process that turns a chopped apple brown when left in the air.
To protect itself from damage, the body has an antioxidant defence system in place. The human body has a variety of enzymes that prevent damage brought about by specific types of free radicals. The amount of antioxidant enzymes, in addition to the levels of dietary antioxidants such as beta-carotene, determines a mammal's lifespan. Humans have higher levels of antioxidants within our cells and that is the reason why we live longer than cats, dogs, and other animals. Dietary antioxidants can help reduce the risk of getting many age and lifestyle-related diseases.
Mother Nature has cleverly provided thousands of different antioxidants in various amounts in fruit, vegetables, nuts and seeds, and legumes. Generally, the most colourful plant foods have the highest content of complex antioxidants and each type operates in different tissues of the body. That's why I have included different type of red and purple berries in this antioxidant smoothie bowl, and why it's such a good idea to eat the rainbow everyday 🙂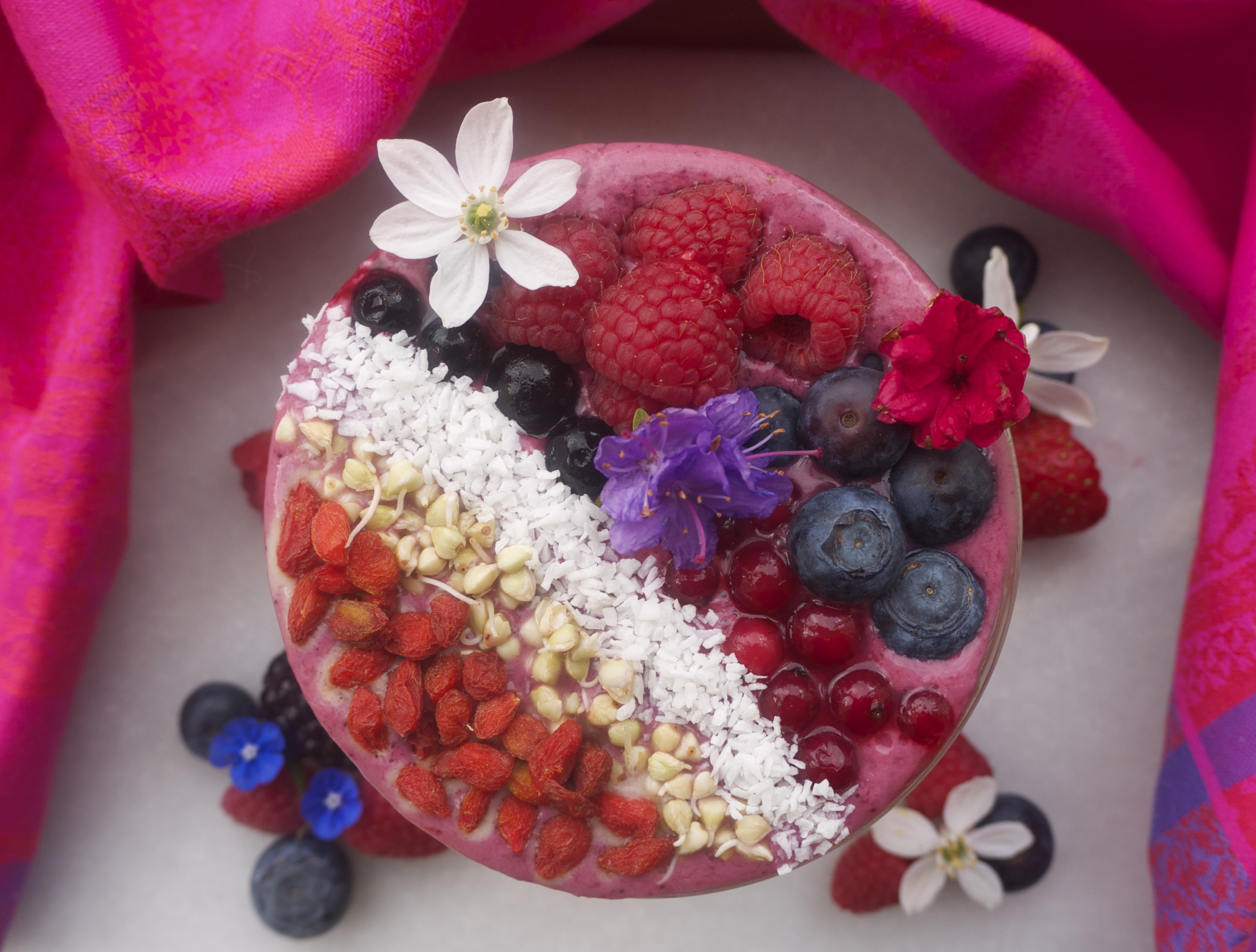 I would love to know if you get a chance to make this Antioxidant Smoothie Bowl! Simply tag #RosannaDavisonNutrition on Instagram or Twitter or come on over to my Facebook to say hello 🙂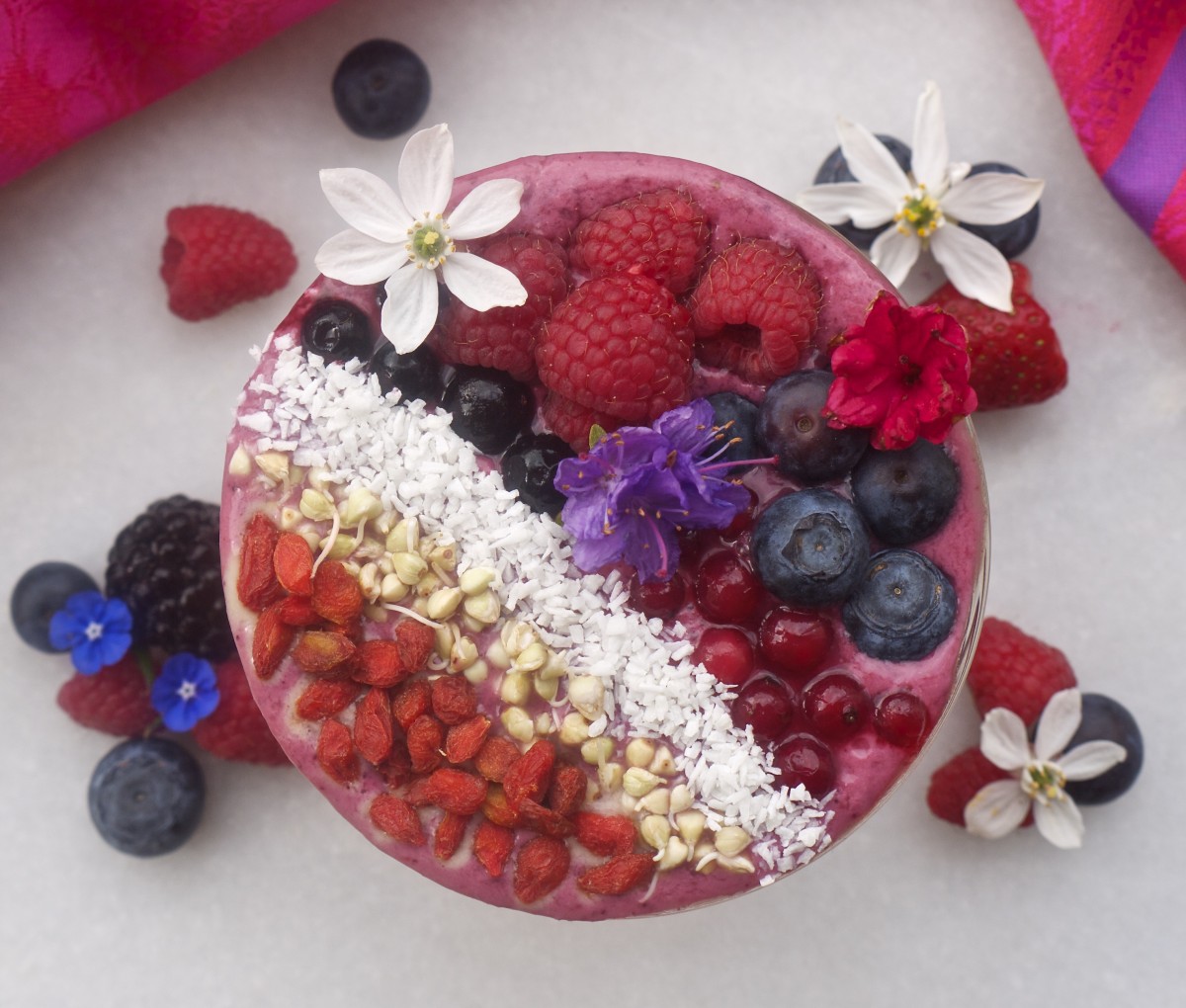 Antioxidant Smoothie Bowl
2016-05-25 12:15:28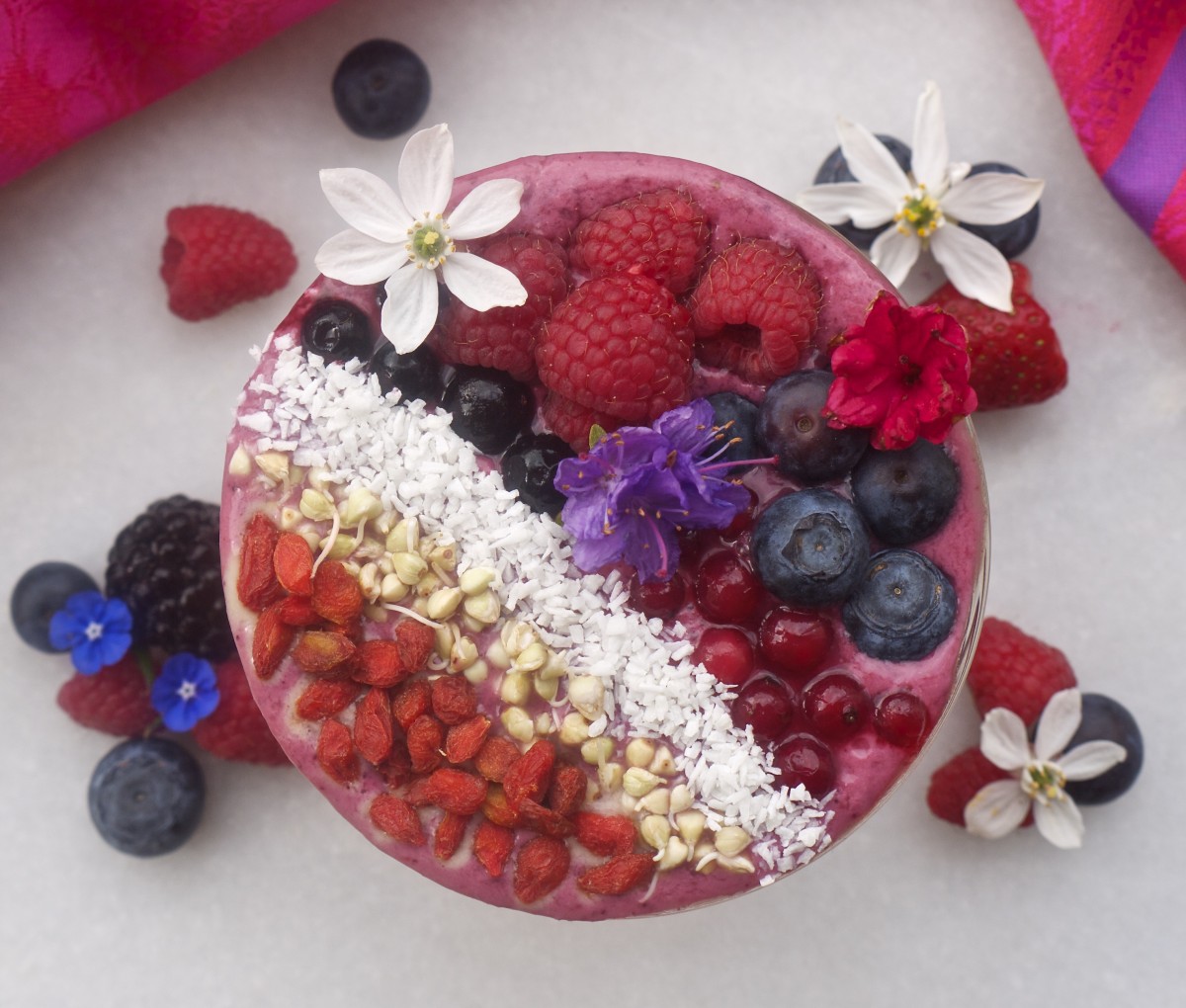 Serves 1
A simple and quick breakfast or snack, rich in antioxidants, vitamins and minerals. Nutrition information per serving: 195 calories, 5g protein, 32.3g carbs, 7.1g fat
Ingredients
125ml unsweetened almond milk (or your favourite plant milk)
250g (1 cup) frozen berries (I used a mixture of raspberries, blueberries, strawberries and cherries)
1 tsp almond butter
1 tsp vanilla extract
Extra fresh or frozen berries, to decorate
Desiccated coconut, nuts, goji berries and seeds to decorate*
Instructions
Place all the smoothie ingredients into a blender and blend until smooth and creamy. Add in more almond milk if you prefer it less thick.
Pour into a glass, jar or bowl and decorate with your favourite berries, fresh fruit, nuts, seeds, dried fruit or coconut.
Serve chilled.
Notes
I also used my own home-sprouted buckwheat to garnish the smoothie bowl.
Any leftovers can be stored in an airtight container in the fridge for up to 2 days.
Rosanna Davison Nutrition https://www.rosannadavisonnutrition.com/