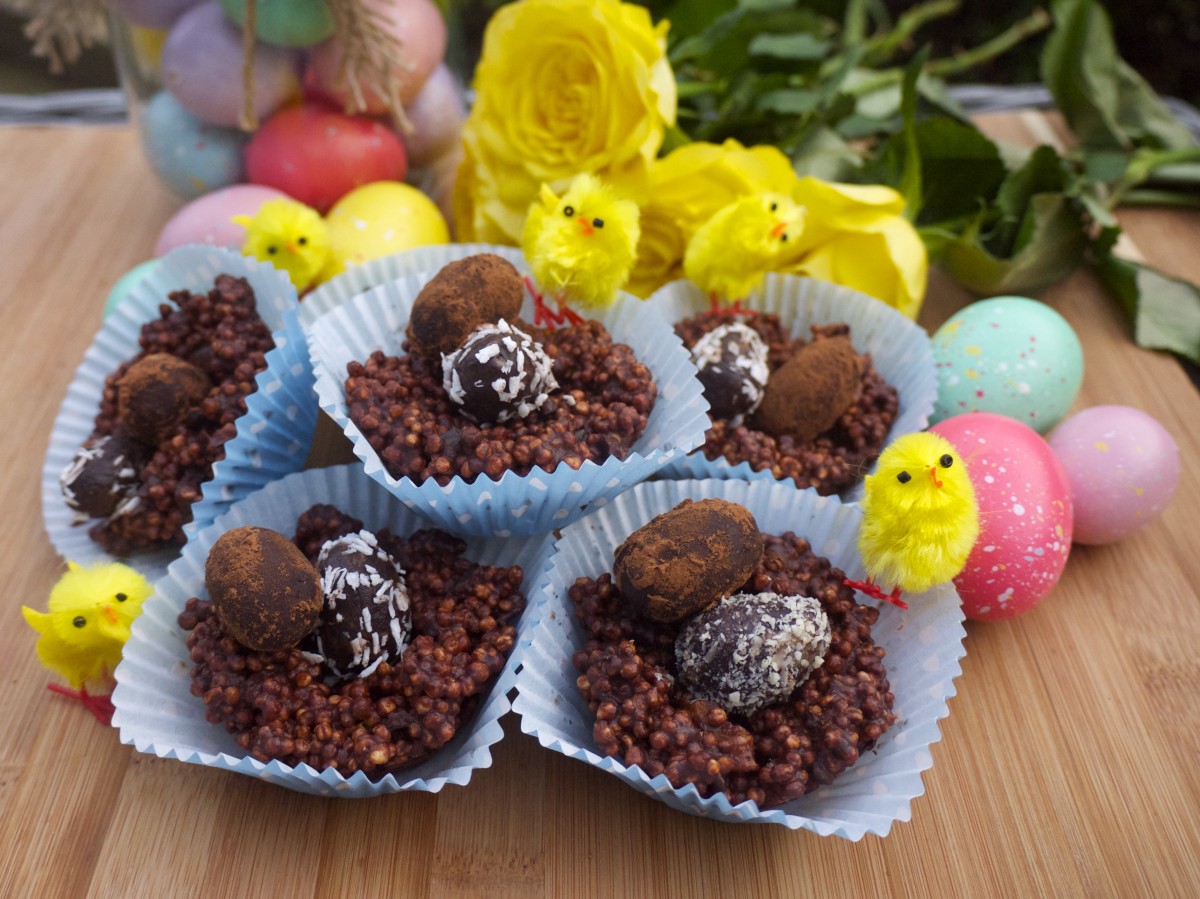 As a child, my mum used to make us Easter nests based on Rice Crispies, and pop in lot of mini eggs and fuzzy yellow toy chicks for decoration. I absolutely loved them and we try to keep the tradition alive each Easter.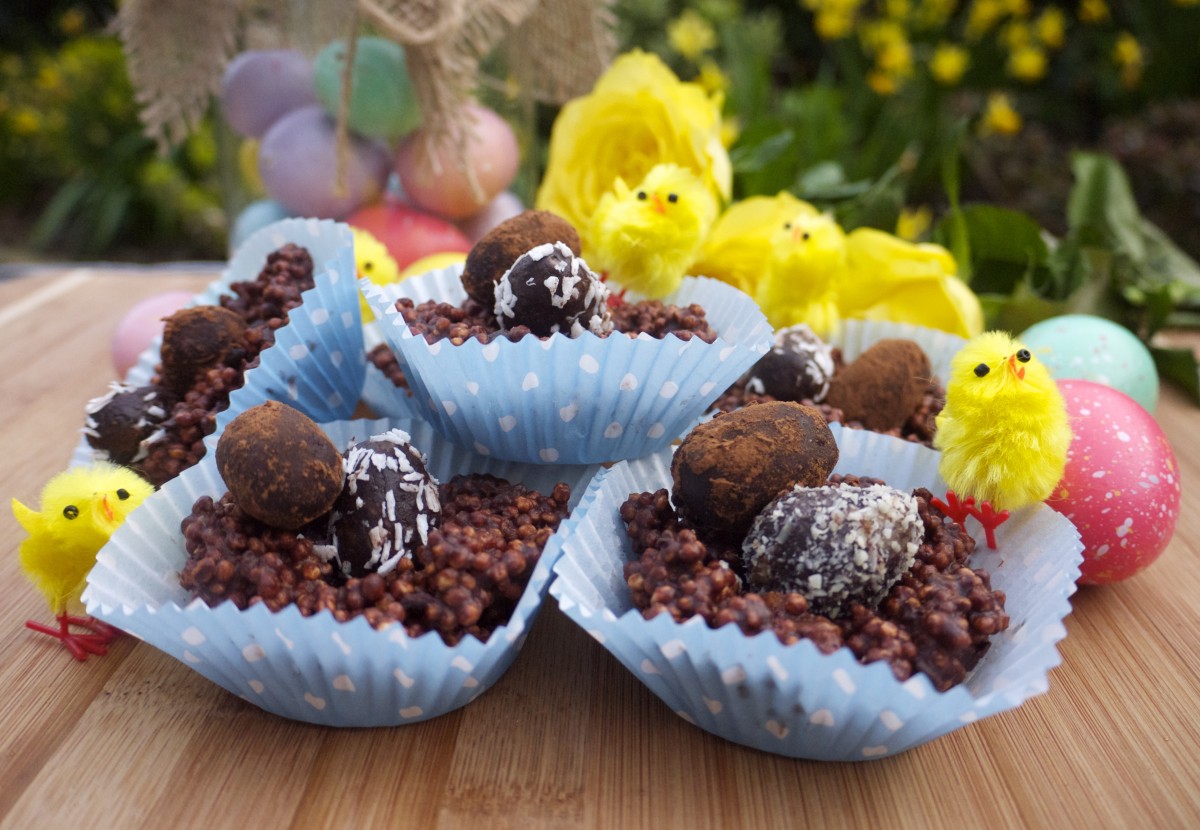 For many of us, Easter means a chance to indulge in chocolate, and enjoy giving Easter eggs to loved ones. But if you fancy something a little bit more wholesome and less jam-packed with refined sugar, then these little nests are fun and easy to make. Plus dark chocolate has plenty of health benefits.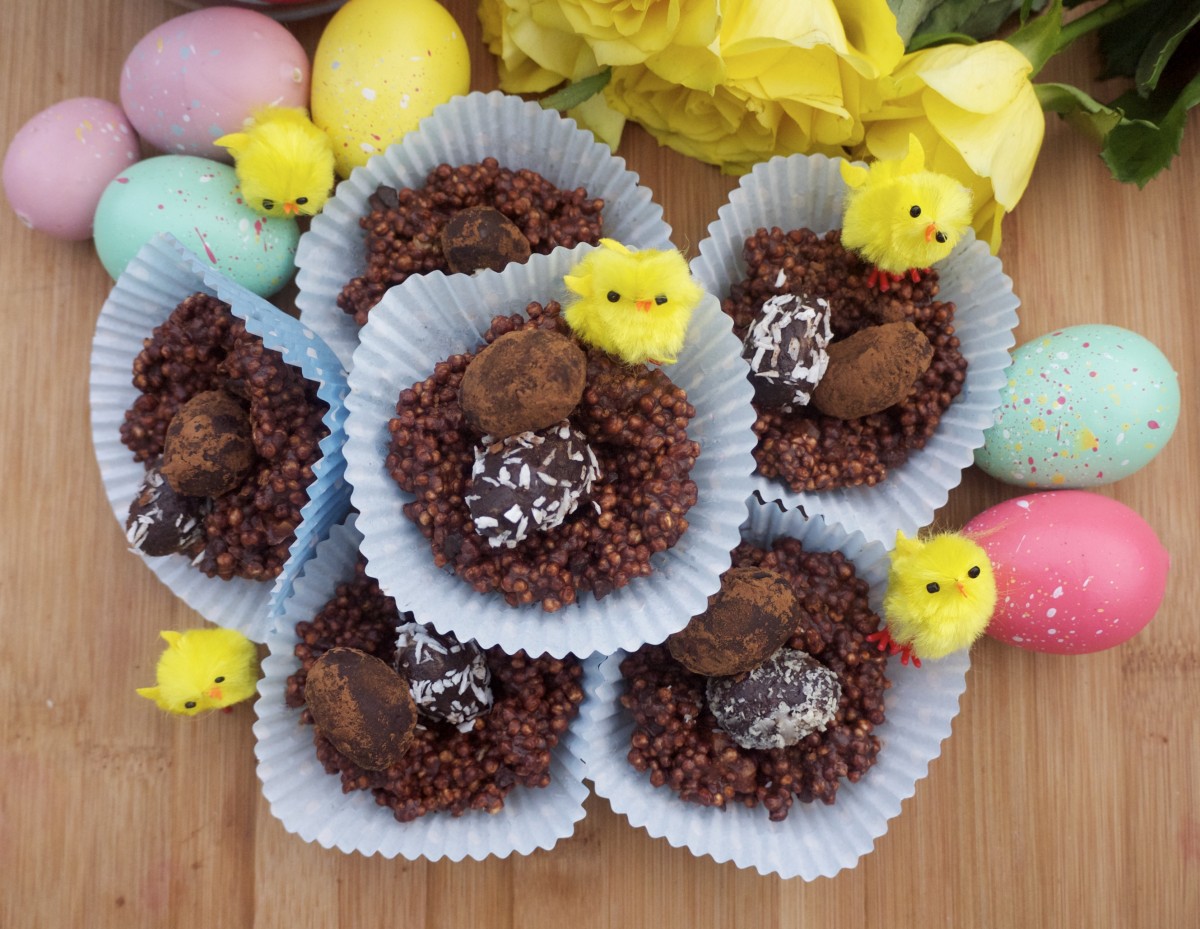 I've used quinoa puffs bought at a health food store as their base and to add a punch of protein and fibre, but Rice Krispies would work well too. Cacao powder, maple syrup, nut butter, coconut oil and vanilla extract help to glue it all together and taste delicious.
The mini eggs are a simple mixture of your favourite nut butter, cacao powder, maple syrup and ground almonds. Simples!
Happy Easter everyone 🙂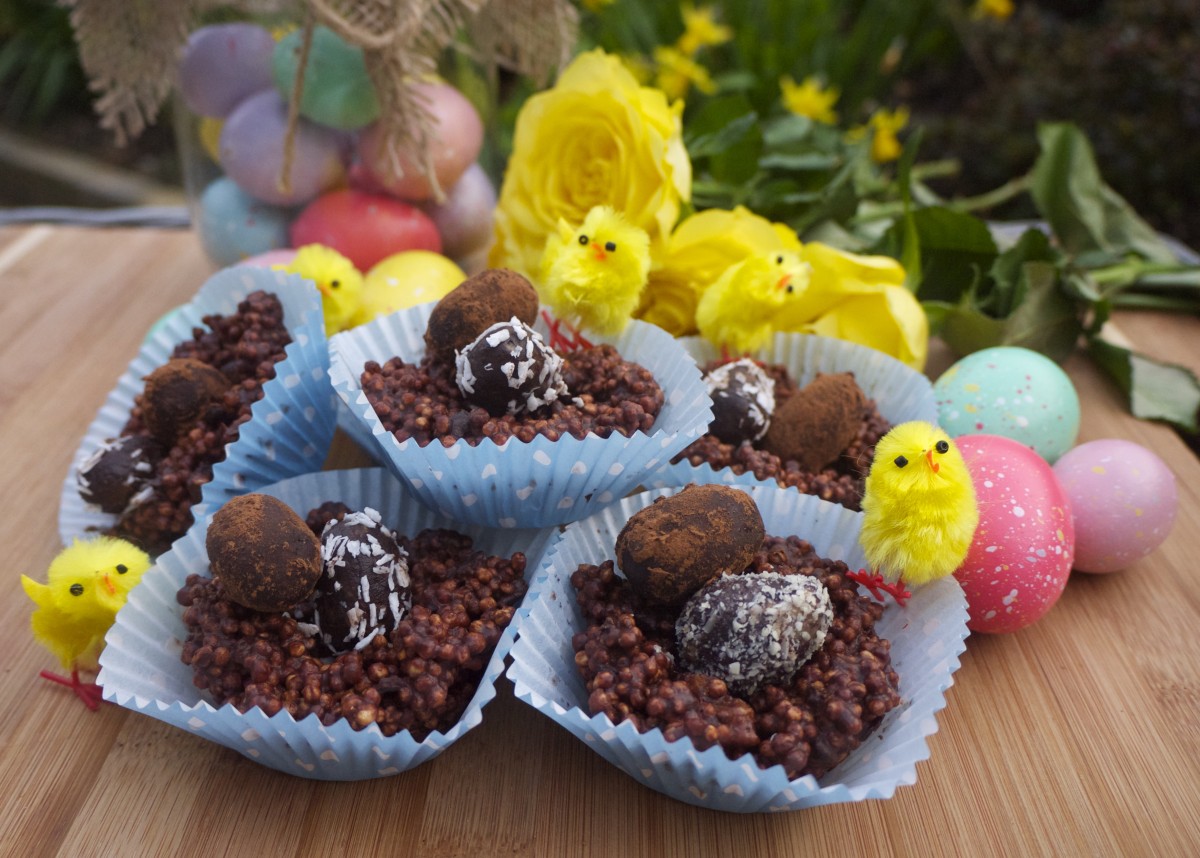 Let me know if you give this Chocolate Easter Nests with Mini Eggs recipe a go and I love to see all your creations on social media! Simply tag #RosannaDavisonNutrition on Instagram or Twitter or come on over to my Facebook to say hello 🙂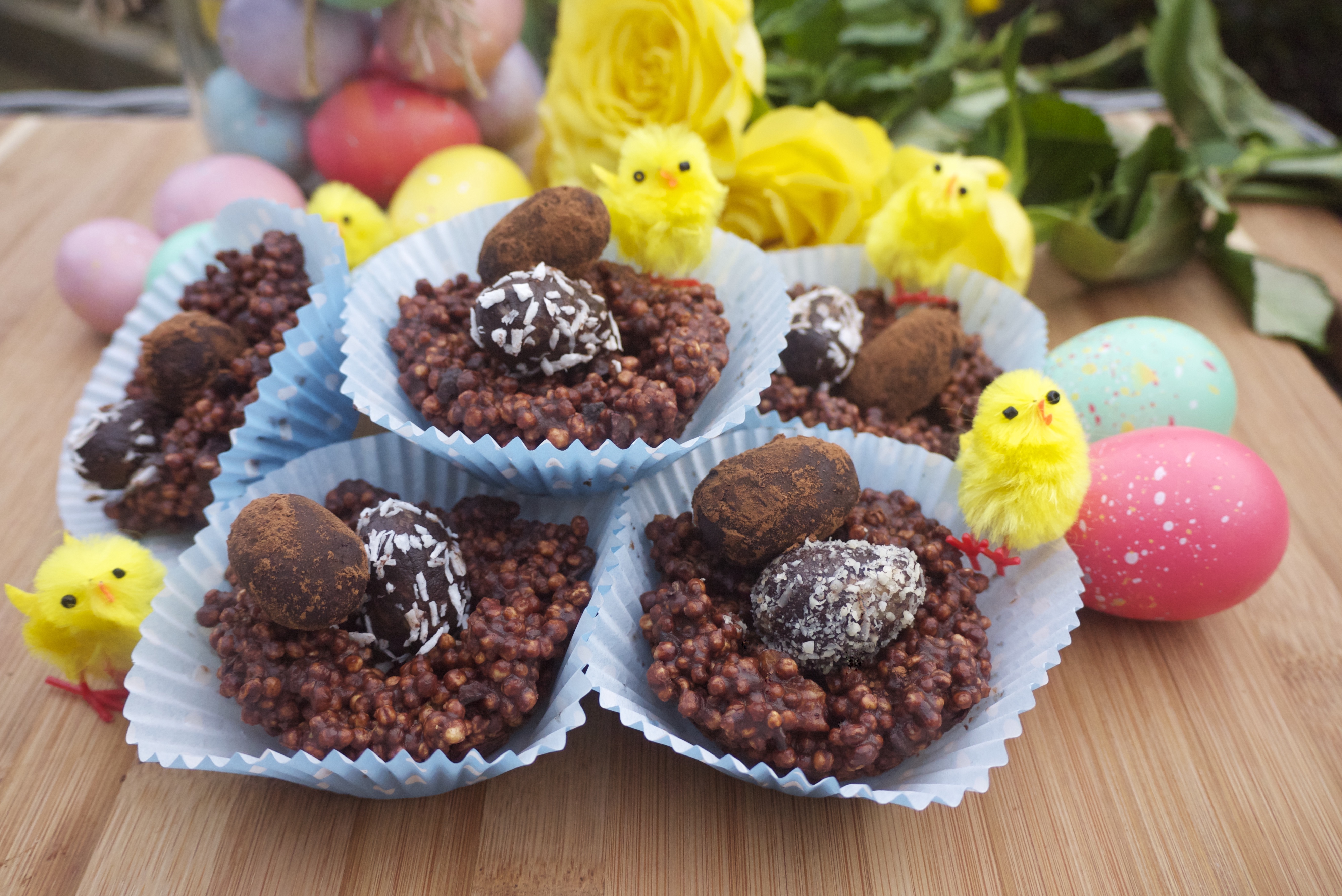 Chocolate Easter Nests with Mini Eggs
2015-04-01 21:42:58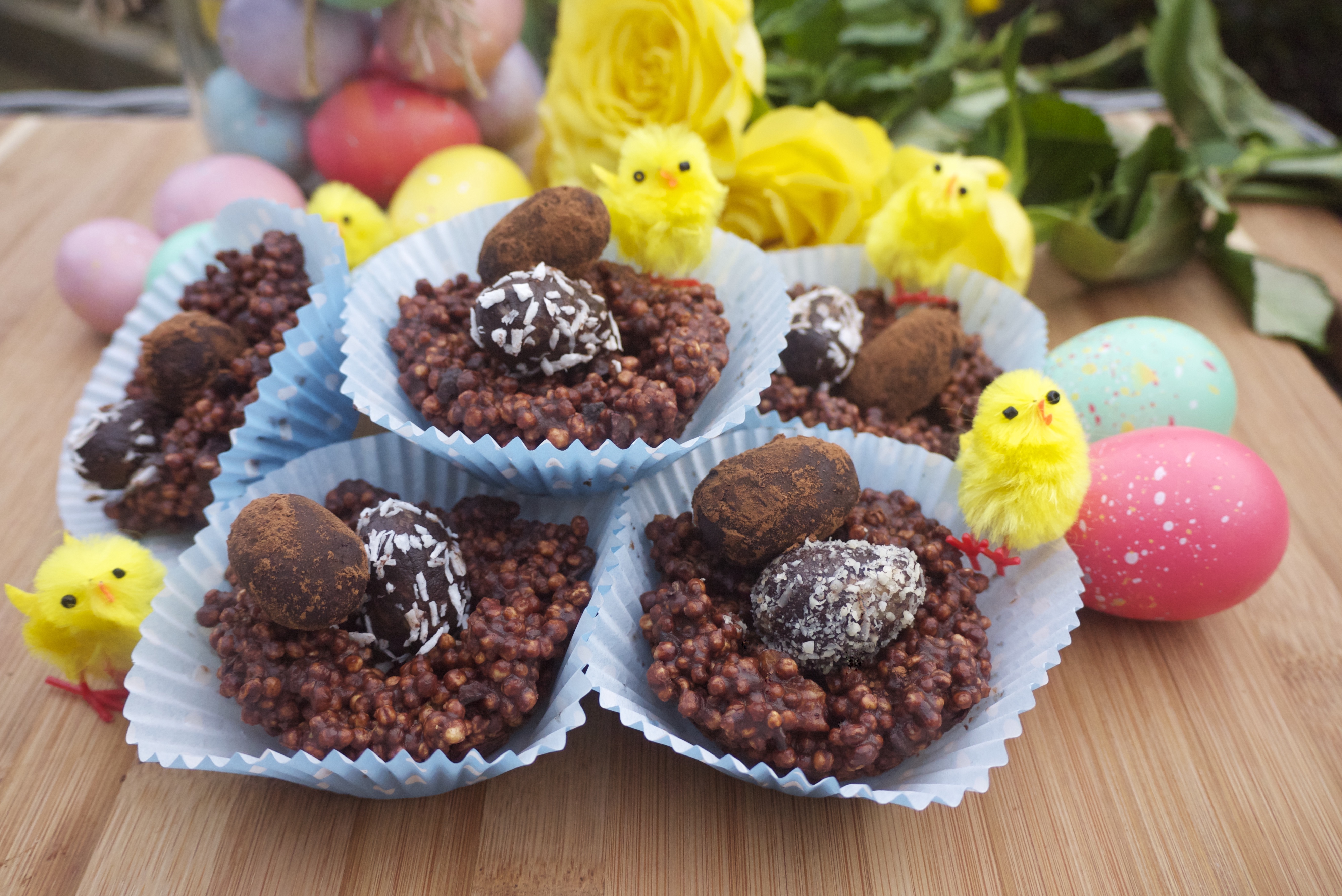 Serves 6
A fun treat to make for Easter, and based on more wholesome ingredients than your typical Easter treats!
For the Nests
2 cups (50g) of puffed quinoa (or Rice Crispies)
4 tbsp virgin coconut oil
3 tbsp cacao powder or Cadbury's Bournville cocoa powder
2 tbsp maple syrup or honey
1 tsp vanilla extract
For the Chocolate Eggs
2 tbsp of almond butter, peanut butter or your favourite nut/seed butter
2 tbsp maple syrup or honey
2 tbsp cacao powder or Cadbury's Bournville cocoa powder
2 tbsp ground almonds
1 tsp vanilla extract
To Decorate: Cacao powder, desiccated coconut.
Instructions
Place the quinoa puffs in a large mixing bowl.
In a small saucepan over a medium heat, melt the coconut oil and stir in the maple syrup, cacao powder and vanilla until a smooth chocolate sauce forms.
Pour the chocolate sauce into the mixing bowl and combine well with the quinoa puffs until they are completely covered.
Use a tablespoon to transfer the mixture into individual muffin cases or a muffin tray. I used a rubber muffin tray to make it easier to pop them out again.
Make sure to create a small indentation for the eggs in the centre of each nest.
Place the nests in the fridge for about 30 minutes to set.
For the Chocolate Hazelnut Eggs
In a mixing bowl, place the nut butter, maple syrup, cacao powder, ground almonds and vanilla extract.
Stir well until a thick 'dough' forms.
Use a teaspoon to divide the mixture and roll small egg-shaped balls in the palms of your hands.
Roll each ball individually in the cacao powder/desiccated coconut.
Place the balls in the fridge to chill for 30 minutes.
Remove the nests and balls from the fridge and arrange the balls in the nests.
Store in the fridge and serve chilled.
Notes
Any leftovers will store in an airtight container in the fridge for 3-4 days.
Rosanna Davison Nutrition https://www.rosannadavisonnutrition.com/