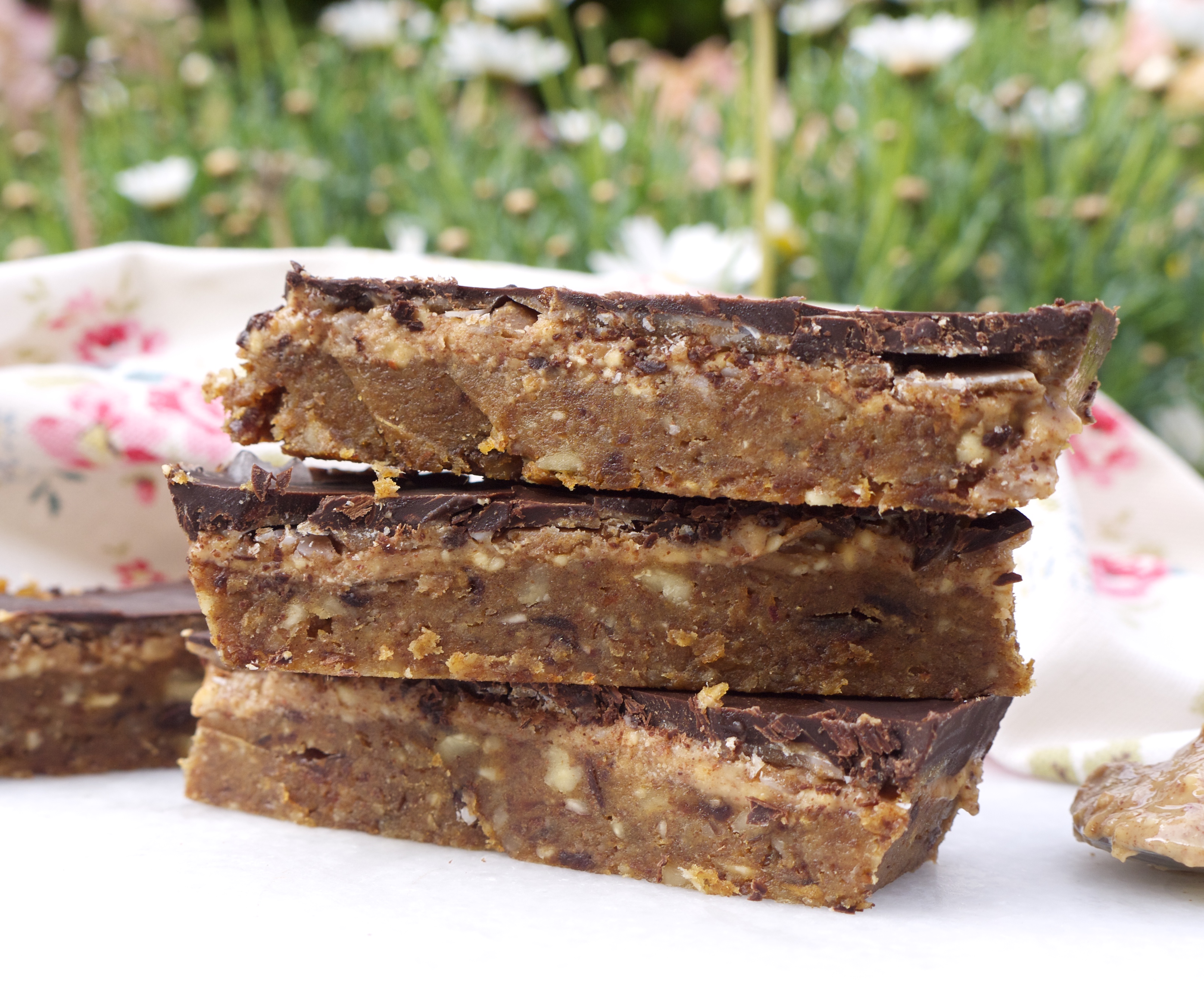 Are you a fan of Snickers bars? There are few more deliciously decadent flavour combos than chocolate and peanut butter…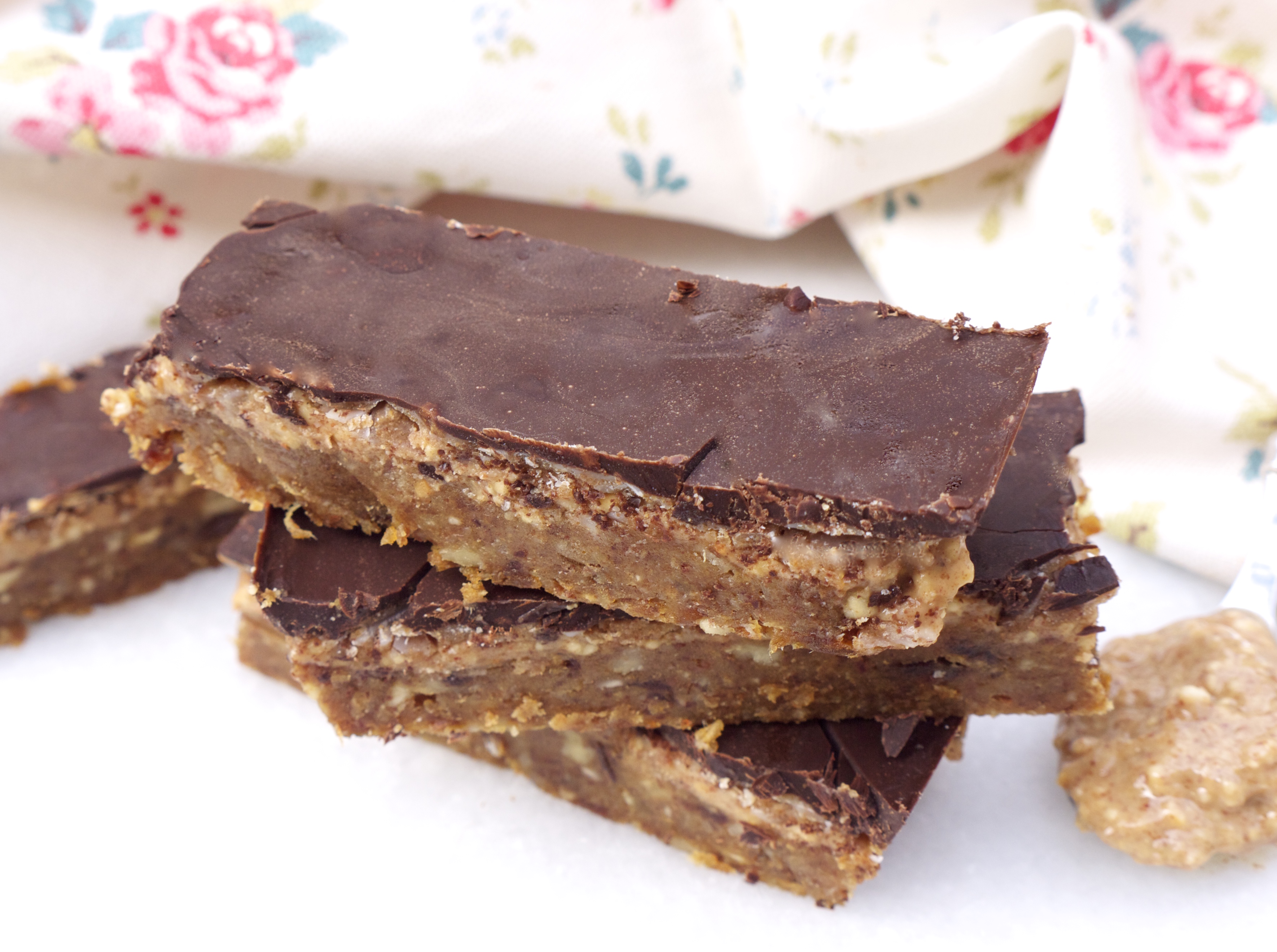 These easy, three-step chocolate peanut butter bars make the perfect healthier alternative to a chocolate bar. They may be free from refined sugar, but they're absolutely packed with texture and flavour.
The soft, chewy base combines dates and pecans with vanilla and coconut oil, then it's spread with crunchy peanut butter and topped with a layer of easy chocolate sauce.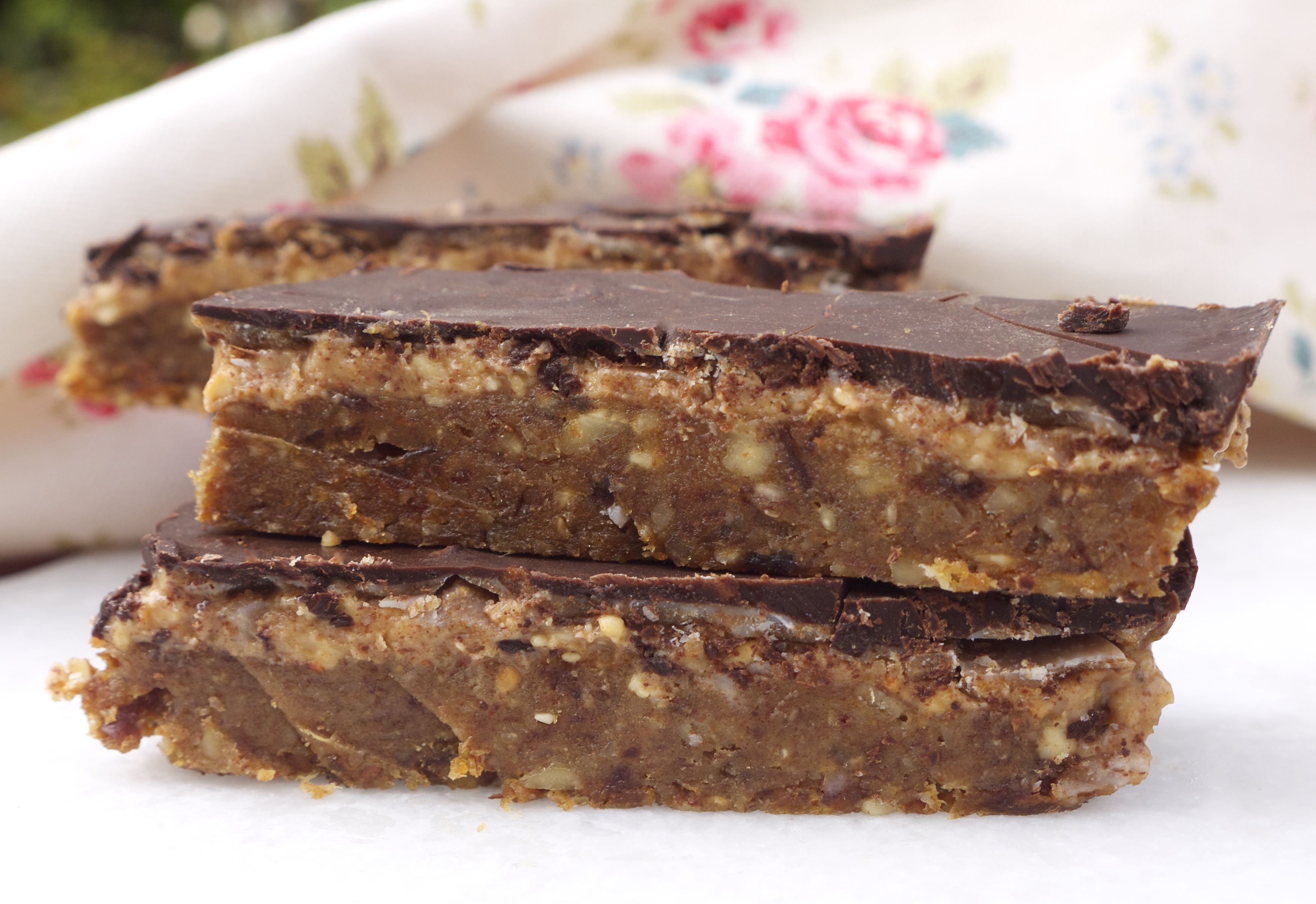 I thought they were rich enough without caramel, but you could always add your own layer of vanilla date caramel for an extra decadent treat 😉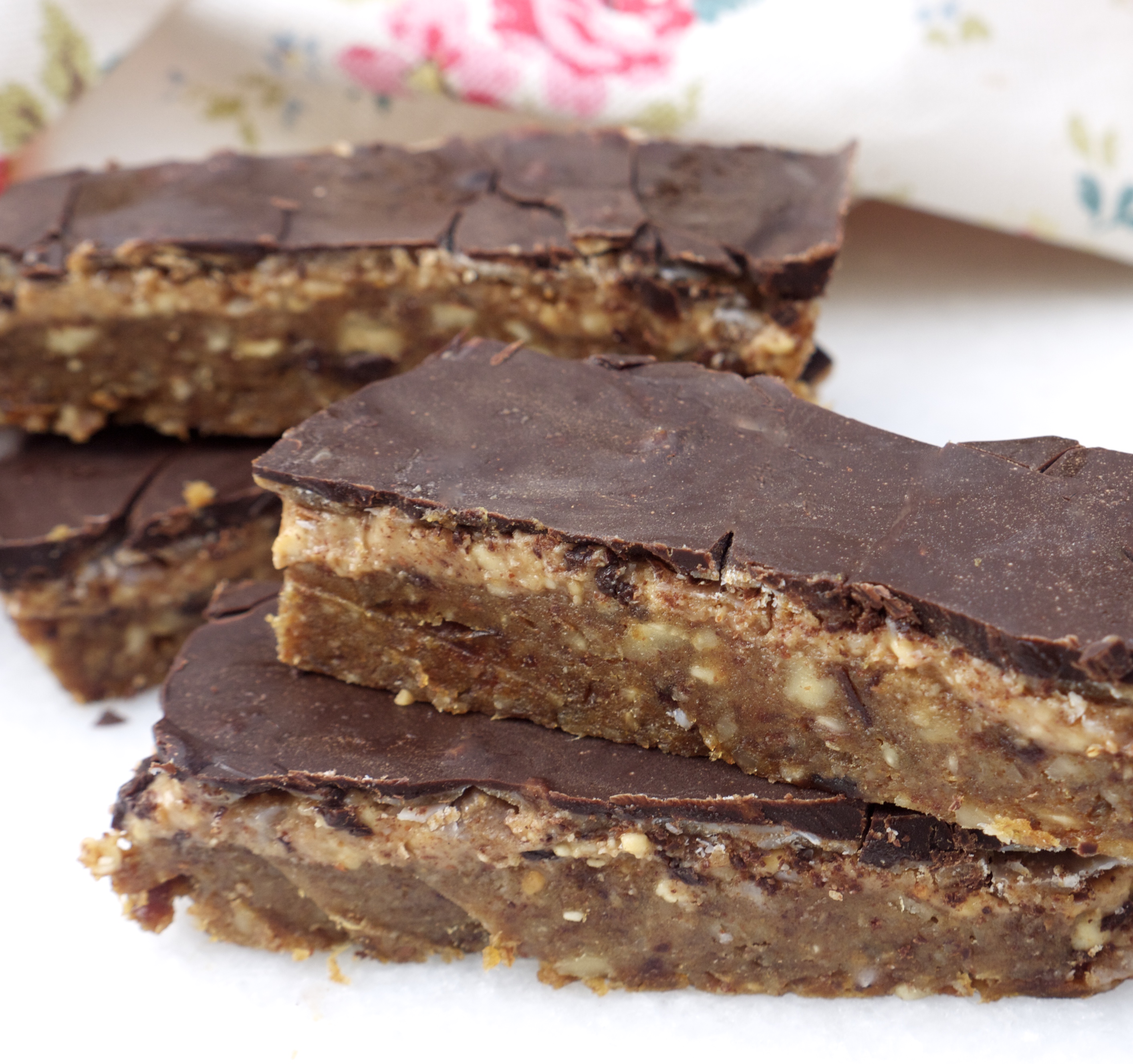 I would love to know if you get a chance to make these Chocolate Peanut Butter Bars! Simply tag #RosannaDavisonNutrition on Instagram or Twitter or come on over to my Facebook to say hello 🙂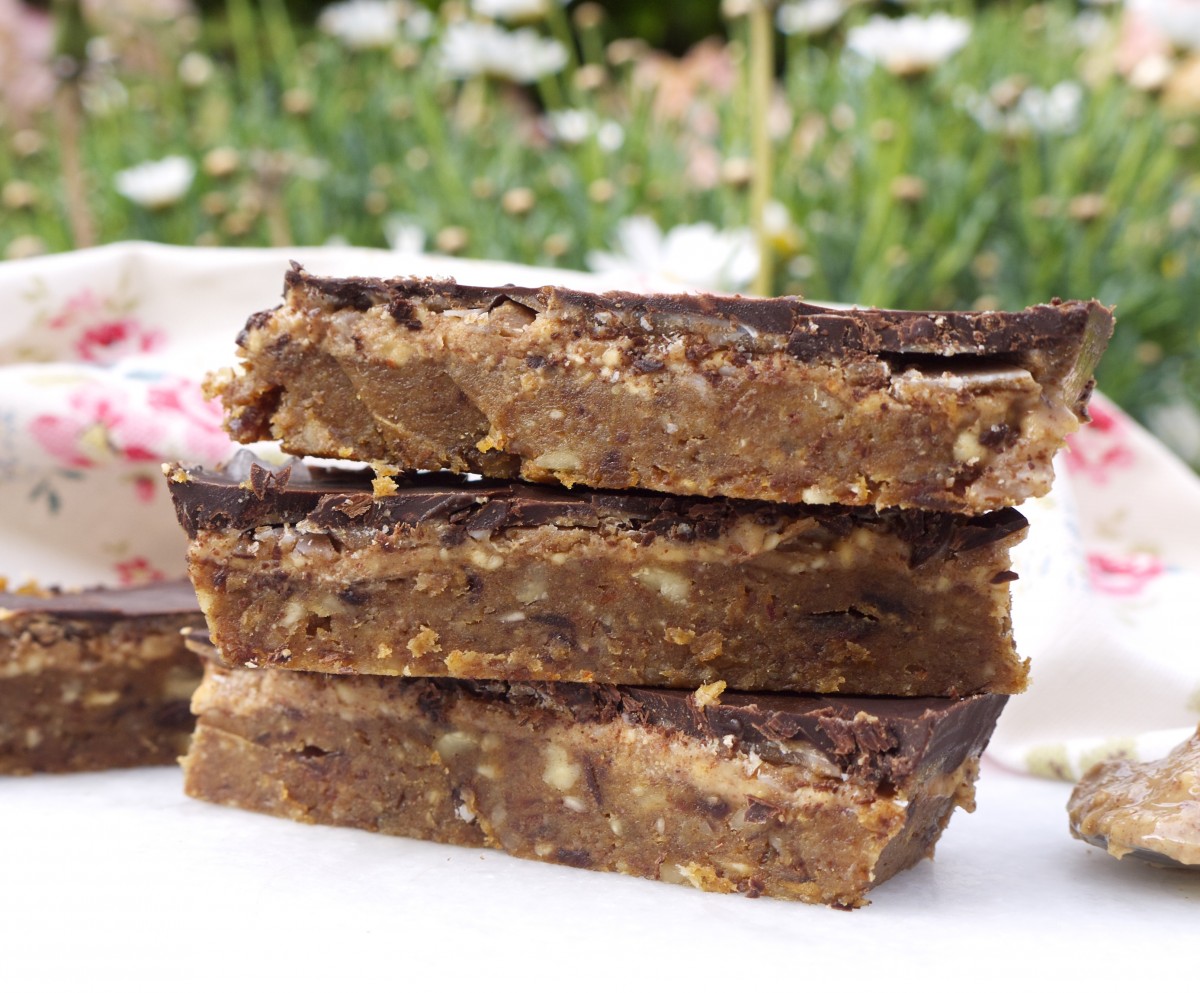 Chocolate Peanut Butter Bars
2016-05-31 14:31:17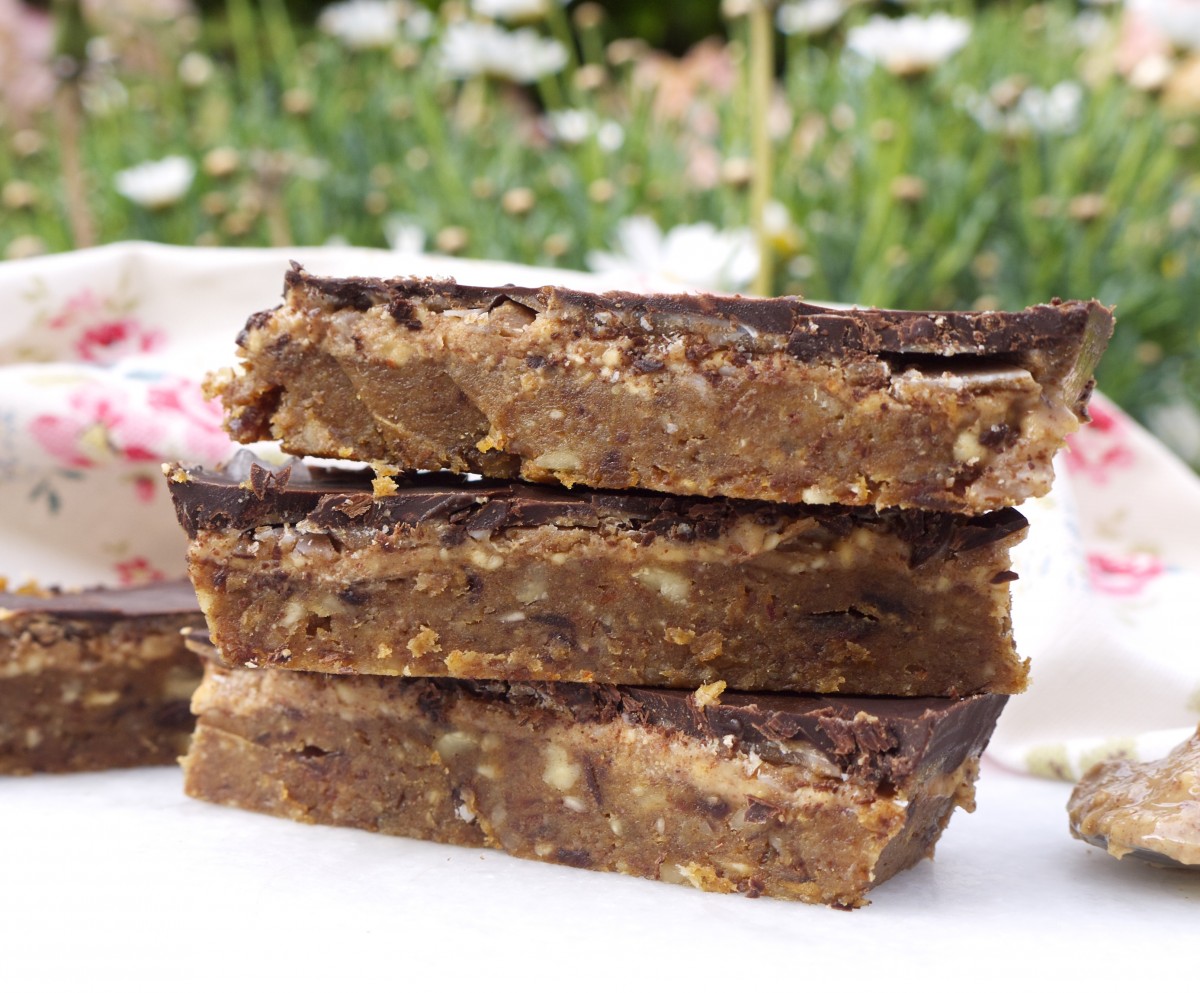 Delicious sweet treats and the perfect healthier substitute for chocolate bars to satisfy a sweet tooth. Makes 6 large or 12 small bars. Nutrition information per small bar: 189 calories, 2.2g protein, 19.5g carbs, 13.3g fat, 3.1g fibre
Ingredients
250g pitted dates, soaked in hot water for 20 minutes to soften
100g raw pecans
1 tsp vanilla extract
1 tbsp coconut oil
2-3 tbsp crunchy peanut butter (look out for organic brands free from palm oil and added sugar)
4 tbsp coconut oil
4 tbsp raw cacao powder or Cadbury's Bournville Cocoa Powder
1 tsp vanilla extract
1-2 tbsp maple syrup or honey
Instructions
Line a medium baking tray or tin with greaseproof paper.
Place the dates, pecans, vanilla and coconut oil in a food processor and blend until a thick sticky dough forms.
Press the dough into the baking tray or tin, ensuring it's smooth and even.
Spread a layer of peanut butter across the base layer, as thickly as you like.
Place the tray into the freezer to set for 15-20 minutes.
To make the chocolate topping, gently melt the coconut in a small saucepan over a low-medium heat and stir in the cacao powder, maple syrup and vanilla until smooth chocolate sauce forms.
Remove the base and peanut layer from the freezer and pour on the chocolate topping, smoothing it across the top.
Place the tray back into the freezer to set for at least 30 minutes.
Remove, slice into bars and serve chilled.
Always store in the freezer as they can begin to melt at room temperature.
Notes
Any leftovers can be stored in the freezer for up to 3 months.
Rosanna Davison Nutrition https://www.rosannadavisonnutrition.com/