Yesterday was our first full day home after a blissful few weeks spent on the sunny shores of Mauritius, and it's safe to say that jet-lag was making itself very much known.
Having woken up yesterday morning full of beans at 4am, of course I was fast asleep in my PJs on the sofa by 7pm last night! After the long journey home with nothing but salty airplane food, all I was craving yesterday was a big bowl of simple, nourishing veggies.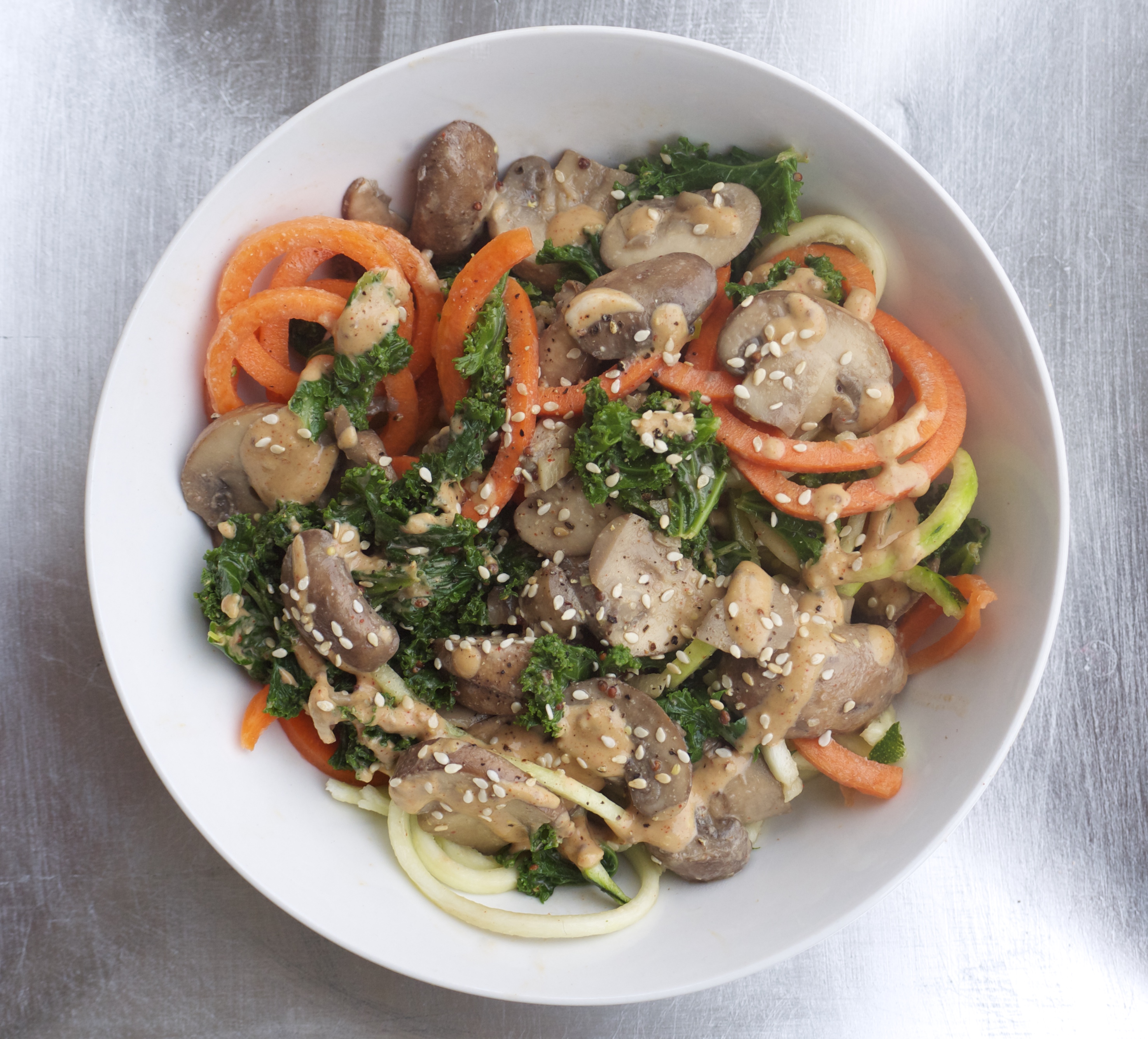 This dish of lightly sautéed mushrooms and curly kale in garlic and a little coconut oil, courgette and carrot noodles, with a creamy wholegrain mustard and tahini sauce, definitely hit the spot. It was quick and simple to put together, and a great mix of colours and textures.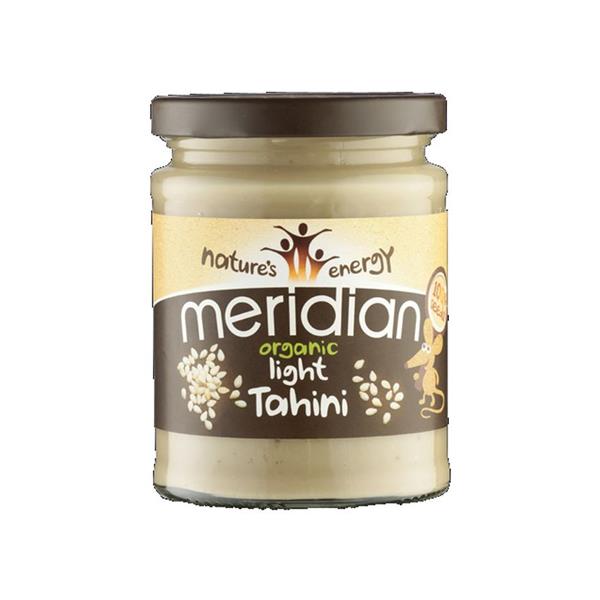 Using organic tahini (€4.95 for 270g) as a base for sauces and dressings is one of my favourite ways to enjoy the sesame seed paste, which also happens to be a useful source of plant-based calcium, with just a tablespoon containing 6% of your daily needs.
When a little warm water is added to tahini, you can create a creamy sauce, and adding in a range of ingredients can really change up the taste. For this one, I added some wholegrain mustard, lemon juice, balsamic vinegar, smoked paprika, seasoning and a dash of tamari sauce (€4.50), which is similar in taste to soy sauce but gluten-free. I always keep a bottle in my cupboard as it's so useful for dressings and even cooking without oil.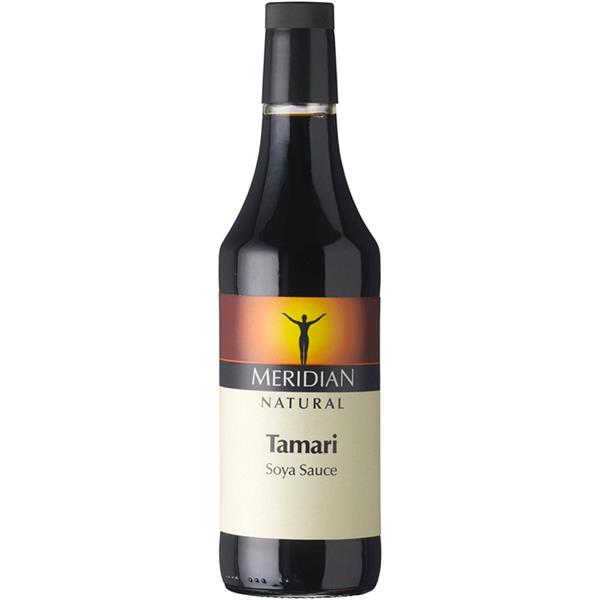 For the spiralised carrot and courgette, you could use a vegetable peeler if you don't have a spiraliser. I used my Lurch Spirali Spiraliser (€34.95) for this dish. Any firm fruits and veggies work well in it, from apples and hard pears, to carrots, courgettes, cucumber, and even sweet potato to create sweet potato noodles.
A sprinkle of toasted sesame seeds finished this super simple veggie dish!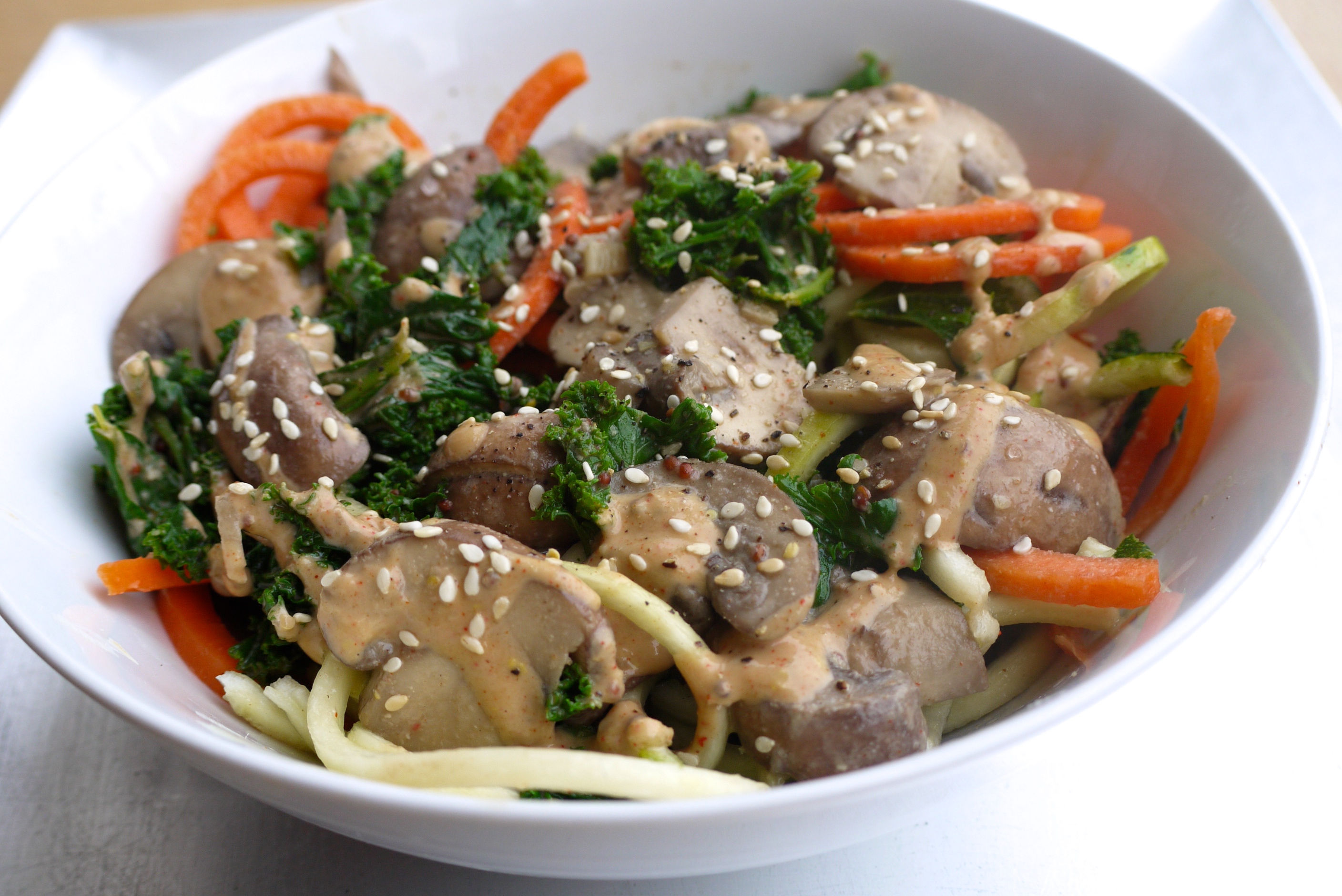 I would love to know if you get a chance to make this dish of Garlicky Sautéed Mushrooms and Kale with Courgetti and a Mustard Tahini Sauce! Simply tag #RosannaDavisonNutrition on Instagram or Twitter or come on over to my Facebook to say hello 🙂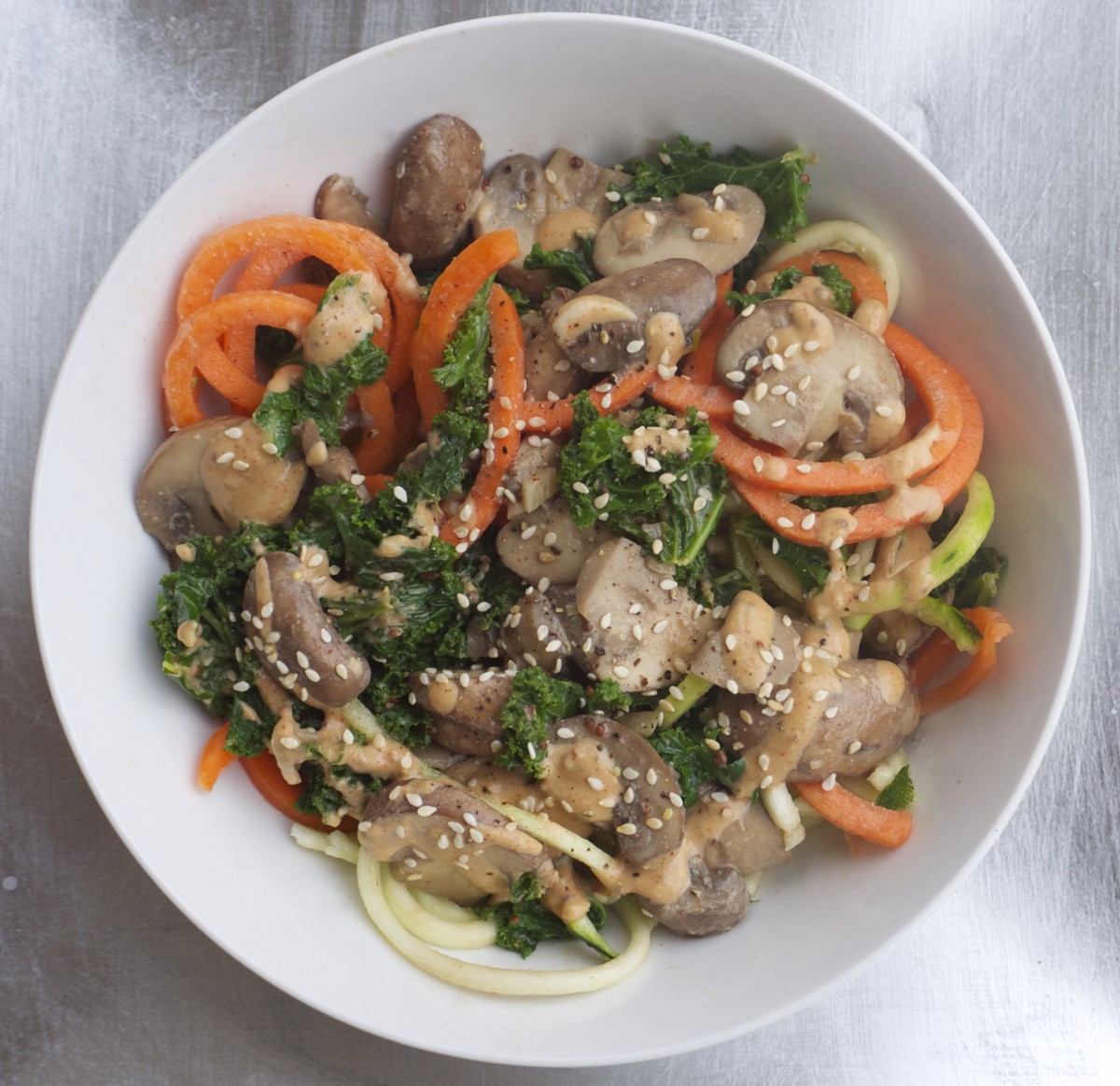 Garlicky Sautéed Mushrooms and Kale with Courgetti and a Mustard Tahini Sauce
2016-01-20 07:54:22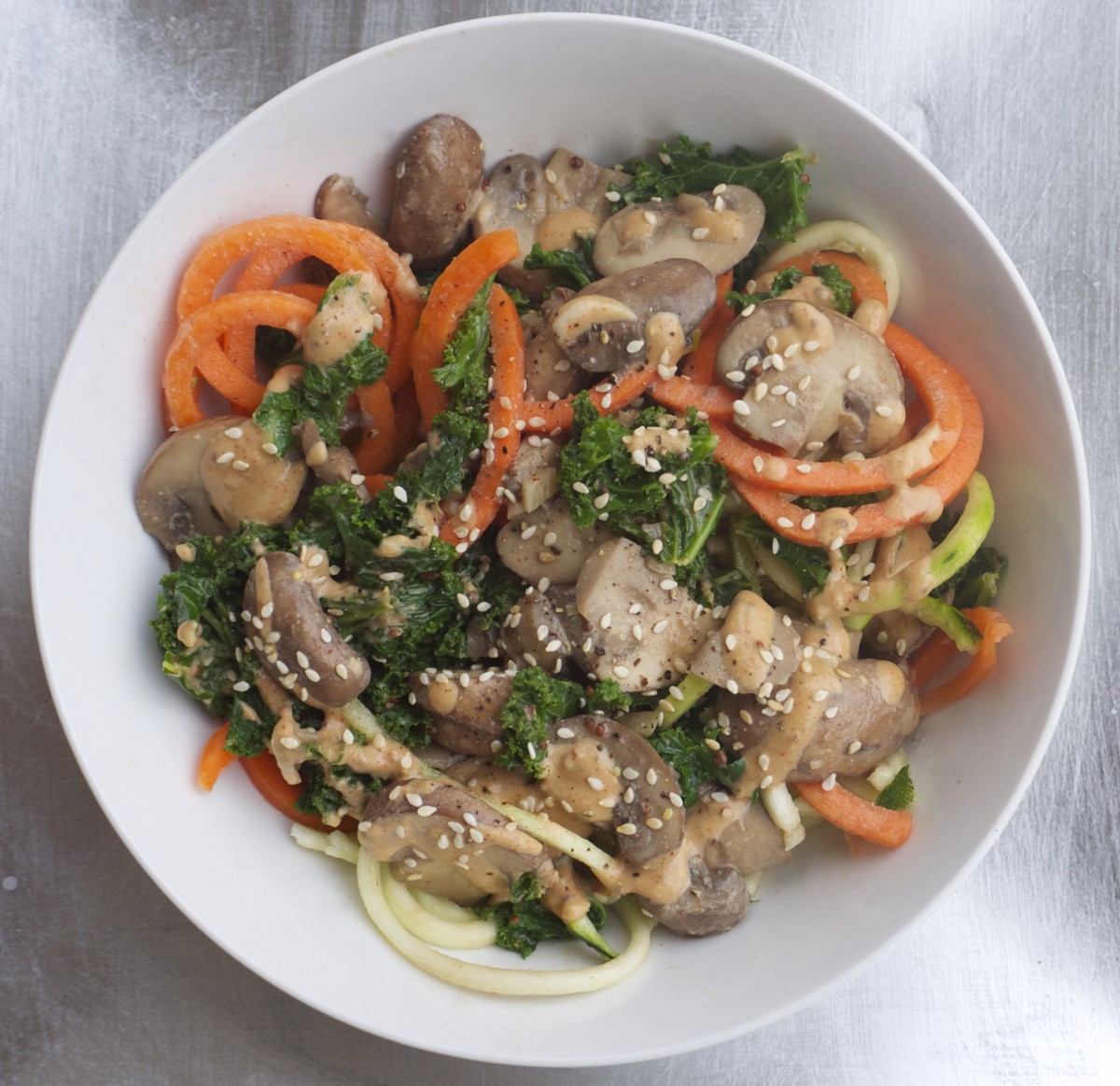 Serves 1
A simple and tasty way to enjoy a bowl of colourful vegetables.
Ingredients
virgin coconut oil, to cook (I used about half a teaspoon)
1 clove garlic, minced
150g mushrooms, rinsed well and sliced
16g (1 cup) kale, rinsed, tough stems removed and torn into smaller pieces
1 large carrot, peeled
1/2 a courgette, rinsed
1 tsp toasted sesame seeds, to serve
For the Mustard Tahini Sauce
1 tbsp light tahini
1 tbsp warm water
1 tsp wholegrain mustard
squeeze of lemon juice
1/2 tsp smoked paprika
dash of tamari sauce
dash of balsamic vinegar
Sea salt and black pepper, to taste
Instructions
In a saucepan over a medium heat (I used number 8 on my Induction hob), heat up the coconut oil and add in the garlic. Stir for about a minute, then add in the mushrooms and continue to stir.
When the mushrooms have started to soften and shrink, releasing their juices, add in the the kale and stir as it begins to soften and wilt. Add seasoning, to taste, remove from the heat and place them into a bowl.
Prepare the carrot and courgette noodles by processing them through a spiraliser or vegetable peeler, and add them to the bowl.
Make the tahini sauce by placing the tahini in a small bowl and adding the warm water. Use a fork to gently whisk them together until a creamy sauce forms, then add the remaining ingredients. Taste and adjust seasoning if desired.
Pour the sauce into the bowl of vegetables and mix well until it's all coated. Taste and add more seasoning if necessary (I added an extra squeeze of lemon juice).
Sprinkle with toasted sesame seeds and serve.
Notes
Any leftovers can be stored in an airtight container in the fridge for up to 2 days.
Rosanna Davison Nutrition https://www.rosannadavisonnutrition.com/