I've always loved zesty desserts, and lemon drizzle cake was a favourite when I was growing up. These lemon and coconut cream slices are a deliciously cool, creamy and citrus-packed option for lemon-lovers, and are the perfect treat for warmer summer days.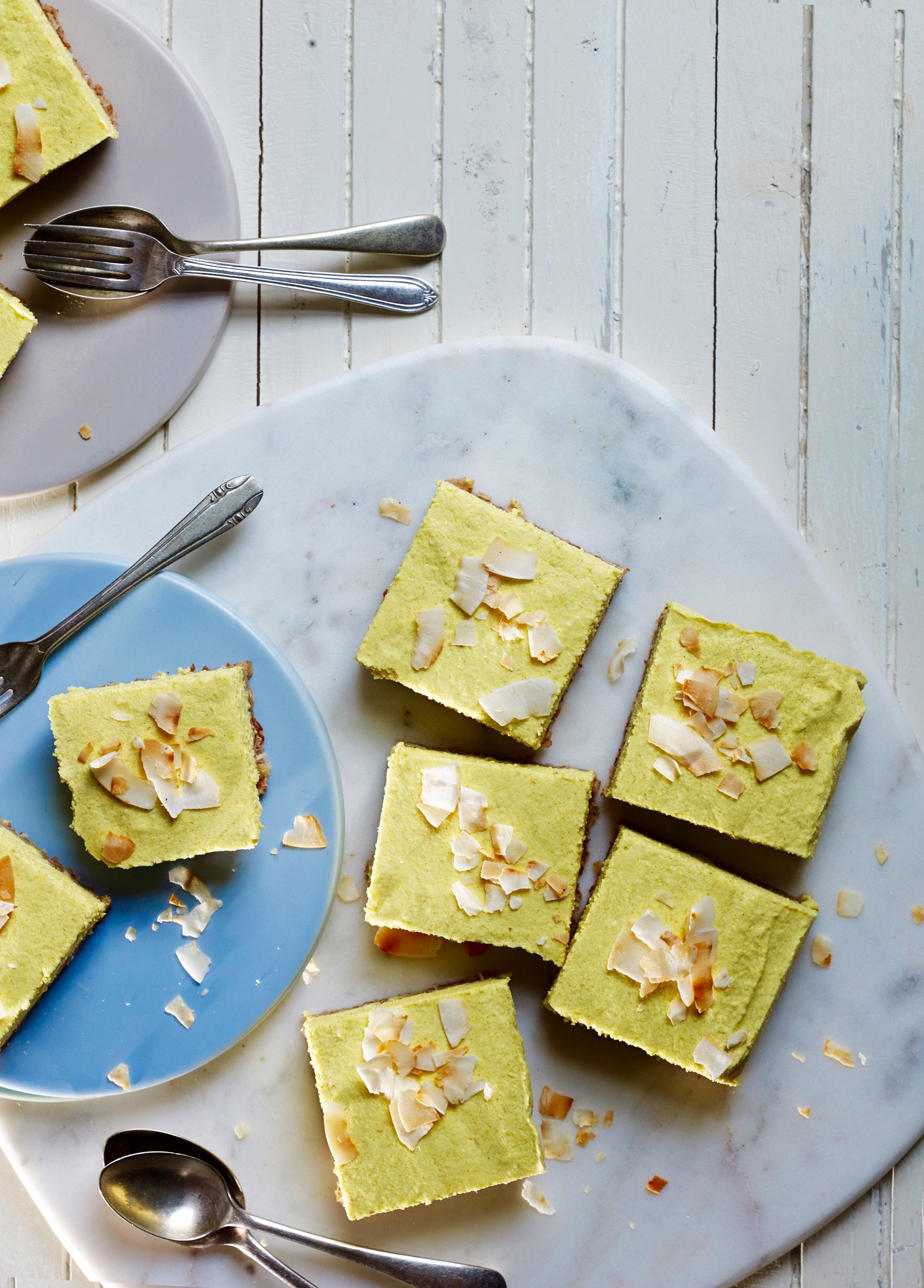 This recipe uses all the goodness of raw lemon juice and zest. Lemons are thought to help to improve your digestion, boost your liver's bile secretion and improve the abilities of your liver's detox enzymes. Supporting the liver is important for clear skin and overall good health. The vitamin C in lemons act as an antioxidant to fight against free radical damage to cells, which may contribute to the ageing process. While they can taste sour and acidic, lemons contain the alkaline minerals magnesium, potassium and calcium.
Fresh lemon juice works very well squeezed on salads and blended into smoothies and salad dressings… and in sweet treats like these!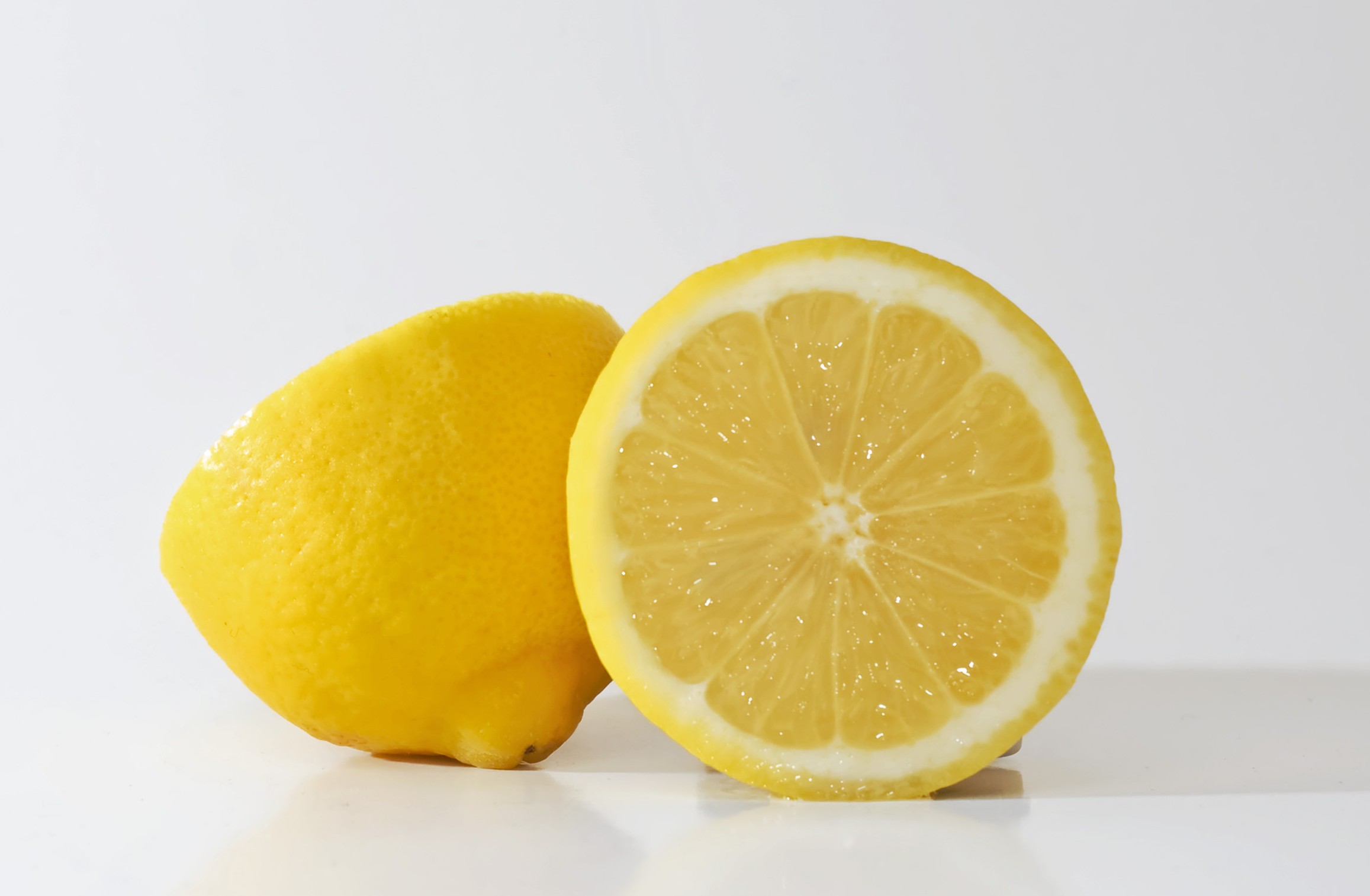 Free from refined sugar, I used cinnamon and fibre-rich dates to add natural sweetness. Full-fat coconut milk and virgin coconut oil make the slices really creamy and delicious, and coconut offers its own health benefits, too. Due to the various health benefits of coconut flesh, milk and water and their nutrients essential to human health, the coconut palm has been dubbed 'the all giving tree' in Indian culture. All of its parts are used in various ways to support the health of people native to coconut growing regions, mainly in tropical countries. While its best to use all oils in moderate quantities, the saturated fats in coconut oil are thought to support health and leave cholesterol levels unaffected. It's medium-chain fatty acids are used by the body for energy, help to nourish your thyroid gland and naturally balance hormones.
It is much more beneficial to cook with coconut oil than other popular oils like olive and sunflower oil, as they tend to be more unstable at high temperatures. However, coconut oil remains stable at high temperatures and its powerful antibacterial and anti fungal properties also mean that it can help to protect your skin from breakouts and infections, plus it supports adrenal health and helps to stabilise blood sugar levels.

Recipe: Lemon and Coconut Cream Slices
Ingredients:
(Makes 12-14 slices)
Per Slice: 230 calories, 5.1g protein, 17g carbs, 17.4g fat
for the crust:
65g raw unsalted almonds, chopped
50g raw pecans, chopped
20g unsweetened desiccated coconut
75g dates, pitted and soaked in hot water for 20 minutes to soften
pinch of cinnamon
For the filling:
1 400ml can of full-fat coconut milk, chilled overnight in the fridge
260g cashews, soaked in water for 30 minutes
100g maple syrup or honey
2 tbsp virgin coconut oil, melted
1 tsp vanilla extract or vanilla powder
A pinch of ground turmeric for a yellow colour (optional)
the zest and juice of 2 lemons
Instructions:
1. Preheat the oven to 190C and Line a 6×9" baking dish with greaseproof paper.
2. Spread the almonds, pecans and coconut out on the dish and toast for 8-10 minutes, until golden. Remove from the heat.
3. Place the toasted nuts and coconut into a food processor and add the soaked and drained dates and cinnamon. Process for 2 minutes until the mixture is crumbly but sticks together. Use a dash of water to blend, if necessary.
4. Press the base mixture evenly into the bottom of the lined dish and set aside.
5. To make the filling, open the chilled can of coconut milk and scoop out the hardened coconut cream, which should have separated from the coconut water. Place it in a blender or food processor and add the soaked and drained cashews, maple syrup, coconut oil, vanilla, turmeric, lemon juice and zest, but leave some zest aside for sprinkling over the top.
6. Blend together until smooth and creamy, using a dash of water to blended if necessary.
7. Pour the filling evenly across the base and smooth over with a spatula.
8. Place the dish into the freezer to set for 30 minutes, until firm to touch.
9. Remove from the freezer, top with a sprinkle of lemon zest, cut into slices and serve chilled.
Please note: The slices are best eaten on day they're made, but they can be stored in an airtight container in the fridge for up to 2 days.