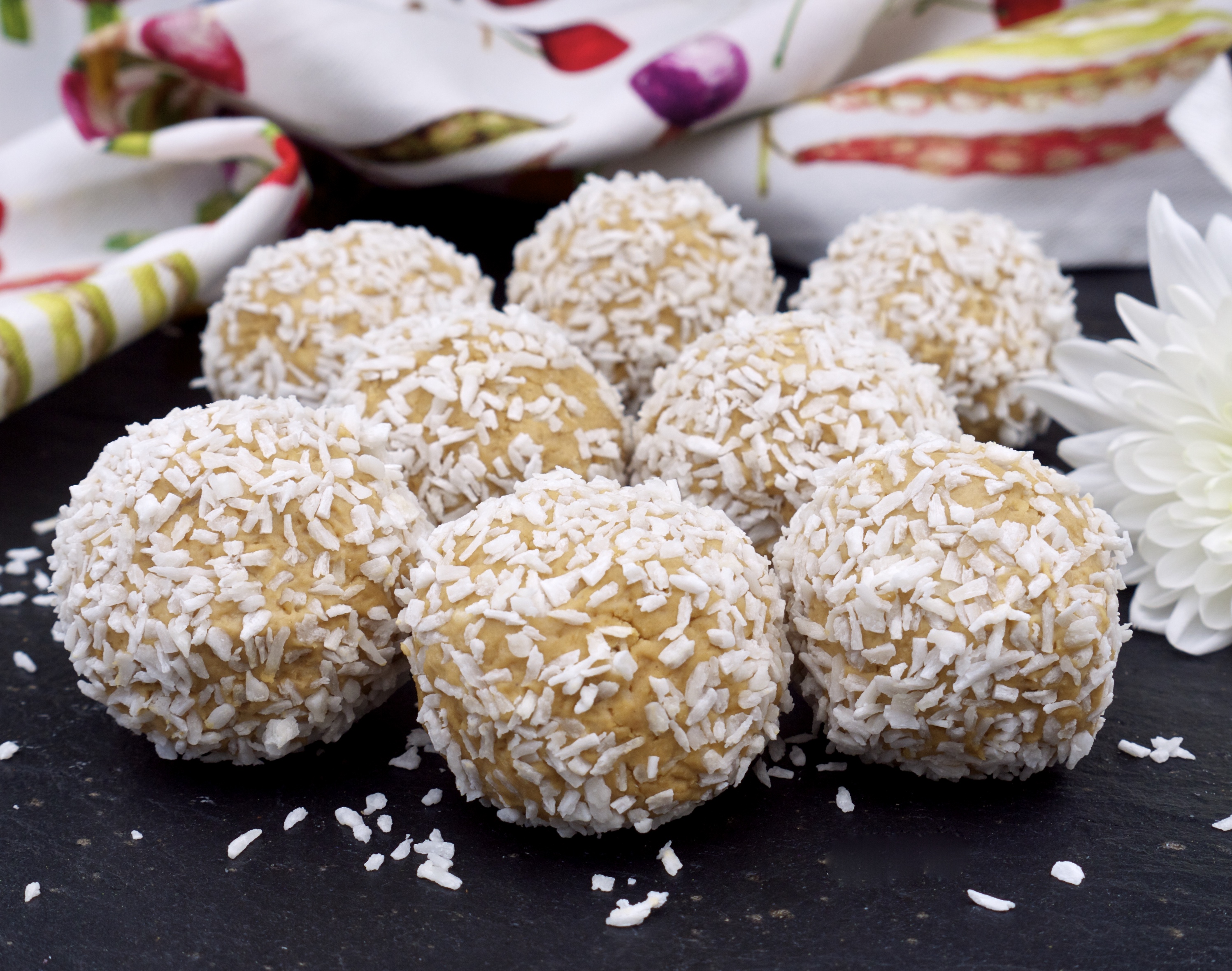 Every time I look at these Coconut Kiss Protein Balls, I think of donuts. Is that weird?! I must have donuts on the brain this week, because my husband bought a box of donuts from the massively popular Aungier Danger for his staff in work a couple of days ago, and he's been banging on about how delicious they were ever since. I might have to try a sneaky little bit of one sometime soon… shhh! 😉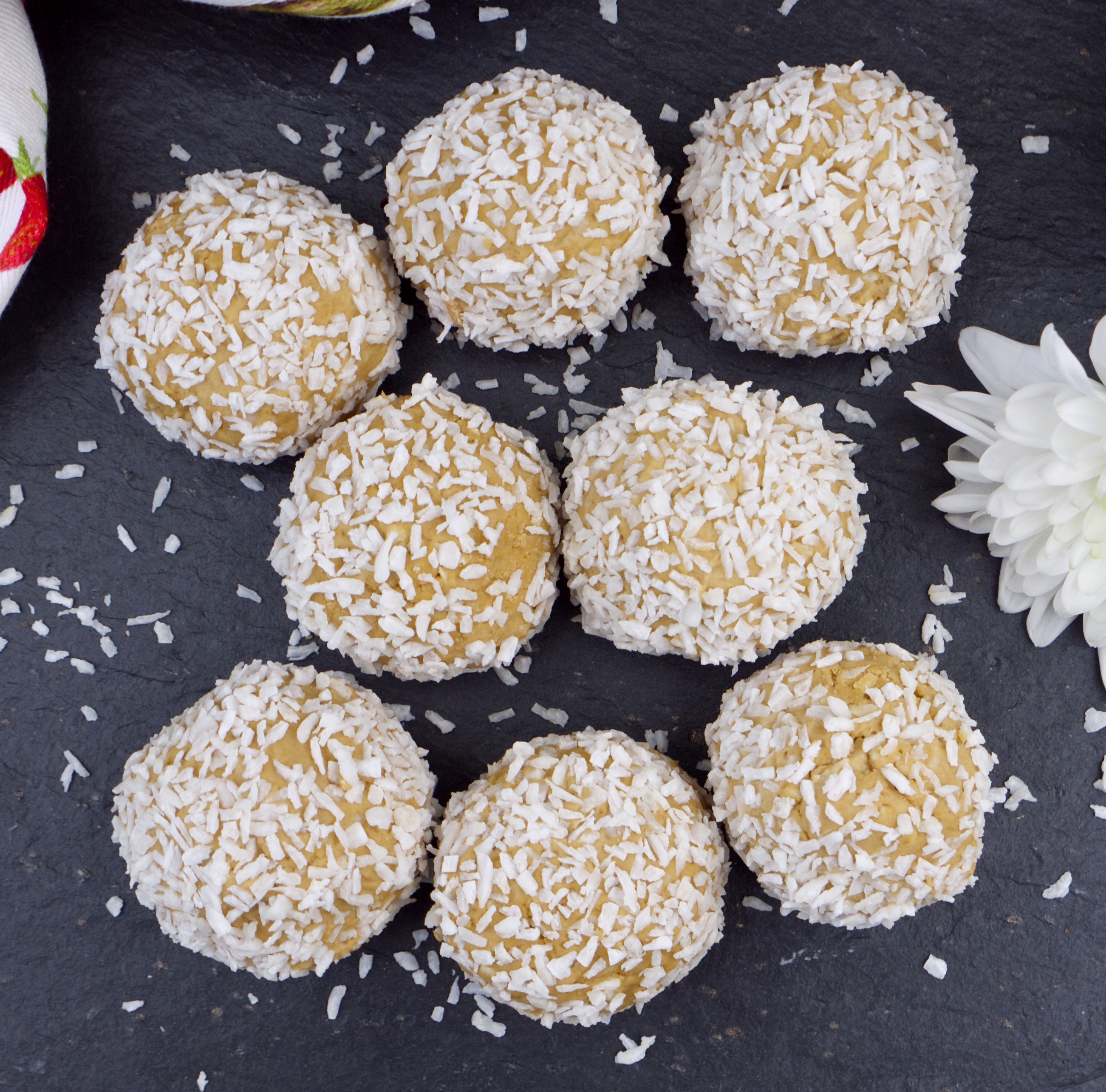 Luckily, these four-ingredient beauts are considerably less naughty than donuts (though probably not as fun) and take all of five minutes to make. Yesss!
If you're a regular reader of this blog, you may have spotted that I'm a big fan of coconut in all of its glorious forms. I keep a tub in my bathroom to use on my hair and as a body lotion – plus it works well as a make-up remover if you're stuck for cleanser. I love to drink coconut water for rehydration after exercise, and both coconut milk and dried coconut pop up in plenty of my recipes.
For this recipe, I simply mixed chilled coconut cream with desiccated coconut, Sunwarrior protein and a touch of vanilla extract to create a slightly sticky dough, which I then rolled into golfball-size balls to enjoy in a ladylike fashion or stuff into your gob all in one go… I tend to do the latter 🙂
They're low in carbs and calories, filling, unprocessed and free from sugar. Plus they make a brilliant portable snack or lunchbox addition. Who needs donuts anyway!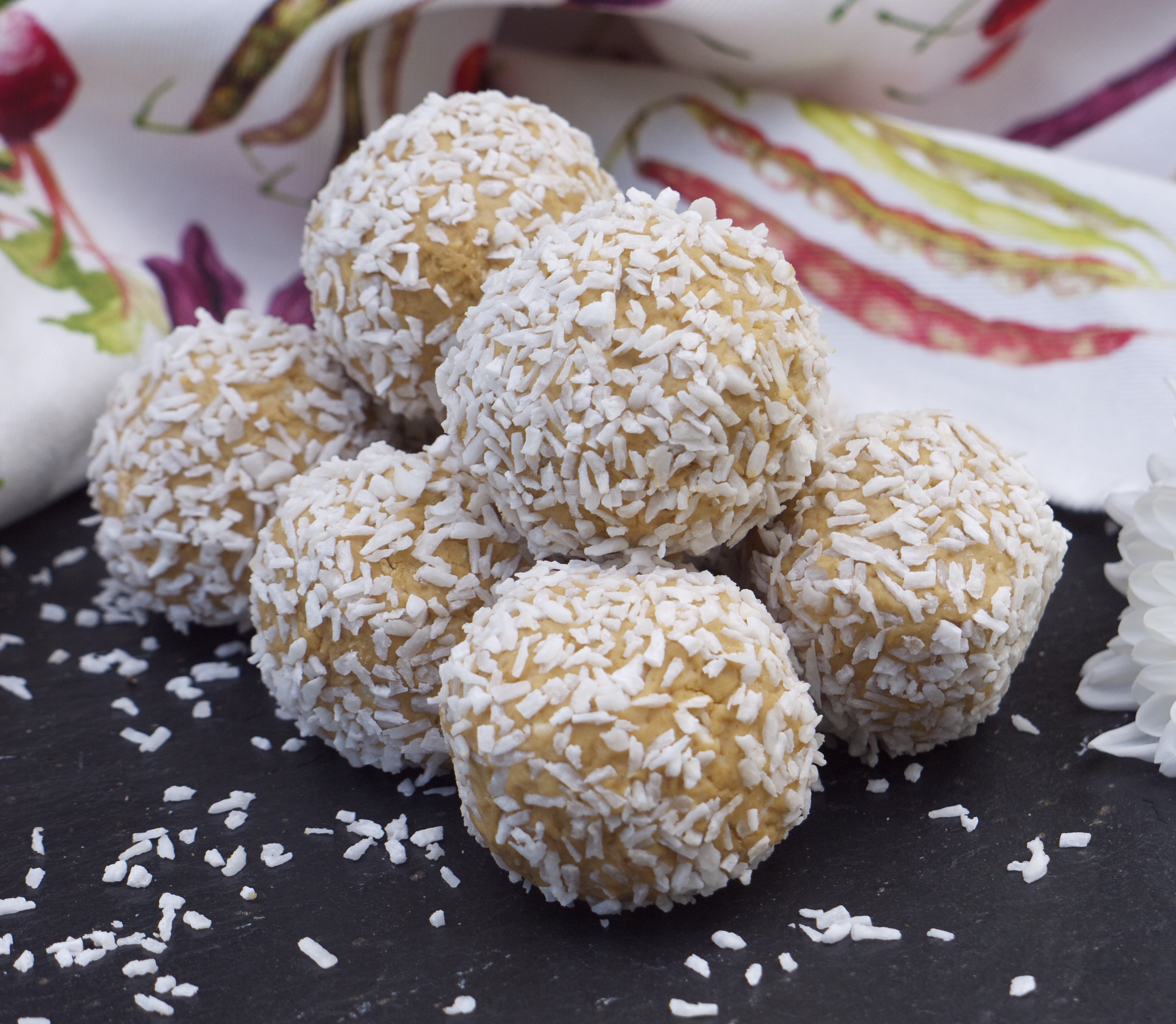 I would love to know if you get a chance to make these Coconut Kiss Protein Balls! Simply tag #RosannaDavisonNutrition on Instagram or Twitter or come on over to my Facebook to say hello 🙂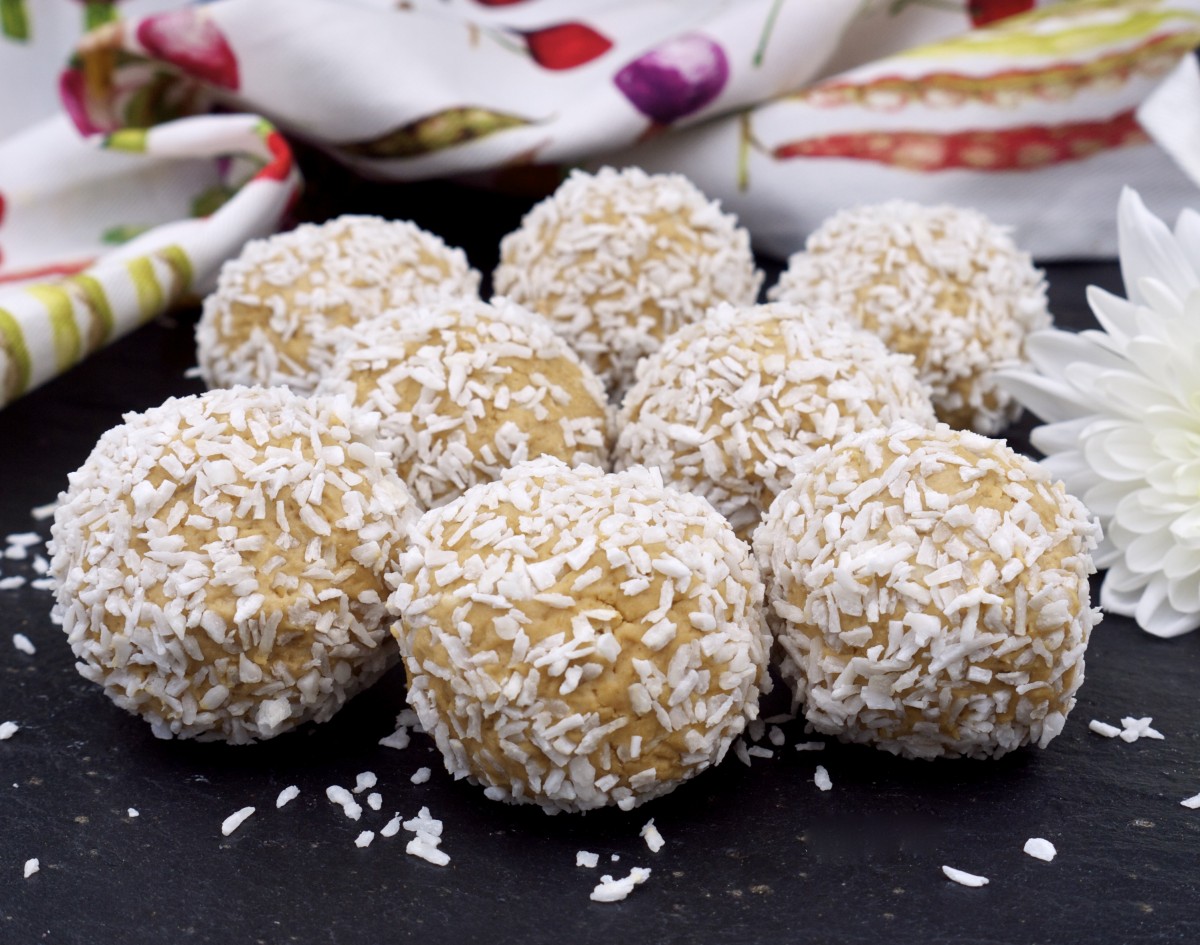 Coconut Kiss Protein Balls
2016-05-19 16:41:25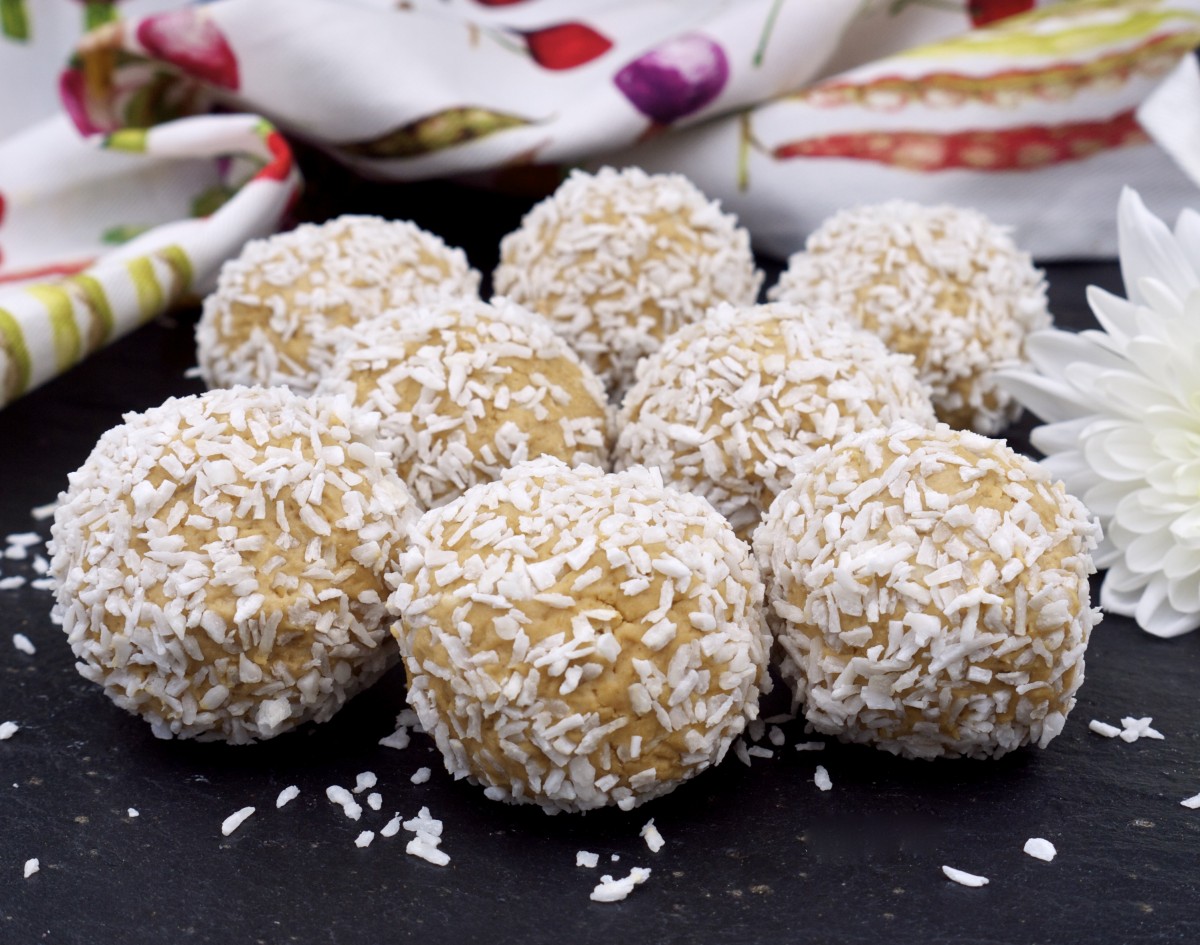 Simple and tasty low-carb four-ingredient protein balls, perfect as a snack, breakfast on the go or post-workout to support muscle recovery and repair. Nutrition Information per ball: 68 calories, 6.4g protein, 2.5g carbs, 4.3g fat, 1g fibre
Ingredients
3 scoops of Sunwarrior Vanilla protein Powder (or your favourite protein)
4 tbsp coconut cream from a chilled can of full-fat coconut milk*
3 tbsp desiccated coconut and extra, to decorate
1 tsp vanilla extract
Instructions
Place all the ingredients into a mixing bowl and combine together well until a thick mixture forms.
Taste and adjust quantities of vanilla and desiccated coconut, if desired.
Use the palms of your hands to roll the mixture into balls.
Place the extra desiccated coconut into a small bowl and roll each ball in it until well coated.
Place in the fridge to chill for 20 minutes or until ready to serve.
Notes
*For the creamiest coconut cream, chill a can of full-fat coconut milk in the fridge overnight to allow the cream to harden. Carefully open it without shaking the can.
Any leftovers can be stored in an airtight container in the fridge for 3 days.
Rosanna Davison Nutrition https://www.rosannadavisonnutrition.com/