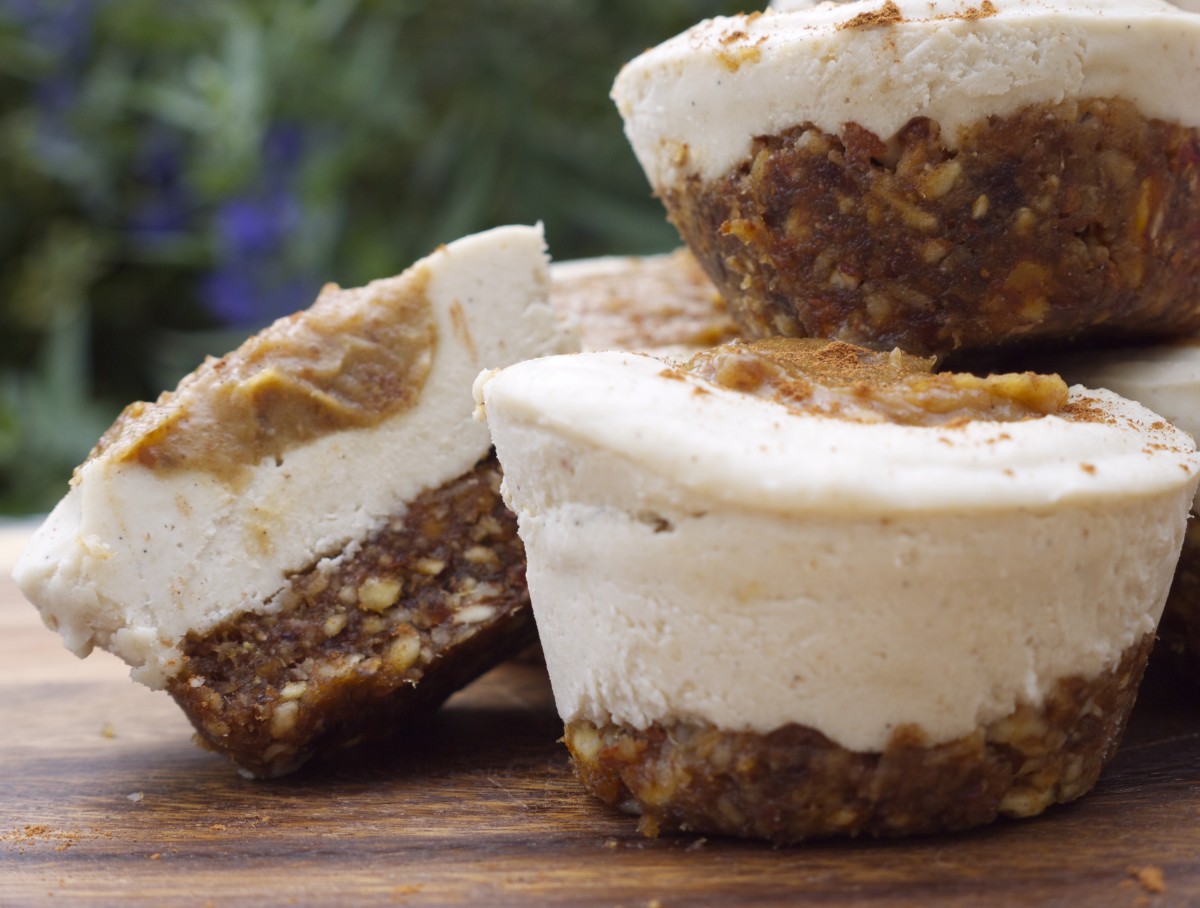 Did you know that you can make a silky, sweet, creamy and satisfying cheesecake without using any sort of cheese?! It's one of the best kept secrets of healthy desserts, and it's not only simple to make, but incredibly delicious too!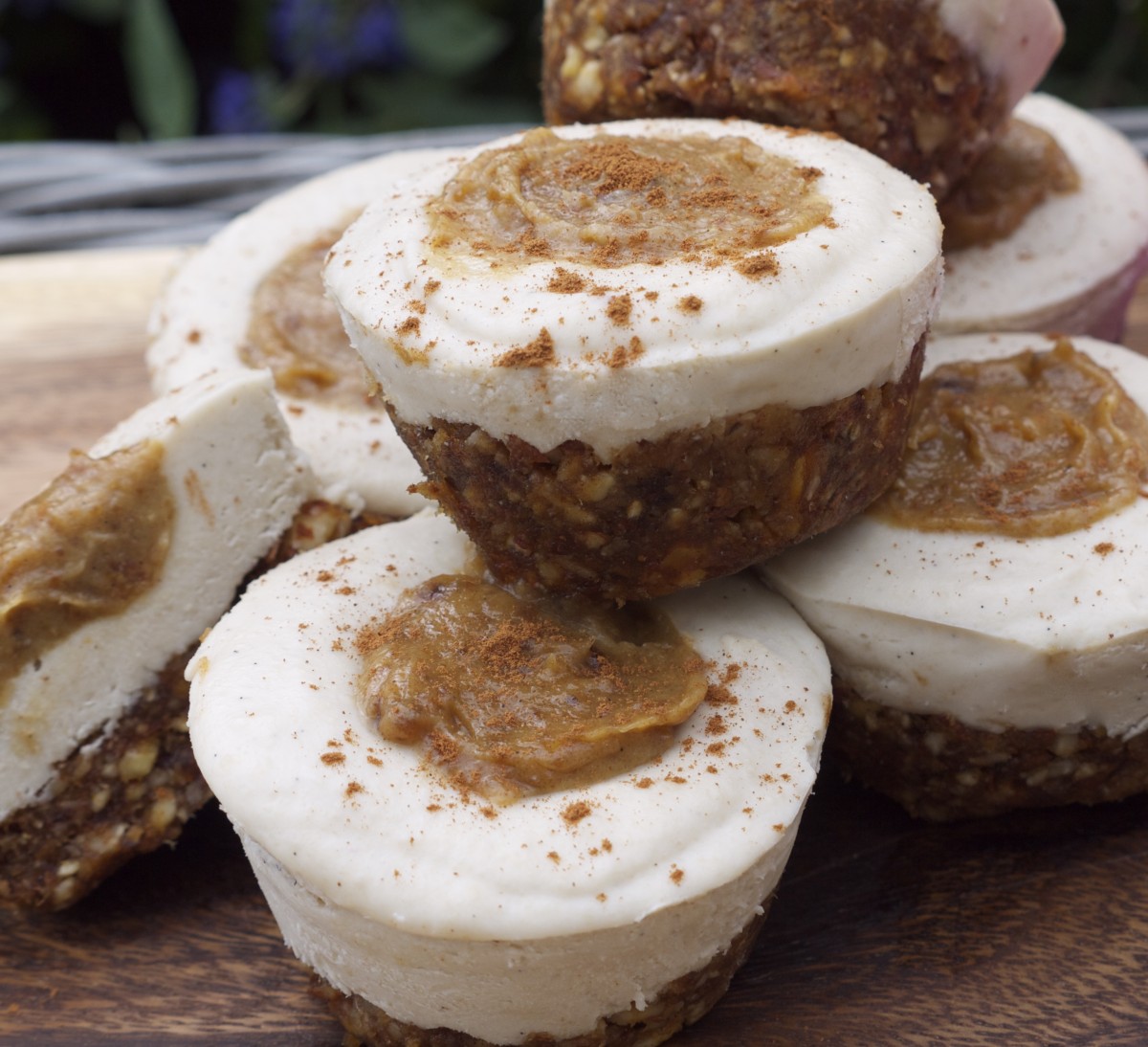 When I have a day off, I love to spend it in the kitchen creating new recipes for you guys 🙂 I find it really relaxing and fun… especially when it comes to doing the taste tests! I gave my husband a cheesecake to try out and he went back for seconds. So that's always a good sign!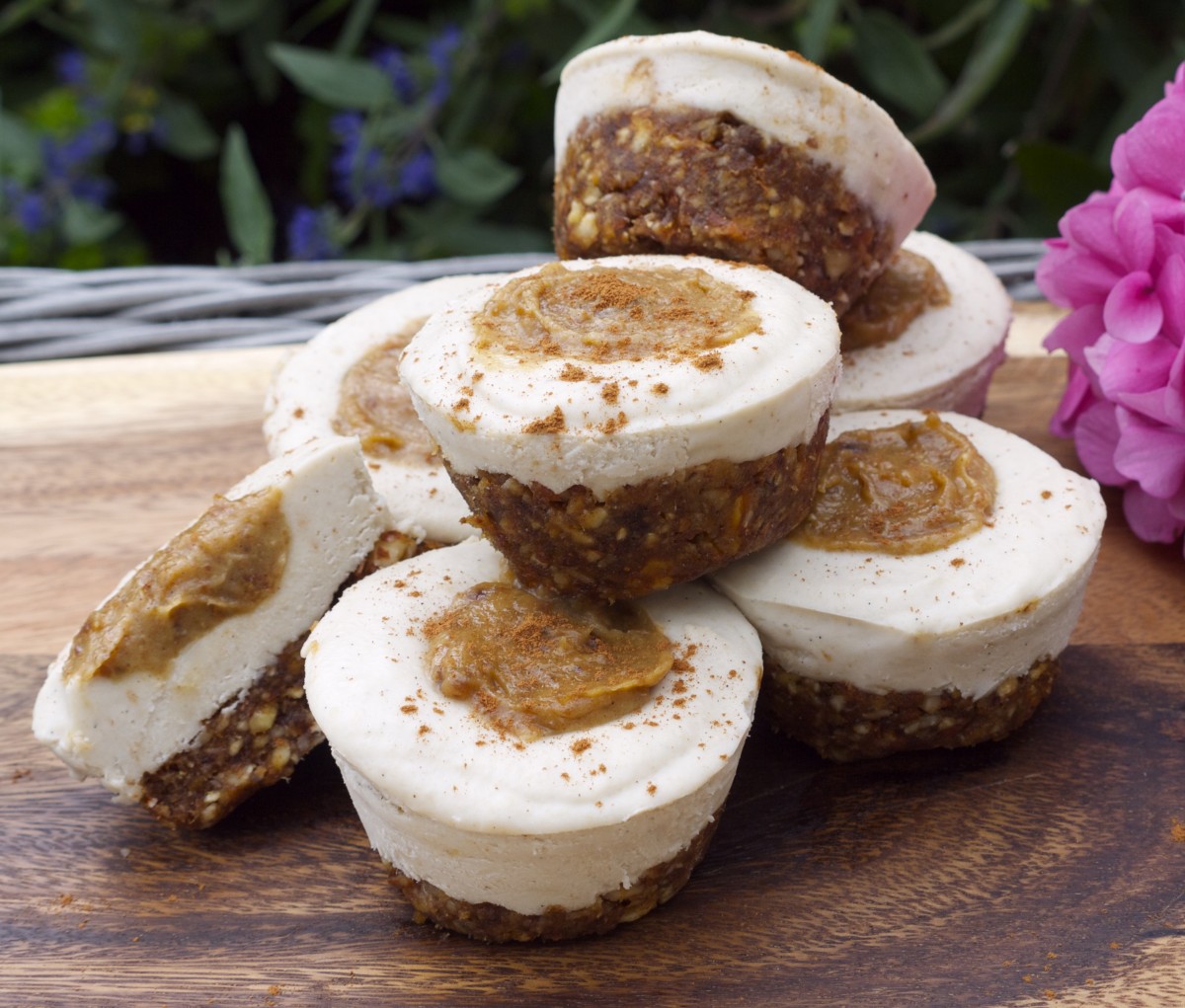 These mini salted caramel cheesecakes are completely free from refined sugar, dairy and gluten, yet you would never be able to tell that they're actually healthy and bursting with goodness. I promise! The base is made from just two key ingredients – dates and almonds. They make a sweet, fudgy base for the cheesecake, and it couldn't be easier to make.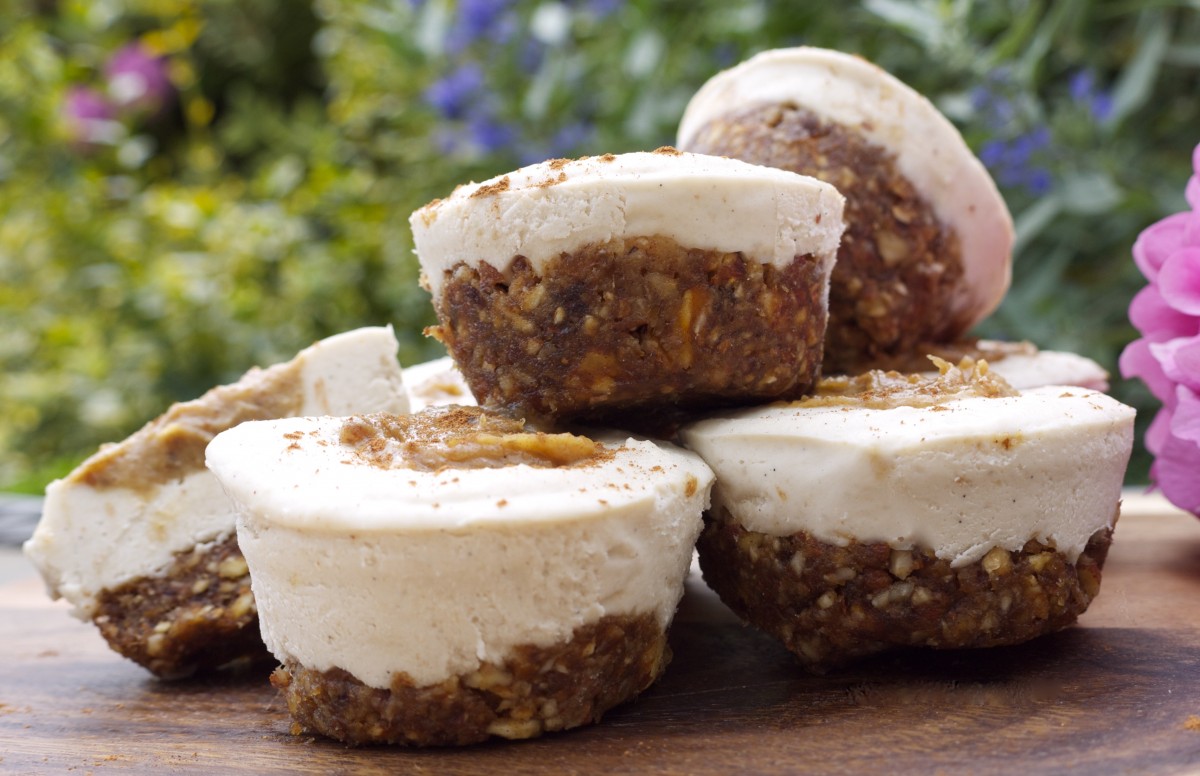 Raw, unsalted cashews, coconut milk and maple syrup are the secret to creating that thick, creamy cheesecake filling. I added lemon juice to cut through the sweetness, and vanilla seeds to make it taste like vanilla ice-cream! In fact, the filling is so creamy and good that you could pretty much eat it with a spoon as it is 🙂
The caramel topping is another easy but ridiculously tasty combination of dates, vanilla and tahini (sesame seed paste), and it works well with the other ingredients. But you could also whizz up some berries and make strawberry or raspberry mini cheesecakes if you prefer. They would look beautiful in berry reds and pinks!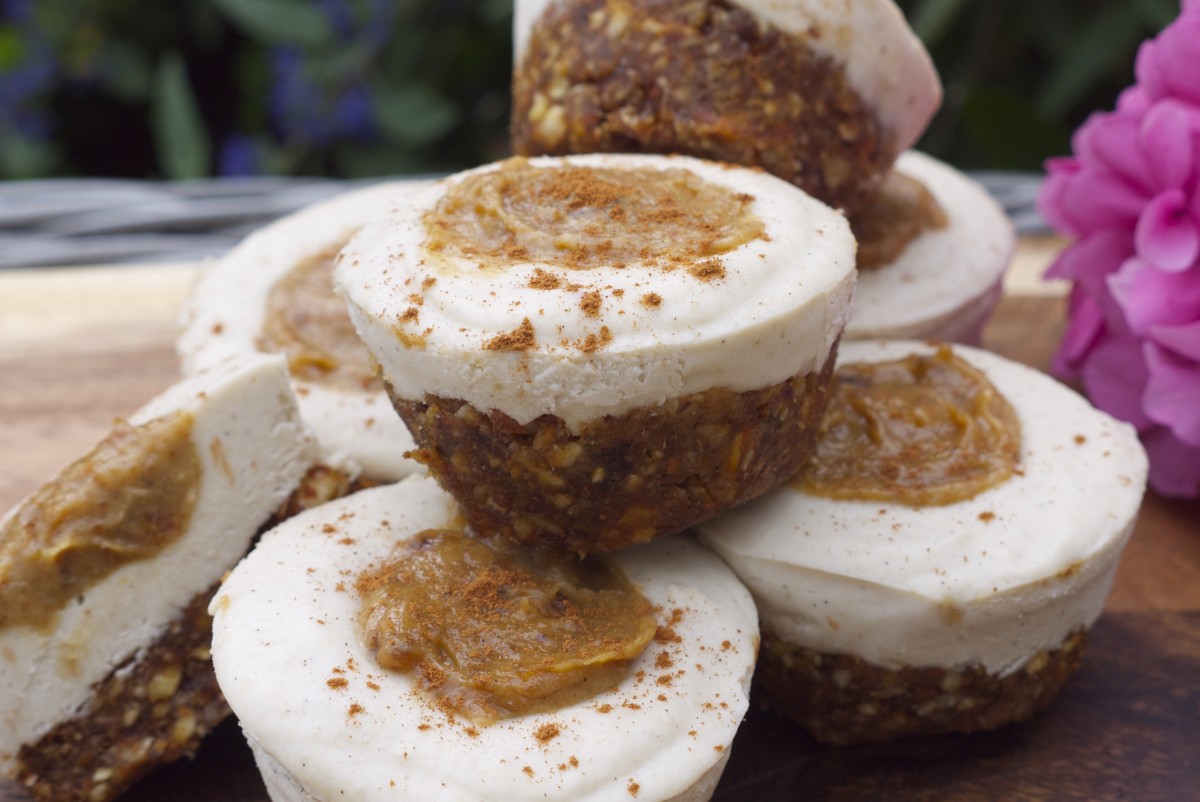 I would love to know if you get a chance to make these mini salted caramel cheesecakes! Simply tag #RosannaDavisonNutrition on Instagram or Twitter or come on over to my Facebook to say hello 🙂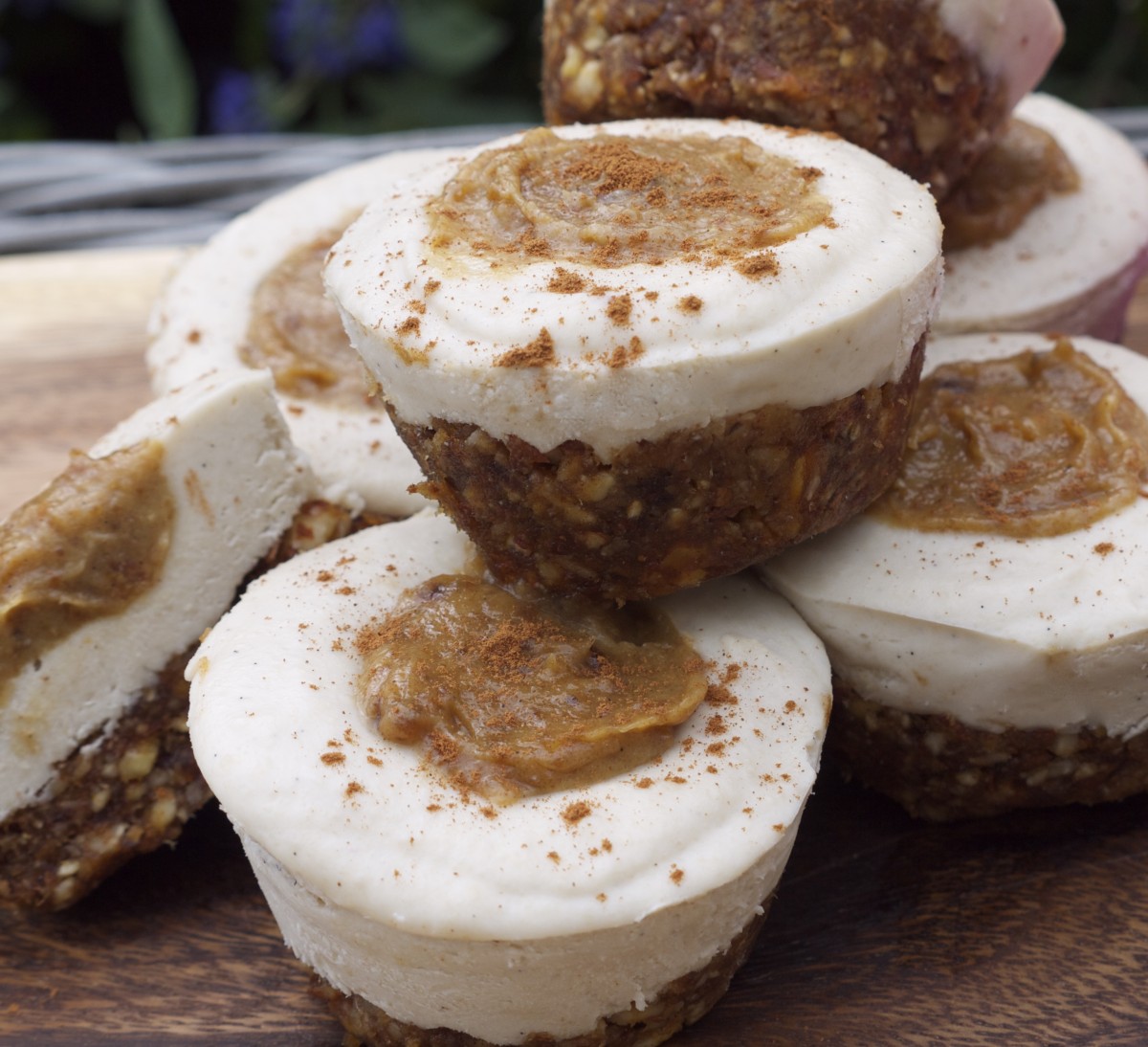 Mini Salted Caramel Cheesecakes
2015-09-21 19:21:30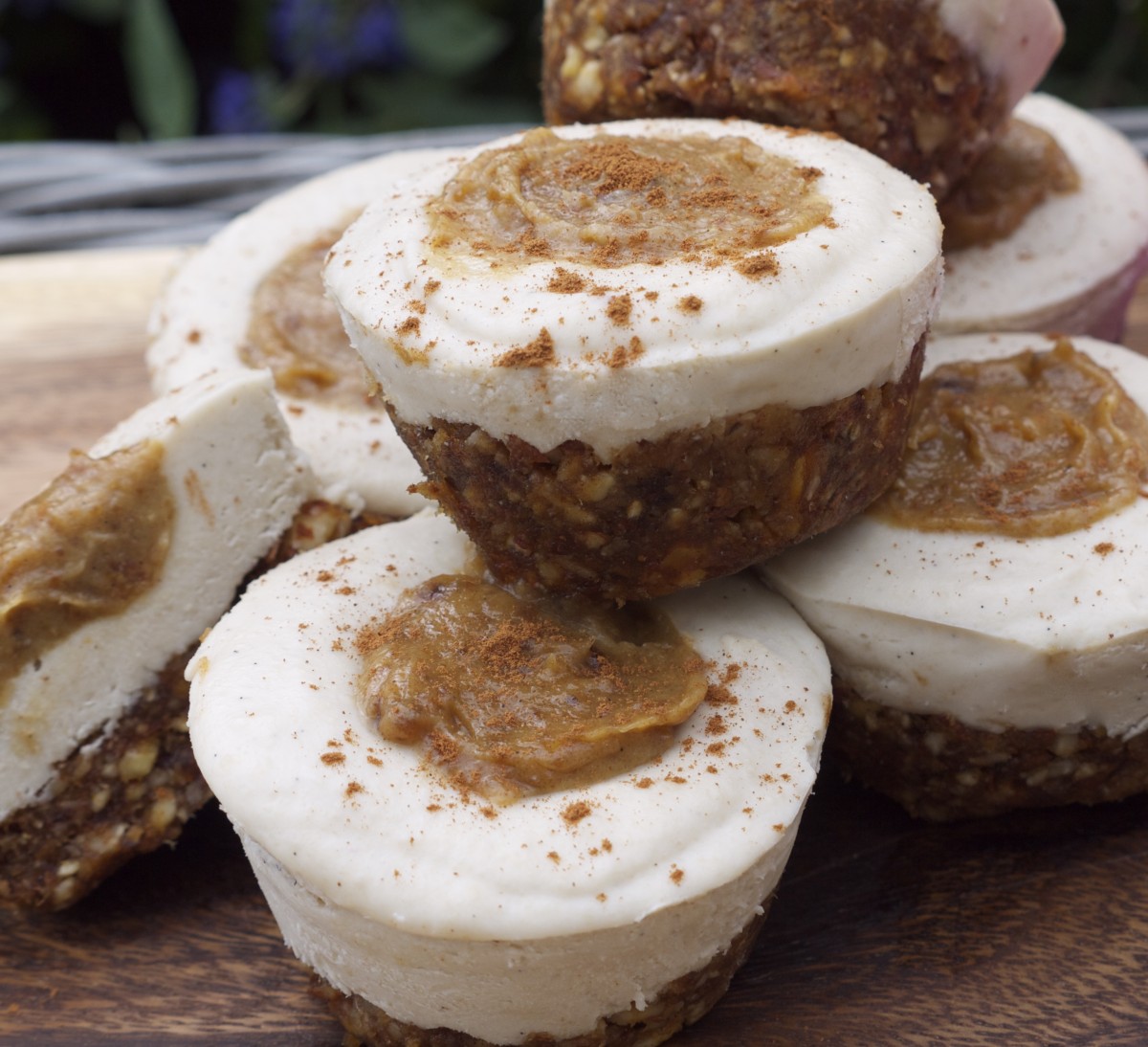 Creamy, silky cheesecake flavoured with caramel and vanilla, on top of a fudgy base. The perfect sweet treat, free from refined sugar, gluten and dairy!
For the base
145g (1 cup) almonds or walnuts
150g (1 cup) dates, pitted and soaked in hot water for 20 minutes to soften
1-2 tsp cinnamon
1 tsp vanilla extract
For the cheesecake filling
195g (1.5 cups) raw unsalted cashew nuts, soaked in cold water for 15 minutes
70g (1/3 cup) coconut oil, melted
1 400ml can of full-fat coconut milk, chilled overnight in the fridge
1 tbsp lemon juice
155g (1/2 cup) of maple syrup or honey
1 tsp vanilla seeds or pure vanilla extract
For the caramel filling
150g (1 cup) dates, pitted and soaked for 20 minutes in water, to soften
1 tbsp tahini paste
1 tsp vanilla extract
Pinch of pink rock salt or Celtic sea salt
Pinch of cinnamon or cacao powder, to garnish
Instructions
Drain the soaked dates well and place them in a food processor with the almonds/walnuts, cinnamon and vanilla. Blend them together until a sticky 'dough' forms. You should be able to stick the mixture together between your fingers.
Use a tablespoon to divide the mixture evenly between the hollows of the baking tin, pressing down gently on the mixture to help it stick together and making sure the tops are smooth and even.
To make the cheesecake filling, drain the soaked cashews and place them in a blender or food processor (I used a blender) along with the coconut oil, coconut milk*, lemon juice, maple syrup/honey and vanilla. Blend together until the mixture is smooth and creamy.
Divide the mixture onto the bases in the cupcake tin, and make sure they're smooth across the top.
To make the caramel sauce, drain the soaked dates and place them in a blender with the tahini, vanilla and salt. Use a splash of warm water to help blend them into a smooth sauce. Stop and scrape down the sides of the blender if necessary.
Use a teaspoon to place a blob of caramel sauce on the centre of each cheesecake, smoothing it across the top.
Place the entire tray into the freezer to set for at least two hours.
Remove from the freezer when ready to serve and use a blunt knife to ease the edges of the cheesecakes out from the tin, to enable them to pop out.
Notes
*Coconut milk works well but to make it even creamier, I like to allow the coconut cream to separate from the liquid part in the can by chilling it in the fridge overnight and spooning the solid part into the blender.
The cheesecakes are best eaten on day they're made, but they can be stored in an airtight container in the fridge for up to 2 days.
Rosanna Davison Nutrition https://www.rosannadavisonnutrition.com/