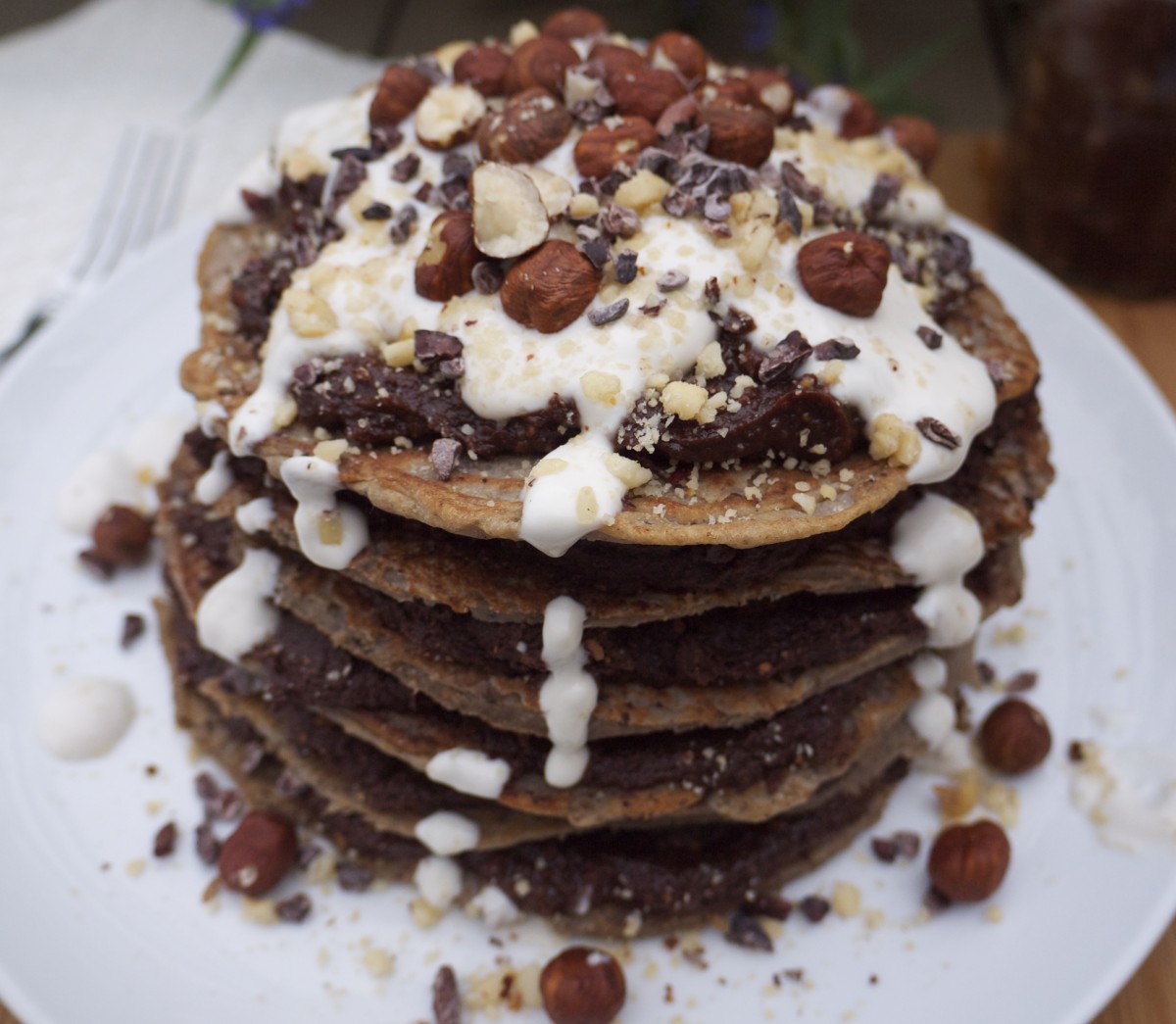 I mean, Nutella pancakes.
If you're on the lookout for a rich and indulgent brekkie or brunch this weekend, then look no further!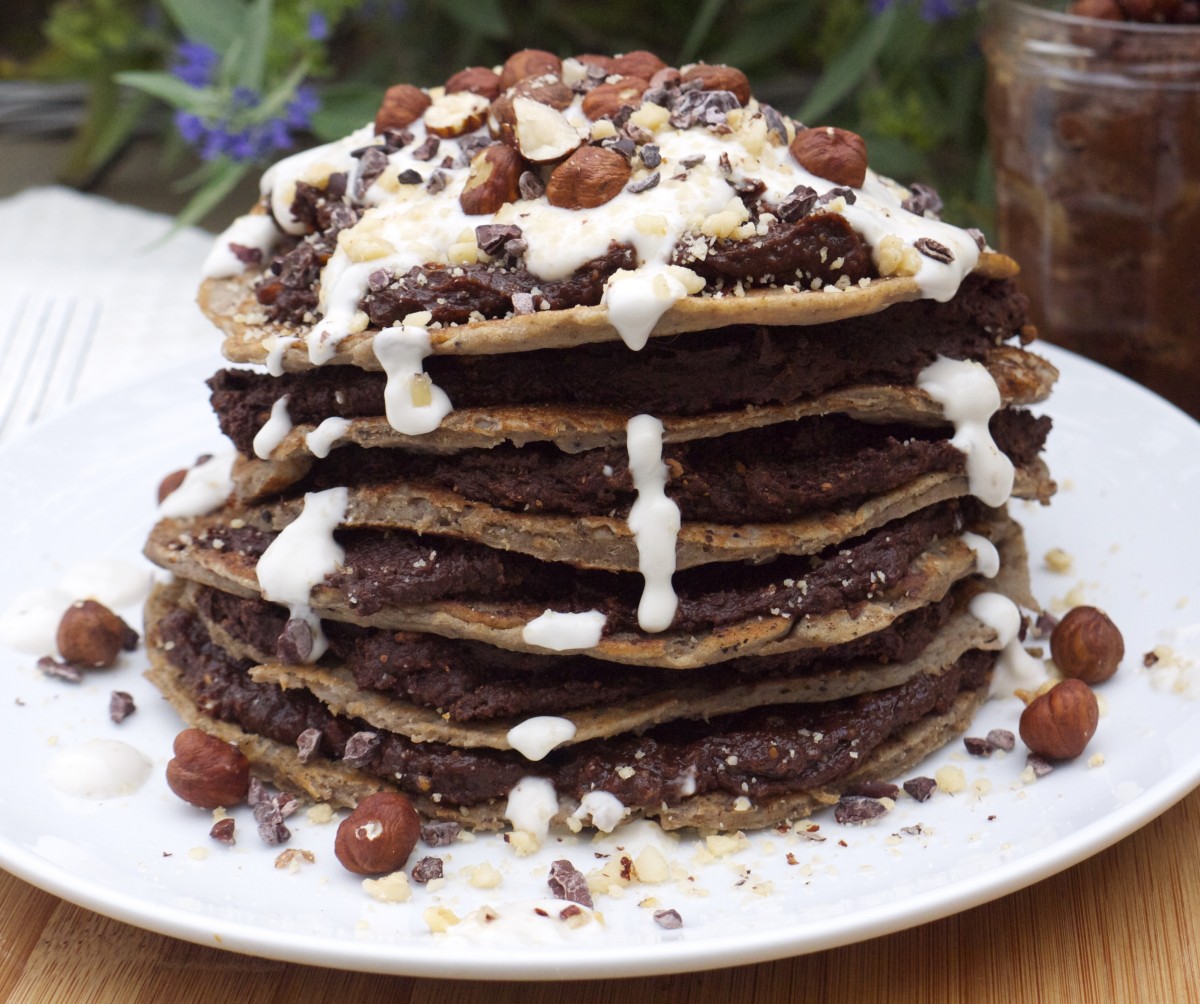 Having whipped up a jar of healthy Nutella a few days ago, I decided that the logical next step would be to spread it thickly between an entire stack of pancakes, then drizzle on a few tablespoons of decadent maple cream… just in case it wasn't already tasty enough!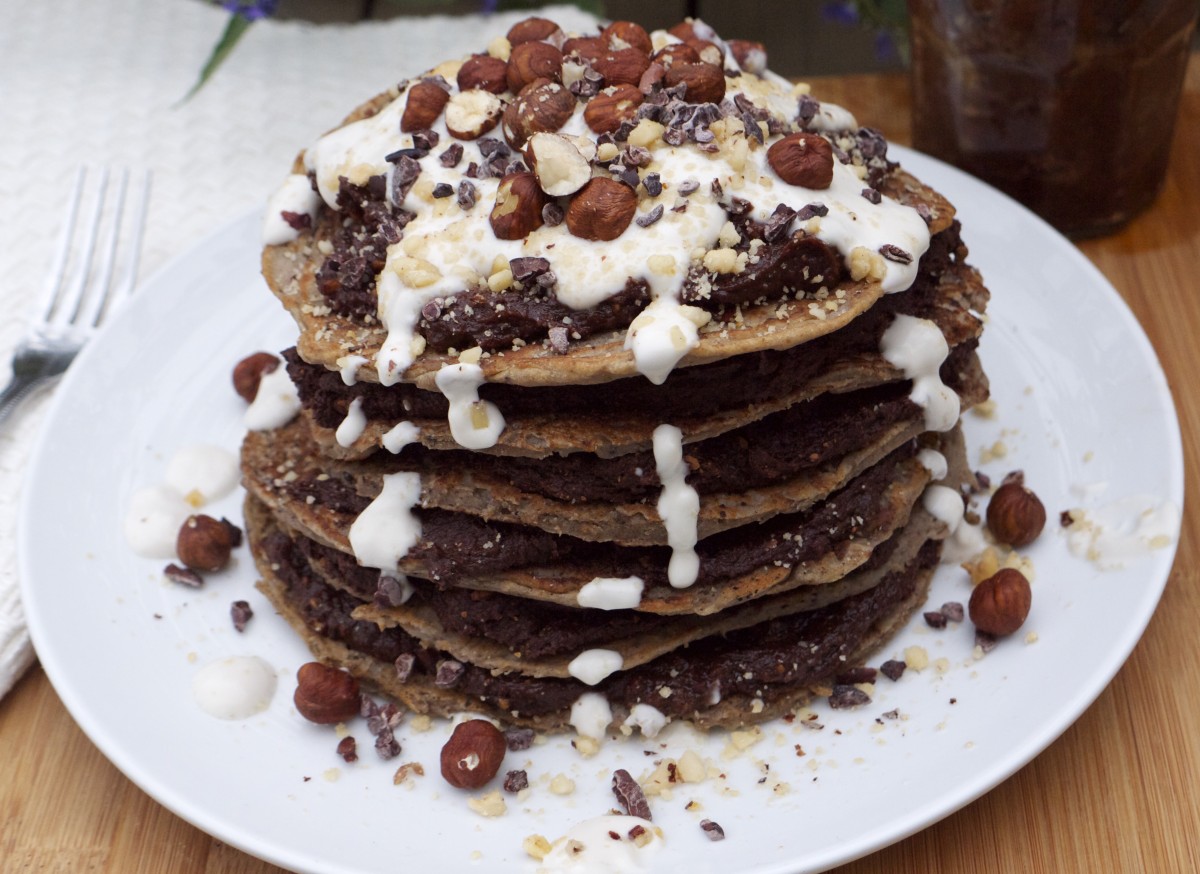 But these pancakes are quite as naughty as they look… Promise!
For one thing, the Nutella is really based on blended dates, nut butter and cacao. All are ingredients with plenty of nutrients and fibre – and absolutely zero refined sugar.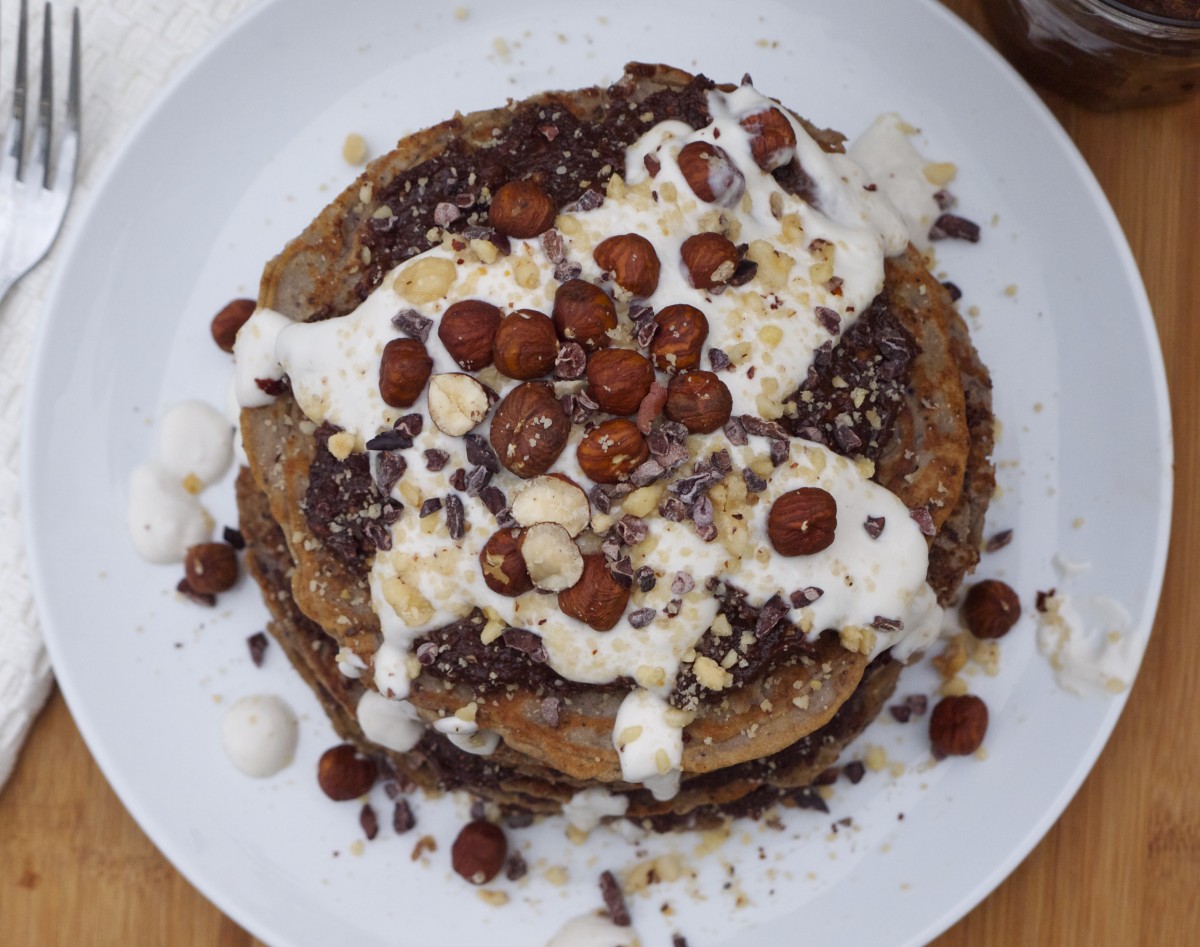 The pancakes are made from one of my fave batter mixtures, which combines naturally gluten-free buckwheat flour, with ground chia seed for lots of fibre and protein, a couple of small bananas which work well as a binding agent, and unsweetened almond milk is used as the liquid.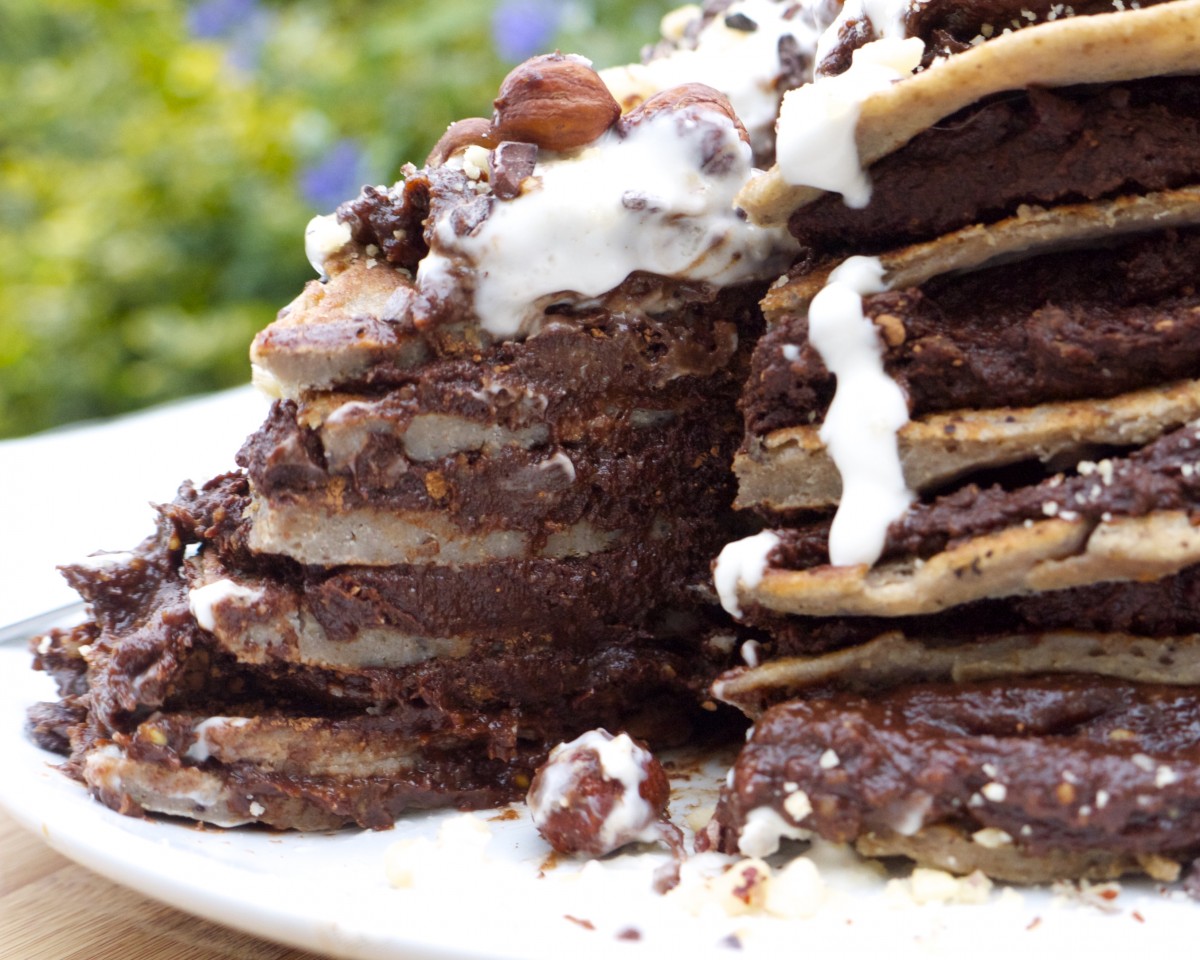 The crushed and whole hazelnuts sprinkled over the pancake stack really enhance that Nutella flavour, and I popped on a tablespoon of cacao nibs too… just in case it wasn't chocolatey enough already! 😉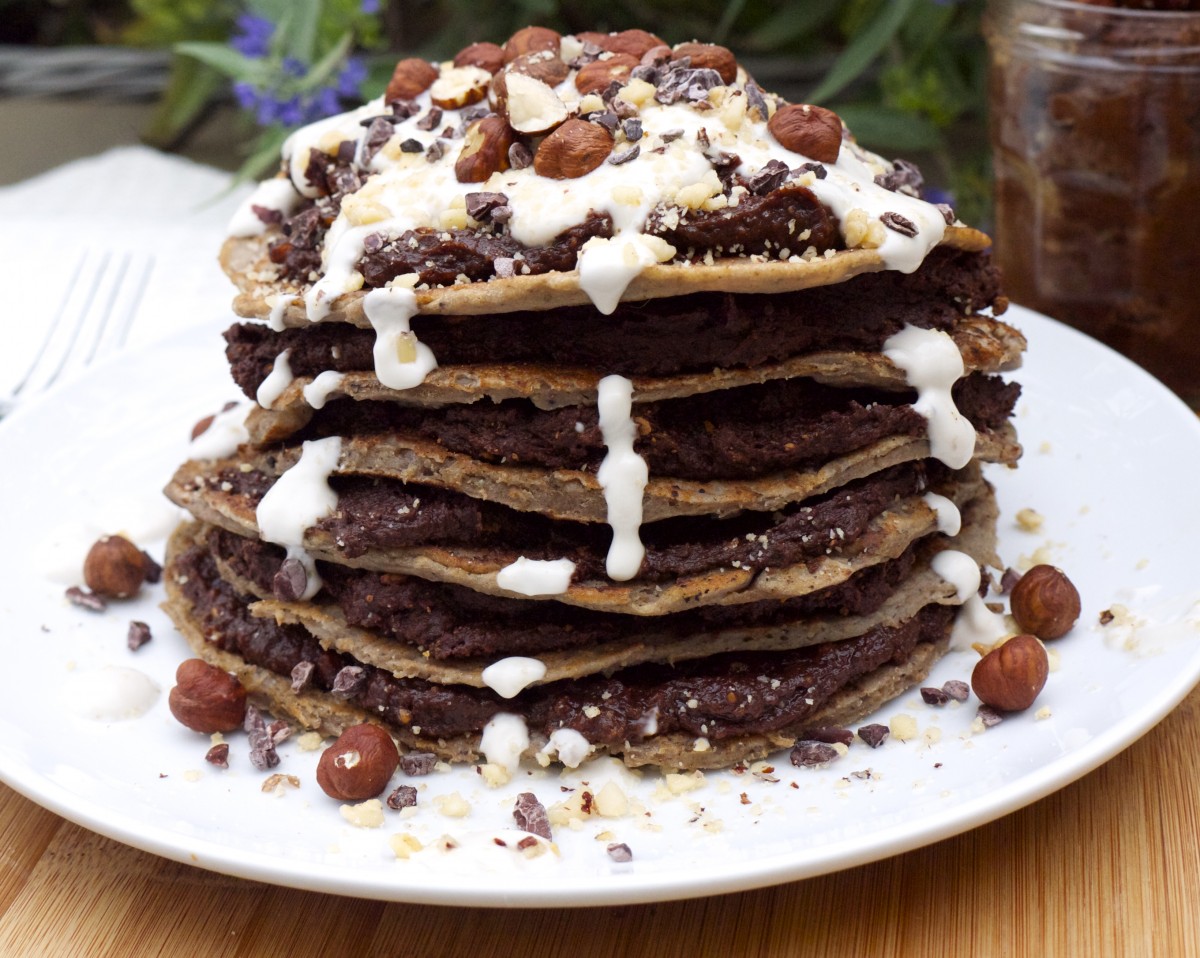 Try slicing the pancakes like a cake, to show off the layers and ensure you get plenty of that gooey Nutella spread. It could probably be even made as a birthday cake, for any pancake or Nutella fans!!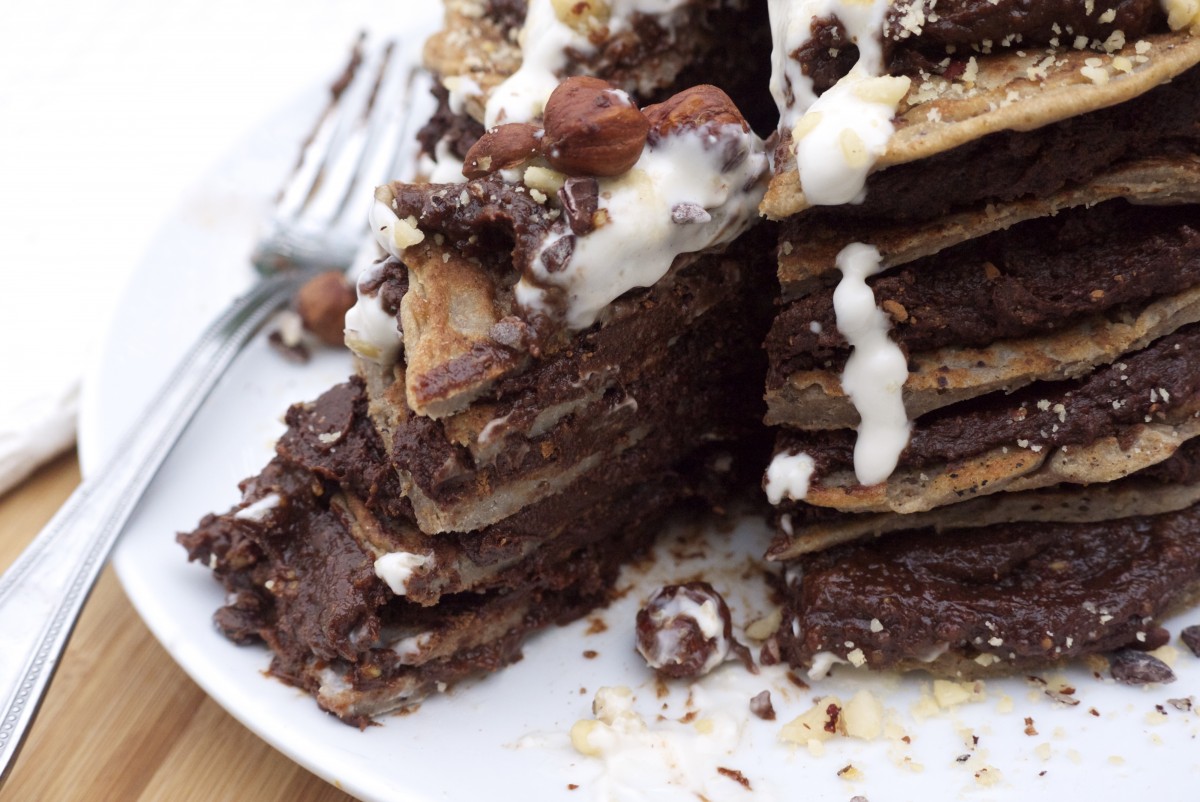 I would love to know if you get a chance to make this Nutella Pancakes recipe! Simply tag #RosannaDavisonNutrition on Instagram or Twitter or come on over to my Facebook to say hello 🙂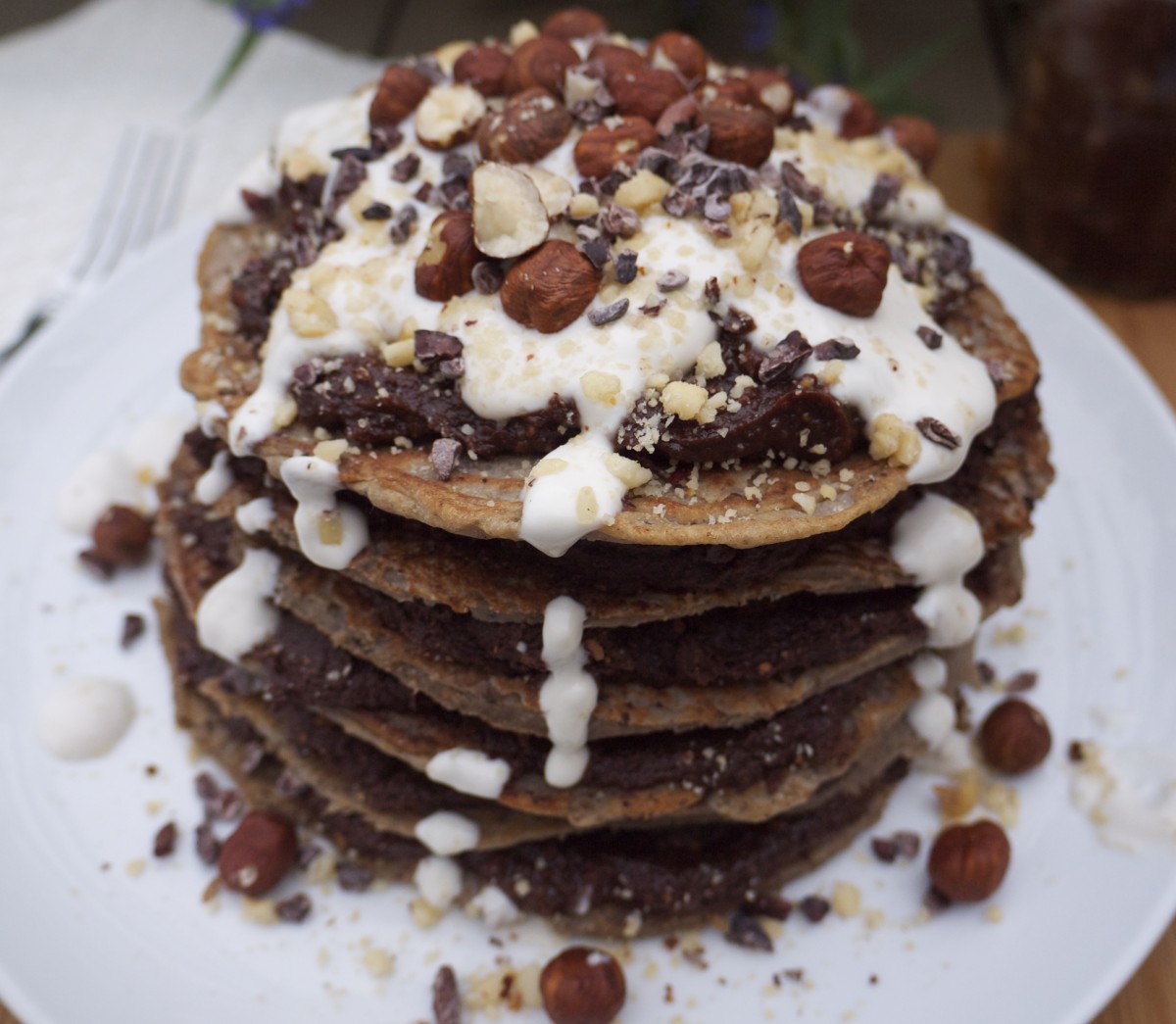 Nutella Pancakes with Maple Cream
2015-10-18 18:29:35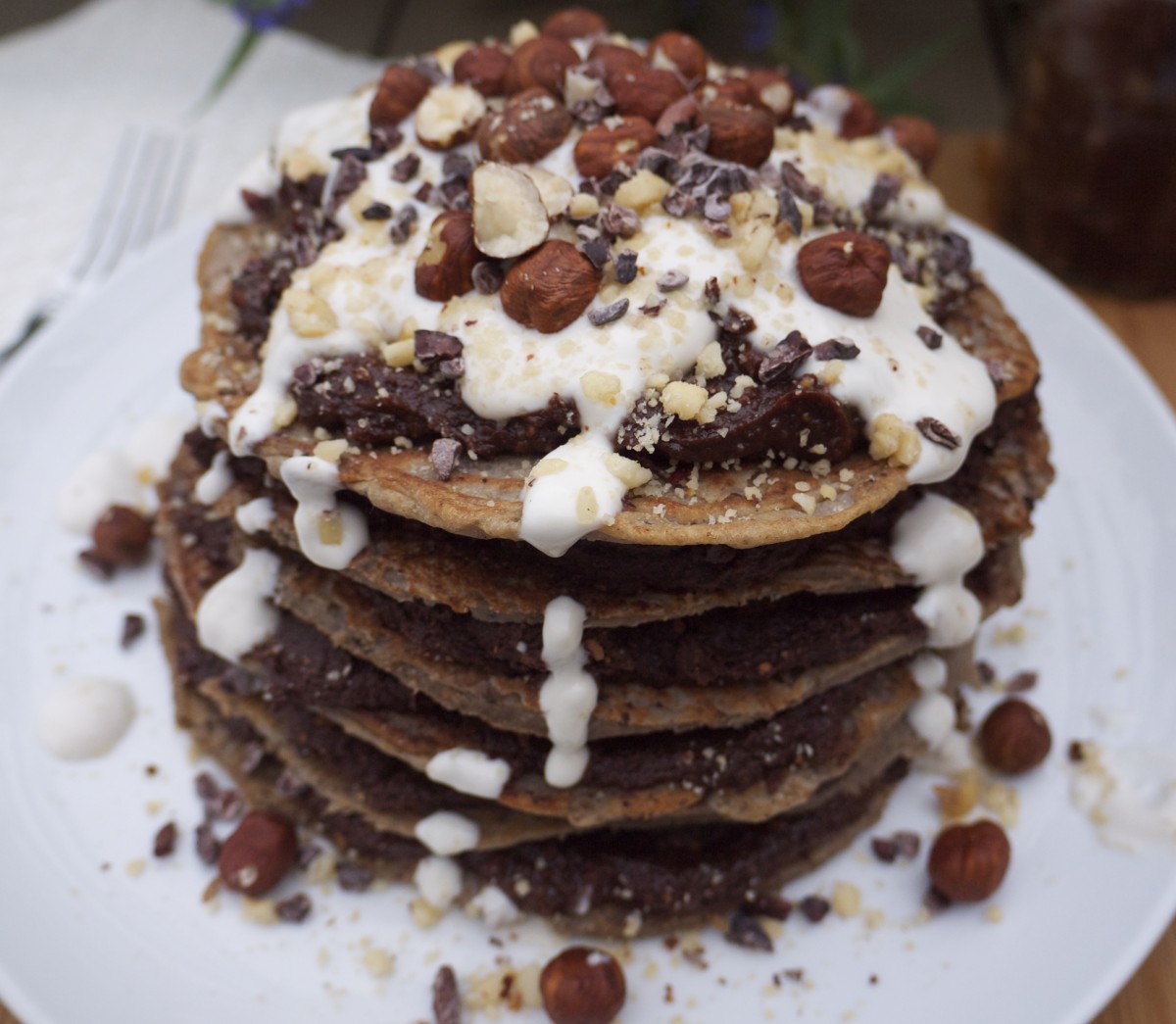 Serves 2
A chocoholic's dream! Rich, decadent and just a little bit naughty, they're made from wholesome ingredients and free from refined sugar, gluten and dairy. These pancakes make a special and indulgent treat.
For the Nutella Spread
(I doubled this recipe to make enough to spread between the pancakes)
150g (1 cup) dates, pitted and soaked in hot water for 20 minutes, to soften
1 tbsp smooth almond butter, hazelnut butter or tahini
2 tsp vanilla extract
2 tbsp raw cacao powder or Cadbury's Bournville cocoa powder
2 tbsp raw unsalted crunchy hazelnut butter
For the Pancakes
240g (2 cups) buckwheat flour
500ml (2 cups) almond milk
2 tbsp milled chia seeds (milled flaxseed works too)
2 small/medium bananas
2 tsp vanilla
Maple cream
1 can full fat coconut milk
1 tbsp maple syrup
1 tbsp vanilla
Crushed and whole raw or toasted hazelnuts, to serve
1 tbsp cacao nibs, to serve (optional)
Instructions
Make the caramel sauce base for the Nutella first by adding the soaked and drained dates, nut butter and vanilla to a blender or food processor, and combine until a smooth and creamy sauce forms. Use a splash of warm water to help it blend, stopping to scrape down the sides if necessary.
Transfer four tablespoons of the caramel sauce to a bowl and add the cacao powder and hazelnut butter. Stir well until a thick spread forms. Double this recipe if you like.
Place all pancake ingredients into a blender or food processor (I used a blender), beginning with the almond milk.
Blend well until a smooth batter forms.
In a frying pan, heat up a small quantity of coconut oil over a medium heat until it begins to bubble.
Use a tablespoon to spoon the batter into the pan and smooth it out with the back of the spoon or a spatula.
Allow it to cook for about 1-2 minutes, gently lifting up the sides until you're able to flip the pancake over, and cook it for another minute until it's firm and lightly browned. Transfer it to a plate.
Continue to cook the pancakes until the batter is used up. Add more coconut oil to grease, if needed.
This quantity makes 6 medium-size pancakes. Double or triple the quantity of ingredients for more!
Allow the pancakes to lightly cool while you make the coconut cream.
Gently open up the chilled can of coconut milk, ensuring the contents don't mix together. Drain out the liquid and spoon the solid coconut cream into a mixing bowl.
Add the maple syrup and vanilla, and use a fork to whisk it up until well mixed.
Spread a layer of Nutella between each pancake, then finish by drizzling the maple cream on top and sprinkling with whole and crushed hazelnuts and cacao nibs.
Enjoy!
Notes
Any leftovers can be stored in an airtight container in the fridge for 2-3 days.
Rosanna Davison Nutrition https://www.rosannadavisonnutrition.com/