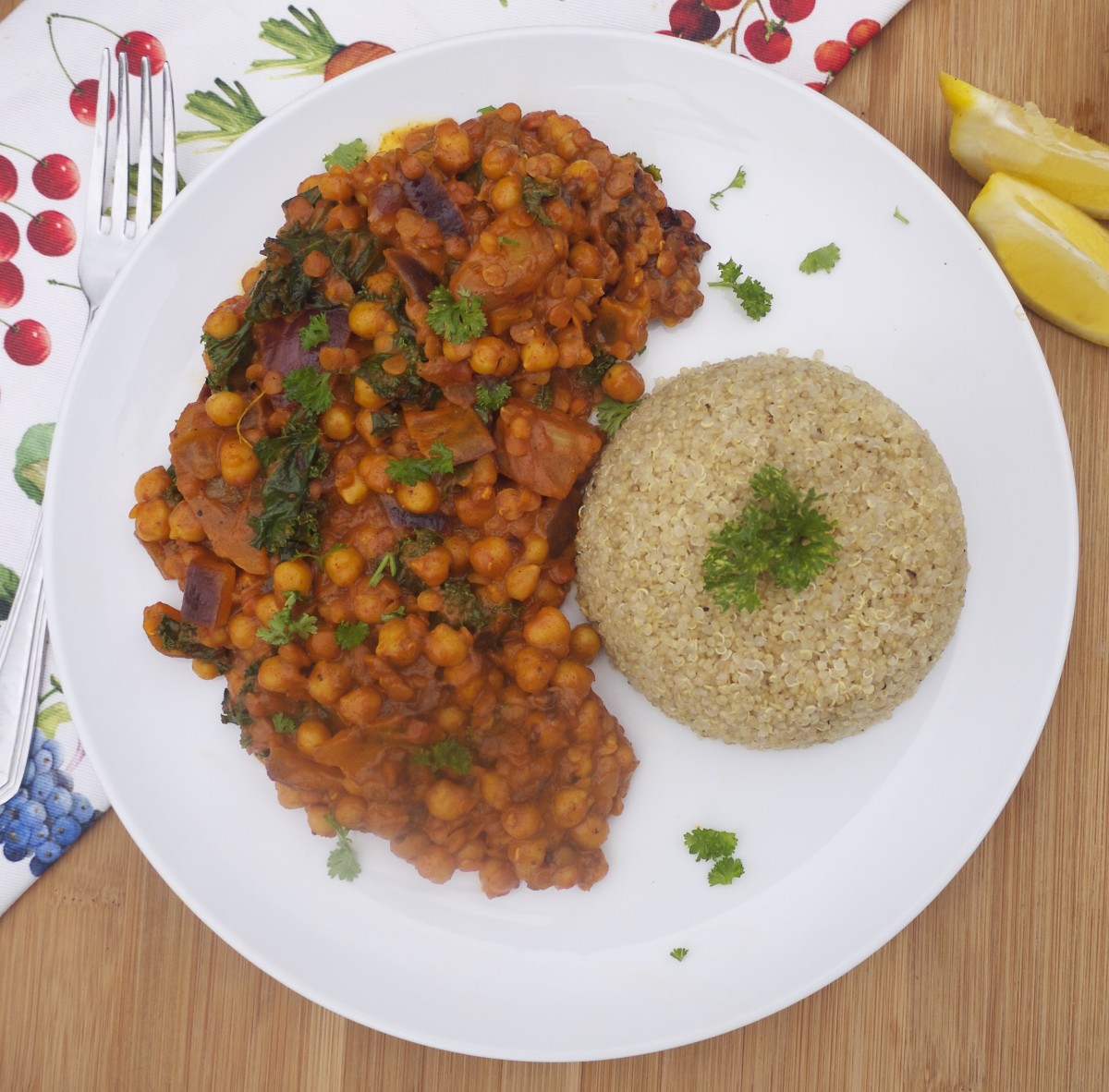 At this time of year, when the weather begins to cool down and the evenings are getting darker, I always crave warming, filling meals like this spicy tomato chickpea, lentil and kale curry with zesty quinoa!
I cooked it for Sunday lunch yesterday, and my husband really enjoyed it too 🙂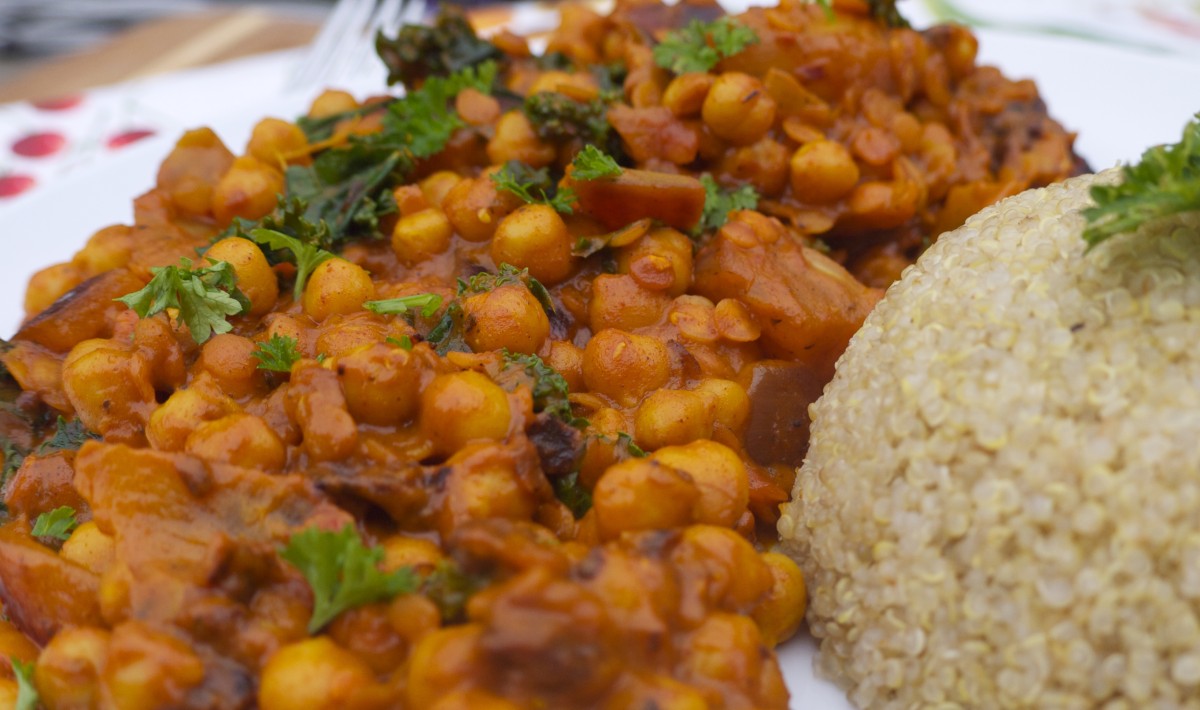 The beauty of this meal is that all of the ingredients are easily available in most good supermarkets. It can be cooked in a large batch and enjoyed over several days, making it an especially good option for families and students. In fact, it's almost tastier eaten cold the following day, as the various spices have had a chance to develop their flavour!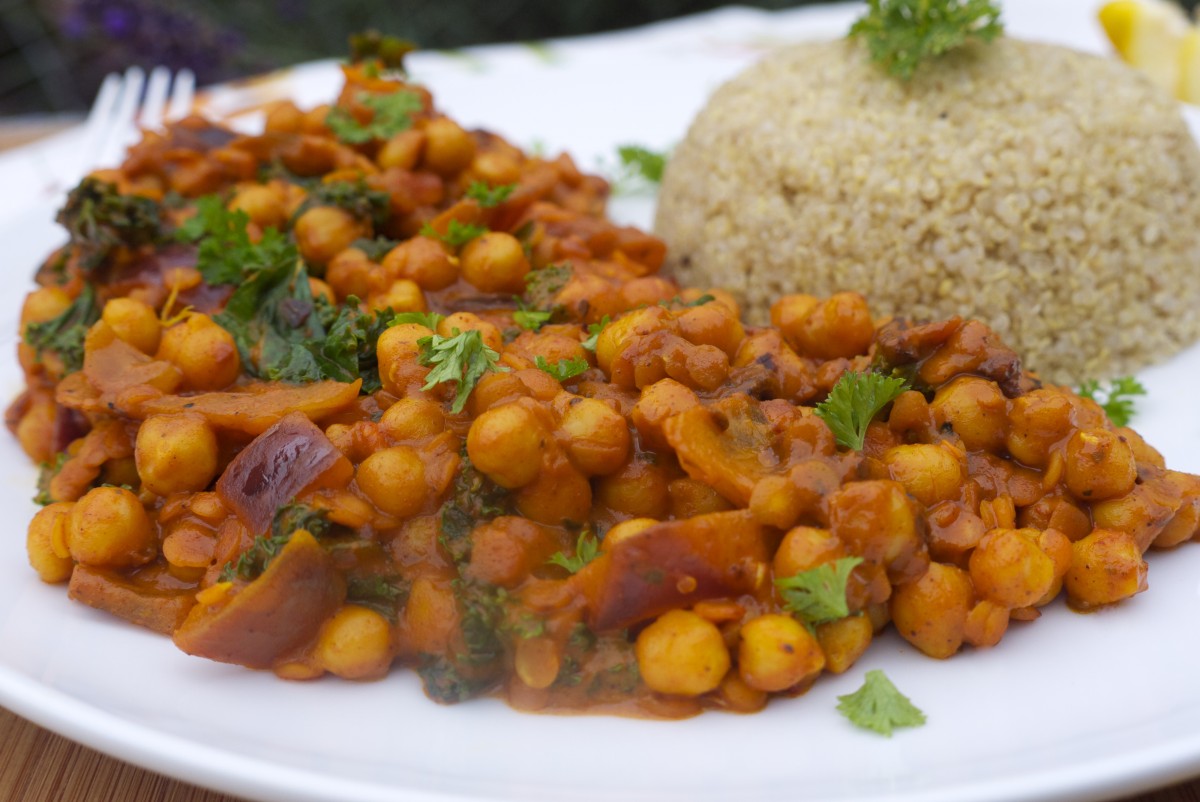 I used both chickpeas and split red lentils for this dish, which packs it with good quality fibre and plant protein, featuring all of the essential amino acids. Quinoa is a naturally gluten-free seed, and a source of the essential amino acids, as well as a range of important minerals. I also used warming, anti-inflammatory spices including ginger, chilli and turmeric, and stirring in kale at the end just until it wilts is a brilliant way to get some extra greens in!
The zesty quinoa also couldn't be more simple. It takes just ten minutes to cook and I just stirred in some fresh lemon juice, black pepper and a pinch of sea salt to flavour it.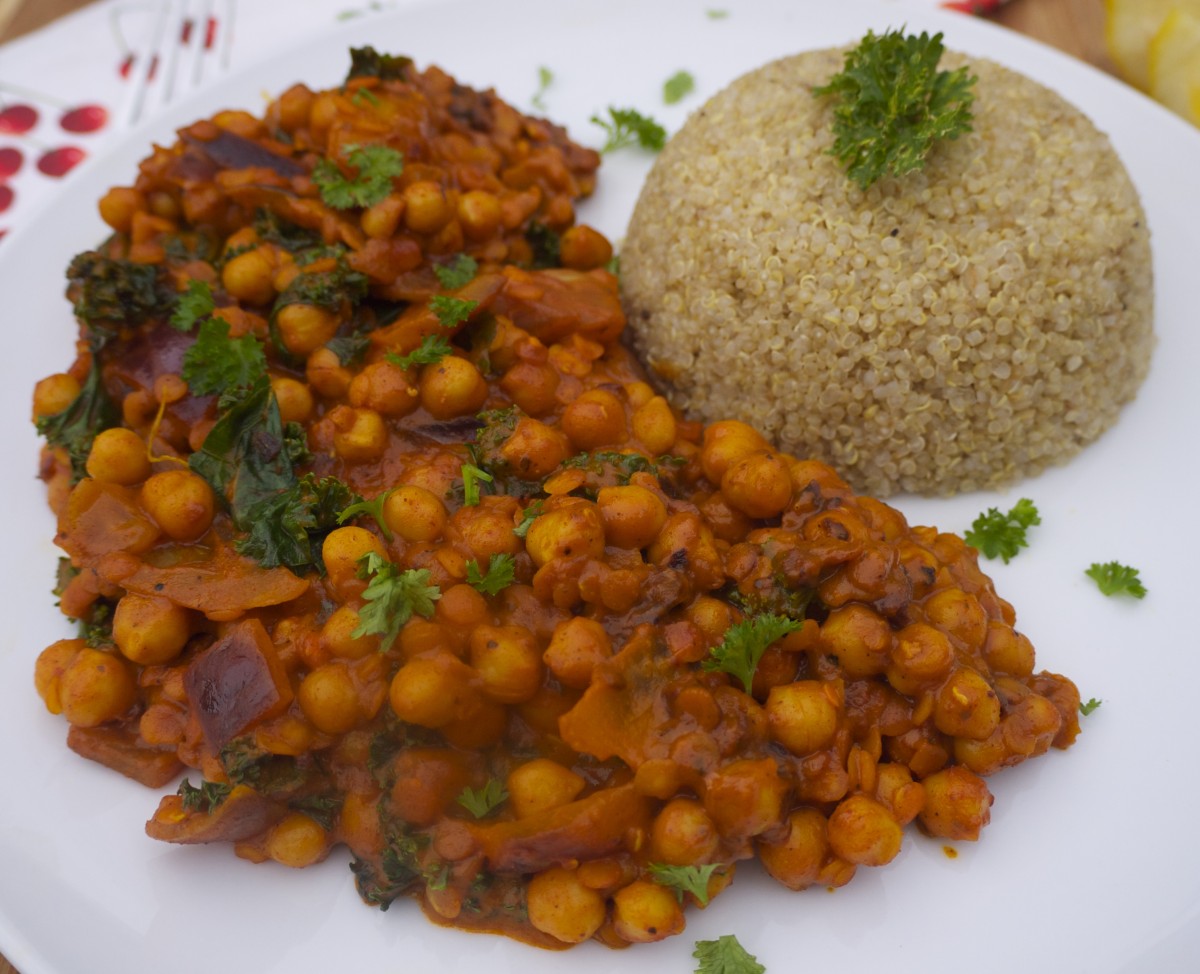 I would love to know if you get a chance to make this Spicy Tomato Chickpea, Split Red Lentil and Kale Curry with Zesty Quinoa! Simply tag #RosannaDavisonNutrition on Instagram or Twitter or come on over to my Facebook to say hello 🙂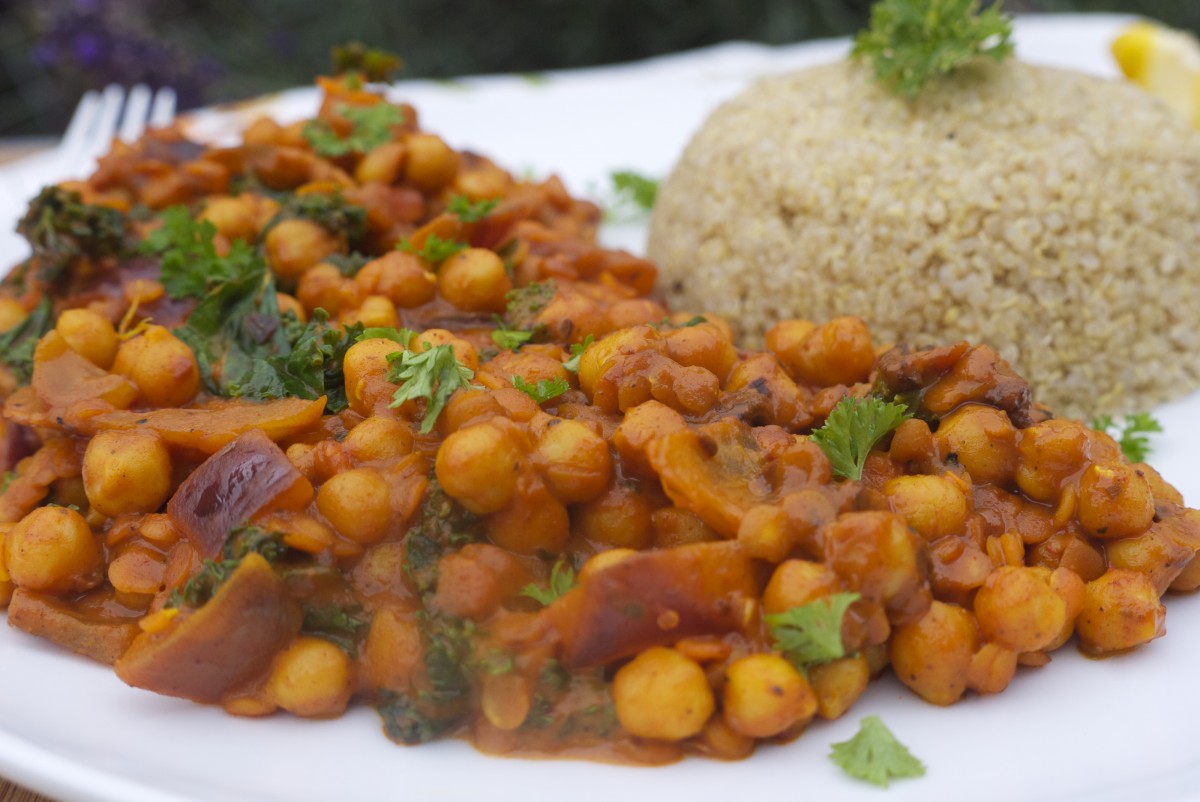 Spicy Tomato Chickpea, Split Red Lentil and Kale Curry with Zesty Quinoa
2015-10-04 15:58:12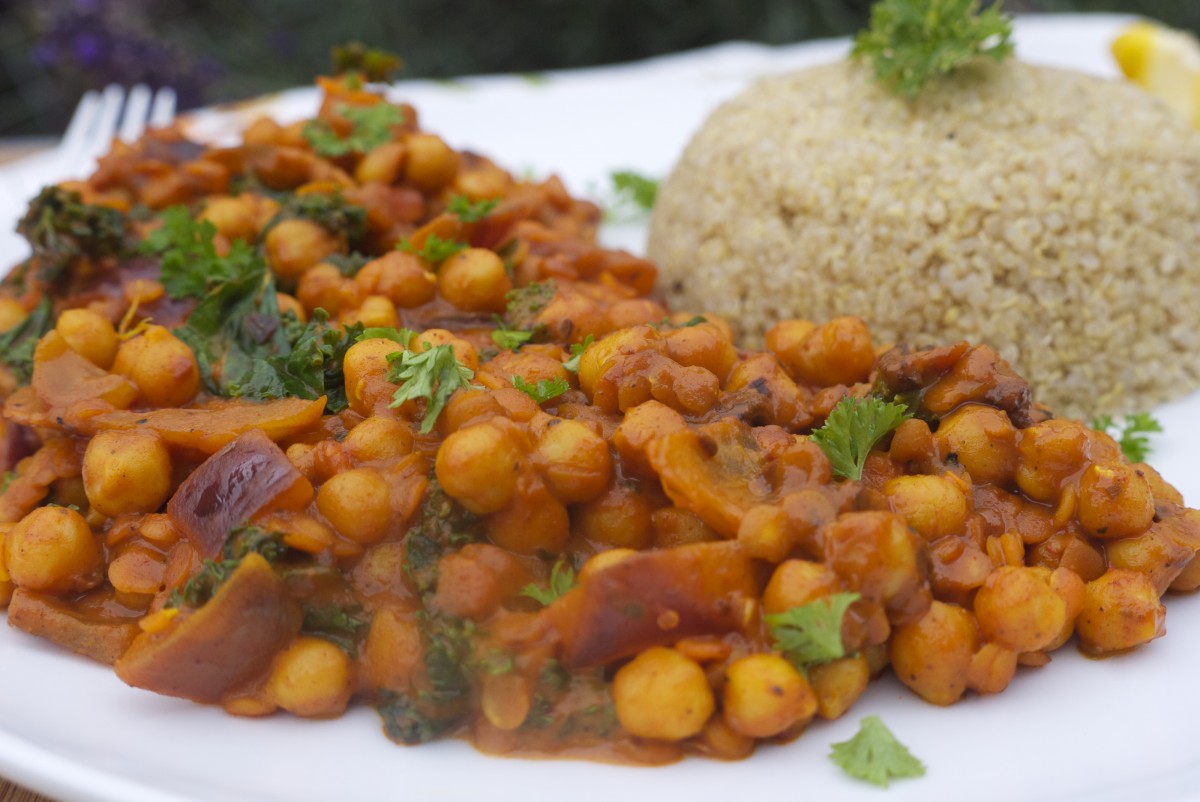 Serves 2
Healthy comfort food at its best! This warming and nourishing dish is full of protein, fibre, minerals and anti-inflammatory spices to support good health throughout the winter months.
Ingredients
170g (1 cup) dry quinoa, rinsed well in a sieve under cold running water
500ml (2 cups) water, to cook
1 tbsp fresh lemon juice
1 tsp virgin coconut oil
1 small red onion, diced
1 tsp fresh ginger, finely chopped
1 clove of garlic, minced
4 tbsp tomato purée (I used a tube from Tesco)
1 can half-fat coconut milk
2 tsp curry powder
2 tsp ground coriander
1 tsp ground turmeric
1-2 tsp smoked paprika
pinch of dried chilli flakes
pinch of pink rock salt or Celtic sea salt and ground black pepper, to taste
240g cooked chickpeas
4 tbsp split red lentils
2 cups kale (I used curly kale), tough stems removed and torn into smaller pieces
chopped parsley, to serve
Instructions
Place the rinsed quinoa into a medium saucepan and pour on the water
Cover the saucepan partly with the lid and bring it to the boil.
Bring the heat down and allow it to simmer for 10-12 minutes, until most of the water has evaporated and the quinoa seeds have opened out.
Remove it from the heat and leave it aside to absorb the remaining water.
Use a fork to fluff up the quinoa, before stirring in the lemon juice and seasoning.
Taste and adjust seasoning, if necessary.
In a large saucepan over a relatively high heat (I set my Induction hob at 9), heat up the coconut oil and add in the onion, ginger and garlic.
Sauté them until they begin to turn lightly golden.
Turn down the heat to a medium temperature (I used 7 on the induction hob) and add in the tomato purée and coconut milk.
Stir well to break down any lumps of tomato purée, then add in the curry powder, coriander, turmeric, smoked paprika, chilli flakes and seasoning. Stir well.
Next, add the chickpeas and split red lentils. Stir well again and partly cover the saucepan with a lid, allowing the curry to simmer gently for 10-12 minutes, ensuring you stir it regularly.
When the curry has thickened, remove it from the heat and gently stir in the torn kale until it wilts in the heat. Taste and adjust seasoning if necessary.
Sprinkle with chopped parsley and serve hot with the quinoa.
Notes
Any leftovers will keep in an airtight container in the fridge for up to three days.
Rosanna Davison Nutrition https://www.rosannadavisonnutrition.com/