Hello and happyyyyy Thursday!
This is such a simple, delicious and satisfying way to enjoy sweet potato. On days when I have less time, I'll pop a couple of sweet potatoes in the oven, throw together a salad and this tangy tahini drizzle, and eat it with the potatoes and salad, plus a few cherry tomatoes and sliced cucumber for extra crunch!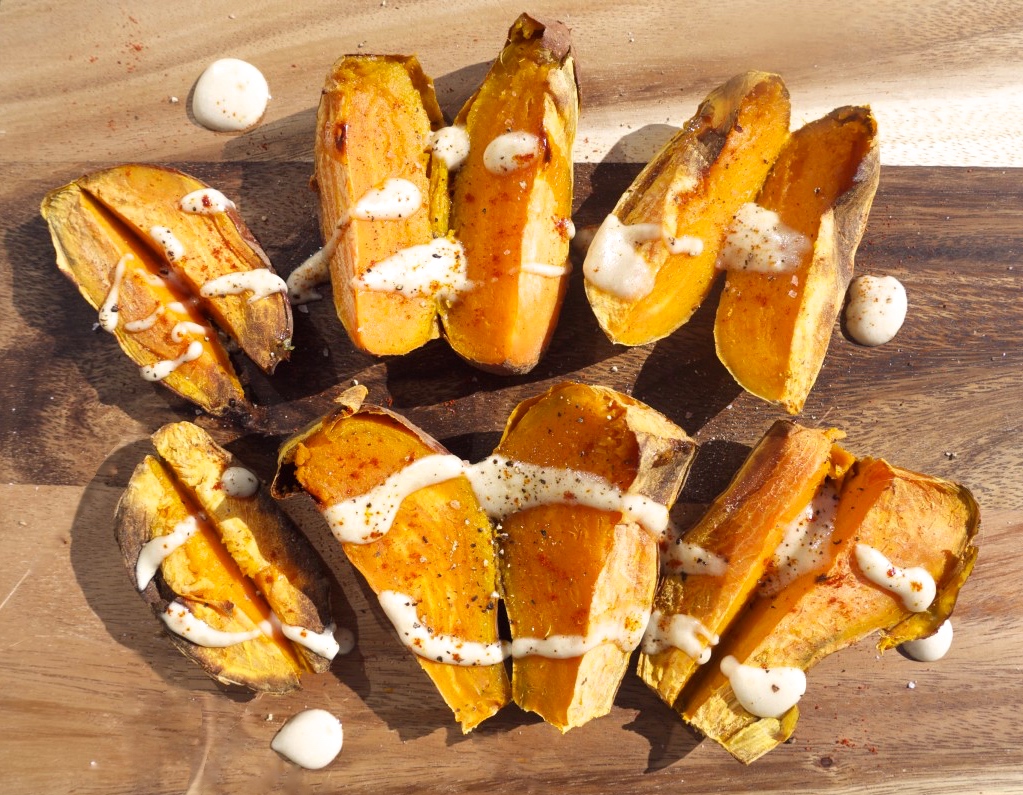 Sweet potatoes are an important part of my diet as they're a superb source of complex carbs, fibre and beta-carotene. This is what gives the sweet potatoes that amazing orange pigment. Converted into vitamin A in your body, it helps to repair and brighten your skin, as well as support healthy eyesight. Complex carbs are so important for providing slow-release energy to the body, and are essential if you're a fan of keeping fit.
But as a fat-soluble vitamin, beta-carotene requires a small amount of dietary fat to properly absorb into your system. That's where this gorgeous tahini drizzle comes in! It tastes cool and creamy against the sweet potato, and tahini is also an excellent source of calcium, with almost 128mg of calcium in a 2 tablespoon serving of tahini. I just bought it in my local supermarket, and it tends to be widely available.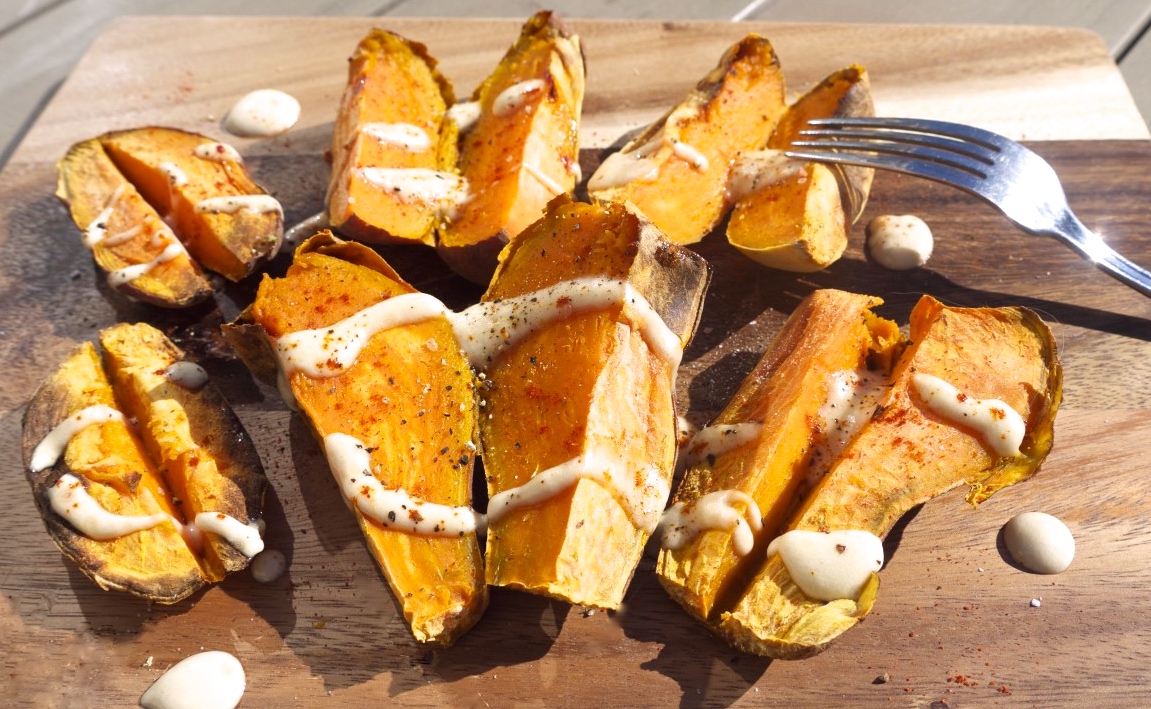 I've also added lemon juice, garlic and smoked paprika to boost the flavour, and this works really well as a dressing for salad, roast veggies and quinoa dishes, plus a healthy dip for raw veggies sticks. They're some of the most useful store-cupboard staples to whip up easy dips and dressings!
Let me know if you give this sweet potato recipe a go and I love to see all your creations on social media! Simply tag #RosannaDavisonNutrition on Instagram or Twitter or come on over to my Facebook to say hello and don't forget to enter my Chia Bia Competition!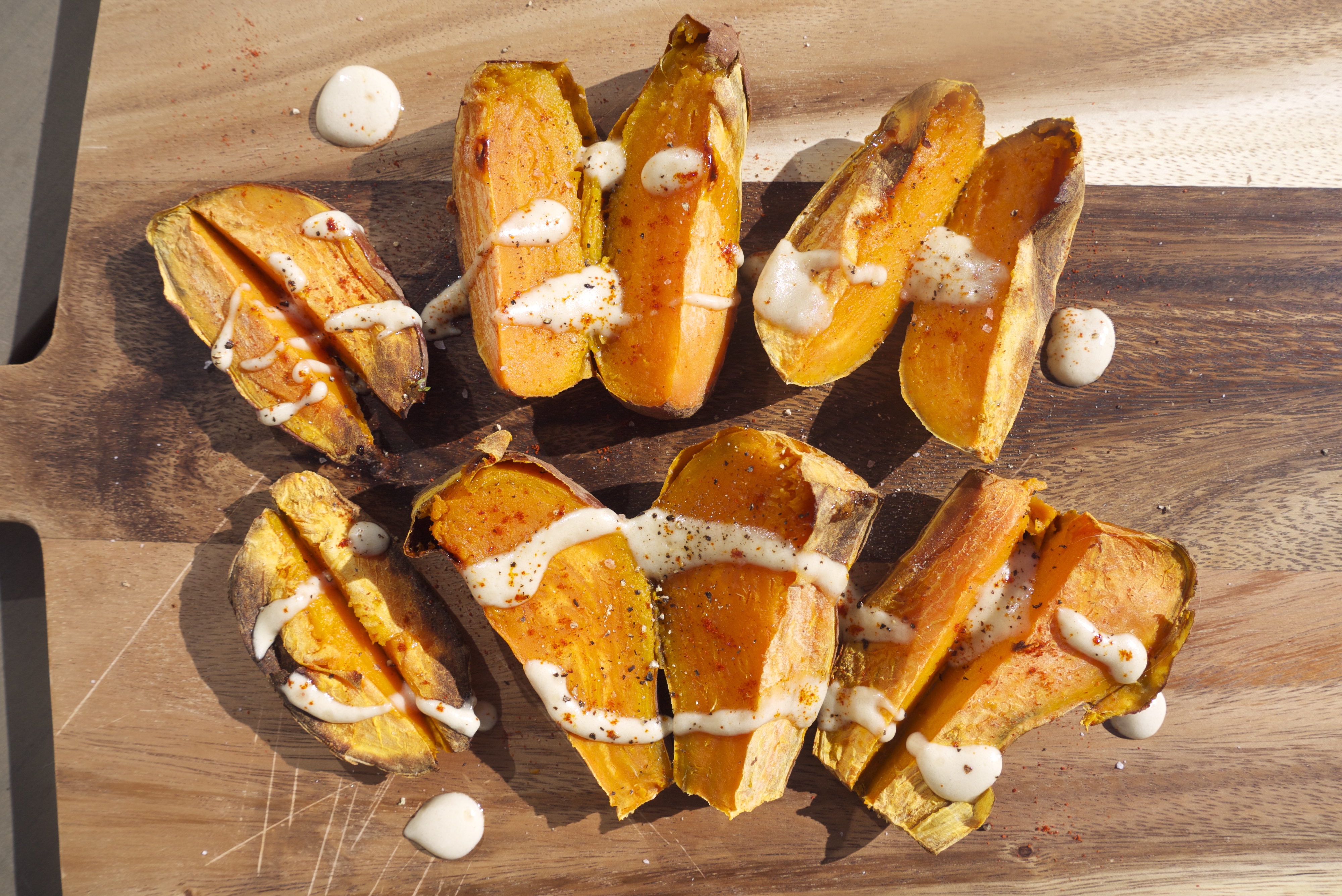 Butterflied Sweet Potatoes with Tangy Tahini Drizzle
2015-03-14 00:50:50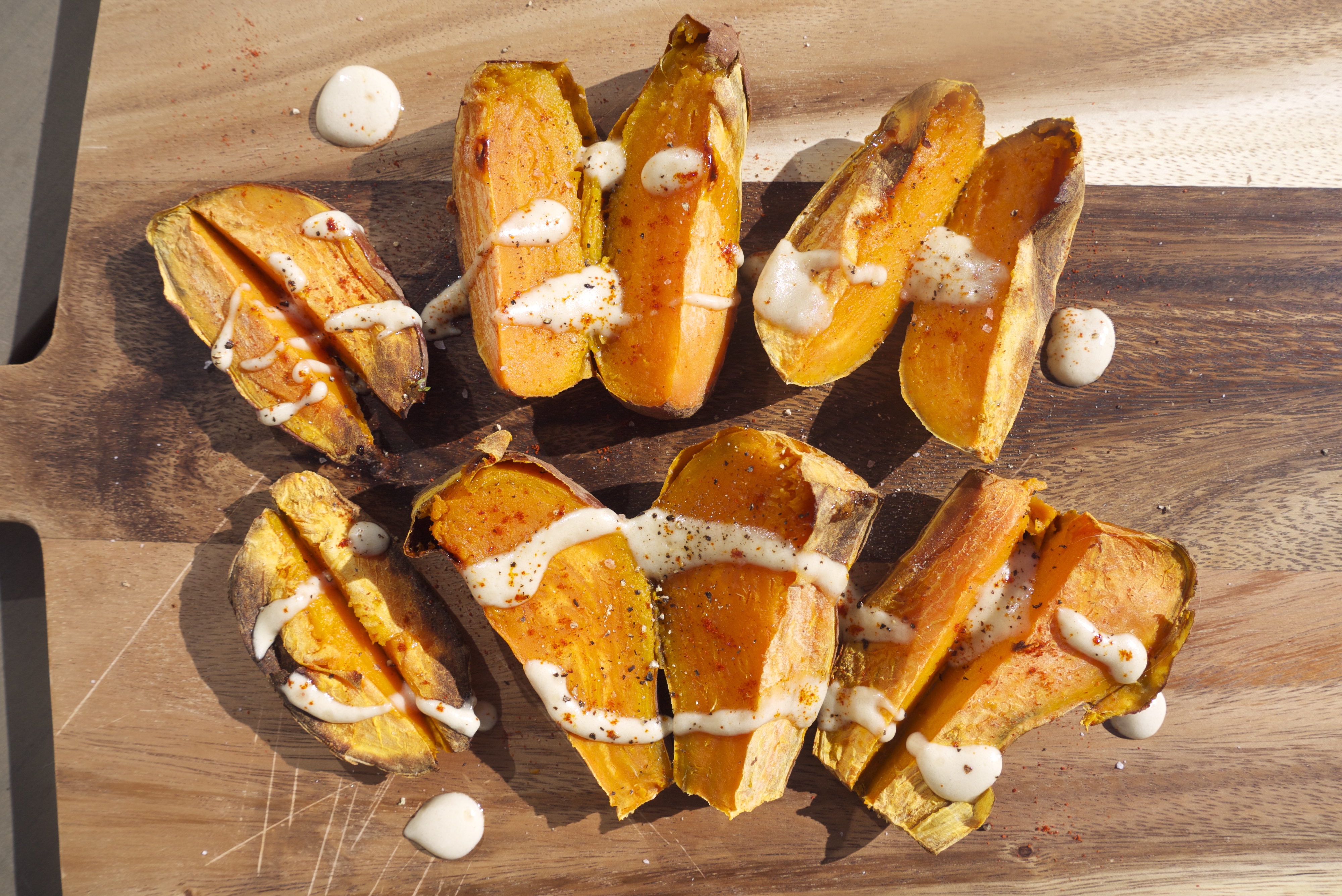 Serves 2
Easy, breezy, delicious meal idea, especially paired with a big green salad. The cool and creamy tahini is heavenly beside the baked sweet potato!
Ingredients
Coconut oil, to grease
3 small/2 medium sweet potatoes
2 tbsp tahini paste
1 tsp lemon juice
1 clove garlic, minced
Dash of Japanese Ume dressing
Dash of low-sodium tamari
Pinch of Himalayan pink rock salt and ground black pepper, to taste
1/2 tsp smoked paprika and extra to garnish
Dash of cold water, to blend
Instructions
Preheat the oven to 200C
Wash the sweet potatoes well, cut them in halves and place them on a baking tray lightly greased with coconut oil.
Bake them at 200C for 35-40 minutes, until they're soft and lightly browned.
Prepare the dressing by mixing the tahini, lemon juice, garlic, Ume dressing, tamari, seasoning and smoked paprika with a little cold water to form a sauce.
Remove the sweet potatoes from the oven, slice each half down the middle and sprinkle with pink rock salt and black pepper.
Drizzle with tahini dressing and serve warm.
Notes
Any leftovers can be stored in an airtight container in the fridge for 2-3 days.
Rosanna Davison Nutrition https://www.rosannadavisonnutrition.com/