The majority of us think of ice-cream as a naughty-but-nice sweet treat, and something to look forward to as a special dessert or a holiday indulgence. But did you know that healthy ice-cream can be made from a selection of superfood?
When chunks of peeled banana are frozen and then blended, their texture is almost identical to soft-whip ice-cream. Add in yummy ingredients like peanut butter, vanilla and coconut milk, drizzle with chocolate sauce and you have a bowl of healthy peanut butter ice-cream.
Unlike most commercial ice-creams available, which tend to be high in refined sugar, this version contains just banana, peanut butter, coconut milk, cacao powder, coconut oil and a small amount of maple syrup. Almost all superfoods in their own right!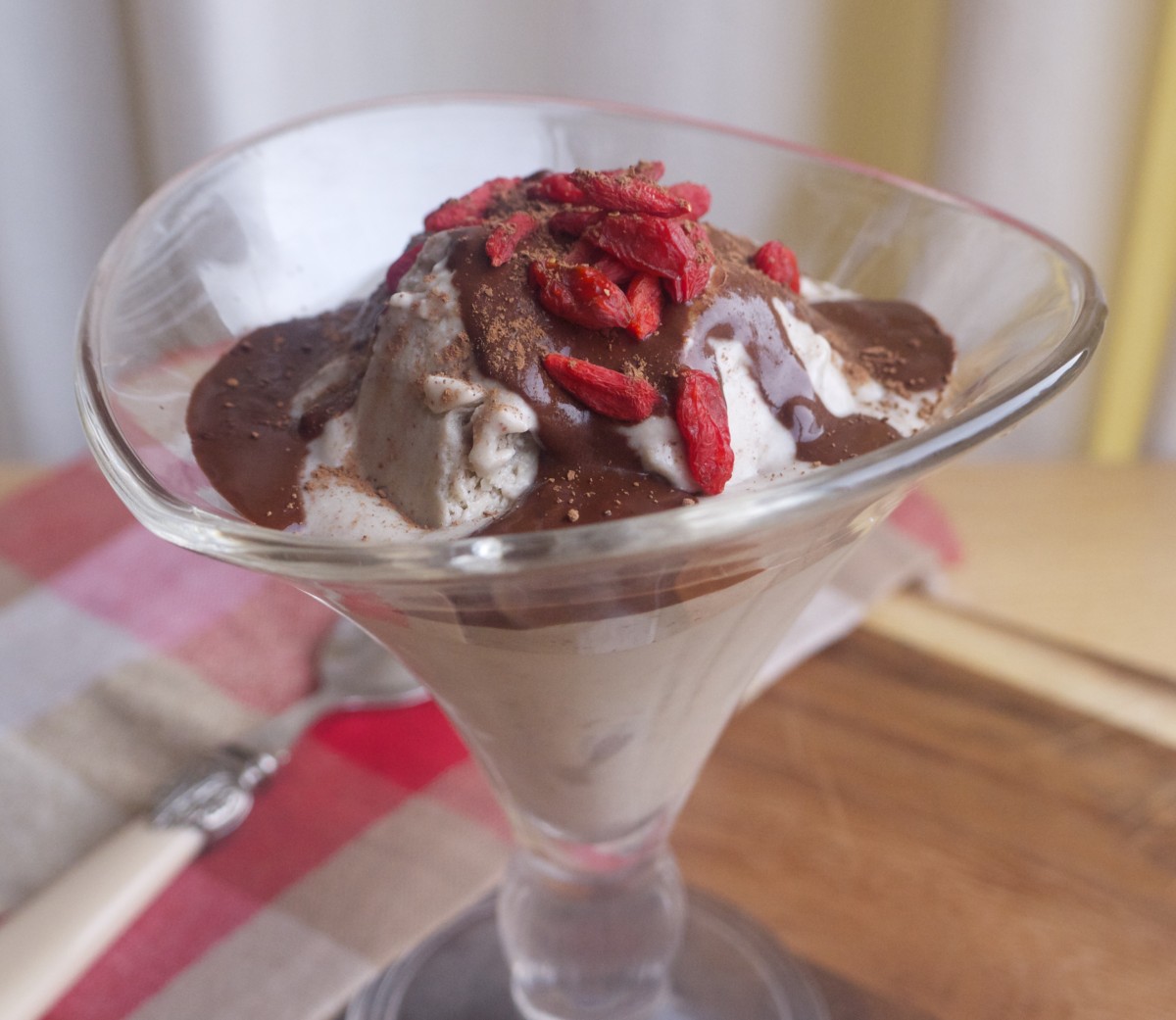 Bananas are one of my very favourite snacks and smoothie ingredients, and I try to eat one a day for their content of vitamin B6 and the amino acid tryptophan, both of which are co-factor nutrients in producing serotonin, your 'happy' hormone, and melatonin your sleep hormone. Particularly on dark, wintery days, bananas can help to boost your mood, and reduce the likelihood of craving sugary and fatty foods, plus they promote a good night's sleep.
The fibre-rich carbs in bananas also give you a decent boost of energy without upsetting your blood sugar levels. Bananas are a prebiotic food, which promotes healthy intestinal bacteria, and improves digestion and nutrient absorption.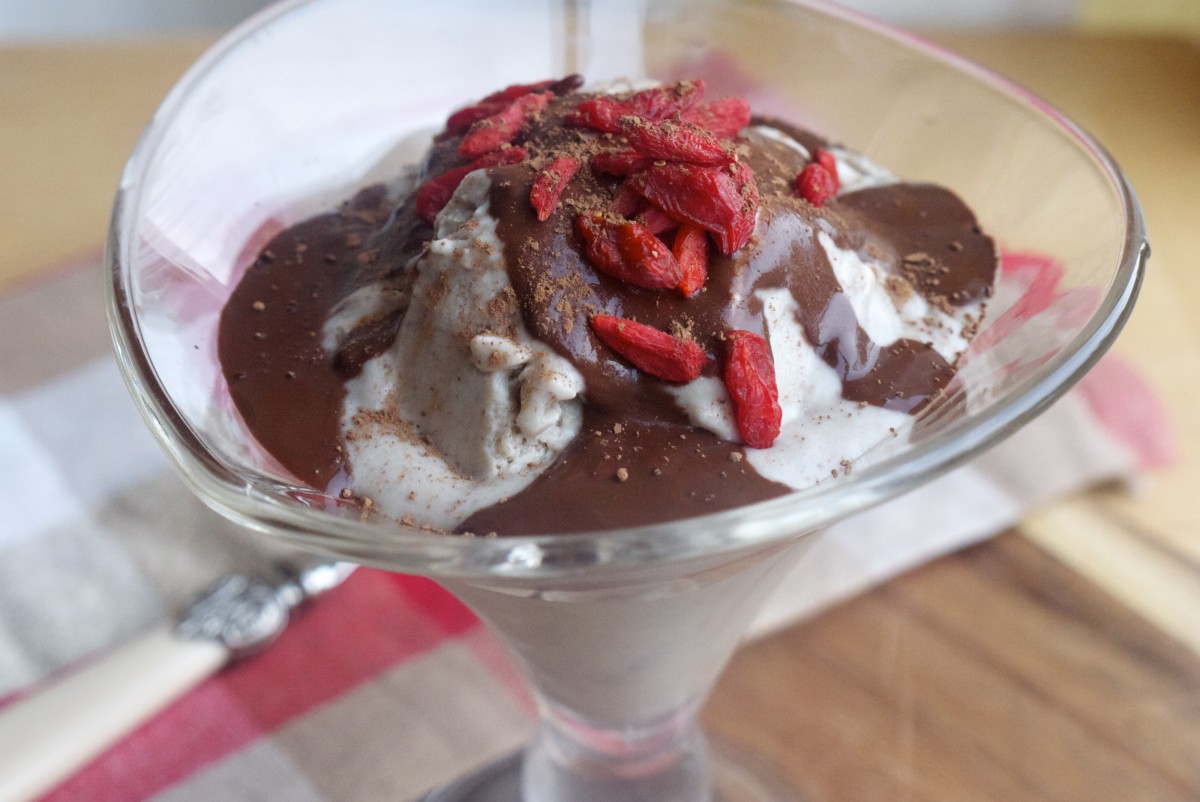 Thanks to their magnesium levels, also known as nature's own sedative, bananas can help to relax muscles and a stressed-out system. Being an excellent source of potassium, bananas help to balance blood electrolyte levels, encouraging your cells and kidneys to flush out stored water.
Coconut is incredibly nourishing for your skin. In this ice-cream, I used both coconut milk and virgin coconut oil. The oil's powerful antibacterial and anti-fungal properties help to protect your system from bugs and flus and your skin from breakouts and infections, plus it helps to stabilise blood sugar levels. While its best to use oils in smaller quantities as they're such a concentrated source of fat, the saturated fats in coconut oil have been found in recent studies to actually improve your health and leave cholesterol levels unaffected
A homemade chocolate drizzle makes this ice-cream recipe even more tasty, and its raw, unprocessed state, it's one of the best sources of antioxidants of any food in the world. Studies show that it contains heart-healthy fats and flavonoids. Raw cacao powder is minimally processed, high in vitamins B and C, fibre and minerals such as iron, zinc, copper, calcium and magnesium.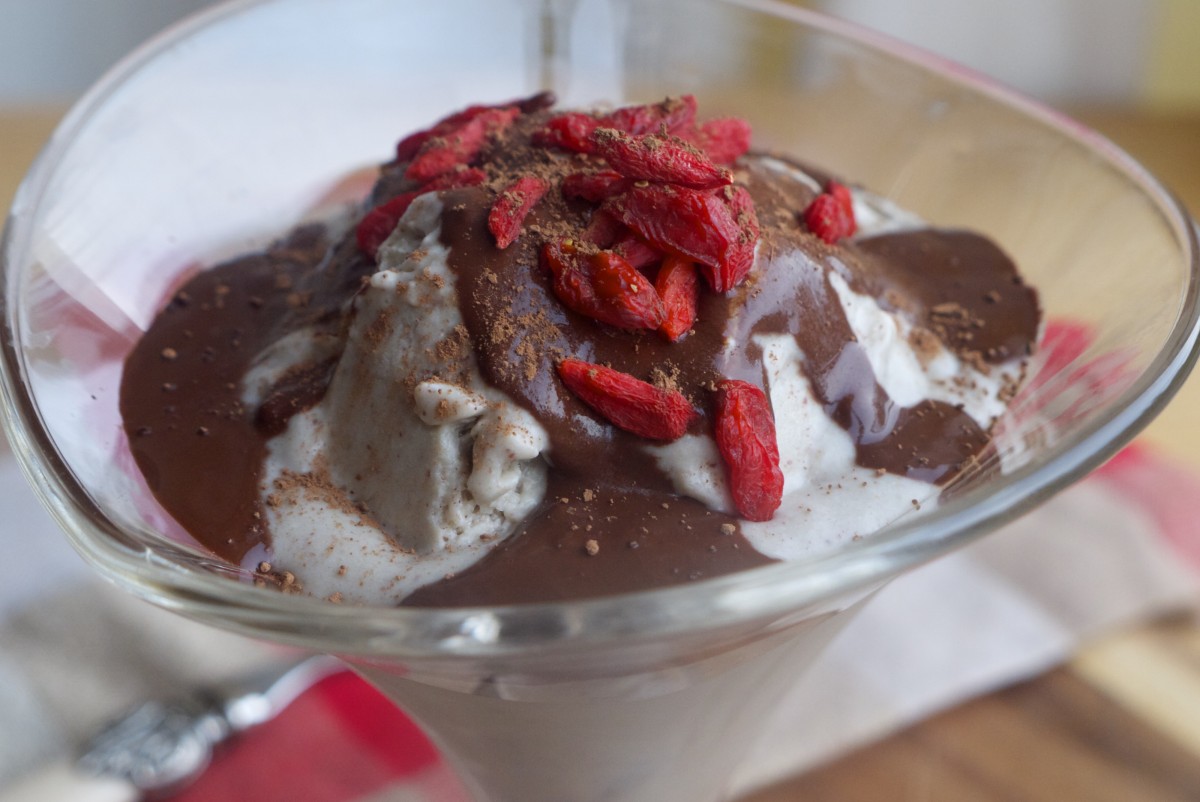 I would love to know if you get a chance to make this Superfood Ice-Cream! Simply tag #RosannaDavisonNutrition on Instagram or Twitter or come on over to my Facebook to say hello 🙂
Superfood Ice-Cream with Dark Chocolate Sauce
2015-12-07 09:15:14
Serves 2
Creamy, rich and satisfying, this superfood ice-cream is as delicious as the real deal. The dark chocolate drizzle makes it into a delicious dessert or sweet treat.
Ingredients
2 tbsp full-fat canned coconut milk, refrigerated overnight
4 ripe bananas, peeled, broken into pieces and frozen for at least two hours
2 tbsp smooth or crunchy peanut butter (look out for organic brands, free from added sugar and palm oil)
2 tsp vanilla extract
splash of unsweetened almond milk, to help blend
3 tbsp raw cacao powder
2 tbsp virgin coconut oil
1 tbsp pure maple syrup or honey
nuts, seeds or berries to garnish
Instructions
Carefully open the coconut milk and spoon out the hardened coconut cream into a blender or food processor. Add the frozen banana, peanut butter and vanilla, and blend until smooth and creamy. Use almond milk to help blend, if necessary.
In a small saucepan over a medium heat, melt the coconut oil and add in the cacao powder and maple syrup, and stir until a smooth chocolate sauce forms.
Drizzle the sauce over the ice-cream, decorate and serve chilled.
Rosanna Davison Nutrition https://www.rosannadavisonnutrition.com/