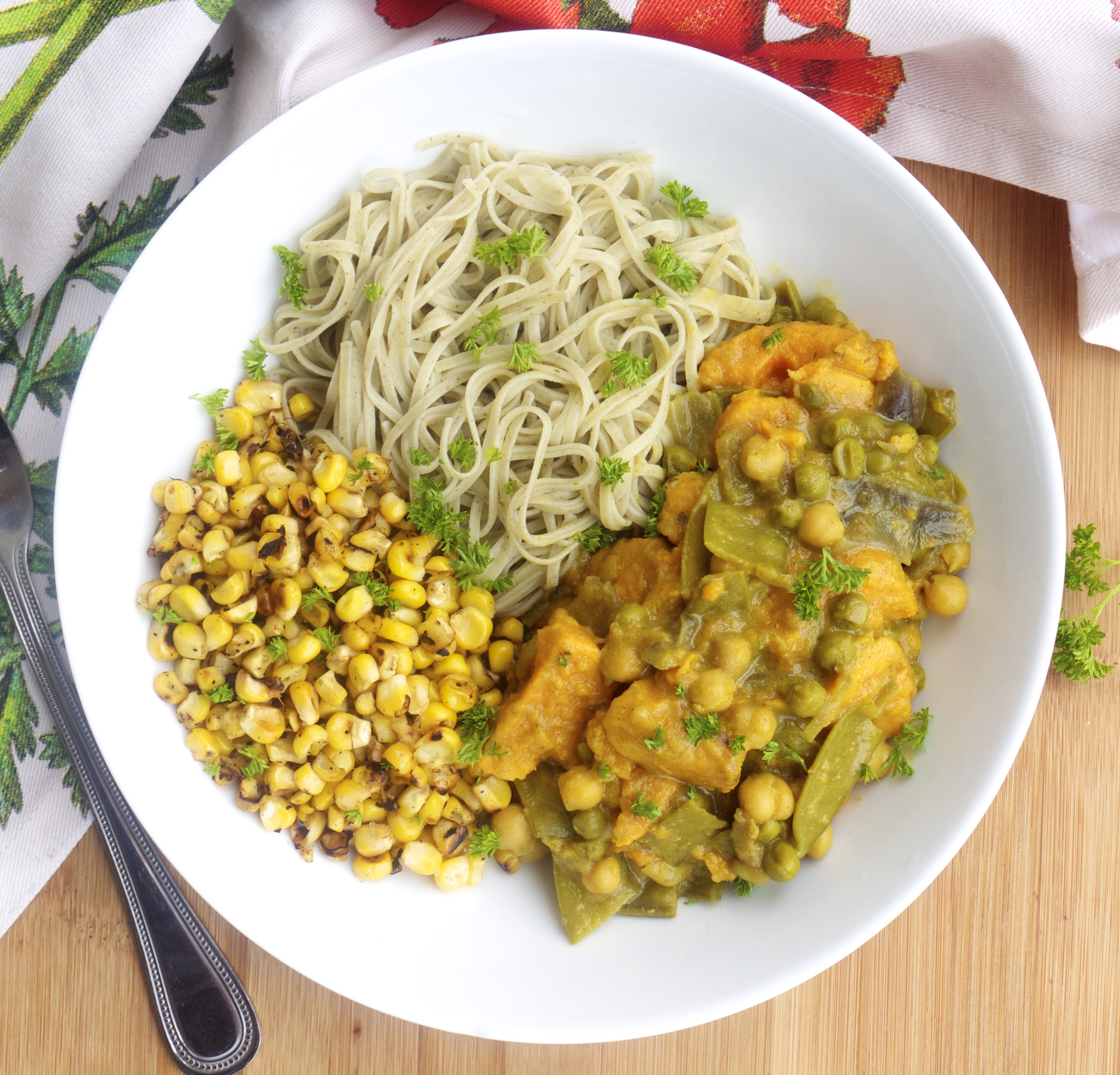 Our incredible run of sunny weather here in Ireland came to an abrupt, albeit temporary, end this morning when the skies darkened and gave way to a loud clap of thunder and a rainstorm. It was so loud that the dogs were woken from their deep sleep and didn't look one bit impressed!
I had been feeling peckish, so decided to throw together this simple sweet potato and chickpea curry, which I paired with charred sweetcorn and wakame and brown rice noodles. Warming, satisfying and delicious!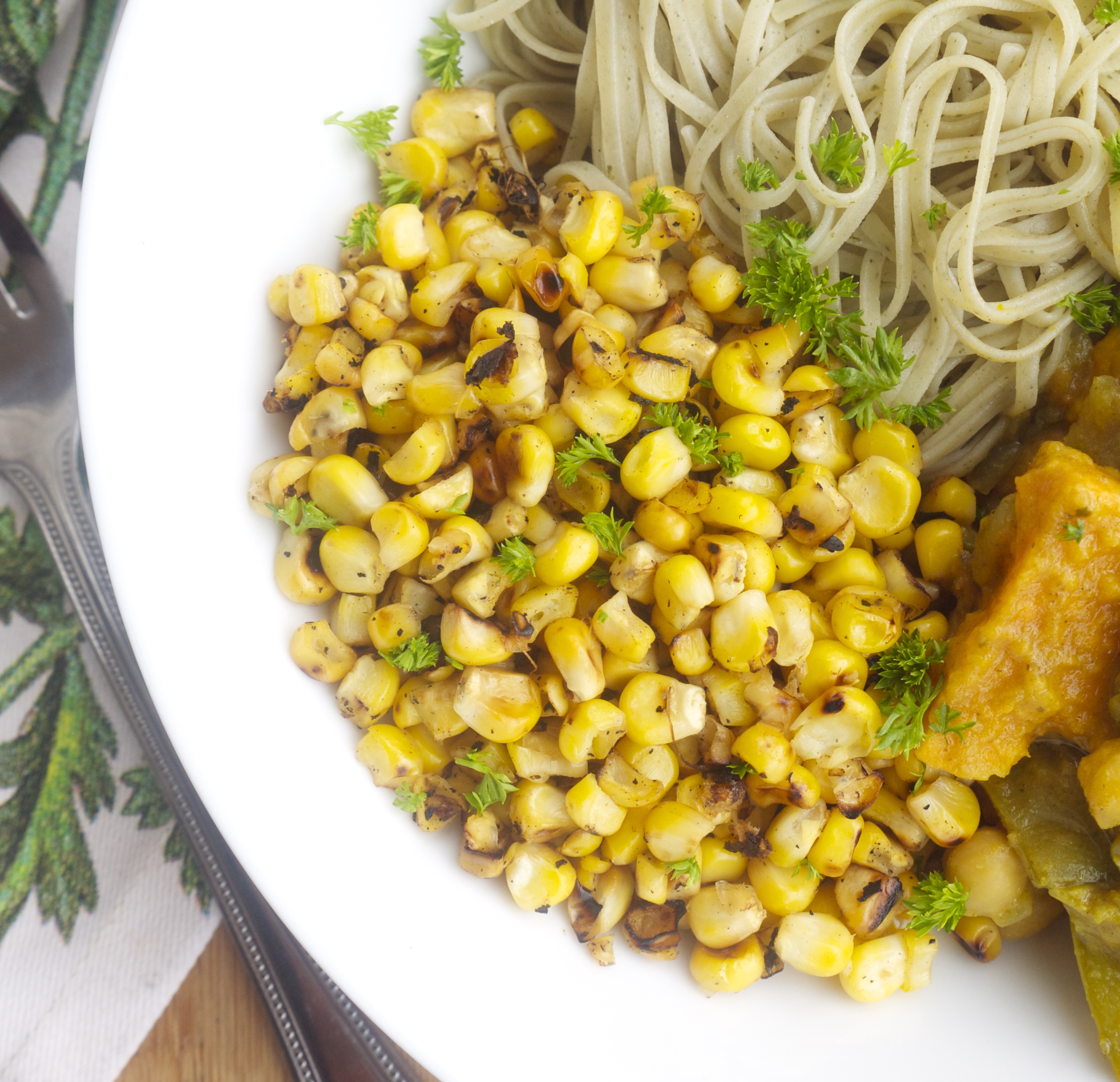 The charred sweetcorn takes just a few minutes on a dry pan, and I added a sprinkle of sea salt and a drizzle of fresh lime juice to really bring out the flavour.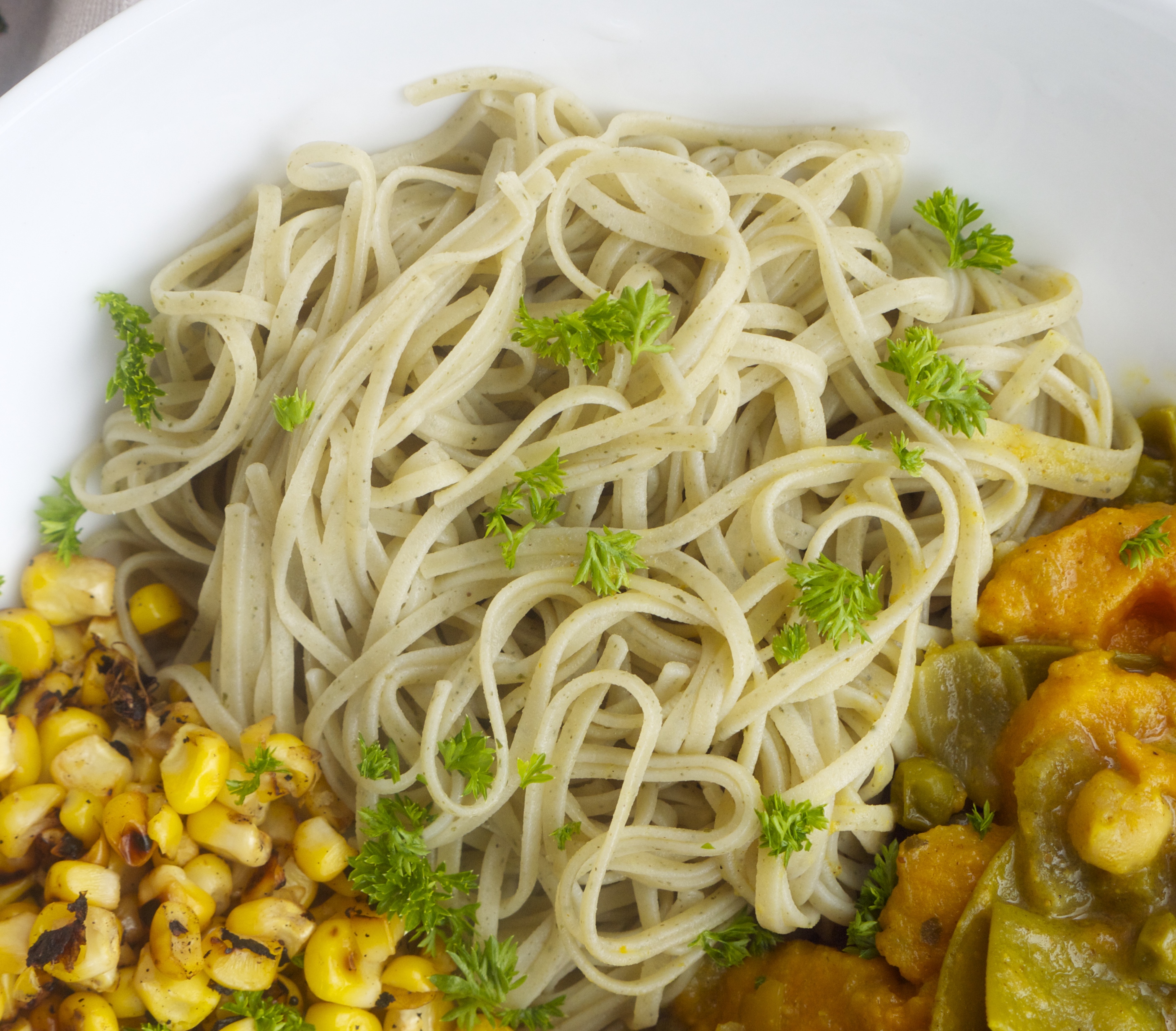 The wakame and brown rice noodles make a great light and easy to digest alternative to regular noodles, and are super quick to cook. They have good taste and texture, and wakame is rich in minerals including calcium and iron. These King Soba noodles are available for €3.65 from Nourish.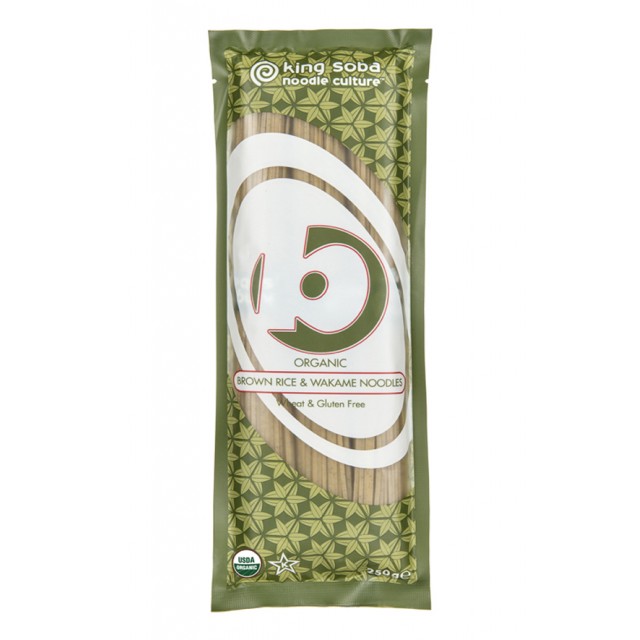 I added some chopped mangetout and green peas to the curry, which is packed with flavour from the garlic, ginger, lemongrass and curry powder. The latter gives it a pleasant kick!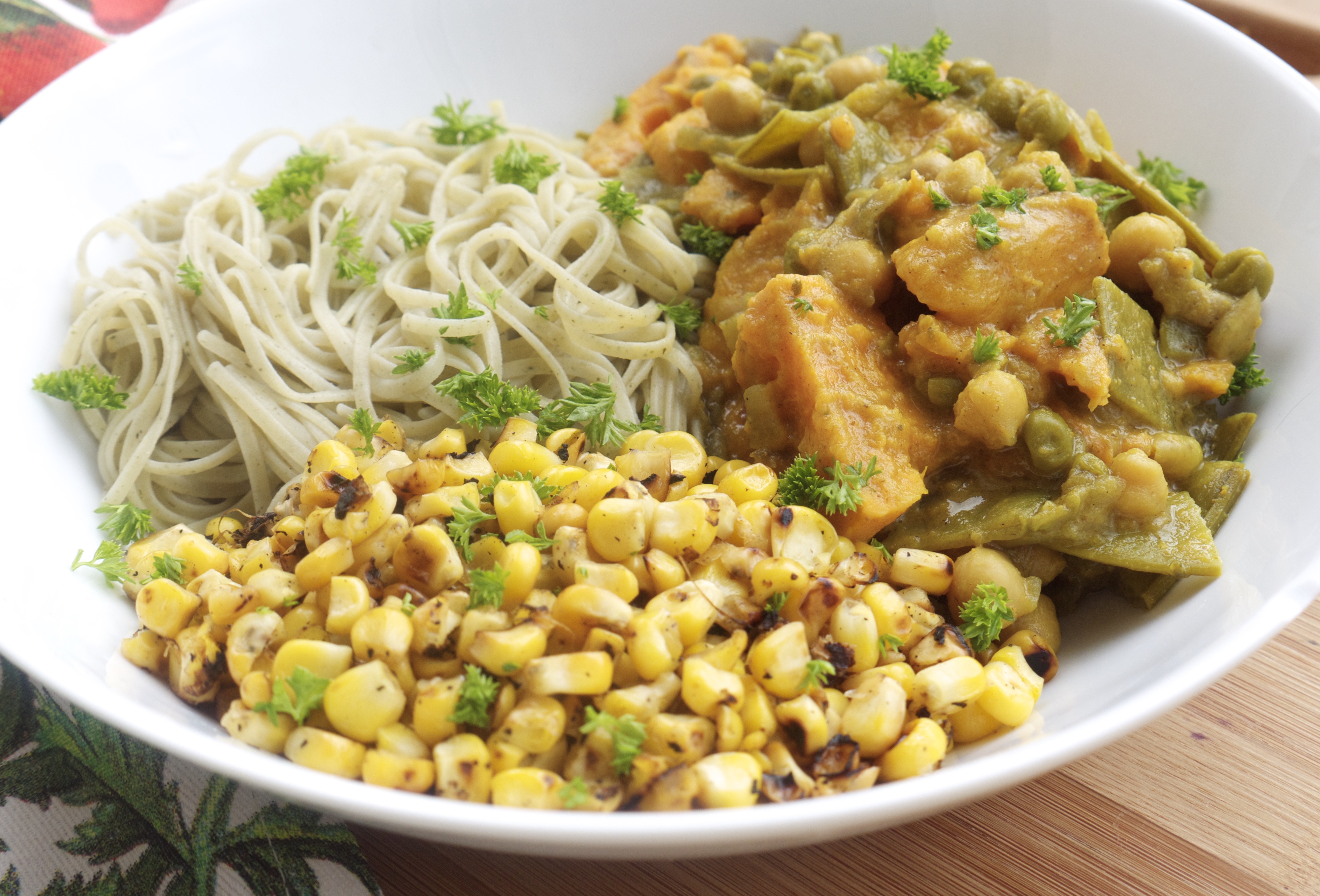 The quantity in this recipe will generously serve at least 3 people (depending on their appetite), or you could make it to last one person for a few days. It would be just as tasty popped into a lunchbox and enjoyed cold in work, school or college 🙂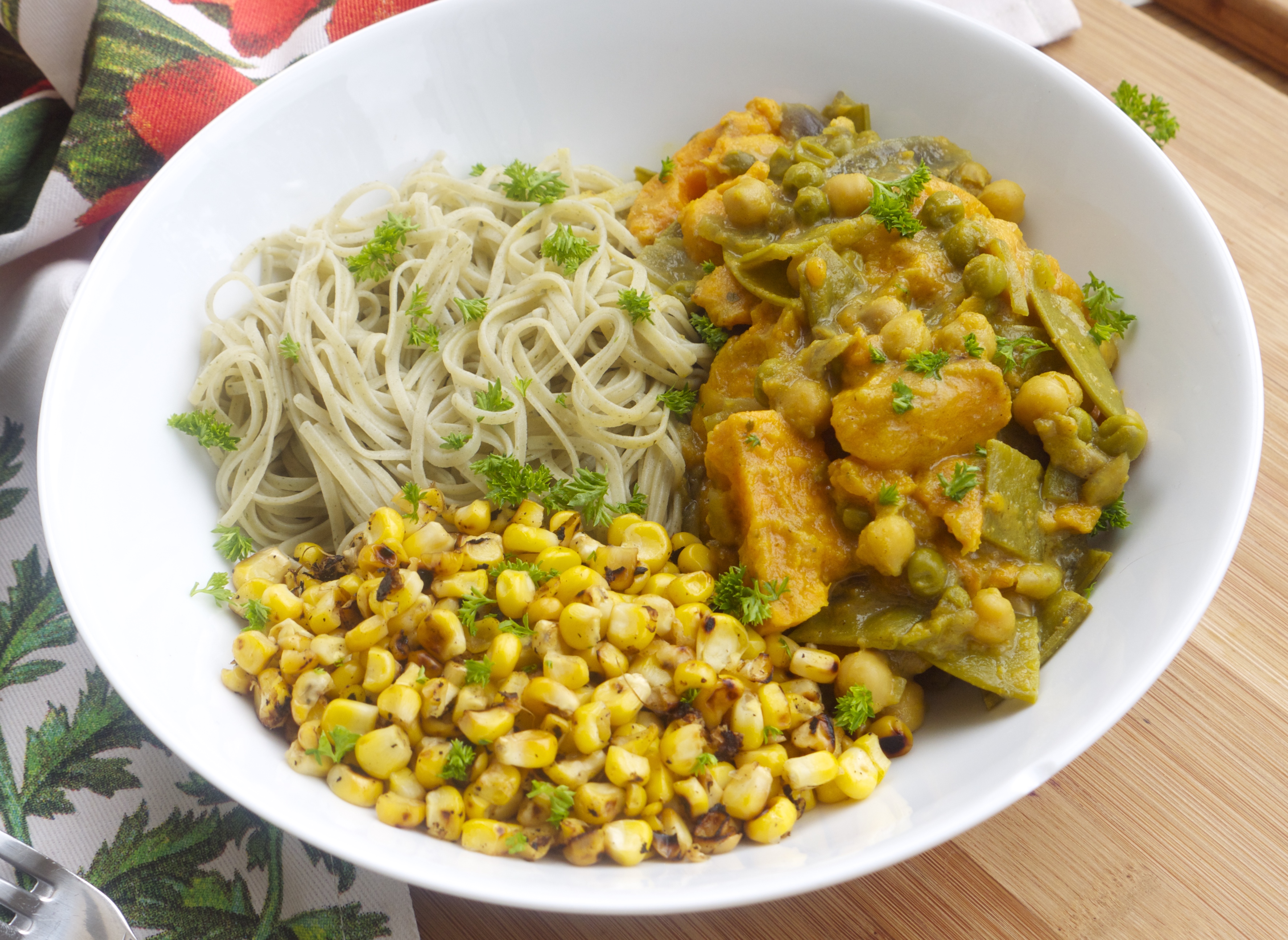 I would love to know if you get a chance to make this Sweet Potato and Chickpea Curry with Charred Sweetcorn and Wakame Noodles! Simply tag #RosannaDavisonNutrition on Instagram or Twitter or come on over to my Facebook to say hello 🙂
Sweet Potato and Chickpea Curry with Charred Sweetcorn and Wakame Noodles
2016-06-06 16:49:45
Serves 3
A deliciously warming, colourful and satisfying meal, packed with flavour. Nutrition information per serving: 475 calories, 15.6g protein, 93.5g carbs, 6.6g fat, 15.8g fibre
Ingredients
1 tsp coconut oil
1 red onion, chopped
1 clove of garlic, minced (use 2 if you prefer more garlic)
1 tsp fresh root ginger, finely sliced
2 heaped tsp curry powder
4 medium sweet potatoes, peeled and chopped into bite-size chunks
1 can or carton cooked chickpeas, drained and rinsed well
150g mangetout, rinsed and chopped
150g (1 cup) frozen peas
vegetable stock dissolved in 600ml hot water*
400ml low-fat coconut milk (use full-fat if you prefer a creamier texture. Almond milk works well too)
4-5 pieces dried lemongrass (optional)
2-3 servings wakame noodles (they come in individually wrapped serving sizes in the packet)
2 corn on the cob
2 tsp fresh lime juice
pinch of sea salt, to taste
chopped fresh parsley, to serve
Instructions
In a large saucepan over a medium heat, heat up the coconut oil and sauté the onion, garlic and ginger for 3-4 minutes.
Add the curry powder and stir together well for another 1-2 minutes.
Add the sweet potato, chickpeas, mangetout and frozen peas and stir all together well, coating the vegetables in the curry powder.
Add the vegetable stock, coconut milk and lemongrass and bring the mixture to the boil for a couple of minutes, then cover party with a lid and lower the heat to allow the curry to simmer.
Continue to simmer for 20-25 minutes until the curry has thickened and the sweet potato has softened.
Remove the lid and allow it to cook for another 5-10 minutes, until most of the liquid has evaporated. Stir frequently to prevent it from burning.
Taste and adjust seasoning (I added more curry powder, salt and pepper at this stage)
Remove the pieces of lemongrass if you can.
As the curry cooks, heat up about 500ml of water and bring it to the boil in a small saucepan. Add the wakame noodles, as instructed on the packet.
Simmer for 5-6 minutes until soft, then drain the noodles in a colander.
To make the charred sweetcorn, slice the corn off the corn on the cob with a sharp knife. Heat up a dry saucepan or frying pan and stir the sweetcorn for 5-6 minutes until it chars without burning.
Remove from the heat, sprinkle with a pinch of sea salt and a drizzle of lemon juice.
Assemble the meal, sprinkle with chopped fresh parsley and serve.
Notes
*I used Marigold low-salt vegetable bouillon.
Any leftovers can be stored in an airtight container in the fridge for 3-4 days.
Rosanna Davison Nutrition https://www.rosannadavisonnutrition.com/