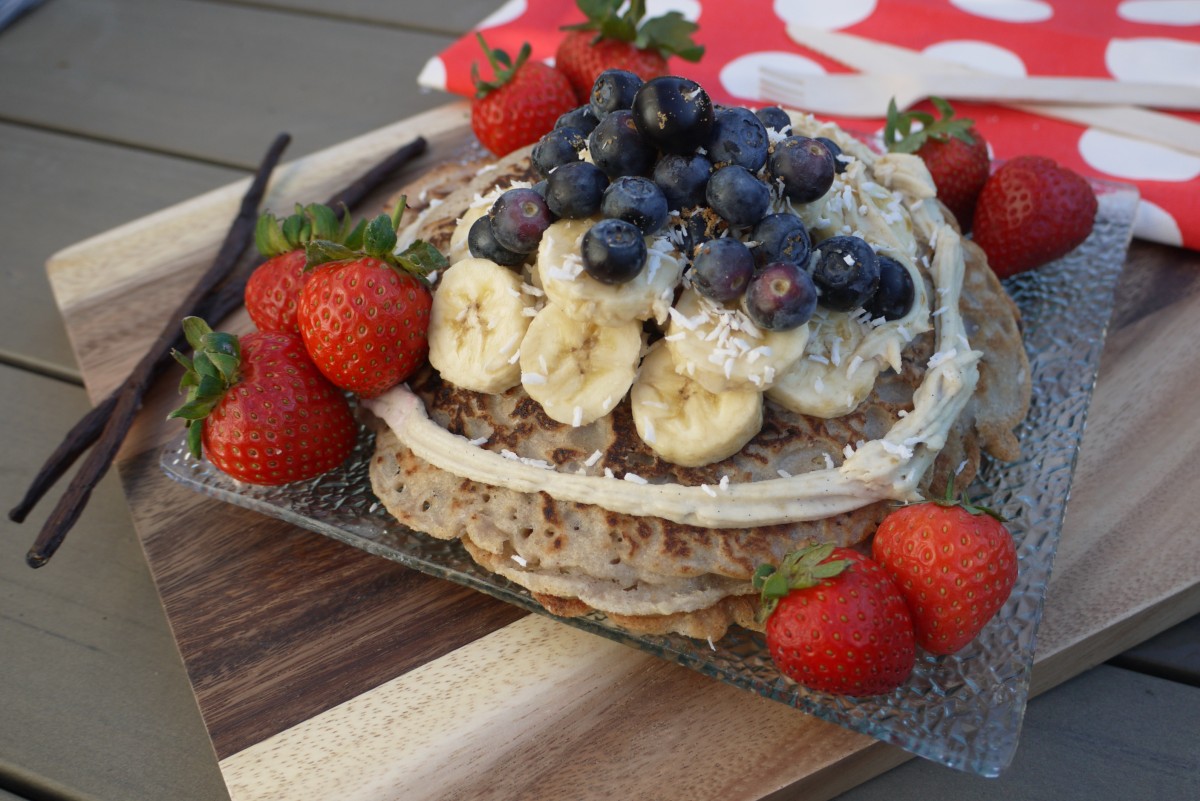 Buckwheat Banana and Hemp Power Protein Pancakes…. try saying that ten times quickly! These beauties may have a tongue-twister of a name, but they're really very simple to whip up of a Sunday morning. Indeed, pancakes do tend to be a weekend treat at our house as we try to stick to my classic Green Goddess Smoothie on weekday mornings.
They really feel like a treat, despite being free from sugar, gluten, dairy, soy, eggs and anything artificial. In fact, they only contain 5 main ingredients! Buckwheat is a naturally gluten-free seed, which resembles a grain. It's rich anti-ageing phytonutrients and in the natural sedating mineral, magnesium, which helps us to feel more calm, relaxed, and eases any muscle tension.
Rather than using a protein powder, I used hulled hemp seeds for this recipe, as they're a complete source of easily-digested plant protein, with 7.4g of protein per serving. They're also a powerful source of omega-3 fats for a smooth complexion, and fibre for our digestive health.
Rather than a sweetener, I used mashed ripe banana, cinnamon and vanilla to sweeten them up, but they could just as easily be made savoury, with chopped coriander, chilli, garlic, cumin and turmeric. I added a couple of handfuls of blueberries for their antioxidant benefits. The cashew cream is a handy trick to know if you're looking for an alternative to whipped cream. It's so simple to make, and the vanilla seeds make it taste like Italian vanilla ice-cream 🙂 Pop a small spoonful of organic maple syrup into the cashew cream if you fancy an even sweeter treat!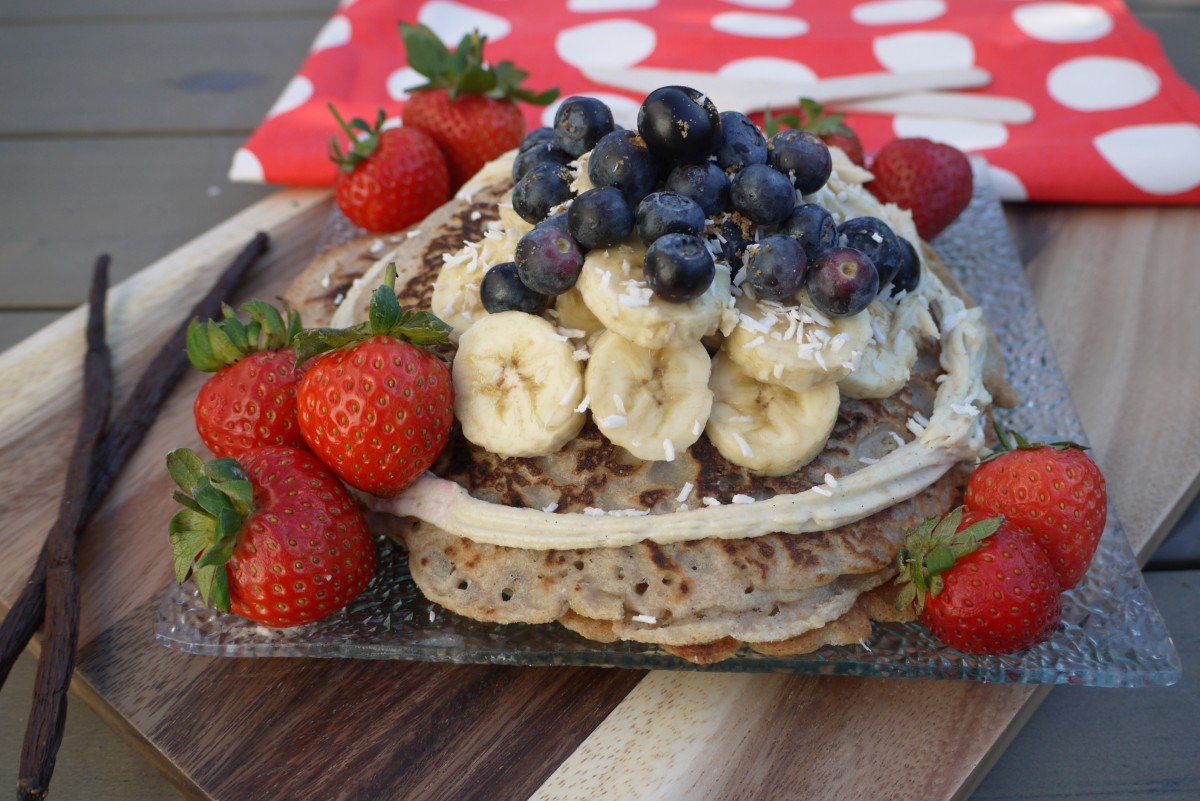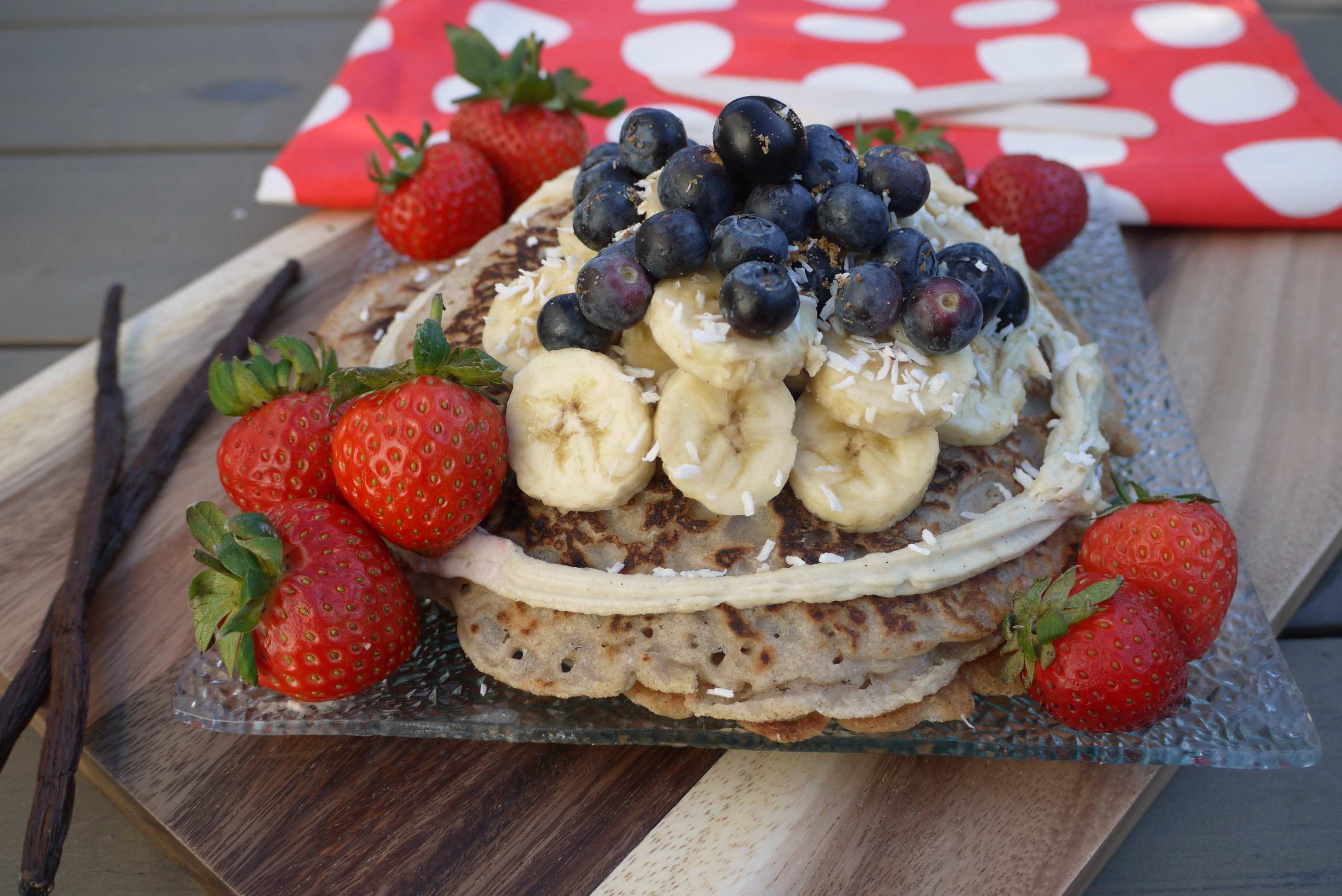 Buckwheat, Banana and Hemp power Protein Pancakes
2015-02-21 19:53:00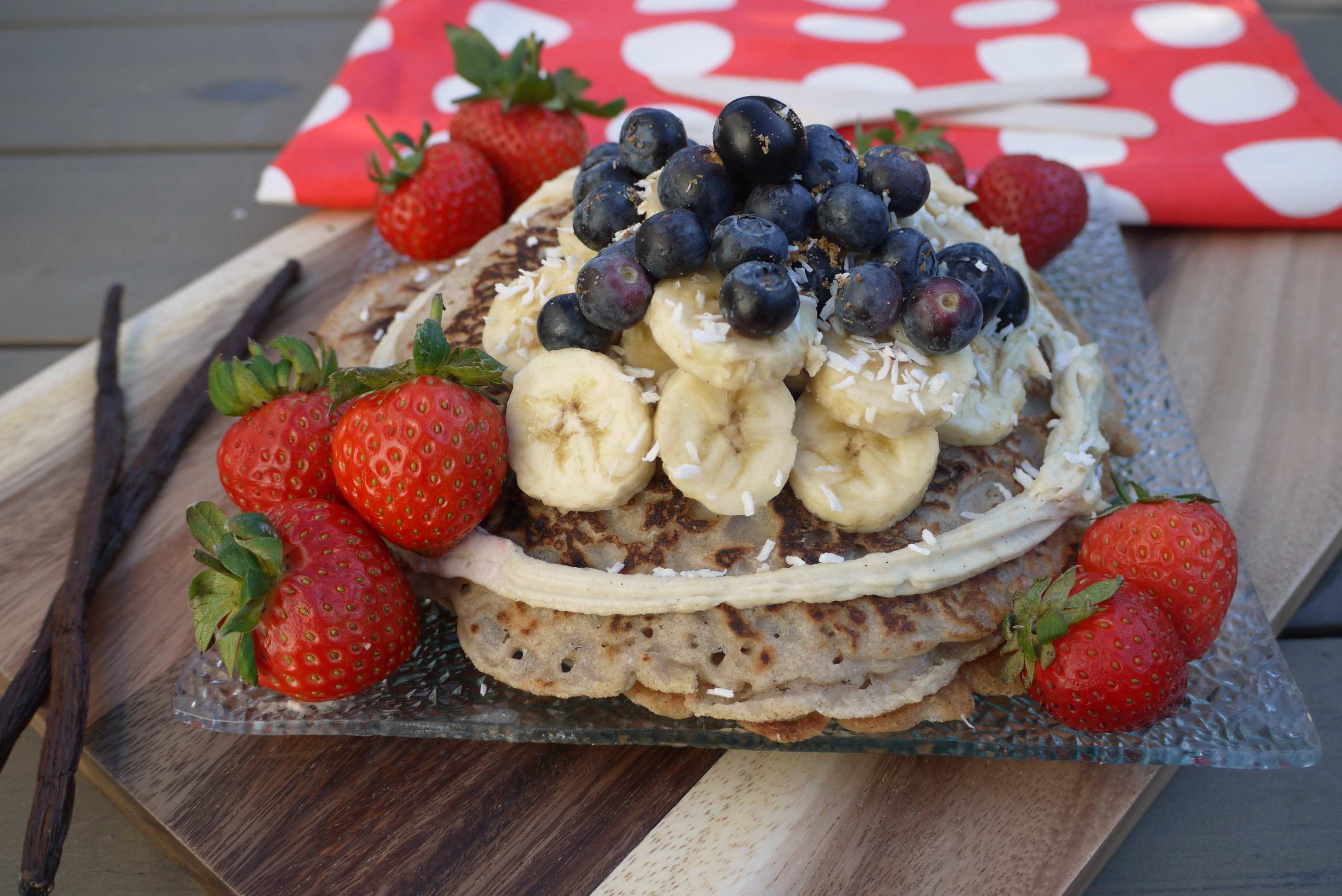 Serves 2
Healthy pancakes packed with protein and fibre to power you through your day!
Ingredients
120g (One cup) of buckwheat flour
355ml (1 1/2 cups) of unsweetened almond milk
2 tbsp hulled hemp seeds
1 tbsp organic virgin coconut oil, melted
1/2 a ripe banana
1 tsp cinnamon
1 tsp vanilla extract
To Garnish
125g fresh raw blueberries
1/2 a banana
1 tbsp unsweetened desiccated coconut
129g (1 cup) raw unsalted cashew nuts, soaked for 2 hours in cold water to soften (Buy organic if possible)
1/2 tsp vanilla seeds
1 tsp pure organic maple syrup (optional)
Coconut oil, for cooking
Instructions
In a large mixing bowl, place the buckwheat flour, mashed banana, cinnamon, vanilla, coconut oil and hemp seeds. Slowly pour in the almond milk, stirring continuously until a smooth batter forms.
Heat up a little coconut oil in a skillet or frying pan. When it bubbles, pour on enough batter to make a thin pancake. I like to keep them to a medium-size to get more pancakes out of the mixture 😉
When the edges of the pancakes start to detach from the base of the pan, gently use a spatula to lift the pancake free from the pan and carefully flip it over. Cook it on the other side until golden-brown.
Place on a plate topped with a piece of kitchen roll to mop up any extra oil. Continue cooking until all the batter is gone and place aside.
To make the cashew cream, place the soaked cashew nuts, vanilla and optional sweetener in a blender and combine until a smooth cream forms. I usually need to use a little water to help blend, and scrape down the sides every so often.
Decorate your pancakes with the cashew cream, blueberries and bananas and serve hot. Enjoy!
Rosanna Davison Nutrition https://www.rosannadavisonnutrition.com/