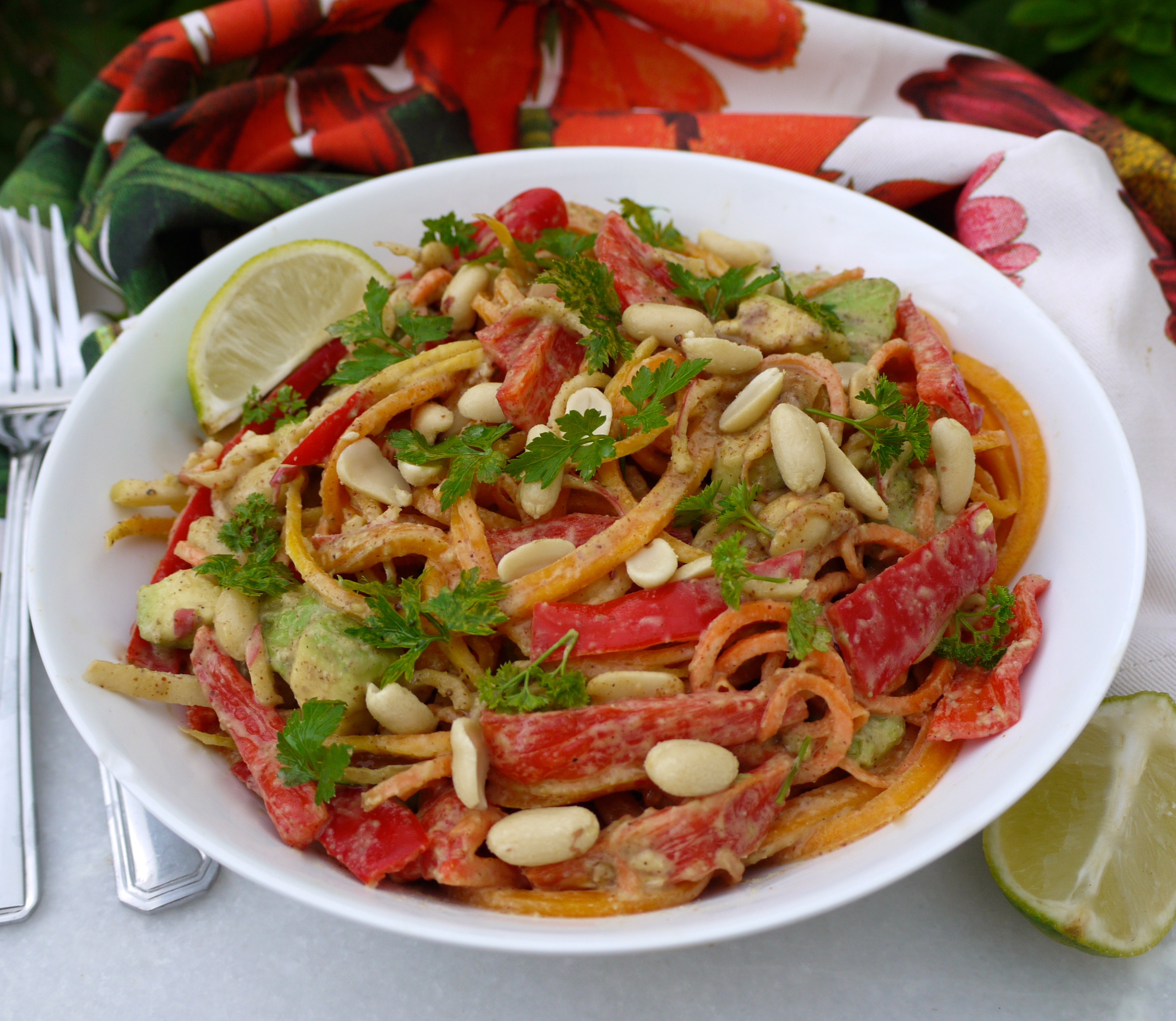 Have you ever tried butternut squash noodles? To be perfectly honest, I hadn't either until a few days ago!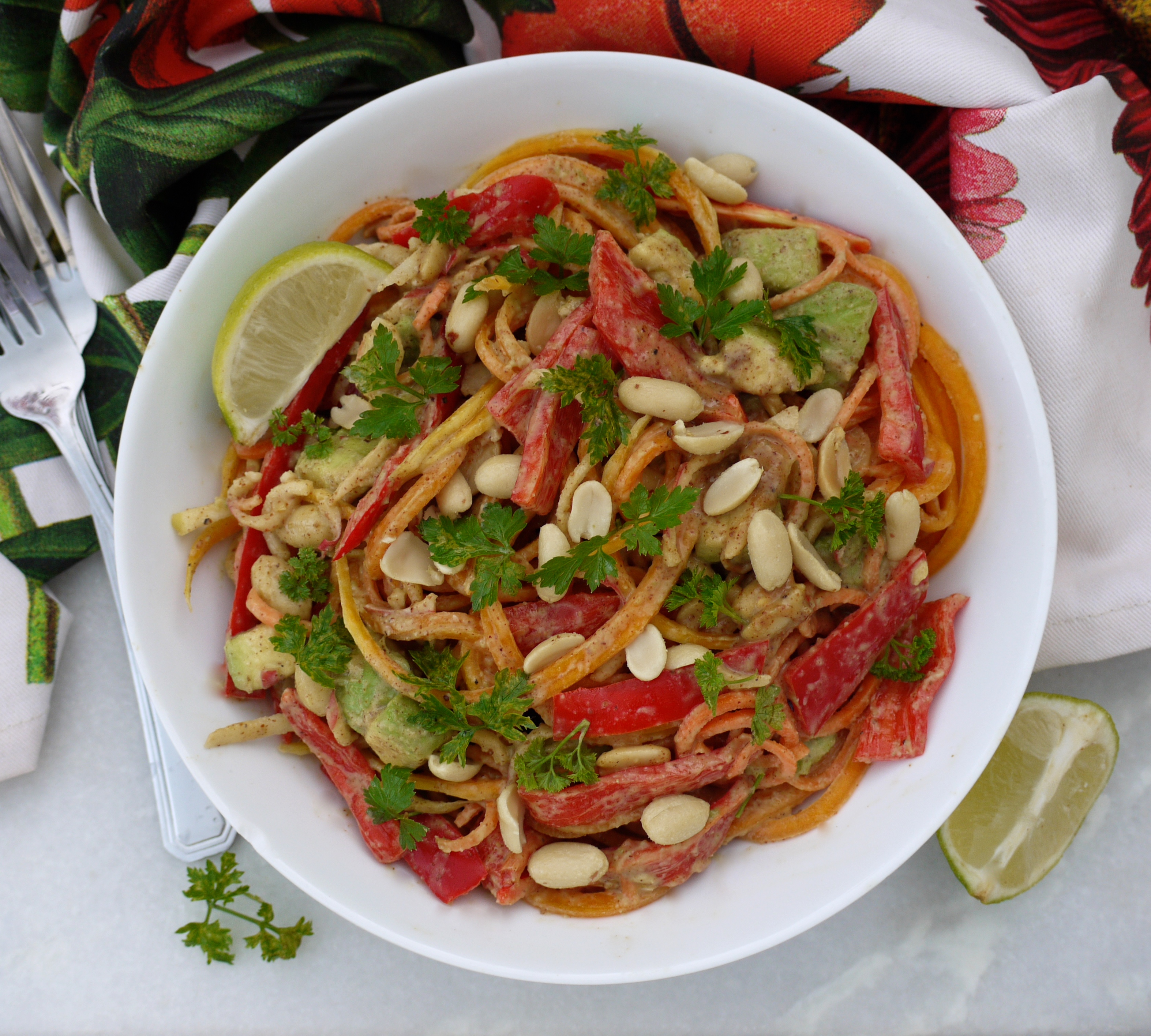 I had bought a butternut squash with the intention of making a cosy and comforting soup with coconut milk, ginger, carrot and red lentils, but swiftly scrapped that idea for this crunchy Pad Thai instead. It's far more fun and colourful!
Compared to sweet potato noodles, butternut squash is quite a lot more crunchy, so I lightly sautéed the noodles for a couple of minutes to soften them a little but maintain their crunch. You could also steam or bake the noodles for this dish depending on your preferences, or you could even keep them raw if you're feeling brave 🙂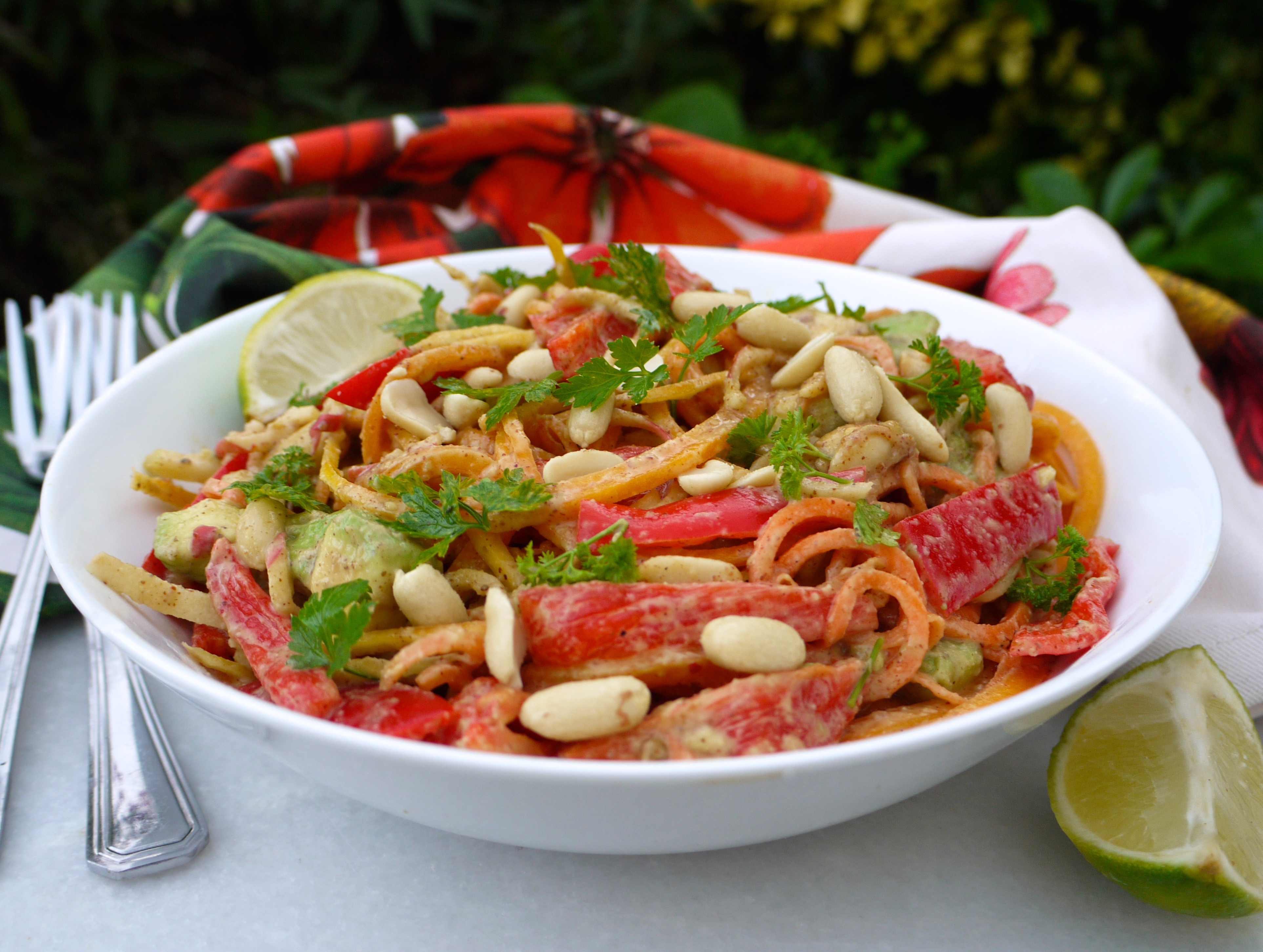 Even by themselves, butternut squash noodles are a super source of beta-carotene. This converts to vitamin A in your system, which is an incredibly important nutrient for healthy skin and eyesight. Combined with the good fats in the avocado and nuts and the beta-carotene and vitamin C-packed carrot, apple and pepper, this is a seriously nutrient-rich dish for skin!
My skin tend to suffer during the winter months, when we have the heating on much more often at home. It always looks drier under my eyes, despite the gallons of water I try to drink. So knowing that you're eating a heap of skin-friendly vitamins, minerals and antioxidants, certainly helps the annual winter battle for brighter, smoother skin.
Drizzled with this spicy and sweet peanut sauce makes the meal extra tasty. In fact, the sauce is so yummy that I've been known to add it to salads, steamed veg or just use it as a dip for carrot sticks.
Enjoy!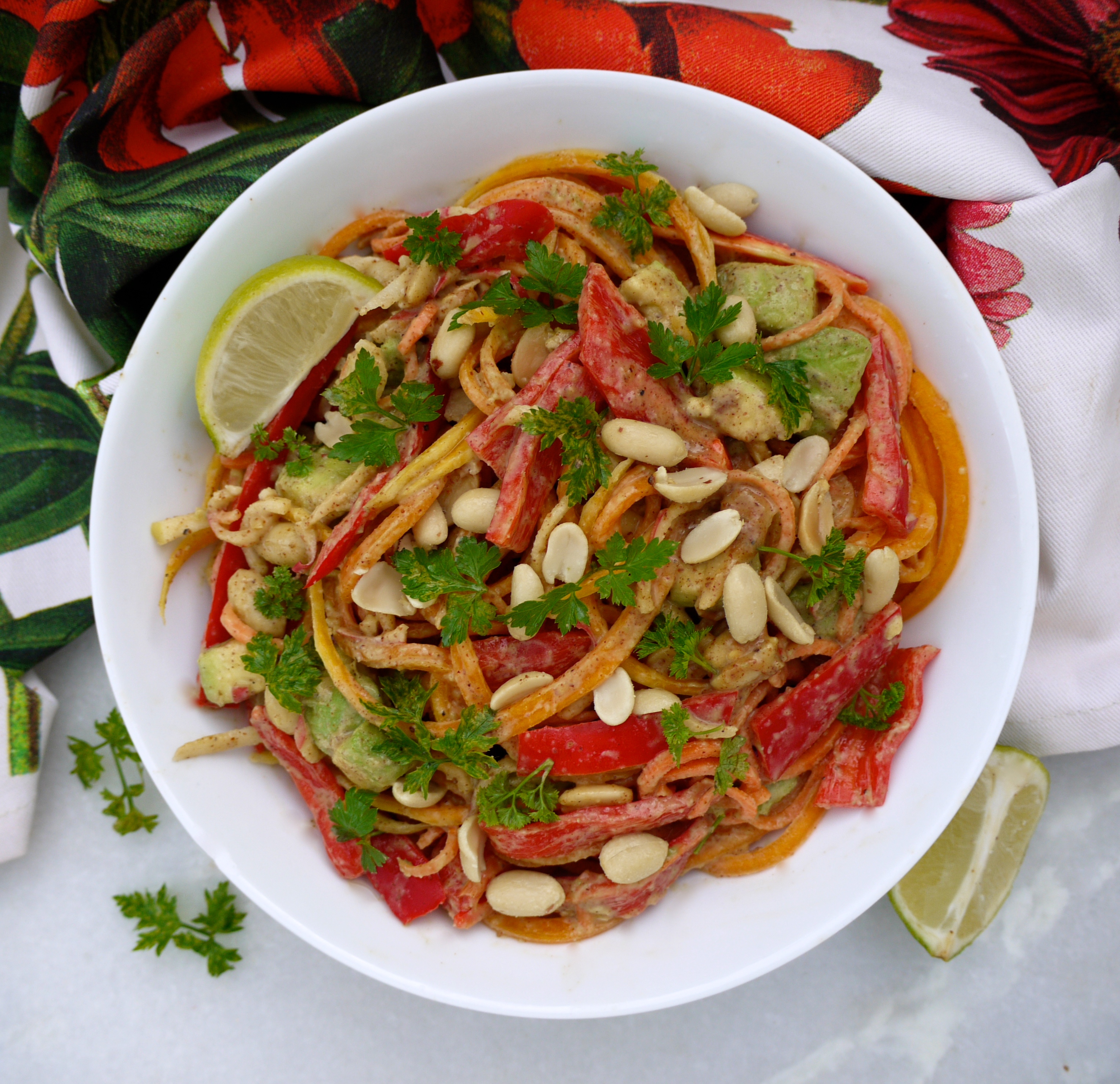 I would love to know if you get a chance to make this Butternut Squash Pad Thai with a Sweet and Spicy Peanut Sauce! Simply tag #RosannaDavisonNutrition on Instagram or Twitter or come on over to my Facebook to say hello 🙂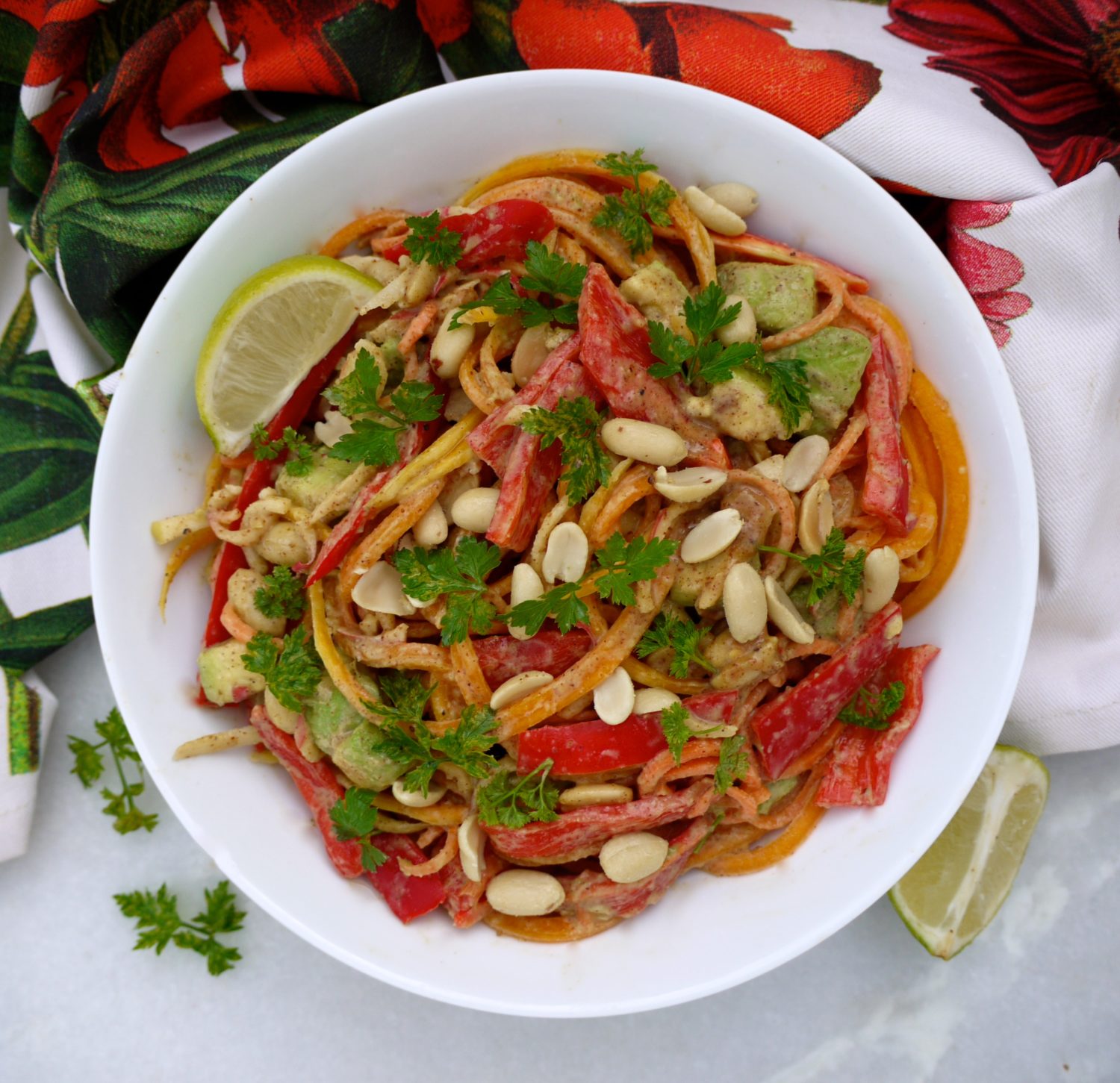 Butternut Squash Pad Thai with Sweet & Spicy Peanut Sauce
2016-11-15 12:03:48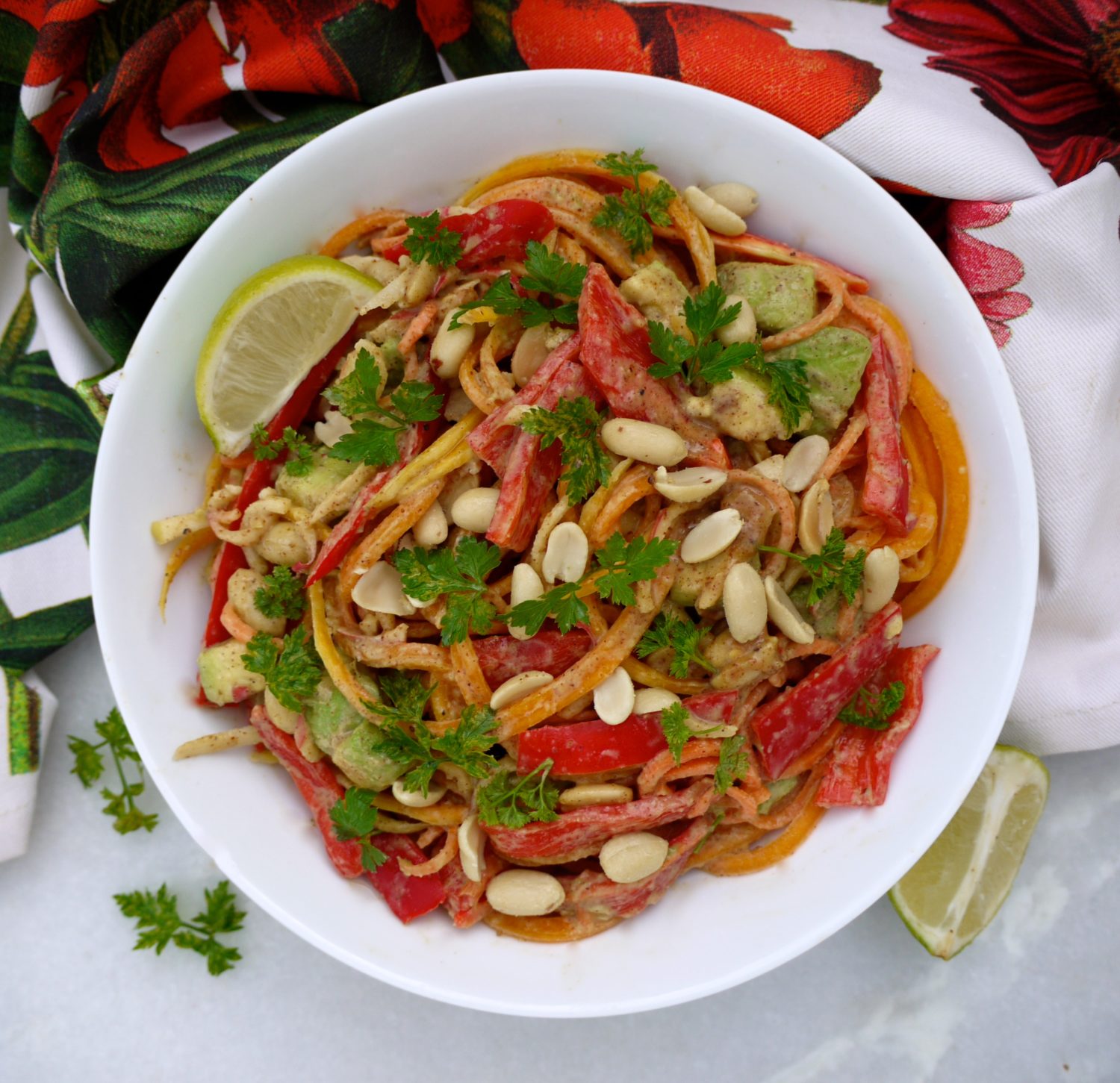 Serves 2
Colourful, crunchy, creamy, filling and packed with flavour, this makes an energising and nutritious meal. Nutrition information per serving: 626 calories, 16g protein, 59.7g carbs, 41.6g fat, 18.2g fibre
For the Pad Thai
1 butternut squash, cut into half across its width (sweet potato can be used too)
water, to cook
1 red/yellow/green bell pepper, cored and cut into slices
1 medium/large carrot, peeled and grated or spiralised
1 red or green apple, grated or spiralised
1 ripe avocado, cored and cubed
1 handful fresh coriander or parsley
1 tbsp fresh lime juice (about 1 lime)
sea salt and black pepper, to taste
2 tbsp peanuts, to serve
For the Sweet & Spicy Peanut Sauce
85g peanut butter (Look for an organic version, free from added sugar and palm oil)
1 tbsp fresh root ginger, grated
2 cloves of garlic, minced
pinch of dried chilli flakes (optional)
2 tbsp fresh lemon juice
1 tbsp pure maple syrup or honey or 5-6 drops liquid Stevia (optional)
1 tablespoon tamari
3-4 tbsp water, to blend
Pinch of sea salt and ground black pepper, to taste
Instructions
Use a vegetable peeler to peel the skin off the top half of the butternut squash, then process it through the spiraliser to create noodles. I only needed to use half the squash for two servings, but use the other half if necessary. You will just need to scrape out the seeds and pulp from the centre.
To lightly sauté the noodles, heat up a small amount of water in a saucepan over a medium heat and add the noodles.
Gently stir them for 4-5 minutes, until they soften.
Place the noodles in a bowl and add the sliced pepper, carrot, apple, avocado, coriander/parsley and lime juice.
Mix until the vegetables are well combined and add sea salt and pepper, to taste.
To make the sauce, place all the ingredients into a blender and blend until thick and creamy. Taste and season, if necessary.
Pour the sauce on top of the vegetables and mix together until they're well coated.
Sprinkle with peanuts and fresh chopped coriander/parsley, and serve.
Notes
*Use tahini or sunflower seed butter for a nut-free version and sprinkle with pumpkin seeds instead of peanuts.
Rosanna Davison Nutrition https://www.rosannadavisonnutrition.com/