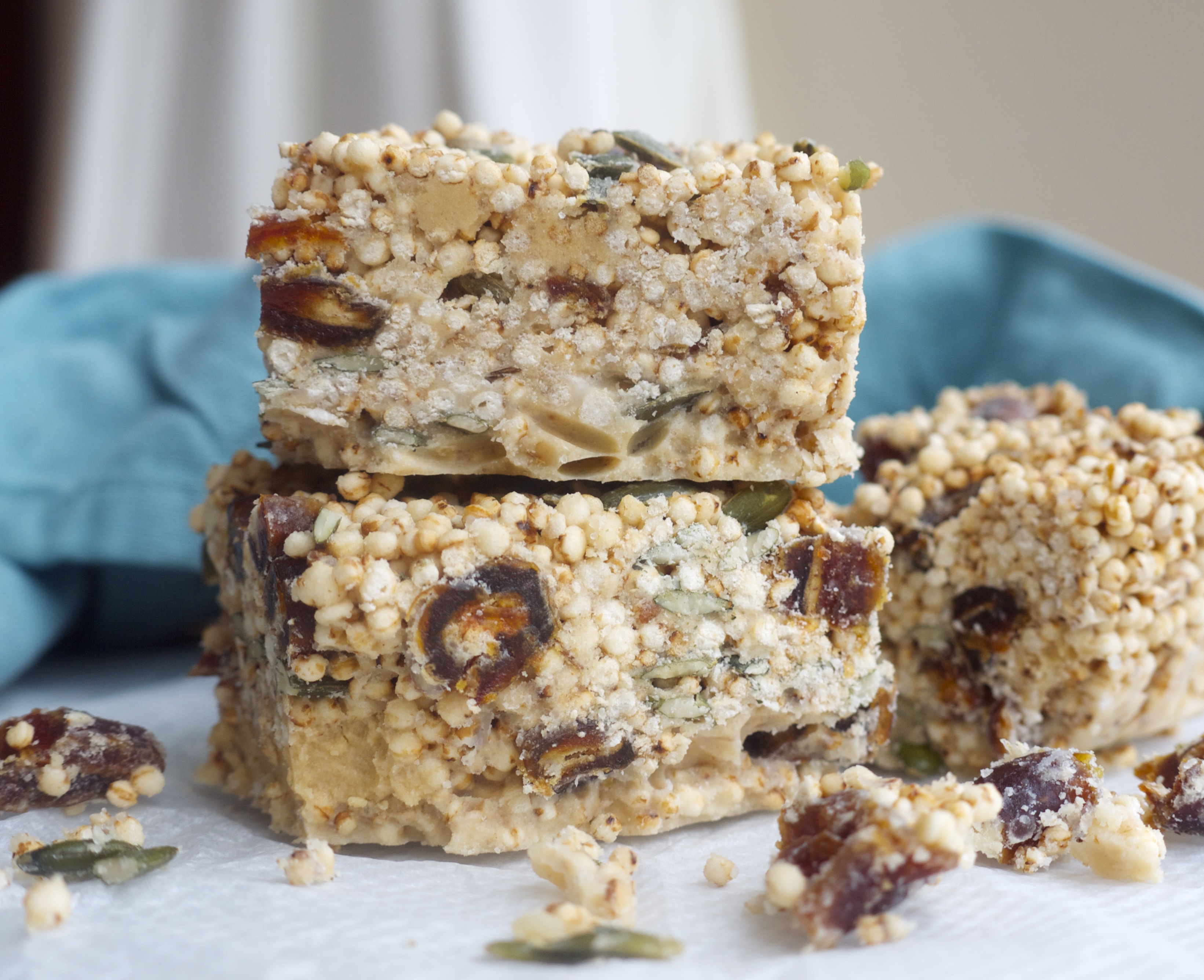 Looking for an easy and tasty treat to enjoy with friends and family this weekend?
These crispy quinoa pop bars always go down very well in my house, and they're simple and fun to create. Kids will enjoy making and eating them, and especially if they already love Rice Crispy treats. These bars are very similar, but are based on nutrient-rich quinoa pops and filled with chewy, naturally sweet dates and crunchy pumpkin seeds.
I used these Biofair Organic Quinoa Pops (€6.95), which also happen to be delicious eaten as a cereal or sprinkled on top of porridge and smoothies!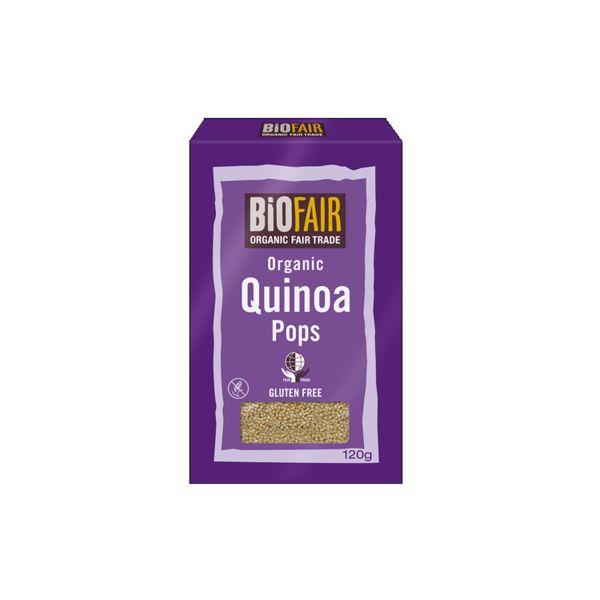 The best part is that you can be as imaginative as possible with your flavour combos, and coconut flakes, dried cranberries, dried blueberries, raisins, chopped almonds, walnuts, pecans and chocolate chips all work exceptionally well!
The puffed quinoa has a lovely toasted flavour, which works perfectly with the magical mixture of coconut oil, nut butter, maple syrup and vanilla used to bind the pops together. They're light yet full of flavour and absolutely packed with nutrients, including iron, zinc, magnesium, calcium, B vitamins and vitamin E, plus the full set of essential amino acids.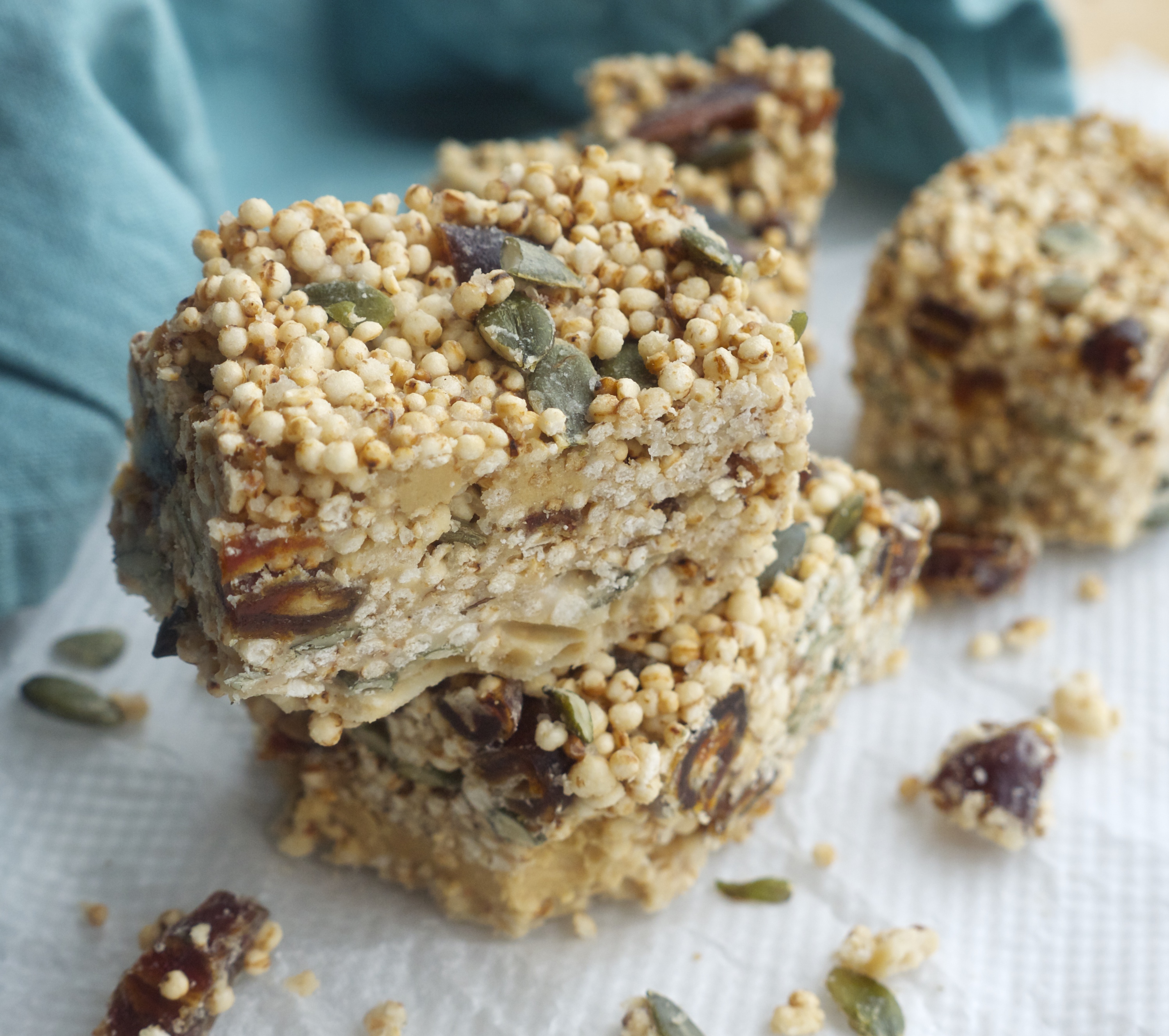 I would love to know if you get a chance to make these Crispy Quinoa Pop Bars! Simply tag #RosannaDavisonNutrition on Instagram or Twitter or come on over to my Facebook to say hello 🙂
Crispy Quinoa Pop Bars
2016-06-10 15:15:22
Delicious crispy quinoa pop treats, packed with chewy chopped dates and crunchy pumpkin seeds. The perfect treat! Nutrition Information per bar: 238 calories, 3.7g protein, 19.8g carbs, 17.7g fat, 2.1g fibre
Ingredients
5 tbsp virgin coconut oil
3 tbsp smooth peanut butter or almond butter
2 tbsp maple syrup or honey
1 tsp vanilla extract
45g (1.5 cups) popped/puffed quinoa
90g (1/2 cup) dates, pitted and chopped (raisins, goji berries and dried cranberries work well too)
3 tbsp pumpkin seeds (sunflower seeds, flaked coconut, chopped almonds, hazelnuts, walnuts or pecans can be used as well as or instead)
Instructions
Line a small tray or tin with greaseproof paper.
In a small saucepan over a low-medium heat, gently melt the coconut oil and add the nut butter, maple syrup and vanilla. Stir well until a smooth sauce forms.
Place the quinoa pops into a mixing bowl and stir in the chopped dates and pumpkin seeds.
Pour in the coconut oil mixture and combine all ingredients together well, until everything is coated in the mixture.
Transfer the mixture to the prepared tin or tray and press the mixture in, ensuring the top is even. I kept the bars quite thick as they tend to stick together better.
Place the mixture into the freezer to set for at least two hours, then remove and carefully slice into bars using a sharp knife.
Keep the bars in the fridge or freezer until ready to serve and always serve chilled as they can begin to melt at room temperature.
Notes
Any leftovers can be stored in an airtight container in the fridge for 4-5 days and frozen for 3-6 months.
Rosanna Davison Nutrition https://www.rosannadavisonnutrition.com/