This Eat Yourself Fit breakfast favourite makes the perfect quick and easy breakfast or anytime snack for those following a lower-carb diet.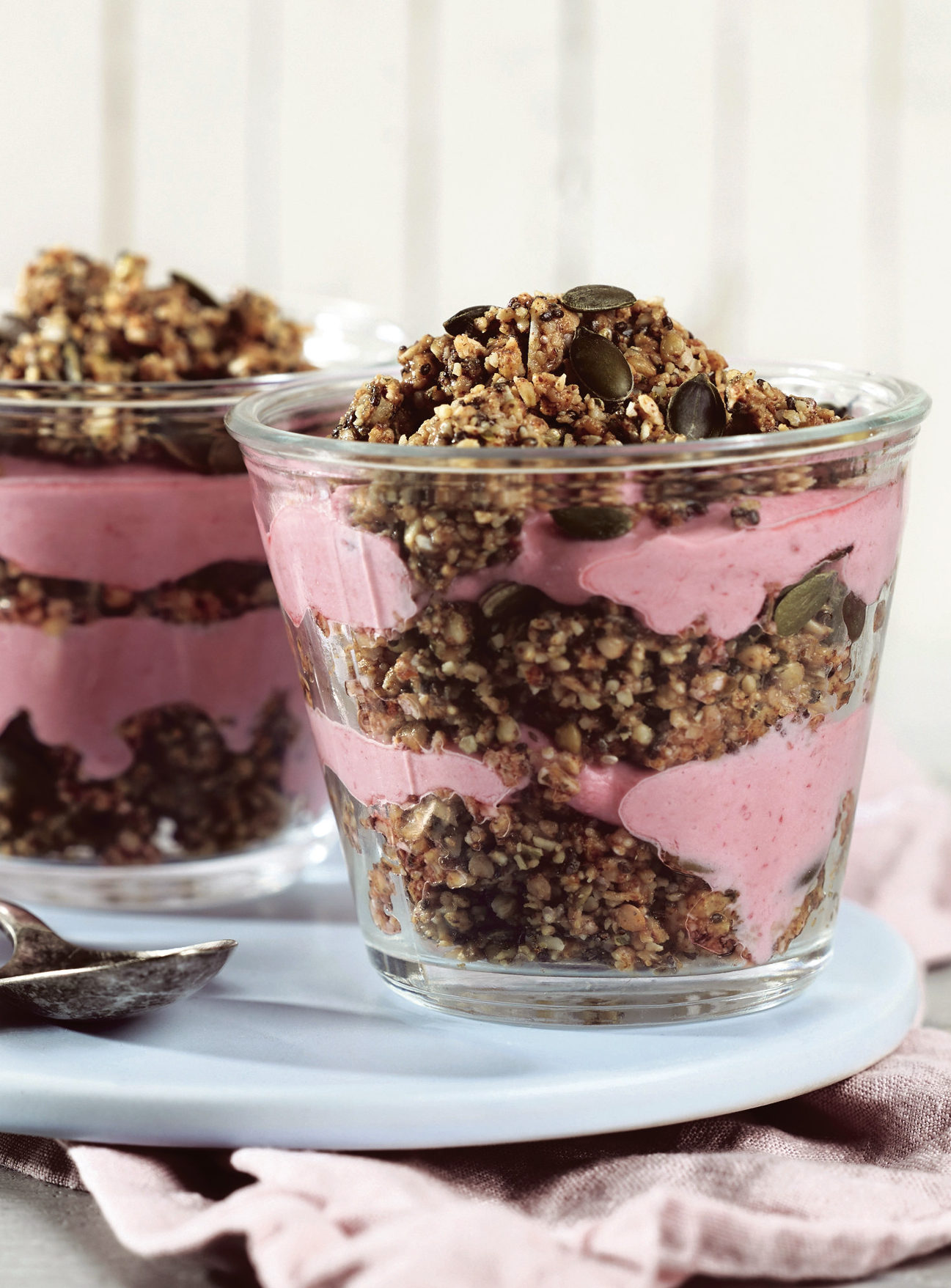 It's packed with healthy fats, fibre and easily-assimilated amino acids for muscle recovery and repair, plus those all-important antioxidants found in the cacao nibs and raspberries, for protecting your cells from everyday wear and tear.
Nature's candy in a nutritionally perfect package, raspberries may be only be little, but they boast serious skin-boosting levels of vitamin C and other antioxidants called anthocyanins and quercetin.
Look out for good-quality frozen berries when fresh aren't as easily available, as they're a brilliant addition to smoothies. But raspberries work well in everything from pancakes to porridge and muffins. In fact, Raspberry and vanilla are one of my favourite flavour combinations, and they taste great together in this parfait!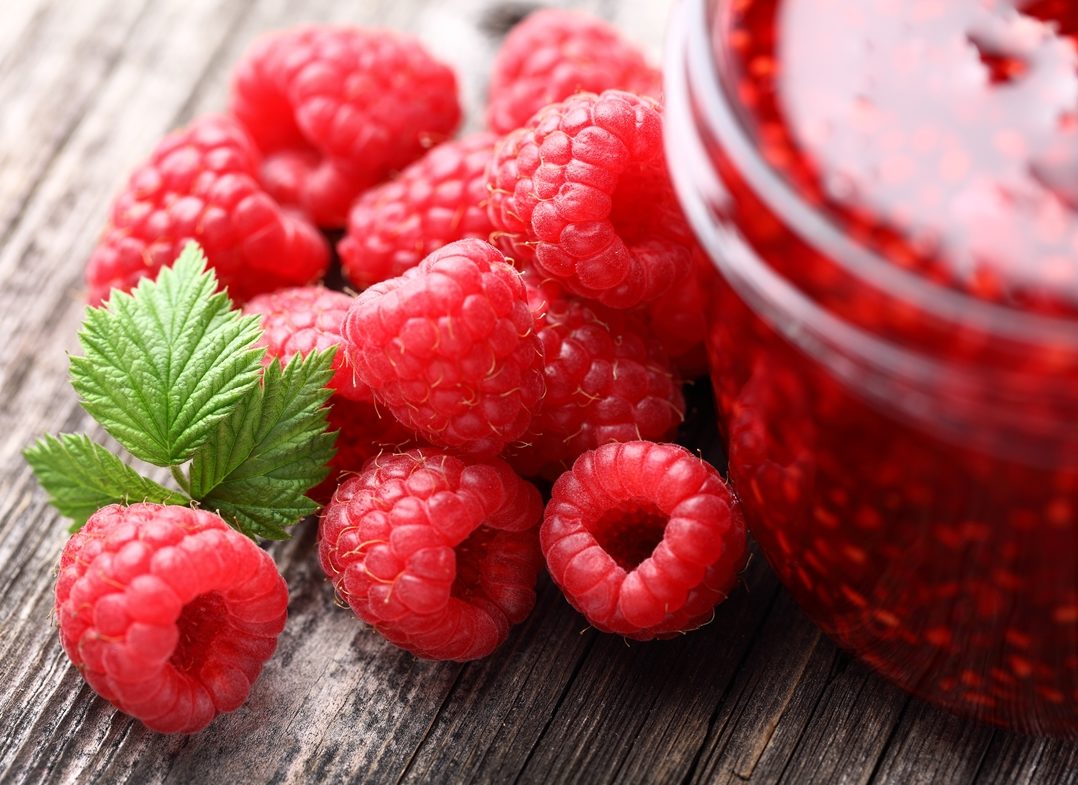 I would love to know if you get a chance to make this Rawnola Parfait with Raspberry and Vanilla Coconut Whip! Simply tag #RosannaDavisonNutrition on Instagram or Twitter or come on over to my Facebook to say hello 🙂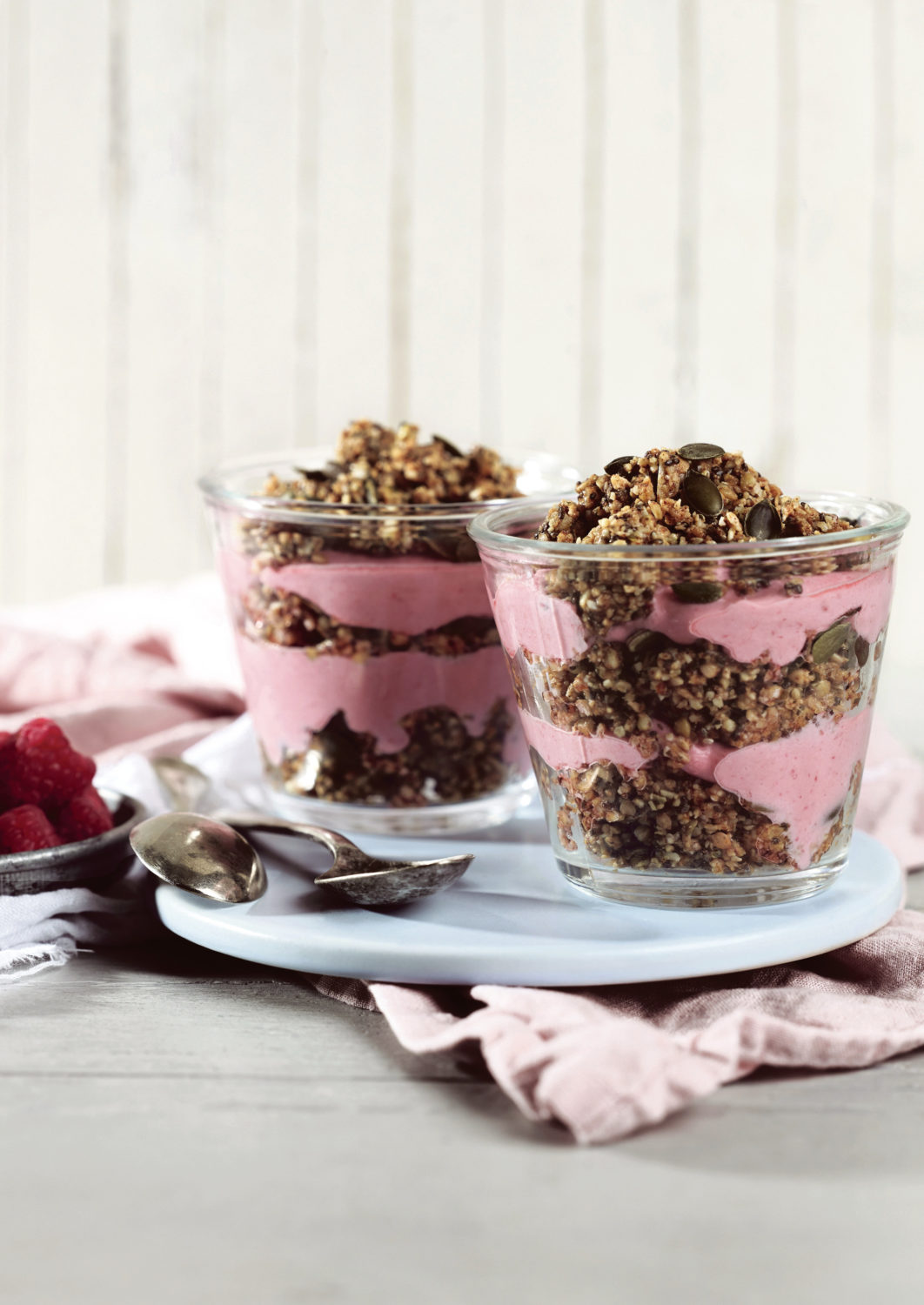 Rawnola Parfait with Raspberry and Vanilla Coconut Whip
2016-09-22 19:36:37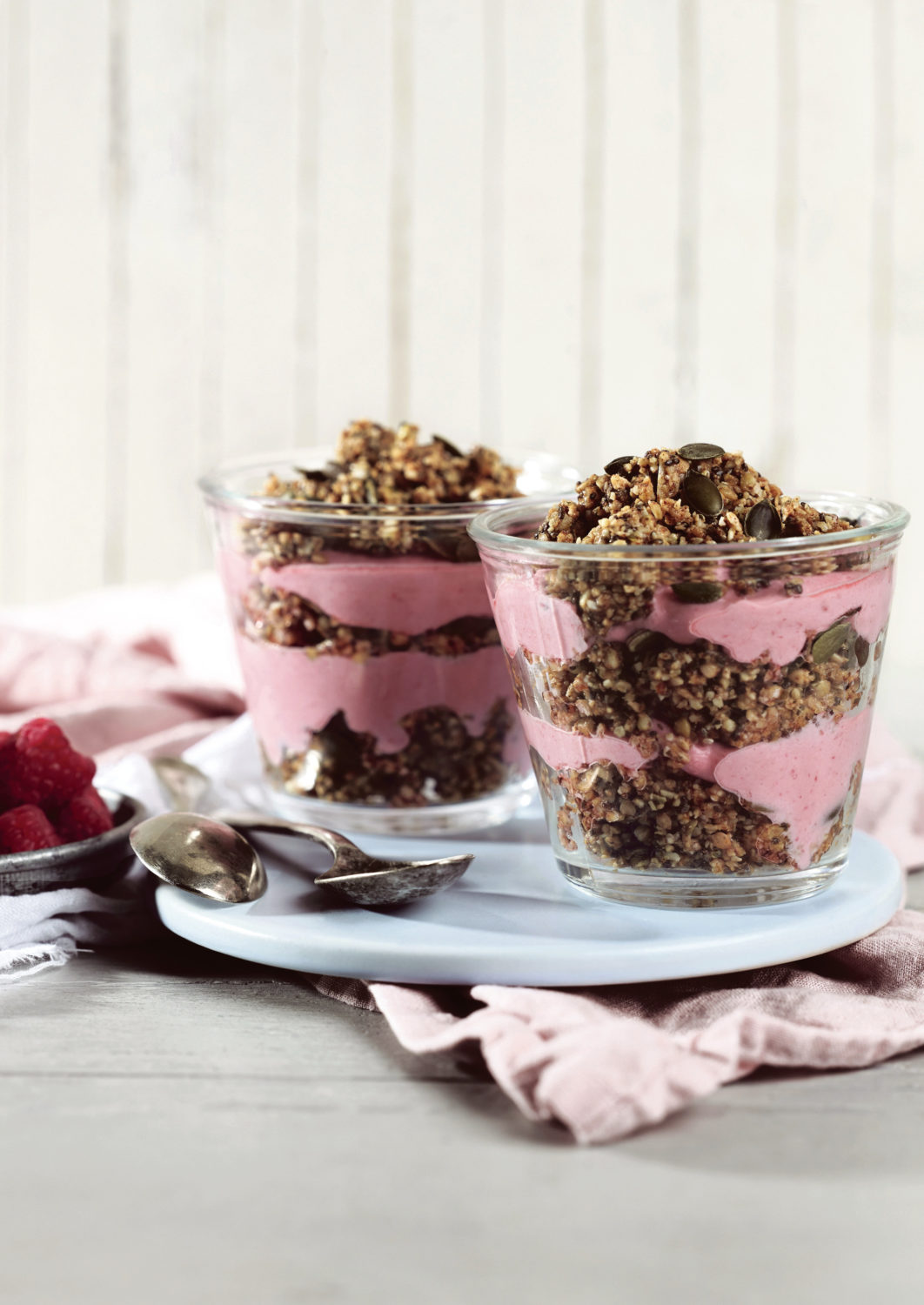 Serves 2
A nourishing breakfast to keep you going all day. Packed with protein, fibre and healthy fats. Per serving of Rawnola: 337 calories, 11.8g protein, 33g carbs, 20.6g fat Per serving of Raspberry and Vanilla Coconut Whip (2 tbsp): 138 calories, 1.9g protein, 11g carbs, 10.9g fat
For the Rawnola
6 tbsp buckwheat groats or oats (use gluten-free if necessary)
4 tbsp unsweetened desiccated coconut
2 tbsp whole chia seeds
2 tbsp whole raw almonds
2 tbsp pumpkin seeds
2 tsp cinnamon
1/2 tsp nutmeg
4 tsp almond butter/hazelnut butter
For the Raspberry and Vanilla Coconut Whip
200g coconut milk yoghurt or 1 400ml can of full-fat coconut milk, refrigerated overnight
150g fresh raspberries, rinsed (leave a few aside to decorate the parfait)
2 tsp pure vanilla extract or vanilla powder
4-5 drops liquid Stevia to sweeten (optional)
Instructions
Place all of the Rawnola ingredients in a food processor fitted with an S blade or a blender and combine until the mixture is crumbly. Set aside.
If using the canned coconut milk, carefully open it without shaking it. The firm coconut cream should have separated from the coconut water, so you can spoon it out.
Place the raspberries, coconut milk yoghurt or cream and vanilla extract in a blender or food processor and blend until smooth and creamy.
In a glass, jar or bowl, layer the parfait ingredients, starting with the rawnola, then the coconut whip and repeat until full. Top with a few fresh raspberries and serve.
Notes
Any leftovers will keep in an airtight container in the fridge for up to 2 days.
Rosanna Davison Nutrition https://www.rosannadavisonnutrition.com/