I hit the road to Cork earlier this week, to visit RTE's The Today Show studio for a cooking segment. I was delighted to have been asked to appear on the show as the chef of the day, and thought a tasty and warming homemade stew with loads of lovely spices would be perfect, as it was such a stormy and wet day.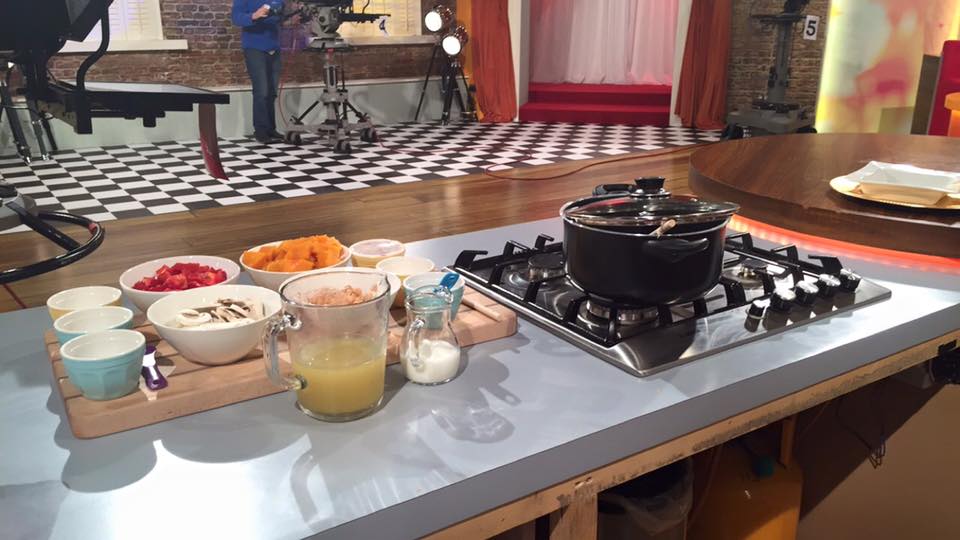 I had a brilliant time chatting my way through the recipe for a Roast Butternut Squash and Chickpea Stew, which is also one of the most popular meals from Eat Yourself Beautiful 🙂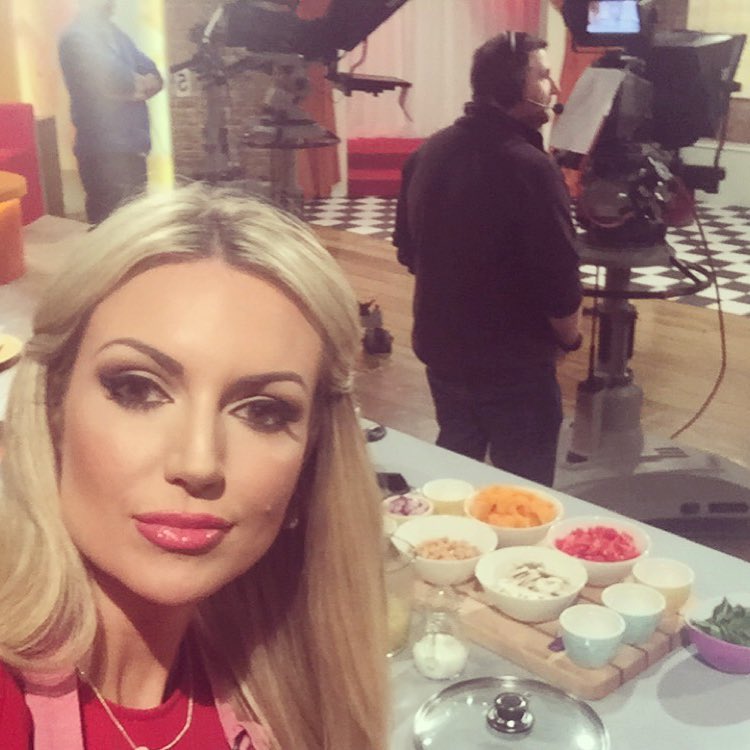 It's an easy and delicious one-pot wonder, filled with protein-packed chickpeas, butternut squash, mushrooms, red peppers, baby spinach and loads of aromatic spices to warm you up and boost circulation in cooler weather.
It's also a cheap and filling option for families, students and anyone watching the pennies, plus kids will love the natural sweetness of the butternut squash and peppers. The orange, red and green veggies are full of carotenoids and other important antioxidants to support your beauty and health goals, plus they really boost your immune system.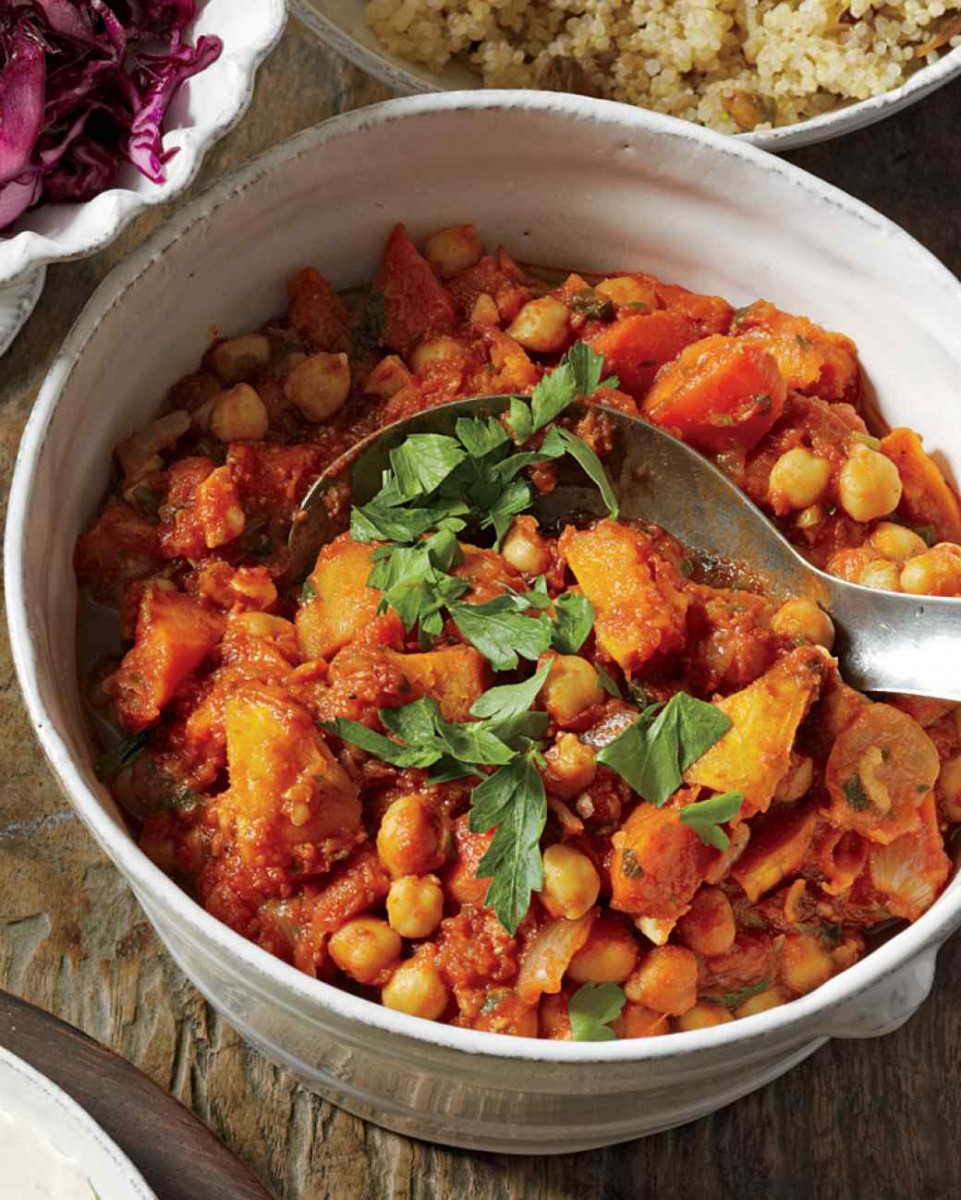 Beta-carotene, which gives the squash and peppers their vibrant colour, is especially important for bright, healthy eyes, good vision and glowing skin. I add in chickpeas and spinach for a healthy dose of plant protein and finish the dish with pumpkin seeds. The chopped mushrooms give it a meatier texture, but can be left out if you don't like them. Onion and garlic aren't just tasty additions to the dish – they also have sulphur-containing nutrients to boost liver function. This stew is great on its own or served with quinoa or brown rice for hungrier tummies.
It's ideal to make in a big batch for the family, and it will last a few days if stored in the fridge… the leftovers are even delicious eaten cold the next day!
If you want to watch the stew being made on The Today Show, simple click on this link 🙂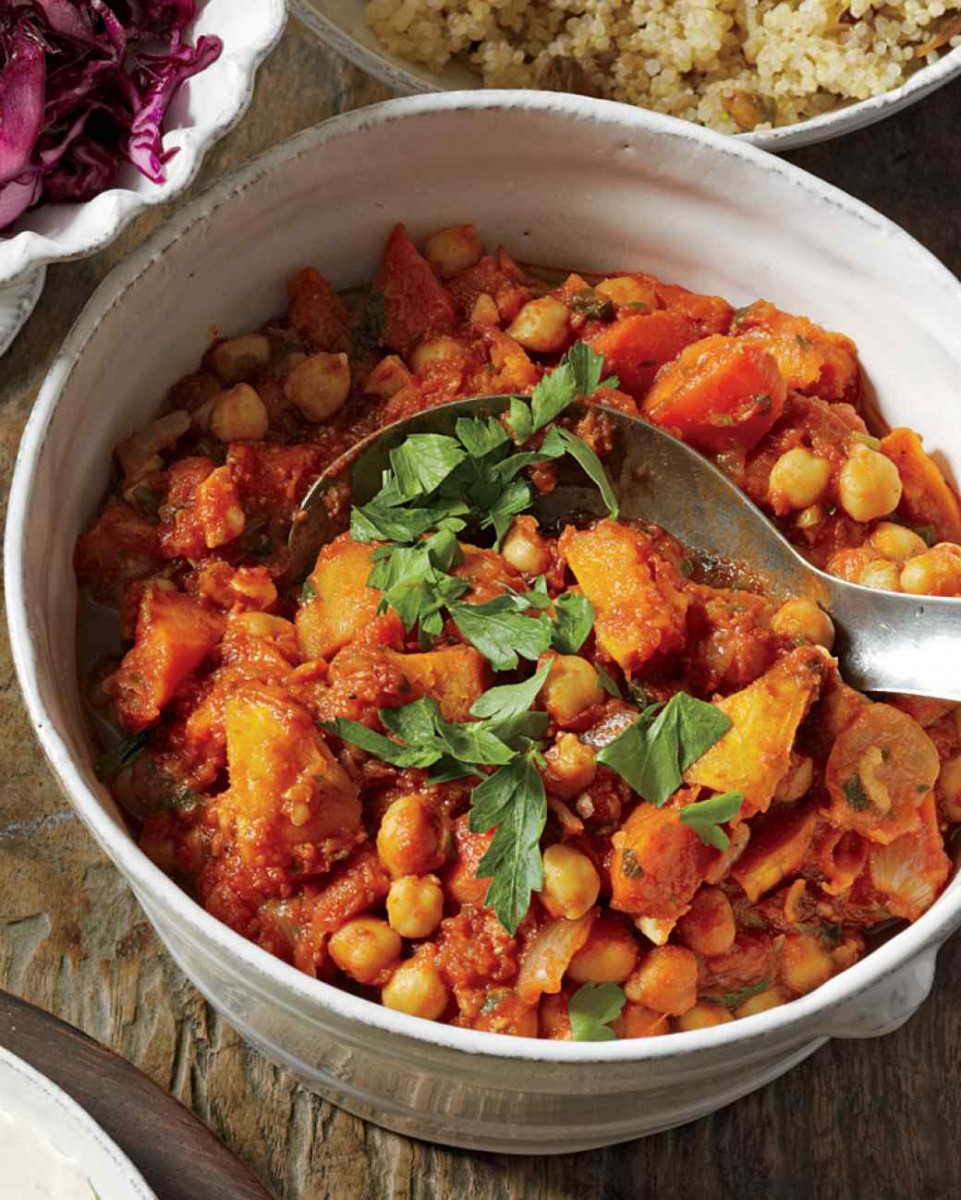 Roast Butternut Squash and Chickpea Stew
2015-11-19 13:53:00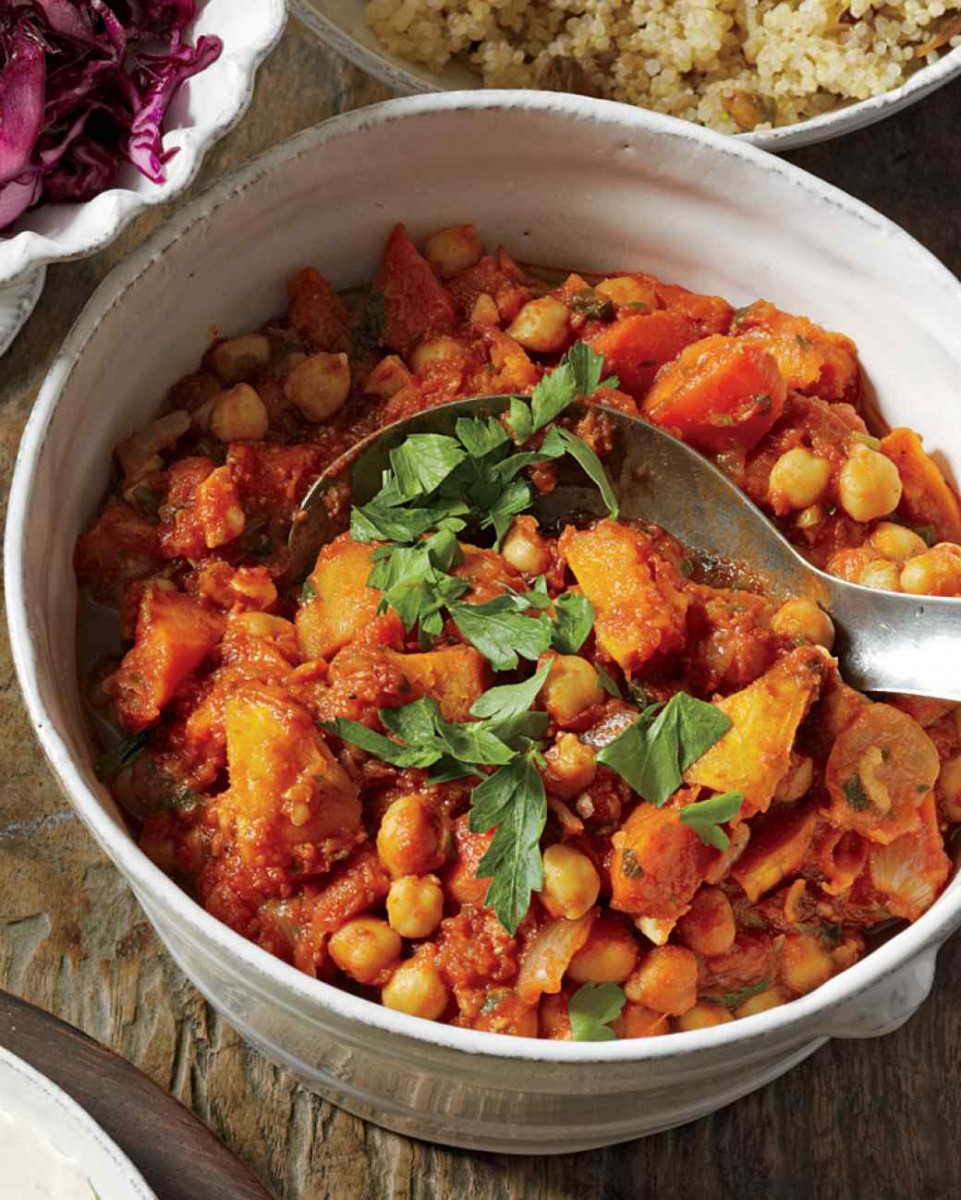 Serves 4
A delicious and warming stew, that's easy to prepare and full of goodness.
Ingredients
1 butternut squash
1 low-sodium vegetable stock cube
500 ml boiling water
1 tsp organic virgin coconut oil
1 red onion, chopped into bite-sized chunks
1 clove of garlic, chopped
200 g cooked chickpeas (see page 000 for cooking instructions)
70 g mushrooms, chopped into bite-sized chunks
2 large red peppers, chopped into bite-sized chunks
1 tsp ground cumin
1 tsp ground turmeric
1 tsp curry powder
120ml coconut milk
himalayan pink rock salt and freshly ground black pepper
2–3 handfuls of baby spinach leaves
1 tblsp pumpkin seeds, to serve
Instructions
Preheat the oven to 200°C.
Wash the butternut squash and place it on a baking tray lightly greased with coconut oil. Roast the whole squash for 20–25 minutes, until softened and slightly browned on the outside. When it's cool enough to handle, cut in half and remove the seeds, remove the skin and then chop the flesh into chunks.
Meanwhile, dissolve the vegetable stock cube in the boiling water.
Heat the coconut oil in a saucepan on a medium heat. Sauté the onion, garlic, mushrooms and peppers for 4-5 minutes, until browned slightly, taking care not to burn them.
Add the cooked chickpeas, chopped squash and vegetable stock and bring to a boil on a medium-high heat before partly covering with a lid and reducing to a simmer. Add the spices and coconut milk. Taste it and adapt the seasoning to your own preference. Stir occasionally until the water has evaporated and a thick stew has formed. Remove from the heat, stir in the baby spinach leaves and allow them to wilt.
Ladle into bowls and sprinkle with pumpkin seeds just before serving
Notes
Store any leftovers in an airtight container in the fridge for up to 3 days.
Rosanna Davison Nutrition https://www.rosannadavisonnutrition.com/