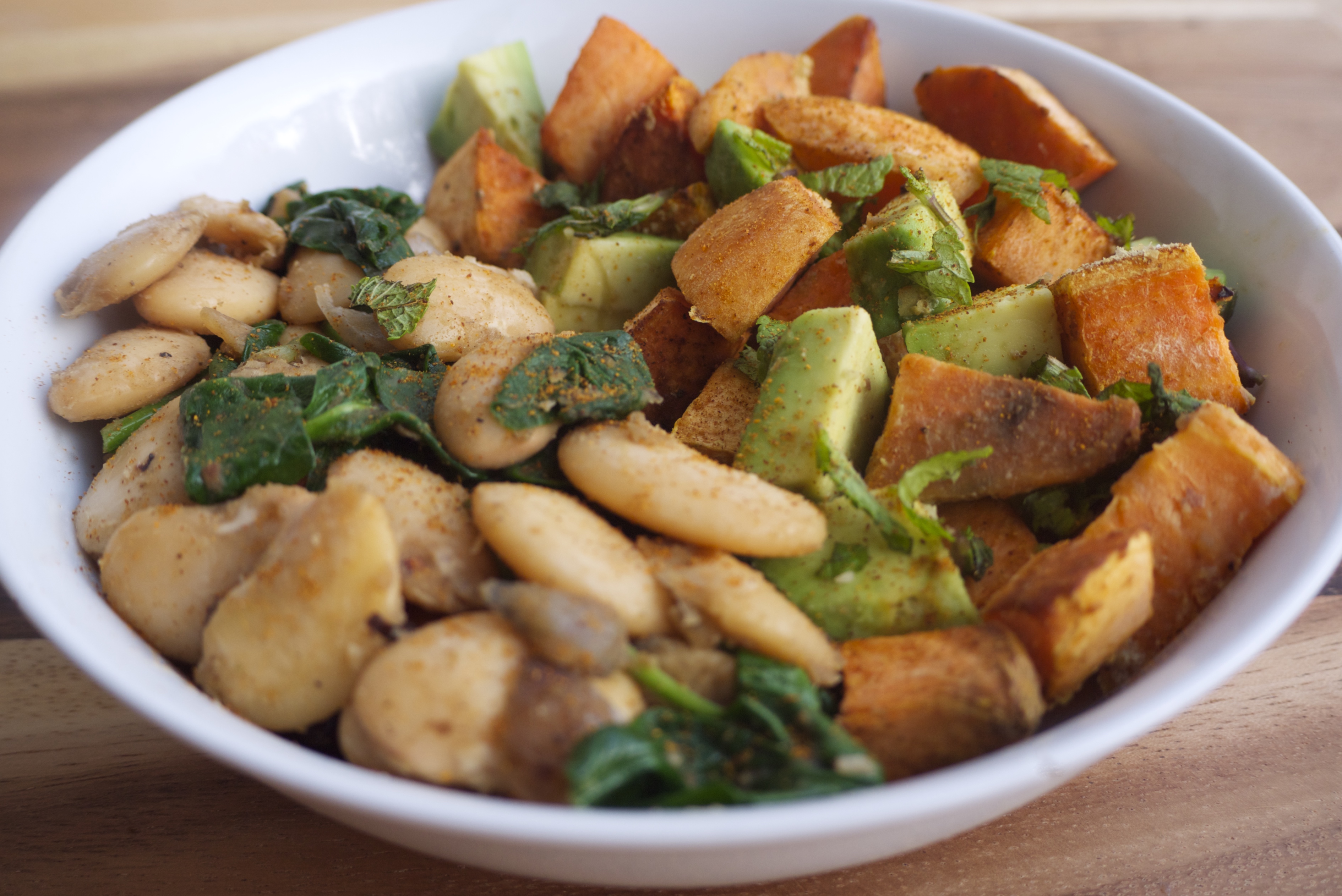 You know those evenings when you're tired after a long day working and just want a speedy, easy, tasty and filling meal?! Well, this recipe came about on one of those days!
I didn't have a whole lot in the fridge, bar a couple of sweet potatoes, an avocado and a bag of spinach that were certainly not getting any younger 🙂
I tend to stock up on cans and cartons of various cooked beans for such emergencies, and decided to break out the butter beans for this dish (95 cent from Tesco)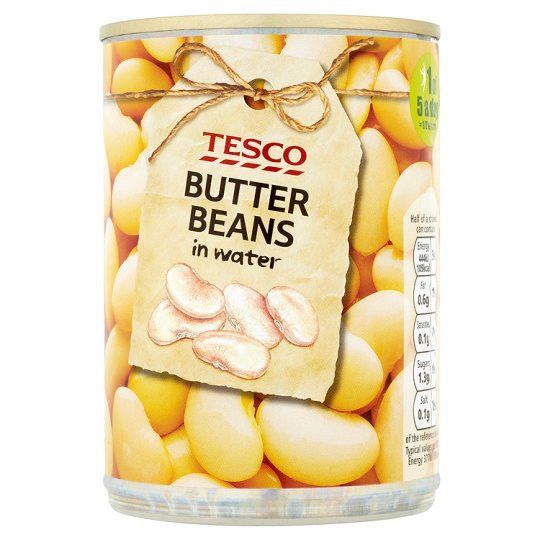 I always have my cupboard of spices and seasonings well stocked for whipping up meals. There's something quite grown-up about having a spice cupboard, isn't there?! I'm generally trying to wing it through life as an adult while hoping for the best, so at least the spice cupboard is there for some solid reassurance! 😉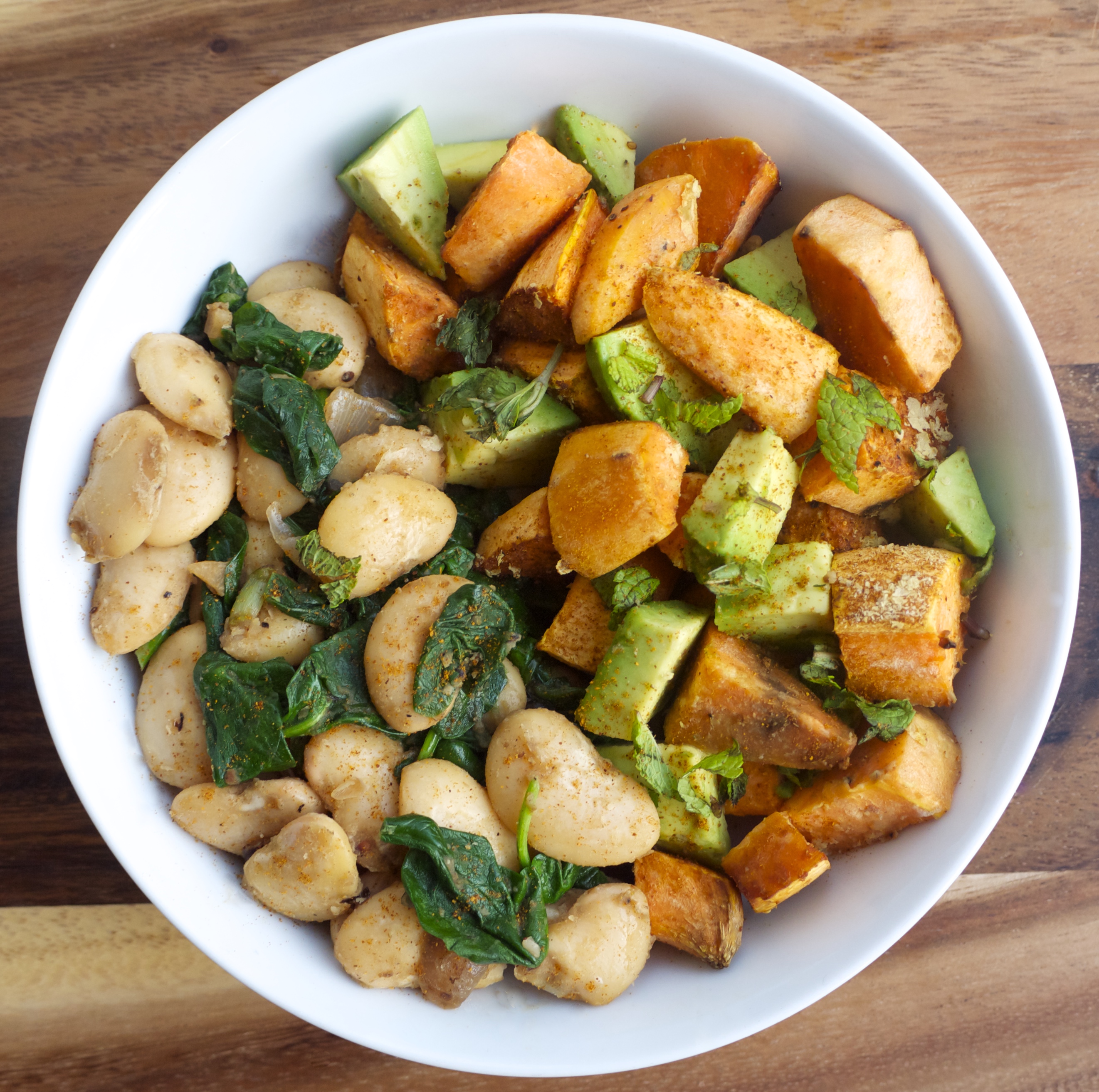 It ended up being a really tasty meal and mosy definitely on the list of recipes to make again.
I loved the vibrant orange and greens, and it was a complete meal, with plenty of protein from the beans, healthy fats in the avocado, buckets of beta-carotene and complex carbs in the sweet potato plus loads of fibre all 'round. I'm always banging on about eating leafy greens with each meal, so this ticked all of the boxes.
Gently spiced with smoked paprika, garlic and finished with a sprinkle of fresh mint, it's a healthy and low-cost meal that's ideal to make in big batches to enjoy over a few days. It would be delicious as a cold packed lunch too!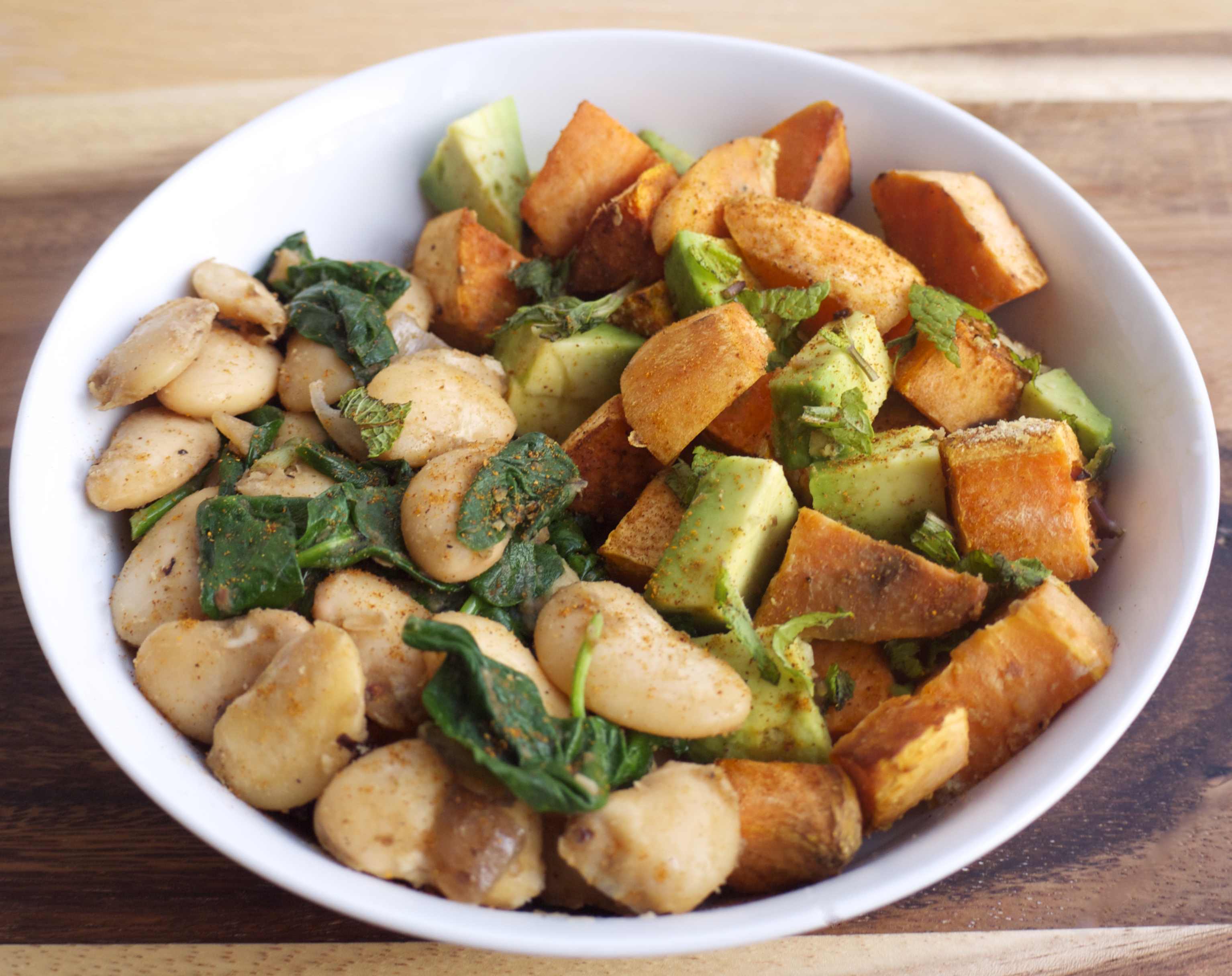 I would love to know if you get a chance to make these Sautéed Butter Beans with Spinach, Avocado and Tamari-Roast Sweet Potato! Simply tag #RosannaDavisonNutrition on Instagram or Twitter or come on over to my Facebook to say hello 🙂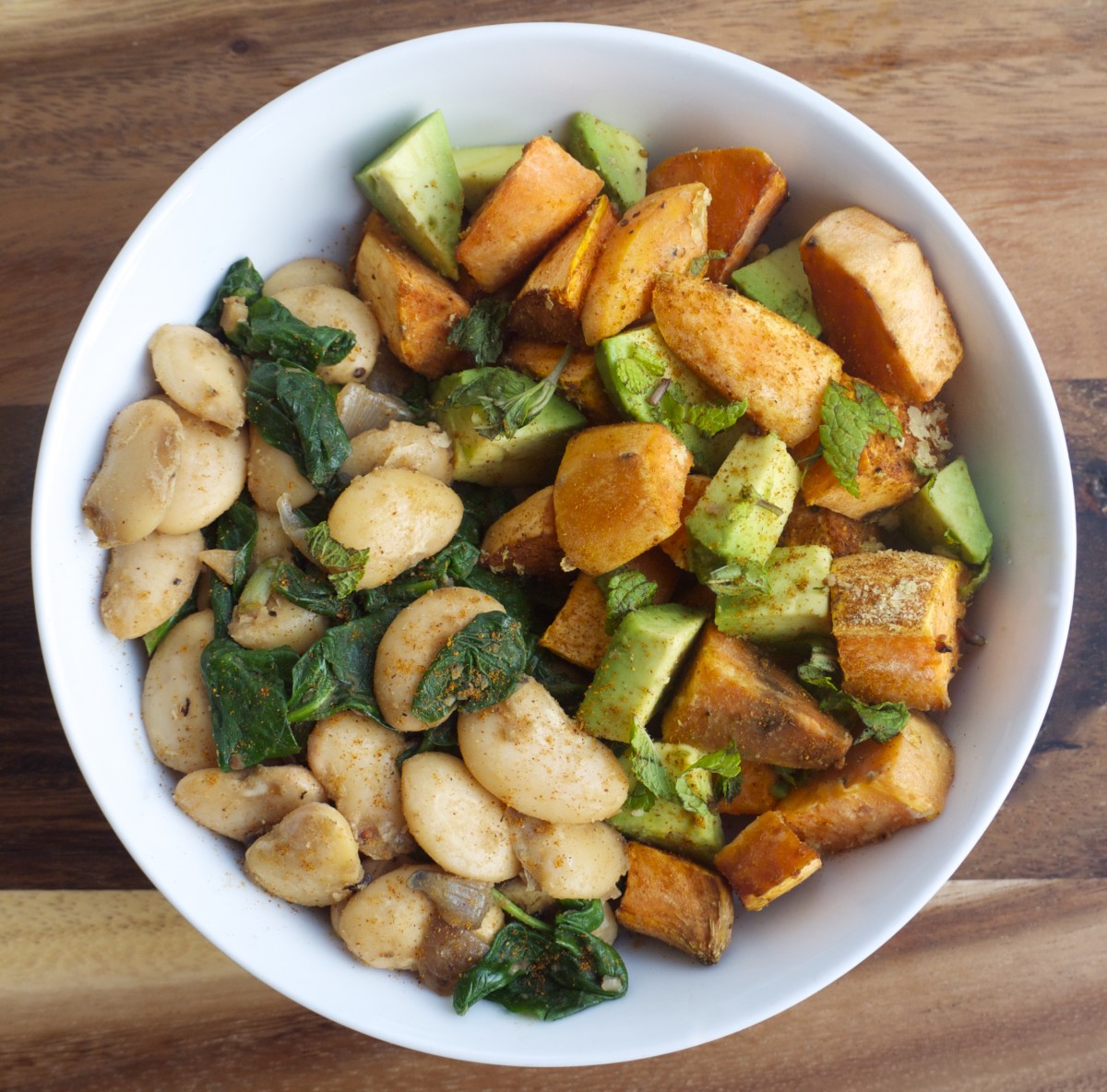 Sautéed Butter Beans with Spinach, Avocado and Tamari-Roast Sweet Potato
2016-02-03 19:16:19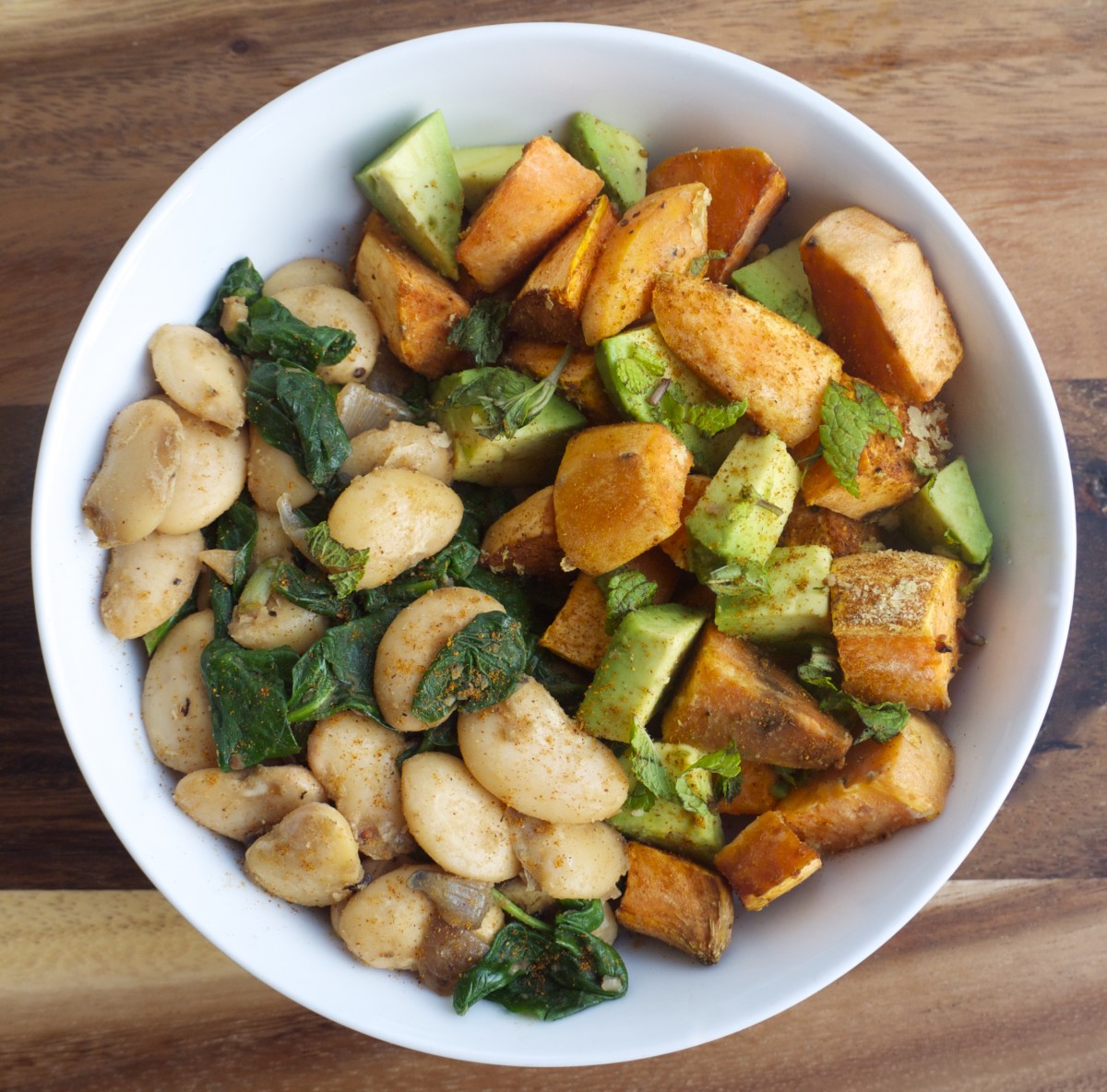 Serves 2
A colourful and nutritious balanced meal, packed with protein, fibre, complex carbs, healthy fat and antioxidants. It makes a great hot meal or packed lunch option for school, college or work.
Ingredients
coconut oil, to grease
2 medium sweet potatoes
2 tbsp nutritional yeast
1 tbsp of tamari (use coconut aminos for a soy-free version)
1 tsp smoked paprika
pinch of sea salt and black pepper, to taste
1/2 tsp virgin coconut oil
1 small red onion, finely chopped
1 clove of garlic, minced
1 can (235g drained) cooked butter beans, rinsed well
1 tbsp tamari
1/2 tsp ground cumin
sea salt and black pepper, to taste
2 handfuls baby spinach leaves
1 ripe avocado, peeled, pitted and cut into cubes
1 tbsp fresh mint leaves, chopped
Instructions
Preheat the oven to 190C and lightly grease a baking tray with coconut oil or lay down a sheet of greaseproof paper.
Peel the sweet potatoes and carefully use a sharp knife to cut them into bite-size chunks.
Spread the sweet potato out on the baking tray and sprinkle with nutritional yeast, then drizzle with tamari and add the smoked paprika and seasoning.
Roast at 190C for 25-30 minutes, until golden-brown and the potatoes can be easily sliced with a knife. Remove from the heat.
While the potatoes roast, heat up the coconut oil in a medium saucepan over a medium-high heat. Sauté the onion and garlic for 3-4 minutes until the onion starts to soften, then add in the butter beans and stir well.
Add a dash of tamari, ground cumin and seasoning, and continue to stir for another 4-5 minutes until the beans are heated through.
Toss the spinach leaves in and stir just until they wilt.
Assemble the sweet potato with the cubed avocado in a serving bowl and top with chopped mint leaves. Add the butter beans to the bowl and serve hot.
Notes
Any leftovers can be stored in an airtight container in the fridge for 3-4 days.
Rosanna Davison Nutrition https://www.rosannadavisonnutrition.com/