All hail the pumpkin… that Halloween favourite, ubiquitous at this time of year.
But it gives serious bang for its buck! It's such a versatile vegetable, great for your health and relatively inexpensive for their size.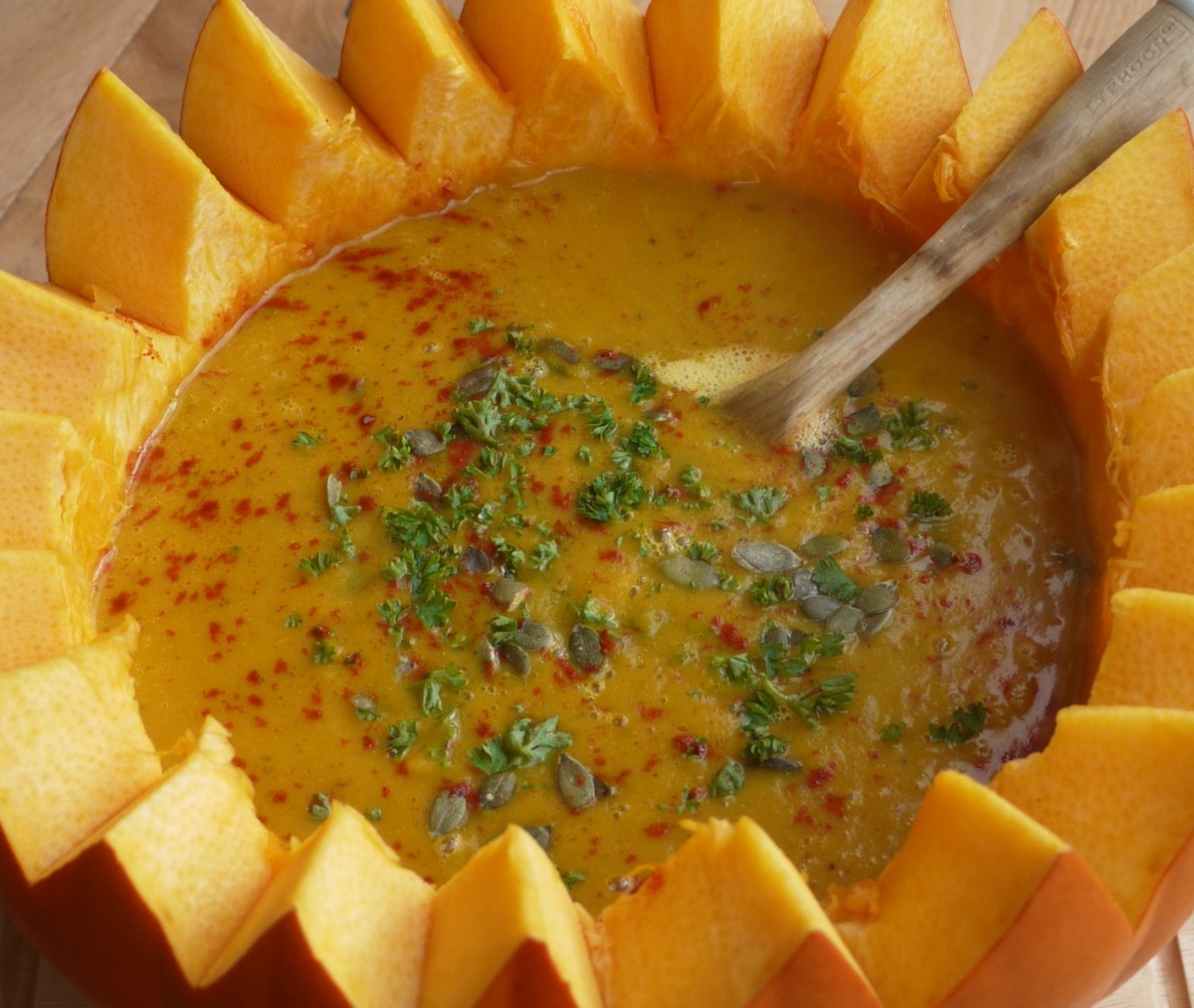 Spiced pumpkin soup is one of my favourite recipes to make with pumpkin, and there are few dishes more perfect as a warming and nourishing lunch or light dinner.
It's really easy to make, yet looks rather impressive when served in its decoratively carved shell 🙂 It looks great placed in the centre of the table.
Pumpkins are low in calories yet packed with fibre to stabilise blood sugar levels and help you feel full for longer, plus plentiful vitamins and minerals to give you a brighter complexion and a healthy glow from the inside out.
They're rich in zinc, which protects your immune system and is crucial for clear, healthy skin and for reducing acne. Their high levels of beta-carotene and other antioxidants protect your cells against the free radicals that can cause premature ageing, and build youthful skin.
Pumpkins can even help you to feel more positive and sleep better too, thanks to their amino acid tryptophan, which is a co-factor in producing your 'happy hormone' serotonin and sleep hormone, melatonin. Levels of both are often depleted in the winter months, potentially helping to trigger Seasonal Affective Disorder (SAD). This has been linked to increased anxiety, carb cravings and even depression.
So a veggie that can help to improve your complexion, feel happier, crave less sugar and sleep better? That ticks ALL my boxes! No wonder pumpkins are such a popular autumn choice.
This spiced pumpkin soup is a delicious twist on regular vegetable soup. The quantities of herbs and spices can be altered according to personal taste, so do take little tastes as you go along to make sure it's right for you!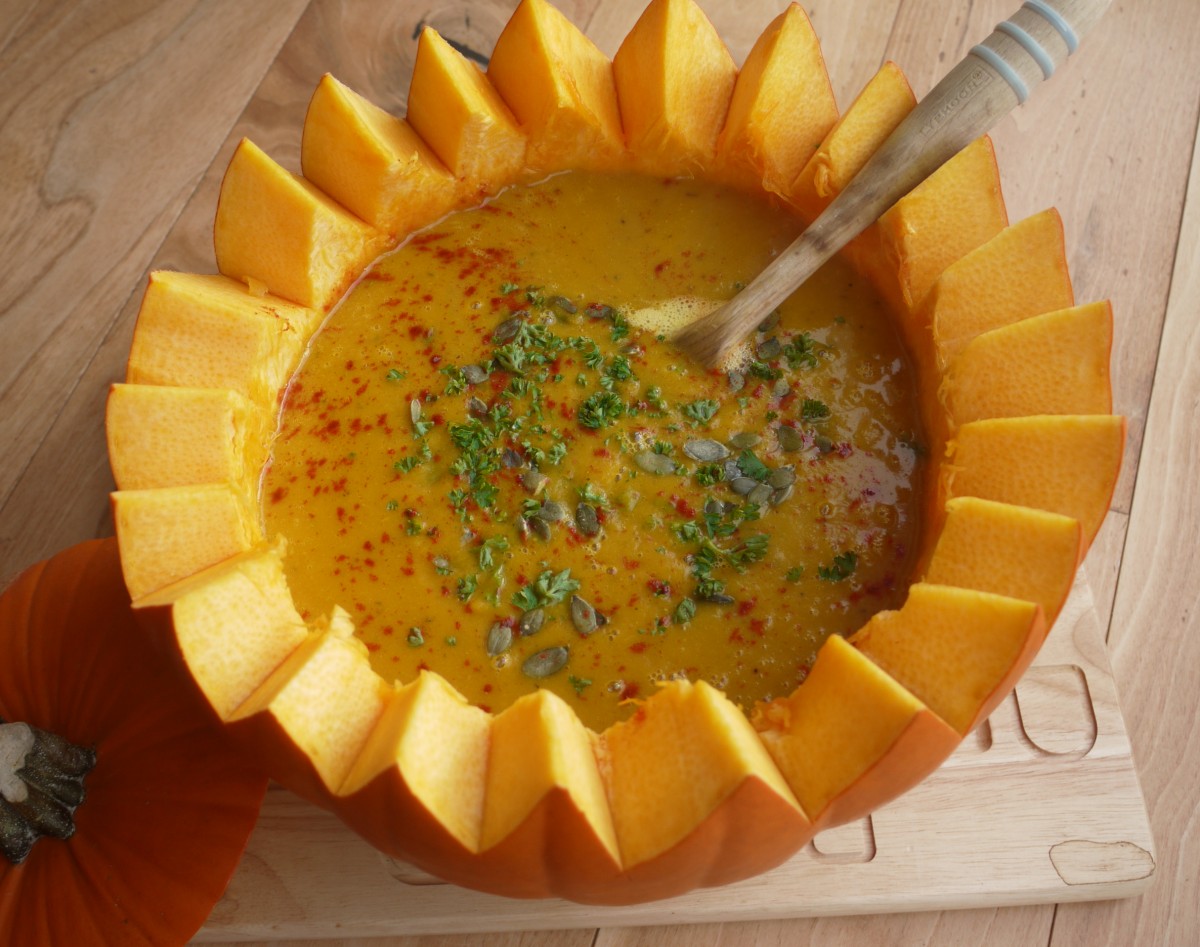 I would love to know if you get a chance to make this recipe for Spiced Pumpkin Soup! Simply tag #RosannaDavisonNutrition on Instagram or Twitter or come on over to my Facebook to say hello 🙂
Spiced Pumpkin Soup
2015-10-15 18:16:11
Serves 2
A deliciously warming and nourishing autumnal soup, lightly spiced and made with wholesome ingredients.
Ingredients
2 tsp virgin coconut oil
1 medium red onion, finely chopped
4 cloves of garlic, minced
1 tsp fresh ginger, chopped
980g (4 cups) uncooked pumpkin flesh, skin and inner pulp removed and chopped into chunks
500ml (2 cups) low-sodium vegetable stock
500ml (2 cups) low-fat coconut milk (I used a brand called Koko coconut milk)
1/2 tsp dried thyme
1 tsp curry powder (add more if you like a curry flavour)
1/4 tsp cayenne pepper (more if you like it spicy)
1 tsp smoked paprika
1/2 tsp ground nutmeg
Pinch of salt and ground black pepper to taste
Handful of pumpkin seeds and chopped parsley, to serve
Instructions
In a saucepan, heat the coconut oil on a medium heat. Add the onion, garlic, ginger and pumpkin and cook for 4-5 minutes. Stir frequently to avoid it burning.
Add the stock, coconut milk, thyme, spices and seasoning. Cover saucepan partly with a lid and allow to simmer for 15-20 minutes until the pumpkin becomes soft, adding more stock if necessary.
Take off the heat and either pour it all into a blender or use a handheld soup blender to blend it all together. Taste it at this point to see if anymore herbs, spices or seasoning are required. I added a little more cayenne pepper, curry powder and black pepper at this stage.
Pour into soup bowls or a carved pumpkin shell, garnish with pumpkin seeds, chopped parsley and a sprinkle of smoked paprika.
Notes
Any leftovers can be stored in an airtight container in the fridge for up to 3 days.
Rosanna Davison Nutrition https://www.rosannadavisonnutrition.com/