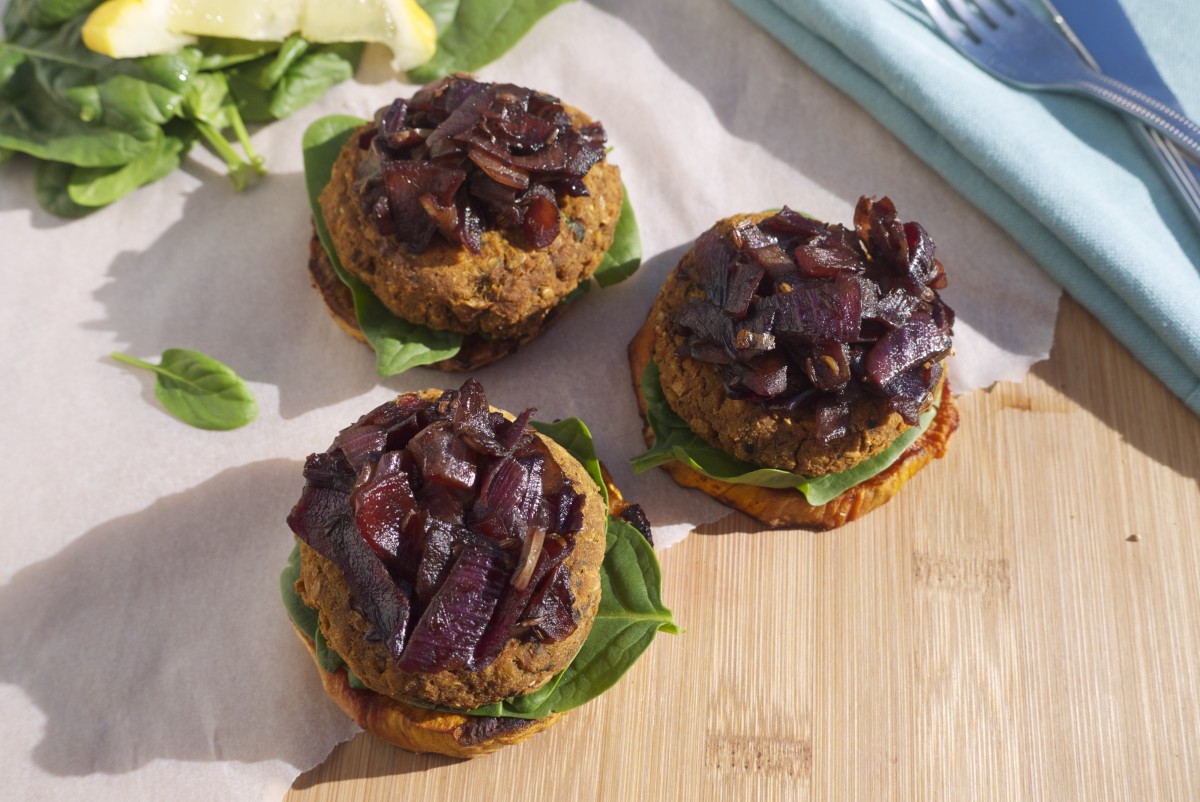 See? You can eat burgers AND bolognese AND pizza AND fudge on a healthy eating plan!
Granted, they're not dripping with cheese, oil and meat, but I promise that these are just as tasty and far more nourishing. Plus, we're rolling towards summer so there's nothing wrong with moving towards lighter foods with beach season looming!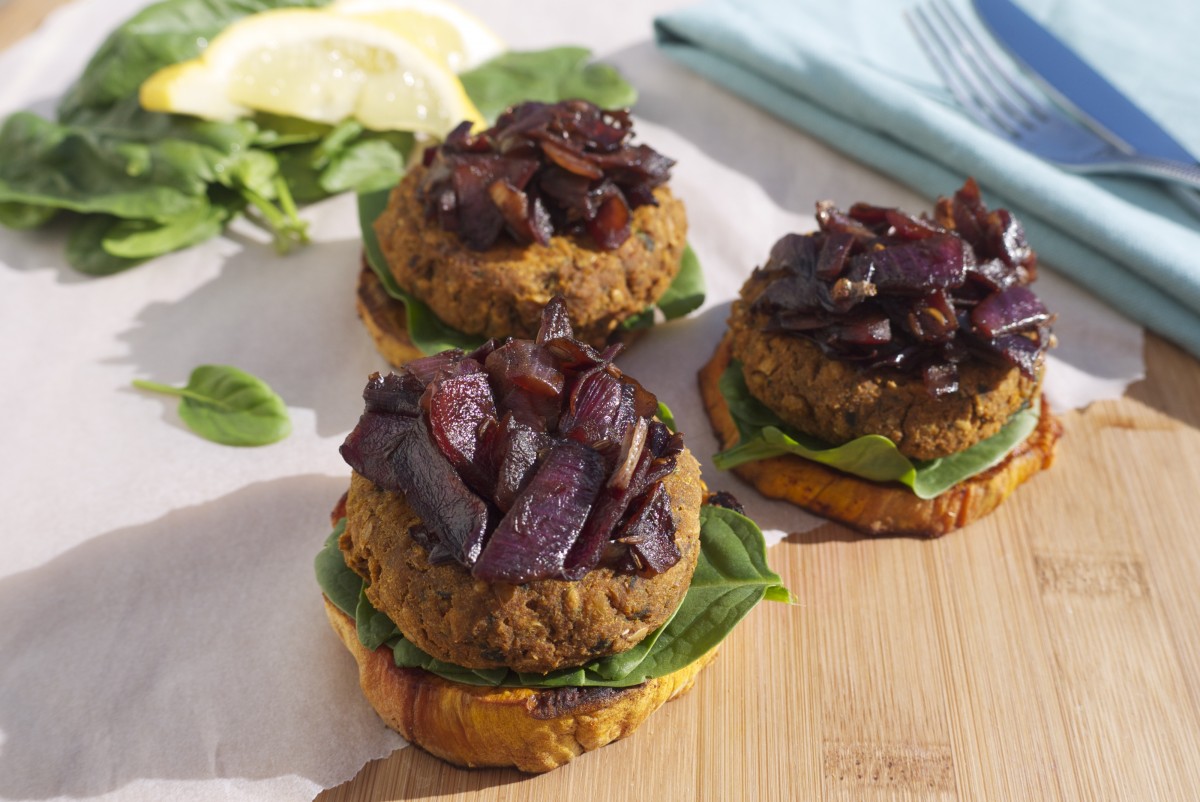 I absolutely love making these burgers, as they're so simple, cheap and yummy. Just how I like my men! I kid, I kid.
But the spices I used really lift the natural sweetness of the sweet potato, and the caramelised onion relish finishes it all off perfectly.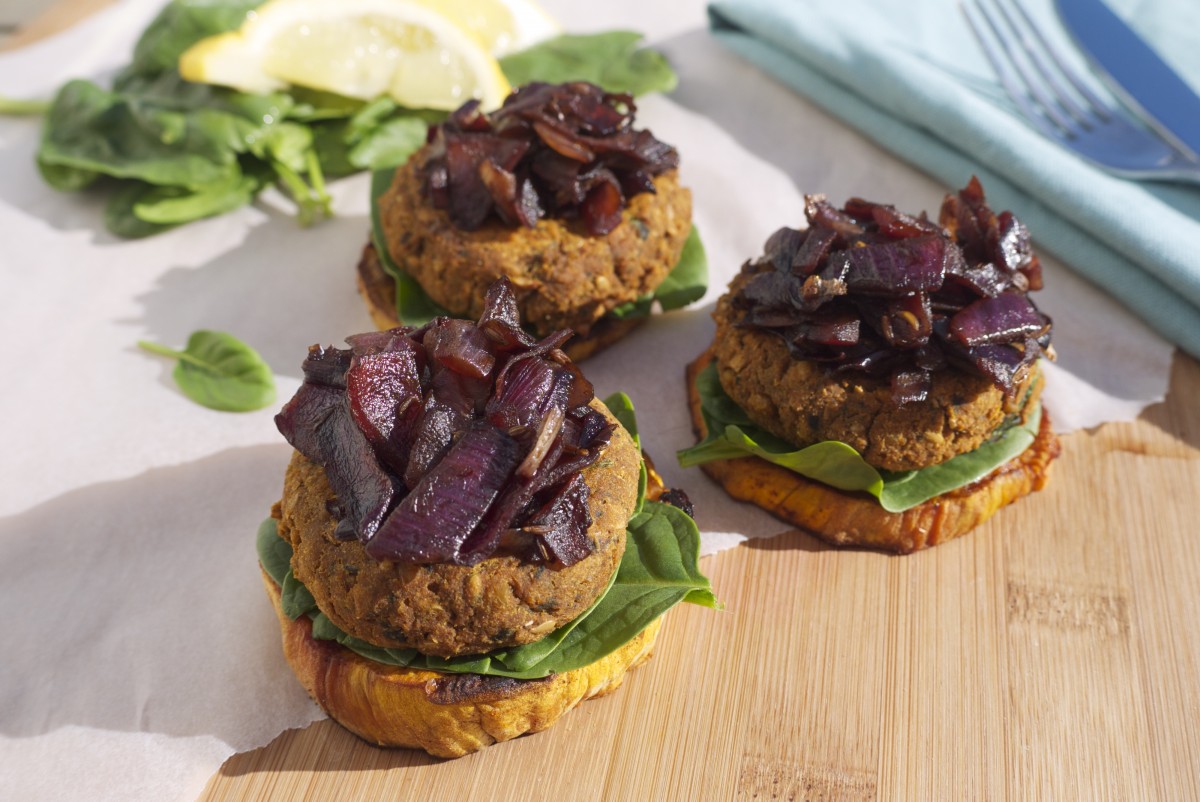 Rather than a stodgy bun, I simply baked slices of sweet potato to use as a base for the burgers. Sweet potato is such a great starchy veggie for giving us a healthy glow and filling us up with low-fat, high-fibre goodness. The chickpeas are a great source of complete protein, making this a well-balanced meal option.
These make a great evening meal, or lunchbox filler.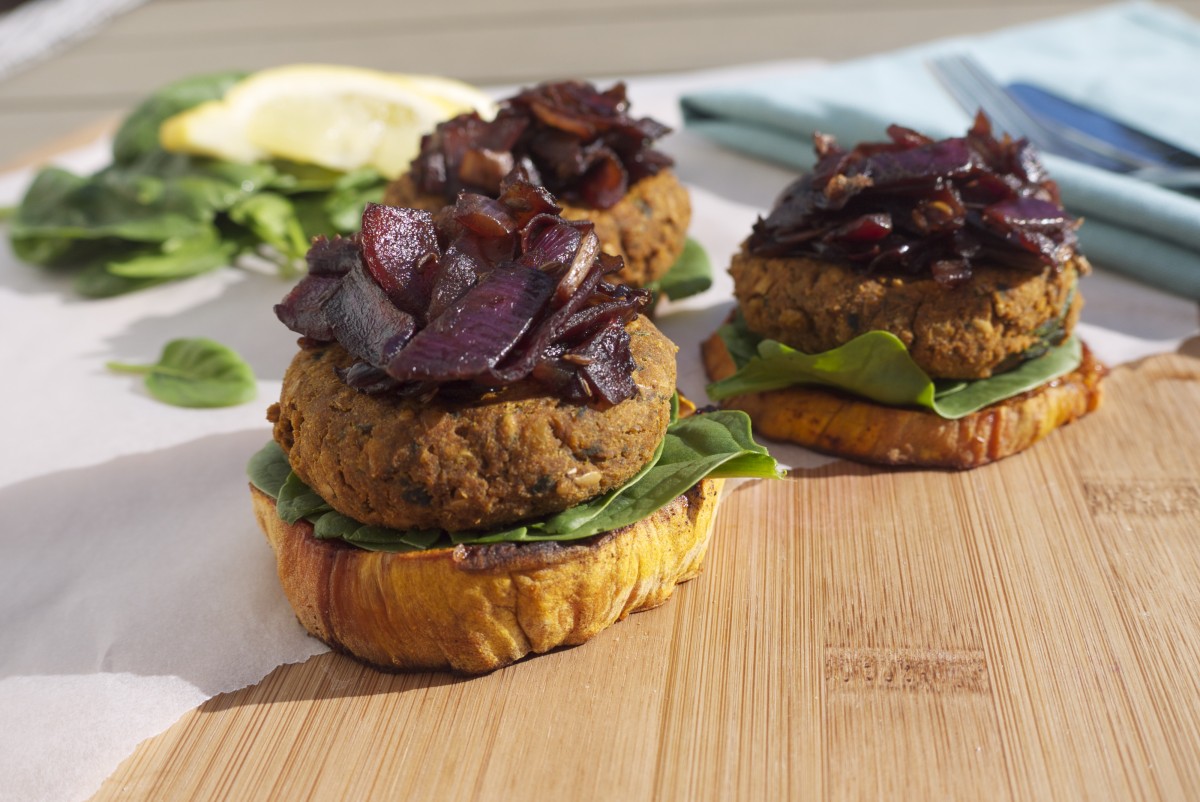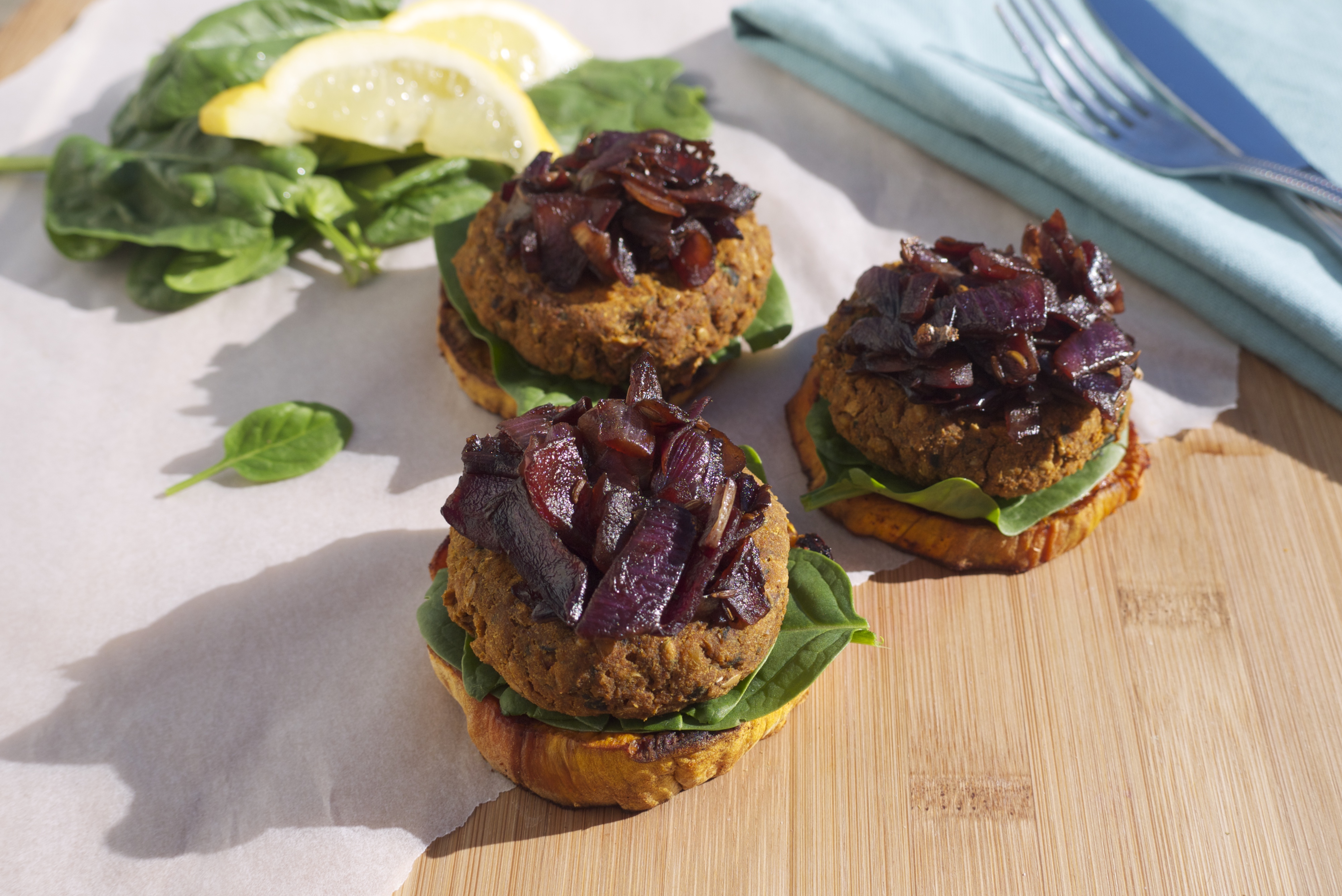 Sweet Potato and Chickpea Burgers with Caramelised Red Onion Fennel Relish
2015-03-19 00:21:24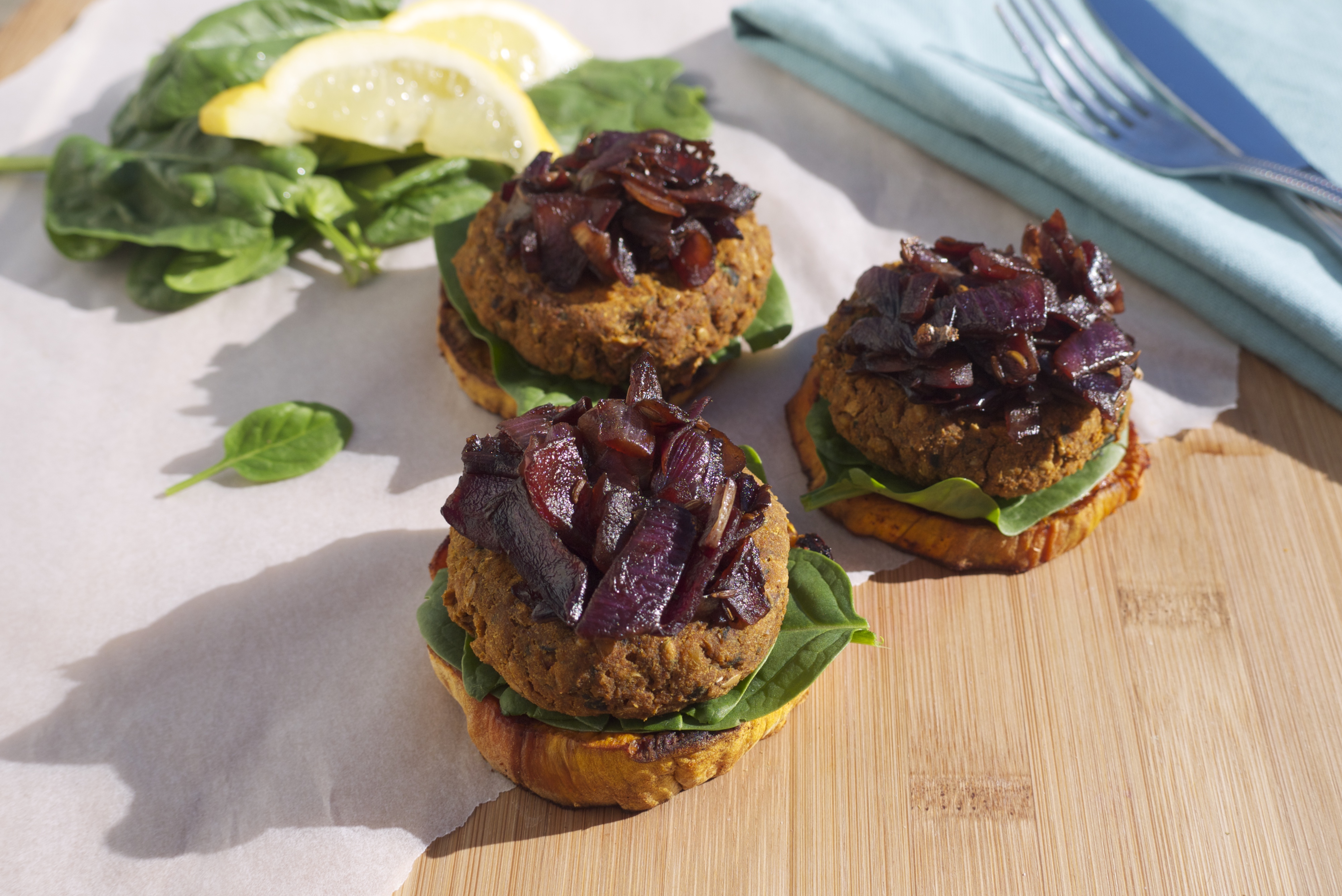 Serves 2
These protein and fibre-packed burgers make a great meal for family and friends, and are SO easy to make!
Ingredients
1 medium sweet potato
200g cooked chickpeas
A handful of baby spinach
1/2 tsp smoked paprika
1 clove of garlic
1 tsp fresh lemon juice
1 tsp tamari dressing
Pinch of ground black pepper
1 tsp coriander seeds
2 tbsp flaxseed
1 tsp curry powder
1/2 tsp cumin powder
2 tbsp brown rice flour
For the Caramelised Red Onion & Fennel Relish
1 medium red onion, finely sliced
1 tsp coconut palm sugar (optional for extra sweetness)
3 tbsp balsamic vinegar
1/2 tsp fennel seeds
Pinch of Himalayan pink rock salt
Instructions
Preheat the oven to 190C and prepare a baking tray with greaseproof paper.
Peel the sweet potato and chop it into chunks.
Steam the sweet potato for about 10 minutes until it softens.
Add the sweet potato to a blender or food processor along with the chickpeas, spinach, smoked paprika, garlic, lemon juice, tamari, black pepper, coriander seeds, flaxseed, curry powder and cumin.
Process until the mixture forms a thick dough. You may need to scrape down the sides occasionally to allow it to blend.
Place the mixture in a large bowl and fold in the flour, mixing it well. It should be soft and pliable but not sticky. Add more flour if the mixture is too sticky.
Use a tablespoon to divide the mixture into balls, and then press them down gently onto the baking tray to form burger patties.
Bake them at 190C for 20-25 minutes, until they become firm and a light golden-brown in colour.
While the burgers bake, prepare the relish.
In a saucepan over a medium heat, place the coconut sugar and allow it to gently heat up.
Add the sliced red onion and let it cook until it begins to sweat gently.
Add the balsamic vinegar, salt and fennel seeds, and continue to stir it for 4-5 minutes until it begins to caramelise.
Take care not to allow it to burn, and add some warm water if it begins sticking to the bottom of the saucepan.
Remove the burgers from the oven and allow them to cool for five minutes before serving.
I like to serve them on a medallion of roast sweet potato and piled high with relish!
Rosanna Davison Nutrition https://www.rosannadavisonnutrition.com/