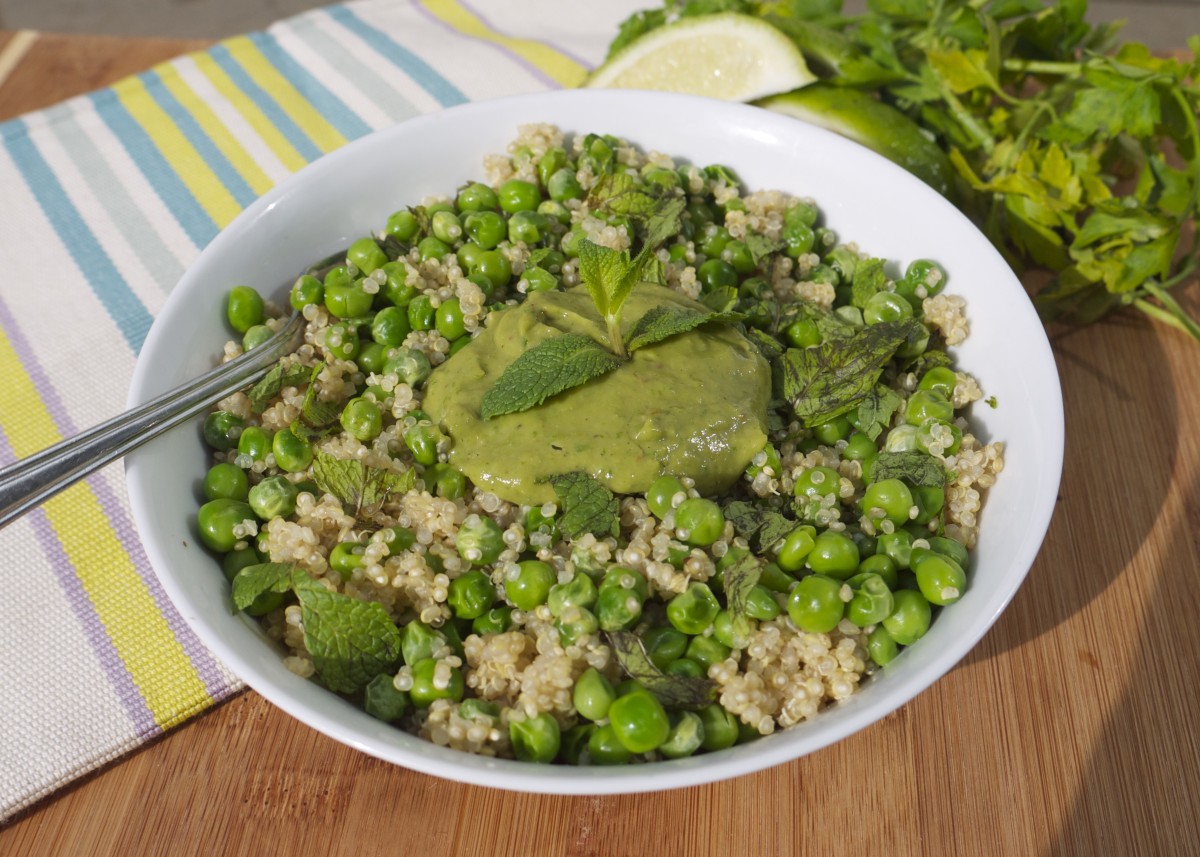 I try to make sure that greens feature in my diet every single day, from steamed or lightly stir-fried broccoli, asparagus and mangetout, to huge salads and spinach and kale in green smoothies and juices. It definitely means being a bit more organised with grocery shopping and always having the fridge (and freezer) stocked up. But they're so worth it!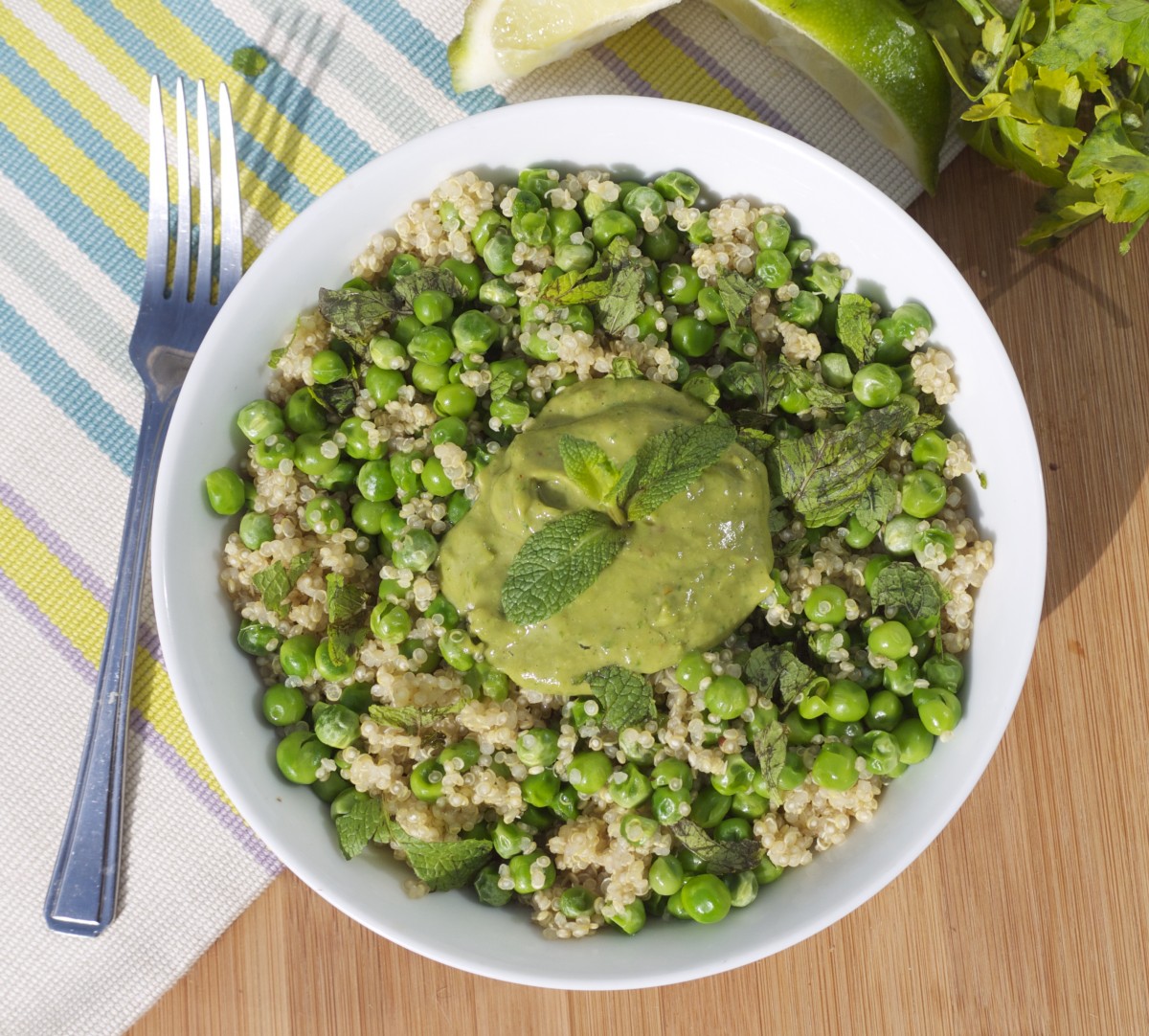 Green veggies are rich in chlorophyll, the compound that gives them their green pigment. Chlorophyll has an almost identical molecular structure to the haemoglobin in human blood, which makes greens an excellent food for building and oxygenating your blood. I find that increasing greens in my diet helps to support my energy levels, and kale, spinach and broccoli are useful plant-based sources of iron.
For this warm and zesty quinoa salad with greens, I simply cooked the quinoa, added steamed green peas, spring onion and lime, and whizzed up a basic dressing using creamy avocado. A few leaves of refreshing mint, and it made a quick and simple but really nourishing lunch or dinner. It's also an ideal dish to make in bigger batches, to last you for a few days.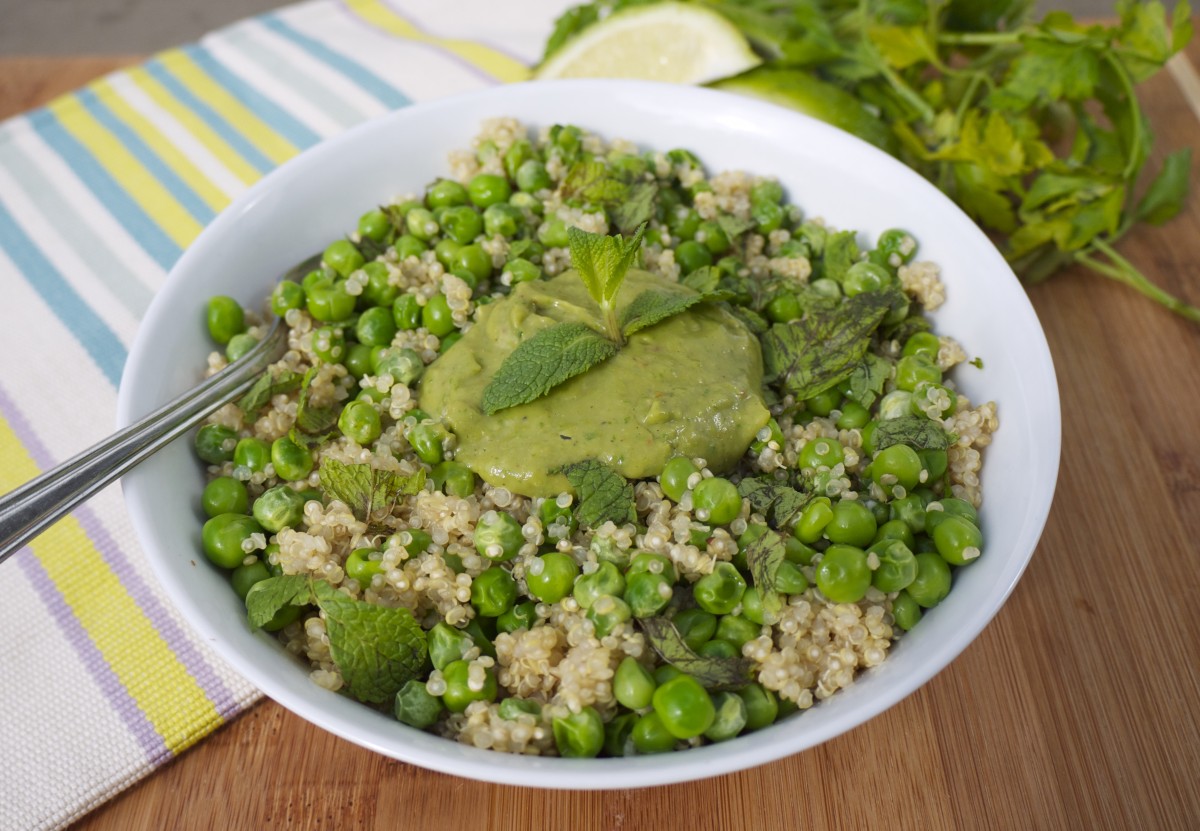 I would love to know if you get a chance to make this Zesty Quinoa Salad with Avocado Dressing! Simply tag #RosannaDavisonNutrition on Instagram or Twitter or come on over to my Facebook to say hello 🙂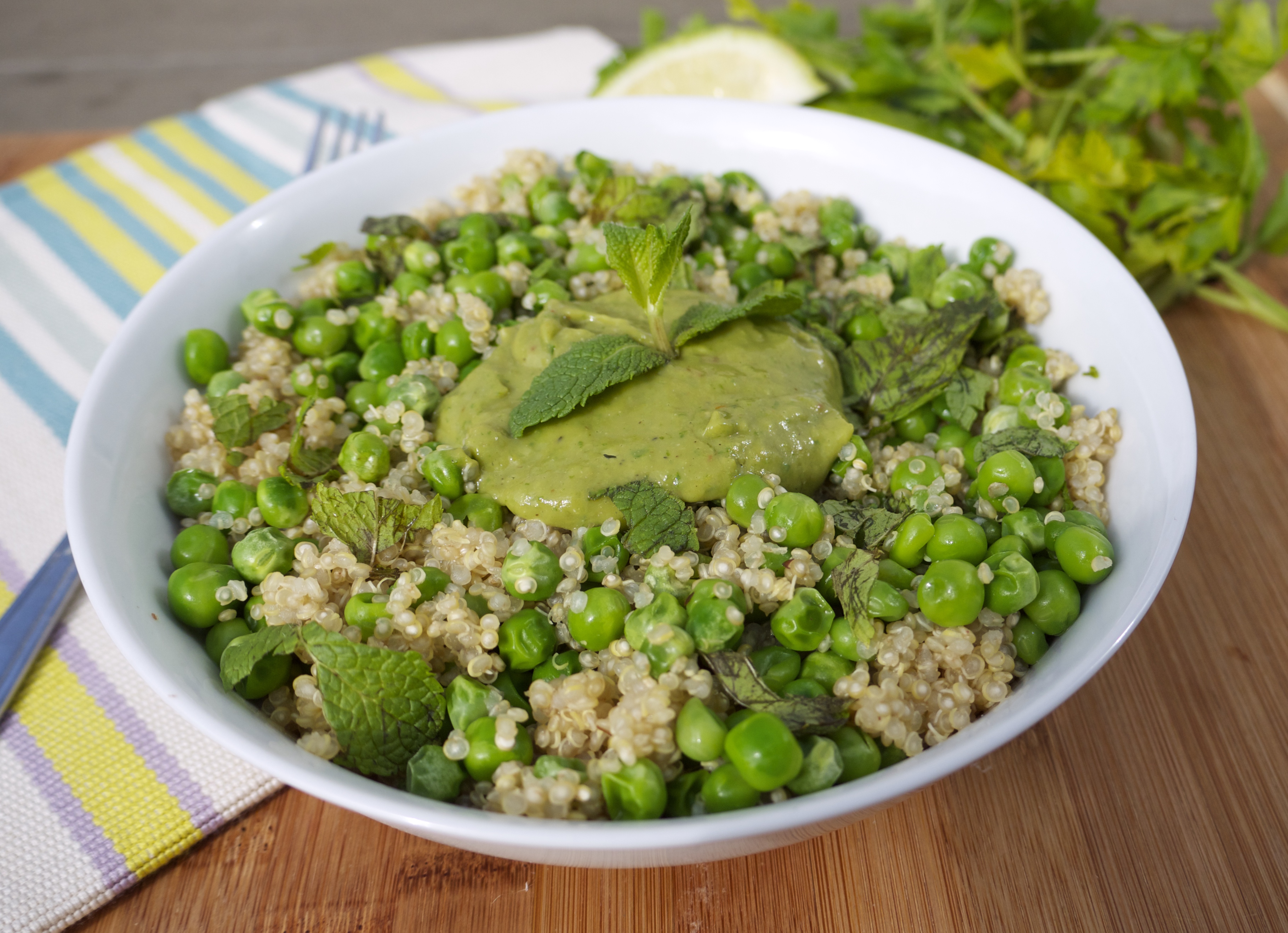 Zesty Quinoa Salad with Avocado Dressing
2015-03-20 17:54:23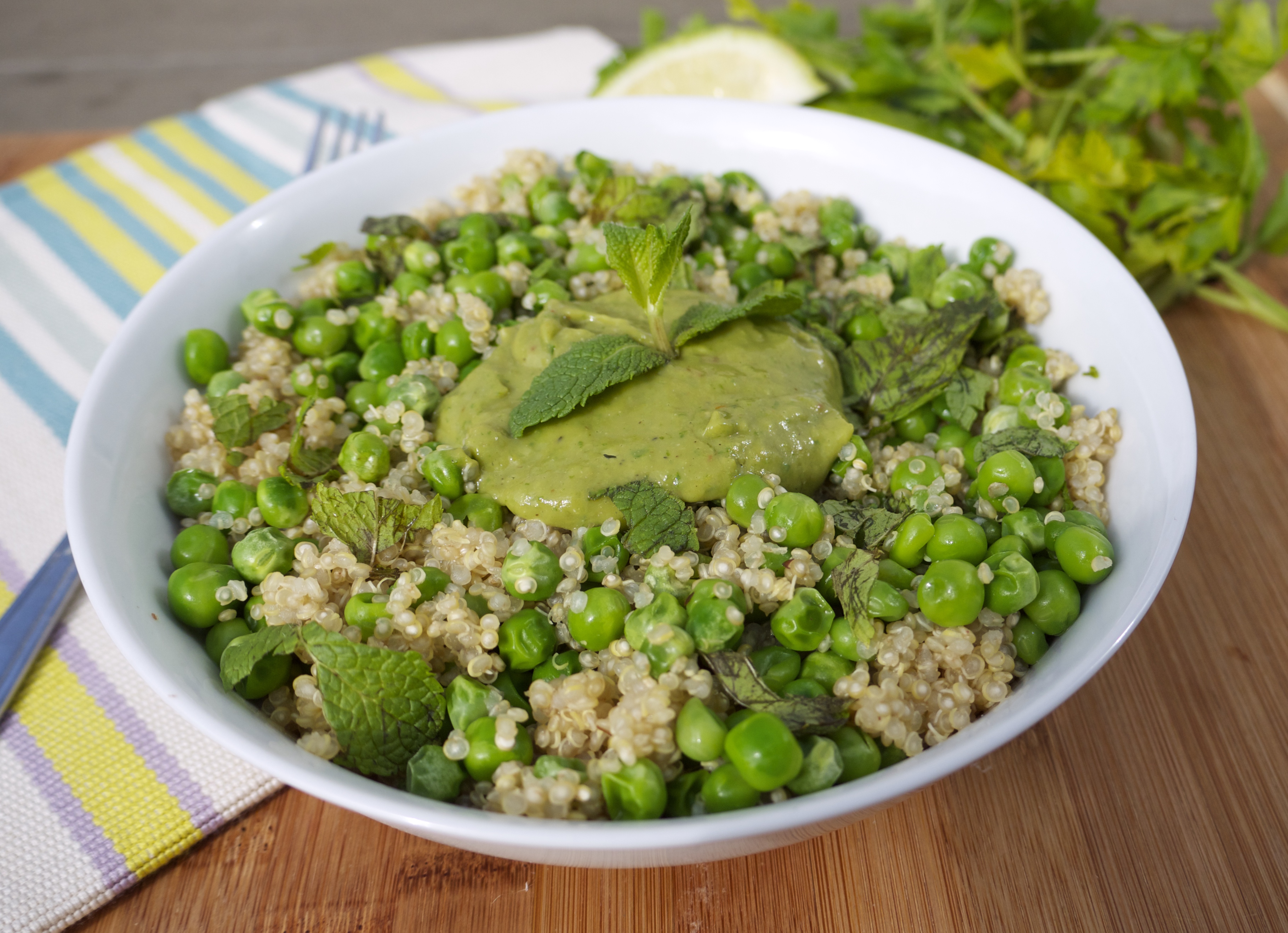 Serves 1
A fresh, warm salad, perfect as a summertime lunch or a light supper. Naturally gluten-free and packed with complete protein, fibre and all the goodness of greens. Nutrition information per serving: 483 calories, 17.7g protein, 75.8g carbs, 13.8g fat, 13.2g fibre
Ingredients
85g (1/2 cup) dry quinoa
Water, for cooking
80g (1/2 cup) green peas, steamed
1 tbsp fresh lime juice
2 spring onions, finely chopped
Handful of fresh ripped mint leaves, with coarse stems removed
Pinch of sea salt and ground black pepper, to taste
For the Avocado Dressing
1/2 a ripe avocado
12g (handful) fresh parsley
1 tsp raw organic apple cider vinegar
1 tsp low-sodium tamari dressing
1 tsp nutritional yeast (optional)
1 tsp fresh lime juice
1 clove garlic
Pinch of dried chilli flakes
Pinch of sea salt and ground black pepper, to taste
Instructions
Rinse the quinoa well under cold water.
In a saucepan over a medium heat, cook the quinoa in double the volume of water.
Allow it to simmer for ten minutes, until the seeds open out.
Remove from the heat and allow it to cool and absorb any remaining liquid.
While the quinoa cooks, prepare the dressing by placing all ingredients in a blender and blending until smooth and creamy. Taste and season. Use more water for a thinner consistency.
Add the steamed peas, lime juice, spring onions, mint leaves and seasoning to the warm quinoa, tossing well.
Serve topped with the dressing (You'll probably have extra left over).
Notes
Any leftovers can be stored in an airtight container in the fridge for 2-3 days.
Rosanna Davison Nutrition https://www.rosannadavisonnutrition.com/