Hello from Bath! Wes and I are here for the weekend for a wedding, which took place yesterday. Such fun!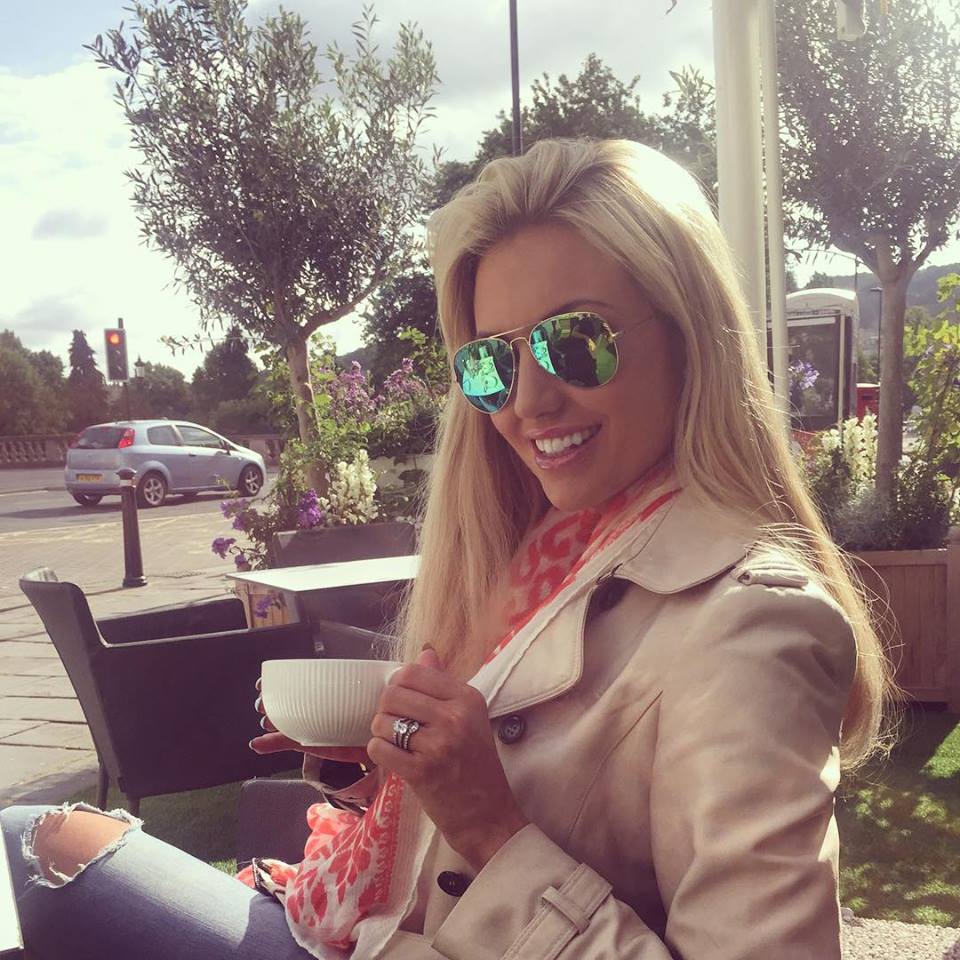 As we flew in early yesterday morning (6.30am flight argh) we had a few hours to enjoy breakfast al fresco in the sunshine at the elegant Abbey Hotel and explore a little bit of the beautiful city, including Bath abbey and the Roman baths.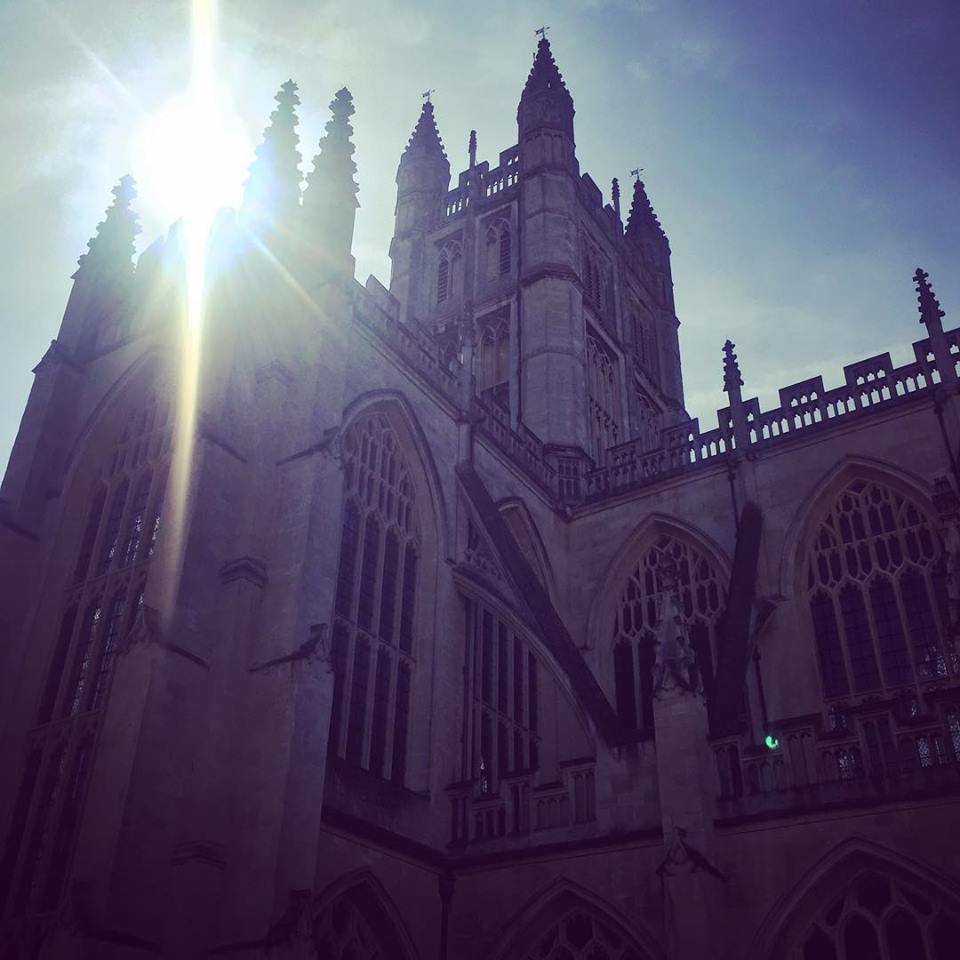 It's well worth a weekend visit if you get the opportunity. We flew into Bristol, which is just a 45 minute flight.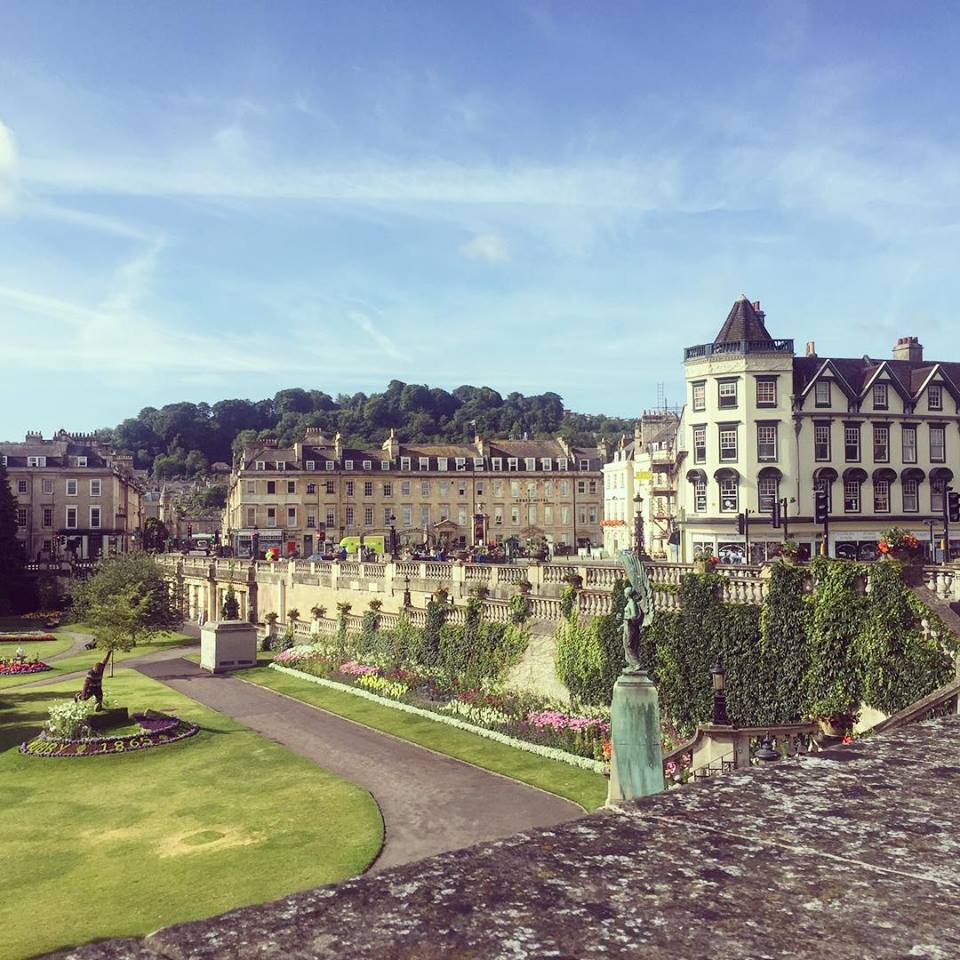 This recipe is for what I call an anti-inflammatory lunchtime yum bowl! I usually eat a yum bowl a few times a week for lunch or dinner, and it generally just consists of an assortment of whatever tasty veggies or leftovers I have in the fridge.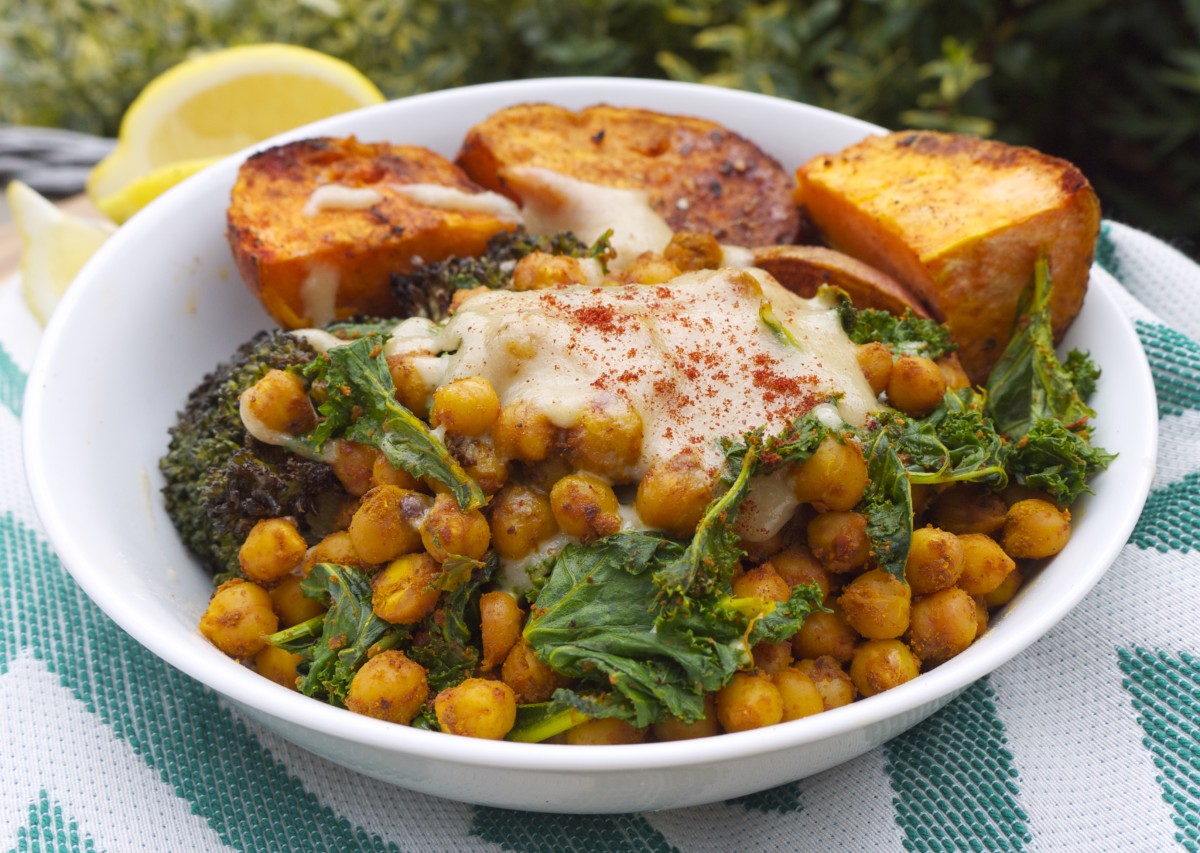 I always add greens, plant protein and a source of healthy fats to aid the absorption of beta-carotene in the veg and help keep me feeling full.
In this case, chickpeas are a brilliant source of protein and fibre, and this delicious maple tahini dressing gives the bowl some healthy fat and plenty of calcium as sesame seeds are one of the best sources of plant-based calcium (almost 128mg per serving), along with the broccoli and kale here too!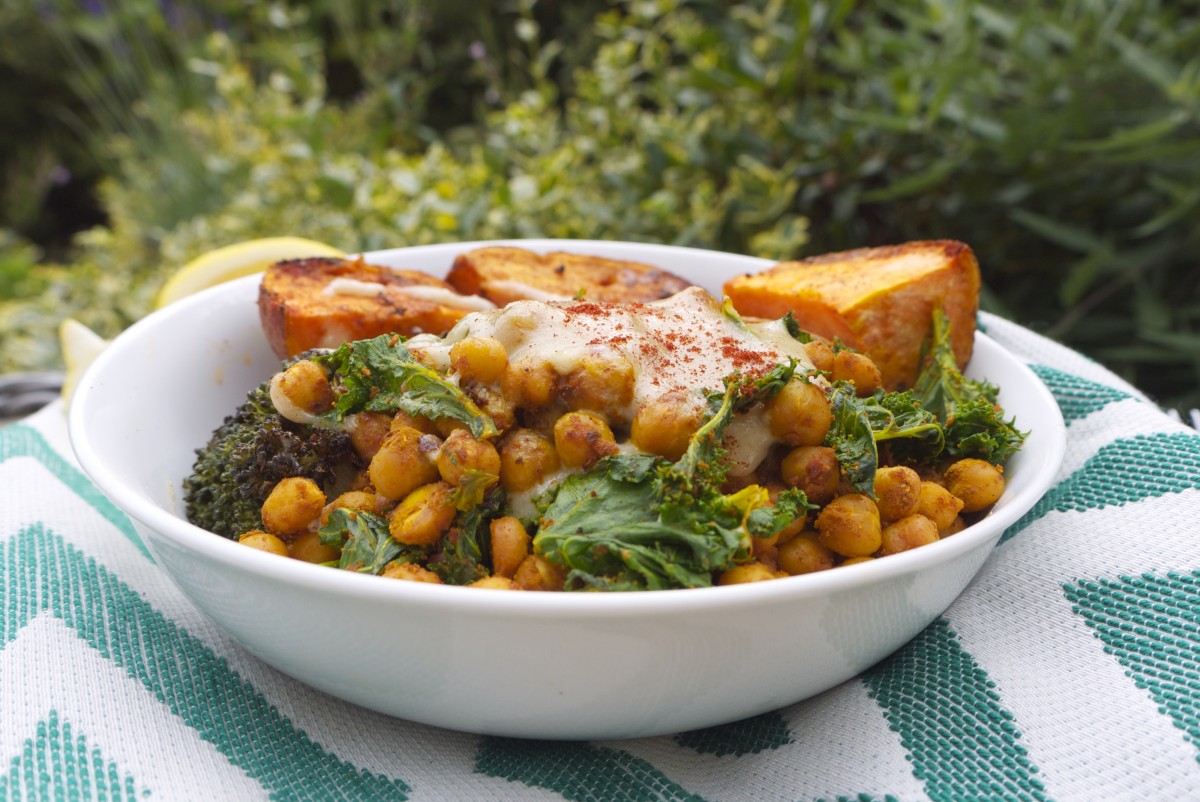 I designed this dish to be anti-inflammatory as my muscles have been feeling sore this week from training. I kept up a bit of gym and Pilates work on holiday over the past couple of weeks but I'm back to proper classes now, and my body is feeling the effects. Ouch!
For this simple and nourishing dish, I lightly sautéed the chickpeas and kale in garlic, fresh ginger and turmeric, which are three of the most powerful ingredients you can use for reducing inflammation in the body, including muscle and joint pain.
The sweet potato is baked in a little coconut oil for crispiness, plus a combination of cajun spices, smoked paprika, salt and pepper and a dash of tamari. Yum! I lightly roasted the broccoli in coconut oil and a pinch of pink rock salt.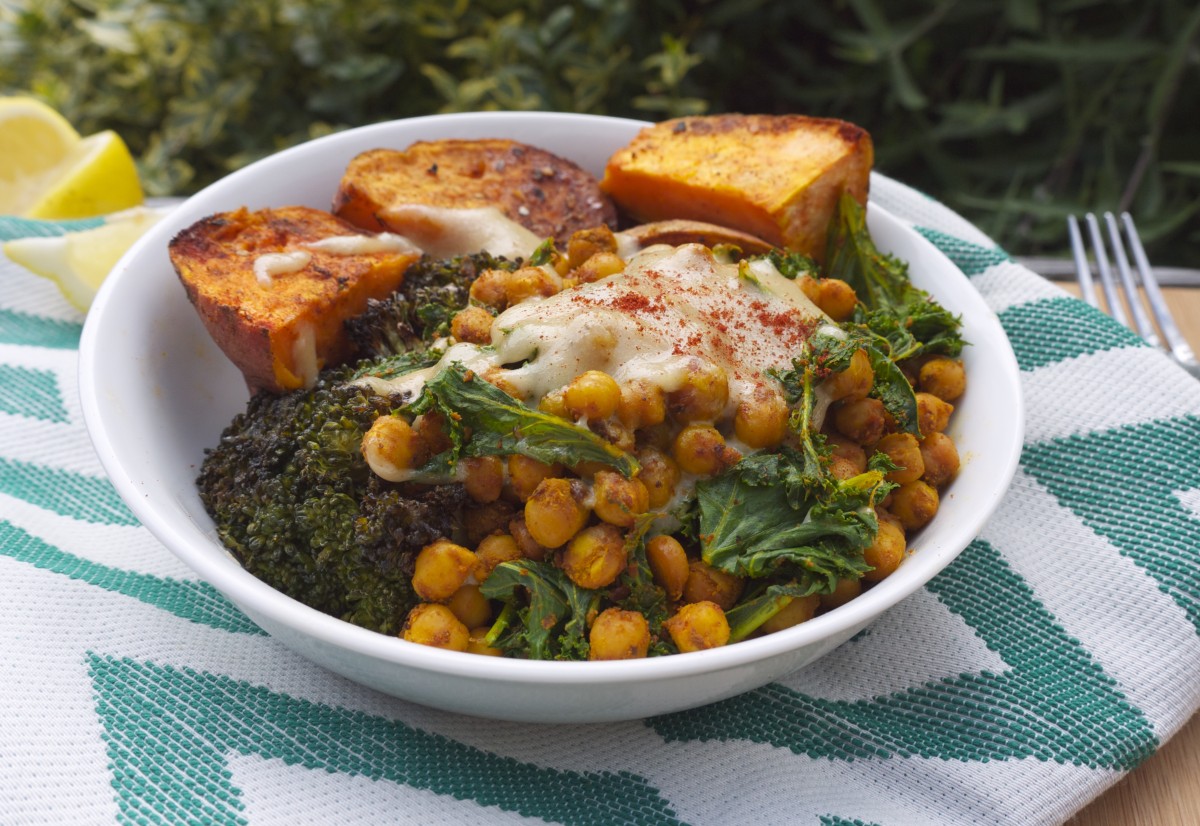 The maple tahini dressing really pulls everything together here, and I use it for so many different dishes as it's ridiculously easy to make. It's simply light tahini mixed with lemon juice, maple syrup and a little seasoning to create a creamy, zesty, sweet and smoky dressing in 30 seconds! It's oil-free and incredibly good for you 🙂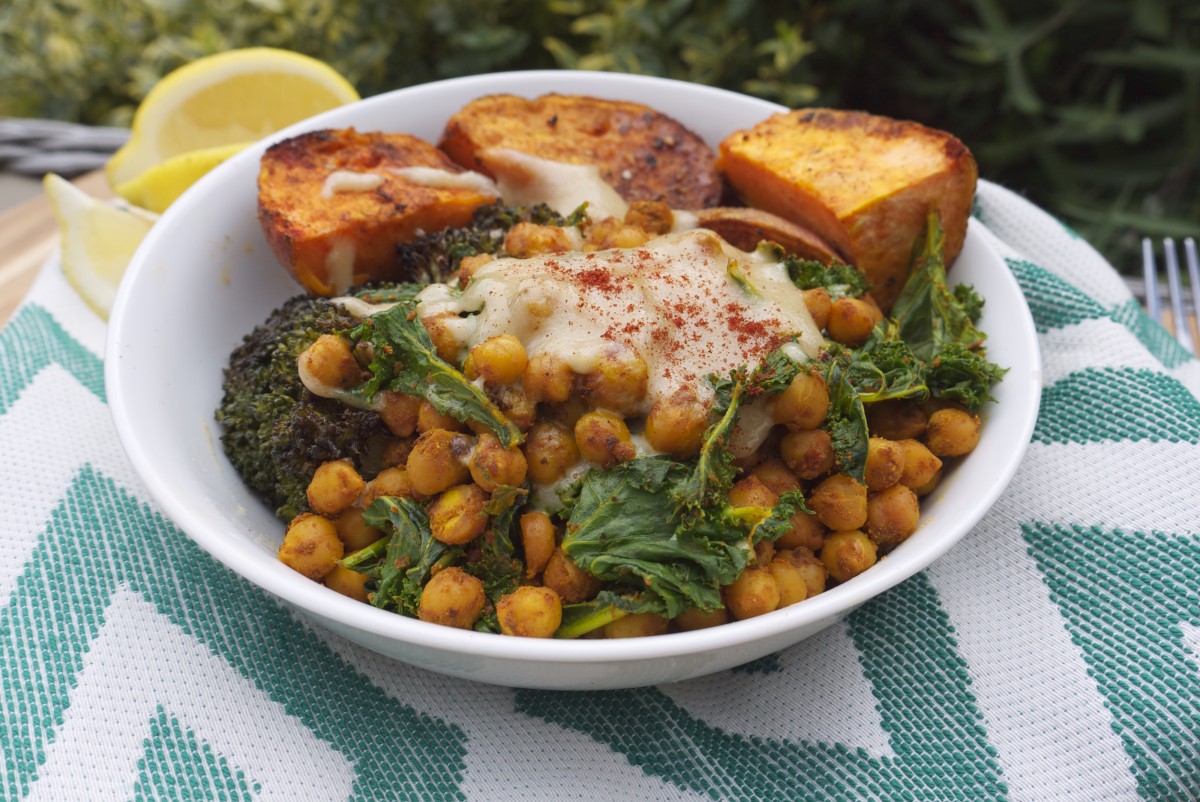 Let me know if you give this yum bowl recipe a go and I love to see all your creations on social media! Simply tag #RosannaDavisonNutrition on Instagram or Twitter or come on over to my Facebook to say hello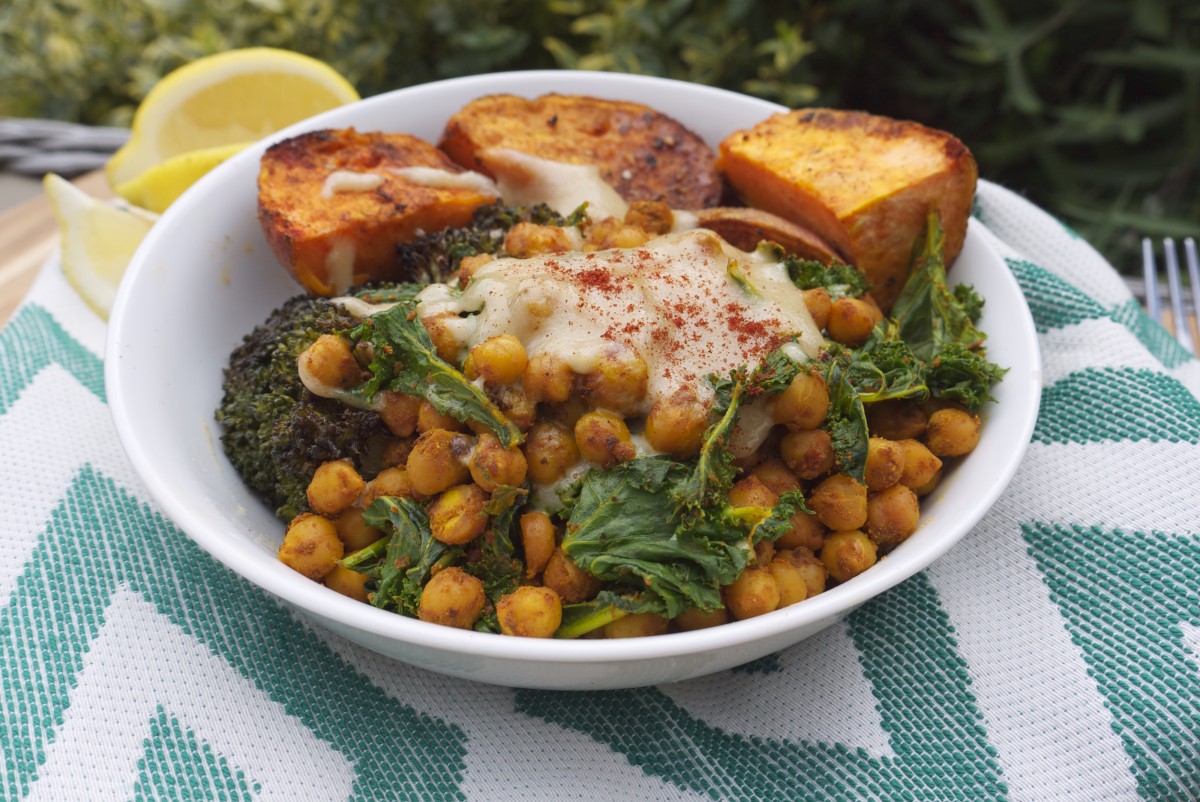 Anti-Inflammatory Yum Bowl
2015-07-19 19:32:48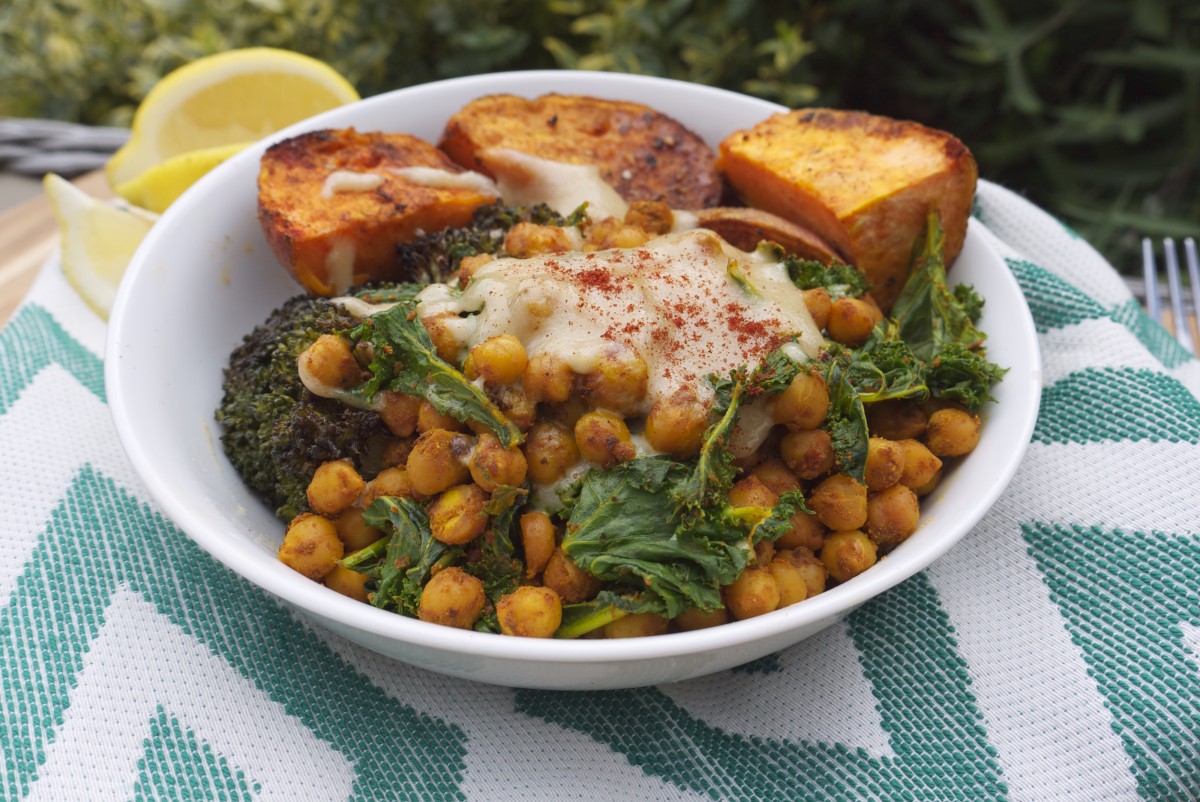 Serves 2
A tasty and filling meal option packed with anti-inflammatory ingredients to help soothe pain naturally.
For the sweet potato and broccoli
1 tbsp coconut oil, melted
2 medium sweet potatoes
1 tsp cajun spices
1 tsp smoked paprika
dash of tamari sauce
Celtic sea salt/pink rock salt and fresh black pepper, to taste
half a head of broccoli, rinsed and cut into florets
For the chickpeas and kale
1/2 a tbsp raw virgin coconut oil
230g cooked chickpeas
1/2 a tsp ground turmeric
1 tsp smoked paprika
1 tsp dried/fresh coriander
pinch of chilli flakes/fresh chopped chilli
1 clove of garlic, minced
1 tsp fresh ginger, finely chopped
salt and pepper, to taste
large handful fresh kale, chopped and tough stems removed
For the maple tahini dressing
4 tbsp light tahini
1 tbsp pure maple syrup
1 tbsp fresh lemon juice
pinch of salt, to taste
2 tbsp hot water
Instructions
Pre-heat the oven to 200C, wash the sweet potatoes, slice them into wedges and arrange on a baking tray.
Drizzle the wedges with melted coconut oil until well coated and sprinkle on the spices and seasonings.
Roast in the oven for 20 minutes, then add the broccoli to the tray, lightly coat with coconut oil and a pinch of salt, and roast for another 10 minutes until the broccoli turns crisp on the outside and the sweet potato is soft enough to slice.
While they roast, mix melted coconut oil in a small bowl with the turmeric, smoked paprika, coriander, chilli and seasoning.
In a saucepan over a medium heat, heat up this oil mixture and add the chopped garlic and ginger. Stir until the garlic begins to turn golden, then add the chickpeas and sauté until well coated in the spices.
Cook for 3-5 minutes, stirring well, and add more flavour if desired.
Remove from the heat and gently stir in the kale, allowing it to lightly wilt in the chickpeas.
To make the maple tahini dressing, simply place the ingredients in a small bowl and slowly add in the hot water, whisking with a fork until well combined into a thick liquid consistency.
Remove the potatoes and broccoli from the oven and assemble all ingredients in serving bowls, drizzle with the dressing and serve warm.
Notes
Any leftovers can be stored in an airtight container in the fridge for 2-3 days.
Rosanna Davison Nutrition https://www.rosannadavisonnutrition.com/