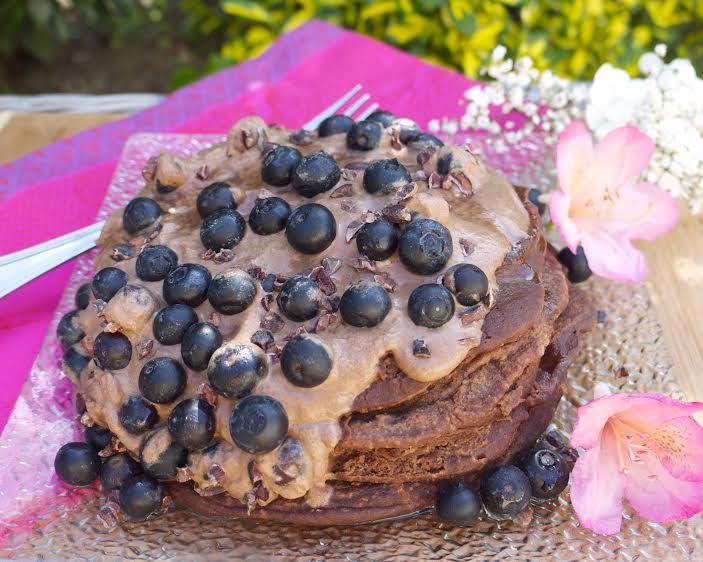 Any chocoholics out there? I think you'll like this recipe for chocolate pancakes with creamy chocolate whip 😉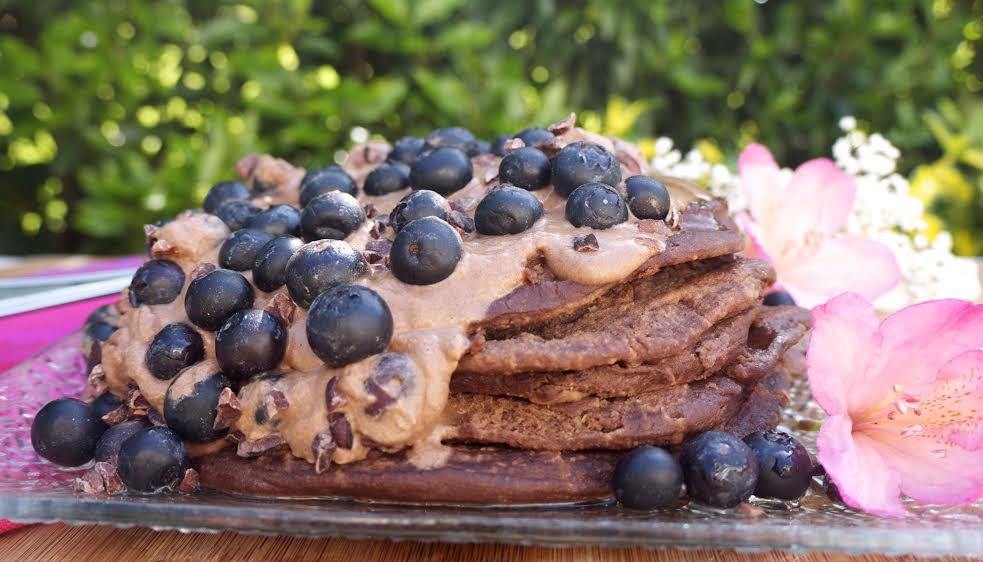 The weekend is here, which means long leisurely brunches and lots of delicious food. But there's no need to completely destroy your healthy eating plan, and these pancakes are actually a lot less sinful than they look and sound!
The base of these is brown rice flour, which is naturally gluten-free and doesn't sit heavily in your stomach. It's light and easy to digest, and also absorbs whatever flavours you pair it with. Here, I used raw organic cacao powder, which is chocolate in its raw and natural form. You can buy it in most good health food shops and it's so good for you because it's bursting with antioxidants to help protect your skin from premature ageing. It's also a rich source of magnesium, to help you feel calm and relaxed.
But if you can't get hold of raw cacao powder, then the plain Bournville cocoa powder does a very similar job in this recipe, minus the health benefits.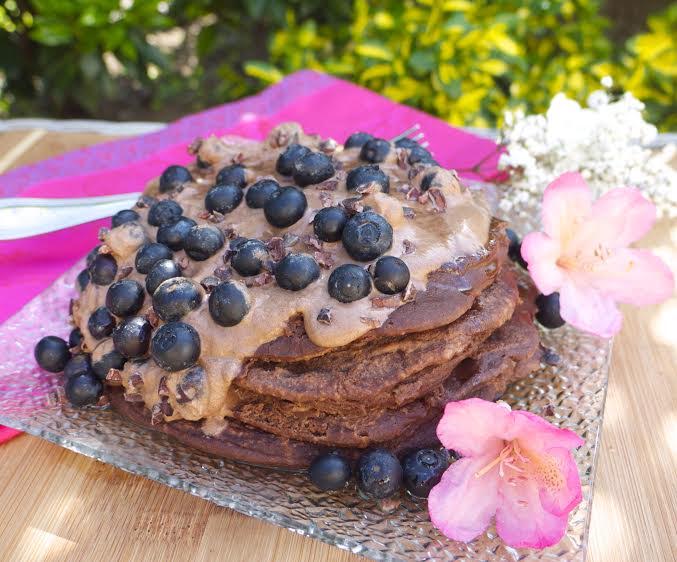 I used unsweetened almond milk as the liquid base in these, and ground flaxseed adds a healthy dose of essential fats and fibre.
The creamy chocolate whip is simply made from coconut cream, cacao powder and vanilla. Easy and so delicious!
This recipe is totally free from refined sugar and dairy, yet makes a decadent treat.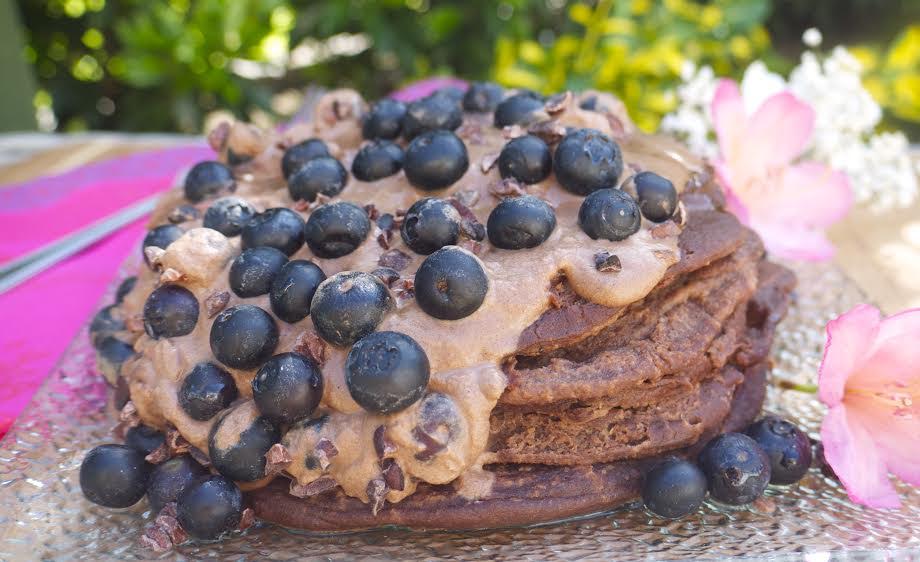 Let me know if you give this pancake recipe a go and I love to see all your creations on social media! Simply tag #RosannaDavisonNutrition on Instagram or Twitter or come on over to my Facebook to say hello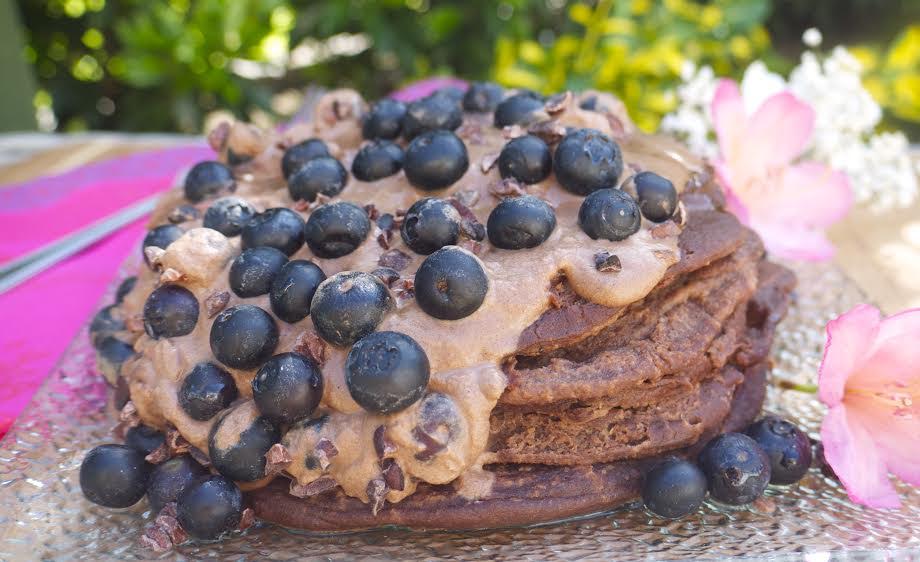 Chocolate Pancakes with Creamy Chocolate Whip
2015-07-17 15:02:41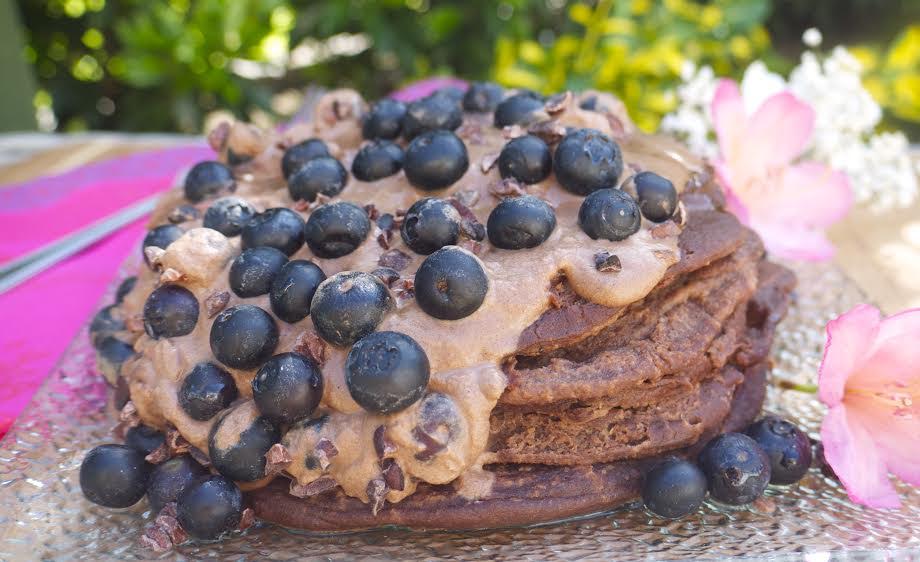 A decadent and delicious treat for any chocolate lover that isn't as naughty as it looks!
For the pancakes
158g (1 cup) brown rice flour
250l (1 cup) unsweetened almond milk 2 tbsp ground flaxseed
3 tbsp cacao powder
2 tsp vanilla extract/seeds
1 ripe banana
coconut oil, to cook
blueberries, to serve (optional)
For the chocolate whip
1 can of full-fat coconut cream, chilled overnight in the fridge
1 tsp vanilla extract/seeds
1 tbsp cacao powder
Instructions
Place the pancake ingredients in a blender and combine until a smooth batter forms.
Heat up about half a teaspoon of coconut oil in a frying pan over a medium heat until it bubbles and pour in a portion of the batter, depending on how big you want your pancakes to be. Use a spoon or spatula to smooth it out.
Allow the pancake to cook for 1-2 minutes until the edges begin to lift from the pan. Gently ease it off the frying pan and carefully flip it over. Cook on the other side for another minute until it's lightly browned on both sides.
Continue cooking the rest of the batter, using more coconut oil when the pan needs it.
Once the pancakes are cooked, carefully remove the coconut cream from the fridge without shaking the can. Open it up and spoon out the cream, which should have separated from the water.
Spoon the coconut cream into a bowl along with the vanilla and cacao powder, and use a handheld whisk or fork to whip it up until it's light and fluffy.
Pour the chocolate whip on top of the pancakes, sprinkle with blueberries and serve warm.
Notes
Any leftovers will keep in an airtight container in the fridge for 2-3 days.
Rosanna Davison Nutrition https://www.rosannadavisonnutrition.com/