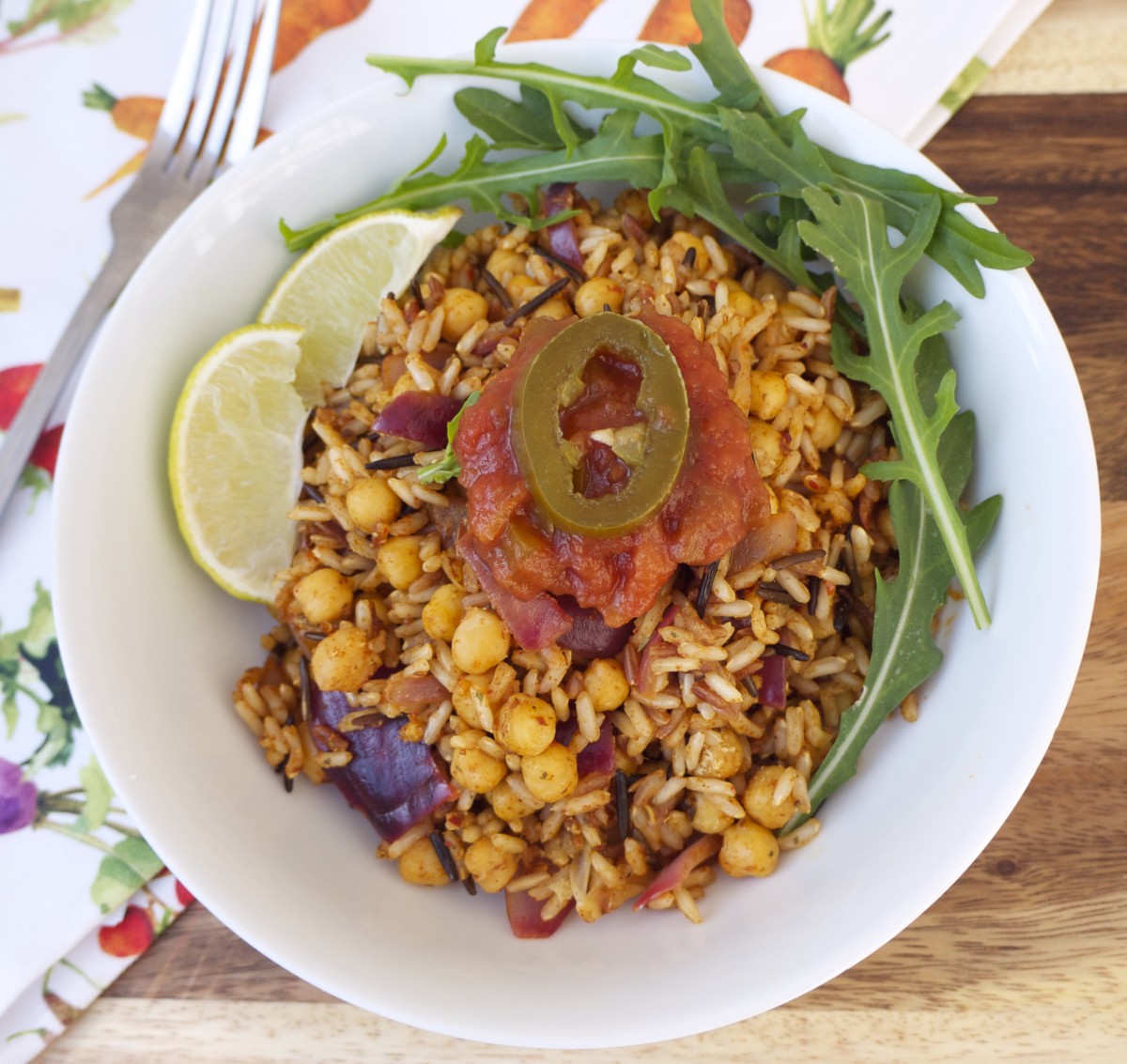 Beans and rice are a classic combination. A few decades ago, it was claimed that those on a meat-free diet must eat beans and rice together to consume the right kind of 'complementary' amino acids. Luckily, this claim has long been debunked and we now know that the body can cleverly store amino acids and release them throughout the day as needed. Once we're eating some protein with every meal and snack and not cutting calories, we'll get the correct quantity of essential amino acids from whole plant foods. Chickpeas are a super source of clean plant-based protein, with 14.5g in each cup!
Beans and rice are so tasty together, and they're quick and cheap to prepare for a family meal. I gave the dish a curry twist and added a series of spices, along with a dollop of salsa and a spicy jalapeño pepper.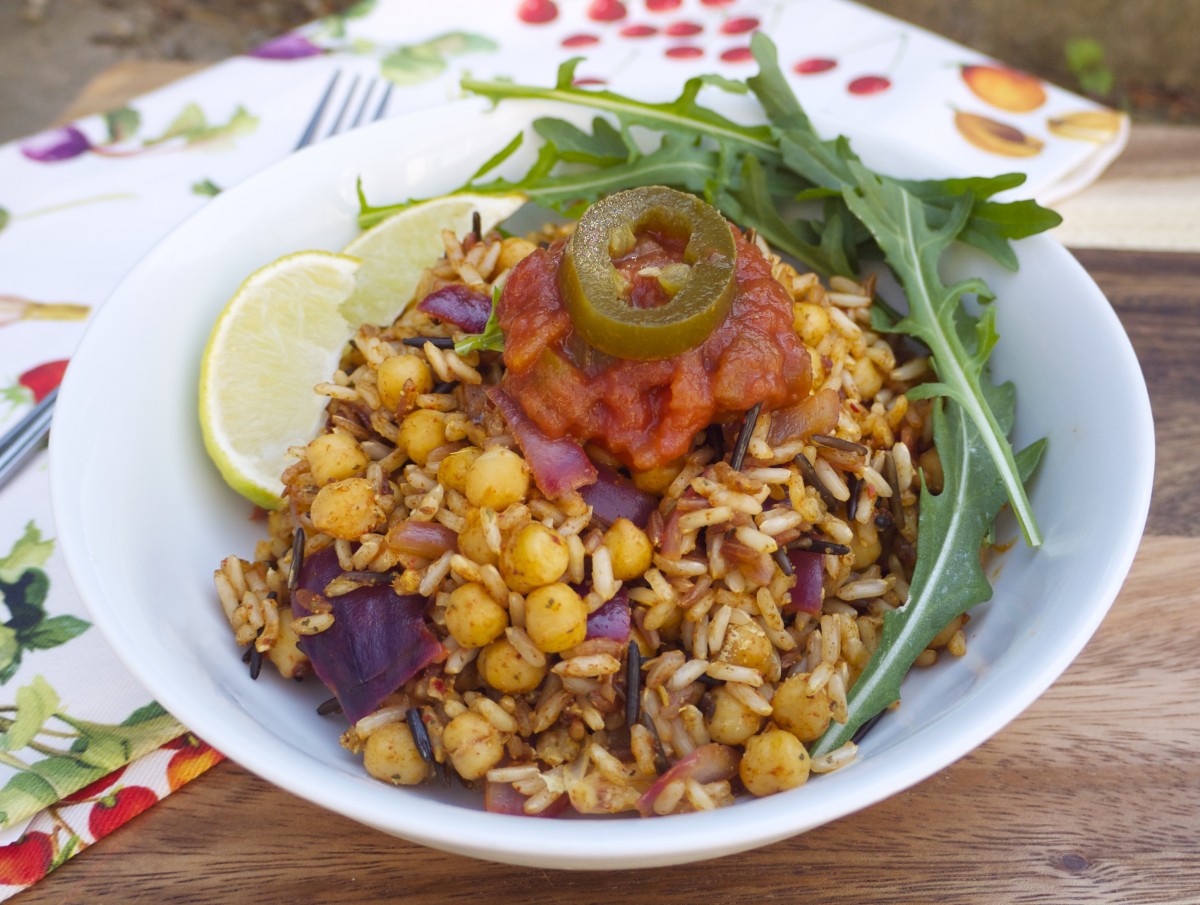 I love this wild rice mix from Nourish, as it contains different types of rice that give it a great texture and really boost the fibre levels of the meal. I never cook with processed white rice, as it's had its fibre and most of its nutrition stripped in production, so that it breaks down in our digestive system quickly, hits our bloodstream and causes insulin levels to spike. This can lead to energy fluctuations, increased appetite, mood swings and sugar cravings when blood sugar levels dip again.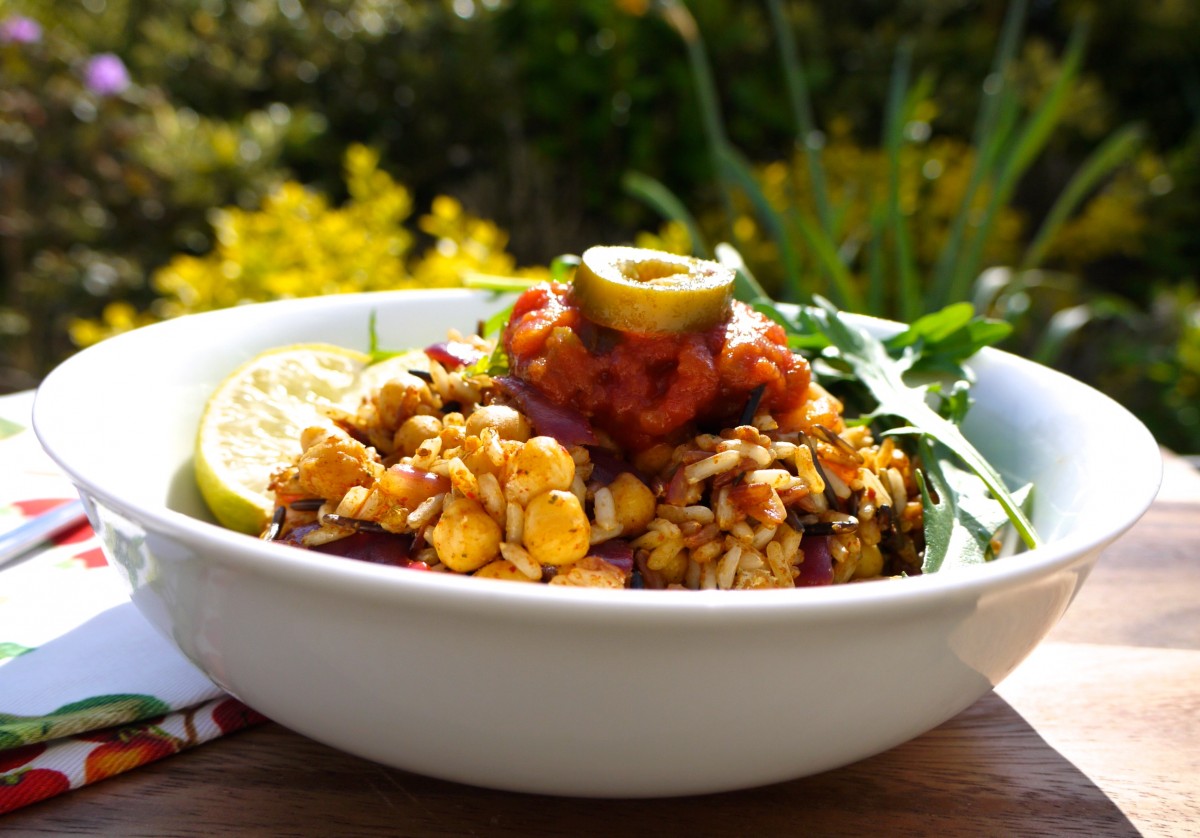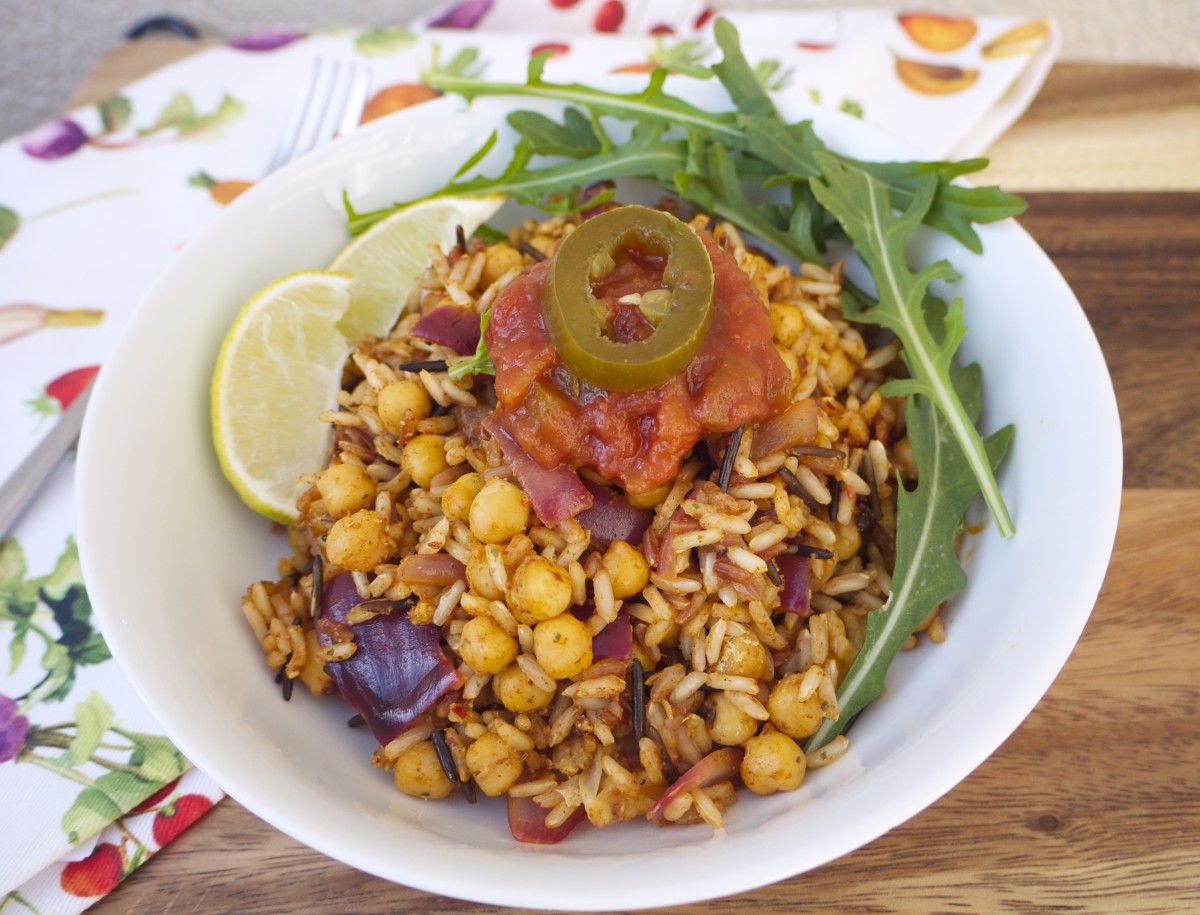 Curried Chickpea and Wild Rice Stir-fry
2015-04-20 17:13:11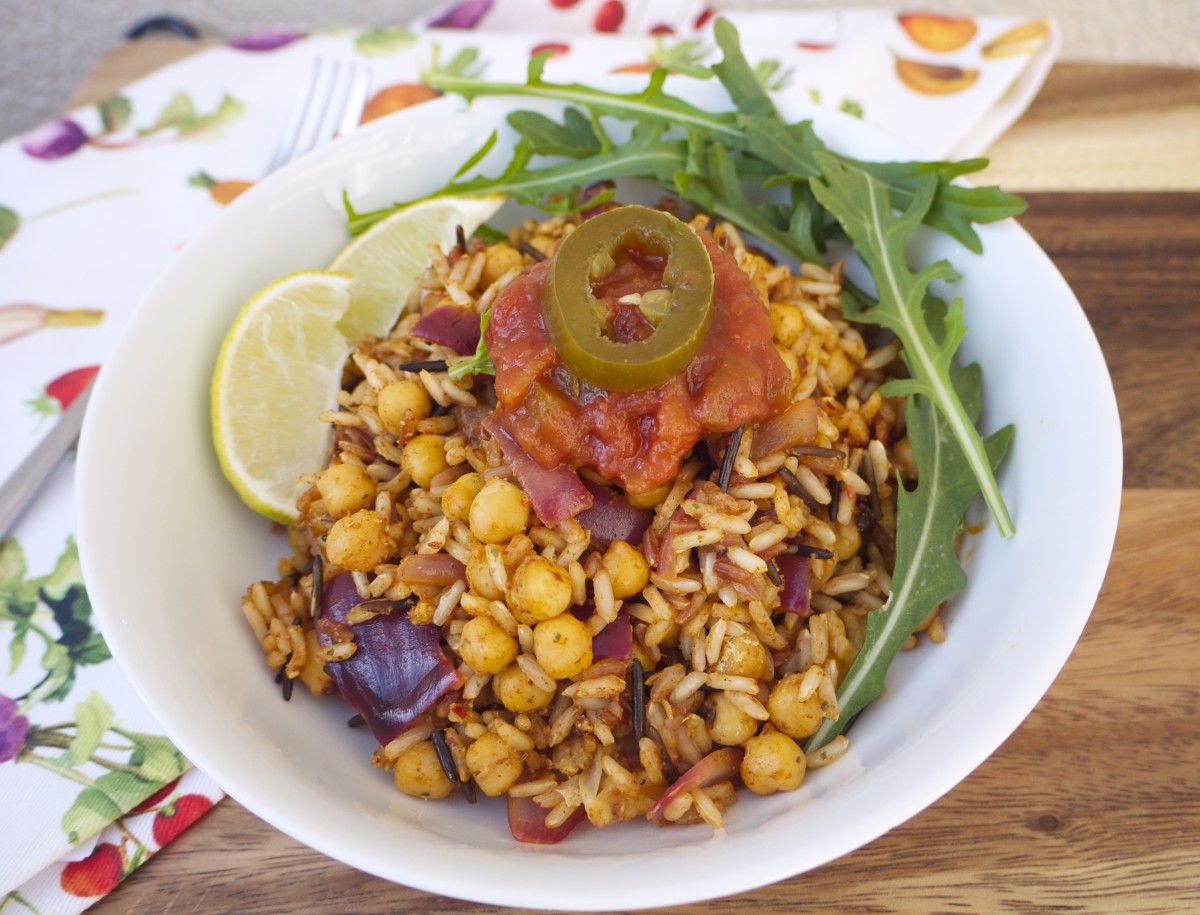 Serves 2
A classic bean and rice combination, with a curry twist! Low-fat and full of fibre and protein.
Ingredients
160g (1 cup) dry wild rice
1/2 tsp coconut oil, to cook with
1 red onion, finely chopped
240g cooked chickpeas*
2 tsp curry powder
1 tsp smoked paprika
1 tsp ground coriander
1 tbsp nutritional yeast
dash of Ume Japanese Plum Seasoning
Pinch of Himalayan pink rock salt and ground black pepper
1 tbsp fresh lime juice
2 tbsp tomato salsa and jalapeños, to serve (optional)
Instructions
In a saucepan over a medium heat, cooked the rice in double its volume of water. Bring the water to a boil and then lower the heat, partly cover with the lid and simmer for 10 minutes, until the water has evaporated off and the rice has swollen.
Stir well and remove from the heat.
In a frying pan, heat up the coconut oil and salute the onion for 3-4 minutes until it softens.
Add the chickpeas, spices and seasoning and stir well for 3 minutes, until well coated with the spices.
Pour in the cooked rice and stir for another 2-3 minutes, adding a dash of Ume Japanese seasoning.
Taste and season again if necessary.
Pour on the lime juice and serve topped with a dollop of salsa and a sliced jalapeño pepper.
Notes
**Before cooking dried chickpeas, the first thing you will have to do is soak them. Place chickpeas in a large bowl and cover completely with cold water. Allow to soak overnight, for about 12 hours. Once chickpeas have soaked, drain and transfer to a large cooking pot. Cover with water twice the amount of chickpeas and bring to a boil. Cover and allow to simmer for approximately one hour. Do a taste test at this point to make sure they are tender enough for your liking. Drain and allow to cool for 15 minutes.
Any leftovers can be stored in a covered container in the fridge for 2-3 days.
Rosanna Davison Nutrition https://www.rosannadavisonnutrition.com/