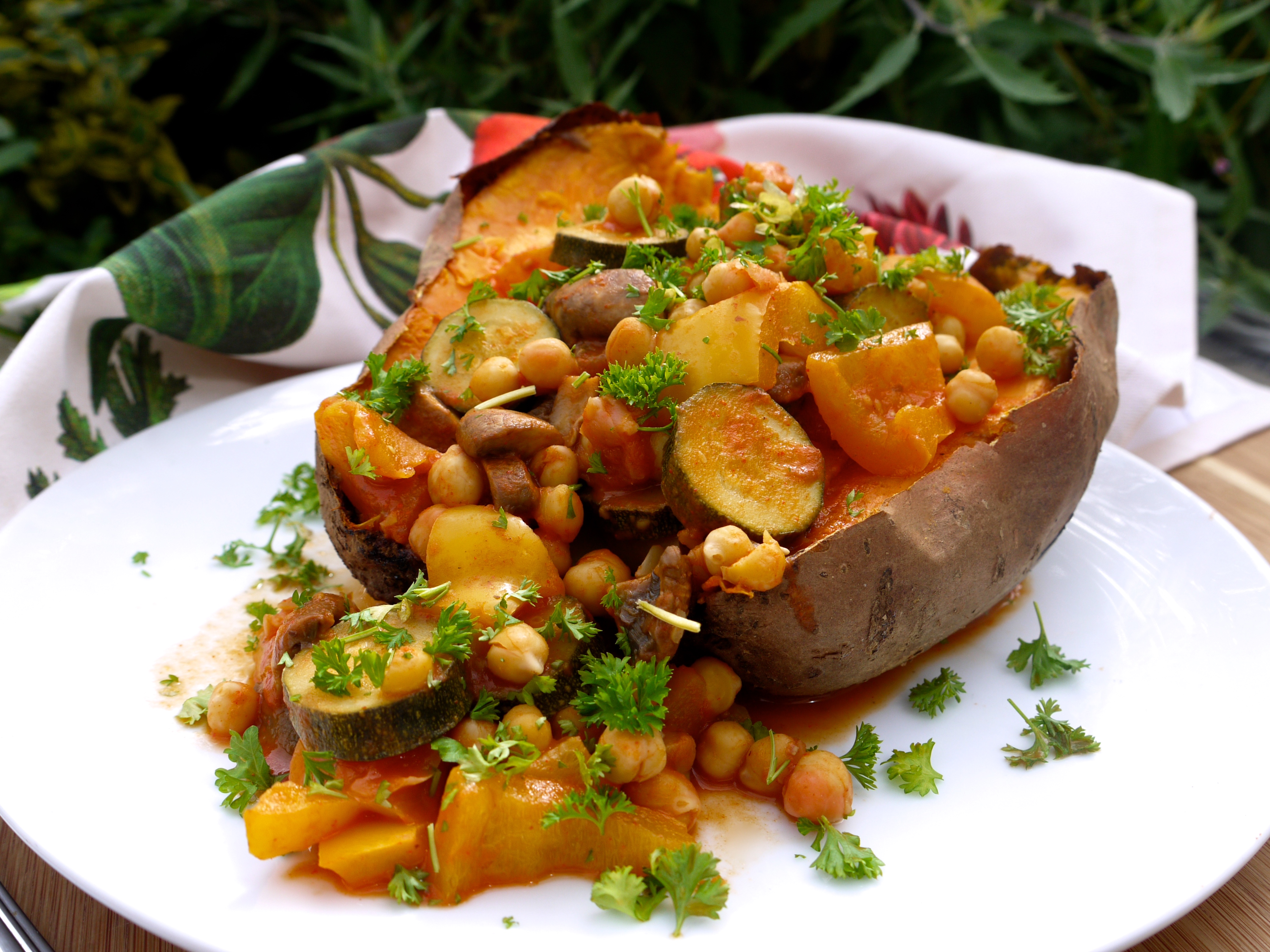 Healthy, wholesome, hearty, colourful and simple….
They're definitely the words I would use to describe this super satisfying meal of baked sweet potatoes loaded with chickpeas and mixed veg!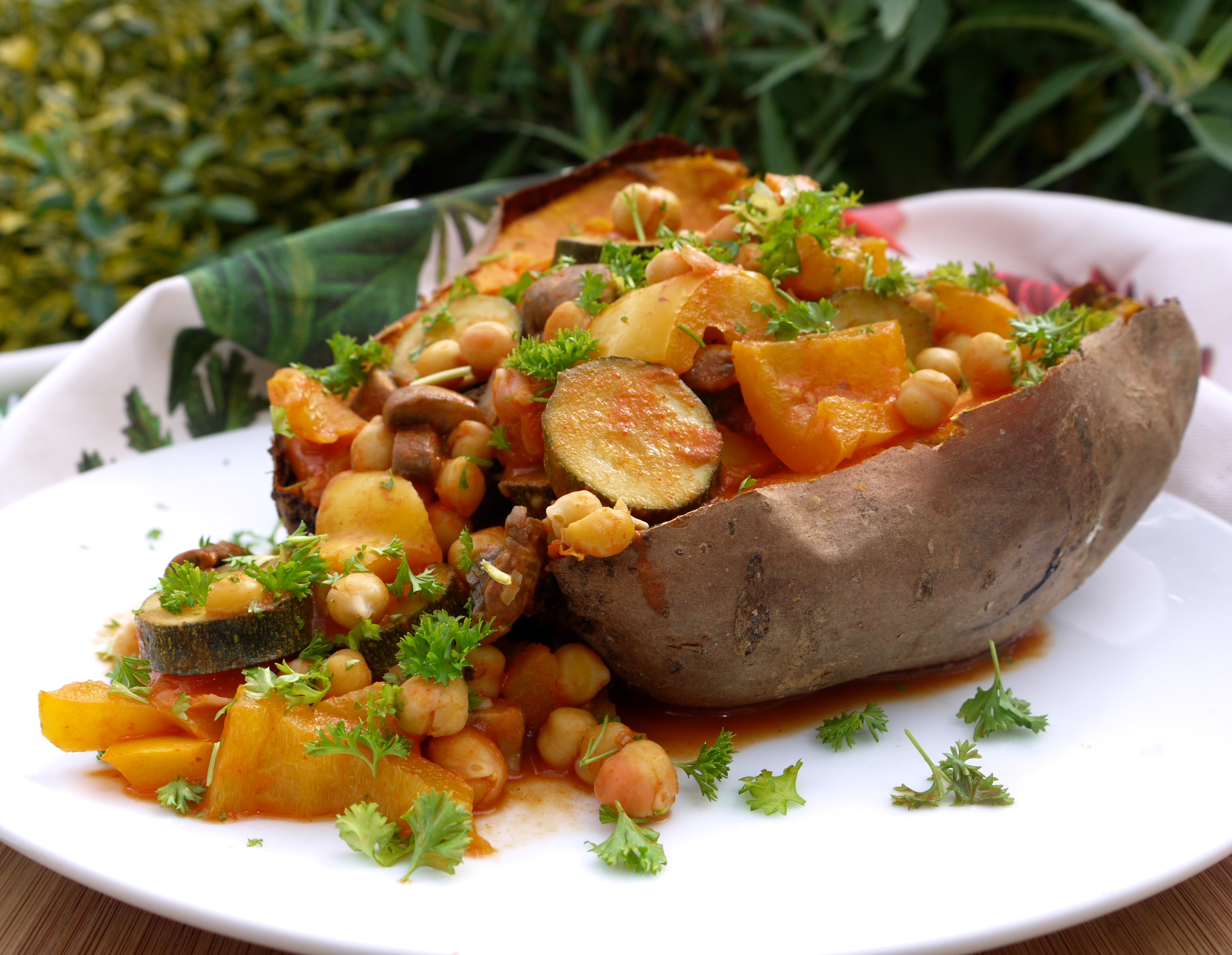 I love the versatility of sweet potatoes, which are naturally low in fat and calories, yet fibre-rich and packed with beta-carotene, to help build healthy and glowing complexion. They're so delicious just baked until soft and gently caramelised around the edges.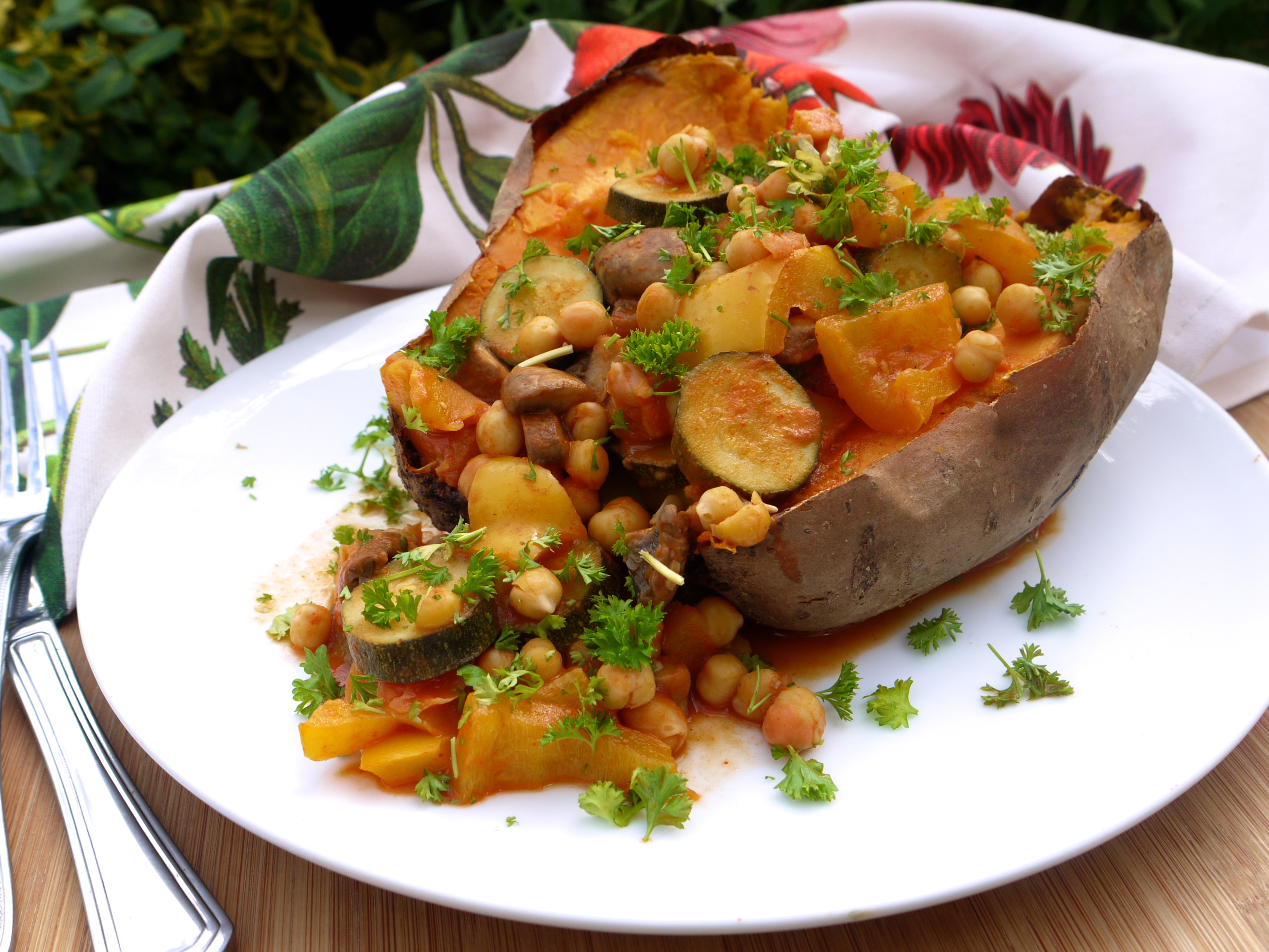 While baked sweet potatoes topped with hummus and avocado would make a great meal in itself, I thought I'd put together a chickpea and veggie stew for our evening meal recently.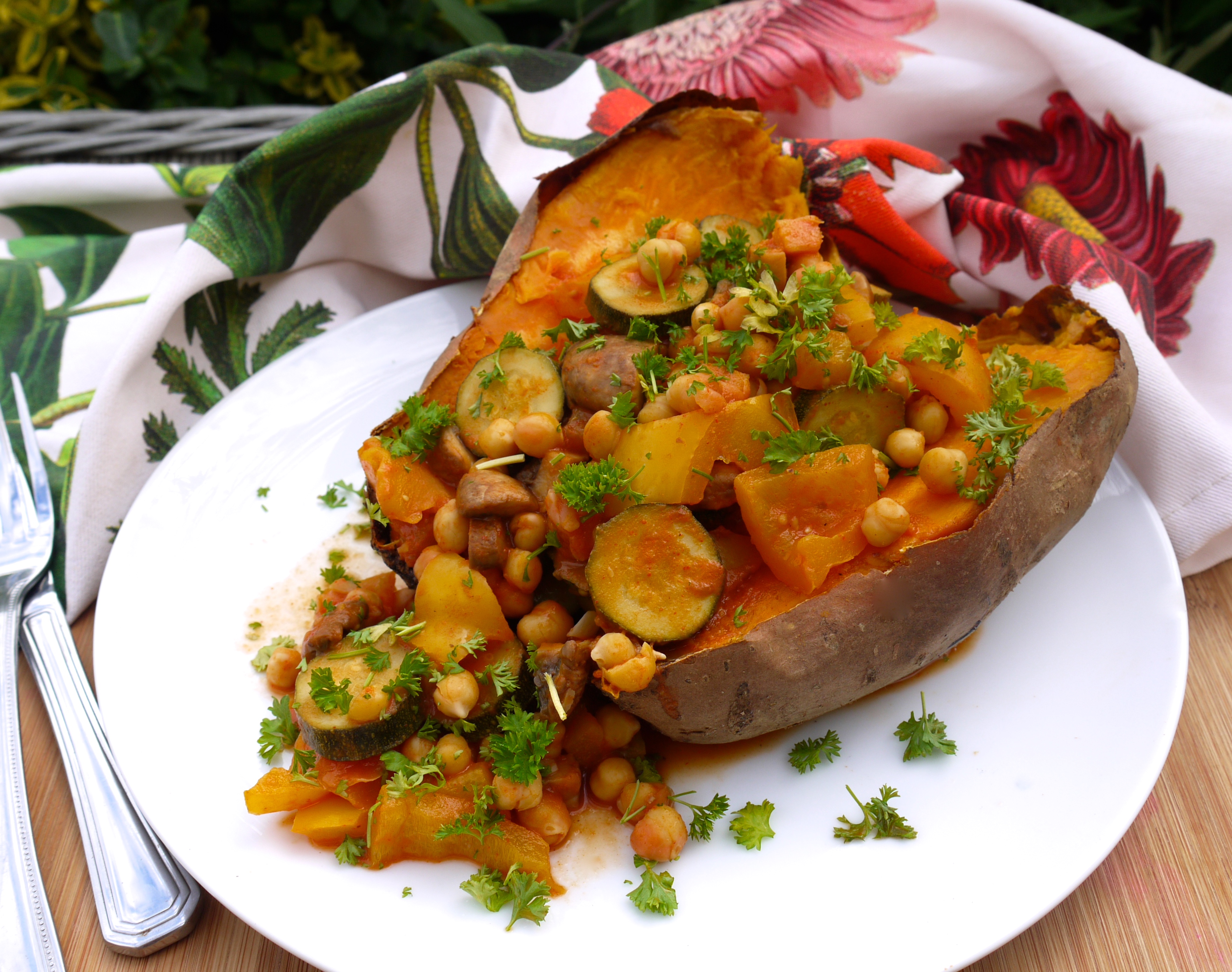 As the sweet potatoes baked, I chopped some courgette, yellow pepper, mushrooms and cherry tomatoes, and added in chickpeas, garlic, ginger, smoked paprika, chilli and tomato passata to create a really tasty veggie stew. The dish is low-calorie with just 275 cals per serving, yet high in fibre, vitamins, minerals, dietary fibre and contains almost 12g of protein per serving. Hurrah!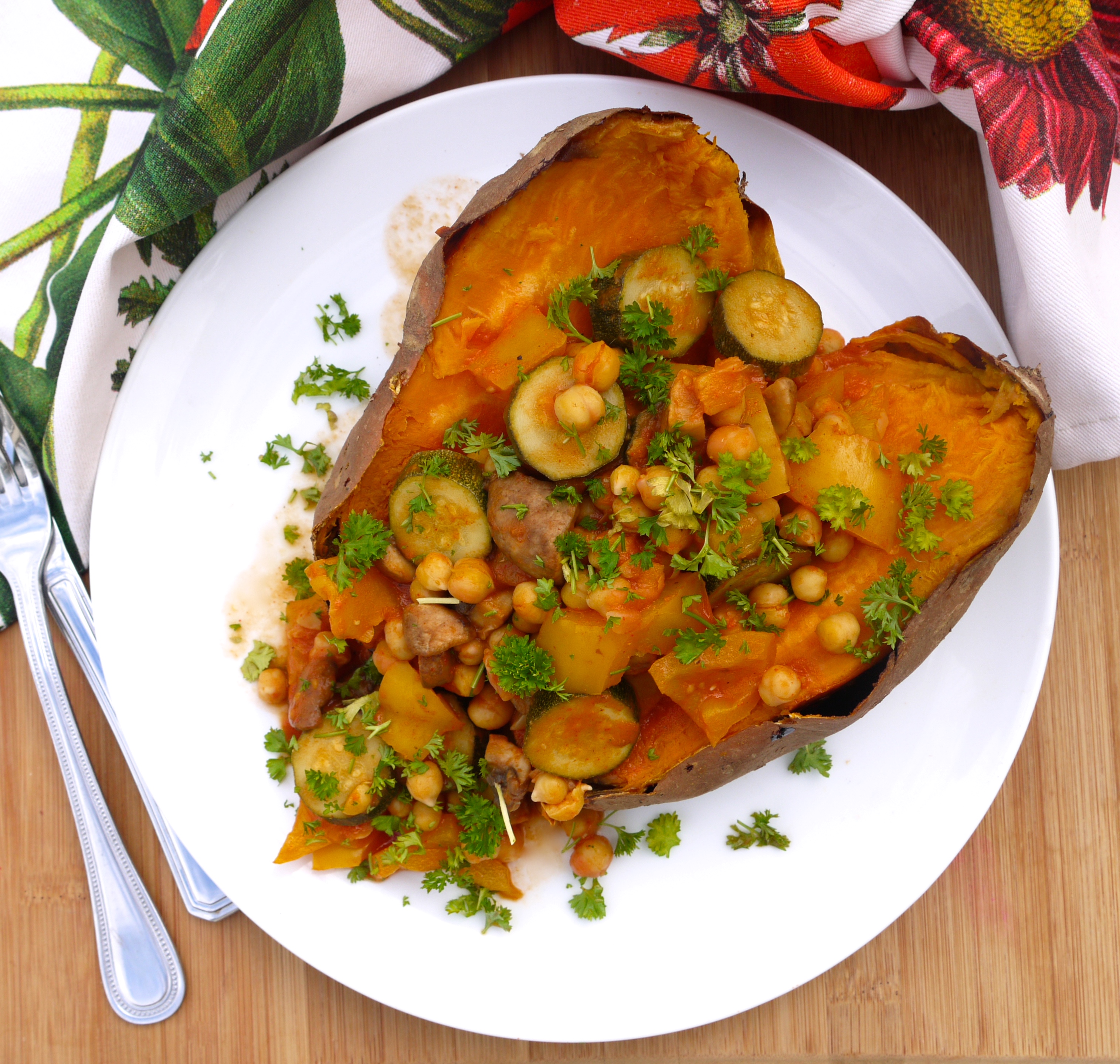 I would love to know if you get a chance to make these Loaded Sweet Potatoes! Simply tag #RosannaDavisonNutrition on Instagram or Twitter or come on over to my Facebook to say hello 🙂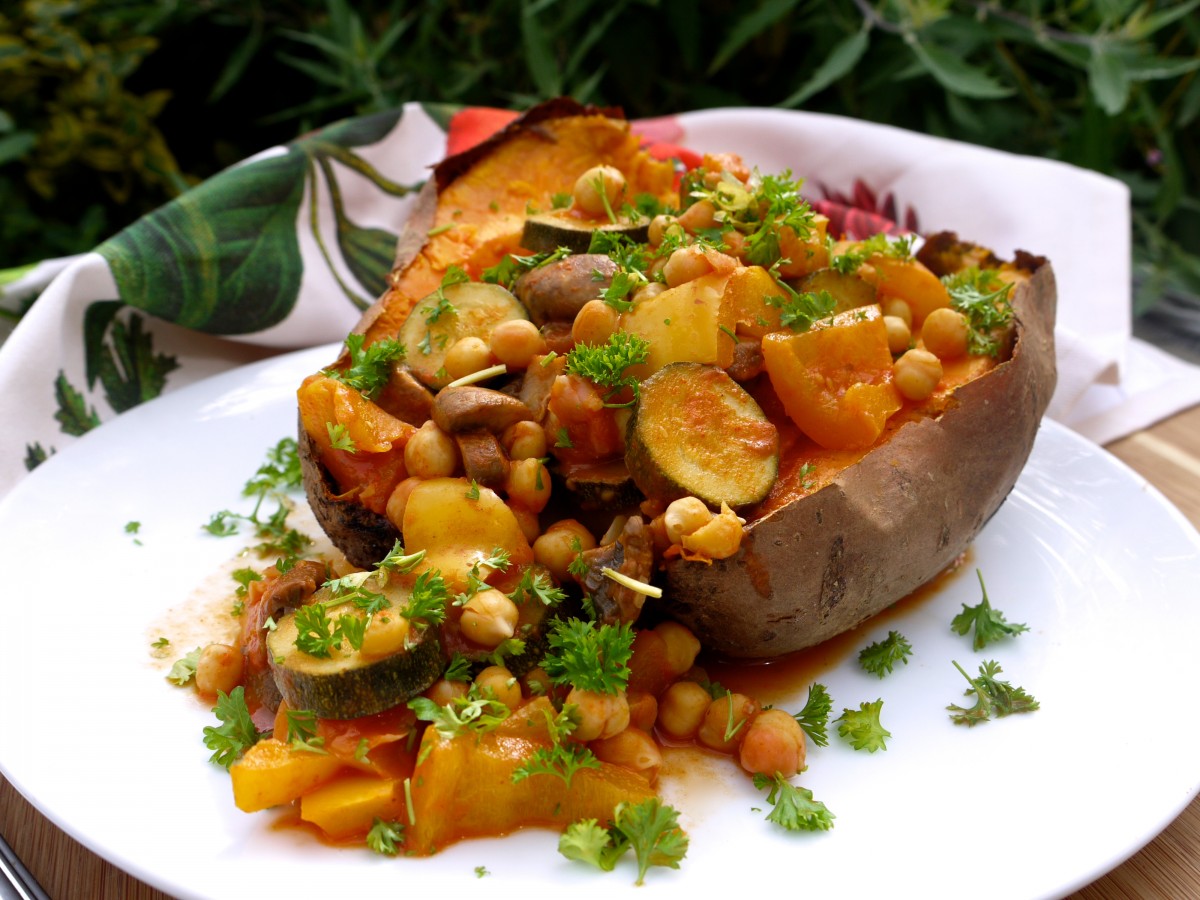 Loaded Sweet Potatoes
2016-07-23 12:34:19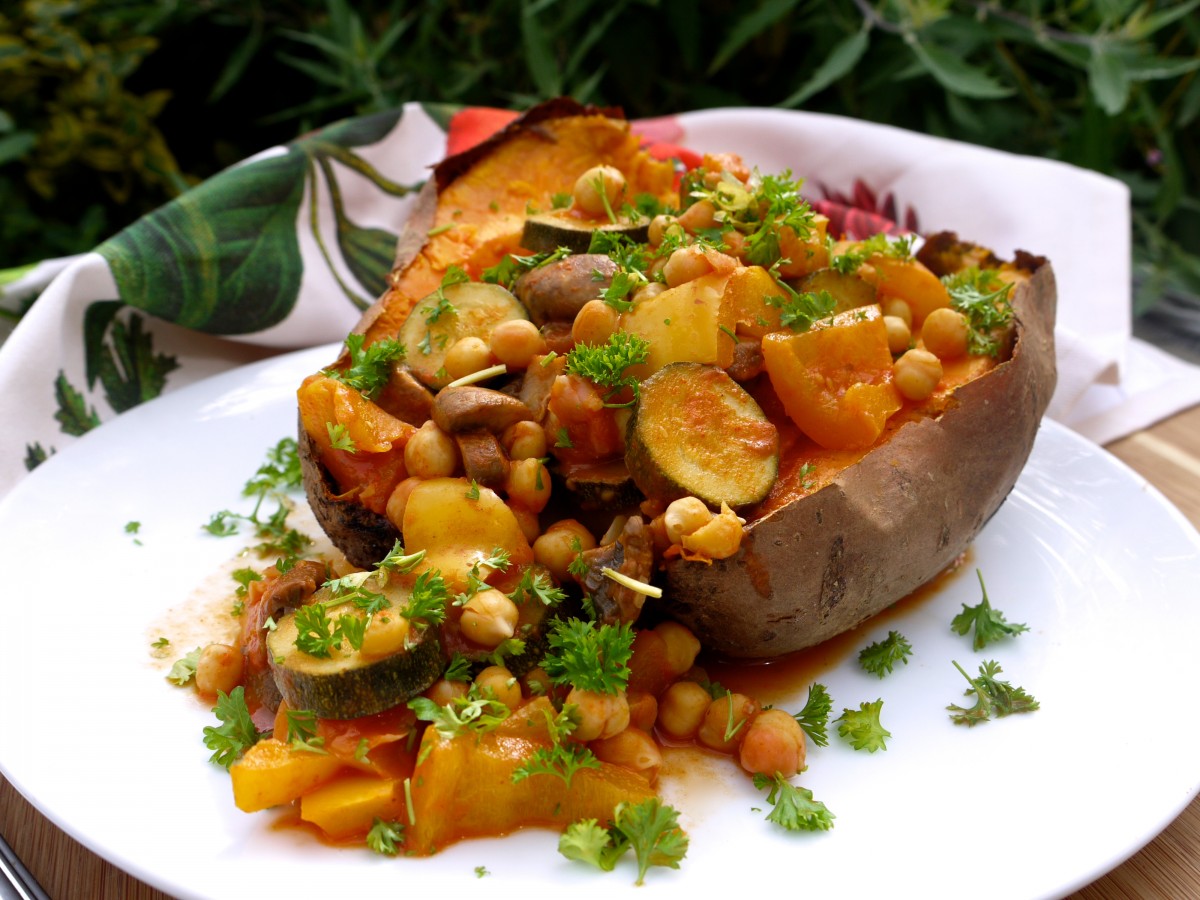 A hearty, healthy and wholesome yet low-calorie meal packed with fresh vegetables and protein-rich chickpeas. Nutrition information per serving: 275 calories, 11.5g protein, 50.2g carbs, 4.4g fat, 11g fibre
Ingredients
2 medium/large sweet potatoes
1/2 a tsp coconut oil
1-2 cloves of garlic (use 2 if you love garlic!)
1 tsp fresh ginger, finely chopped
1 can/carton chickpeas, drained and rinsed
6 chestnut or button mushrooms, sliced
1 yellow/red/green bell pepper, cored and sliced
1 medium courgette, sliced
6 cherry tomatoes, halved
250ml (1 cup) tomato passata (I used the Tesco version, which is sugar-free)
125ml (1/2 cup) unsweetened almond milk
1-2 tsp smoked paprika
pinch of chilli flakes or cayenne pepper (optional)
pinch of sea salt and black pepper, to taste
chopped coriander or parsley, to serve
Instructions
Preheat the oven to 200C, rinse the sweet potatoes and place them on a baking tray.
Bake them at 200C for 45-50 minutes, until a knife can easily slice them down the middle.
When baked, remove from the heat and set aside.
While they bake, heat up the coconut oil in a medium saucepan over a medium heat and add the garlic and ginger. Lightly sauté for a couple of minutes, then add in the chickpeas, mushrooms, pepper, courgette and cherry tomatoes. Stir for another 2 minutes.
Add the tomato passata and almond milk, followed by the smoked paprika and salt and pepper.
Stir well, cover partly with a lid and allow the vegetables to simmer for 15-20 minutes.
Remove the lid for the final five minutes, stirring frequently to help thicken it up and prevent it from burning. Taste and season again, if necessary.
Slice the sweet potatoes lengthways down the middle, season with a pinch of sea salt and black pepper, to taste. Spoon the chickpea and veggie mixture on top, sprinkle with chopped coriander or parsley and serve.
Notes
Any leftovers can be stored in an airtight container in the fridge for 3-4 days or frozen for up to 6 months.
Rosanna Davison Nutrition https://www.rosannadavisonnutrition.com/