Happy Thursday all!
It's soo close to the weekend now 🙂
As the weather has been pretty humid here in Dublin, I've been craving fresh, raw, crunchy veggies all week. This salad really hit the spot for lunch today, which I enjoyed outside in the garden.
As I'm sure you're aware, it's really important to eat a wide range of differently coloured fruit and veggies each day. This means that your body cells get flooded with their huge array of protective phytonutrients, which help to heal your skin, boost your eyesight and protect against infections and disease, amongst many other functions.
You may also be familiar with the government message to eat your '5-a-day' of fruit and veg. Research argues that this should be closer to 7 servings a day for women and 9 for men, but 5 is a great place to begin and super achievable if you already eat or are transitioning towards a diet high in whole plant foods. Remember, it's all about progress and making baby steps in the right direction!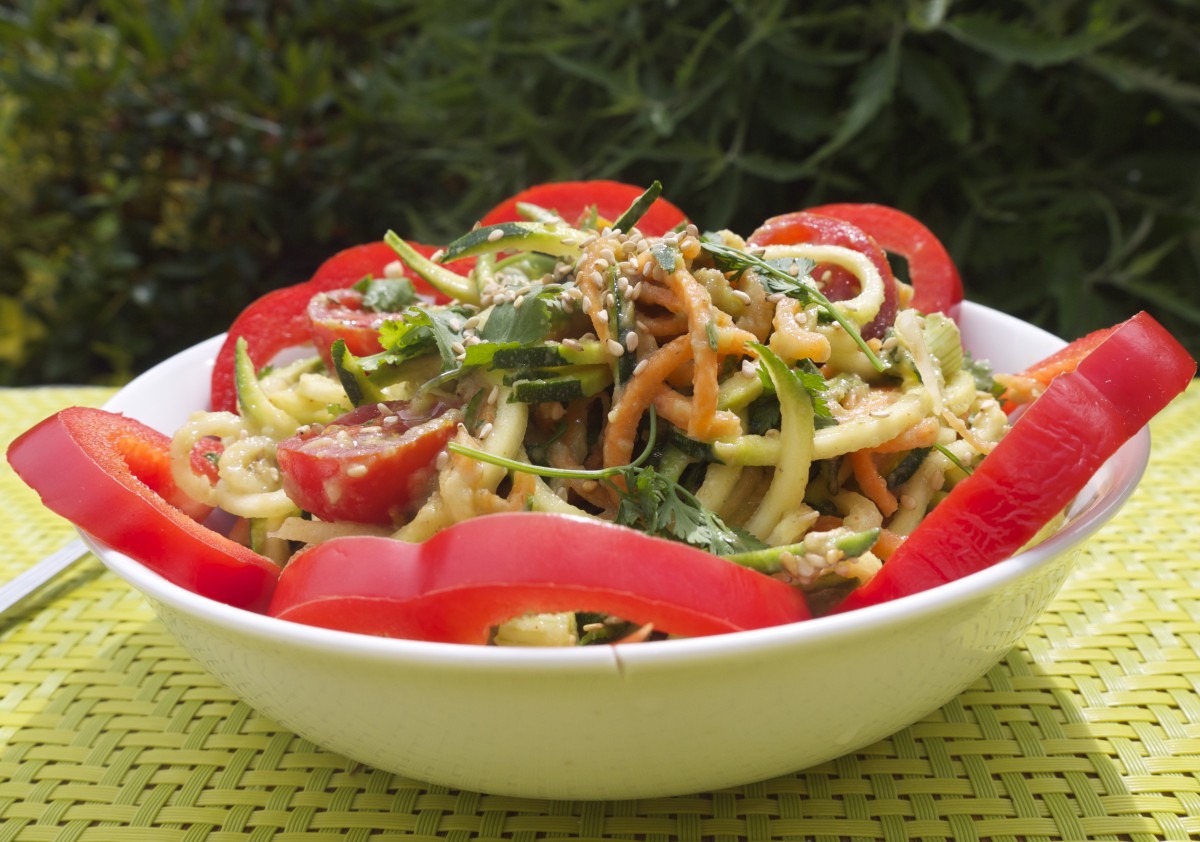 I've spoken quite a bit on this site about the importance of eating healthy fats each day. They add satiety and density to your diet, helping to regulate blood sugar levels and keep you feeling full for longer.
There's really no need to fear fat! It's actually the insulin-raising effects of refined sugar and white flour products that cause fat storage in the body, and not fat itself.
Obviously, eating oils and fats too liberally will cause you to consume an excess of calories, which will cause weight gain over time if your body doesn't burn them off through exercise and normal metabolic activity. But it's not possible to gain or lose more than two pounds of body fat per week, and each pound of human fat contains approximately 3,500 calories.
The importance of adding fat to this salad in the form of an avocado dressing and a sprinkle of sesame seeds, is to enable the absorption of the beta-carotene in these brightly-coloured veggies. This antioxidant vitamin converts to vitamin A in your body, and helps to heal your skin, making it softer and smoother. Have you ever had tiny bumps on the outside of your upper arms? This common condition is called keratosis pilaris and is linked to a dietary vitamin A deficiency.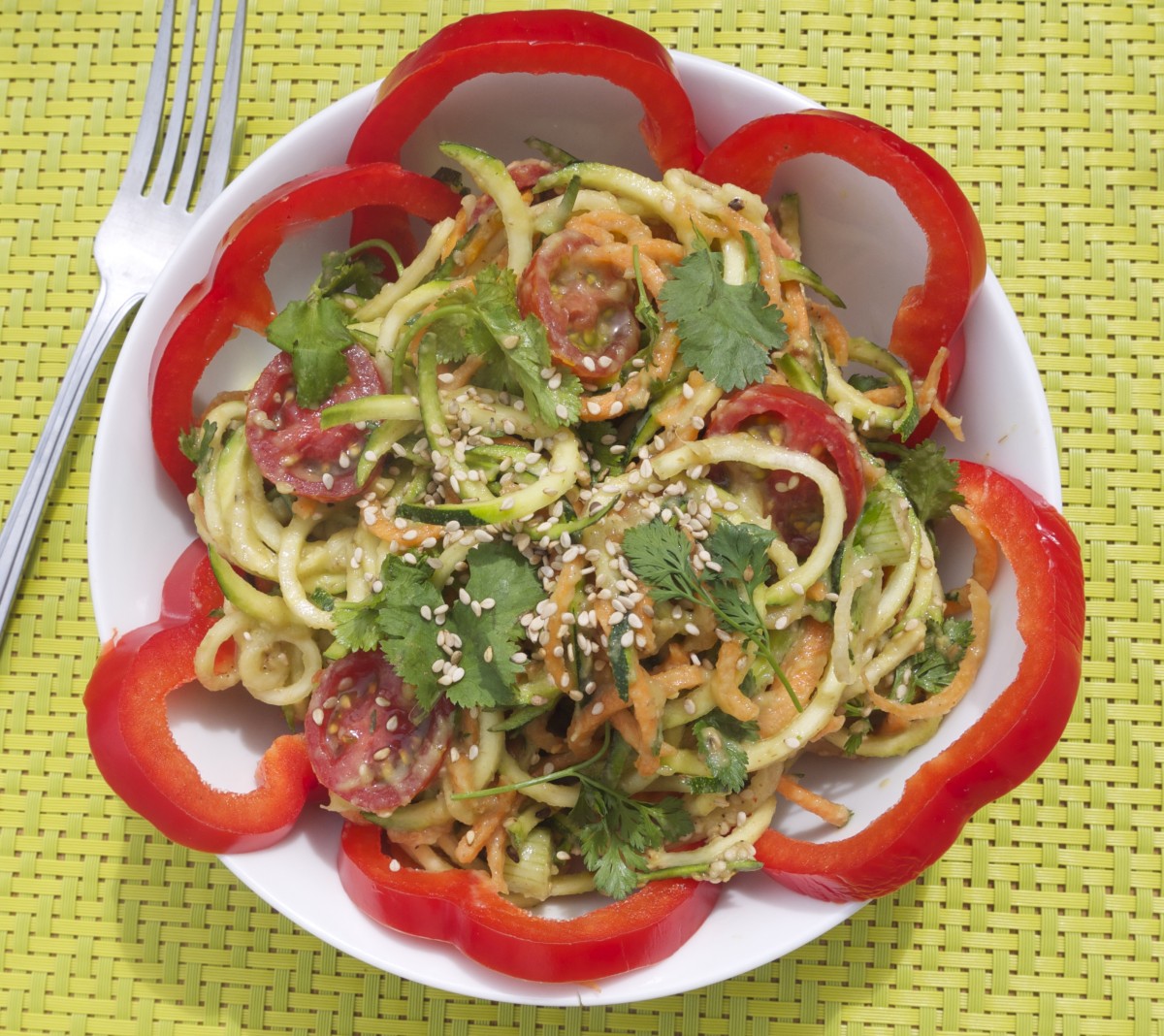 I used a spiraliser to make the veggie noodles here, but a vegetable peeler will work too. Feel free to add whatever you like to this dish – the main purpose is to get a rainbow of raw, crunchy vegetables and healthy fat into your system!
I used the red bell pepper here, because it's such a fantastic source of vitamin C, which is a key nutrient in building the collagen that keeps your skin looking firm and plump. In fact, they have a huge 152mg of vitamin C, compared to 97mg in a large orange. But of course, it's important to eat them raw or very lightly steamed to benefit the most as cooking at high temperatures can destroy this delicate water soluble vitamin.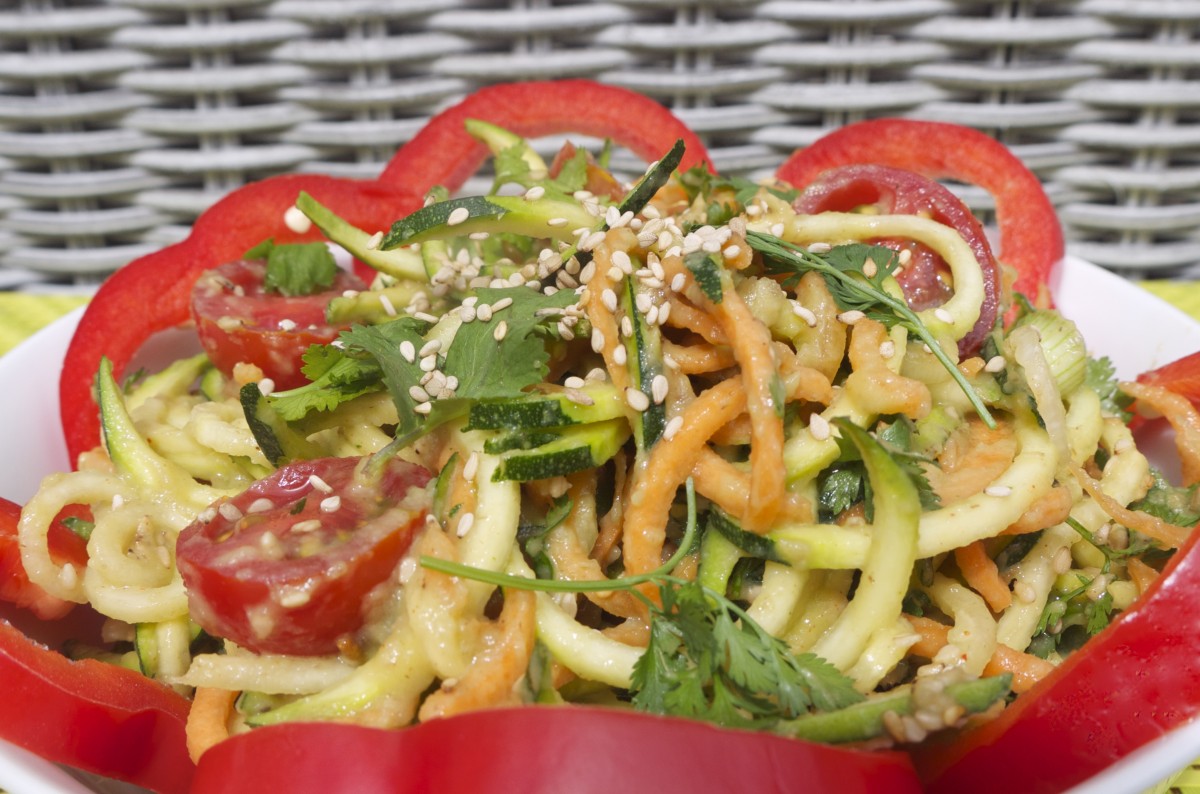 Let me know if you give this salad a go and I love to see all your creations on social media! Simply tag #RosannaDavisonNutrition on Instagram or Twitter or come on over to my Facebook to say hello

Raw Rainbow Bowl with Citrus Avocado Dressing
2015-06-25 15:45:27
Serves 1
A crunchy vegetable noodle salad, rich in antioxidants, fibre and satiating fats.
Ingredients
1 courgette, rinsed, topped and tailed
1 carrot, peeled, topped and tailed
1 spring onion, finely chopped
1 red pepper, cored, de-seeded and sliced
5 cherry tomatoes, halved
handful fresh coriander
1 tsp sesame seeds, to serve
For the citrus avocado dressing
1/2 a ripe avocado
1 tbsp lemon juice
1 clove of garlic, minced
dash of tamari sauce
dash of Ume Japanese Plum Dressing
1 tbsp nutritional yeast (optional)
1/2 a tsp smoked paprika
Himalayan pink rock salt and ground black pepper, to taste
pinch of dried chilli flakes, to taste
dash of unsweetened almond milk, to blend
Instructions
Using a spiraliser or vegetable peeler, make the courgette and carrot into noodles or ribbons.
Place them in a mixing bowl and add the spring onion, red pepper, cherry tomatoes and coriander and toss together.
Using a blender or food processor, whizz together all ingredients for the avocado dressing. Taste and adjust seasoning, if necessary.
Pour the dressing onto the vegetables and mix together until well-coated.
Add a sprinkle of sesame seeds and serve.
Notes
Any leftovers will keep in an airtight container in the fridge for 2-3 days.
Rosanna Davison Nutrition https://www.rosannadavisonnutrition.com/