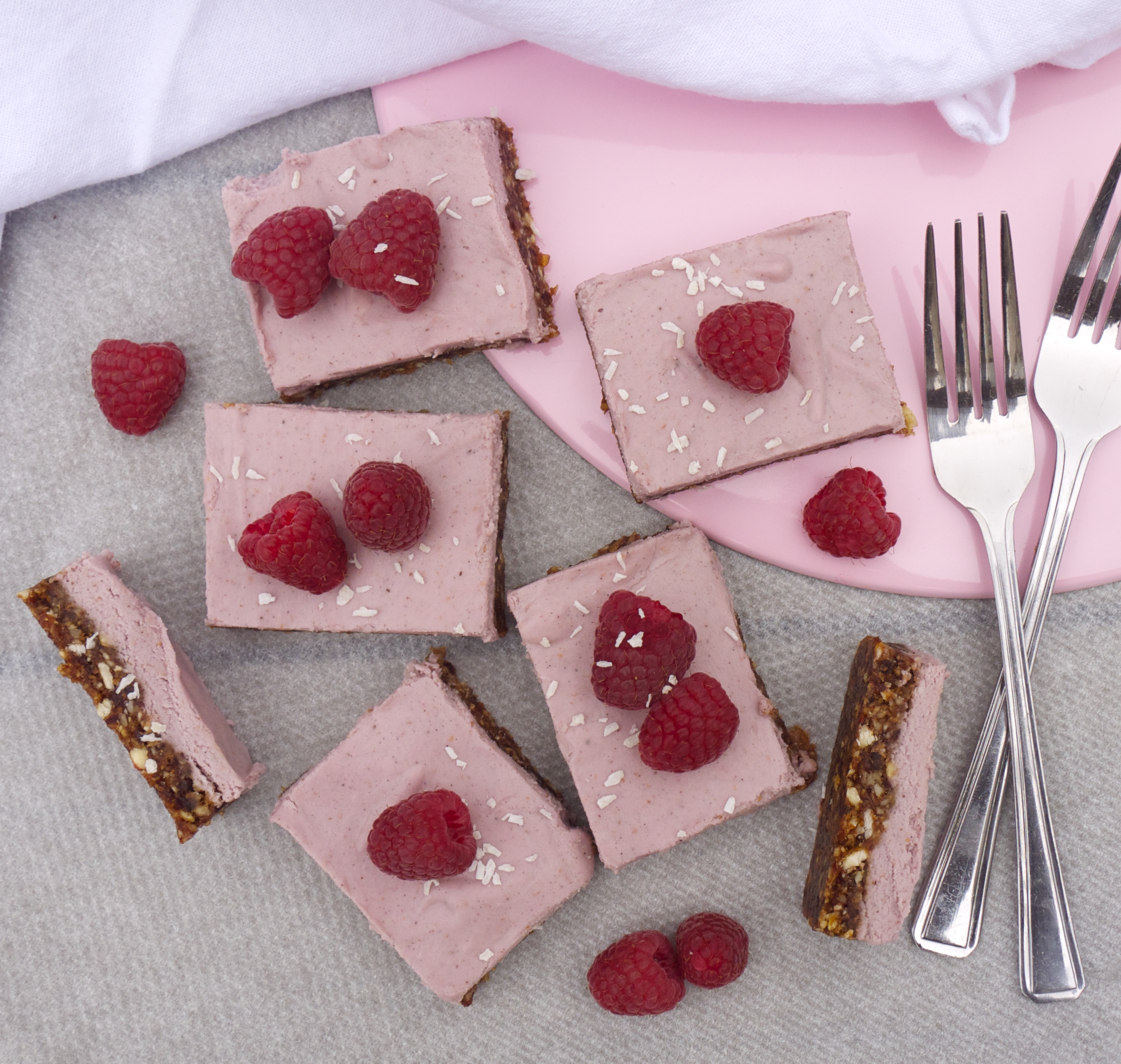 Mmmm raspberry cream slices. Even those words sound so delicious and summery.
With these baby pink beauts, I wanted to evoke some of my fave flavours of summer, and raspberries are right up there at the top of my favourite fruits. Juicy, sweet and loaded with goodness!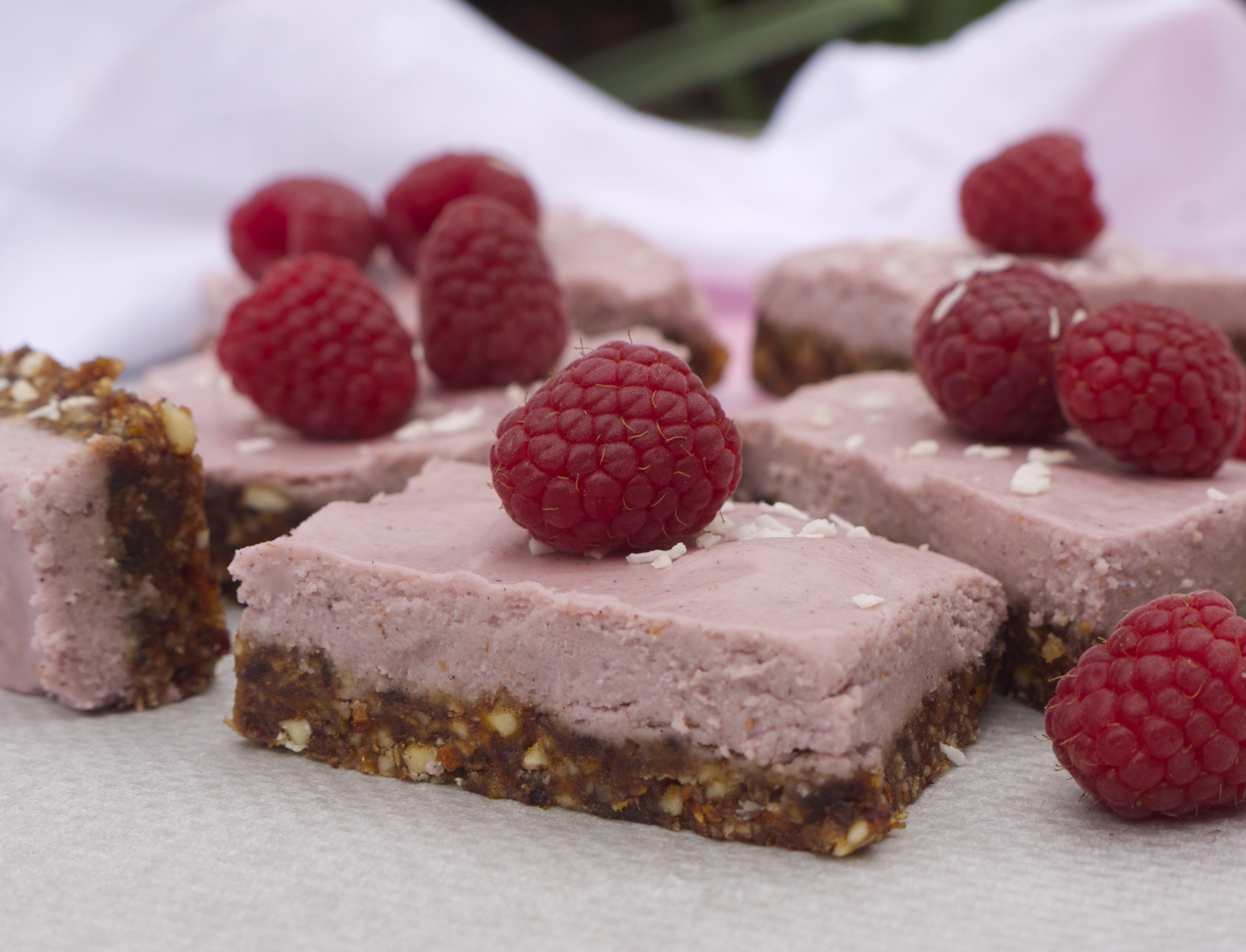 This is a chilled, raw dessert, perfect for summer garden parties, BBQs and to nibble straight from the freezer on a warm day. They're refined sugar-free and made from nutrient-rich ingredients including dates, almonds, pecans, cashews and coconut oil.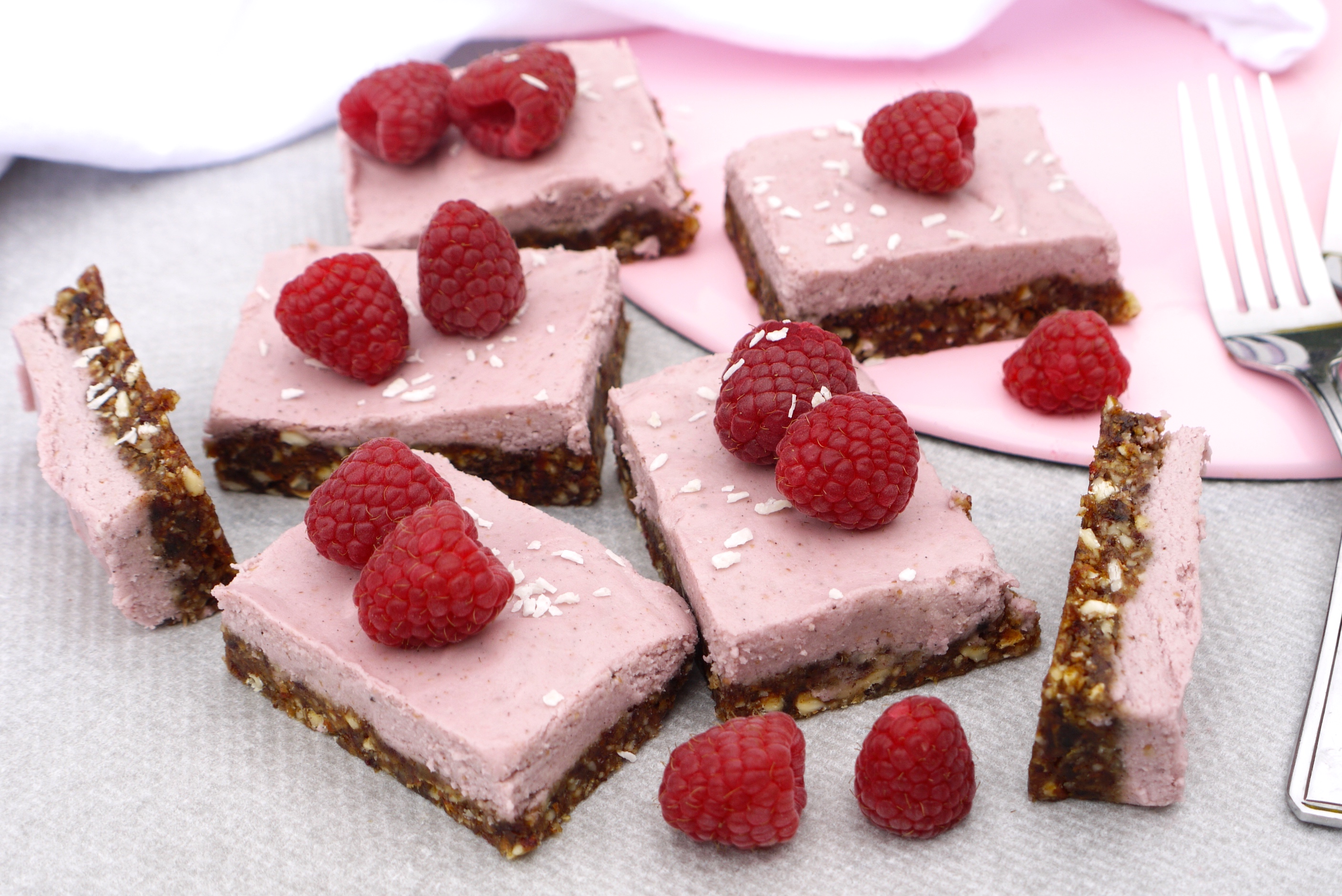 They're simple to make in two stages, starting with the base, which consists of dates, almonds, pecans and vanilla extract combined in a food processor. The raspberry cream filling looks and tastes a lot like raspberry yoghurt, and would be just as delicious poured over fruit salad for a breakfast or pudding 🙂 I blended up fresh raspberries with coconut cream, cashews, maple syrup, vanilla and coconut oil, which helps to set it in the freezer.
That's it! You may have many of the ingredients already in your kitchen cupboard, but they're easy to find in most supermarkets too.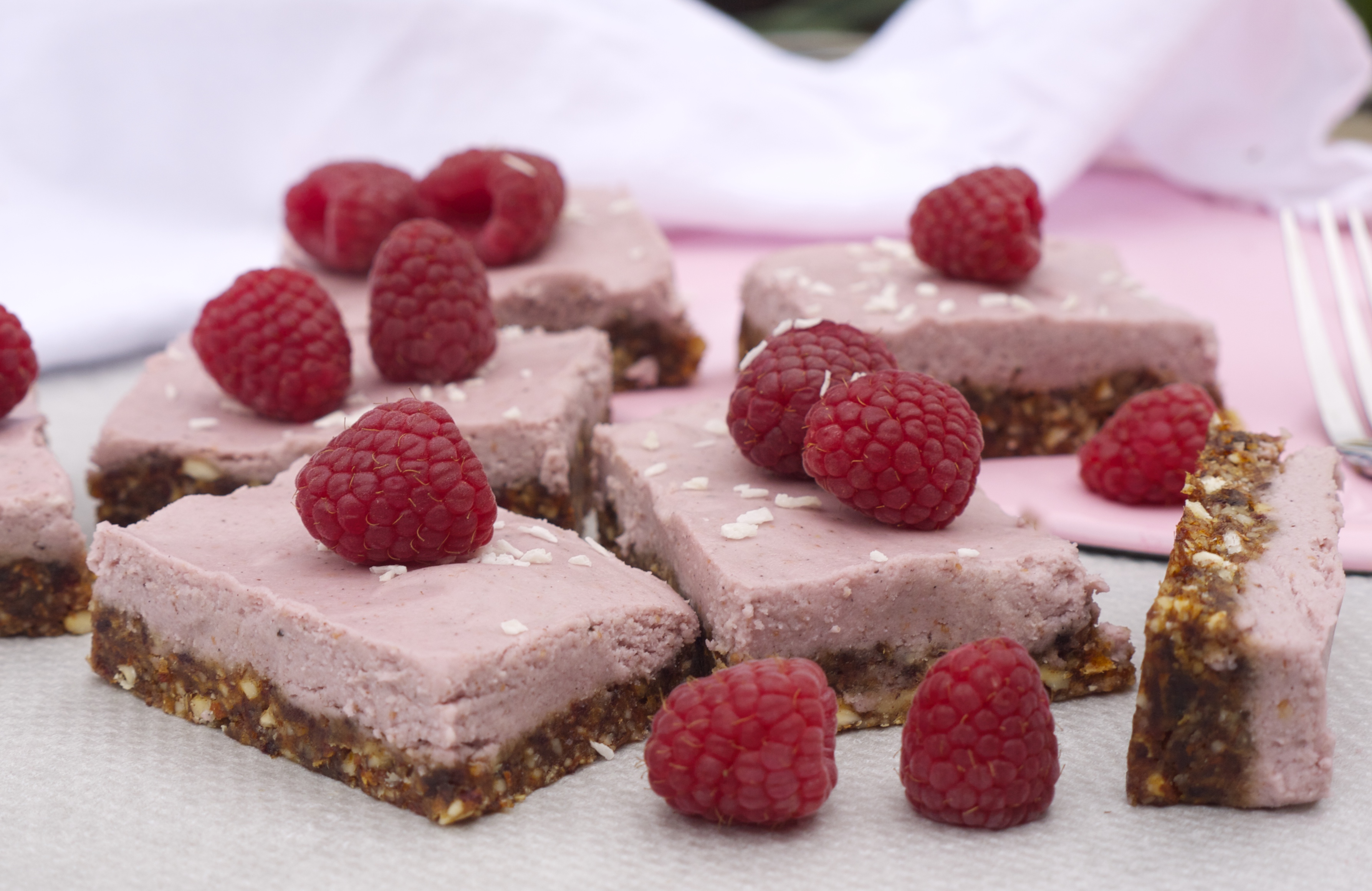 I would love to know if you get a chance to make these Raspberry Cream Slices! Simply tag #RosannaDavisonNutrition on Instagram or Twitter or come on over to my Facebook to say hello 🙂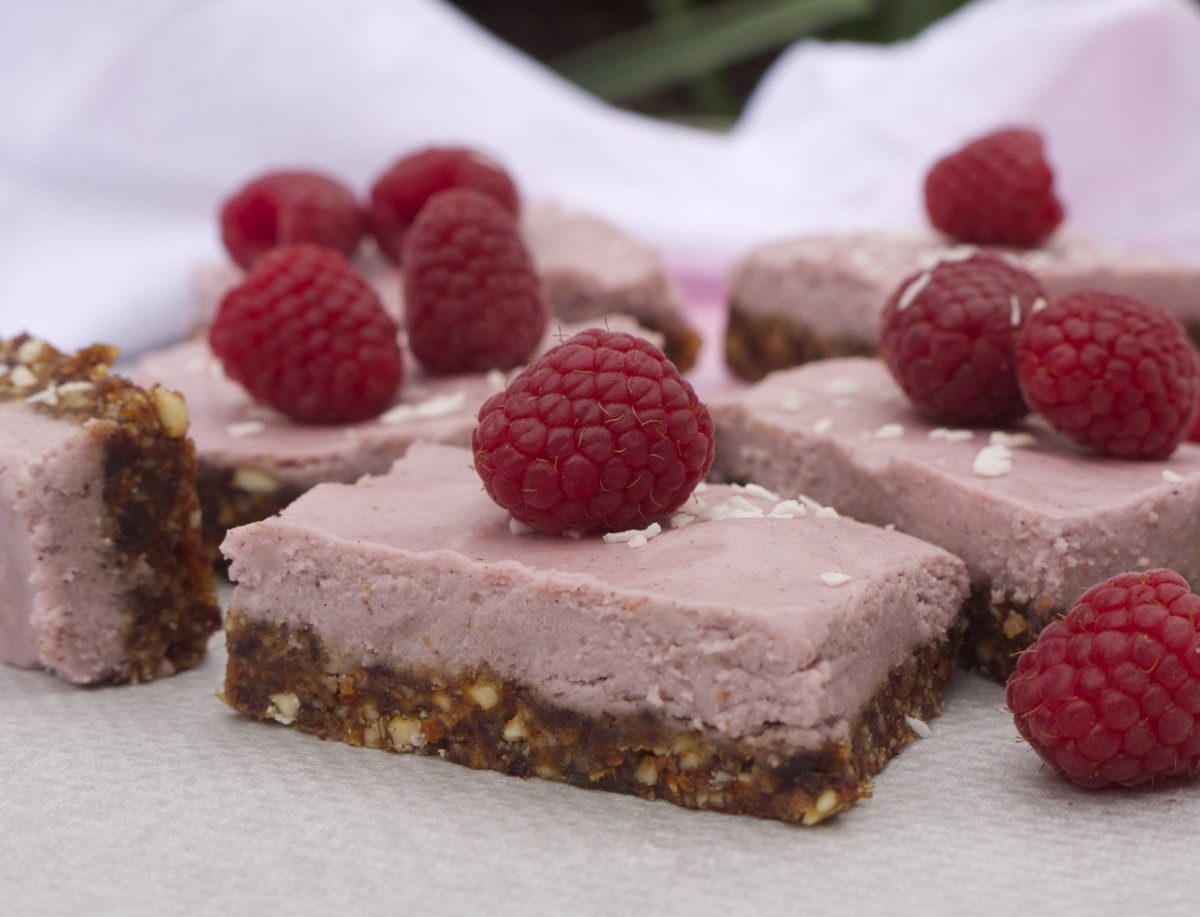 Raspberry Cream Slices
2016-07-21 07:19:21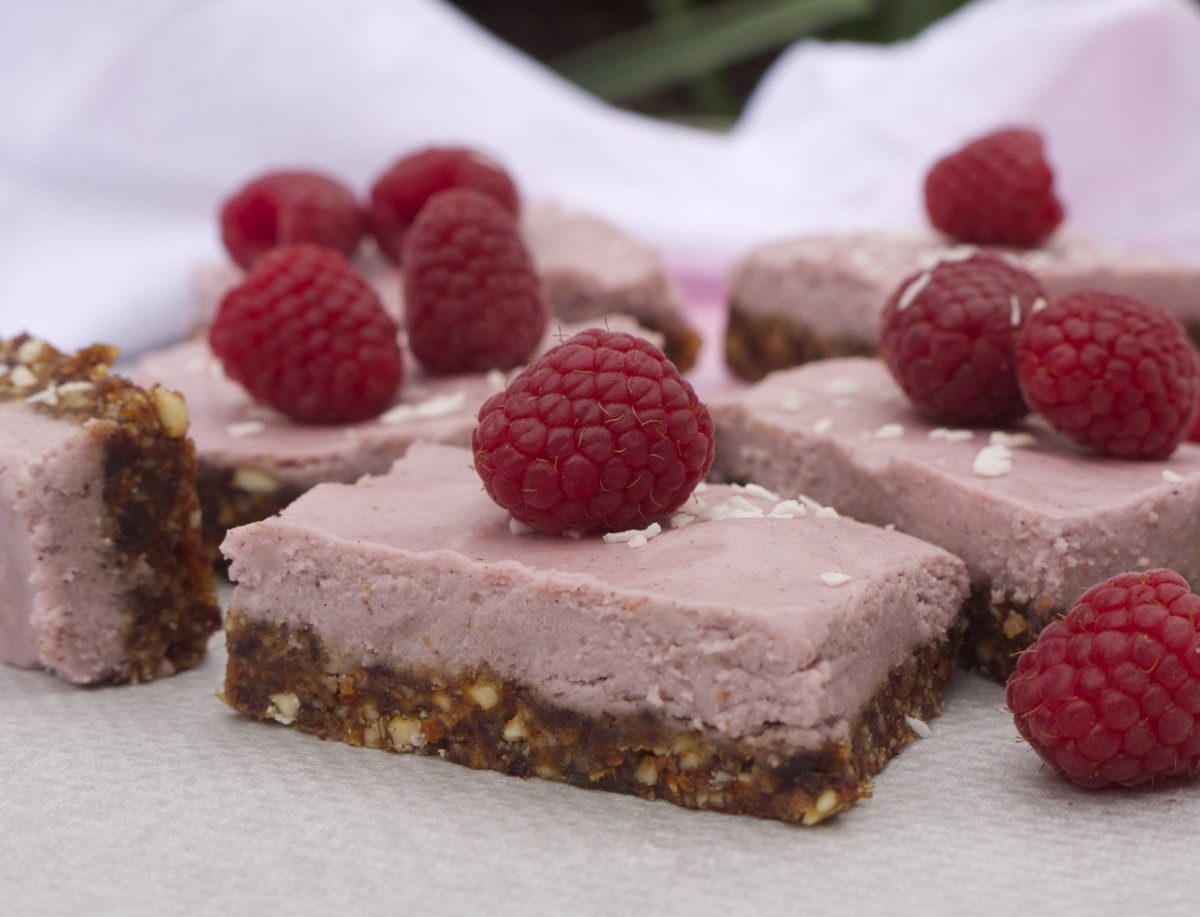 Deliciously cool and creamy raspberry slices, simply made from whole foods and healthy ingredients. A perfect summer dessert. Nutrition information per slice: 275 calories, 4.1g protein, 22.3g carbs, 20.8g fat, 3.5g fibre
For the base
175g (1 cup) pitted dates, soaked in hot water for 20 minutes to soften
60g (1/2 cup) raw unsalted almonds
60g (1/2 cup) raw pecans
2 tsp vanilla extract
For the filling
15 fresh raspberries
50g raw unsalted cashews, soaked in cold water for 15 minutes
4 tbsp coconut oil at room temp.
2 tbsp maple syrup or honey
2 tsp vanilla extract
1 can full-fat coconut milk, chilled overnight in the fridge
fresh raspberries, to serve
Instructions
Place the soaked and drained dates in a food processor and add the almonds, pecans and vanilla extract. Process until a thick, sticky 'dough' forms.
Press the dough into an 8"x 8" silicon tray or baking tray lined with greaseproof paper, ensuring it's smooth and even across the top. Place into the freezer to chill.
To make the filling, place the raspberries, soaked and drained cashews, coconut oil, maple syrup and vanilla in a blender. Open the chilled coconut milk. The coconut cream should have separated from the water and hardened at one end.
Spoon the thick coconut cream into the blender and blend all ingredients together until smooth and creamy.
Remove the base from the freezer, pour on the filling and smooth it across the top.
Place back into the freezer to allow it to set for about two hours.
Serve chilled, topped with fresh raspberries.
Notes
Store any leftovers in an airtight container in the fridge for 2-3 days.
Rosanna Davison Nutrition https://www.rosannadavisonnutrition.com/