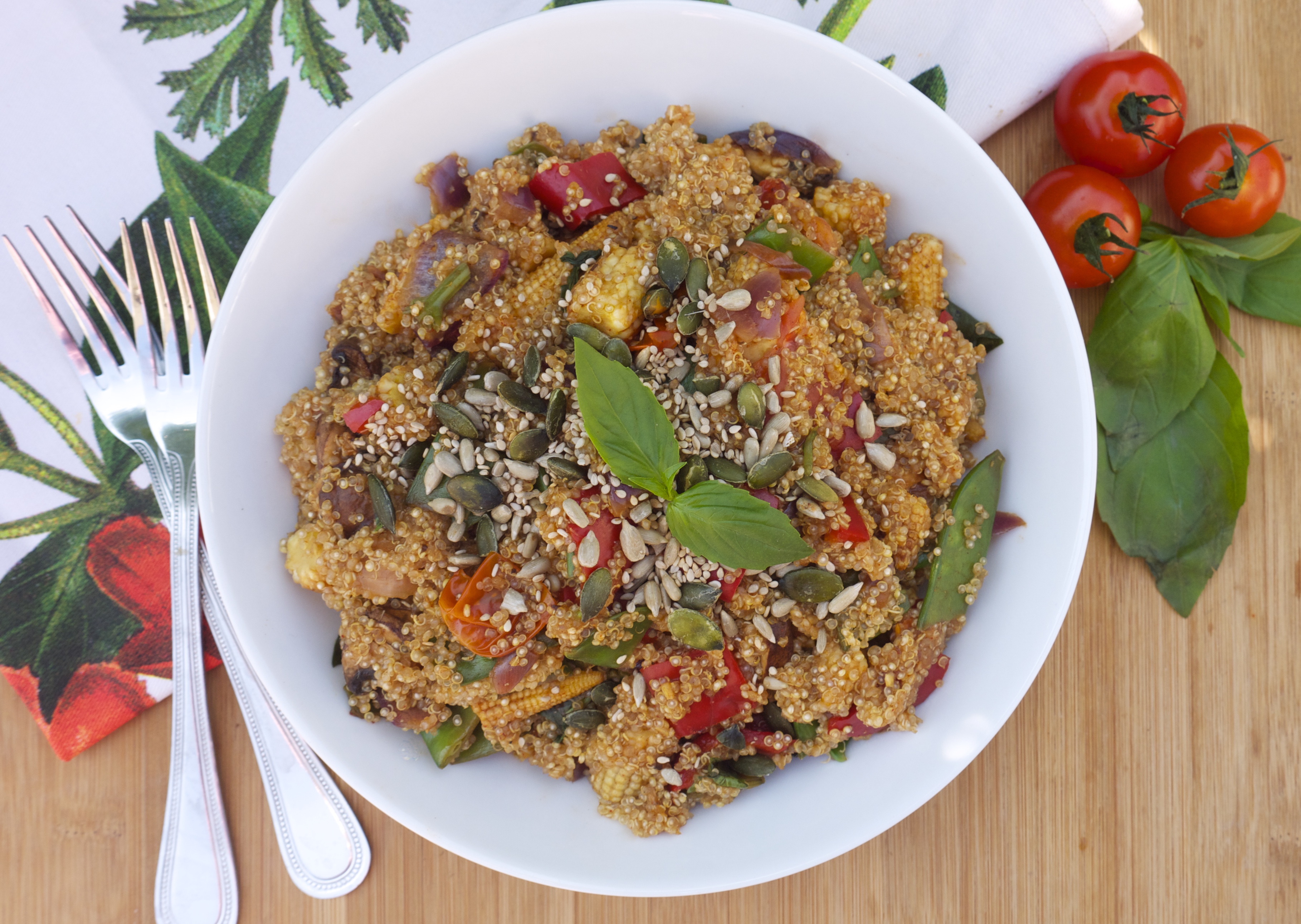 Meals don't come much more colourful, healthy and delicious than this combination of fresh veggies, fluffy quinoa and toasted seeds 🙂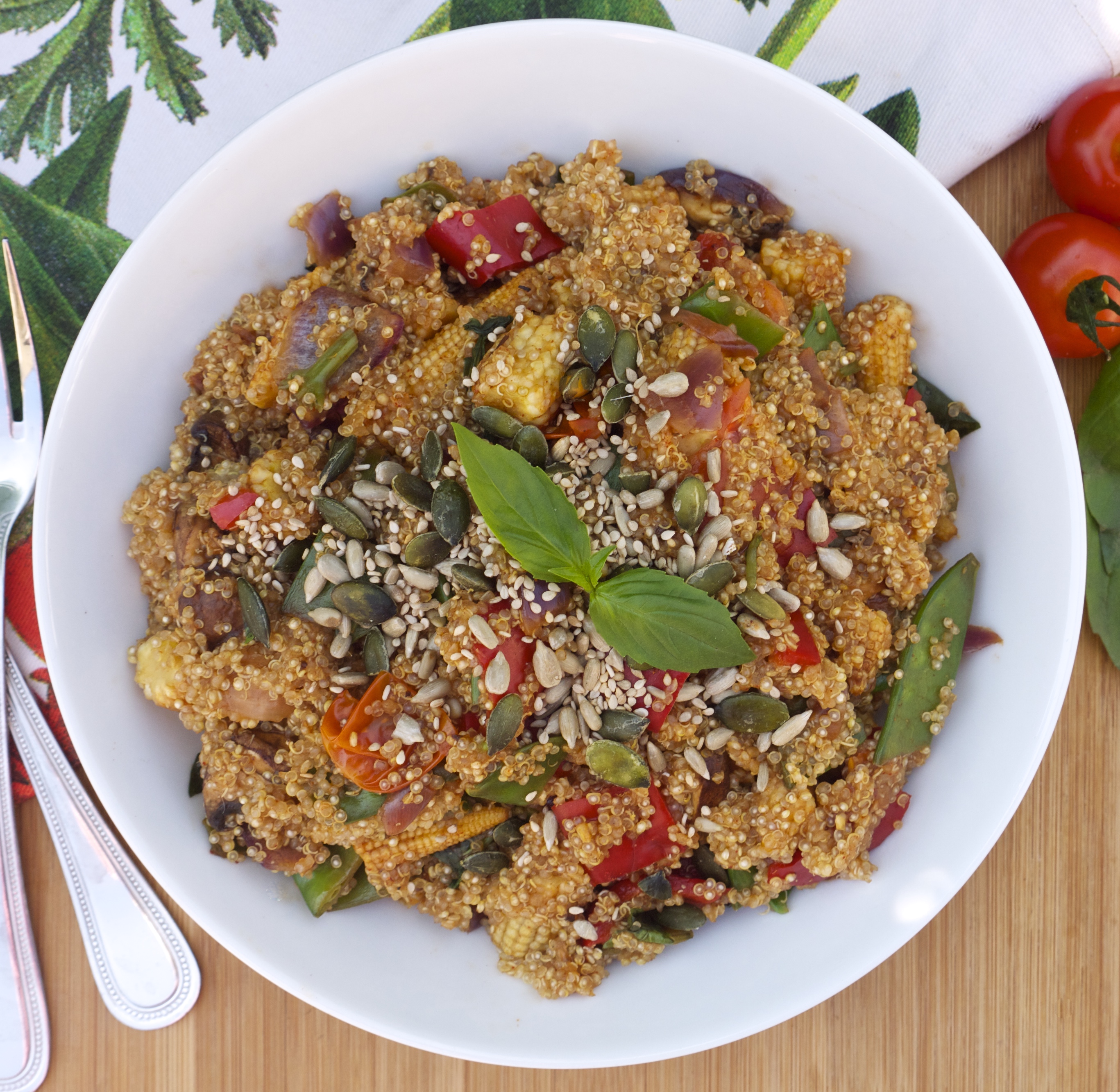 I usually stock up on dry quinoa and use it to make big batches of veggie quinoa, using whatever veg I have in the fridge and a selection of my favourite herbs and spices. In this case, fragrant basil and smoked paprika add some tasty flavours.
Quinoa is so beneficial for your health, plus it's delicious, easy to digest, versatile and nutritionally superior to popular grains like couscous and rice.
Apart from being a superb plant-based source of the complete set of essential amino acids, needed for hair growth, healthy skin and toned muscles, quinoa is also one of the very best plant sources of the amino acid lysine, crucial for tissue growth, the synthesis of collagen and elastin, and repair of damaged cells.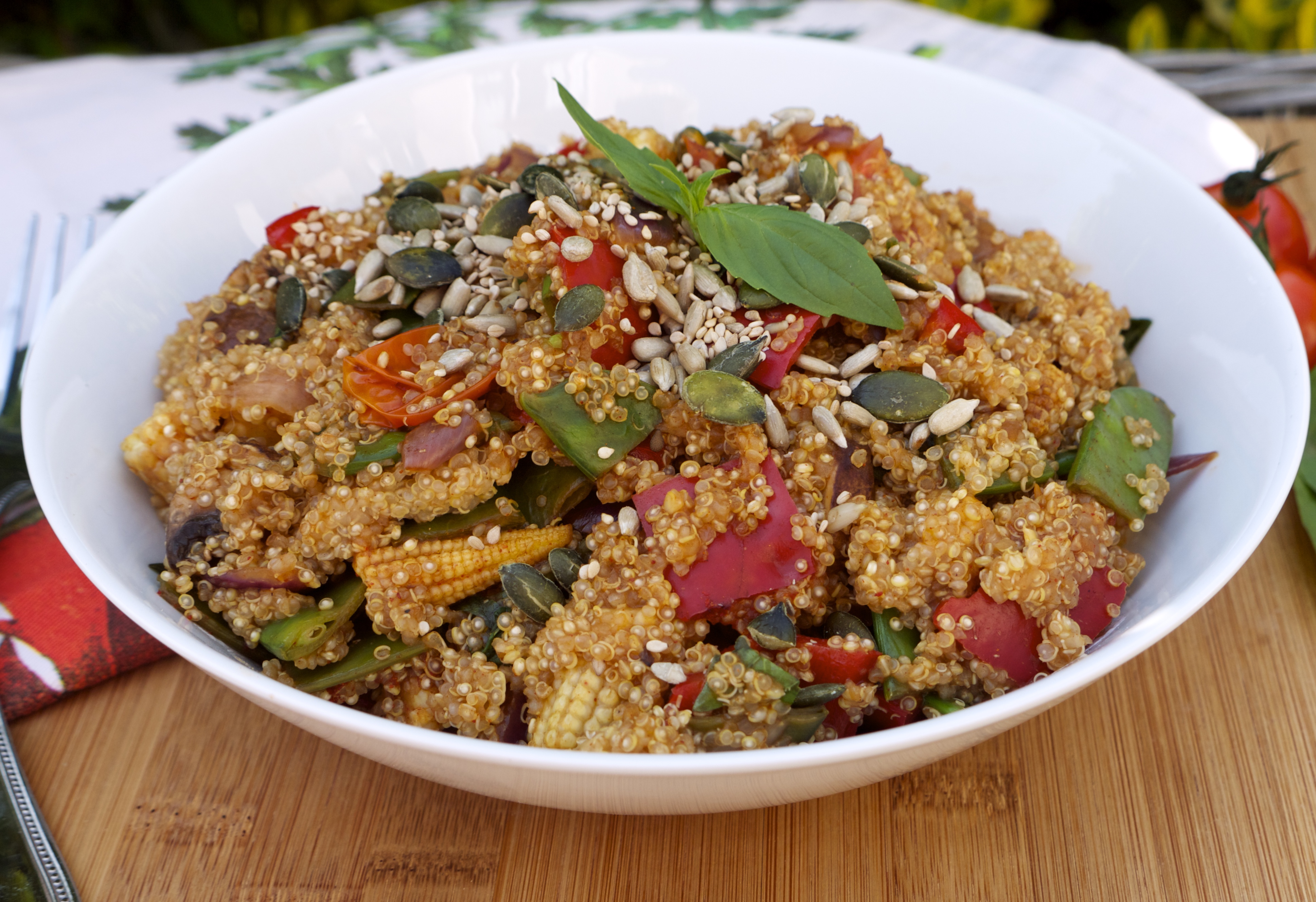 Quinoa has such a mild, nutty taste than it can absorb whatever flavours you add to it, and being a naturally gluten-free seed rather than a grain, it's perfect for everybody to enjoy.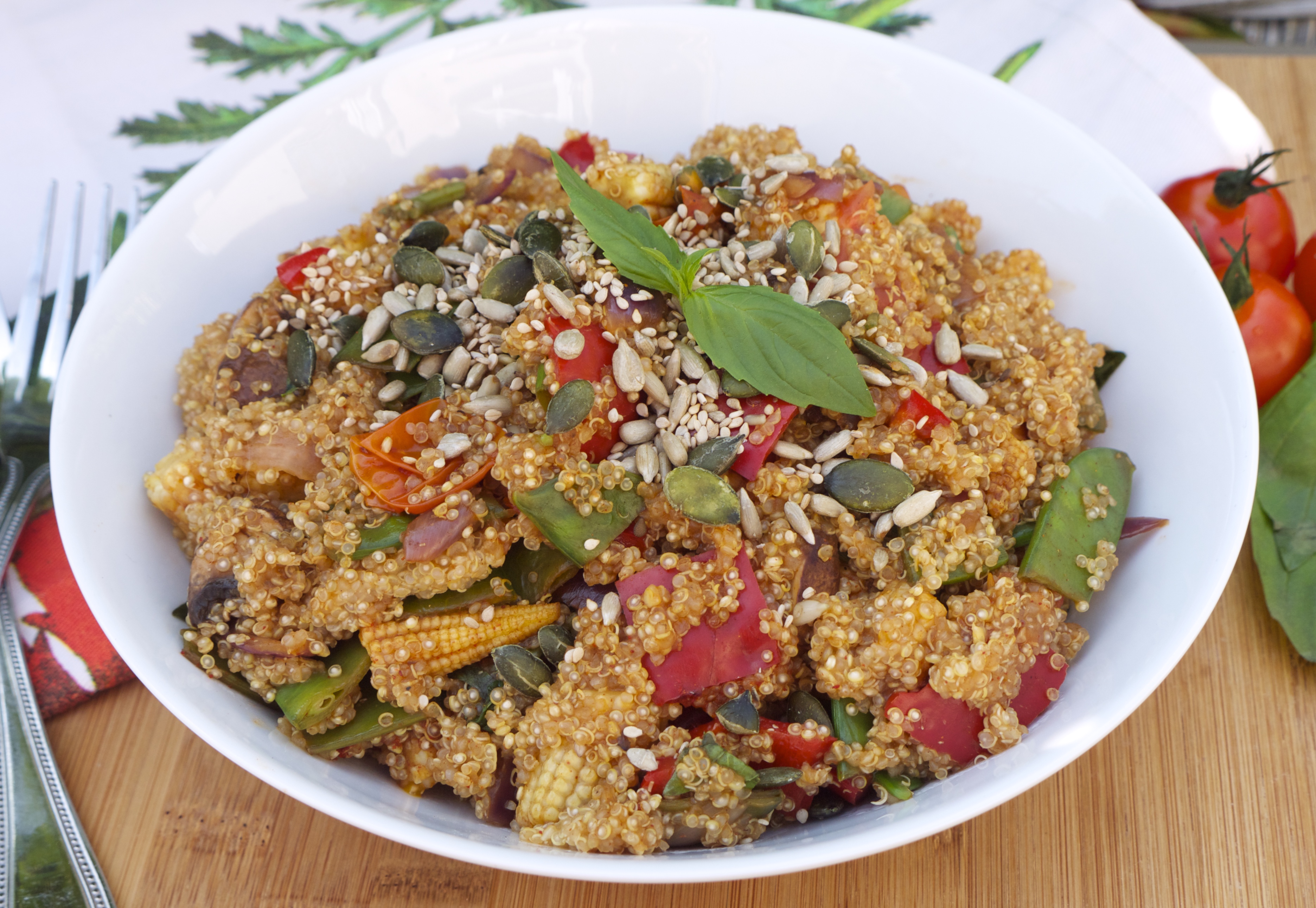 Between us, my mum and I always make a huge bowl of veg and quinoa to bring to family gatherings and parties, and the meat-eaters always end up eating loads of it too! Use whatever herbs, spices, vegetables, nuts and seeds you like as I find the more texture, flavour and colour, the better.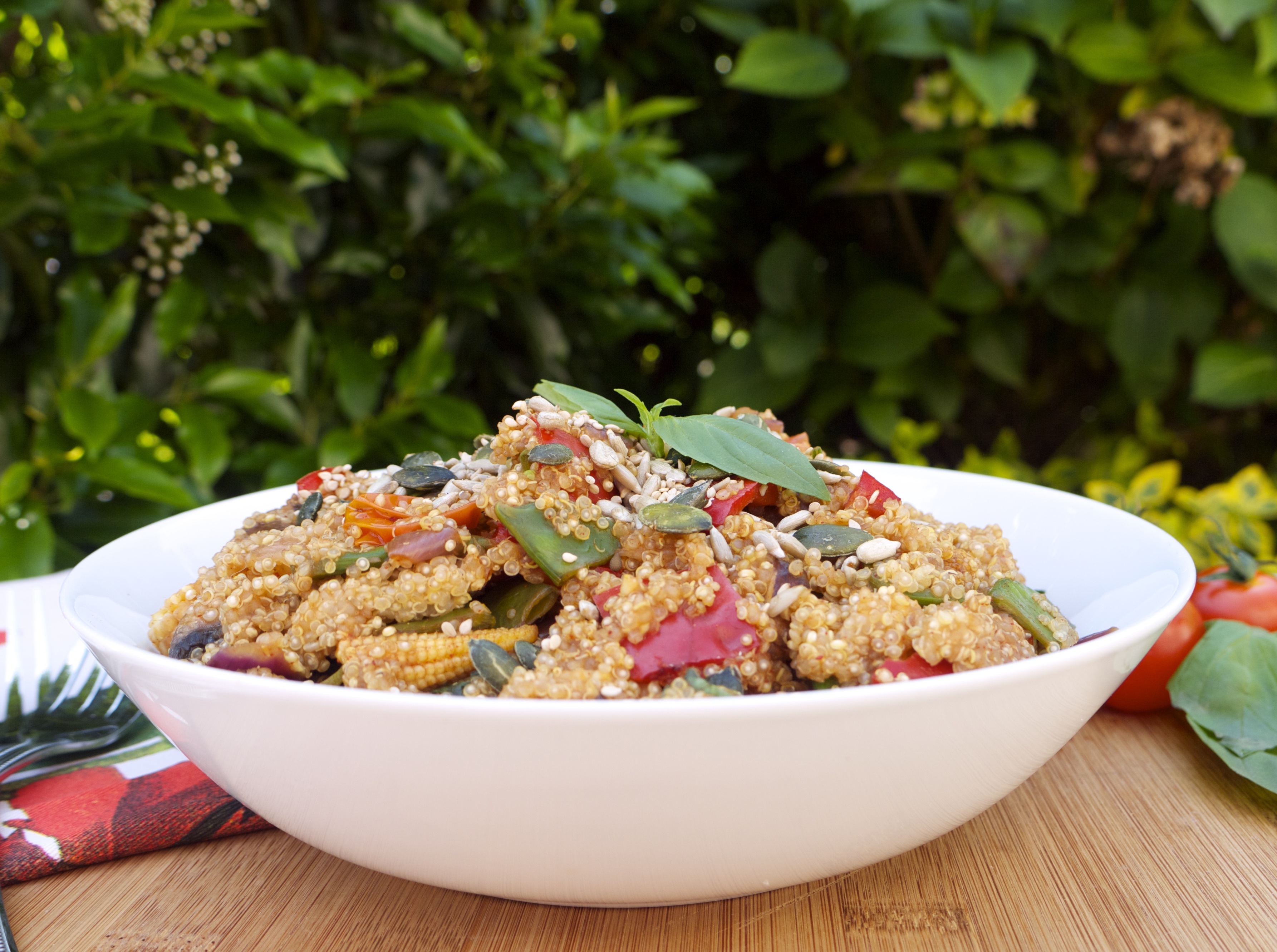 I would love to know if you get a chance to make this Quinoa Veggie Bowl with Basil and Toasted Seeds! Simply tag #RosannaDavisonNutrition on Instagram or Twitter or come on over to my Facebook to say hello 🙂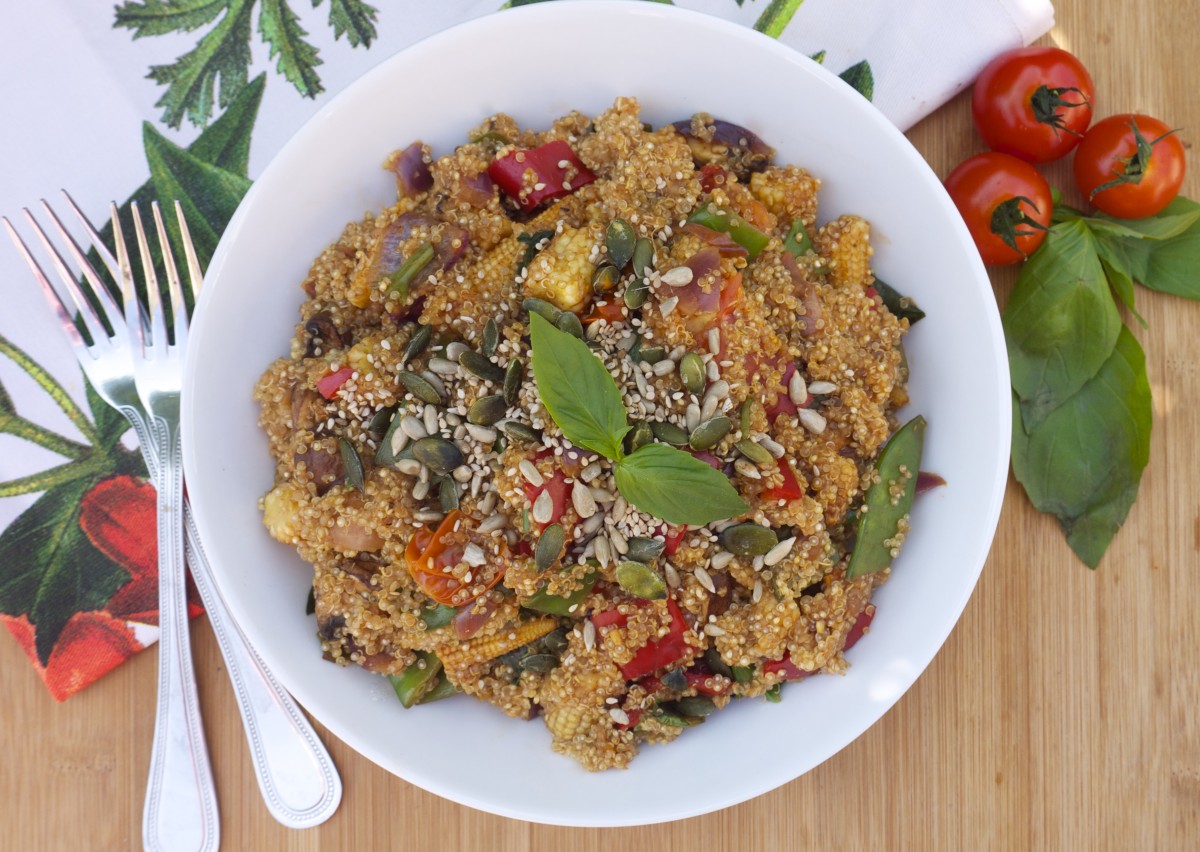 Quinoa Veggie Bowl with Basil and Toasted Seeds
2016-07-12 14:49:18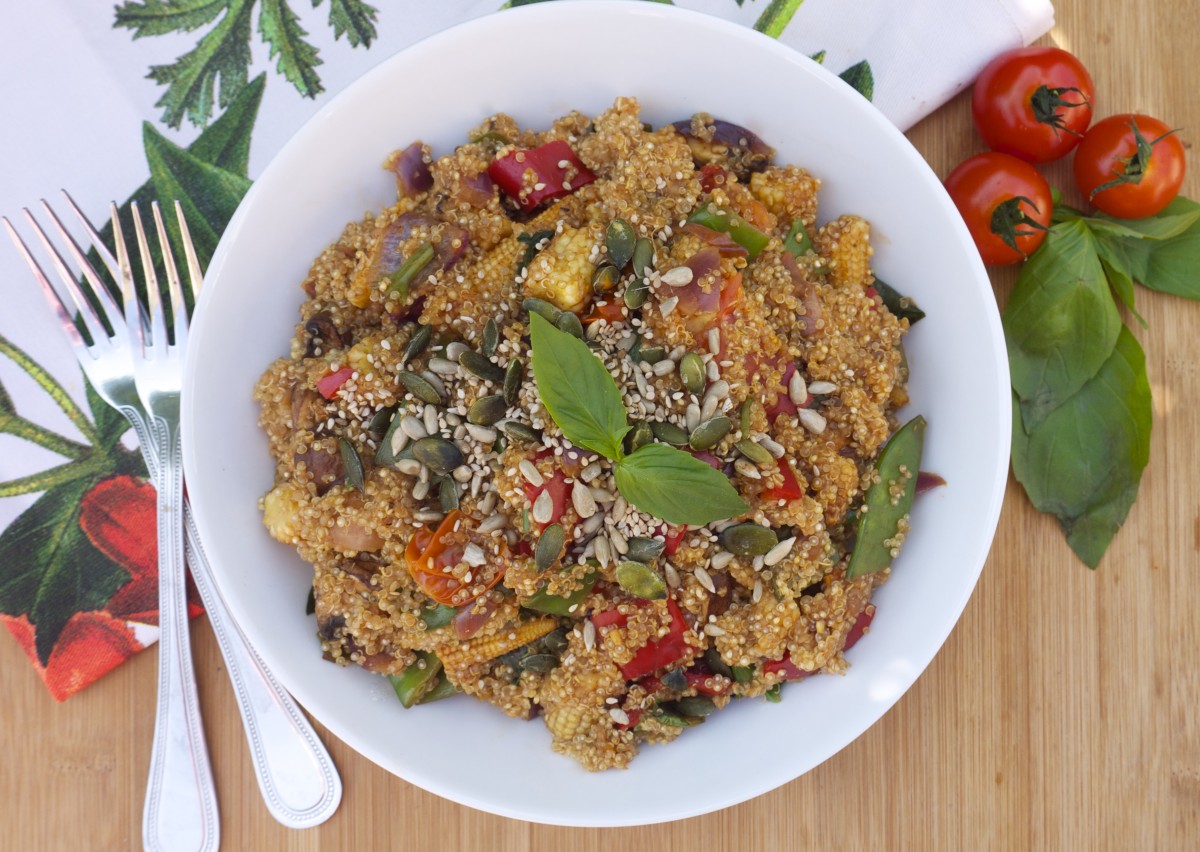 Serves 2
A fresh, nourishing and healthy meal, rich in protein and fibre and ideal for making in a big batch to last for a few days. Nutrition information per serving: 433 calories, 17.1g protein, 70.2g carbs, 10.4g fat, 10.3g fibre
Ingredients
170g (1 cup) dry quinoa, rinsed in a sieve under cold running water
500mls (2 cups) water, to cook
2 tbsp lemon/lime juice
2 tbsp tamari
pinch of sea salt and ground black pepper, to taste
1 tsp smoked paprika
1/2 tsp coconut oil
1 clove of garlic, minced
1 tsp fresh root ginger, chopped
1 medium onion, finely sliced
1 red or yellow bell pepper, cored and sliced
175g baby corn, chopped
6 cherry tomatoes, halved
5 chestnut or button mushrooms, sliced
handful of mange-tout, sliced
handful of fresh basil
2 tbsp toasted seeds - I used pumpkin, sunflower and sesame seeds
Instructions
Place the rinsed quinoa in a medium saucepan and pour on the water
Cover the saucepan partly with the lid and bring it to the boil.
Bring the heat down and allow it to simmer for 10-12 minutes, until most of the water has evaporated and the quinoa seeds have opened out.
Remove it from the heat and leave it aside to absorb the remaining water.
Use a fork to fluff up the quinoa, then add the lemon/lime juice, tamari and season with sea salt, black pepper and smoked paprika.
Place the saucepan lid back on to keep the quinoa warm and heat the coconut oil in a saucepan or frying pan over a medium heat.
Add the garlic, ginger and onion and sauté for 4-5 minutes until the onion softens. Add the bell pepper, baby corn, cherry tomatoes, mushrooms and mange-tout and cook for 5-6 minutes until the vegetables soften. I like to cook them gently, until they're softer but some crunch remains.
Remove the vegetables form the heat and stir in the basil leaves, allowing them to wilt in the heat.
Mix the vegetables into the quinoa, divide into bowls and top with toasted seeds.
Notes
Any leftovers can be stored in an airtight container in the fridge for 3-4 days.
Rosanna Davison Nutrition https://www.rosannadavisonnutrition.com/