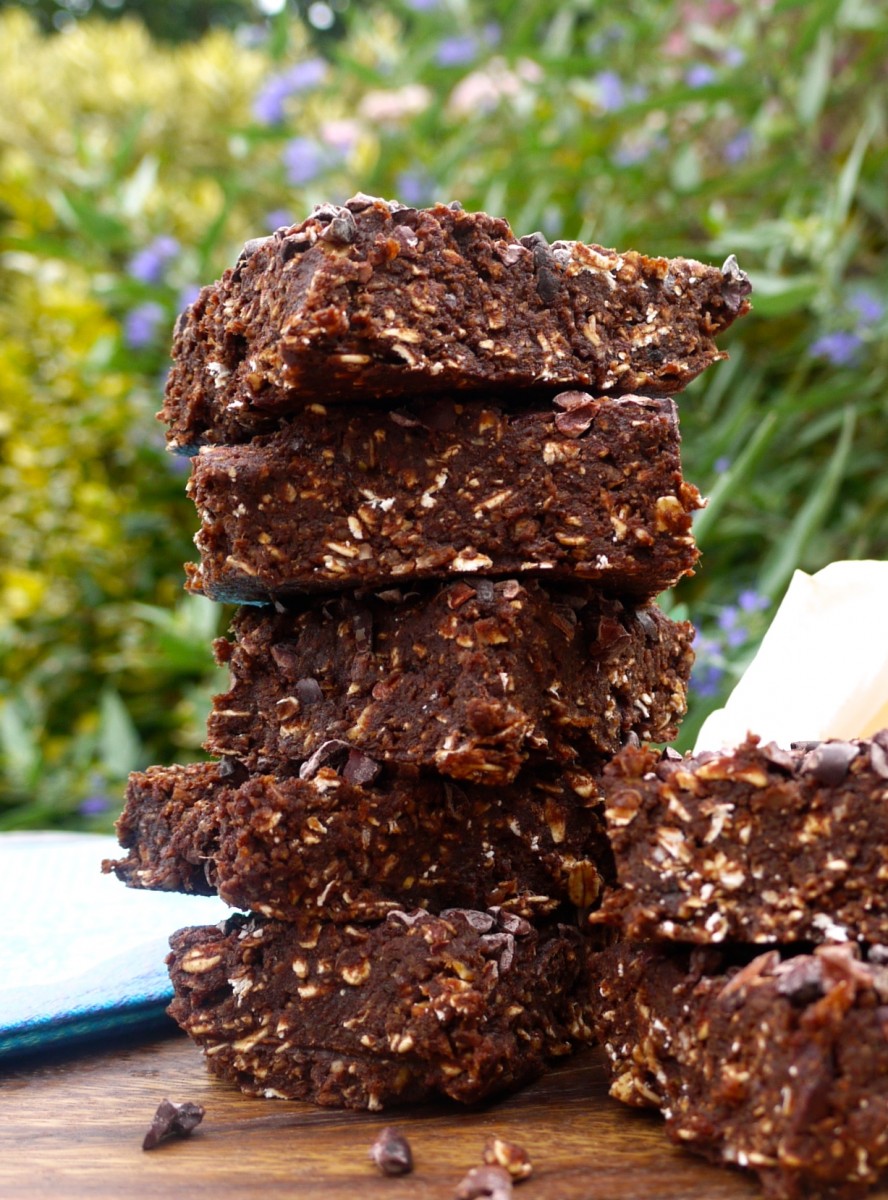 Gooey, squidgy, fudgy, rich raw brownies… what's not to love!!? On Sunday, I was in the mood for something sweet and chocolatey, but without any guilt attached! Today is the day of my Eat Yourself Beautiful book launch party (and there's a tight dress to be squeezed on! ;))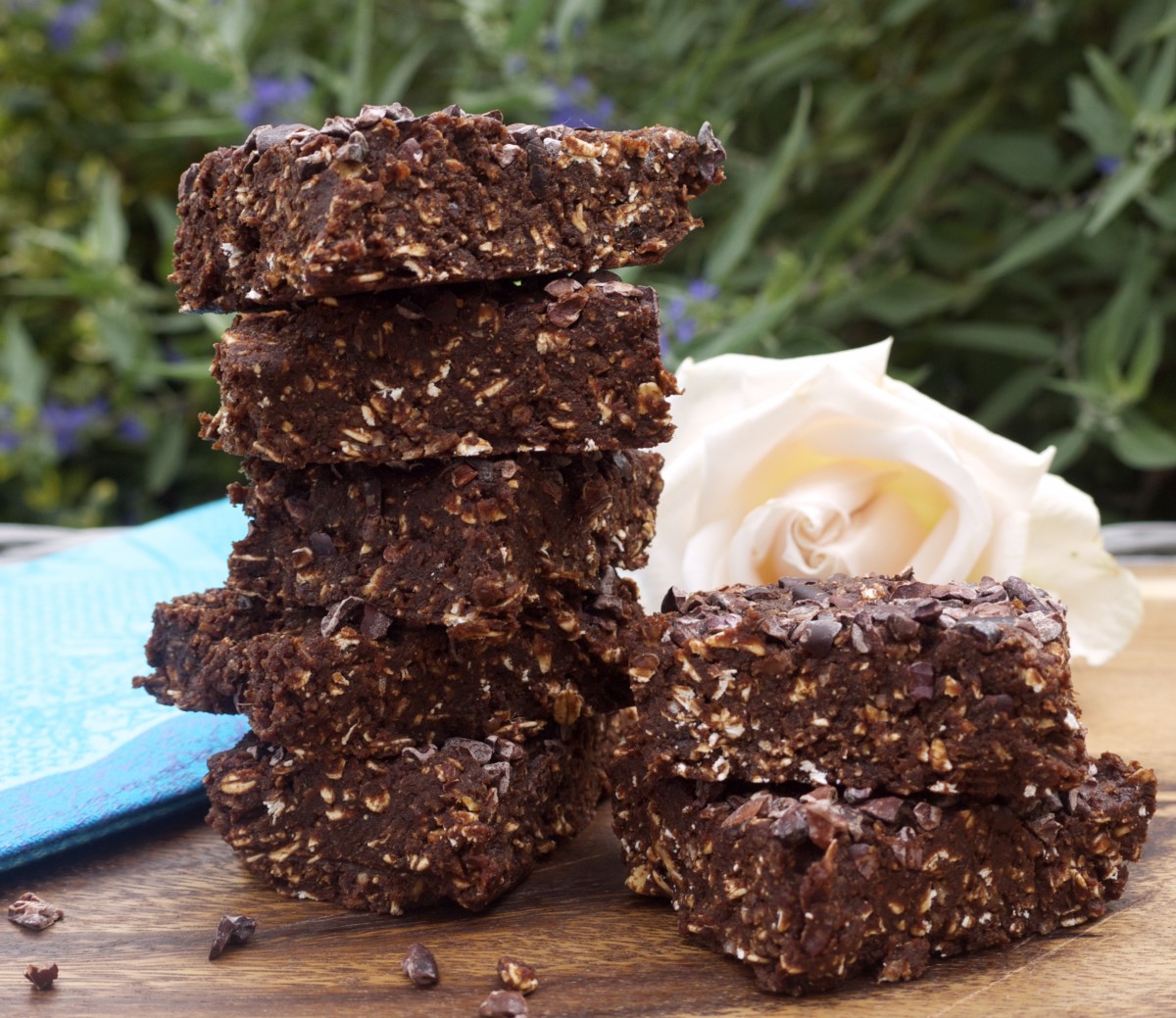 So I decided to experiment with a few of my favourite ingredients, including raw cacao powder, dates, almond butter, coconut flakes, walnuts, flaxseed and oats to add plenty of fibre, protein, omega-3 fats and density to the brownies.
They make such a simple snack, full of goodness and so easy to whizz up in a food processor, then pop them into the freezer to set for just 20 minutes. They would make a tasty lunchbox snack for kids and a great way to fill them with slow-release energy for the day as there's absolutely no refined sugar in them to disrupt energy levels.
I pressed raw cacao nibs onto the top of the brownies before they went into the freezer for an added boost of antioxidants for protecting your cells from free radical damage, but coconut flakes would work well too.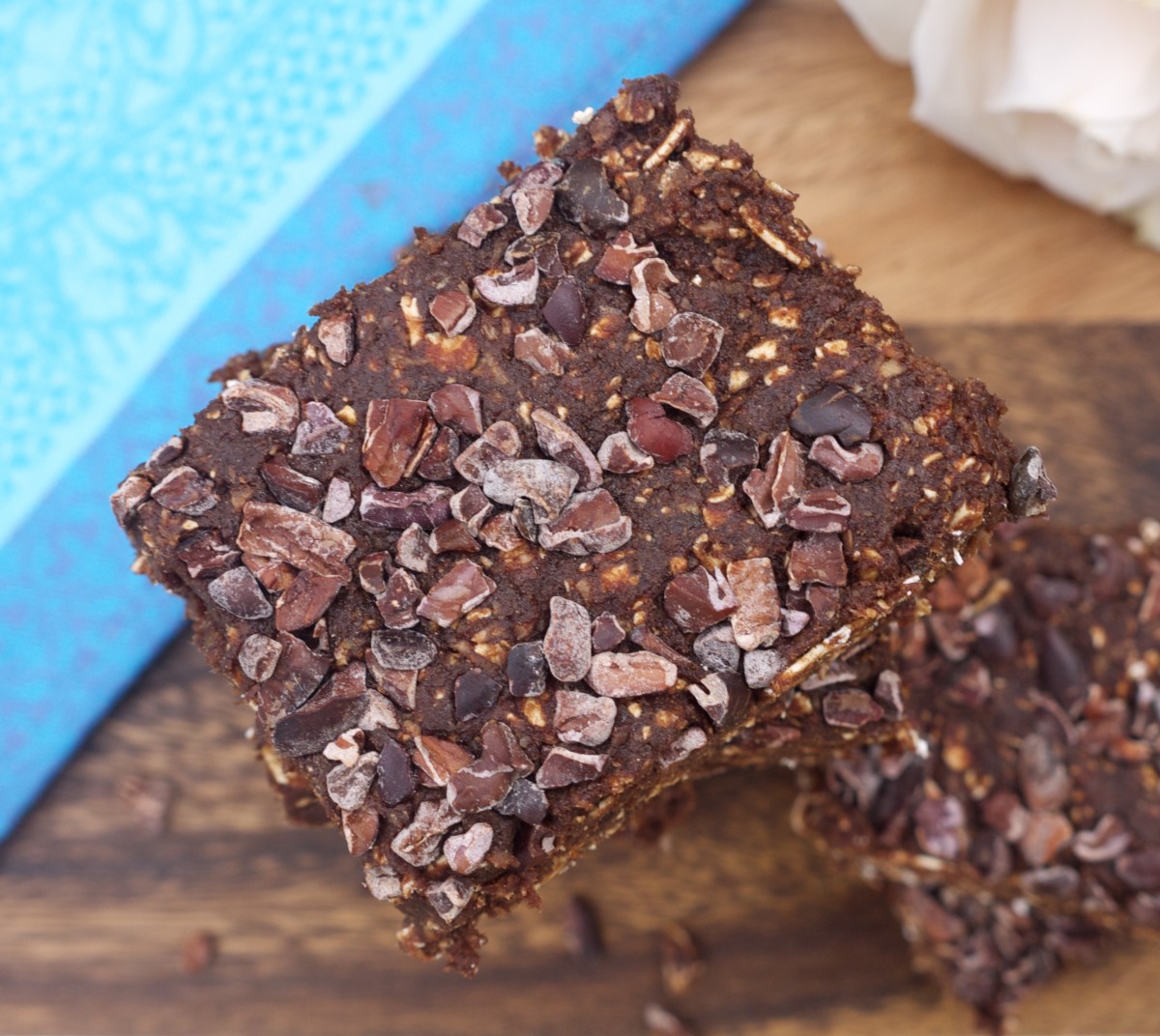 Let me know if you give this chic chip brownie recipe a go and I love to see all your creations on social media! Simply tag #RosannaDavisonNutrition on Instagram or Twitter or come on over to my Facebook to say hello 🙂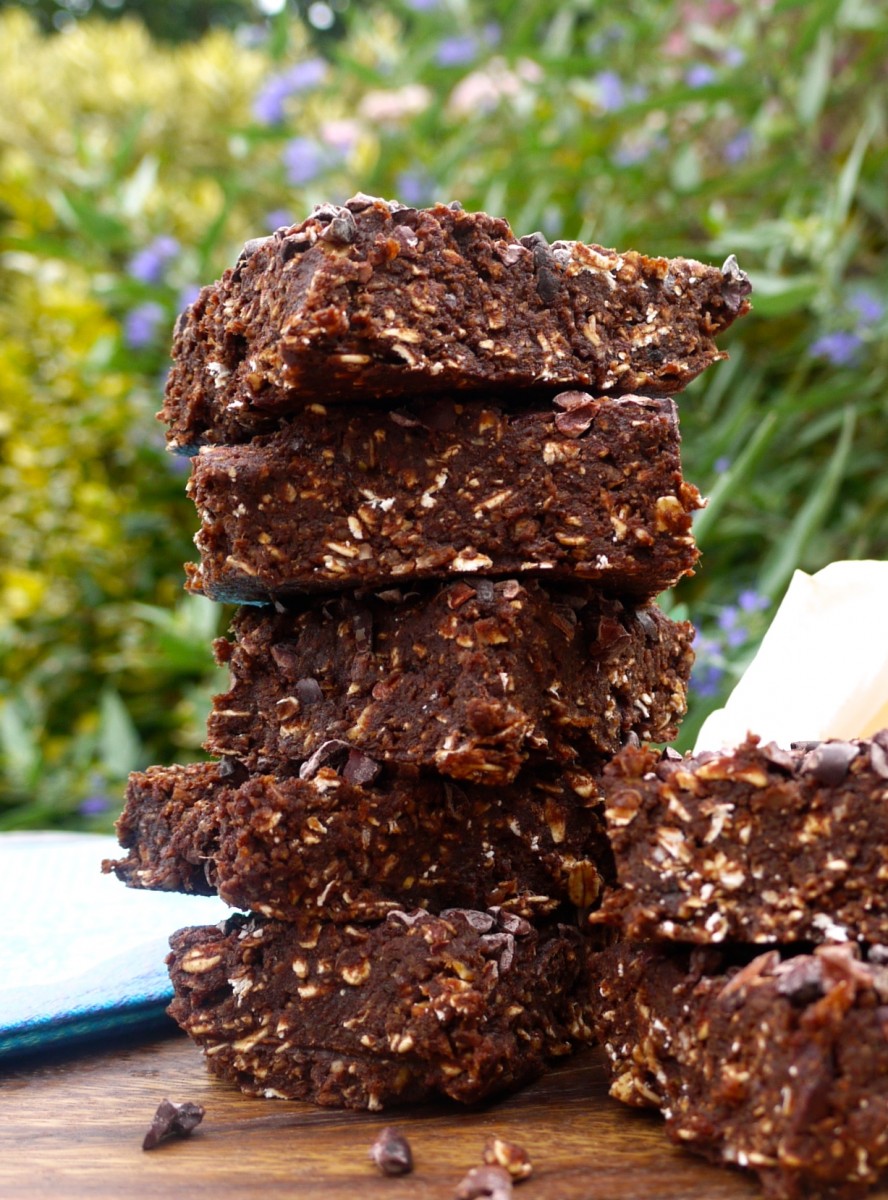 Squidgy Choc Chip Brownie Bars
2015-08-30 15:59:44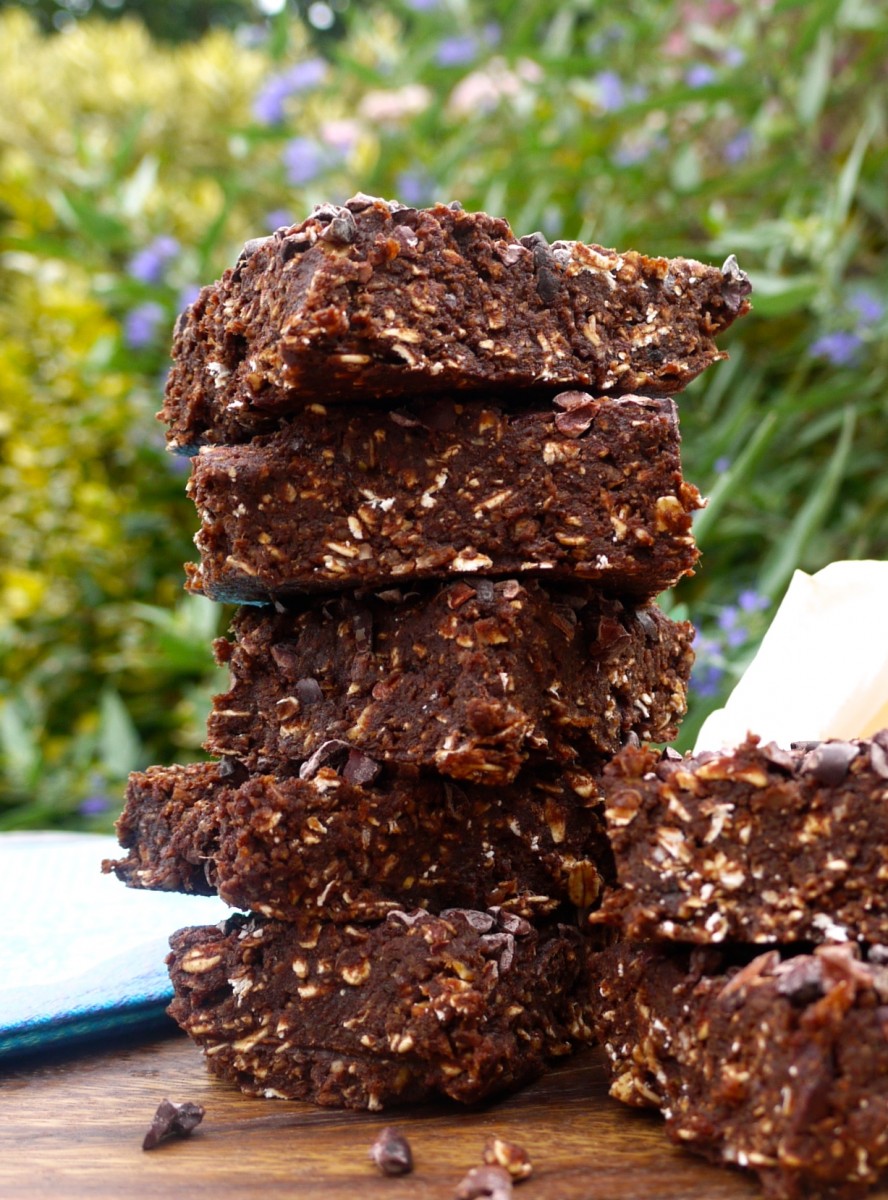 Soft, gooey, rich and chocolatey, these brownie bars are fun to make and a total crowd pleaser!
Ingredients
150g (1 cup) dates, pitted and soaked in hot water for 20 minutes to soften
6 heaped tbsp porridge oats (I use a certified gluten-free brand)*
2.5 heaped tbsp cacao powder**
2 tbsp desiccated coconut
2 tbsp milled flaxseed or chia seed
1 tbsp pecans/walnuts/almonds/cashews
1 tbsp coconut flour
1 tbsp almond butter
2 tsp vanilla extract
cacao nibs, to decorate
Instructions
Drain the dates well and place them in a food processor with all of the remaining ingredients and blend together well until a thick dough forms.
Transfer the mixture to a cake tin lightly greased with coconut oil, or a rubber tray.
Sprinkle with raw cacao nibs, pressing them down gently to enable them to stick to the mixture.
Place in the freezer for 20 minutes to set.
Notes
*I kept the porridge oats intact for added texture, but if you prefer, you could make oat flour by processing the most in a blender or food processor for about 1 minute until they're ground into a flour.
** If you can't get hold of cacao powder, the Cadbury's Bournville coco powder works well here too.
The brownies will keep in an airtight container in the fridge for up to 3 days.
Rosanna Davison Nutrition https://www.rosannadavisonnutrition.com/