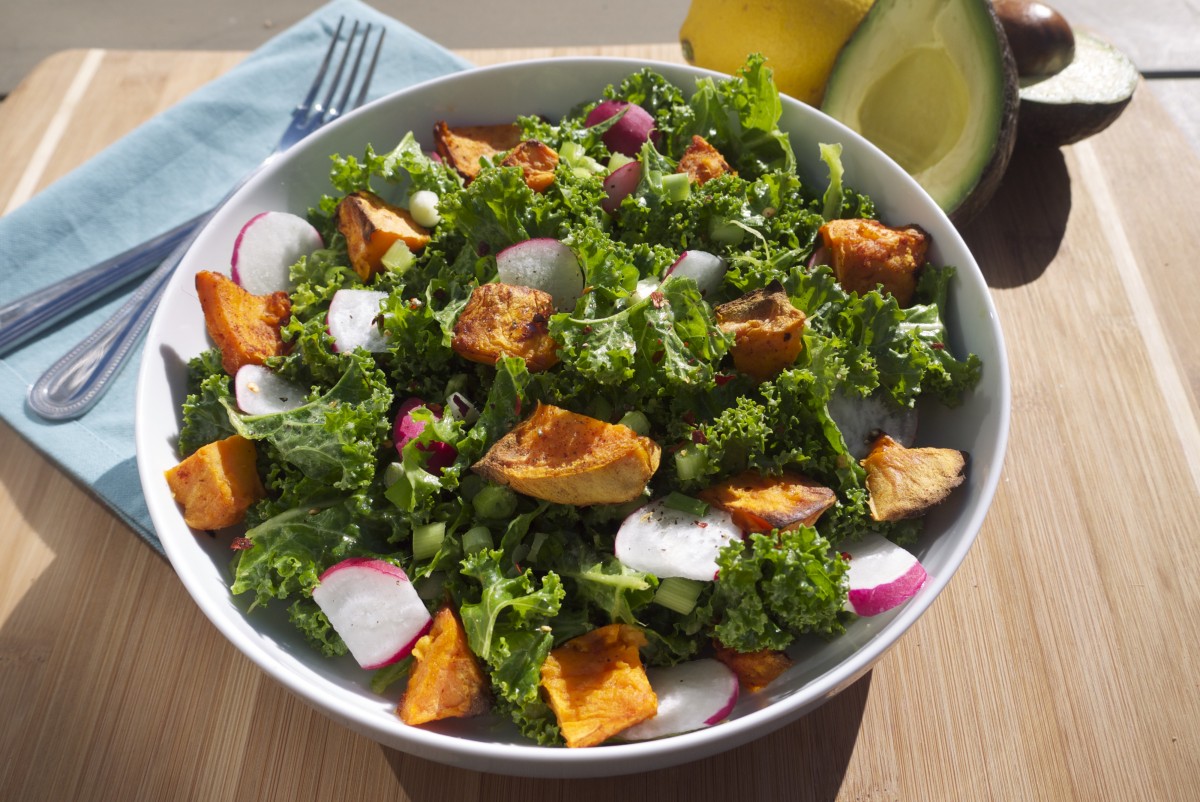 A nourishing kale salad is exactly what I crave quite a lot of the time! Kale is a veggie superstar, with more calcium than milk, more iron than beef and jam-packed with beauty and health-boosting vitamins and essential minerals, plus loads of fibre to keep our digestive system healthy.
I just roll up my sleeves and spoon the avocado flesh onto the kale, adding lemon juice, a pinch of salt and nutritional yeast. And then massage it all into the leaves. I know… the idea of massaging kale sounds bonkers! But trust me, it really helps to break down the waxy outer covering and the tough fibres of the plant, making it so much more tasty and digestible.
This salad is one of my staple lunches, and it's excellent for supporting healthy hair, skin and nail growth. Plus, the sliced radishes contain the incredible trio of sulphur, silica and vitamin C for a glowing complexion!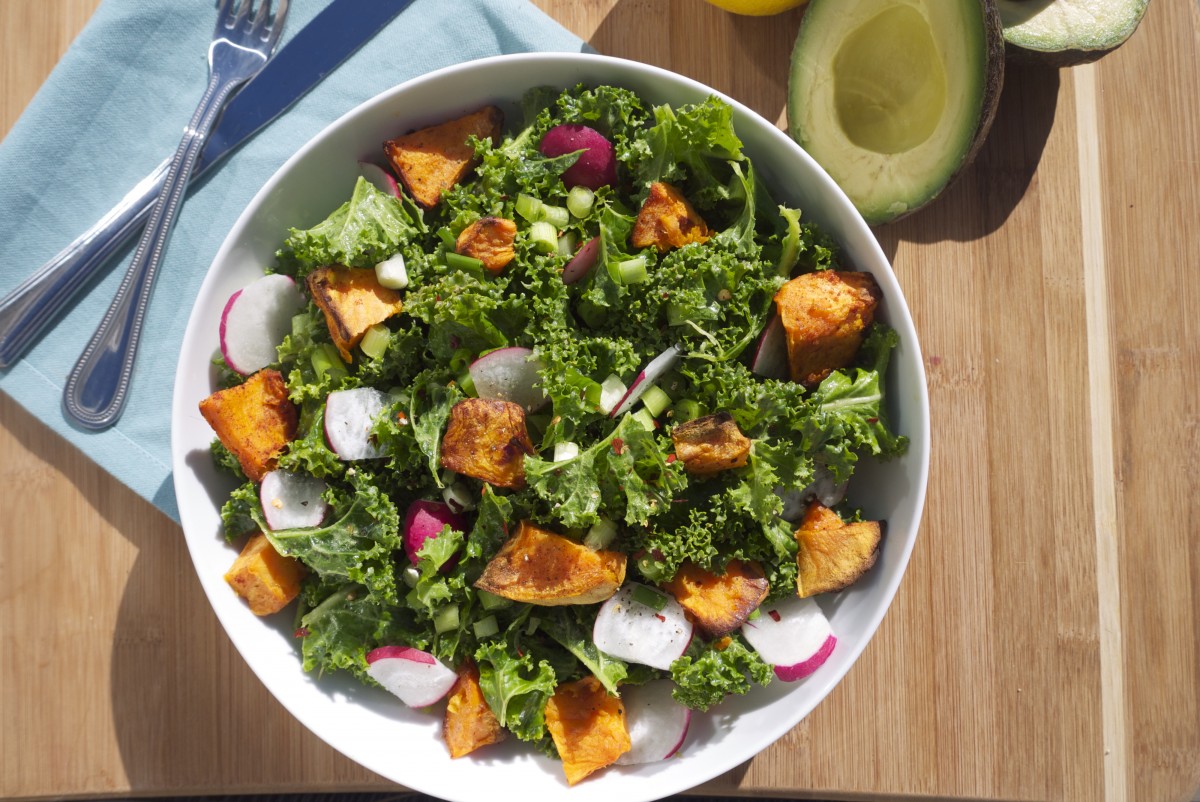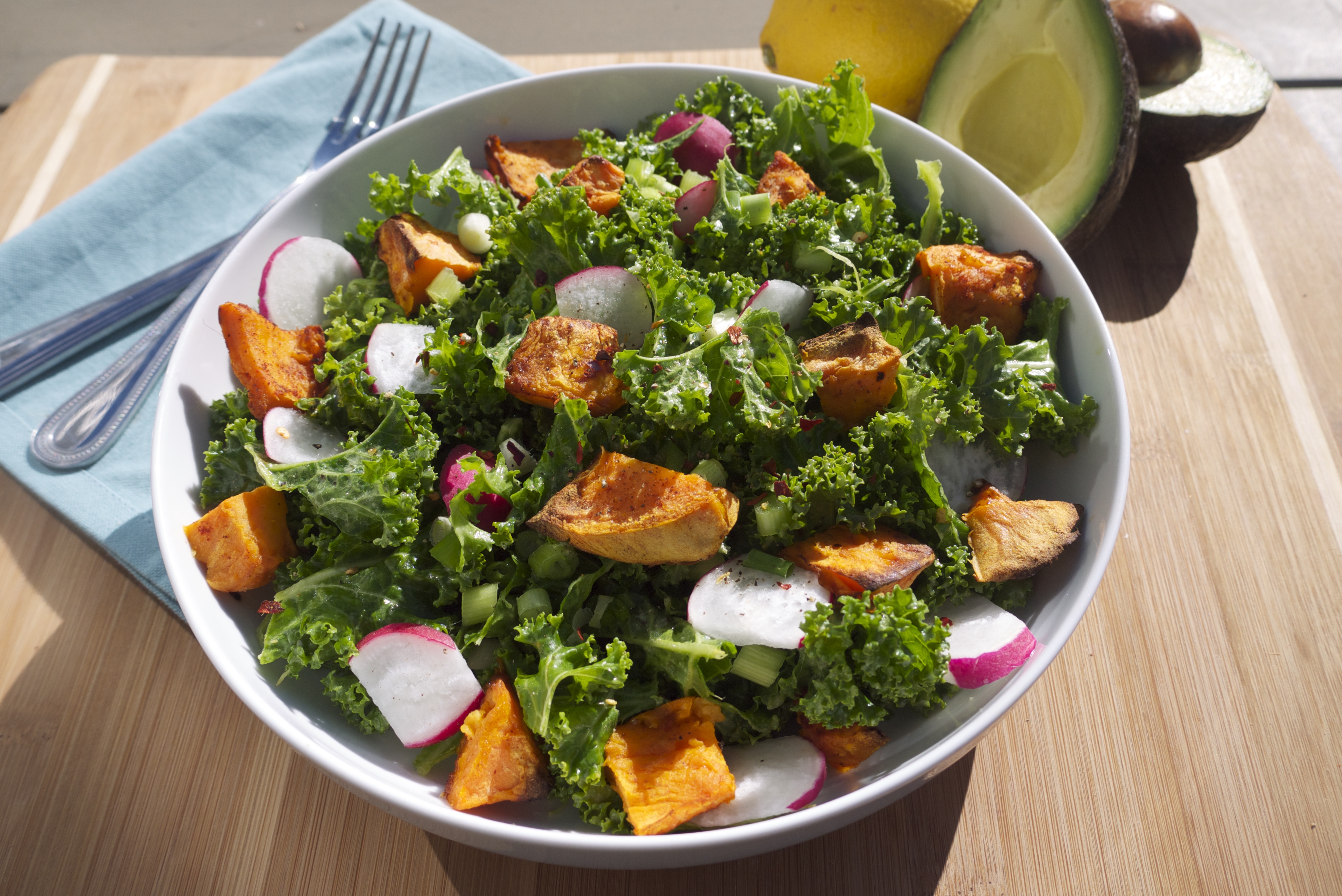 Skin-Brightening Marinated Kale and Sweet Potato Salad
2015-03-04 12:33:41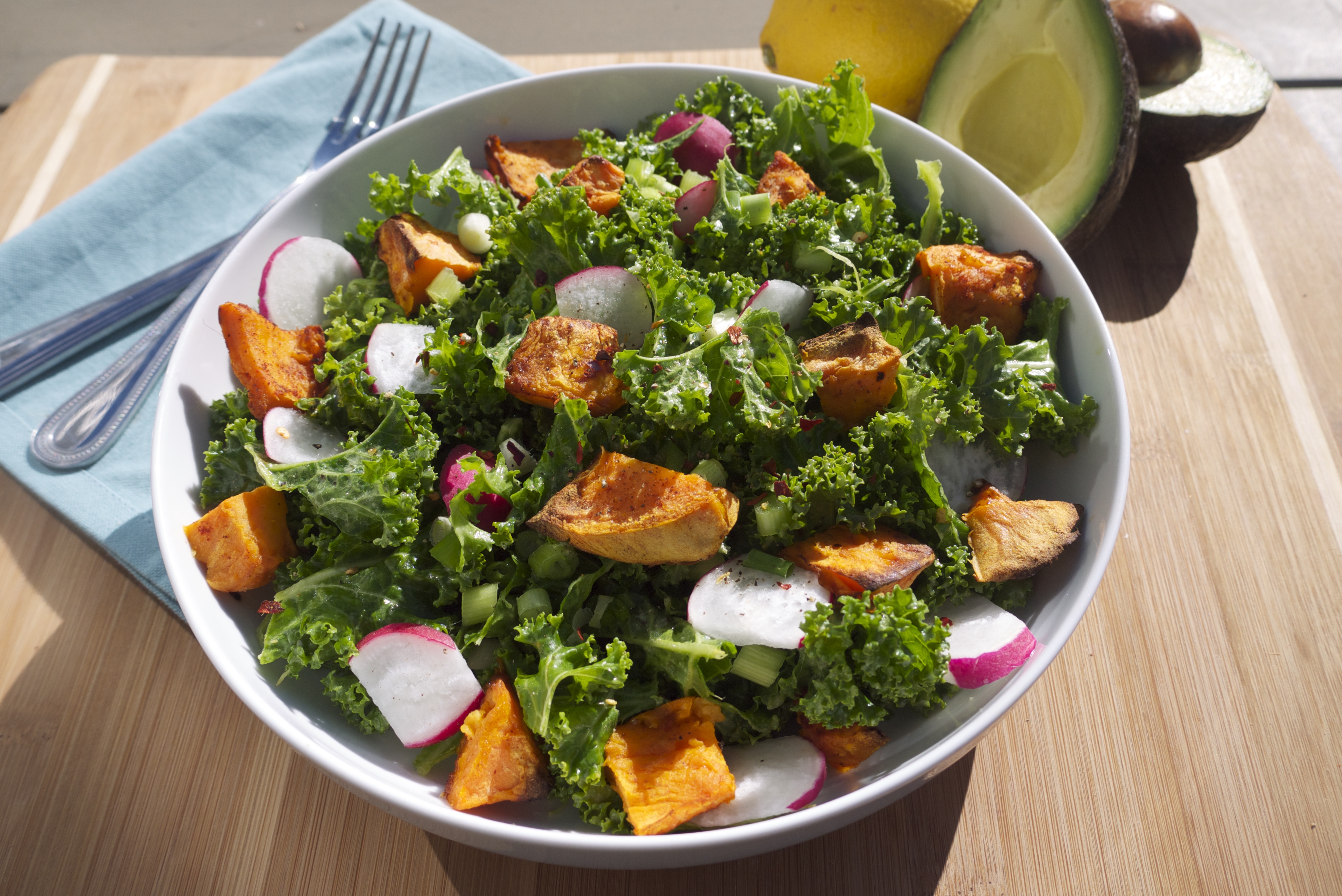 My staple salad! Packed with fibre, complex carbs, healthy fats and protein plus beauty minerals, vitamins and antioxidants to make skin glow with good health.
Ingredients
1/2 a sweet potato
1 tsp coconut oil, melted
1/2 tsp smoked paprika
140g fresh kale (About 2 cups) Torn into small pieces
1/2 a ripe avocado
1/2 a fresh lemon
2 tbsp nutritional yeast (Optional but advised)
Pinch of Himalayan pink rock salt and freshly ground black pepper
2 fresh radishes
2 spring onions
Pinch of dried chilli flakes.
Instructions
Preheat the oven to 200C.
Peel the sweet potato and chop into small wedges. Place them on a greaseproof baking tray.
Mix the smoked paprika and a pinch of salt into the coconut oil.
Drizzle the oil mixture across the sweet potato wedges, coating them well.
Bake in the oven at 200C for 20 minutes until golden-brown and crisp.
Wash the kale well and pat dry. Remove the tough stems and tear leaves into smaller pieces.
Place the kale in a large mixing bowl and add the avocado flesh, lemon juice, nutritional yeast and a pinch of salt and pepper.
Using your hands, massage the mixture into the kale leaves until they become tender and well coated.
Arrange the sweet potato, chopped radish and spring onion on top.
Garnish with a sprinkle of dried chilli flakes and serve.
Rosanna Davison Nutrition https://www.rosannadavisonnutrition.com/