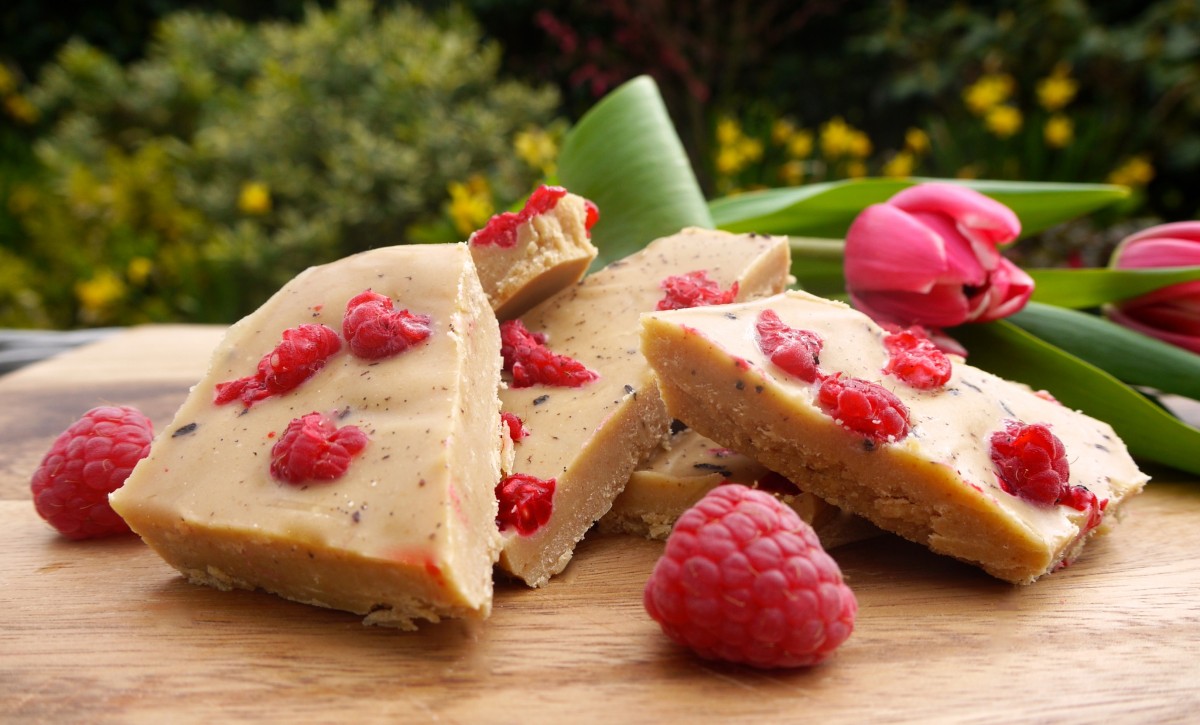 OH. MY. GOSH.
I have always loved white chocolate but never thought I could create it at home in my own kitchen and actually make it look and taste so yummy! This chocolate literally melts in the mouth and is everything you could possibly want from a piece (or six) of creamy white chocolate. I'm amazed that I even managed to photograph it before it got stuffed in my face. Greedy? Naaaah, it's all for research purposes 😉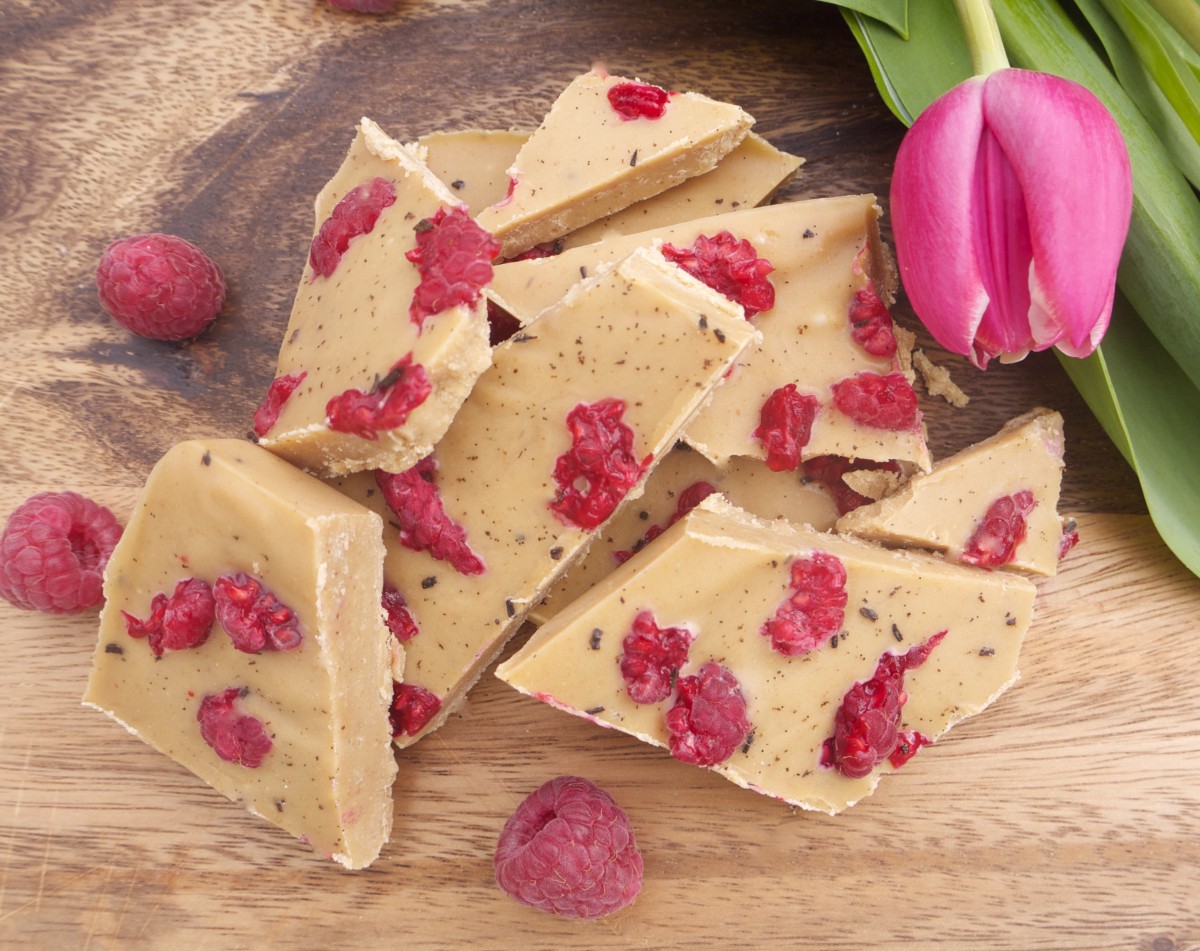 Raspberries and vanilla are the most divine and summery combination, but paired with the creaminess of cacao butter and cashew butter? It's a game-changer. Raspberries bring me way back to my childhood, when my mum grew raspberries in her veggie garden. The bush would be heaving with juicy berries each year and we'd spend hours happily picking and munching. So throw in a healthy dose of nostalgia to this recipe and I'm SOLD!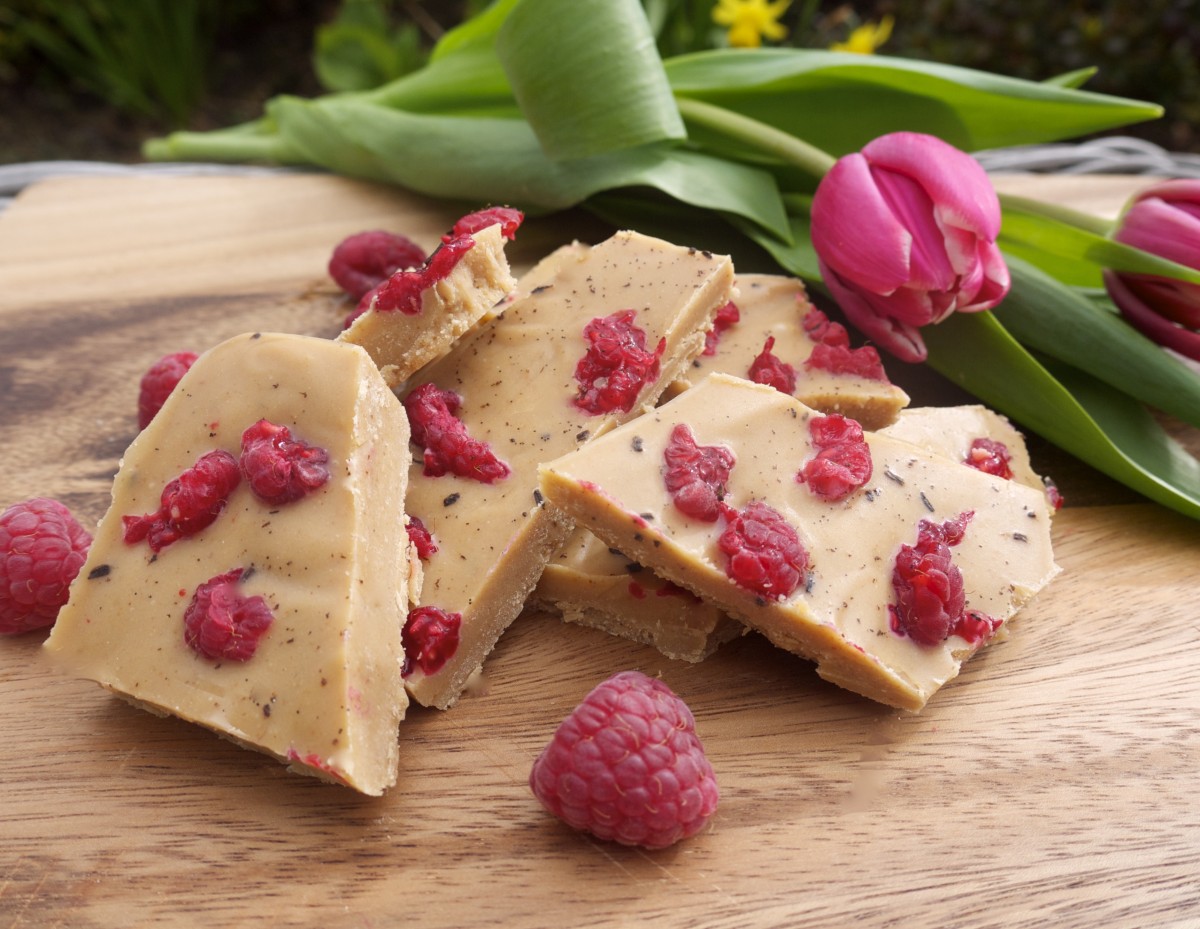 But one of the very best things about this recipe is how quick and easy it is. Almost deceptively so. Your freezer will do all the work for you, while you sit back and salivate at the thought of that yumminess soon to cross your lips! And despite the fat that it's free from refined sugar, the rich, sweet flavours are incredibly satisfying. Ok, this white chocolate can't exactly be an everyday indulgence as it's still energy-dense. But it won't send your blood sugar levels rocketing and then dipping, or cause any digestive disruptions as conventional chocolate tends to do. Plus the raspberries make it so much healthier… right?! Blueberries, blackberries and cherries would make a great substitute too, so feel free to get creative! The trick is to use the best quality vanilla you can get your paws on. I used grated dried vanilla bean, but look out for vanilla bean paste or seeds for a really authentic, vanilla ice-cream flavour. Failing that, a good quality vanilla extract works well too.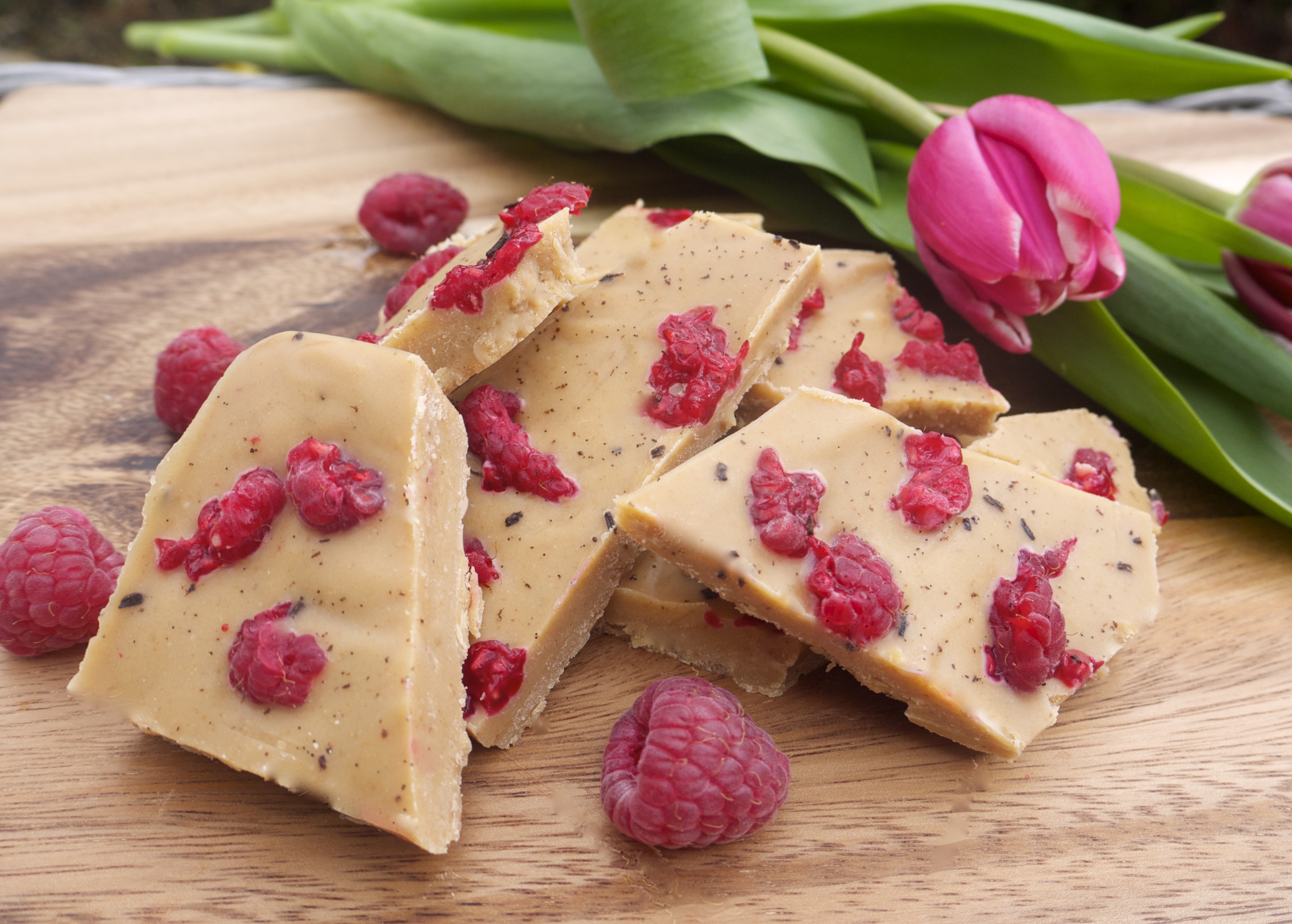 Raspberry and Vanilla White Chocolate
2015-04-03 18:11:28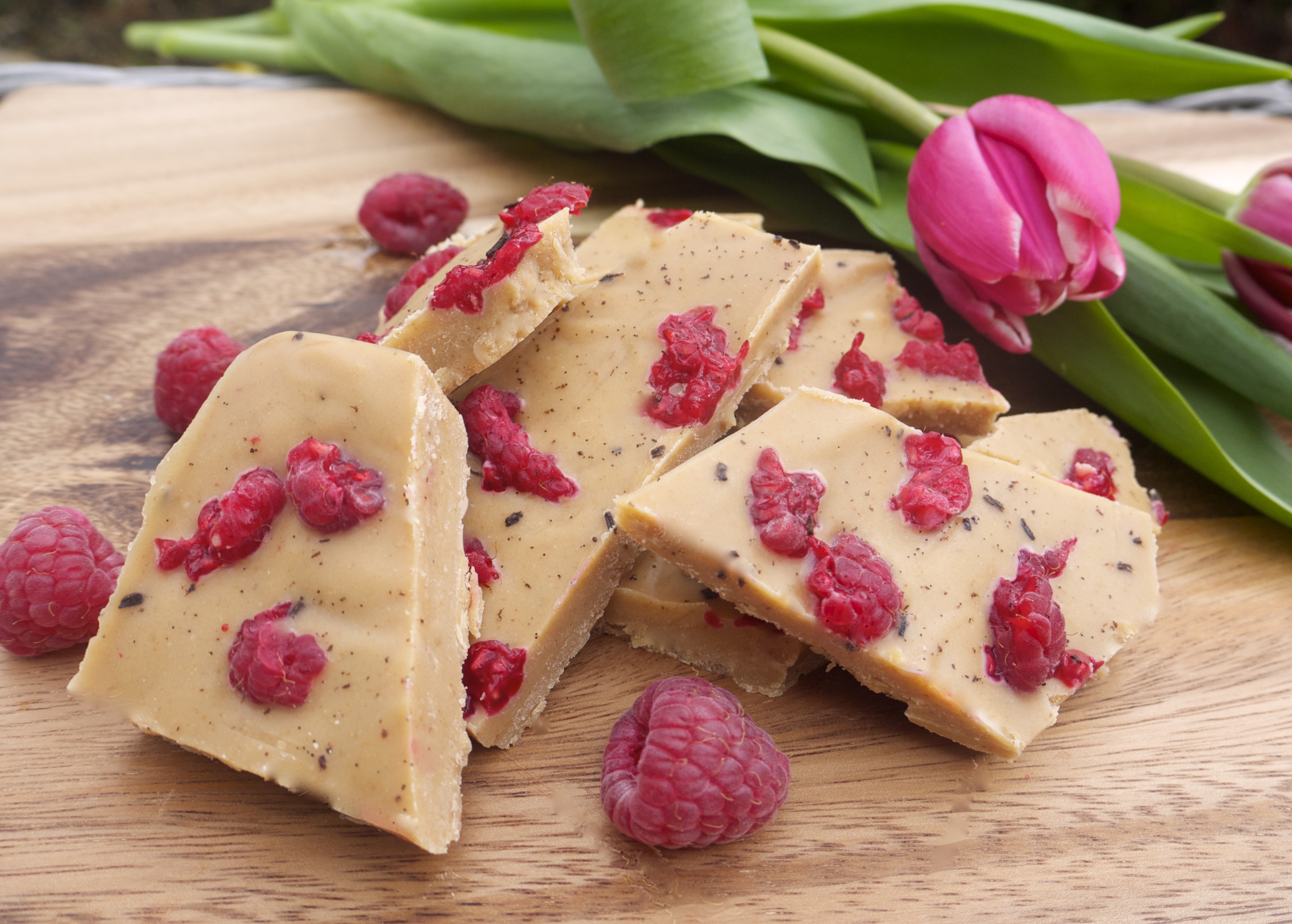 Serves 6
Melt-in-the-mouth white chocolate infused with grated vanilla and sweet raspberry. Free from refined sugar, it makes a great treat to nibble on with a cup of tea!
Ingredients
110g cacao butter*
65g (1/4 cup) raw unsalted cashew butter (buy organic if possible)
3 tbsp pure maple syrup
1 heaped tsp vanilla seeds/grated dried vanilla/pure vanilla extract
8 fresh raspberries, to decorate
Instructions
In a small saucepan over a medium heat, melt the cacao butter until it's liquid.
Line a small tray with greaseproof paper.
Place the cacao butter, cashew butter, maple syrup and vanilla in a blender and combine until the mixture is smooth and creamy.
Pour the mixture into the tray and decorate with ripped raspberries.
Place the tray in the freezer to set for about 30 minutes.
Remove from the freezer and cut into rough pieces, serve chilled.
Store the chocolate in the fridge and it keeps for up to 3 days.
Notes
*Cacao butter is the fat that's removed from the cacao bean when it's pressed to produce cacao powder. It's pale with a creamy chocolate flavour and is easily available in good health food shops.
Rosanna Davison Nutrition https://www.rosannadavisonnutrition.com/