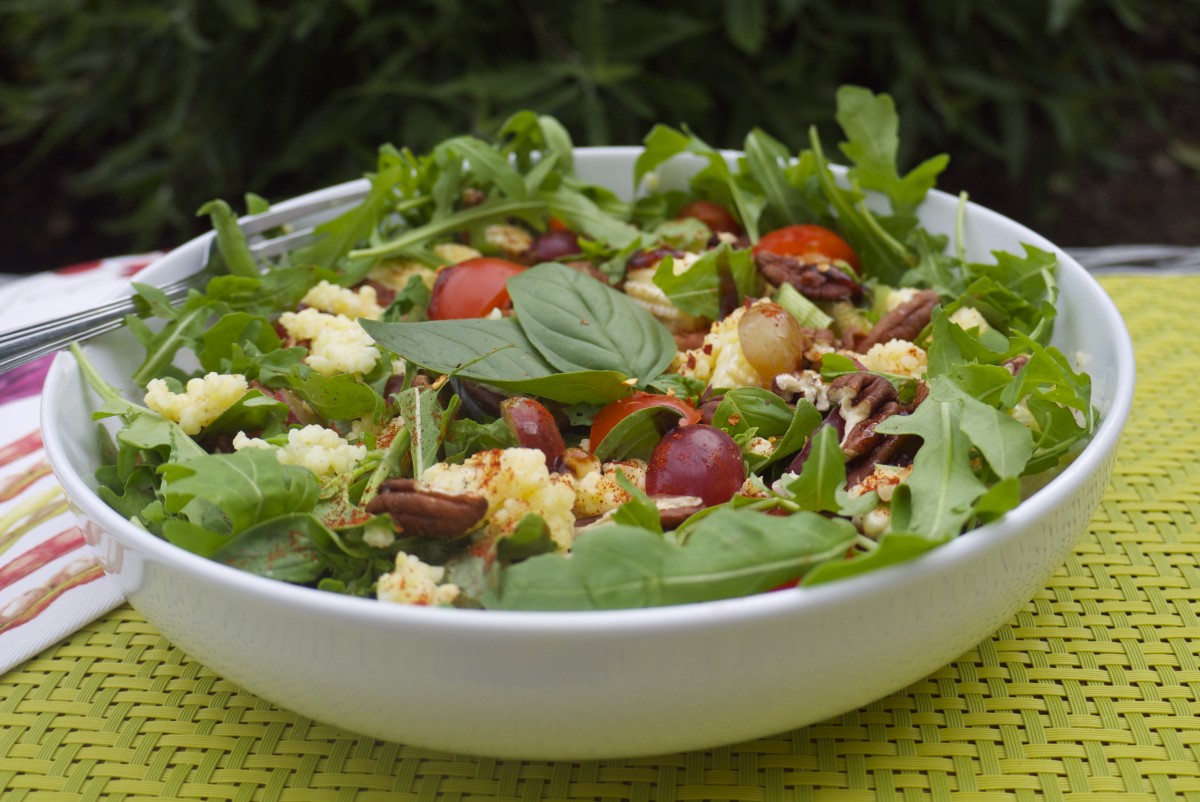 Hello!
As I spent yesterday at a wedding and was up early this morning for a meeting, I haven't been to the supermarket yet so today's lunch ended up being a tasty mixture of whatever happened to be in the fridge and easy to throw together. Though I love meals like that, because you can end up discovering some really good taste combos 🙂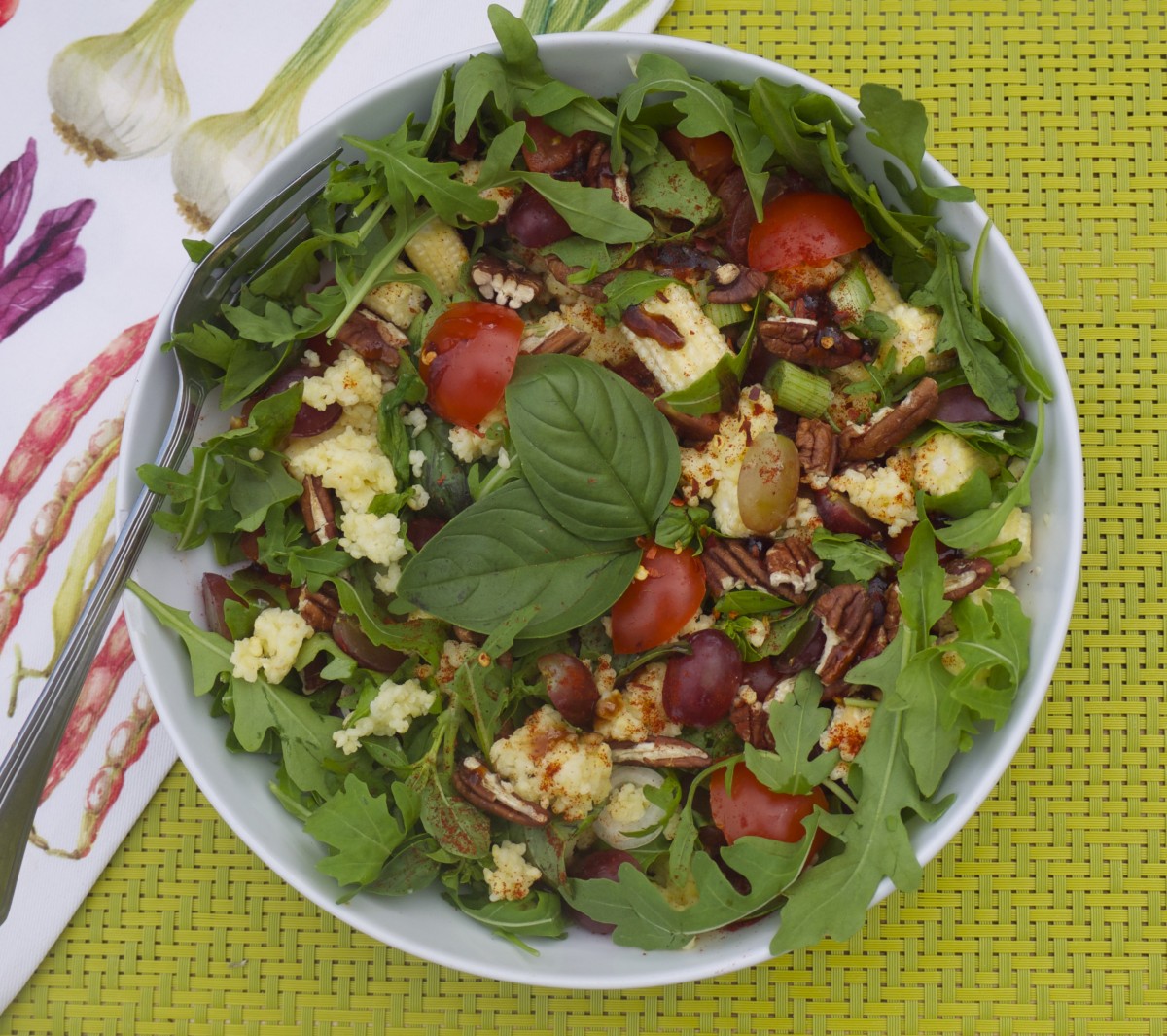 I've been a big fan of millet for a while, and always keep it as a handy store-cupboard staple because it's quick and easy to cook. It adds a warm and filling element to a salad, but I often throw it into soups and eat it with casseroles, curries and stews too.
A naturally gluten-free seed rather than a grain, millet is easy to digest and has a mild, creamy taste so it absorbs whatever flavours you pair it with. In this case, I toasted some pecans in the oven to bring out their nutty, sweet, biscuity flavour.
It almost resembles mashed potato, and adds good density to your diet but is low in fat and high in essential minerals including magnesium, manganese and copper. I eat it quite a lot, and it even makes a nice porridge eaten with almond milk, seeds, cinnamon and berries!
The whole dish is made really fragrant by the fresh basil leaves, peppery rocket, spring onion and lemon juice.
I added sweet cherry tomatoes and chopped red grapes for a juicy addition, and the baby corn adds a nice crunch. I dressed it simply with balsamic, lemon juice, smoked paprika, salt and pepper and a pinch of chilli flakes.
Easy, quick and satisfying!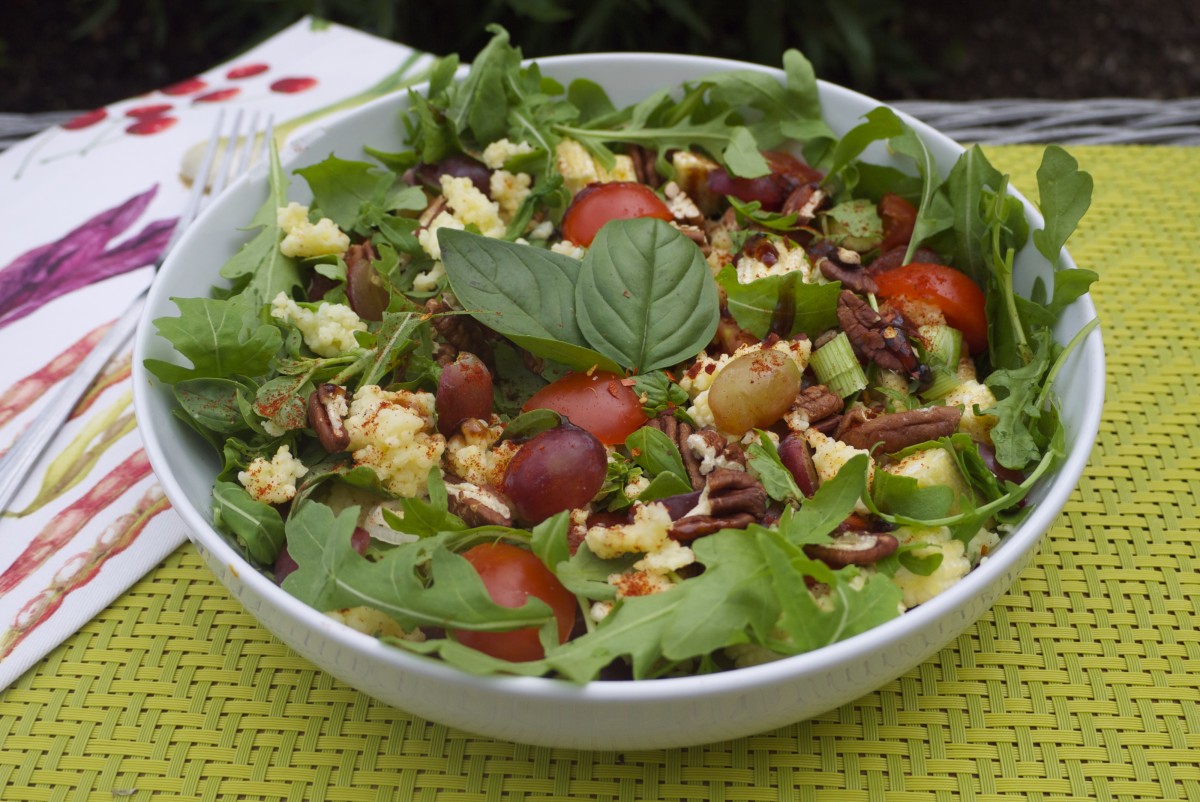 Let me know if you give this salad a go and I love to see all your creations on social media! Simply tag #RosannaDavisonNutrition on Instagram or Twitter or come on over to my Facebook to say hello and don't forget to enter my Chia Bia Competition!

Warm Millet Salad with Toasted Pecans
2015-06-15 17:25:36
Serves 2
Simple, satisfying and nourishing, this makes a great quick lunch or light supper.
Ingredients
100g (1/2 cup) dry millet
water, to cook
1 bag fresh rocket leaves
2 spring onions, finely chopped
12 cherry tomatoes, chopped
150g (1 cup) grapes, halved
10 stalks of baby corn, chopped
100g pecan nuts
2 handfuls fresh basil leaves
2 tbsp balsamic vinegar
2 tbsp lemon juice
pinch of smoked paprika
pinch of dried chilli flakes
salt and pepper, to taste
Instructions
Preheat the oven to 190C
Rinse the millet in a sieve under running cold water
Place it in a medium-size saucepan in double its volume of water and allow it to simmer over a medium heat for 8-10 minutes partly covered with a lid, until the water has almost boiled off.
Removed the lid and stir as the remainder of the water evaporates.
While the millet cooks, spread out the pecans on a small baking tray and toast in the oven for 8-10 minutes until golden-brown.
Assemble all ingredients together in serving bowls. Drizzle with balsamic and lemon juice, season and serve warm or cold.
Notes
Any leftovers will keep in a covered container in the fridge for up to 2 days.
Rosanna Davison Nutrition https://www.rosannadavisonnutrition.com/