Flaxseed. It doesn't sound like the most glamorous or exciting type of food, does it? But these tiny seeds are powerhouses of nutrition, and including them in your diet regularly can really benefit your body and brain.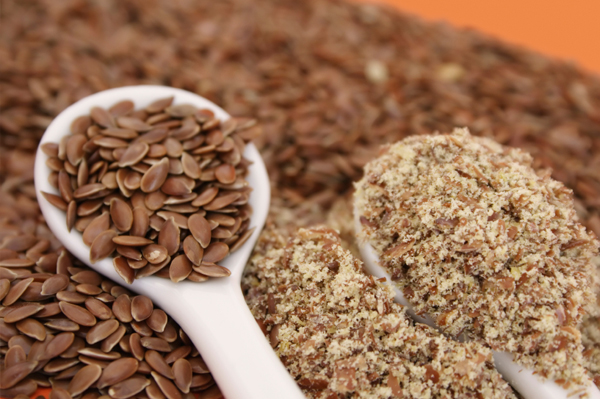 You will always find both whole and ground flaxseed in my kitchen as I've made sure to incorporate them into my daily diet over the past few years. It's also handy that they're easily available in supermarkets and relatively inexpensive. A packet of flaxseeds will last you for a good while!
As one of the best plant-based sources of essential omega-3 fats, the primary omega-3 fatty acid found in flaxseeds is alpha-linolenic acid, which really help to make your complexion look and feel smoother and more supple. The ratio of essential fatty acids in flaxseed is ideal for the human body, helping to support optimal health and prevent inflammation, which can lead to painful PMS, damaged and dry skin and a whole host of other inflammatory conditions.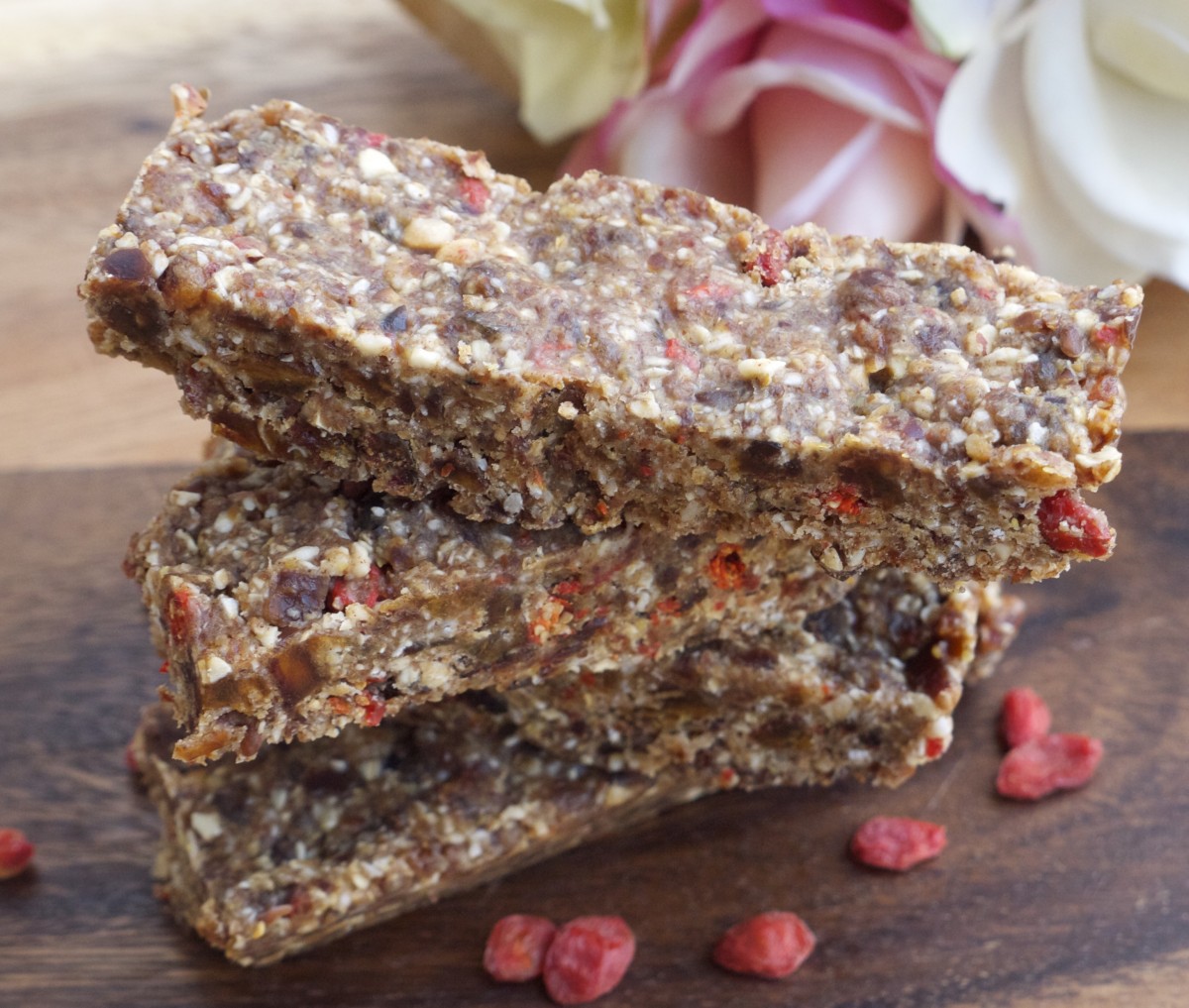 A unique beneficial feature of flaxseed is their lignin content, a compound similar to fibre, that also offer antioxidant protection due to their structure as polyphenols. Furthermore, some research has shown that a higher intake of lignans, the key phytoestrogen in flaxseeds, is associated with reduced risk of breast cancer.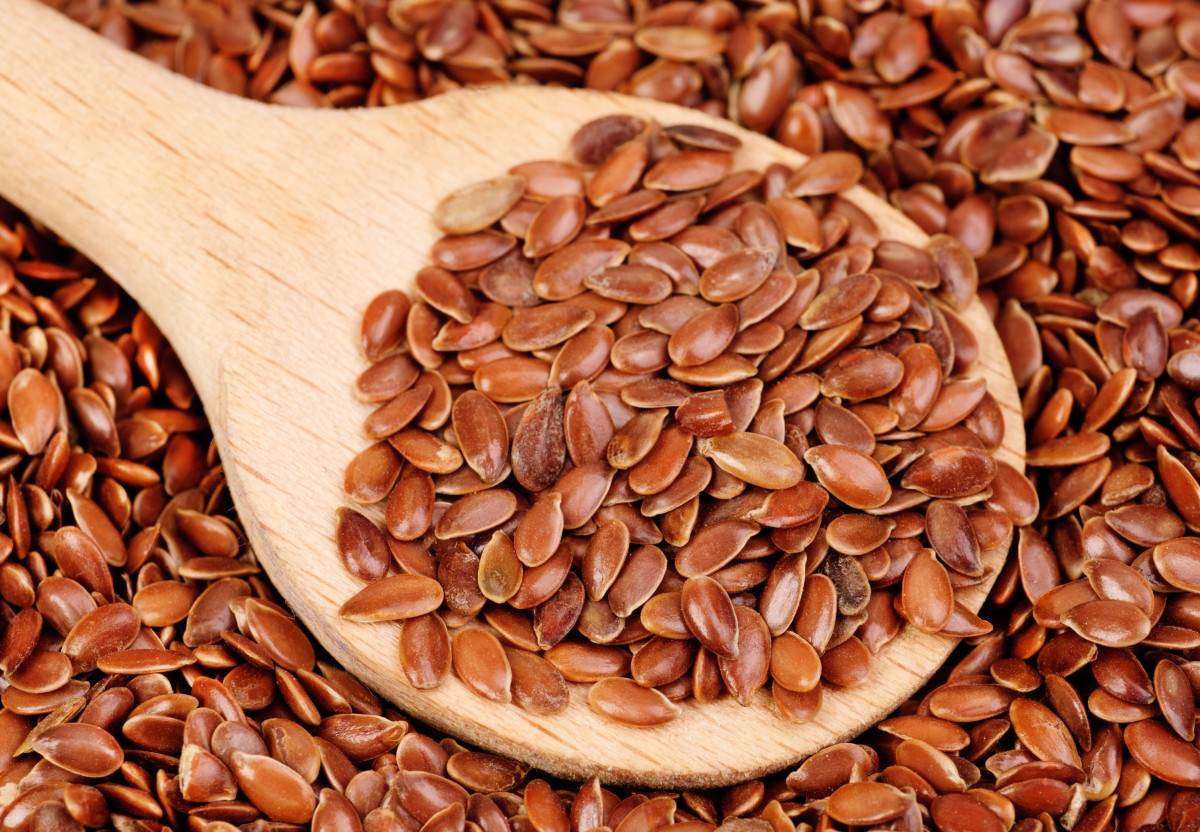 Yet another health-promoting feature of flaxseeds is their mucilage content. This is a type of gel-forming fibre, that supports the heath of your digestive tract and encourages the absorption of certain nutrients. 45g
It's this combination of omega-3 fats, high-lignin content and mucilage, that make flaxseed just so beneficial.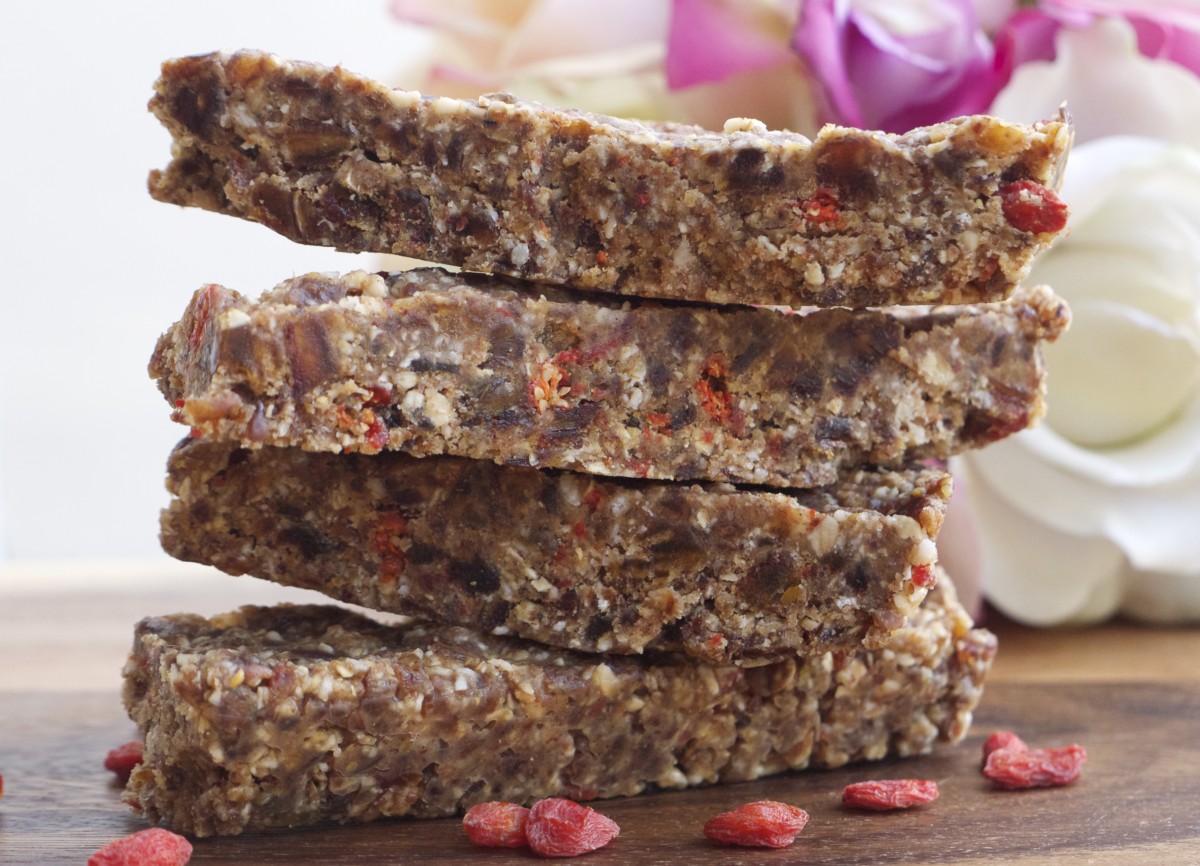 Flaxseeds are available in a variety of forms, including milled and as an oil. I recommend eating flaxseeds whole rather than just the oil, and you will benefit from all of that fibre too. Flaxseeds are best ground to avail of the fatty acids in them, and there are quite a number of brands available offering ground flaxseed. But the very best way to eat them is to grind them yourself in a pestle and mortar and enjoy them sprinkled over smoothies, porridge or salads. Just two tablespoons per day is all that's needed, and ground flax is best stored in the fridge for freshness. However, it can be added to baked goods too, as the omega-3 fatty acids in flaxseed remain stable for at least 3 hours of cooking at oven temperatures which makes it suitable to add to muffins and bread.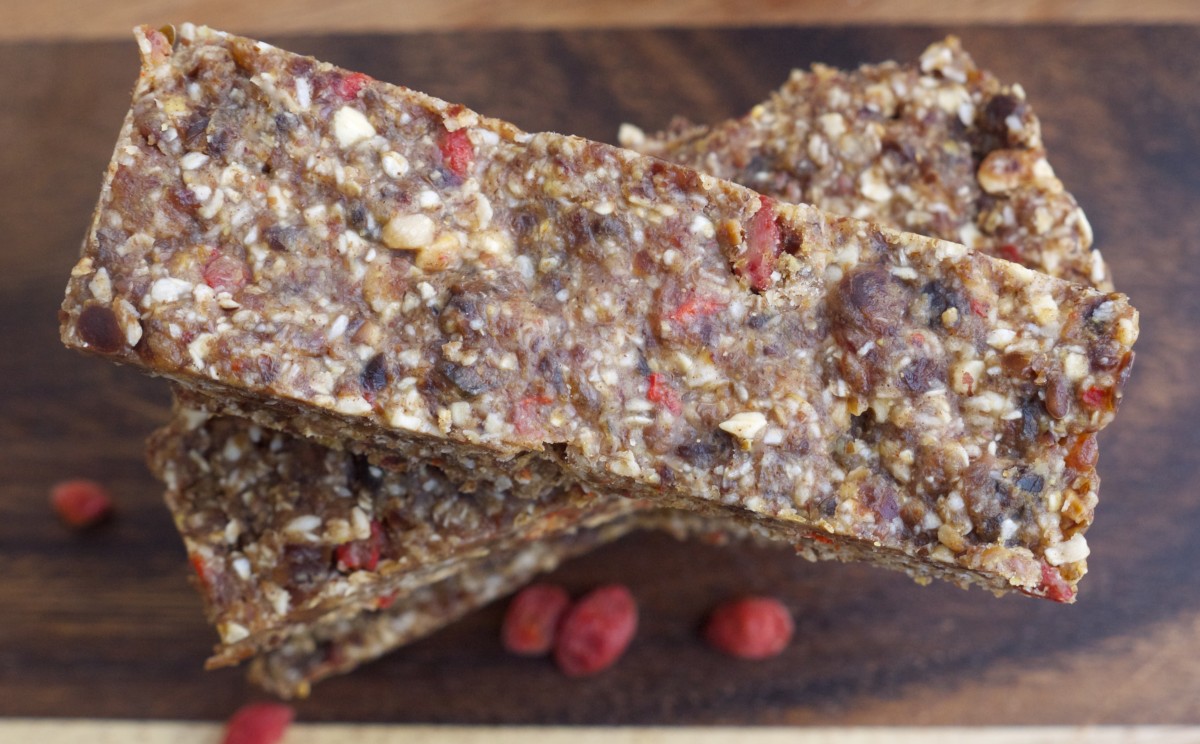 They also hold raw granola-style bars together, and these raw spiced goji superfood bars make the perfect, energising and high-fibre snack, packed with flaxseed and other nourishing ingredients.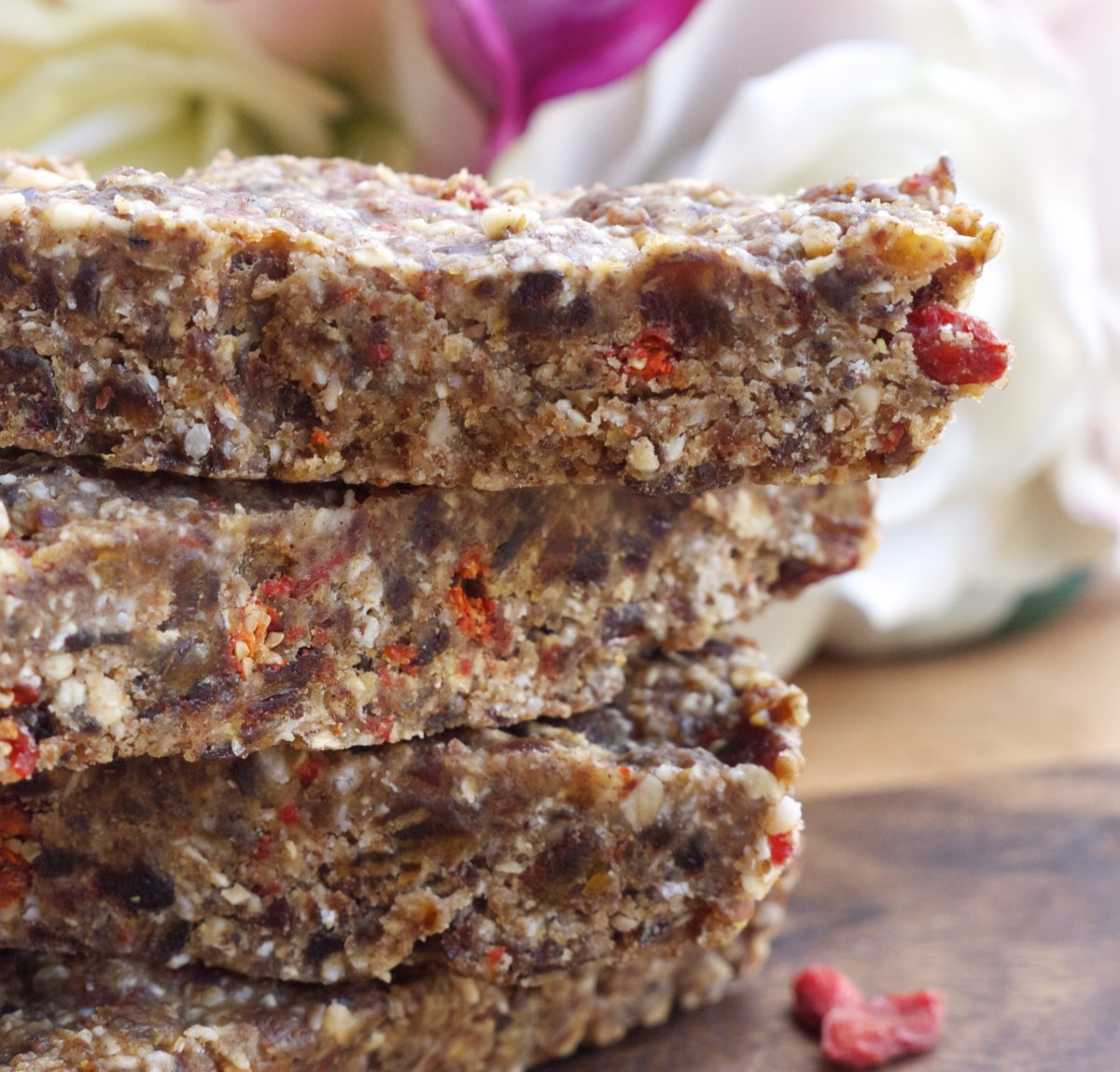 I would love to know if you get a chance to make these Spiced Goji Superfood Bars! Simply tag #RosannaDavisonNutrition on Instagram or Twitter or come on over to my Facebook to say hello 🙂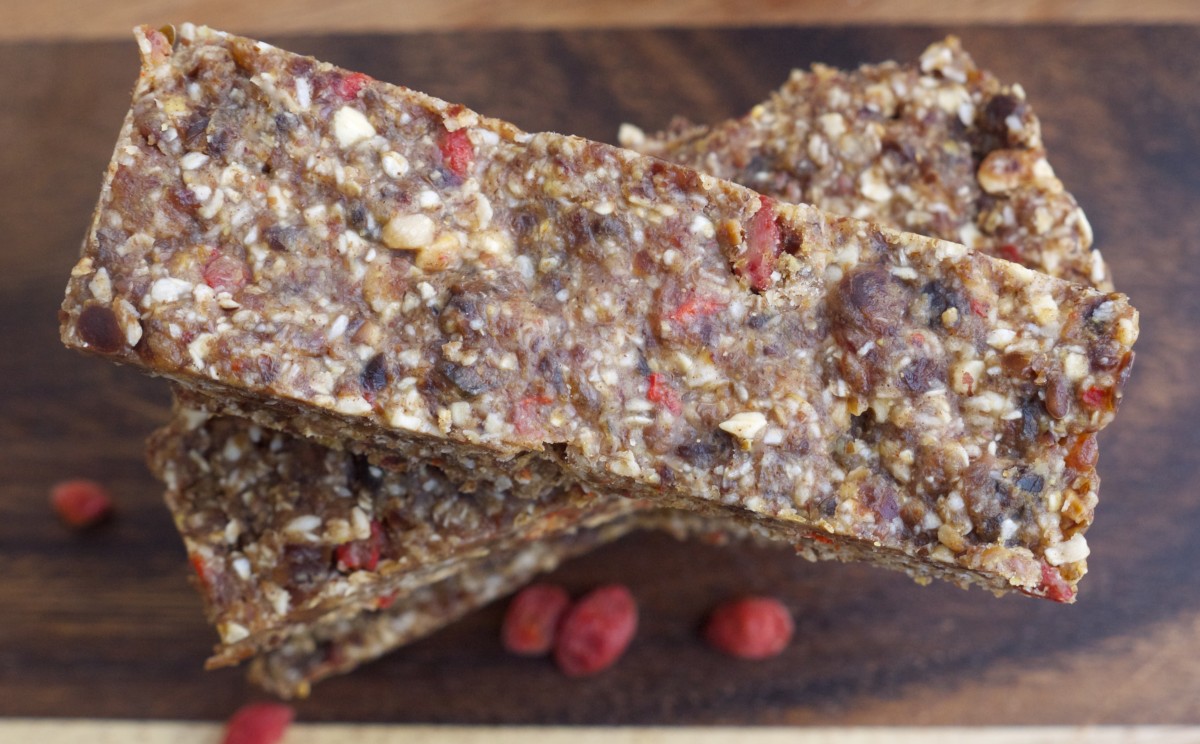 Spiced Goji Superfood Bars
2015-11-16 08:01:41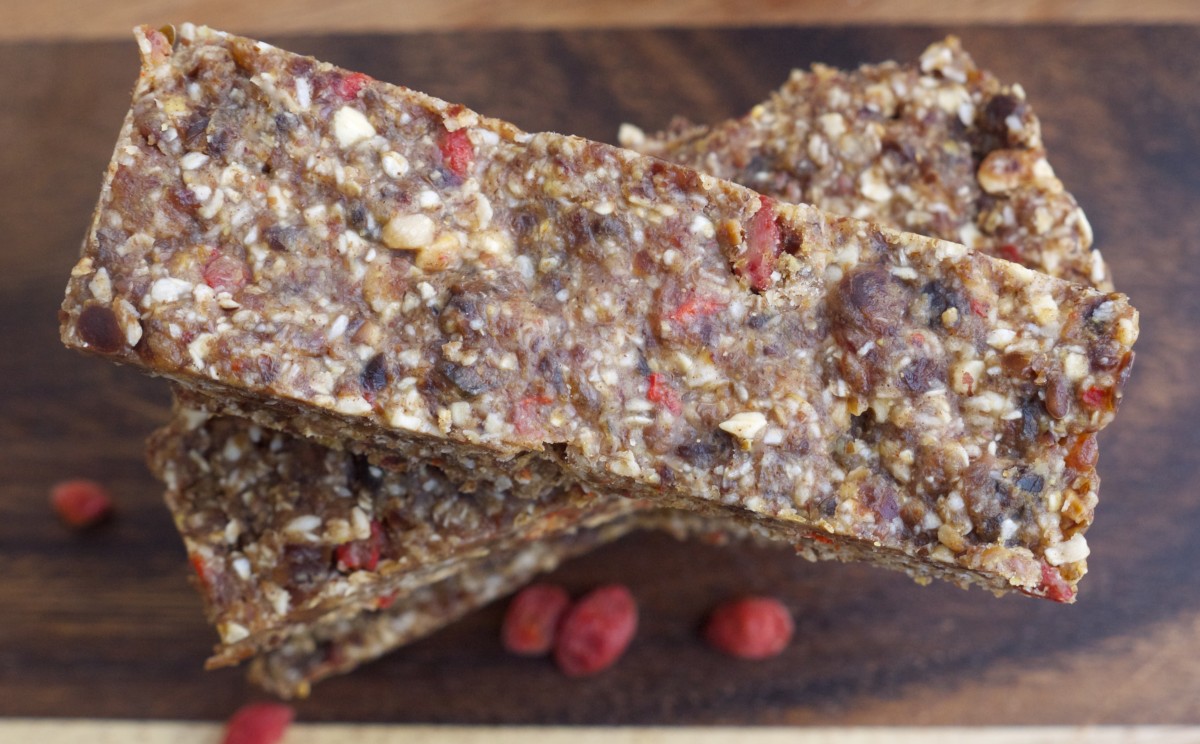 Tasty superfood snack bars, full of healthy essential fats, fibre, protein, and a great way to boost your intake of flaxseed.
Ingredients
150g (1 cup) pitted dates, soaked in hot water for 20 minutes to soften
45g (1/2 cup) porridge oats (I used a certified gluten-free brand)
1 tbsp nut or seed butter (I used unsalted almond butter)
1 heaped tbsp goji berries
2 tbsp ground flaxseed
1 tbsp toasted chopped hazelnuts
1 tbsp desiccated coconut
1 tbsp virgin coconut oil, melted
1 tbsp pure maple syrup or honey
1 tsp ground mixed spice
1 tsp cinnamon
1 tsp vanilla extract
Instructions
Drain the soaked dates well and place them in a food processor, along with all of the remaining ingredients.
Blend together at a high speed until a sticky dough forms.
Transfer the mixture into a rubber tray or a baking tray and press down, ensuring the top is smooth and even.
Place the tray into the freezer for at least 30 minutes to set.
Cut the mixture into bars carefully with a sharp knife and keep them in the fridge until ready to serve.
Notes
The bars can be stored in an airtight container in the fridge for up to 3 days.
Rosanna Davison Nutrition https://www.rosannadavisonnutrition.com/