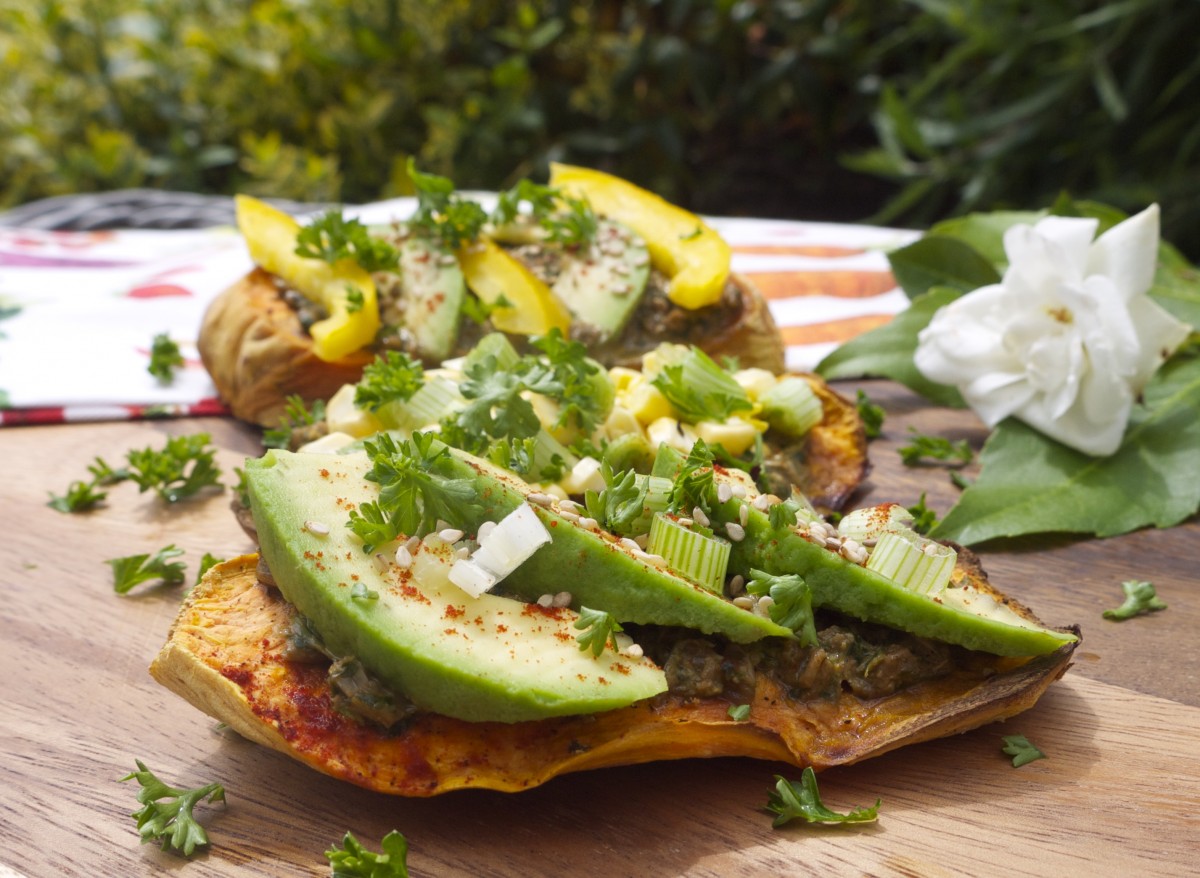 Hello and happy Thursday!
So yesterday, I posted up a recipe for sweet potato noodles with an avocado sauce, and this is another awesome way to enjoy sweet potato… as a healthy bruschetta! This was inspired by a sweet potato that wasn't growing any younger in my fridge, plus a few other colourful veggie ingredients.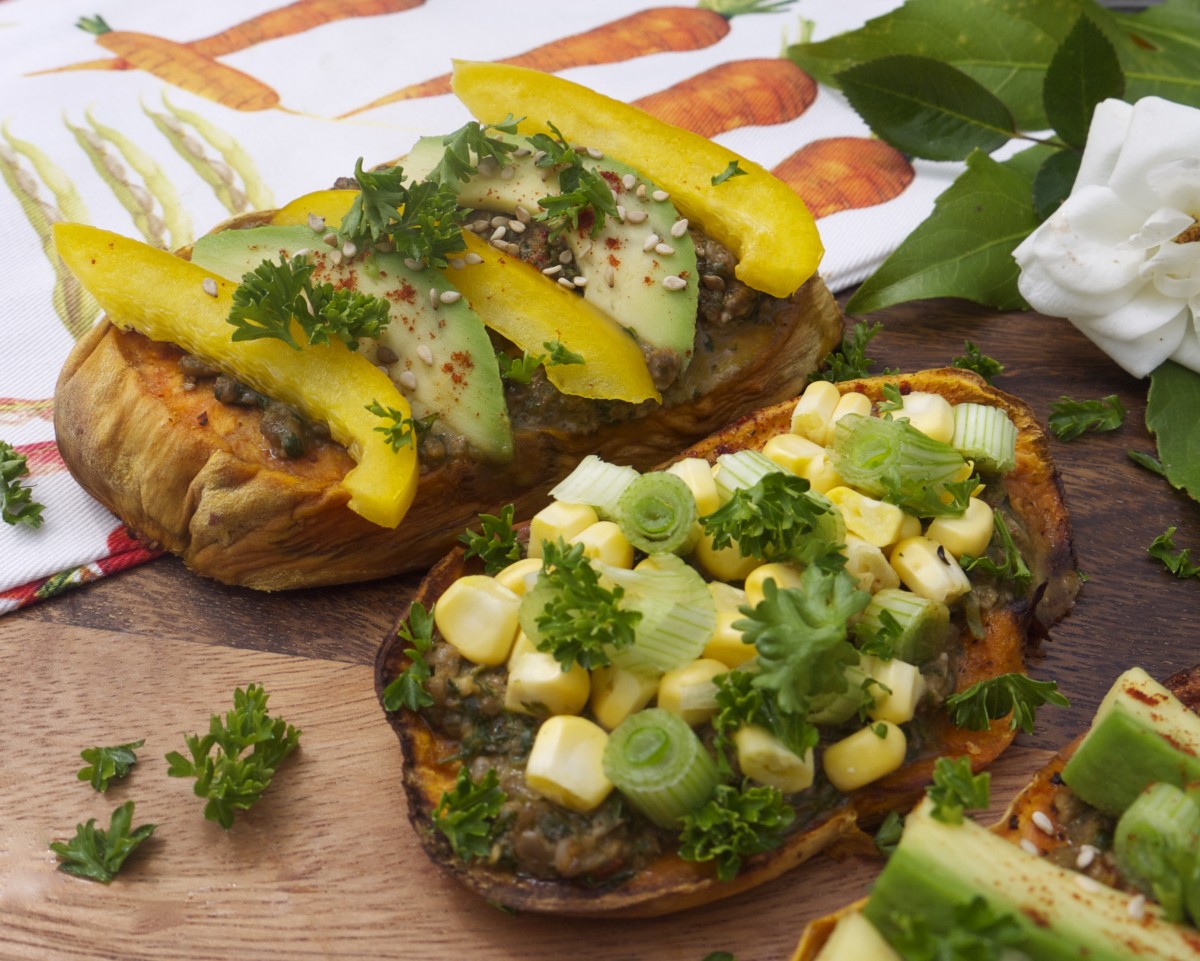 As you may have noticed, sweet potato plays an important part in my diet, and that of my husband Wes, too. It's a super source of complex carbs for slow-release energy, and especially beneficial for those with an active lifestyle.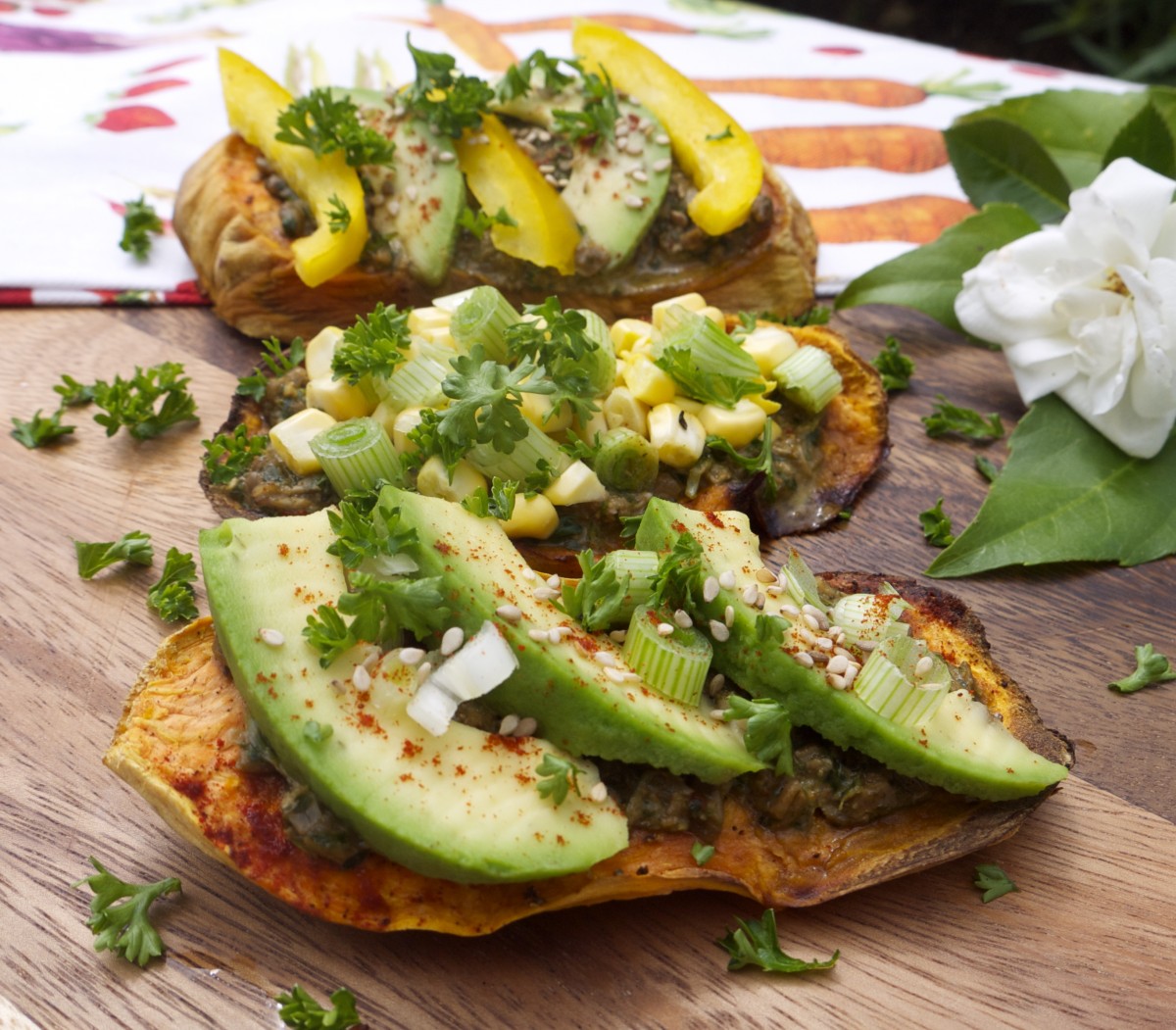 I've been eating a gluten-free diet for the past three or four years, since I figured out that it was giving me spotty breakouts and bloating. However, Wes has only been off it for the past few months, as he discovered that 'non-coeliac gluten intolerance' was the source of his chronic back pain earlier this year. Having thought he damaged it in the gym, he visited a variety of physios and doctors without result, until I finally convinced him that gluten was a likely cause of the inflammation, and to move to a gluten-free diet. Sure enough, the pain cleared up in well under a fortnight and hasn't returned since.
But if gluten accidentally makes its way into his diet, the pain returns. So he's learnt to be very careful about reading ingredients.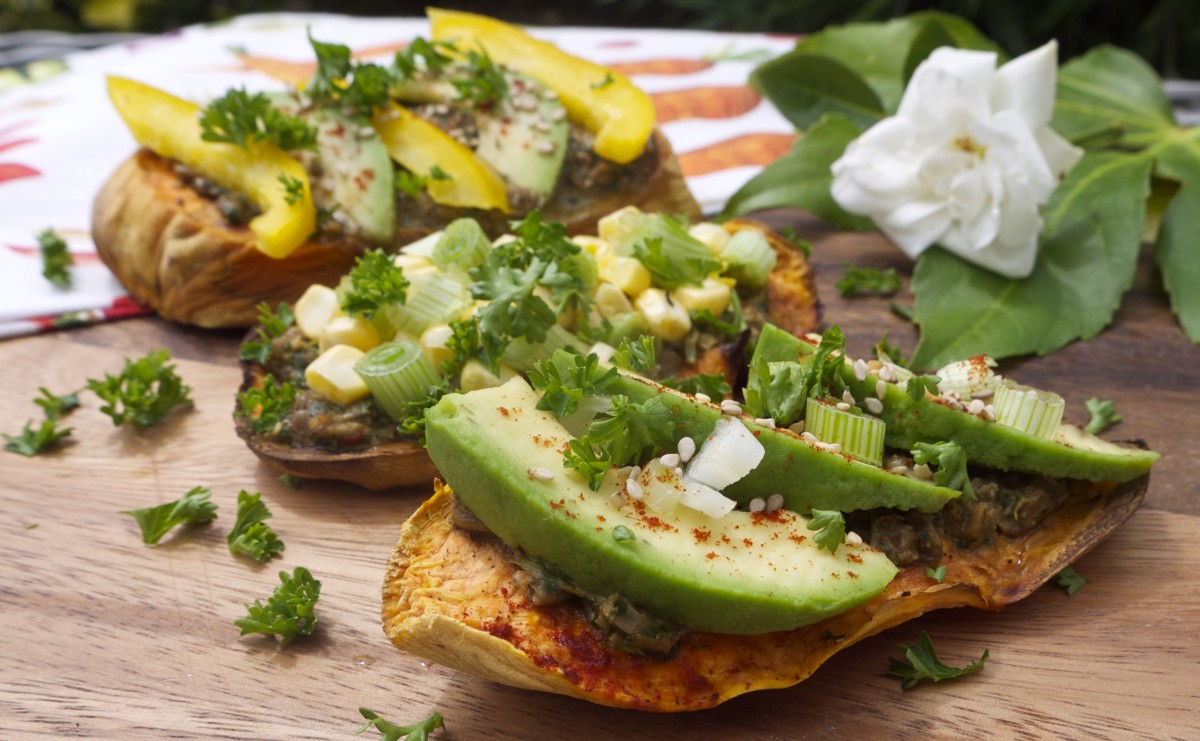 I worked with Wes as I would with a normal nutrition client, to heal his gut using three basic principles: remove the offending foods, repair the damaged gut lining and repopulate the gut with 'friendly' bacteria using primarily probiotics and fermented foods. This system works well and allows the body to heal itself naturally.
One of the main foods that he began to rely on once bread, pasta and noodles were out of the picture, was sweet potato. And luckily, it's an incredibly versatile starchy vegetable, easy to find in shops and supermarkets, and inexpensive to feed a family.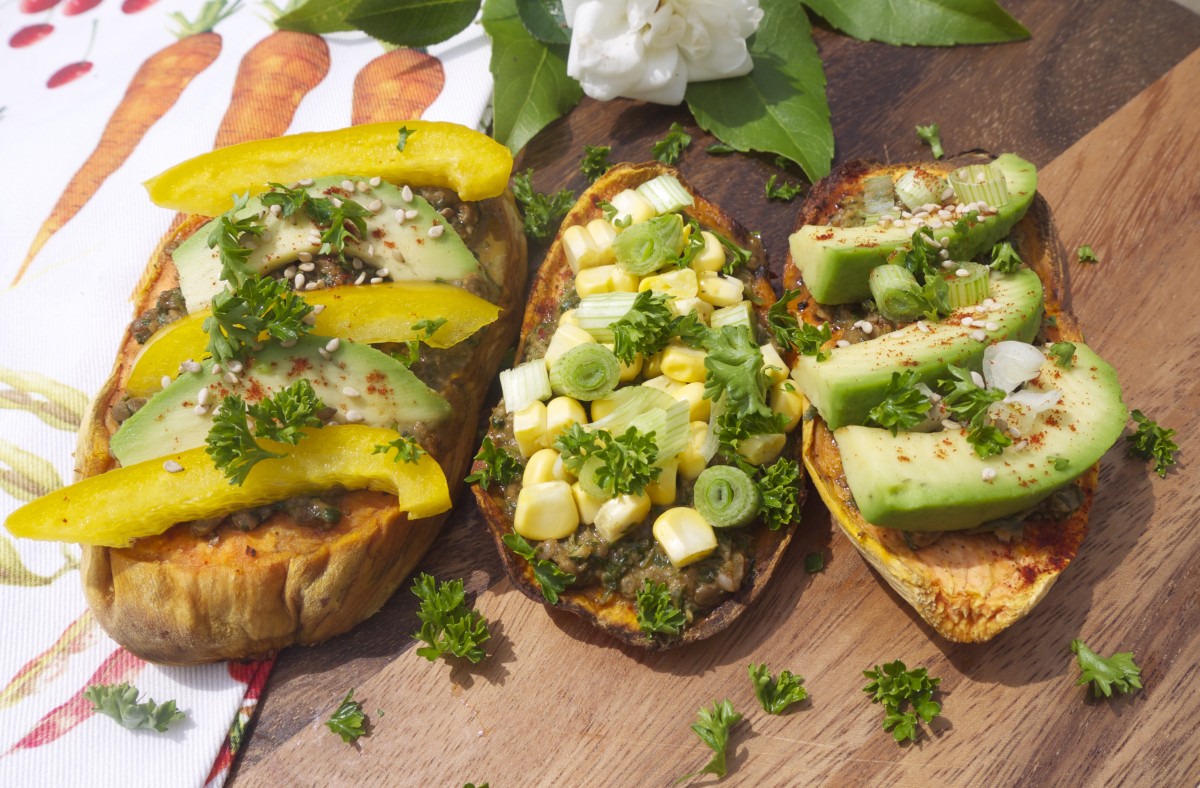 For this recipe, I simply baked the sweet potato, then whizzed up an easy pesto using coriander, basil and sunflower seeds. Then I topped them with fresh avocado, yellow pepper, spring onion, sweetcorn, sesame seeds and chopped parsley. But use whatever topping selection you fancy – this is just a suggestion to get plenty of raw, colourful veggies into your meal.
Enjoy warm or cold as a snack, lunch or part of your dinner. So simple but delicious!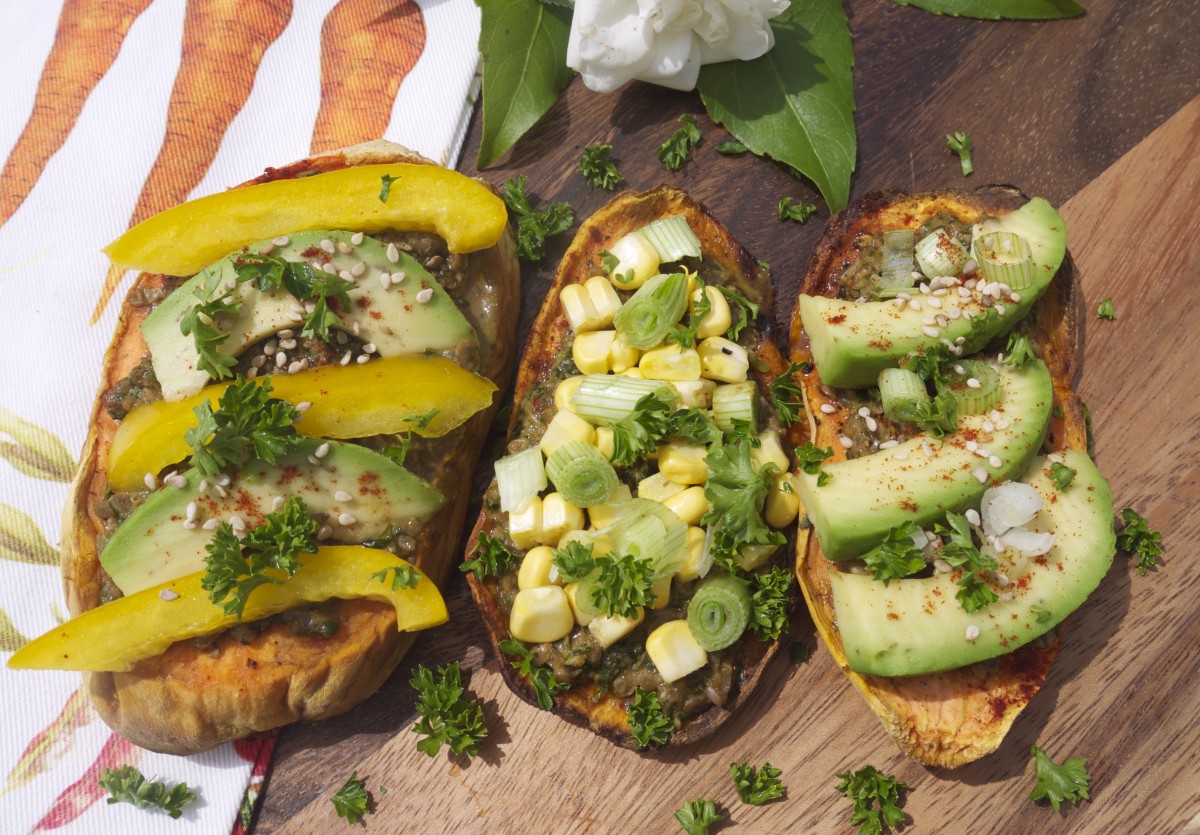 Let me know if you give this sweet potato bruschetta recipe a go and I love to see all your creations on social media! Simply tag #RosannaDavisonNutrition on Instagram or Twitter or come on over to my Facebook to say hello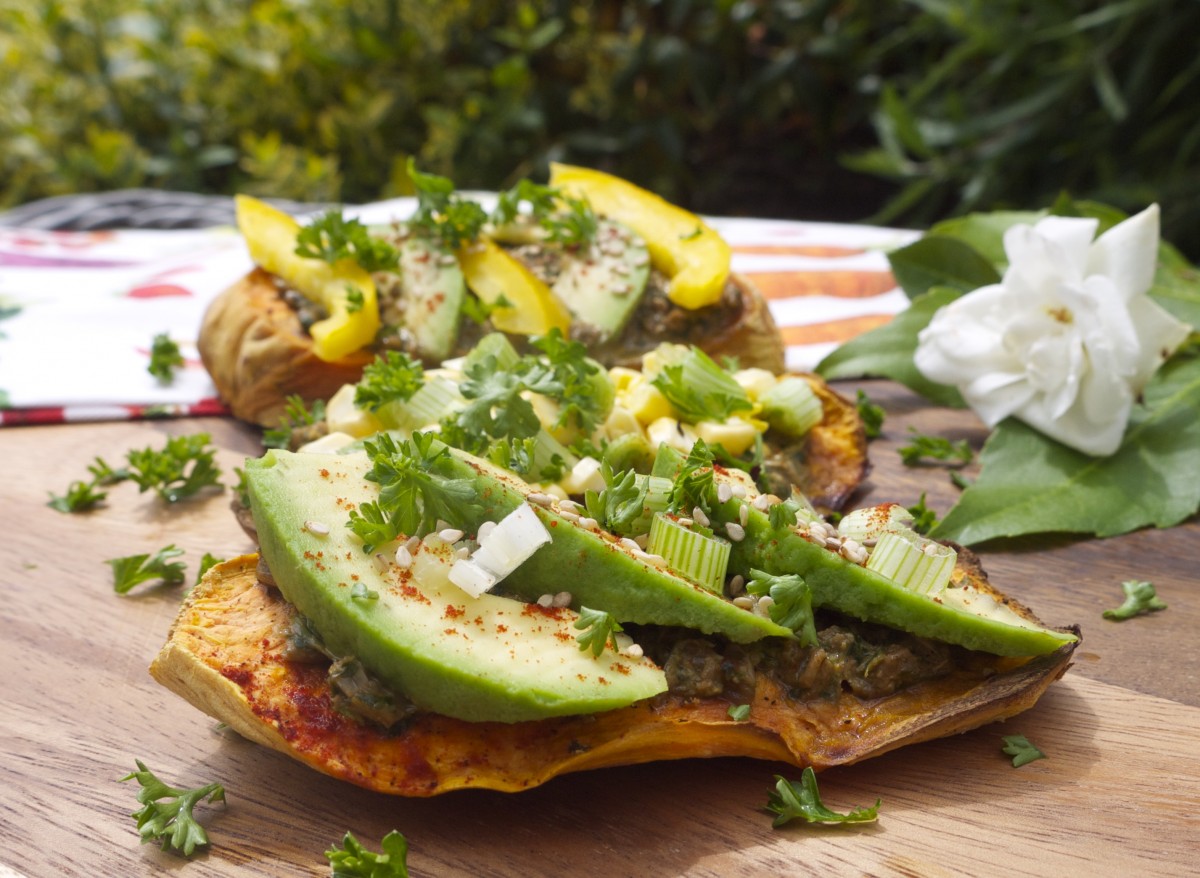 Sweet Potato Pesto Bruschetta
2015-06-18 15:31:03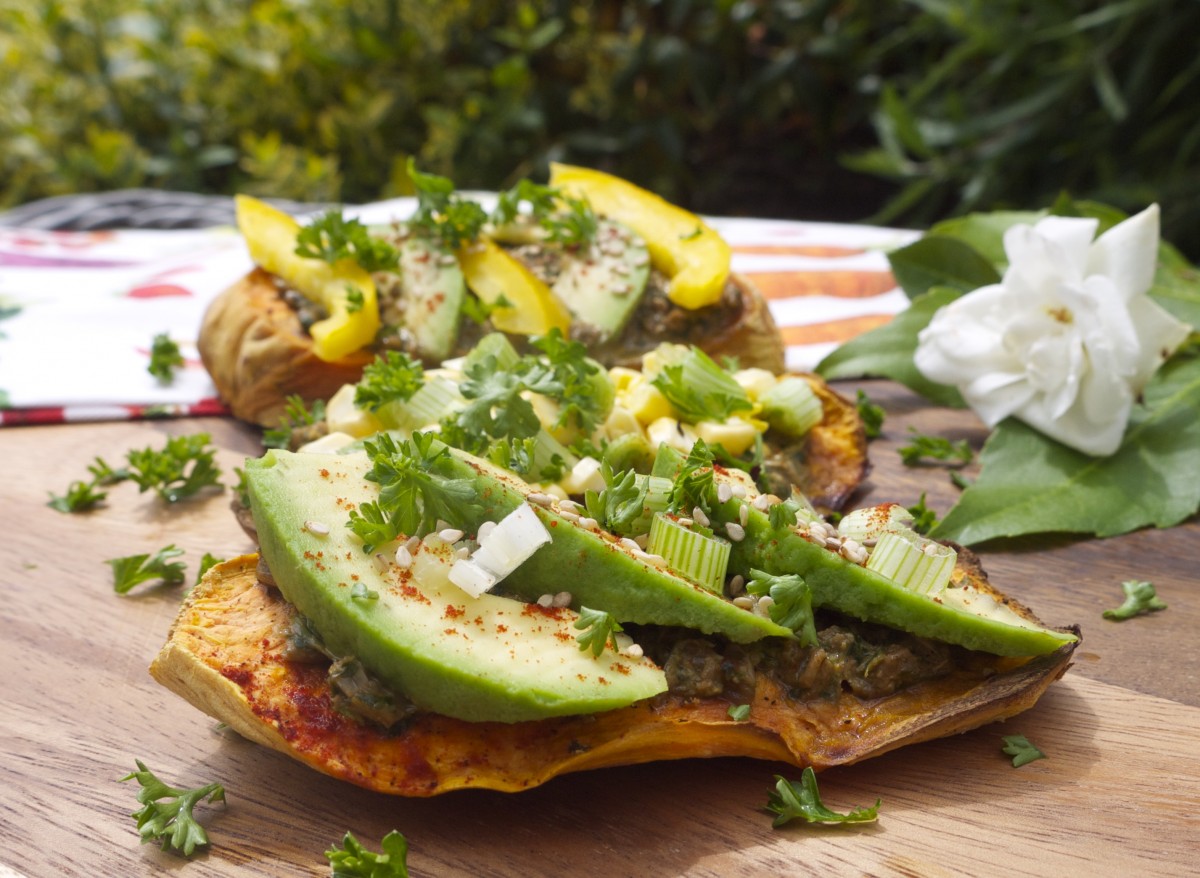 Serves 2
A great way to enjoy sweet potato as meal or snack, topped with plenty of fresh veggies!
Ingredients
2 medium sweet potatoes
coconut oil
1 tsp smoked paprika
pinch of salt and pepper, to taste
For the pesto
1 handful fresh coriander, rinsed
1 handful fresh basil, rinsed
2 tsp tahini paste
1 heaped tbsp sunflower seeds
1 tsp smoked paprika
pinch of dried chilli flakes (optional)
1 tbsp fresh lemon juice
1 clove of garlic, minced
pinch of salt and pepper, to taste
Bruschetta topping suggestions: avocado slices, yellow pepper, sweetcorn, spring onion, cherry tomatoes, sun-dried tomatoes, rocket, chopped parsley, olives.
Instructions
Preheat the oven to 200C and lightly grease a baking tray with coconut oil or spread out a sheet of greaseproof paper.
Peel the sweet potatoes and use a sharp serrated knife to slice each of them lengthways into about three slices. Make it four if you prefer them thinner.
Lay out the slices on the baking tray and rub them lightly with coconut oil and sprinkle with smoked paprika and salt and pepper.
Bake the potatoes at 200C for 20-25 minutes, until they turn golden-brown and crisp around the edges.
Make the pesto by placing all ingredients in a blender or food processor and combine until well mixed but some texture remains.
Remove the sweet potato from the oven and allow to cool for ten minutes, then spread with pesto and top with toppings of choice.
Notes
Any leftovers can be stored in an airtight container in the fridge for up to two days.
Rosanna Davison Nutrition https://www.rosannadavisonnutrition.com/