Hi everyone,
Hope your Wednesday is going well!
I've had a busy day, but did have a chance to get home for lunch. A quick rummage in the fridge and I decided to make this warm baked sweet potato noodle dish with a cool, creamy avocado sauce 🙂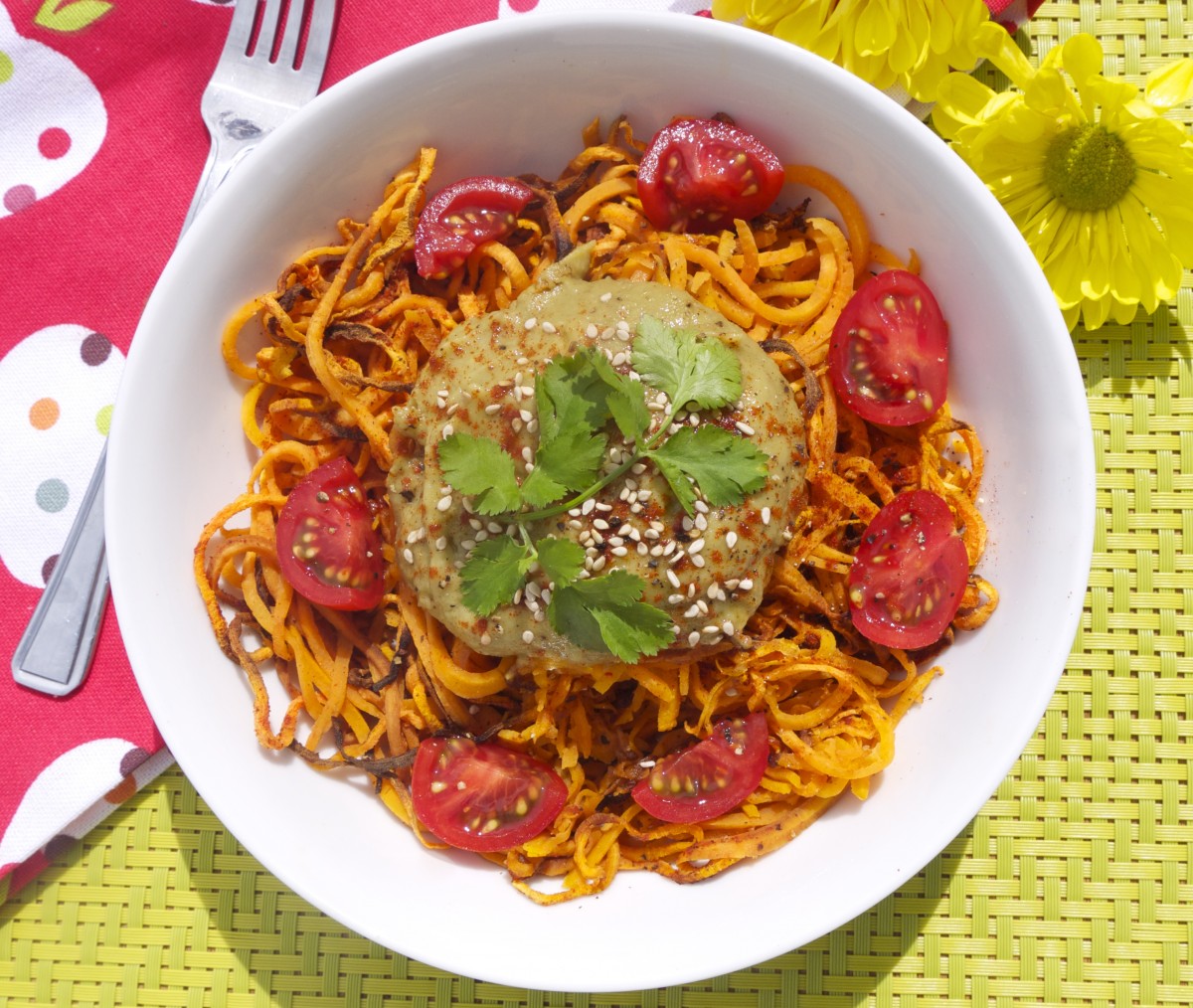 Sweet potatoes are such an amazingly versatile food, and can be used in both sweet and savoury dishes. These noodles are yet another great way to enjoy them, and remind me a little bit of sweet potato fries but without the extra grease! I didn't even use coconut oil on these as I've found previously that it can make them a little soggy.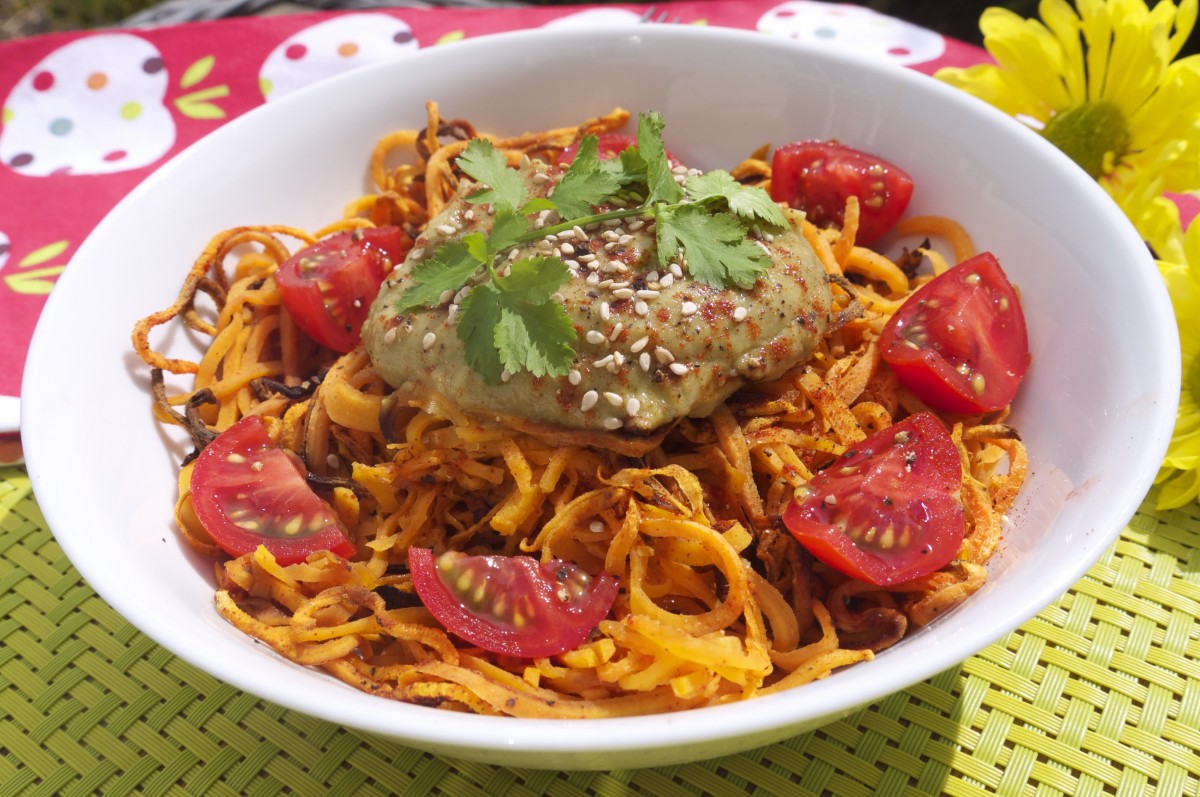 Sweet potatoes are a super source of complex carbs to power you through a busy day and an active lifestyle, plus they contain plenty of fibre to keep your digestive system healthy.
Their brilliant orange colour comes from their beta-carotene content, and this helps to brighten your complexion and support healthy eyesight.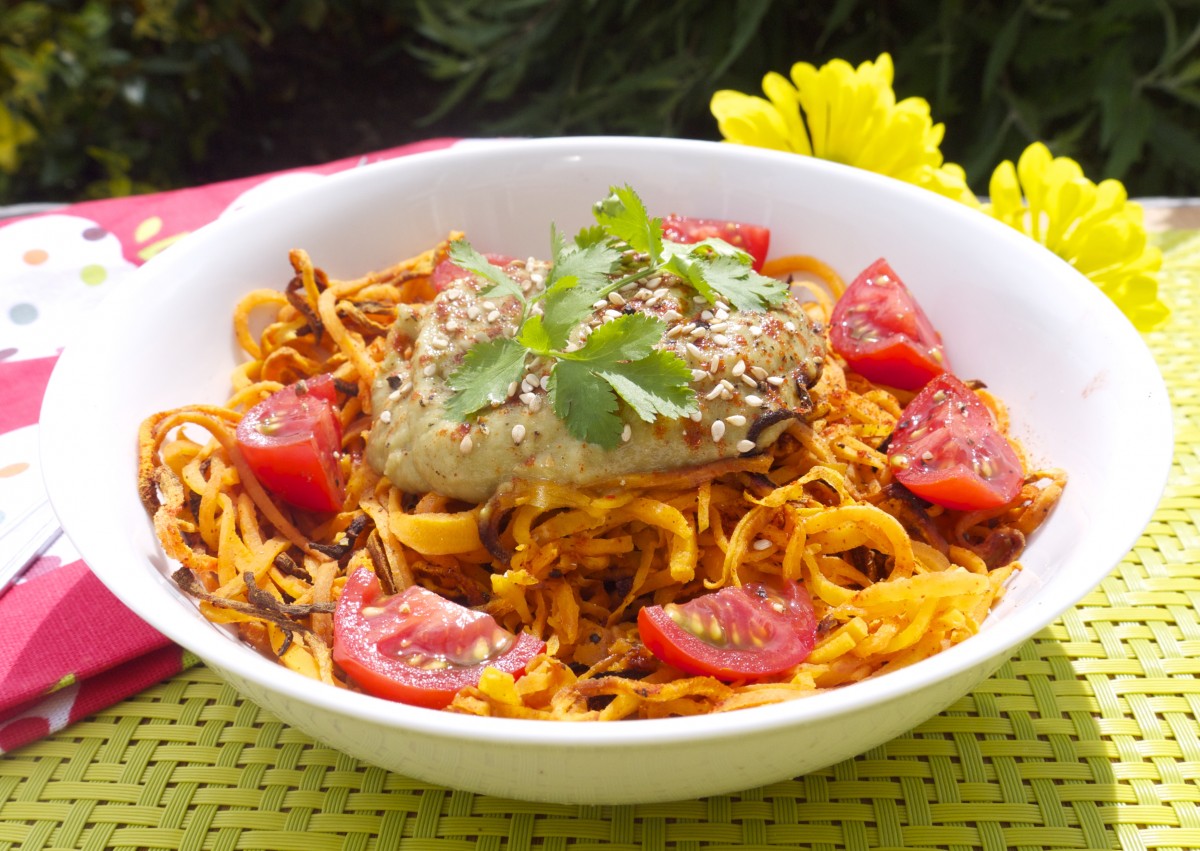 Avocados feature in my diet frequently, as they're a tasty way to maintain smooth, soft skin because they're brimming with essential fatty acids, plus amino acids, potassium and iron. Avocados are also easy to digest and best enjoyed raw to avail of their living enzymes. Your body runs on living enzymes as the catalyst for every biochemical reaction, and the more raw fruit and veggies you eat, the better health and beauty results you'll get. It's that simple!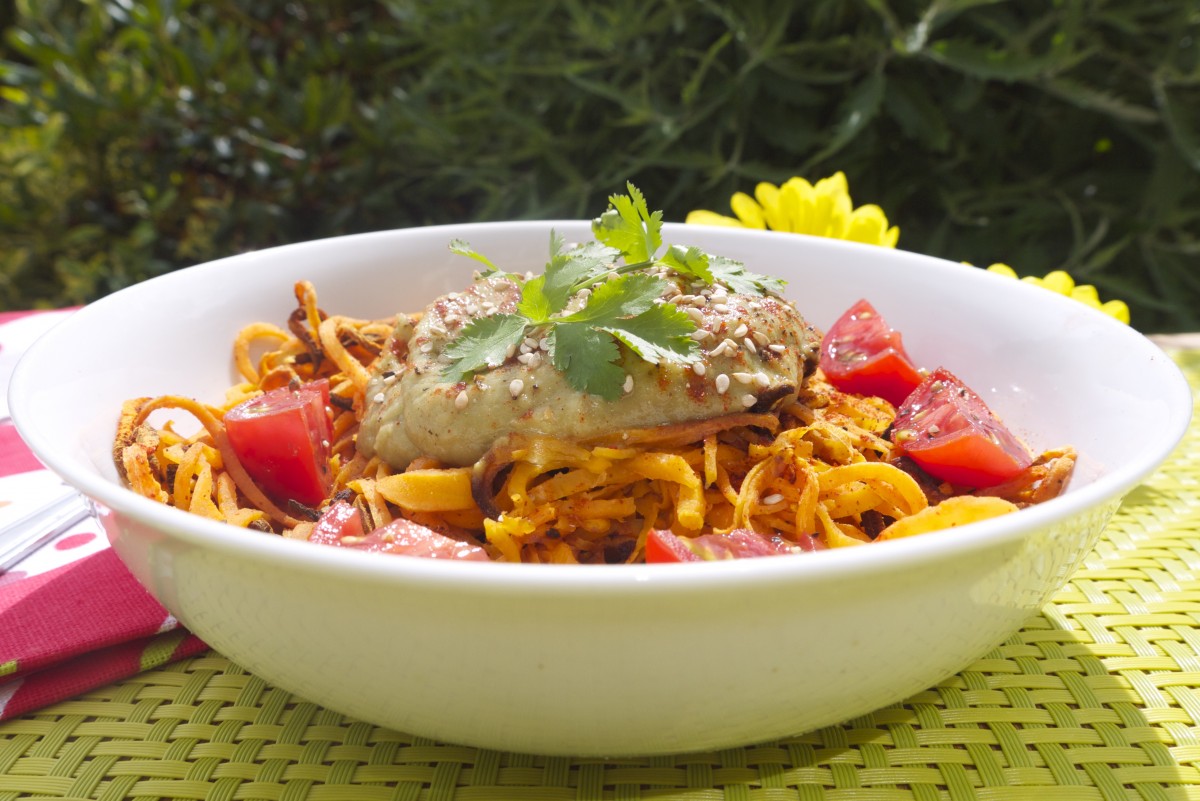 I just whizzed up the ripe avo with lemon juice, garlic, seasoning, smoked paprika and a dash of unsweetened almond milk for a really tasty and smooth sauce, which goes so well with the sweet potato! Some cherry tomatoes, coriander and sesame seeds finished off the dish.
Let me know if you give this sweet potato noodle recipe a go and I love to see all your creations on social media! Simply tag #RosannaDavisonNutrition on Instagram or Twitter or come on over to my Facebook to say hello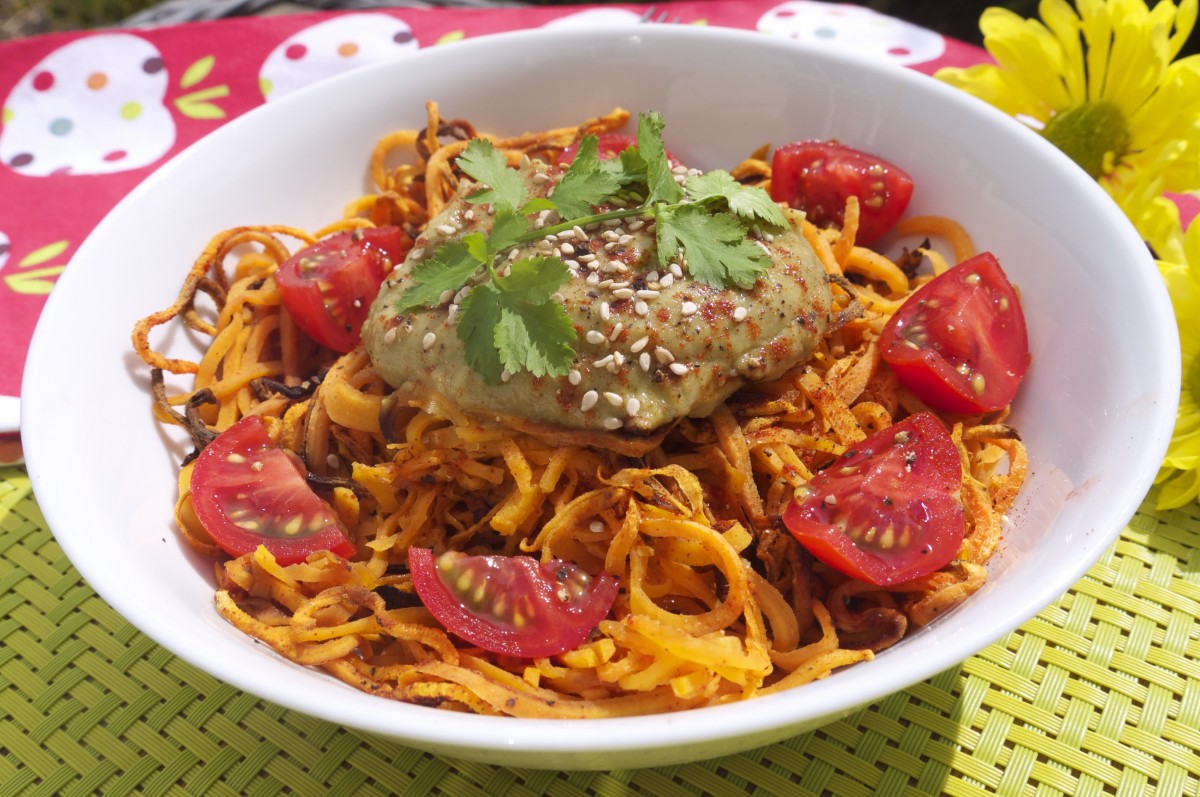 Sweet Potato Noodles with Creamy Avocado Sauce
2015-06-17 17:43:17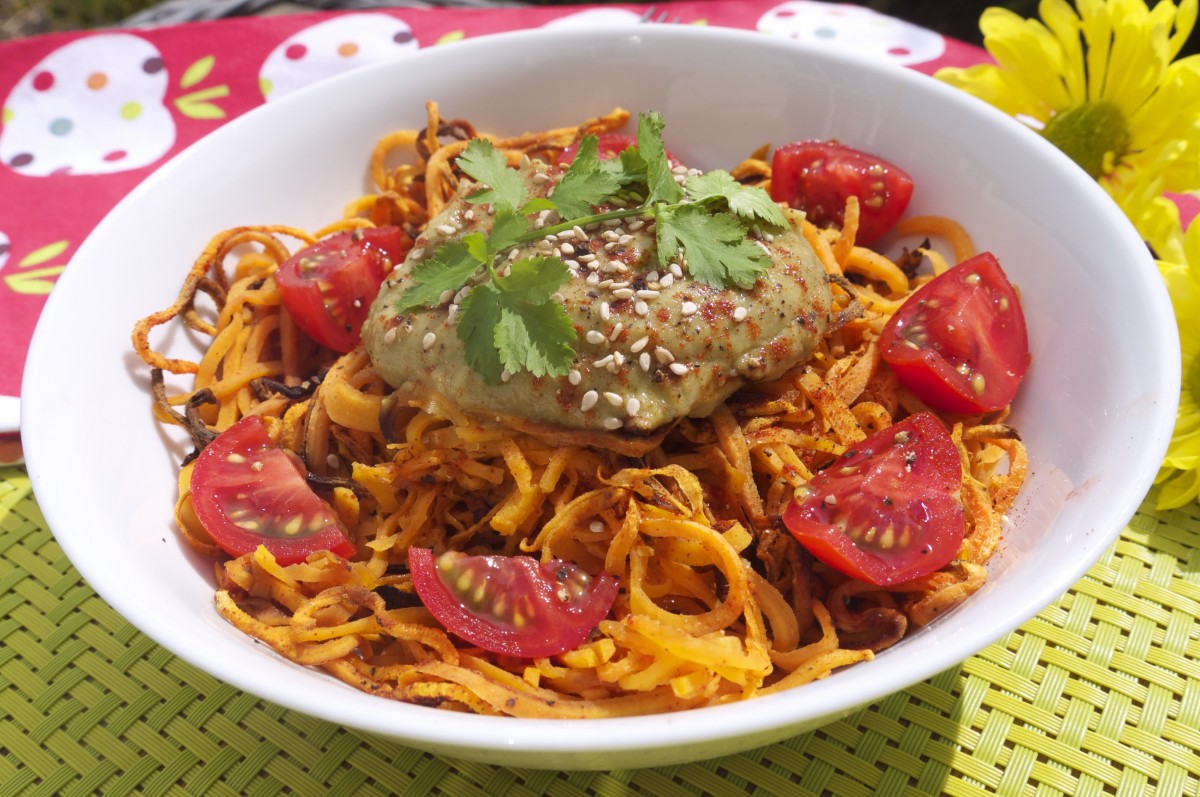 Serves 2
A simple, healthy and delicious way to enjoy sweet potatoes and avocado.
For the noodles
coconut oil, to grease
2 medium sweet potatoes
dash of low-sodium tamari sauce
salt and pepper, to taste
1 tsp smoked paprika
pinch of cayenne pepper, to taste
For the avocado sauce
1 ripe avocado, pitted and peeled
1 tbsp fresh lemon juice
1 clove of garlic
1 tsp smoked paprika
salt and pepper, to taste
dash of Ume Japanese plum dressing
dash of low-sodium tamari
splash of unsweetened almond milk, to blend
6 cherry tomatoes, to serve
1 tbsp sesame seeds, to serve
coriander, to serve
Instructions
Preheat the oven to 200C and lightly grease a baking tray with coconut oil, or place down a sheet of greaseproof paper.
Peel the sweet potatoes and make them into noodles using a spiraliser or a vegetable peeler.
Place the sweet potato noodles on the baking tray and add the tamari, salt and pepper, smoked paprika and cayenne pepper, tossing to coat the noodles.
Bake them at 200C for 15-20 minutes, until they begin to turn golden-brown and crisp at the edges.
While the noodles bake, make the avocado sauce by blending all the sauce ingredients in a food processor or blender until smooth and creamy.
Remove the baked noodles and top with the sauce, cherry tomatoes, sesame seeds and a sprig of coriander.
Notes
Any leftovers will keep in an airtight container in the fridge for 2-3 days.
Rosanna Davison Nutrition https://www.rosannadavisonnutrition.com/