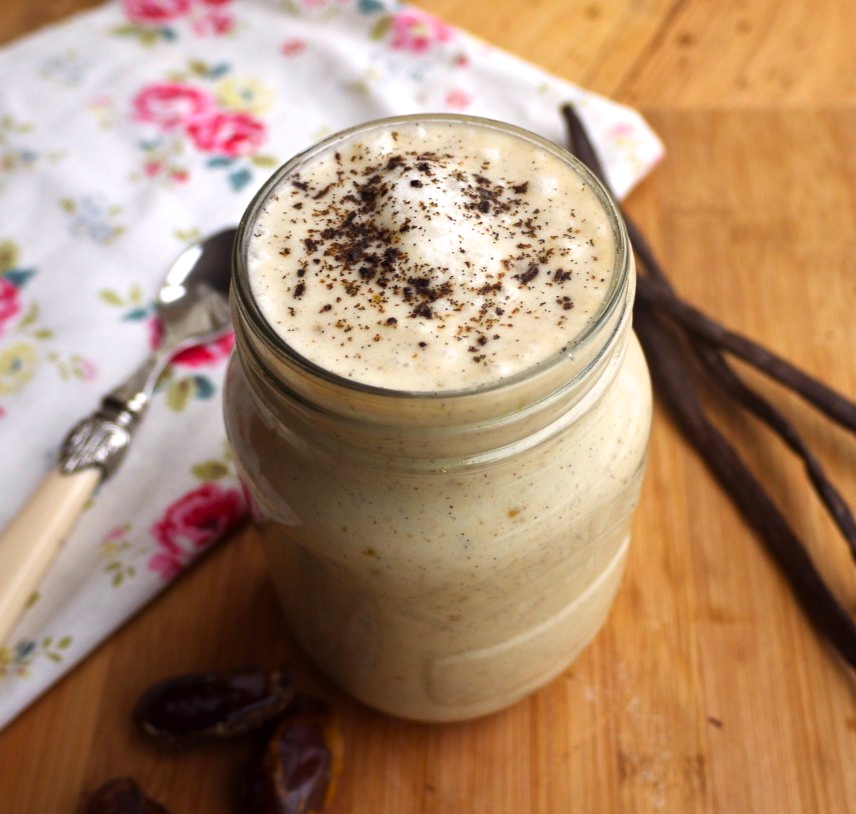 Good morning from Galway and happy Saturday!!
I hope you have plenty of fun planned for the weekend 🙂 I'm at Lisa Fitzpatrick's final Fashion Fix before the summer. We've had a fantastic time touring the country with it and meeting hundreds of amazing ladies!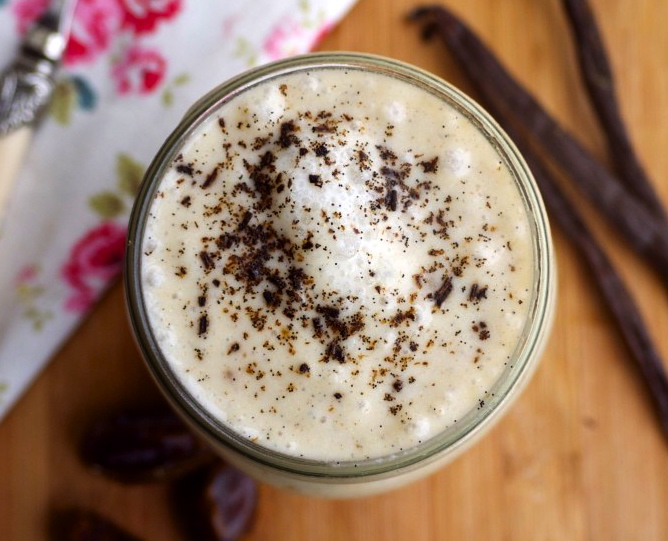 The summer months always get my thinking back to my favourite flavours of childhood, and the taste of vanilla ice-cream was a firm favourite.
My mum used to give us a bowl of vanilla ice-cream and berries after our Sunday lunch, but it was the proper vanilla ice-cream in a crunchy cone that we might be lucky enough to get on holiday, that started my obsession with the taste of vanilla. And if you hadn't already noticed, I add vanilla to everything! If asked to choose between vanilla and chocolate… it's a tough one but vanilla would just about win!
So I designed this thick smoothie to taste very similar to sweet, cold, melted ice-cream. It satisfies any sweet cravings without filling your system with refined sugar, and I've added Sunwarrior raw vegan vanilla protein for a boost of amino acids for cellular building and repair.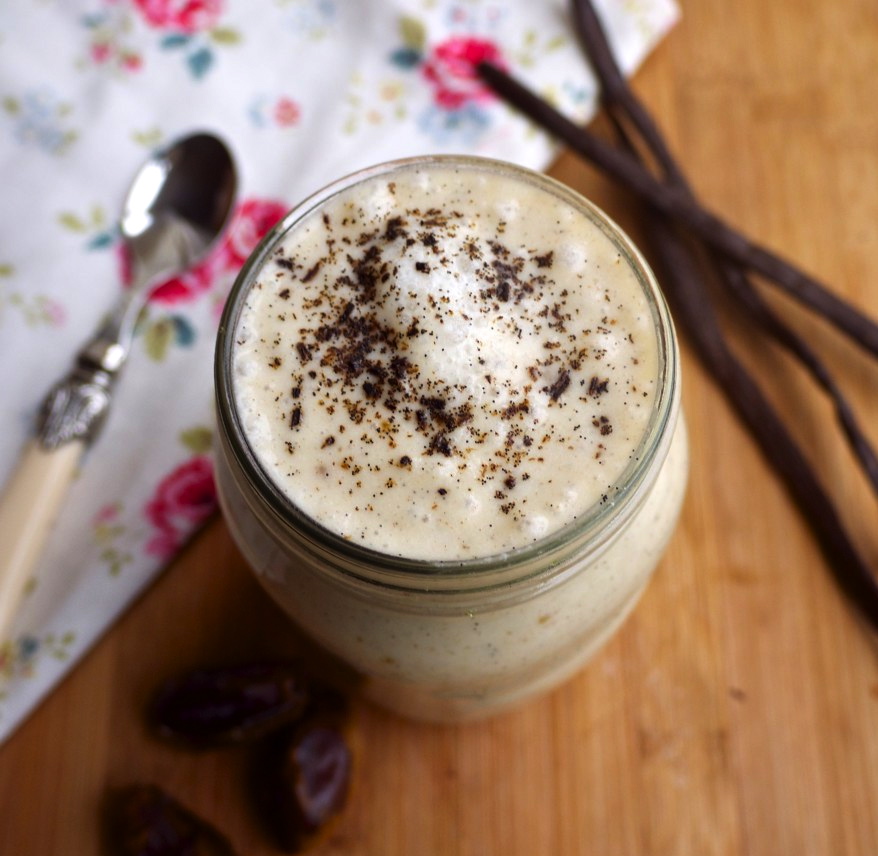 I've used dates to naturally sweeten the shake and add a good dose of fibre and minerals, but the key to making this taste amazing is by using the best quality vanilla that you can find. While I'm happy to use a decent vanilla extract for baking, this tastes best with really vanilla seeds, just like you would find in Italian gelato 😉
If you can't get hold of vanilla seeds, then this Dr. Oetker Madagascan Vanilla Grinder, makes a brilliant alternative. I buy it from my local supermarket and it contains only dried vanilla pods, which I grate over smoothies, desserts, homemade hot chocolate and even porridge!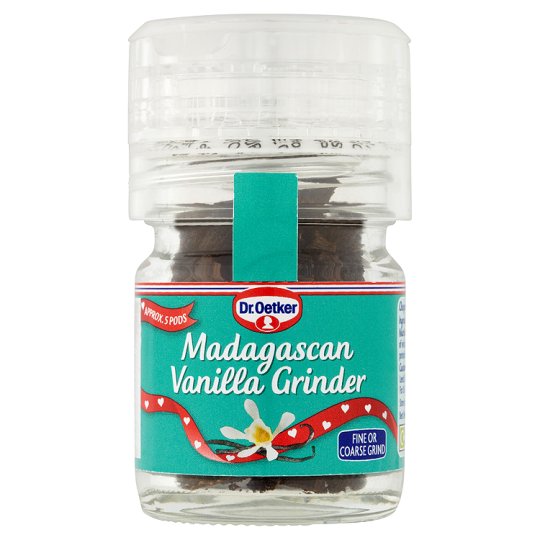 To thicken up the shake even more for an indulgent texture, I popped in some natural CoYo coconut milk yoghurt, but coconut cream can be used as an alternative if that's unavailable.
Kids will love the creamy sweetness of this drink too!
Craving ice-cream without the guilt? Why not give this a go! I love to see all your creations on social media! Simply tag #RosannaDavisonNutrition on Instagram or Twitter or come on over to my Facebook to say hello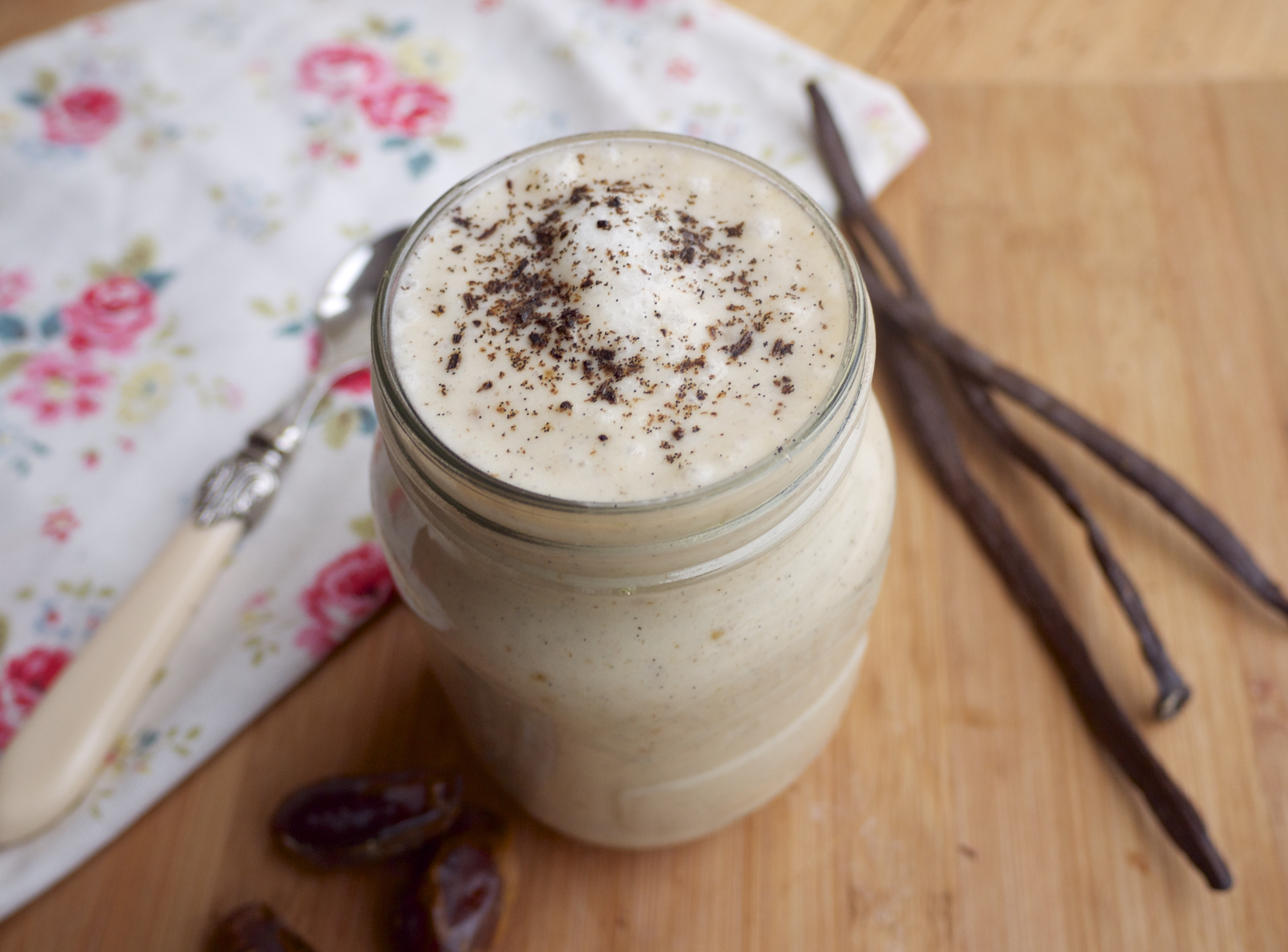 Vanilla Ice-Cream Protein Thickshake
2015-03-12 23:42:09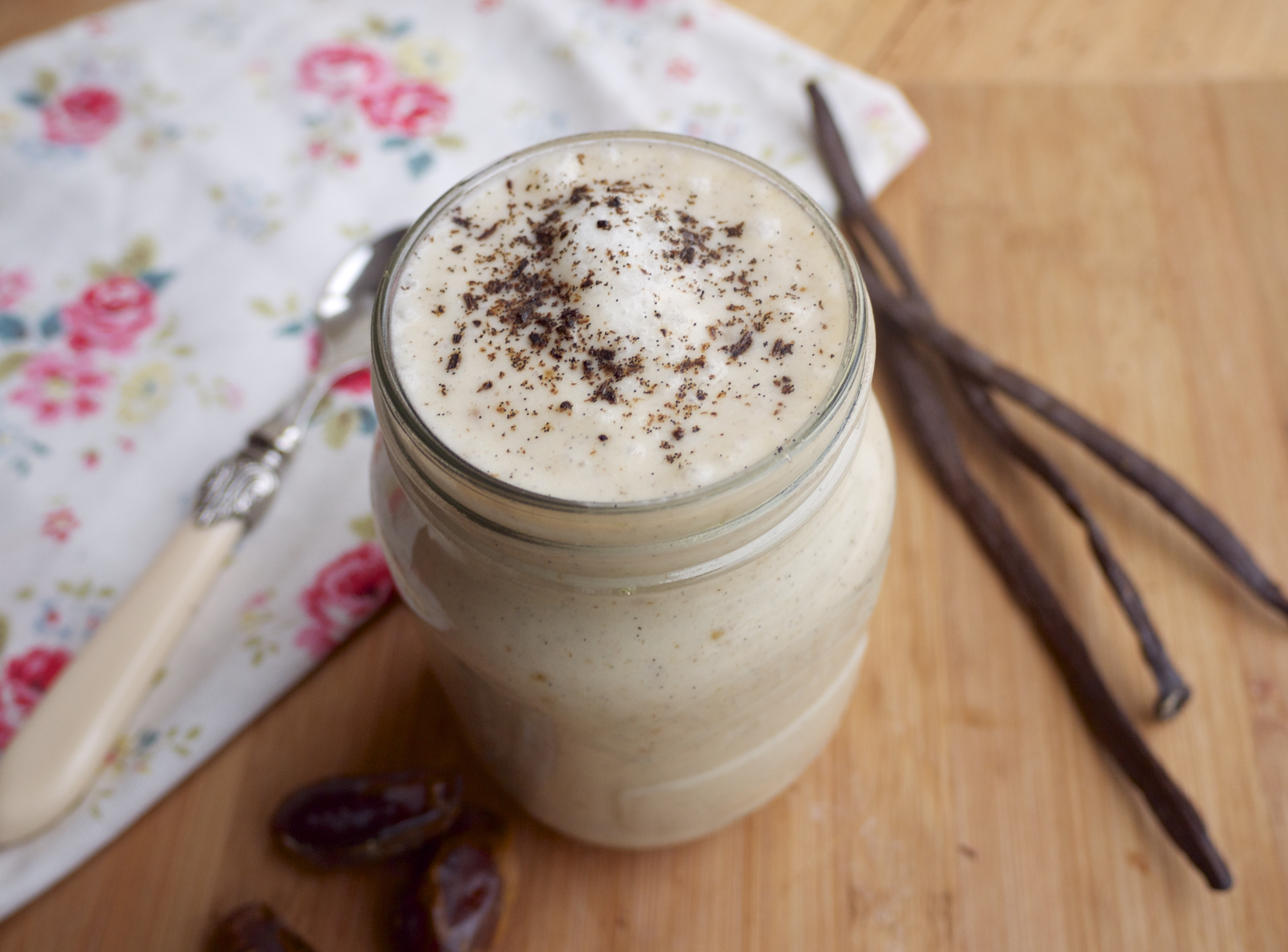 Serves 1
Cold, sweet and creamy, this sugar and dairy-free treat tastes just like my favourite childhood vanilla ice-cream. Delicious nostalgia!
Ingredients
1 banana, peeled, cut into chunks and frozen for at least 2 hours
2 tsp coconut milk yoghurt*
1 scoop Sun warrior Vanilla Protein Powder**
1 tsp vanilla seeds/grated vanilla pods
4 dates, pitted and soaked in hot water for ten minutes to soften
180ml (3/4 cup) low-fat Koko coconut milk or unsweetened almond milk
3-4 ice cubes
Grated dried vanilla pod, to garnish
Instructions
Blend all ingredients together in a blender until smooth and creamy.
Garnish with grated vanilla and serve ice-cold.
Notes
* If you can't find coconut milk yoghurt, then use full-fat canned coconut cream. Chill the can in the fridge overnight and then carefully open it. The cream and liquid should have separated . Spoon the cream into the smoothie and blend as normal.
** 1 tbsp coconut flour makes a good substitute if you can't find the Sunwarrior. It's packed with protein and fibre, plus it thickens the smoothie in a similar way.
Rosanna Davison Nutrition https://www.rosannadavisonnutrition.com/