It's a sunny Saturday in Dublin, and what better way to celebrate the weekend than with BANOFFEE PIE!
This is a classic dessert, popular across all age groups and perfect to make for family summer parties, BBQs and get-togethers.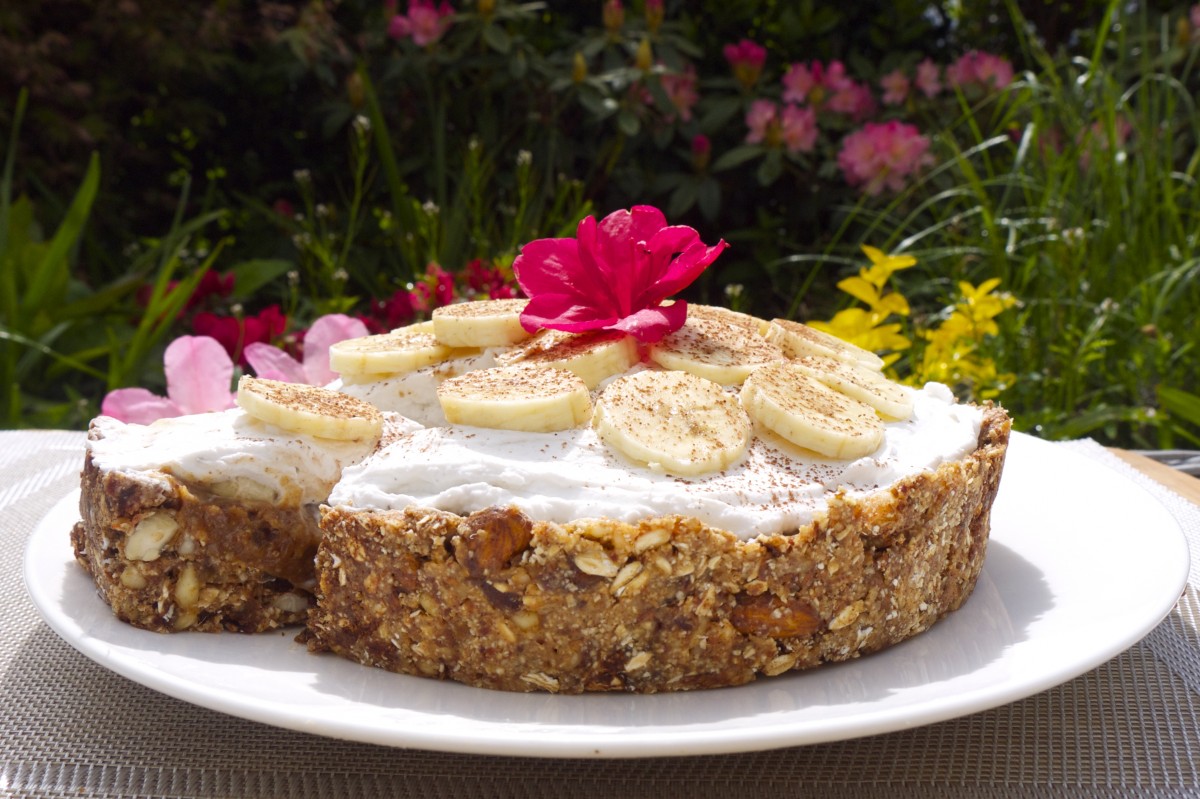 It's sweet and gooey and squidgy, with a thick caramel centre and a frothy, cool and creamy top layer. So so good!
But this version is a bit different to the banoffee pies that you may have tried, because it's free from refined sugar, dairy and gluten. And it's actually good for you!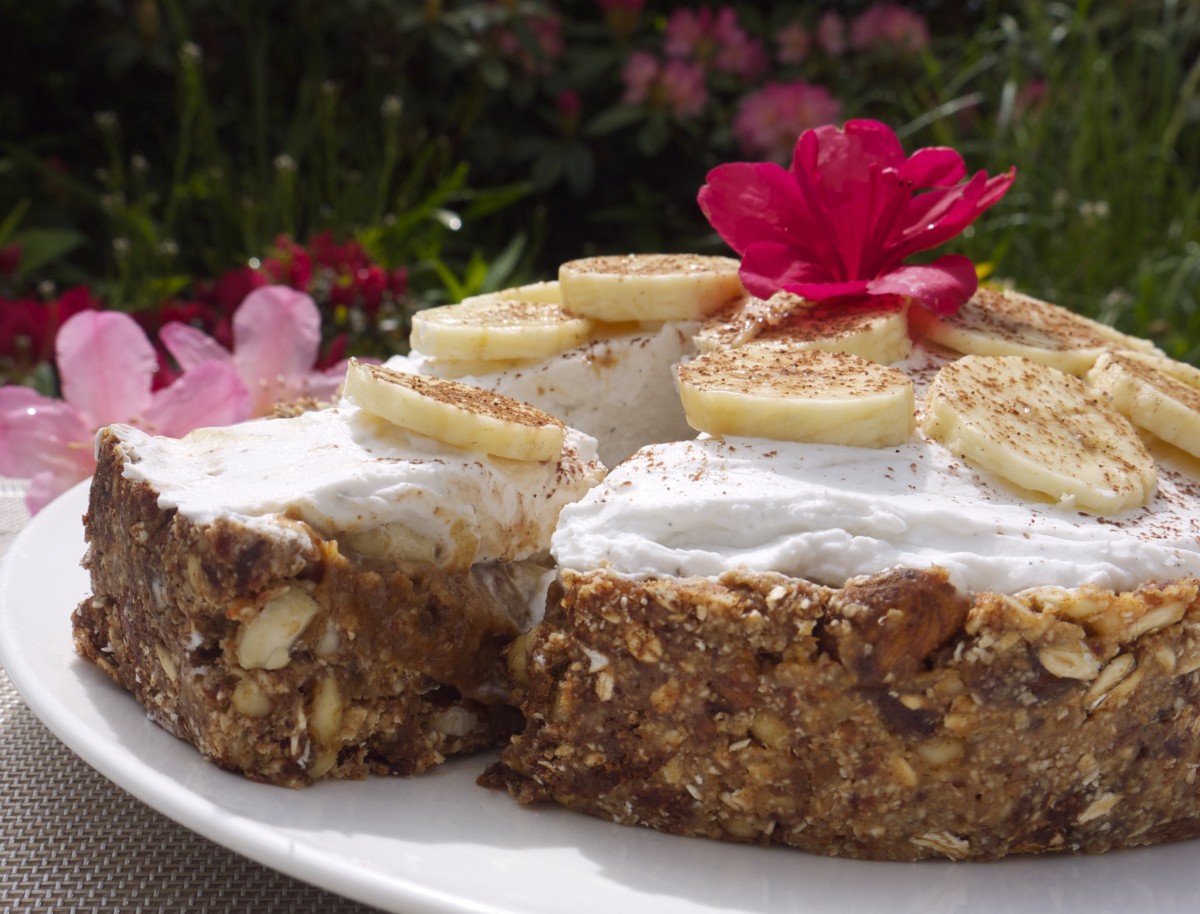 All of the ingredients I've used, from dates to oats, almonds, bananas and coconut cream, are packed with essential nutrients that are incredible for your skin, hair and will fill you with energy instead of sending you on a sugar high followed by a crash! They also contribute the right type of healthy fats to help build a smoother complexion, shinier hair and regulate your hormones.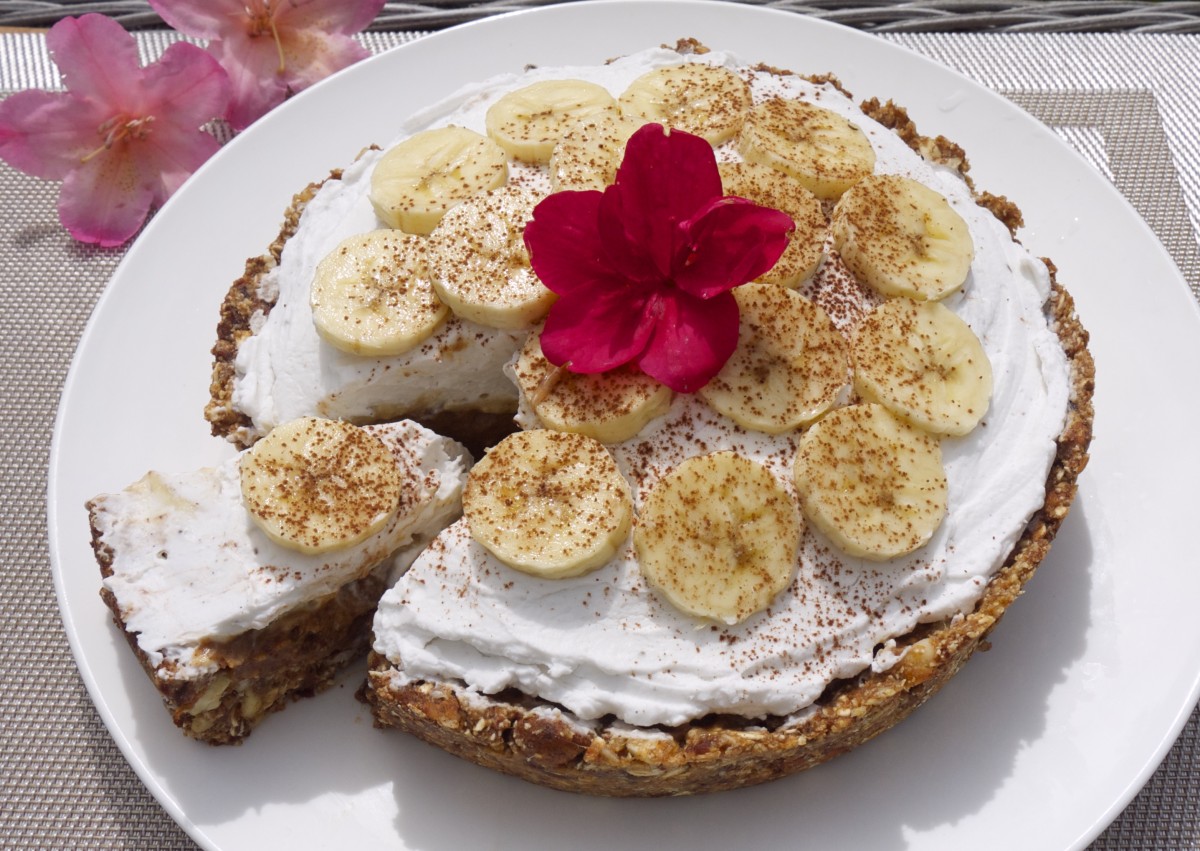 This scrumptious dessert also couldn't be easier to make, aaaaaand requires absolutely no baking!
I simply created the base by combining the ingredients in my food processor…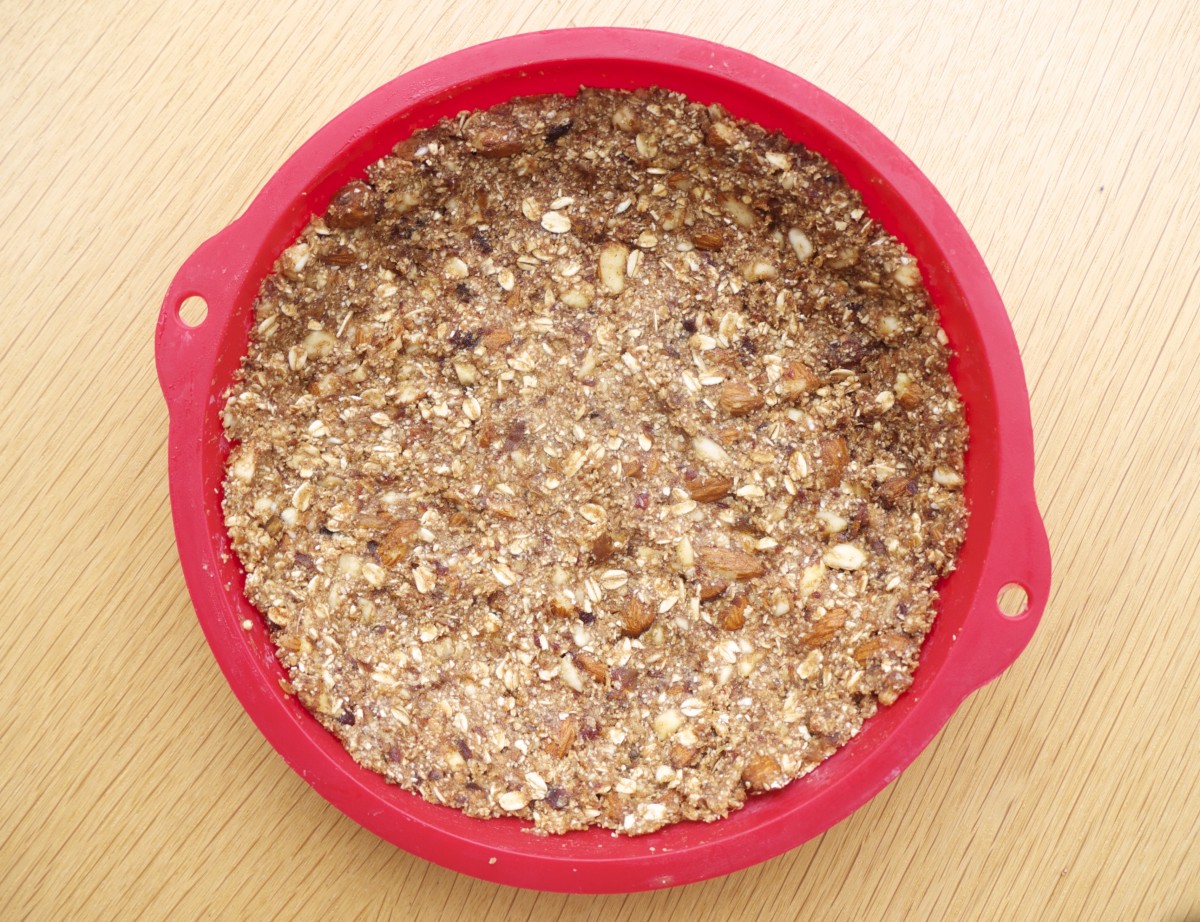 and smoothed on the squidgy caramel centre, which was then topped with fresh banana slices…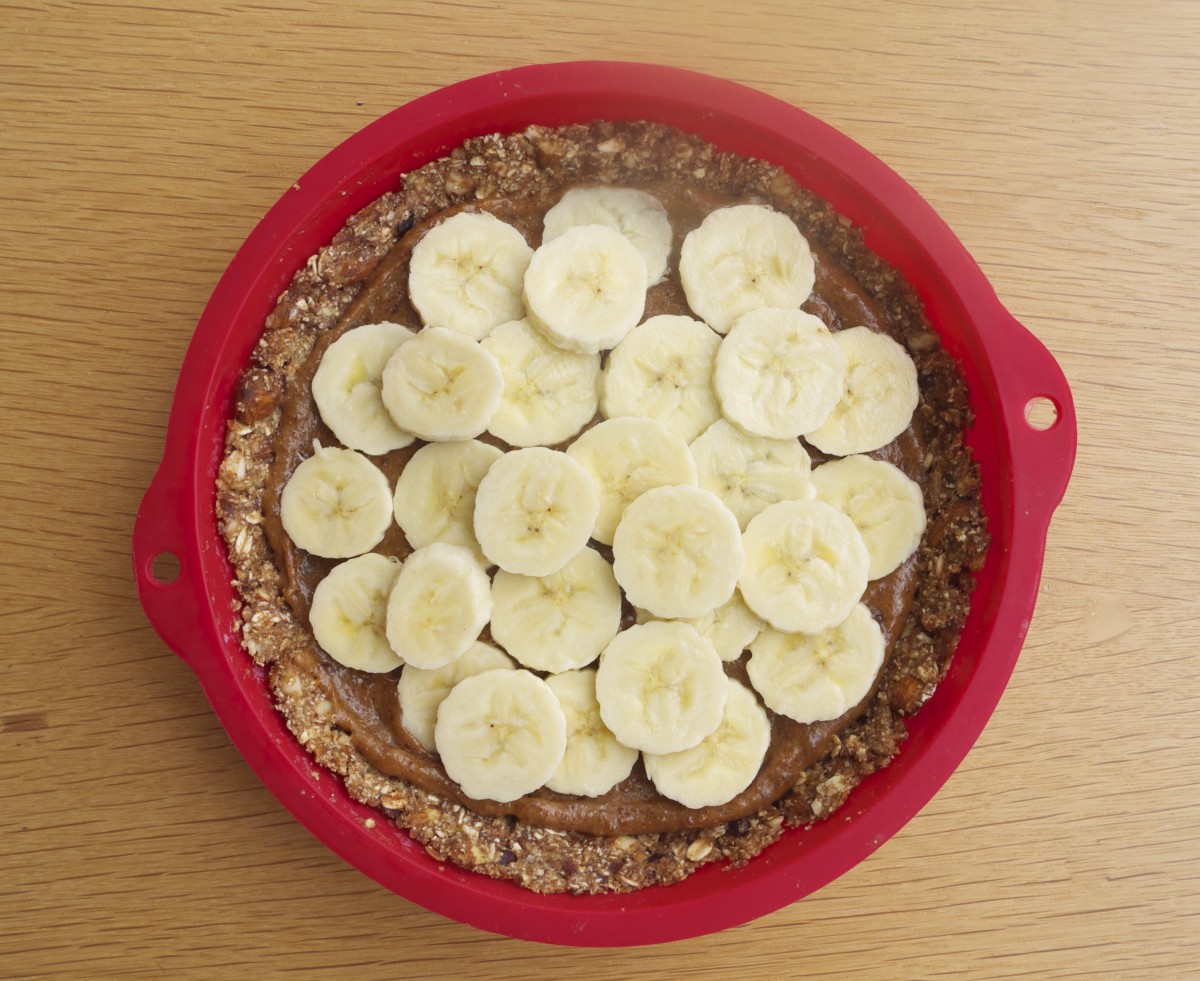 The creamy top layer is simply coconut milk lightly whipped with vanilla, which makes it taste even better than the real thing! A guaranteed people pleaser 🙂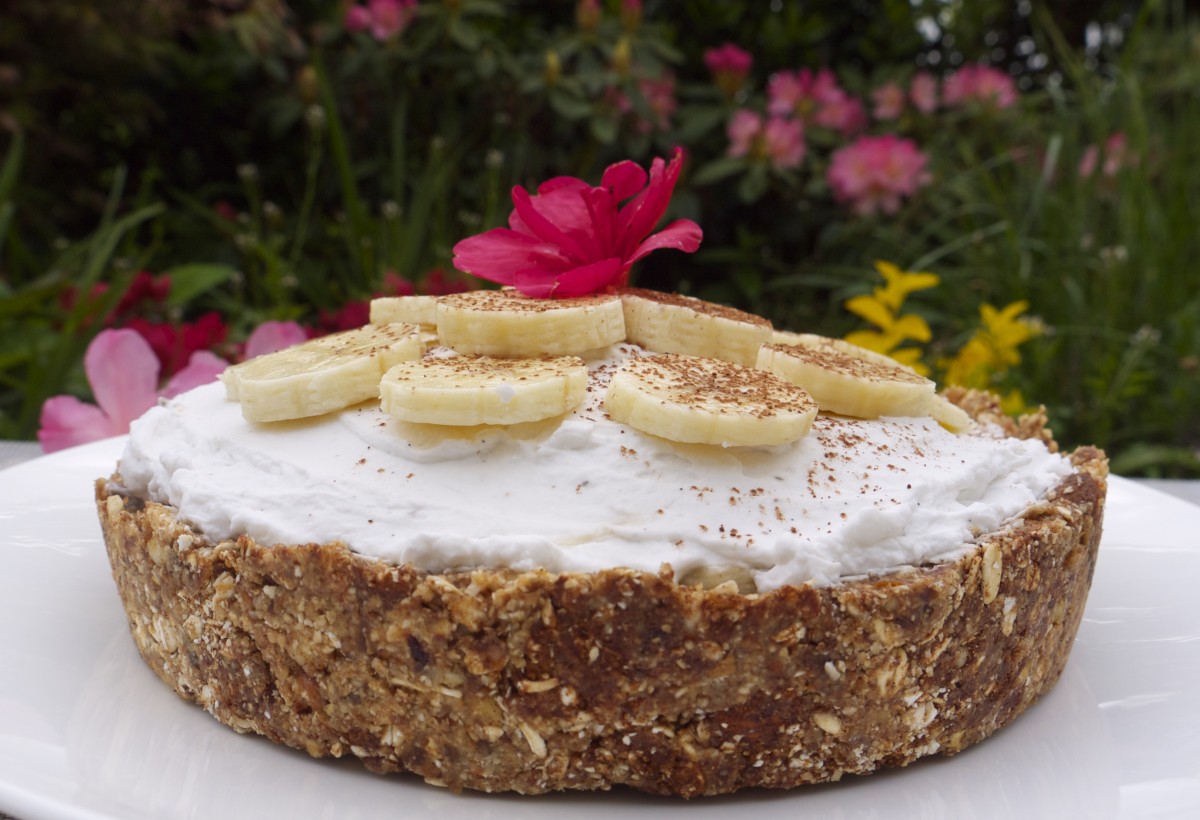 Let me know if you give this banoffee pie recipe a go and I love to see all your creations on social media! Simply tag #RosannaDavisonNutrition on Instagram or Twitter or come on over to my Facebook to say hello 🙂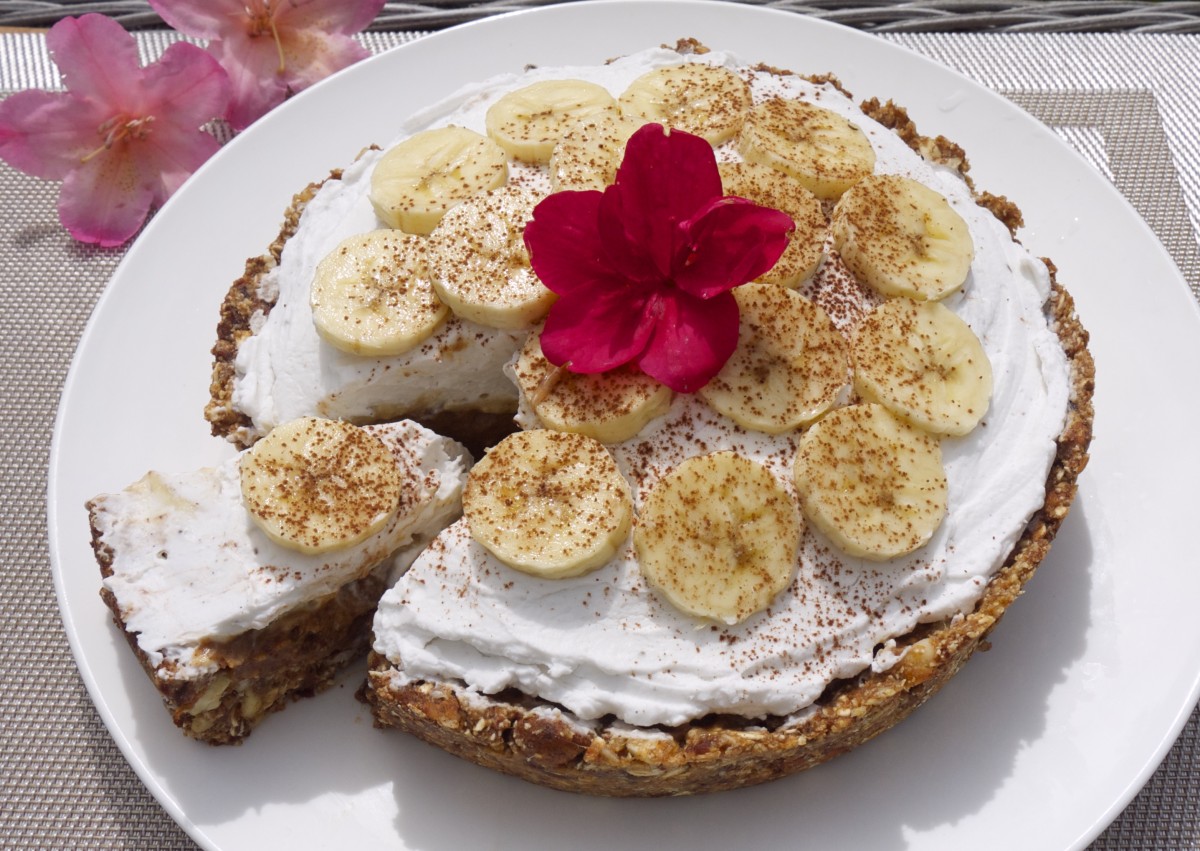 Banoffee Pie
2015-08-08 11:23:59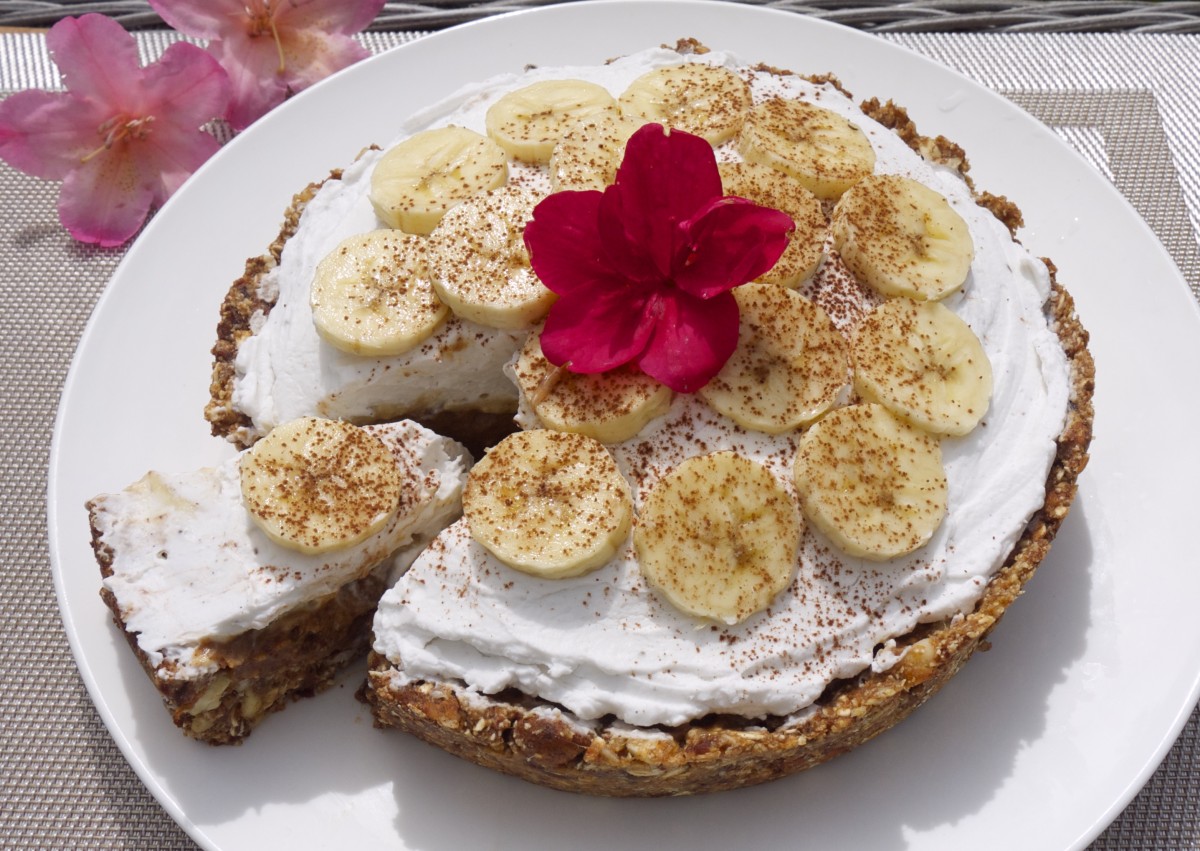 Serves 6
A healthier version of the traditional banoffee pie, but just as creamy, gooey and delicious! Free from gluten, dairy and refined sugar.
For the base
150g (1 cup) pitted dates, soaked in hot water for 20 minutes to soften
145g (1 cup) raw unsalted almonds
2 tsp vanilla extract
1 tbsp coconut flour
90g (1 cup) gluten-free rolled oats, made into flour*
1 tsp cinnamon
For the caramel layer
150g (1 cup) pitted dates, soaked in hot water for 20 minutes to soften
2 tbsp raw unsalted almond butter
2 tbsp pure maple syrup
1 tsp lemon juice
2 tsp vanilla extract
A dash of cold water, to blend
1 large or 2 small ripe bananas, finely sliced
For the top layer
2 cans of full-fat coconut milk, chilled overnight
2 tsp vanilla extract/vanilla seeds/vanilla powder
pinch of cacao/cocoa powder, to serve
For the base
Place all ingredients into a food processor fitted with an S blade and blend until a sticky 'dough' forms. You may want to create a coarse meal or to leave a bit more texture.
Press the dough into a 12cm rubber or springform pan or tin
Place in the freezer to set for 20 minutes
For the caramel layer
Drain the soaked dates and blend all ingredients together in a blender or food processor until it becomes a smooth, thick caramel sauce. Use a little water to blend if necessary.
Smooth the caramel layer on top of the base, then layer the banana slices on top. (Save some banana to decorate the very top of the pie.)
Place the pie back in the freezer to set.
For the top cream layer
Carefully open up the cans of coconut milk. The cream should have separated from the liquid. Carefully spoon out the cream and place it into a mixing bowl.
Add the vanilla and use a handheld electric whisk or even a fork, to briskly whisk up the cream until frothy.
Smooth the cream layer on top of the pie, ensuring it's smooth and even.
Add slices of banana and finish with a sprinkle of cacao/cocoa powder to garnish.
Store in the fridge until ready to serve and always serve chilled.
Notes
*To make oat flour, pour the oats into a food processor or blender and blend for up to 60 seconds until a flour forms.
The banoffee pie can be stored in the fridge in an airtight container for 2-3 days.
Rosanna Davison Nutrition https://www.rosannadavisonnutrition.com/