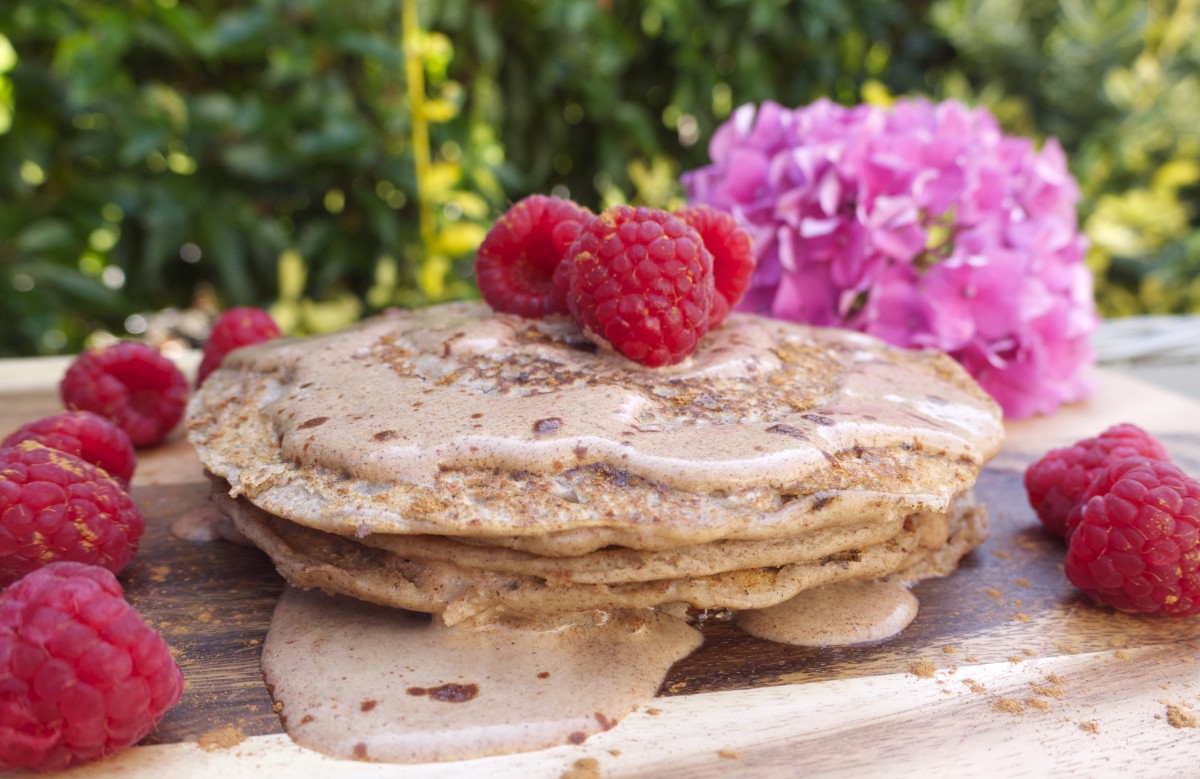 This is possibly my favourite pancake recipe everrrr!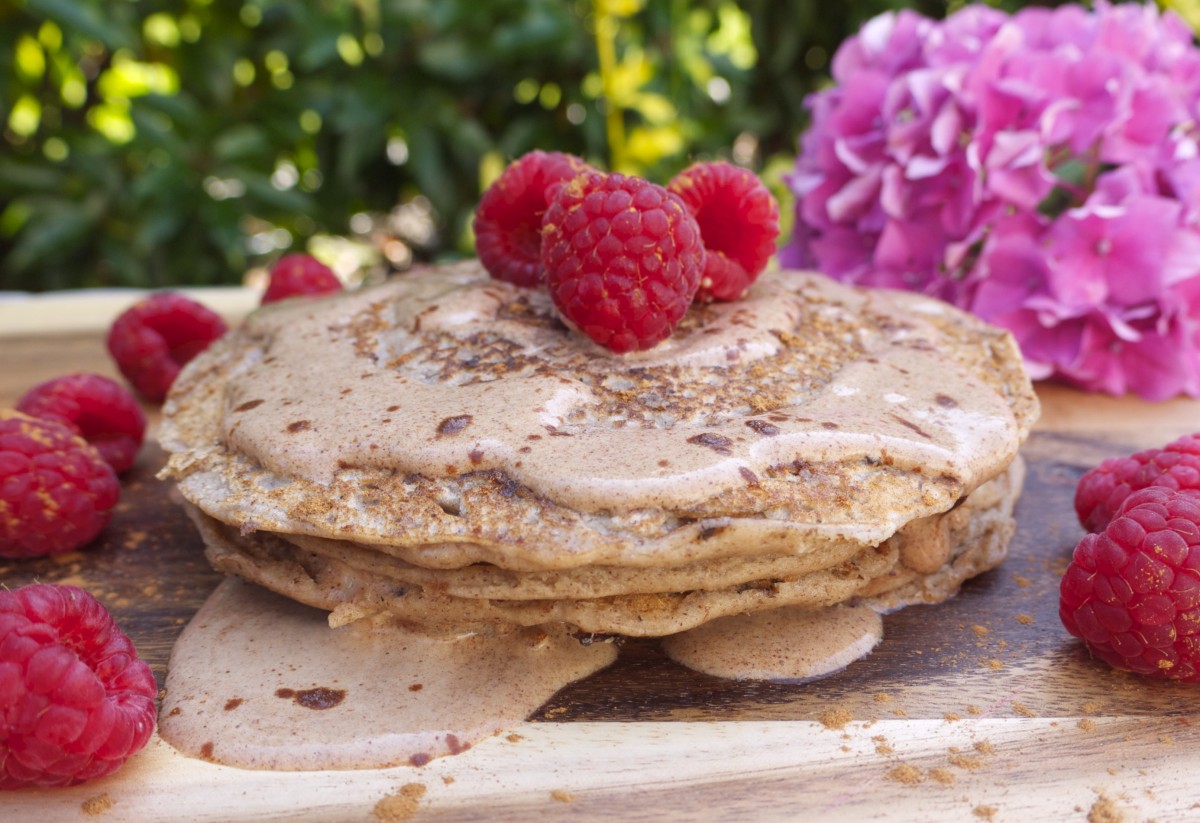 I'm a little bit obsessed with cinnamon because it makes an awesome natural sweetener for everything from energy balls to muffins and cakes, plus it's really good for you! Cinnamon contains an essential trace mineral called chromium, which helps to control blood sugar levels and the laying down of fat in the body. So it not only taste sweet, warming and homely in recipes, but it can also helps us to stay slimmer. Hurrah!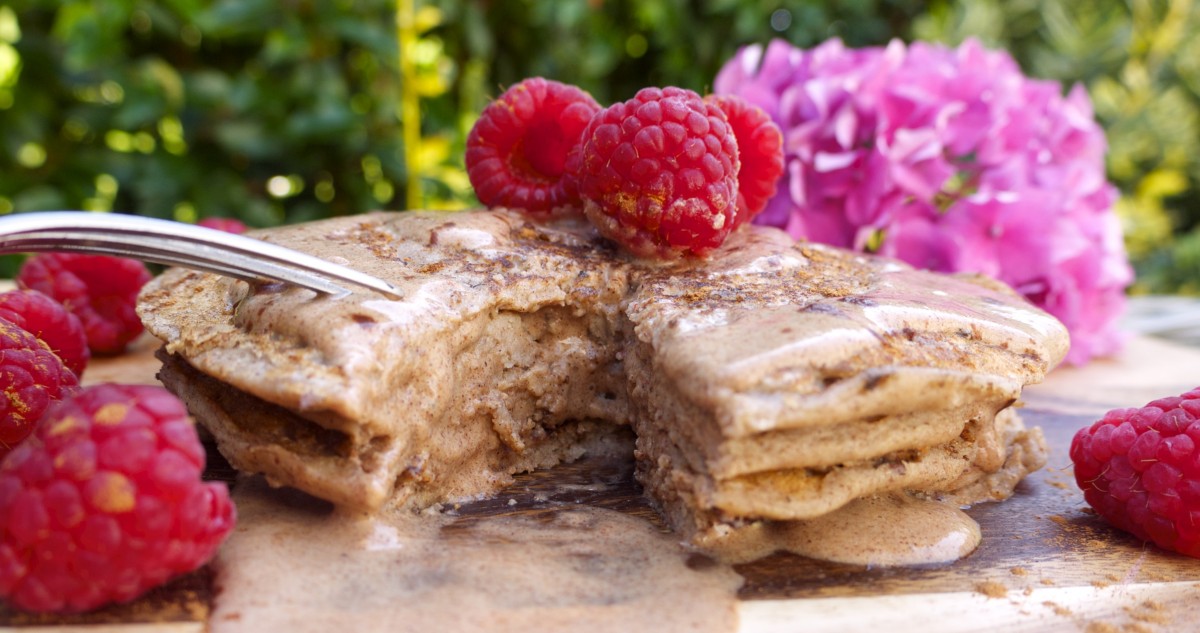 Cinnamon also brings me right back to my childhood, and especially at Christmas, when the house would be filled with the smells of Christmas cake and fragrant spices like nutmeg, cloves and cinnamon.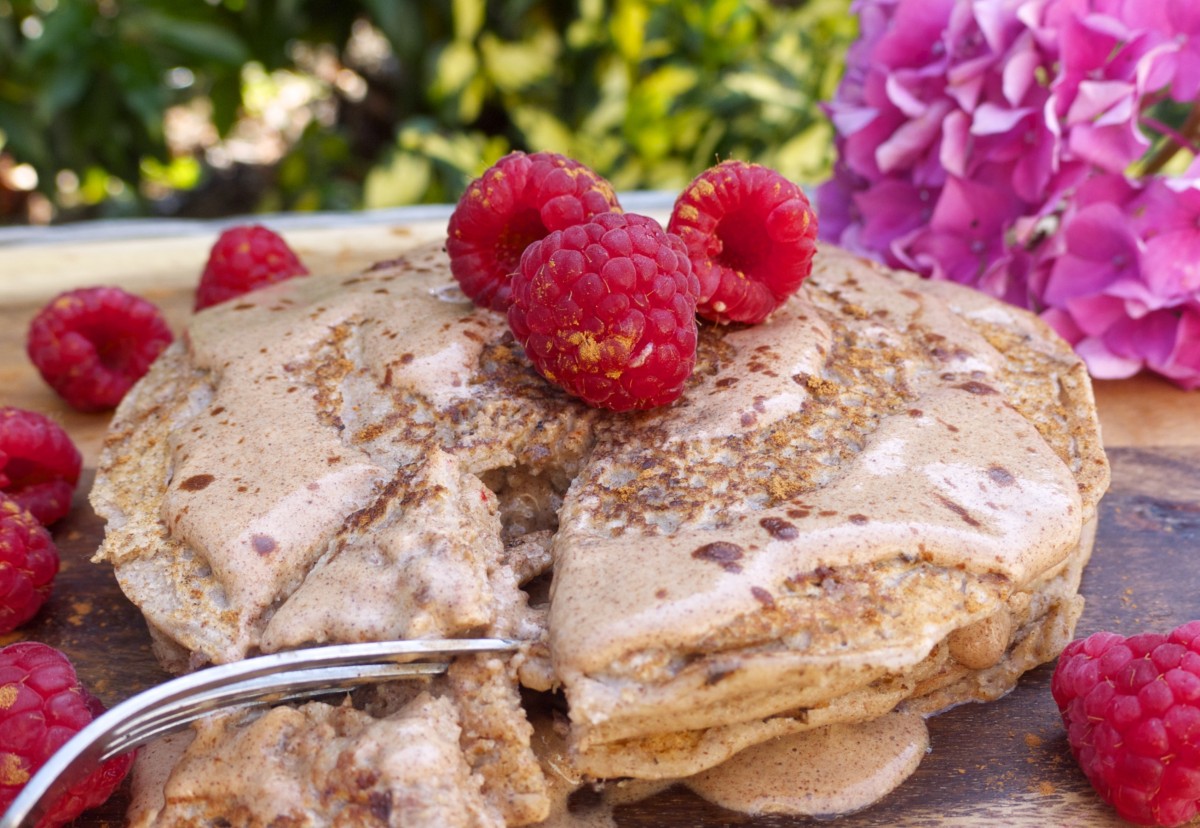 The inspiration for these pancakes came a few days ago when I was standing in the queue at a coffee shop and the cinnamon swirl Danish pastry caught my eye from behind the glass display. It looked so sweet and sticky and creamy and DELICIOUS! I went home and decided to make a breakfast or brunch recipe that would taste similar, but minus all the refined sugar and wheat that can cause bloating and discomfort for so many people.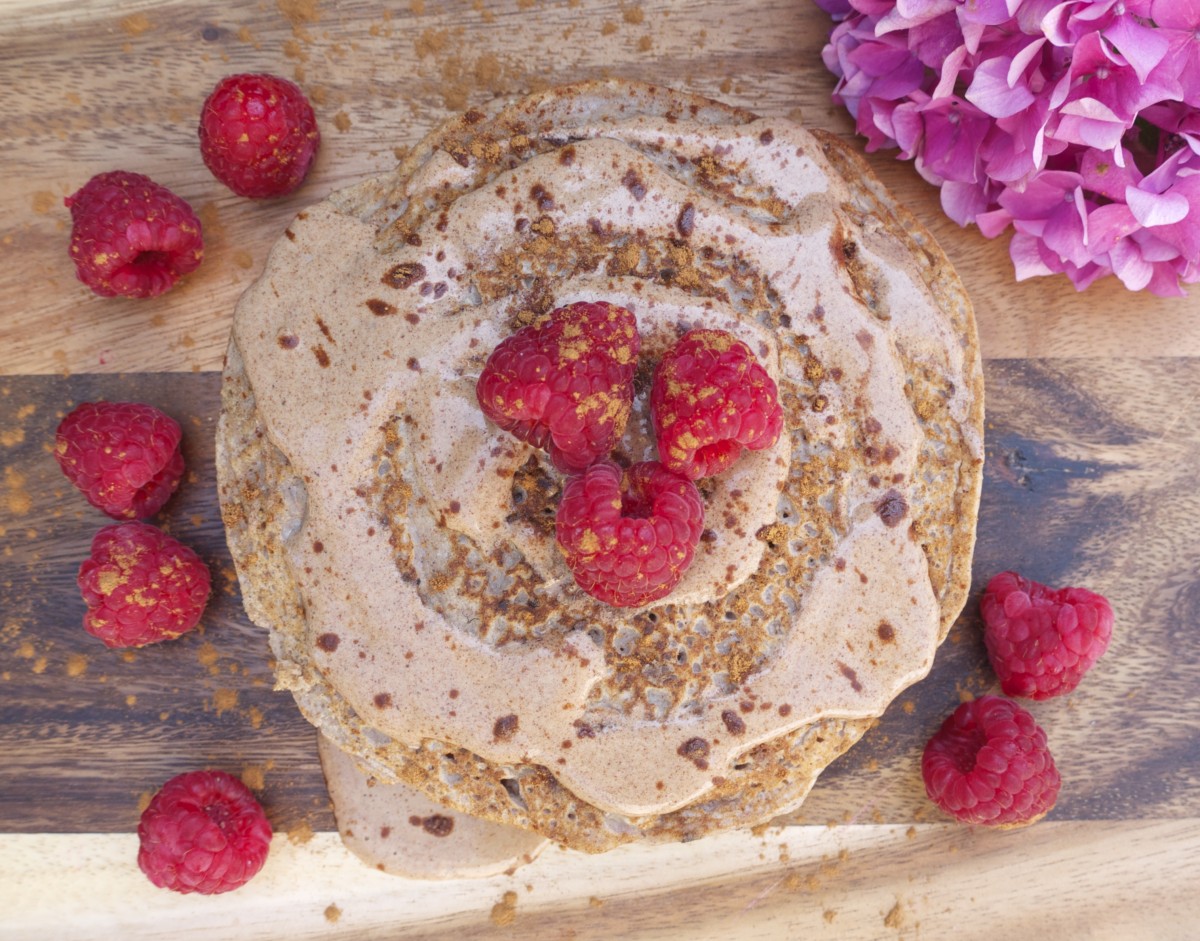 The pancakes and cinnamon cream sauce are super easy to make! I used my foolproof buckwheat pancake recipe, which requires just four main ingredients – buckwheat flour, ground flaxseed, a banana and almond milk. So easy! Buckwheat doesn't have any resemblance to wheat, and is a naturally gluten-free seed that's ground down to be used in place of regular flour in many recipes. I find it light and easy to digest, so these pancakes don't sit heavily in your tummy for hours.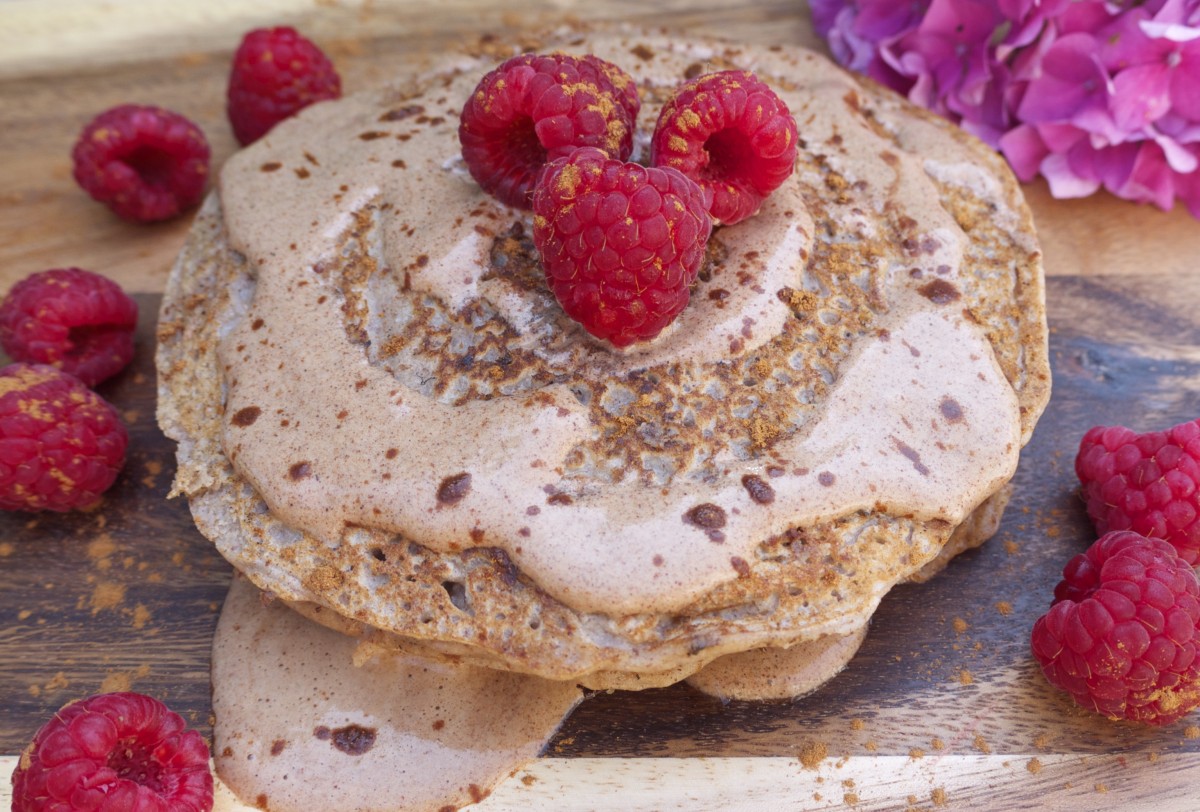 The cinnamon cream is chilled coconut milk whisked up with coconut sugar and cinnamon to form that gently melting, creamy topping. You can also spread each pancake with it, so that the whole stack is oozing with deliciousness!
The raspberries look like bright jewels glistening on top, but feel free to decorate with any type of fresh or frozen berry – or eat it without any!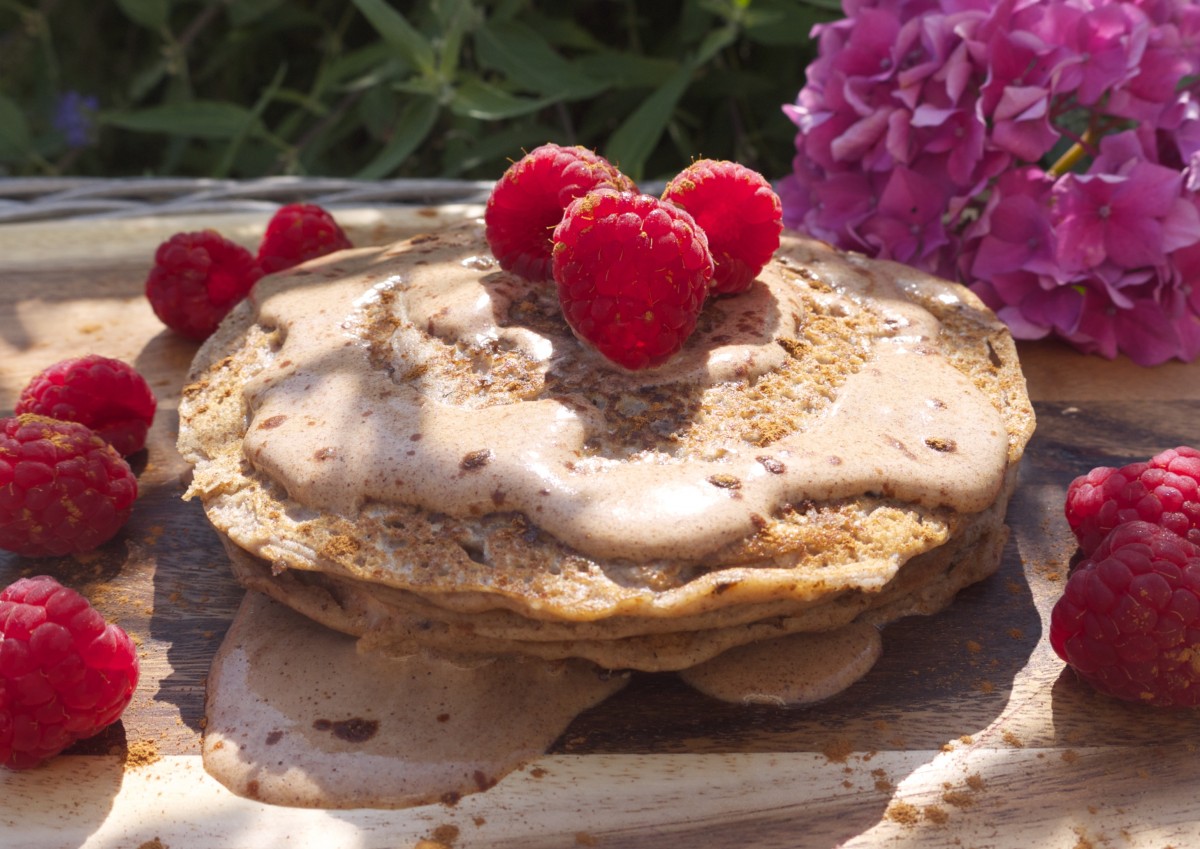 Let me know if you give this cinnamon swirl pancake recipe a go and I love to see all your creations on social media! Simply tag #RosannaDavisonNutrition on Instagram or Twitter or come on over to my Facebook to say hello 🙂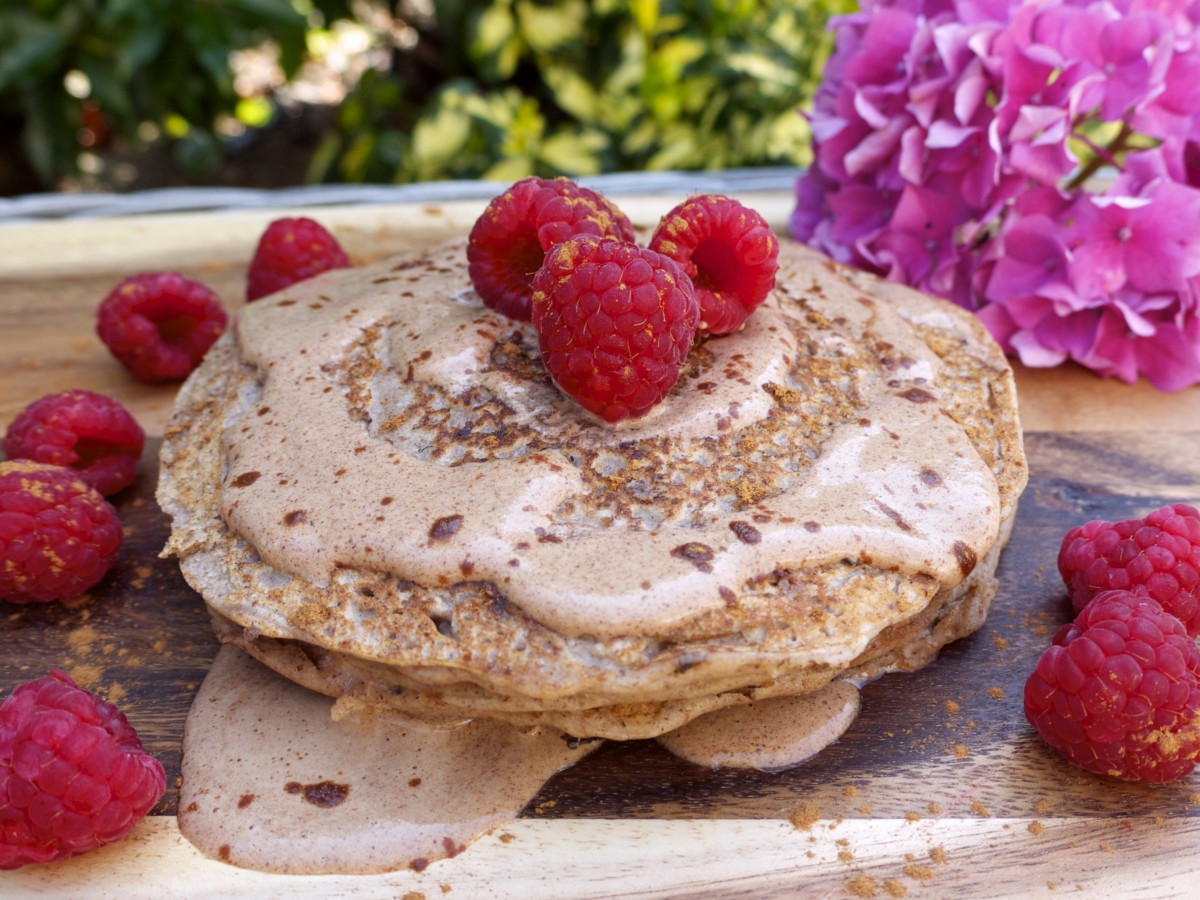 Cinnamon Swirl Pancakes
2015-08-13 22:10:54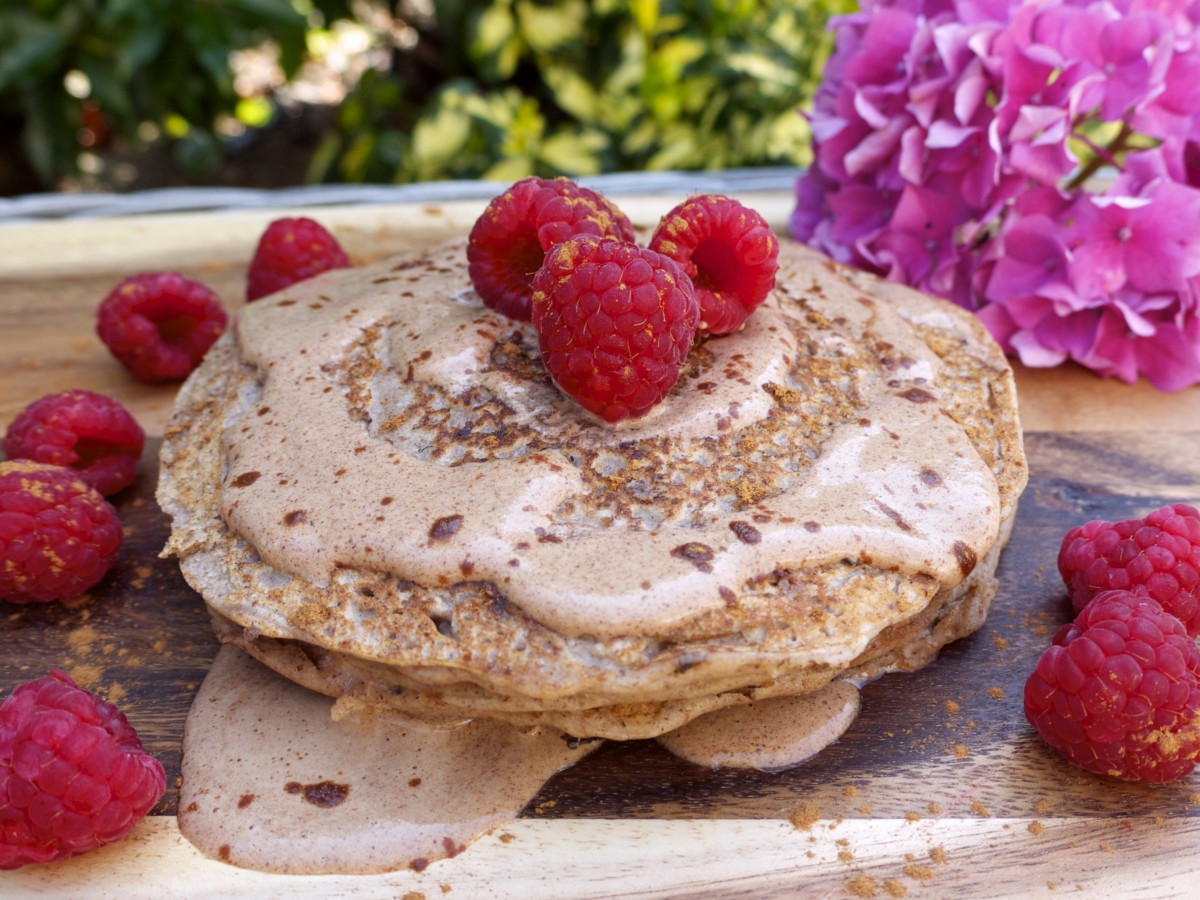 A satisfying, creamy breakfast or brunch, packed with the sweet, fragrant taste of cinnamon.
For the pancakes
250ml (1 cup) unsweetened almond milk
120g (1 cup) buckwheat flour
1 ripe banana
1 heaped tbsp milled flaxseed or milled chia seed
1 tsp ground cinnamon
Virgin coconut oil, to cook
For the cinnamon cream
1 can of full-fat coconut milk, chilled overnight in the fridge
2 tbsp coconut sugar (honey or pure maple syrup can be used instead)
1/2 a tbsp ground cinnamon
1 tsp vanilla extract
6-7 tbsp unsweetened almond milk, to blend
Instructions
Place all pancake ingredients into a blender or food processor (I used a blender), beginning with the almond milk.
Blend well until a smooth batter forms.
In a frying pan, heat up a small quantity of coconut oil over a medium heat until it begins to bubble.
Use a tablespoon to spoon the batter into the pan and smooth it out with the back of the spoon or a spatula.
Allow it to cook for about 1-2 minutes, gently lifting up the sides until you're able to flip the pancake over, and cook it for another minute until it's firm and lightly browned. Transfer it to a plate.
Continue to cook the pancakes until the batter is used up. Add more coconut oil to grease, if needed.
This quantity makes 5-6 medium-size pancakes. Double or triple the quantity of ingredients for more!
Allow the pancakes to lightly cool while you make the coconut cream.
Gently open up the chilled can of coconut milk, ensuring the contents don't mix together. Drain out the liquid and spoon the solid coconut cream into a mixing bowl.
Add the coconut sugar, cinnamon, vanilla and almond milk, and use a handheld whisk to whizz it up until it becomes a creamy consistency. Taste and add more flavouring, if desired.
I served the pancakes layered with cinnamon cream, and then drizzled it on the very top in a swirl.
Top with berries and a sprinkle of cinnamon, and serve warm.
Notes
Anf leftovers can be stored in an airtight container in the fridge for up to 2 days.
Rosanna Davison Nutrition https://www.rosannadavisonnutrition.com/