It's the beginning of a fresh new week, the sun is shining here in Dublin, and Monday is always a good day to eat well to set you up for the week ahead.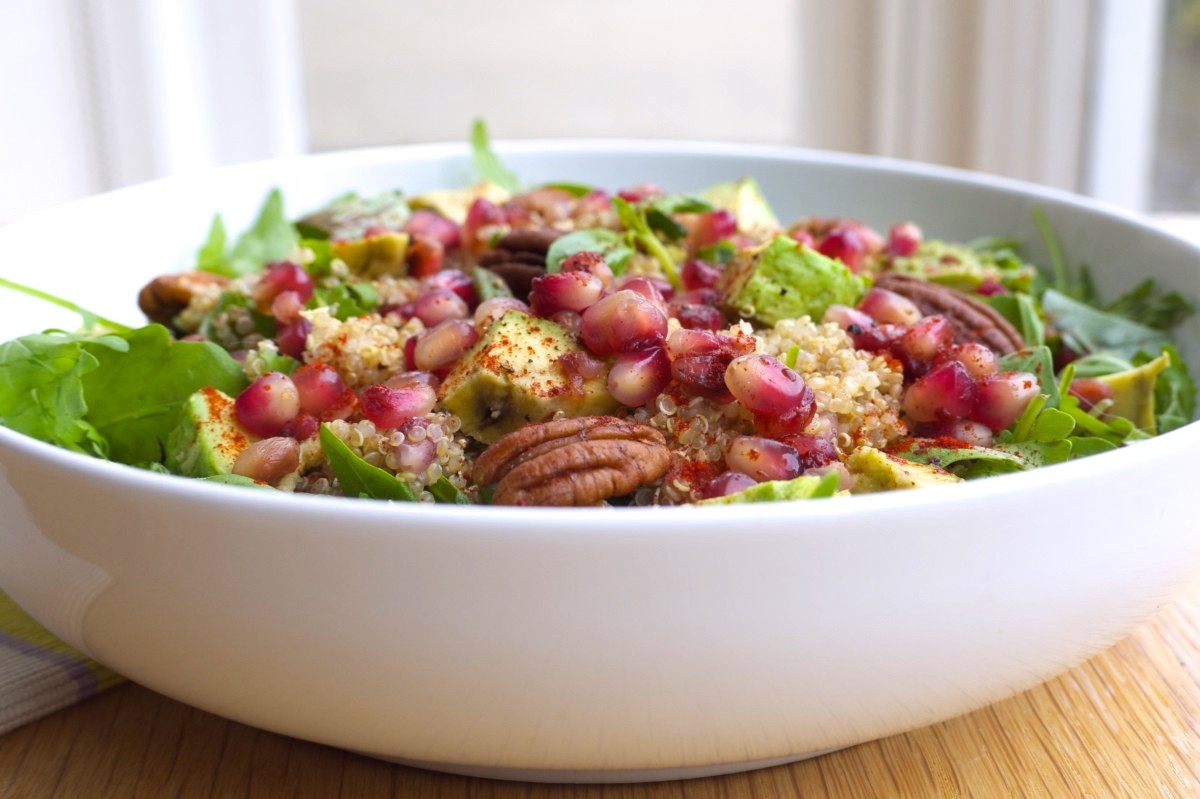 A huge salad is a lunchtime staple for me, and I love to get creative and add a whole array of different ingredients. Although it's usually a case of rooting around my fridge and cupboards to see what can be thrown in!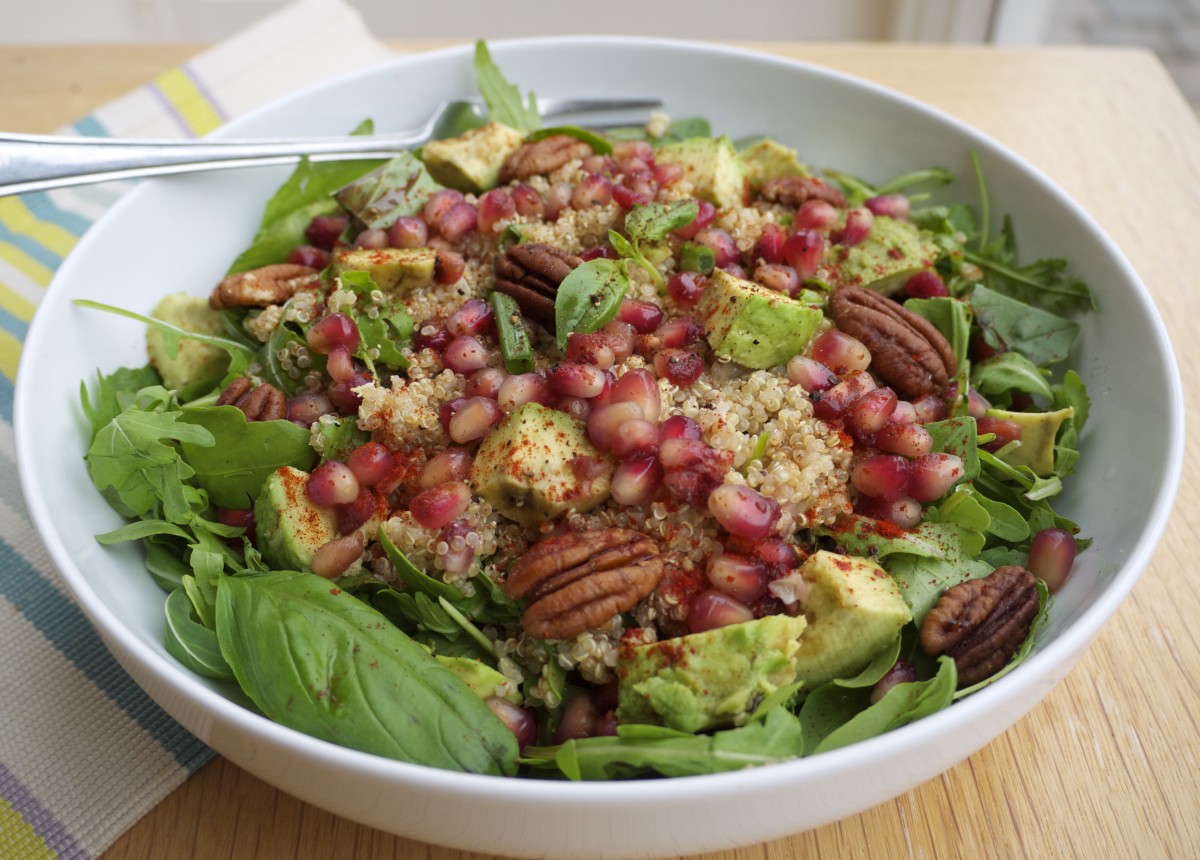 As I was in the mood for a colourful, fresh salad, I put together this quinoa and pomegranate bowl with avocado and toasted pecans. It was sooo good, and exactly what was needed after yesterday's indulgences at Electric Picnic!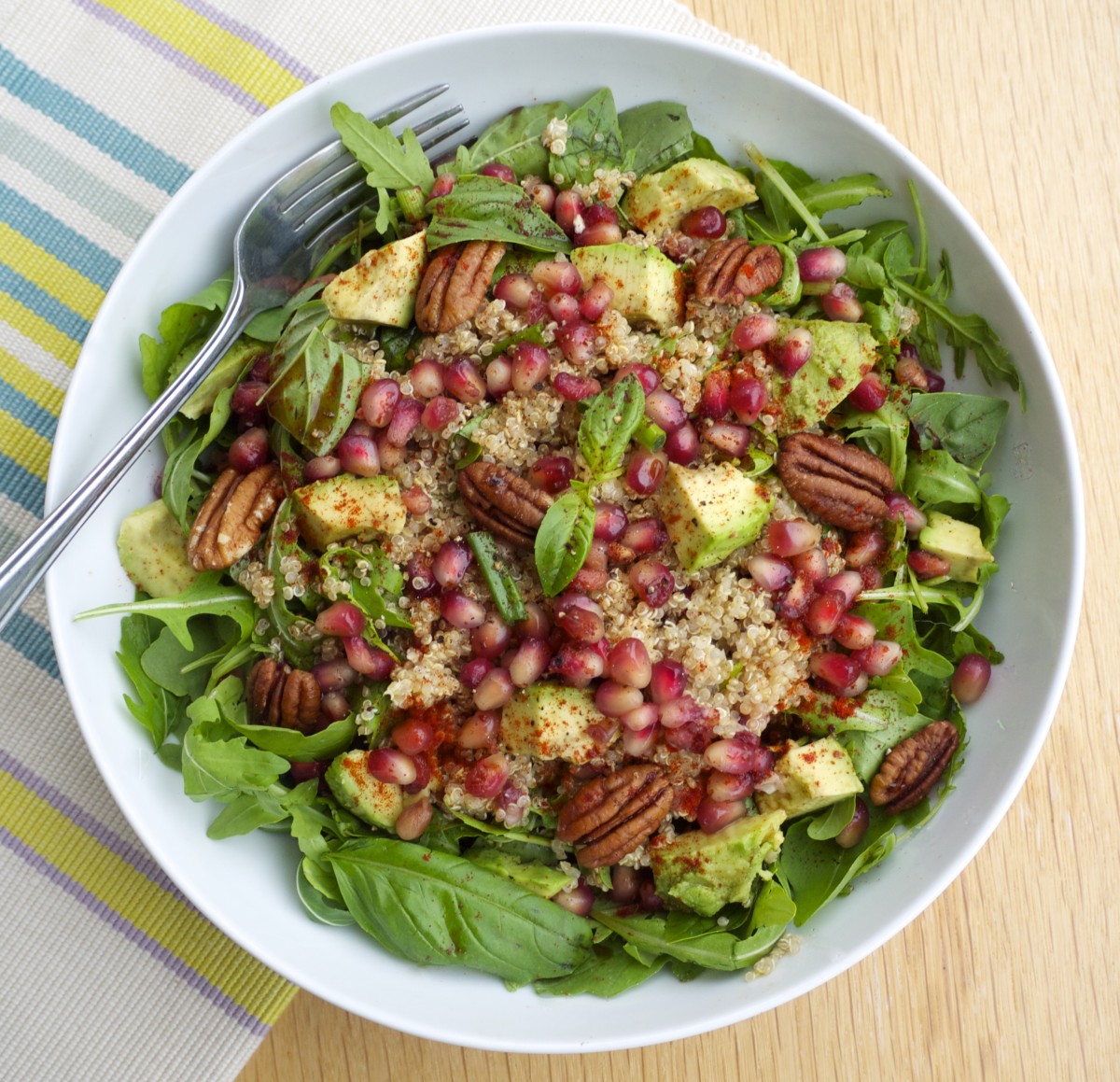 Quinoa is a store cupboard staple for me, and it really adds plenty of filling fibre, protein and nutrients to a meal. I like to make a big batch of it and save it for diner or lunch the following day, as it's tasty mixed together with veggies, seasoning and spices.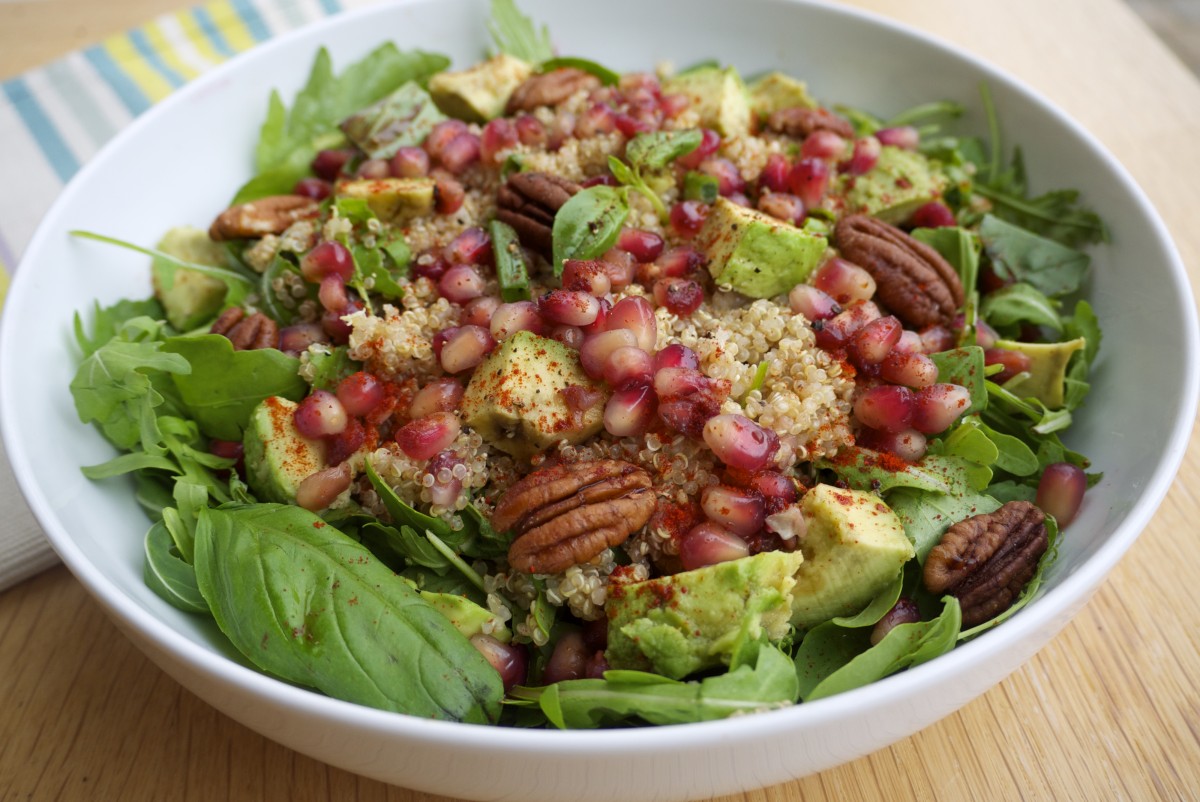 The chopped avocado here adds plenty of filling and healthy fat, plus the texture works very well alongside the juicy red pomegranate seeds and crunchy toasted pecans.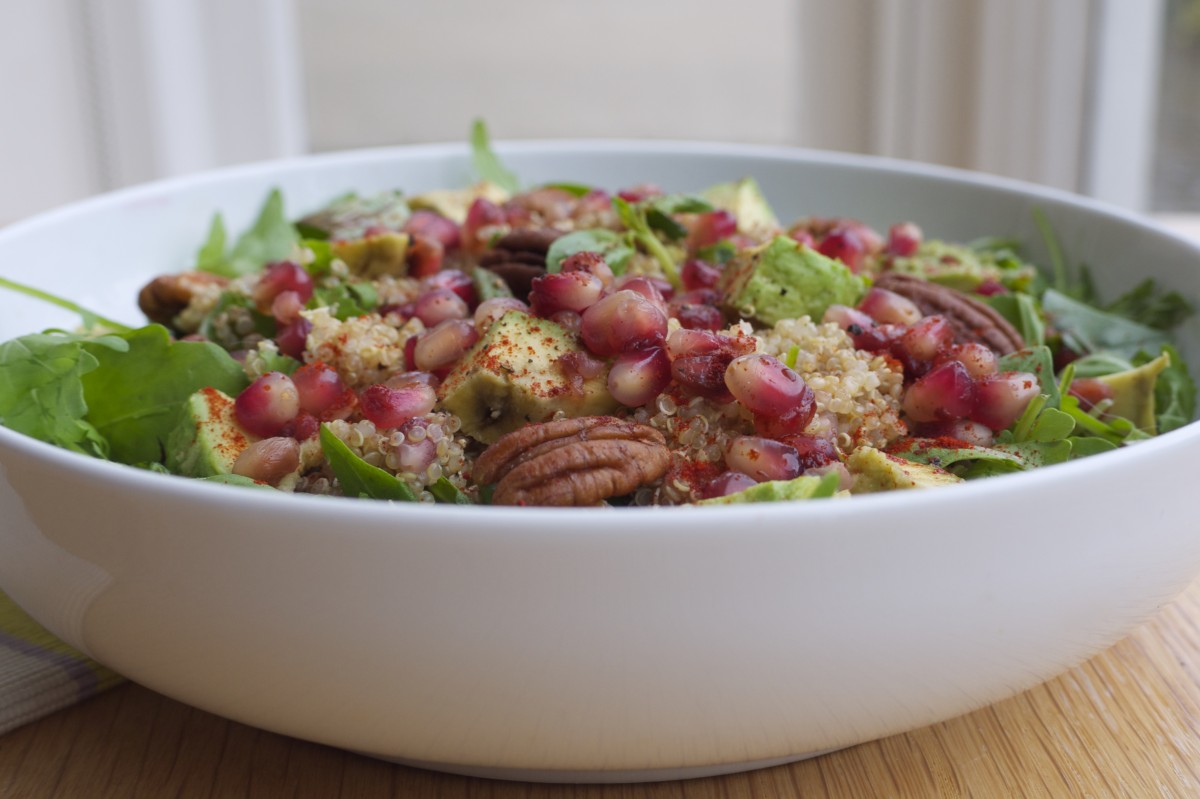 Now is a good time of the year to enjoy pomegranates, packed with health-promoting antioxidants. Those bright red jewels look so good sprinkled on a range of dishes too!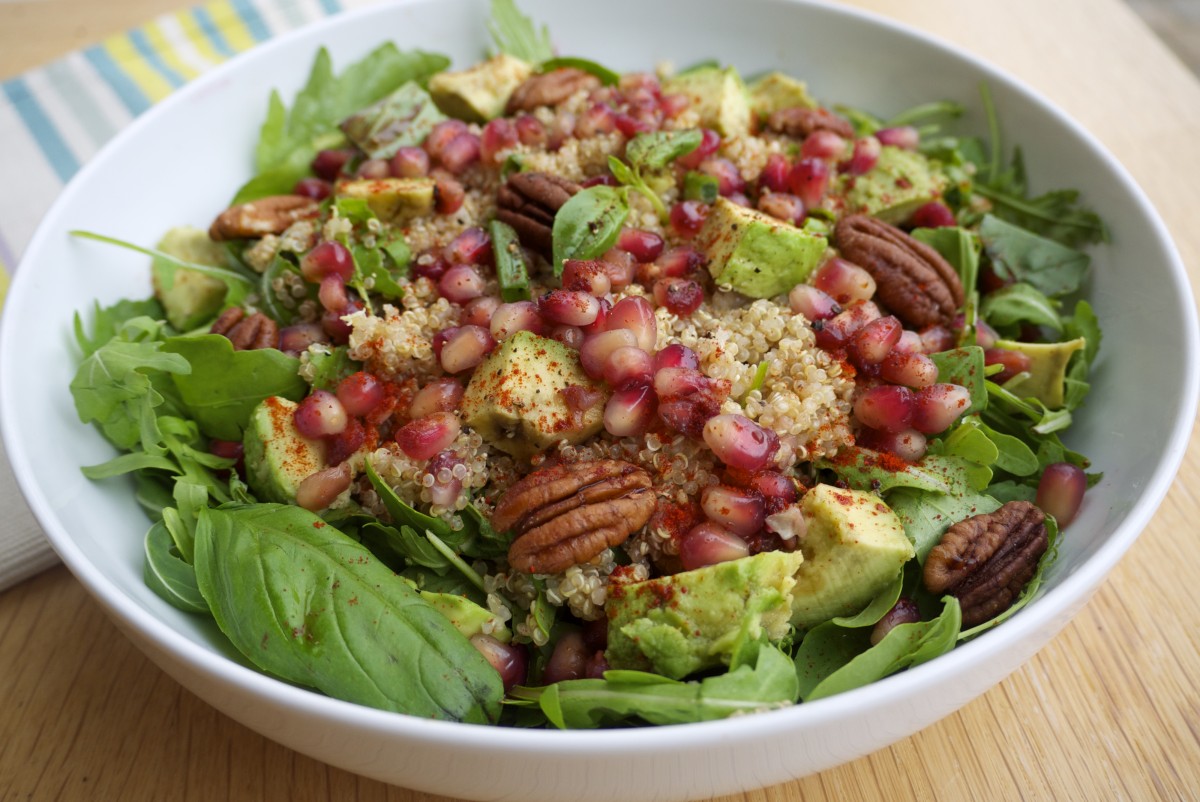 I love the biscuity flavour of toasted pecans, but you may want to substitute them for walnuts, hazelnuts, almonds or seeds, or leave them out altogether if you would rather avoid nuts.
I used a combo of peppery rocket and fresh baby spinach leaves as the base for this salad, but use whatever leaves you like best. The main purpose is to get plenty of nourishing greens into you!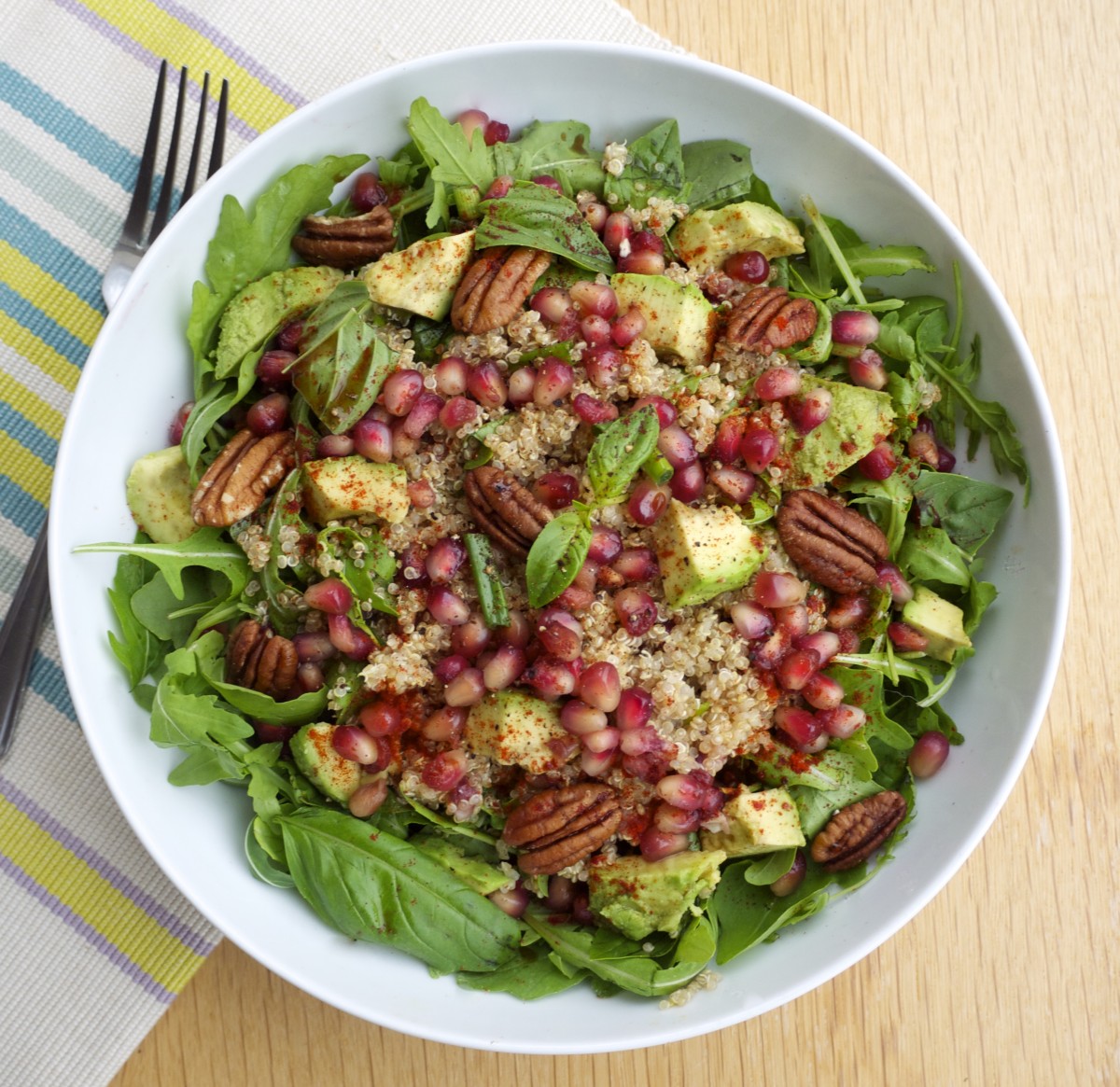 Let me know if you give this quinoa and rocket recipe a go and I love to see all your creations on social media! Simply tag #RosannaDavisonNutrition on Instagram or Twitter or come on over to my Facebook to say hello 🙂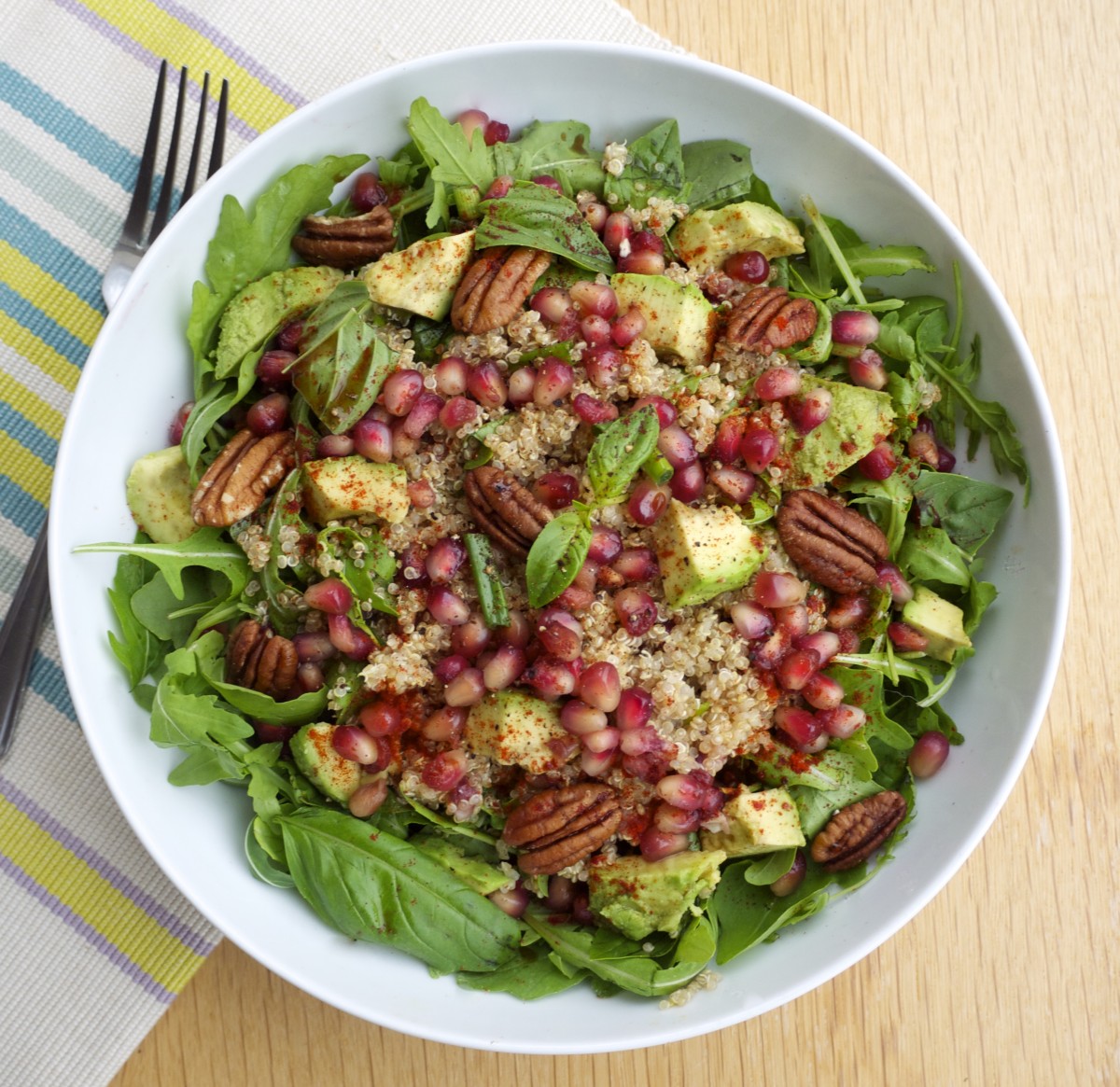 Quinoa and Rocket Salad, with Pomegranate, Avocado and Toasted Pecans
2015-09-07 16:21:19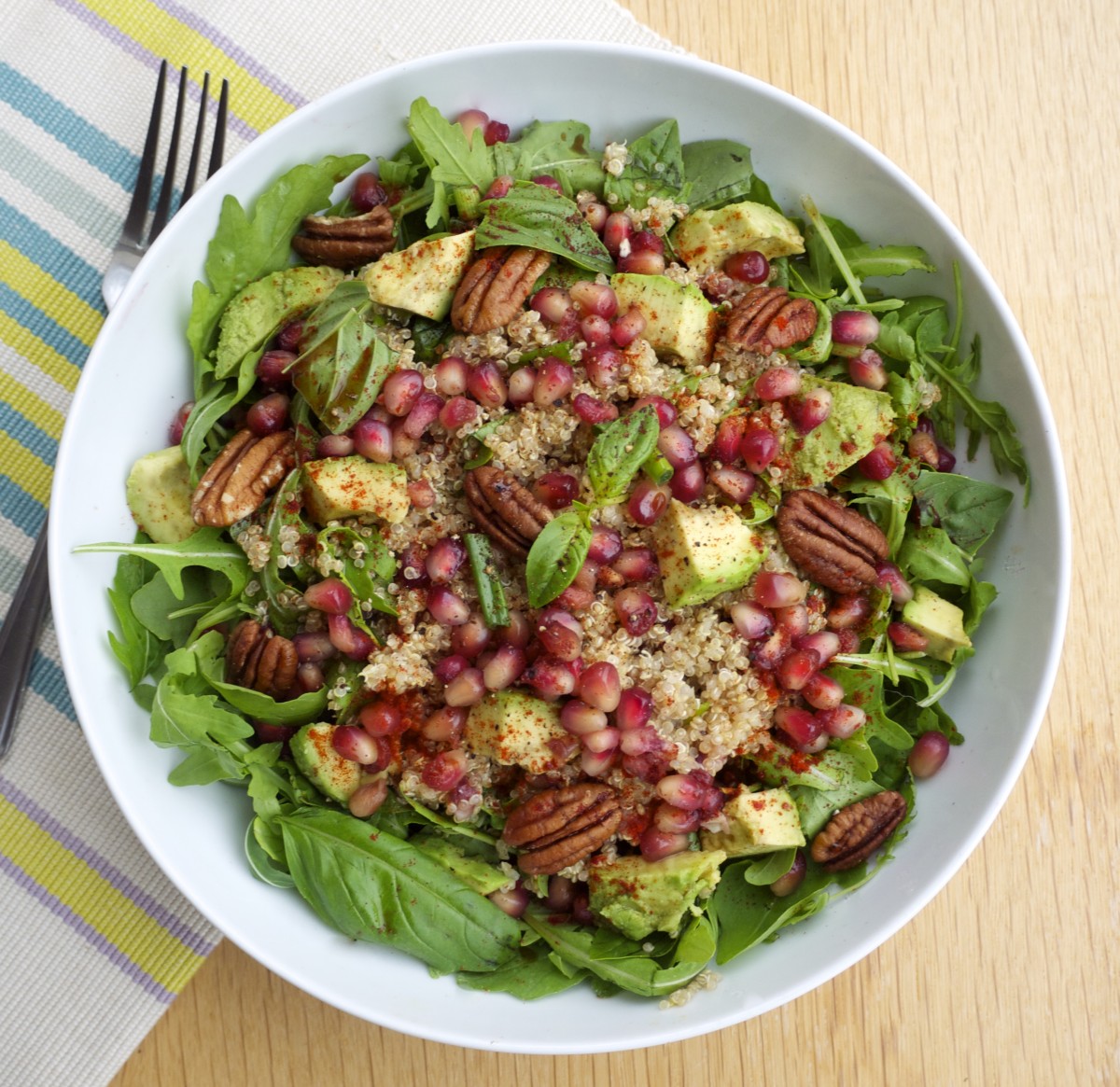 Serves 2
A vibrant, fresh and nourishing salad full of flavour. It works well as a lunch or dinner option, and the quinoa can be made in a big batch to eat over a few days. A good option for families and students in particular!
Ingredients
50g (1/2 cup) raw pecans
170g (1 cup) dry quinoa
water, to cook the quinoa
2 tbsp fresh lemon or lime juice
1 tsp smoked paprika
Pinch of pink rock salt and fresh black pepper, to taste
Pinch of dried chilli flakes, to taste
200g salad leaves (lettuce, baby spinach, rocket etc.)
Handful of fresh basil leaves
1 ripe avocado, peeled, pitted and chopped
Seeds from 1/2 a pomegranate
Balsamic vinegar, to serve
Instructions
Preheat the oven to 180C.
Spread the pecans out on a small baking tray and gently toast them for 8-10 minutes, until they turn golden-brown. Remove them from the heat and set aside.
Rinse the quinoa in a sieve under cold running water and place it into a medium-size saucepan. Cover the quinoa with double its volume of water, cover the saucepan partly with the lid and bring it to the boil.
Bring the heat down and allow it to simmer for 10-15 minutes, until most of the water has evaporated and the quinoa seeds have opened out.
Remove it from the heat and leave it aside to absorb the remaining water.
Stir in the lemon/lime juice, smoked paprika, seasoning and chilli flakes. Taste and adjust seasoning, if necessary.
Arrange the leaves in serving bowls, add the quinoa, avocado, pomegranate seeds, drizzle with balsamic vinegar and serve.
Notes
Any leftovers can be stored in an airtight container in the fridge for up to 2 days.
Rosanna Davison Nutrition https://www.rosannadavisonnutrition.com/