Mother Nature really is extraordinary!
The powerful medicinal properties of a huge array of herbs have been used all over the world for centuries, with nature's own medicine to treat a huge variety of ailments.
According to the World Health Organisation, around 80% of the world's population relies on plants to treat everyday health complaints.
A herb is a plant or part of a plant used for its medicinal, savoury or aromatic qualities, and when used properly, many herbs hold potent ingredients that can boost your body's healing and detoxing abilities. Originally, the pharmaceutical industry was built on being able to remove the active ingredients and offer them in a more concentrated form. In fact, codeine and morphine are both from the opium poppy, and aspirin came from willow bark. Caffeine is an alkaloid found in coffee beans, made by the plant to protect from it being attacked.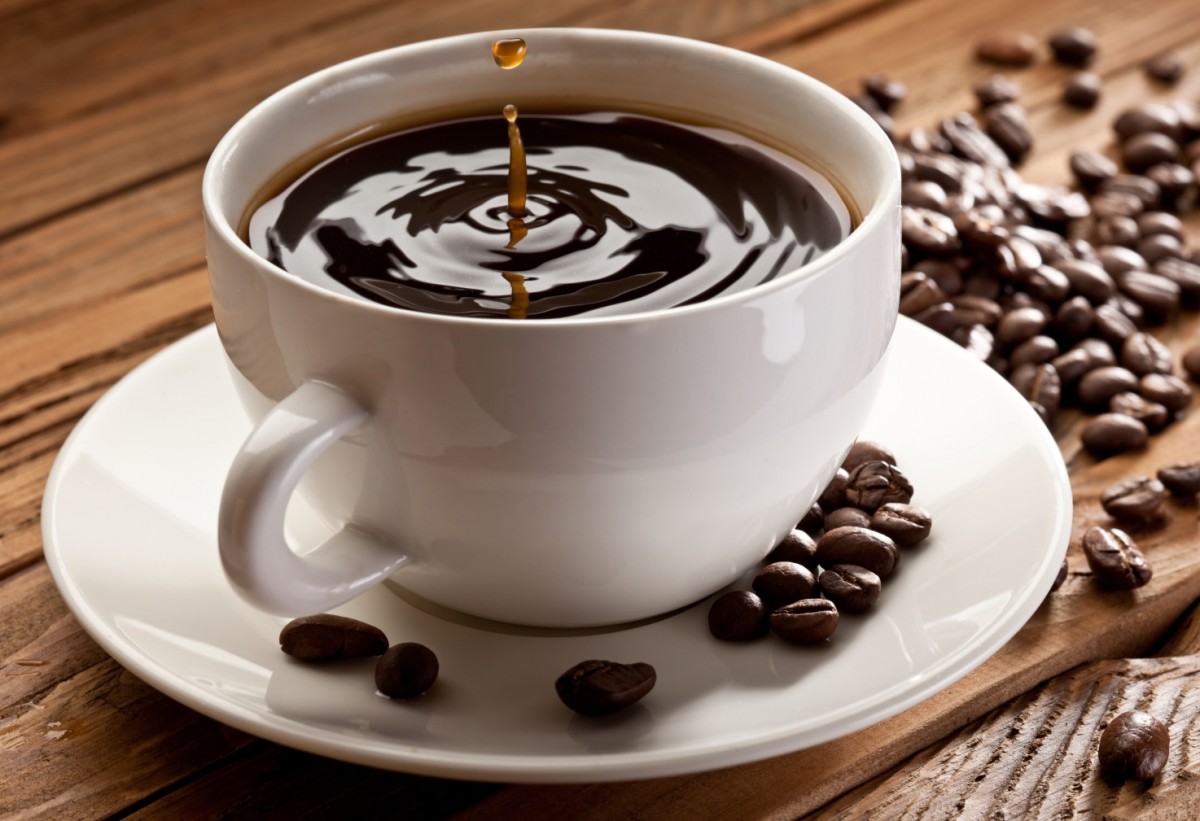 However, it's more beneficial to use herbs in their complete and untouched form, as they contain a balance of synergistic ingredients designed by nature. There has been a lot of research conducted in Europe in the past couple of decades that highlights the therapeutic properties of different types of herbs.
An ever-growing interest in herbs now seems to be a reflection of the concern we have over taking synthetic drugs, and our desire to take control of our own health rather than hand our power and money over to others.
My whole Eat Yourself Beautiful philosophy is also about taking back control of your body and health. There are so many different delicious herbs to use for raw and cooked dishes, which can help to enhance your health and balance your body.
Nature's very own pharmacy can help to build your immune system to prevent illness, regenerate your liver, balance your hormones and adrenal glands, and detoxify the body to build better skin and help shed excess pounds.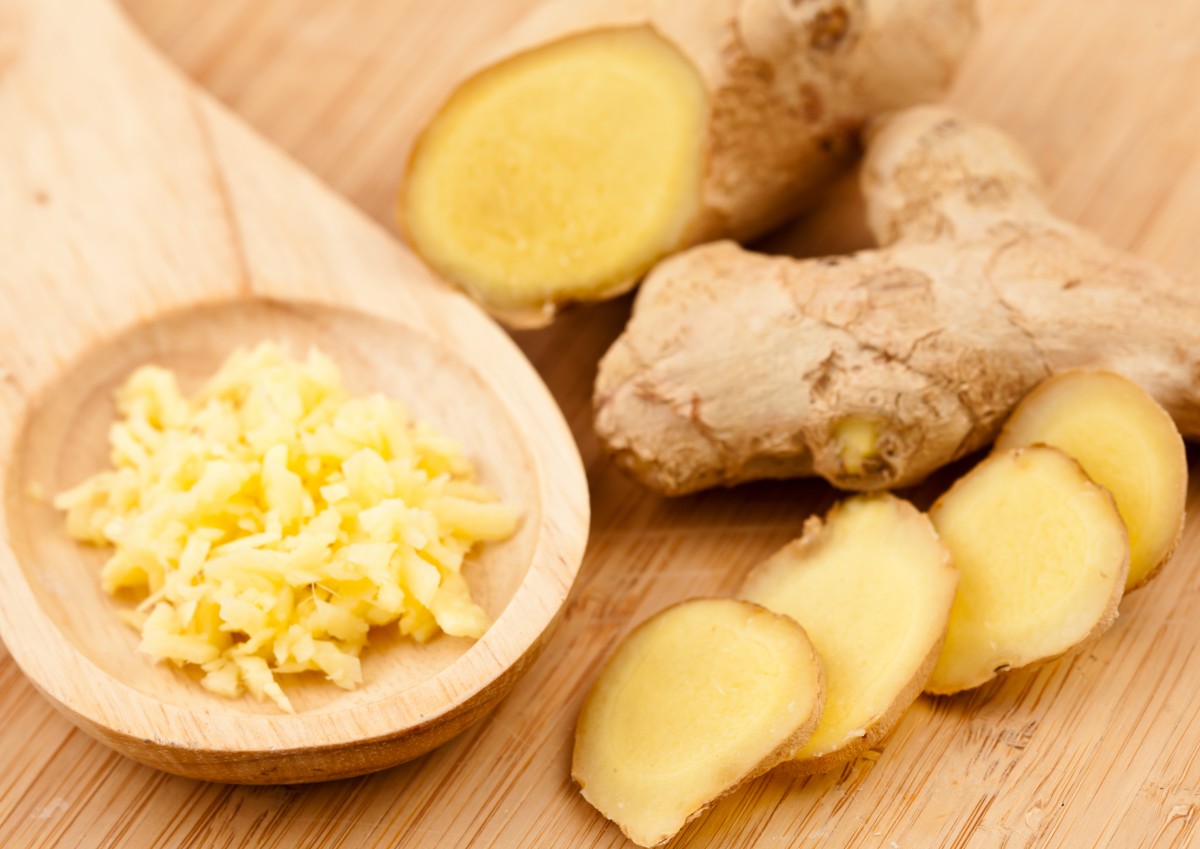 At this time of year, I always crave those warming festive flavours of cinnamon and root ginger, so I decided to come up with my own recipe for a yummy and healthy festive treat!
These Gingerbread Cookie Christmas Bites don't contain refined sugar, white flour, dairy, gluten, trans-fats, preservatives and all the other ingredients found in commercial snacks. They require no baking and take just 10 minutes to throw together!
They contain only raw nuts and seeds, dried fruit and spices, plus some raw hemp seed protein, so a few of these bites would also work well as a post-workout recovery snack.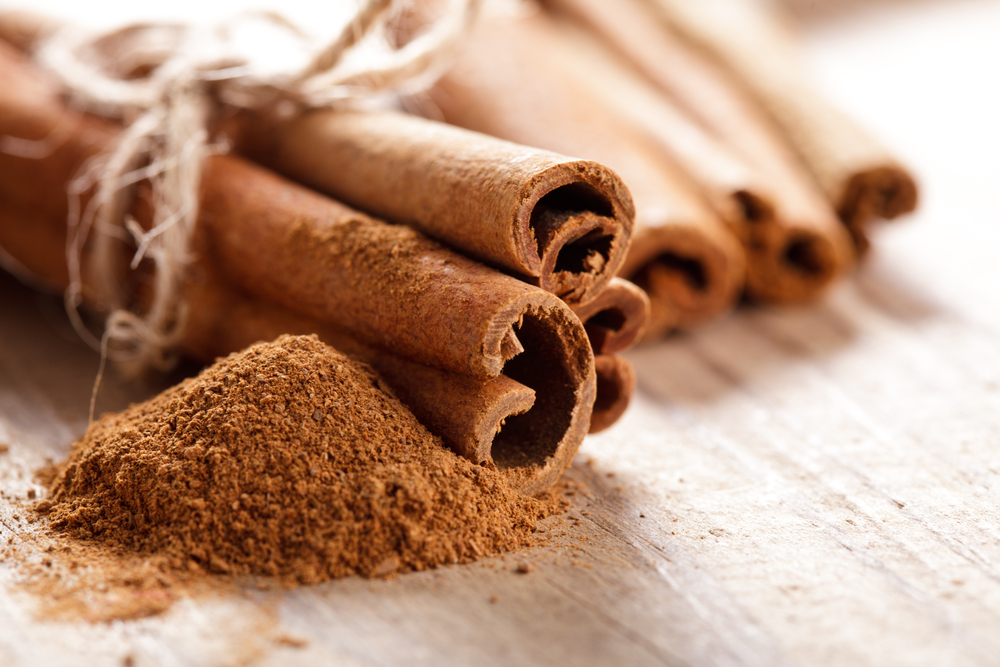 I chose to include raw walnuts for their impressive levels of essential omega-3 fats which help to boost the immune system and keep skin smooth and supple, plus raw almonds for their good quality plant protein, fibre and vitamin E.
The chia seeds are a wonderful source of iron, calcium, protein and essential fats, as are the ground flaxseeds. Medjool dates are nature's best sweetener and contain good levels of fibre, magnesium, potassium and give a great boost of energy.
Root ginger is really a warming spice which boosts blood flow and helps to reduce inflammation and soothe discomfort in the stomach and intestines. Cinnamon is a source of the essential trace mineral chromium, which helps to balance out blood sugar levels and prevents metabolised sugar from turning to fat.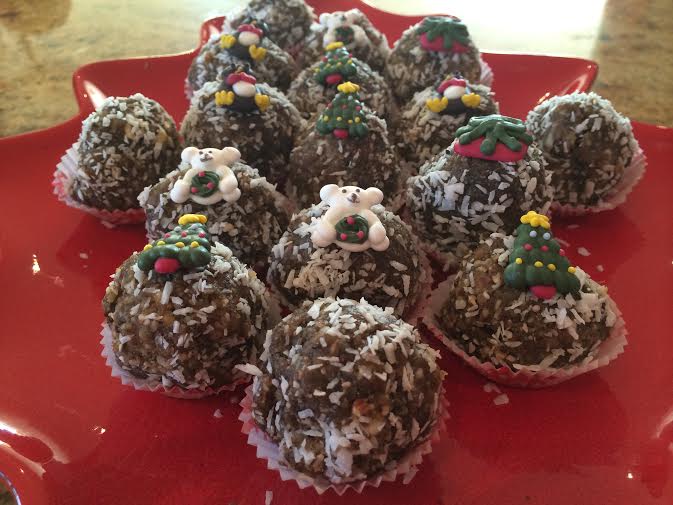 I would love to know if you get a chance to make these Gingerbread Cookie Christmas Bites! Simply tag #RosannaDavisonNutrition on Instagram or Twitter or come on over to my Facebook to say hello 🙂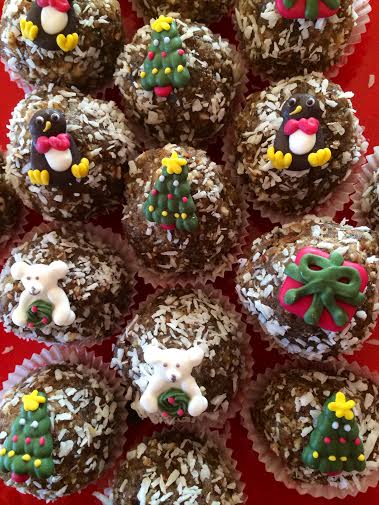 Gingerbread Cookie Christmas Bites
2015-04-09 23:26:01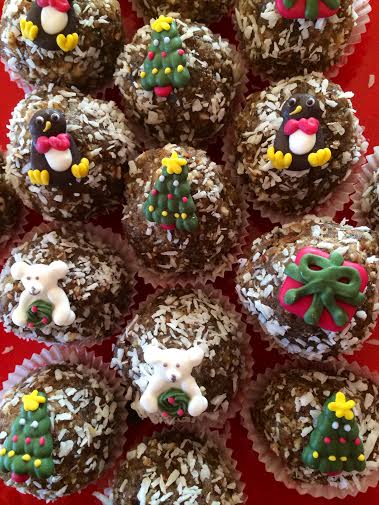 Healthy snacks full of protein and omega-3 fats, infused with the warming taste of cinnamon.
Ingredients
90g (3/4 cup) raw walnuts
110g (3/4 cup) raw unsalted almonds
147g (1 cup) pitted dates, soaked in hot water for 20 minutes to soften
2 tbsp whole chia seeds
2 tbsp ground flaxseeds
1 tbsp hemp protein powder/Sunwarrior vanilla protein powder
1 tsp fresh root ginger, peeled and finely chopped
1 tsp ground cinnamon
1 tbsp cold water (use more if needed)
1 tsp vanilla extract
Instructions
Place the almonds, walnuts, chia seeds, cinnamon and flaxseeds in a blender or food processor and blend until they break down into a rough flour.
Add the dates, ginger, vanilla extract, hemp protein powder and water to the blender and mix everything together until it becomes a sticky dough.
Roll into bite-size balls and decorate. I used desiccated coconut and little Christmas decorations, and put each one into a mini cupcake case.
Place in the fridge until ready to serve.
Notes
Leftovers can be kept in an airtight container in the fridge for 2-3 days.
Rosanna Davison Nutrition https://www.rosannadavisonnutrition.com/