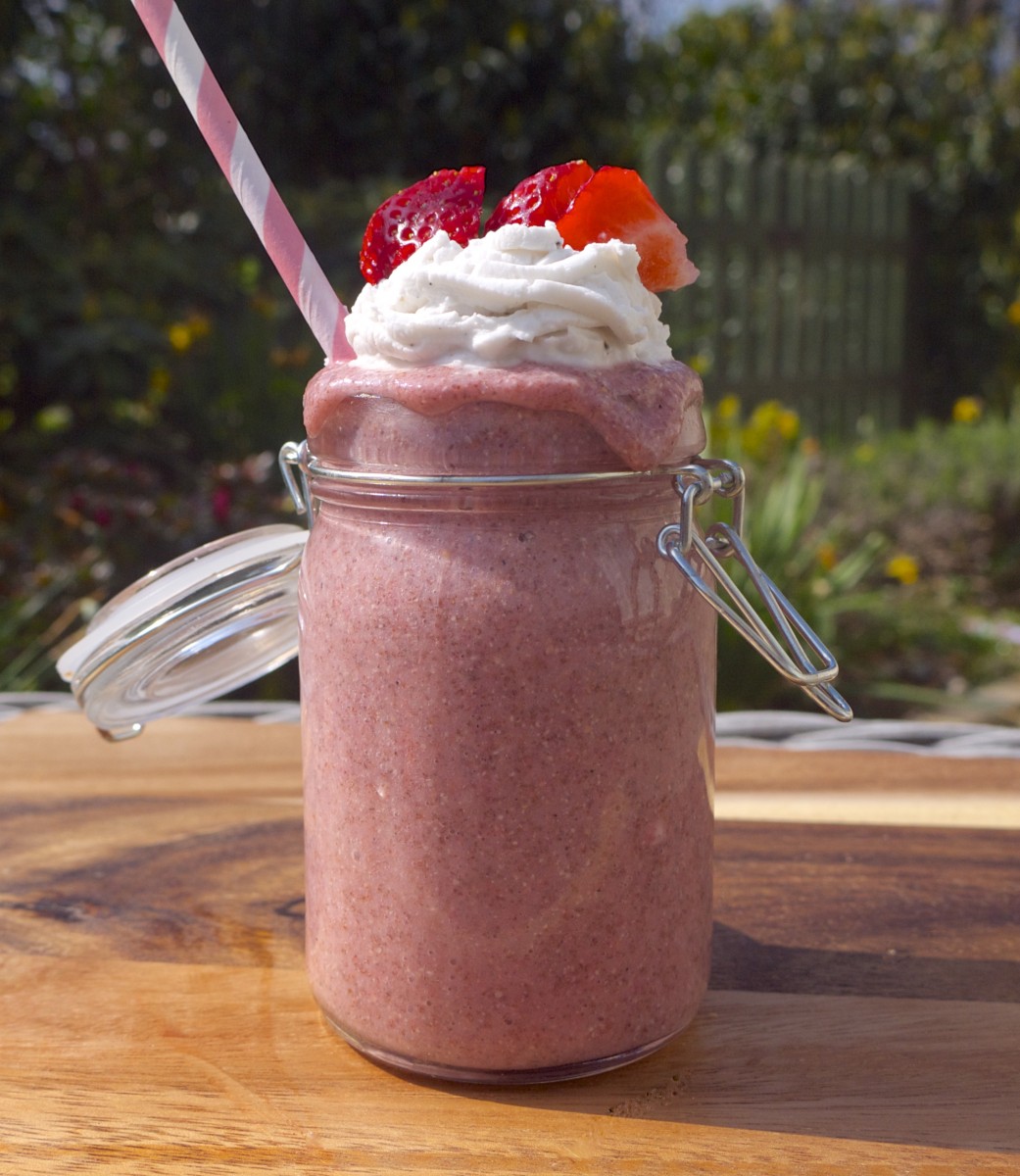 Few flavours scream summertime in the way that strawberries and cream do. Many years ago when I was in primary school, summer was marked by bowls of strawberries and cream out on the terrace after various concerts, plays and sports events. In my mind, it was always sunny and the strawberries were the sweetest and juiciest I'd ever tasted.
We all have our nostalgic flavours that bring us right back to a happy time in the past, but strawberries are definitely one of mine. Thankfully, they're also bursting with vitamin C, which helps to make the collagen that keeps our skin looking firm, plump and youthful. Yusssss.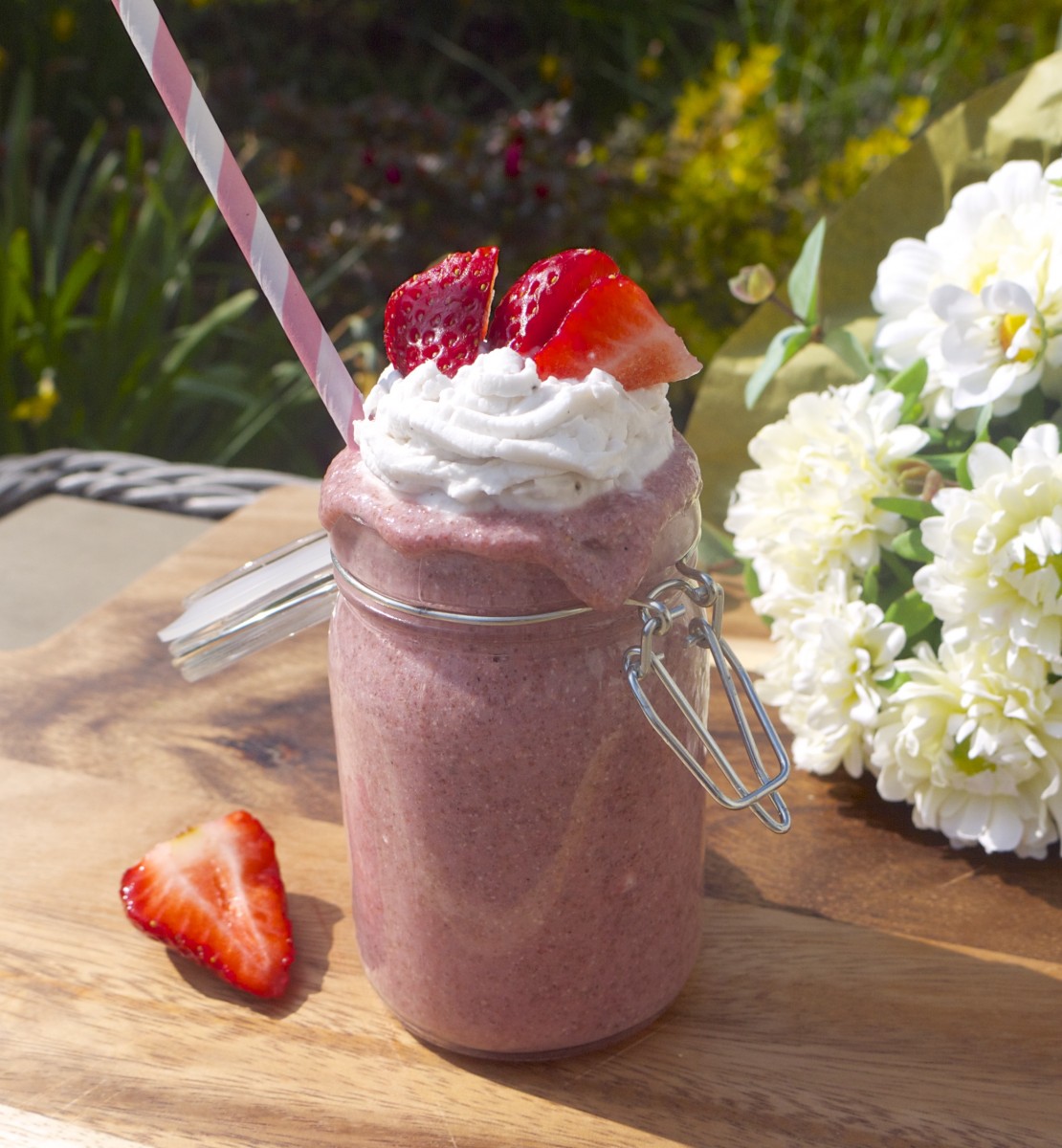 I popped the chia seeds into this smoothie to help thicken it up with plenty of fibre, protein and essential omega-3 fats. I love using chia seeds in smoothies, because they swell up to 15 times their size and keep me feeling full for hours. Plus their impressive levels of healthy fats keep skin soft and smooth 🙂
As somebody who used to be obsessed with whipped cream as a child, I'm delighted to have found a healthier alternative in coconut cream. It's still rich and creamy, so a little goes a long way. But whip it up with vanilla and it's unbelievably good. Coconut also carries so many benefits for our skin and body. Its powerful antibacterial and anti fungal properties protect our skin from breakouts and infections and the saturated fats in coconut oil have been found in recent studies to actually improve our health and leave cholesterol levels unaffected.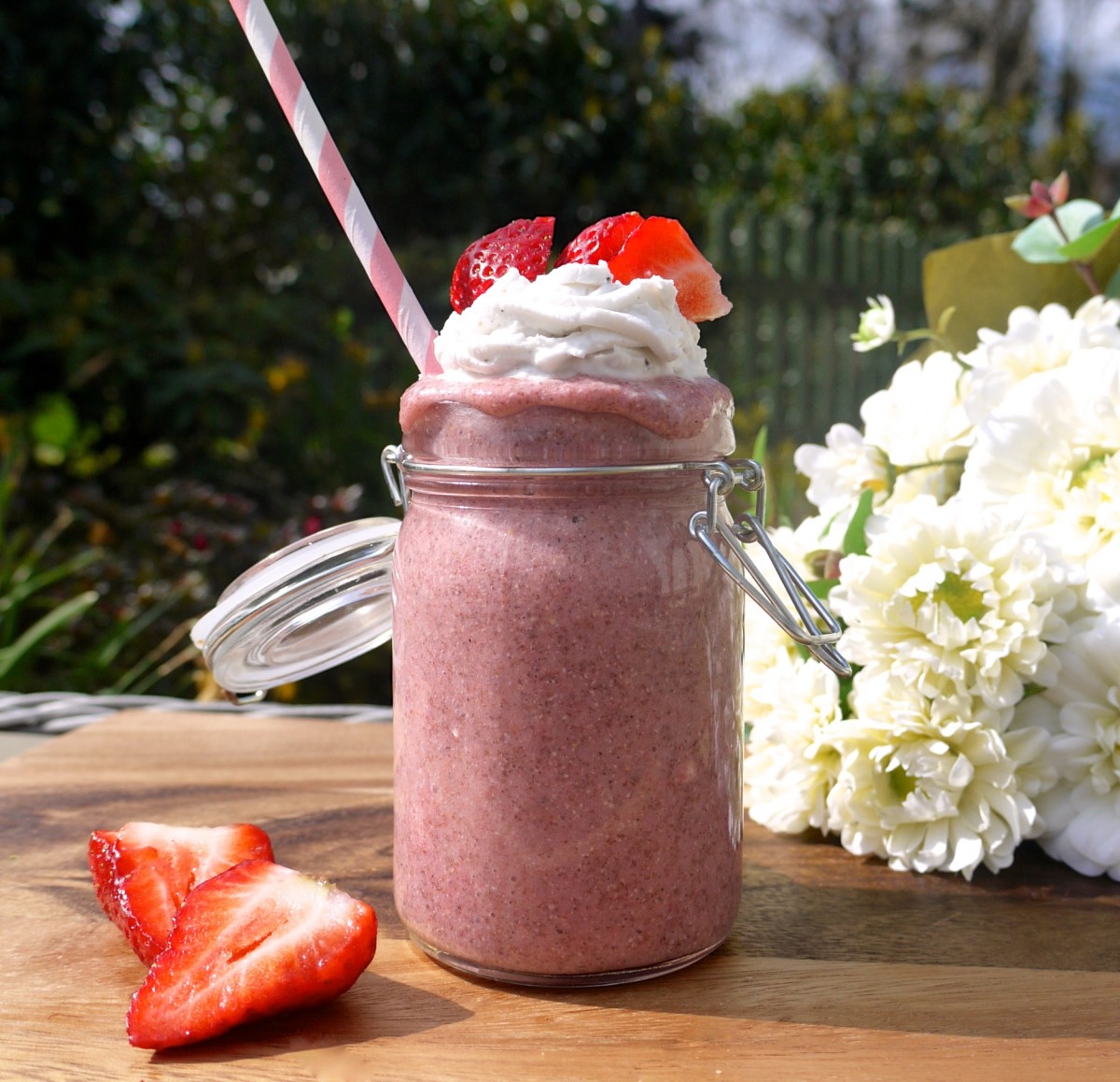 Simply serve this icy cold, sweet shake topped with sliced fresh strawberries and dream of long, lazy summer days.
Strawberries and Cream Summer Shake
2015-04-07 14:12:59
Serves 1
The taste of summer! A thick, creamy shake rich in protein and fibre, made from nothing but wholesome ingredients.
For the cream
1 can of full-fat coconut milk, chilled in the fridge overnight
1 tsp vanilla seeds/grated dried vanilla/vanilla extract
For the shake
6 medium-large strawberries, green stalks removed and frozen for 2 hours.
1/2 a banana, peeled and frozen for 2 hours (leave it out if you don't like banana and use more strawberries instead, but it's recommended as it helps to thicken and naturally sweeten the shake)
125ml (1/2 cup) low-fat coconut milk or unsweetened almond milk
2 tbsp whole or milled chia seeds
1 tsp vanilla extract
Instructions
Remove the coconut milk from the fridge and carefully open the can, without shaking it. You want the cream and liquid to have properly separated.
Scoop out the coconut cream and transfer to a mixing bowl. Save the coconut water left over as it works well in smoothies!
Add the vanilla extract to the coconut cream and using a handheld electric whisk, which the cream until light and fluffy. Leave it back in the fridge for 10 minutes to chill.
Remove the strawberries and banana from the freezer and place in a blender with the plant milk, chia seeds and vanilla.
Blended until smooth and creamy. Pour into a glass or jar.
Remove the coconut cream from the fridge and spoon onto the top of the shake.
Serve chilled.
Notes
Any leftovers will keep covered in the fridge for up to 2 days.
Rosanna Davison Nutrition https://www.rosannadavisonnutrition.com/