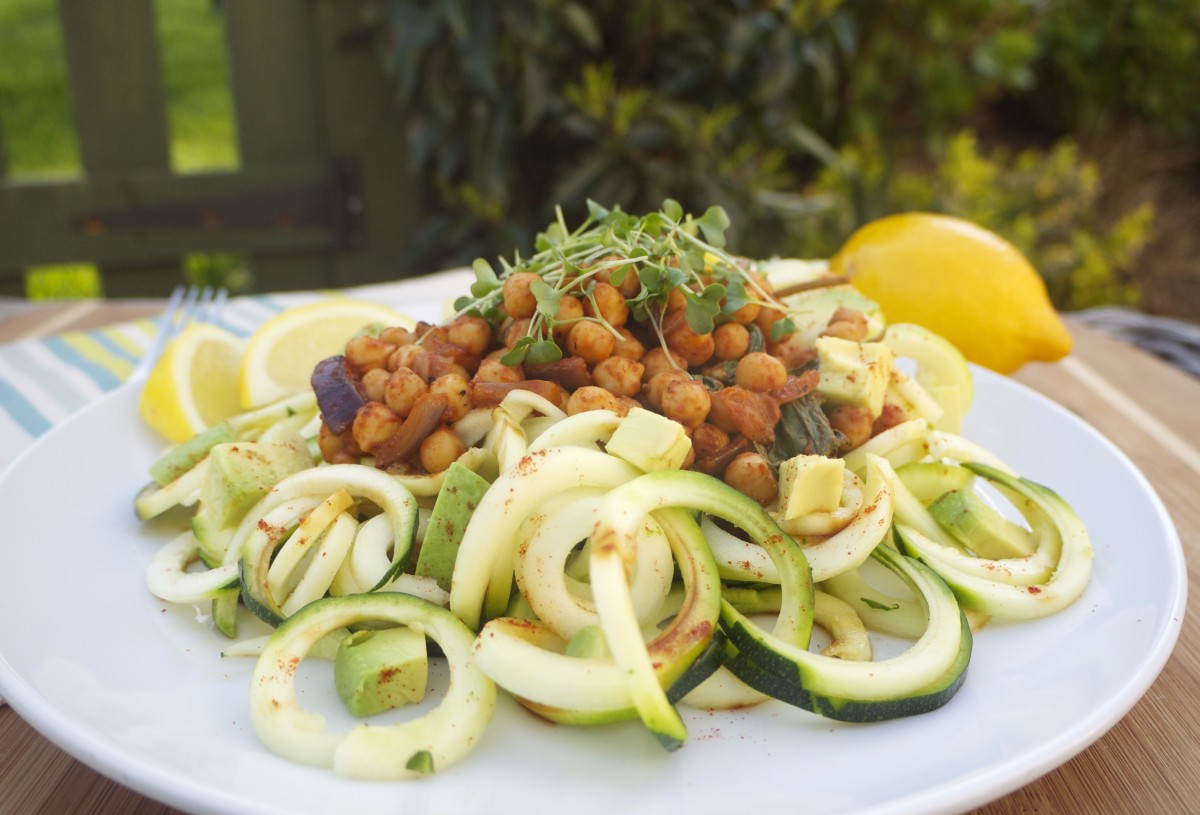 For me, summer eating is all about loading up on fresh fruit and veggies, and eating organic raw produce as much as possible. Warmer weather naturally steers me towards lighter foods, but being active and out walking everywhere also means that I want to eat foods that keep me feeling full for hours.
This summer chickpea bolognese hits all the right spots for me! I used gorgeous organic courgettes to make the courgetti, which is topped with a slightly spicy tomato-based chickpea bolognese.
Chickpeas are an ideal food for anyone watching their weight, as they're packed with protein and fibre to repair torn muscle fibres and stabilise blood sugar levels. Per cup of cooked chickpeas, there are just under 270 calories, 12.5g of fibre and 14.5g of protein. I try to avoid eating canned foods due to hormone-disruptive chemicals like bisphenol A (BPA) that can leak into the food, so I soak my chickpeas overnight and then boil them until they're tender, but some shops like Tesco sells cooked chickpeas in cartons rather than cans.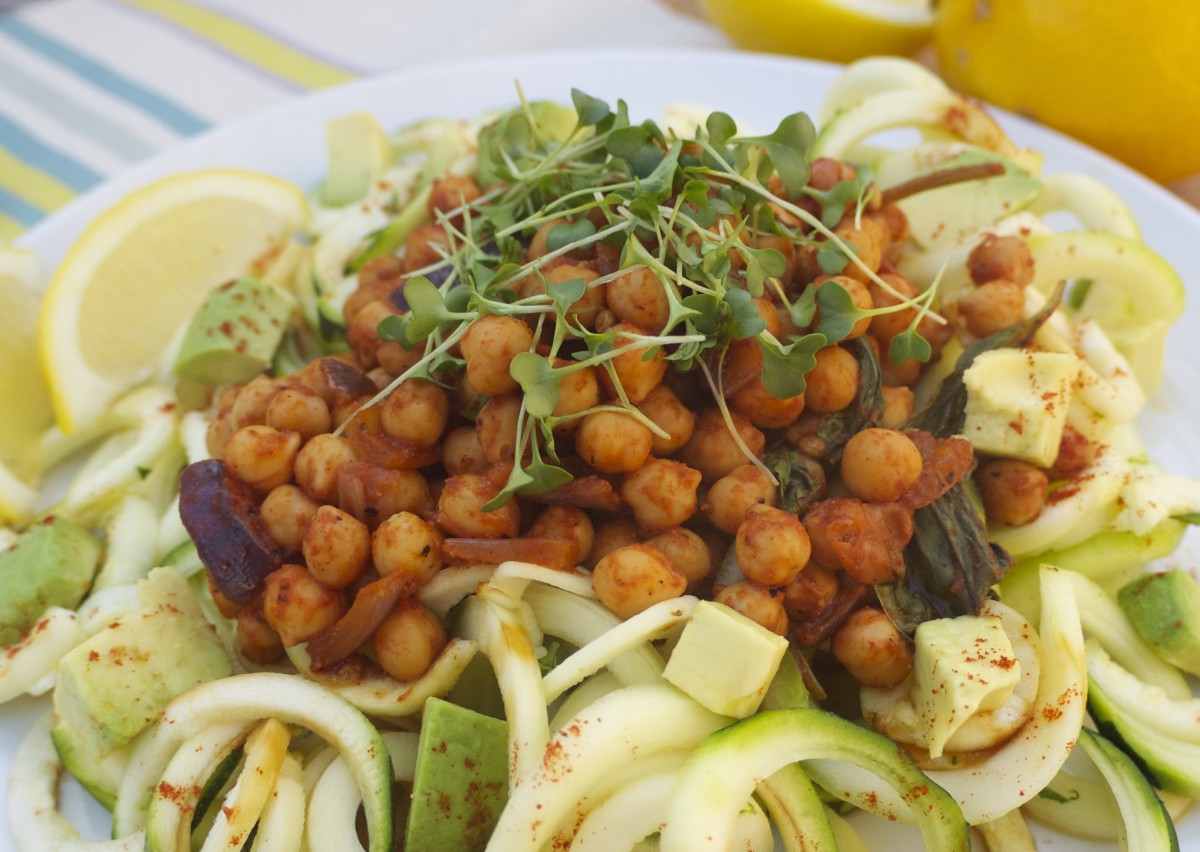 I topped this dish with a handful of living micro broccoli, which is part of this incredible hamper of micro-greens from My Organics Farm. It sits proudly on my kitchen windowsill and includes micro sunflower and red cabbage, which taste so good sprinkled all over salads, soups and nori wraps.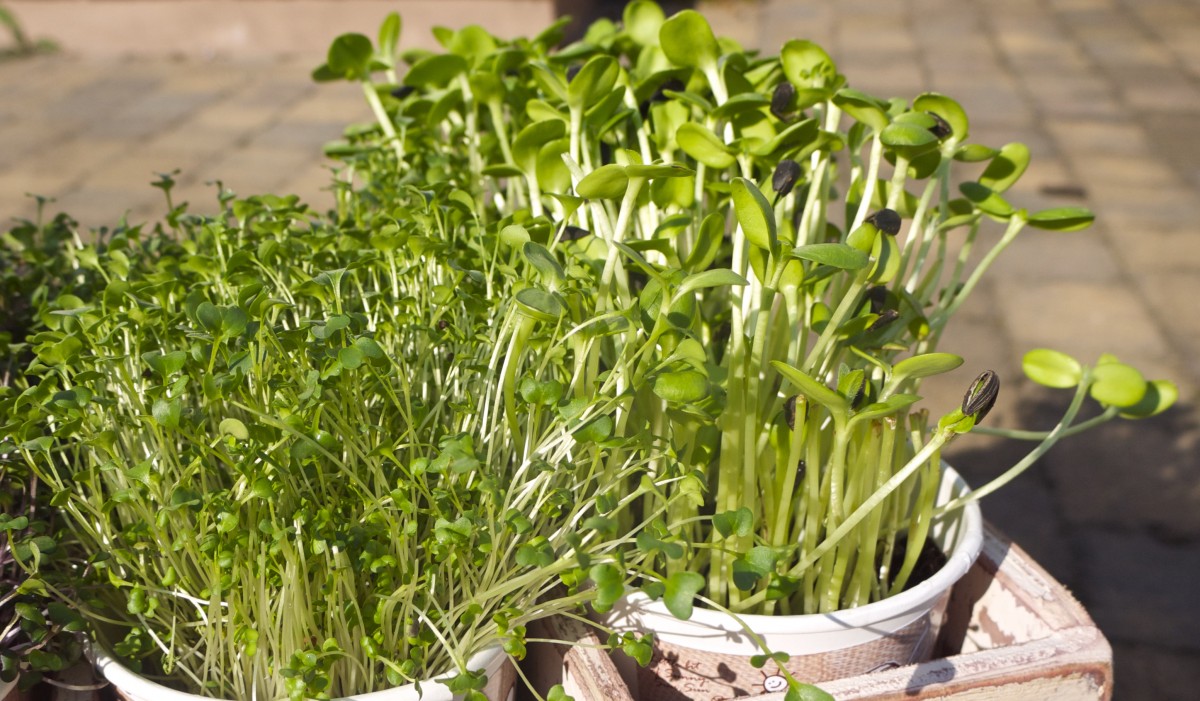 This dish is so easy to whip up for a healthy and light lunch or dinner, and I added cubes of avocado for an extra dose of heart-healthy fats and minerals like potassium and magnesium. Everything is sprinkled with smoked paprika, which I am completely obsessed with! Optional but so delicious with the rest of the flavours.
There are usually no leftovers from this meal in my house, but they would work well for a meal the following day stuffed into a wrap or as part of a huge green salad 🙂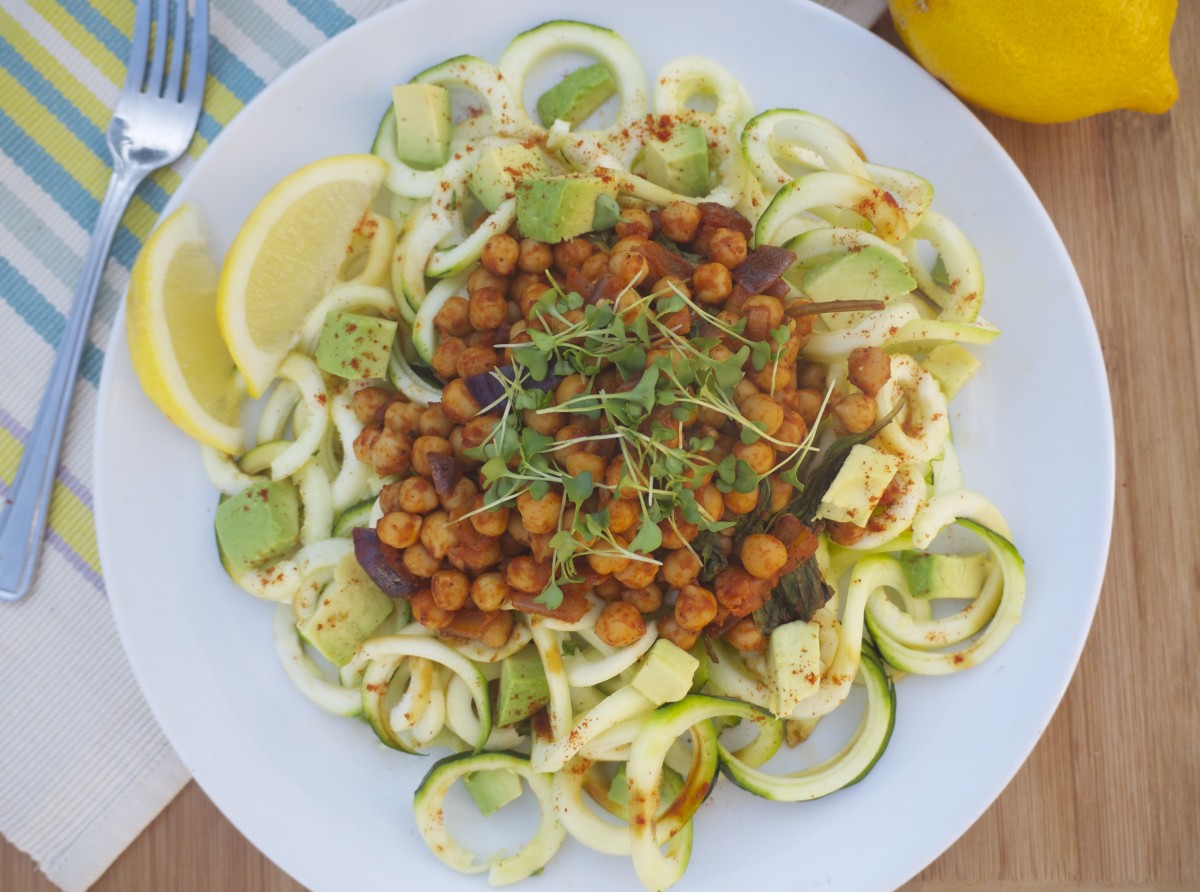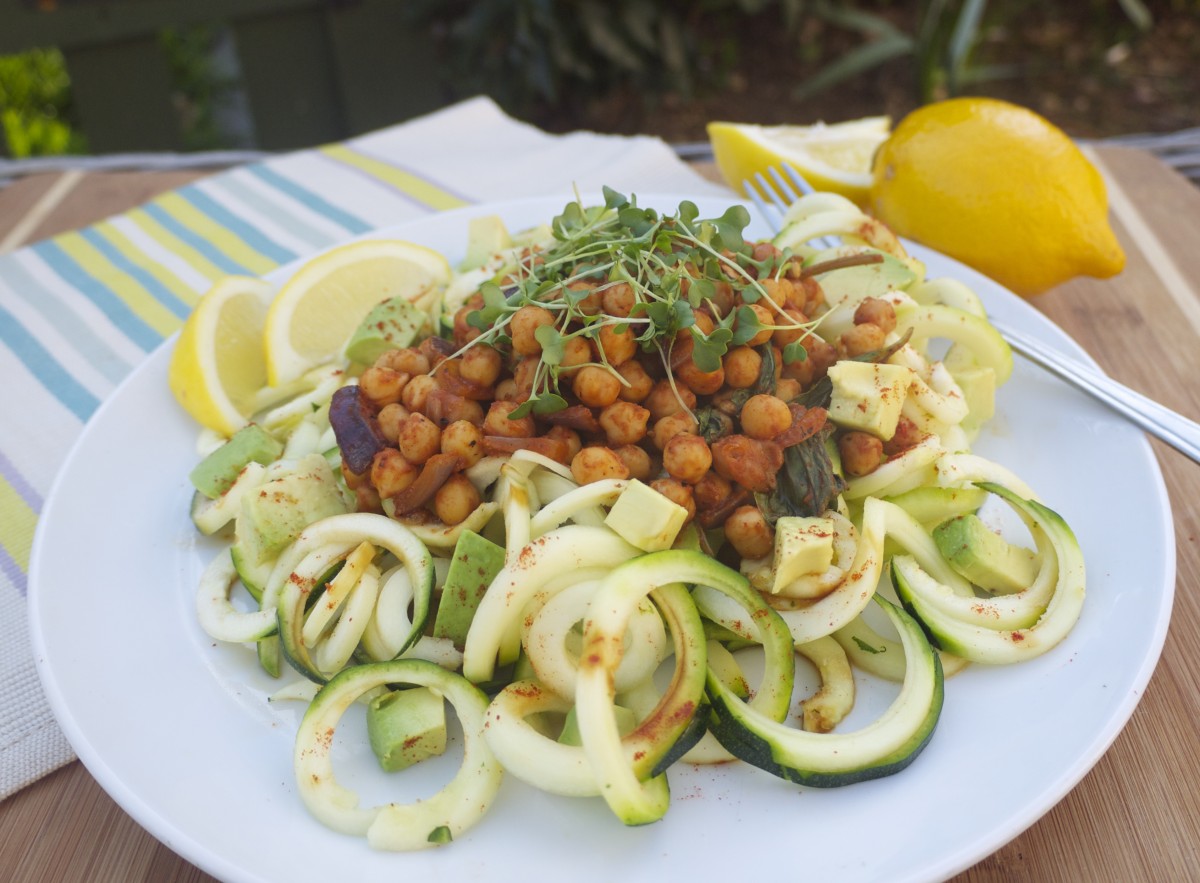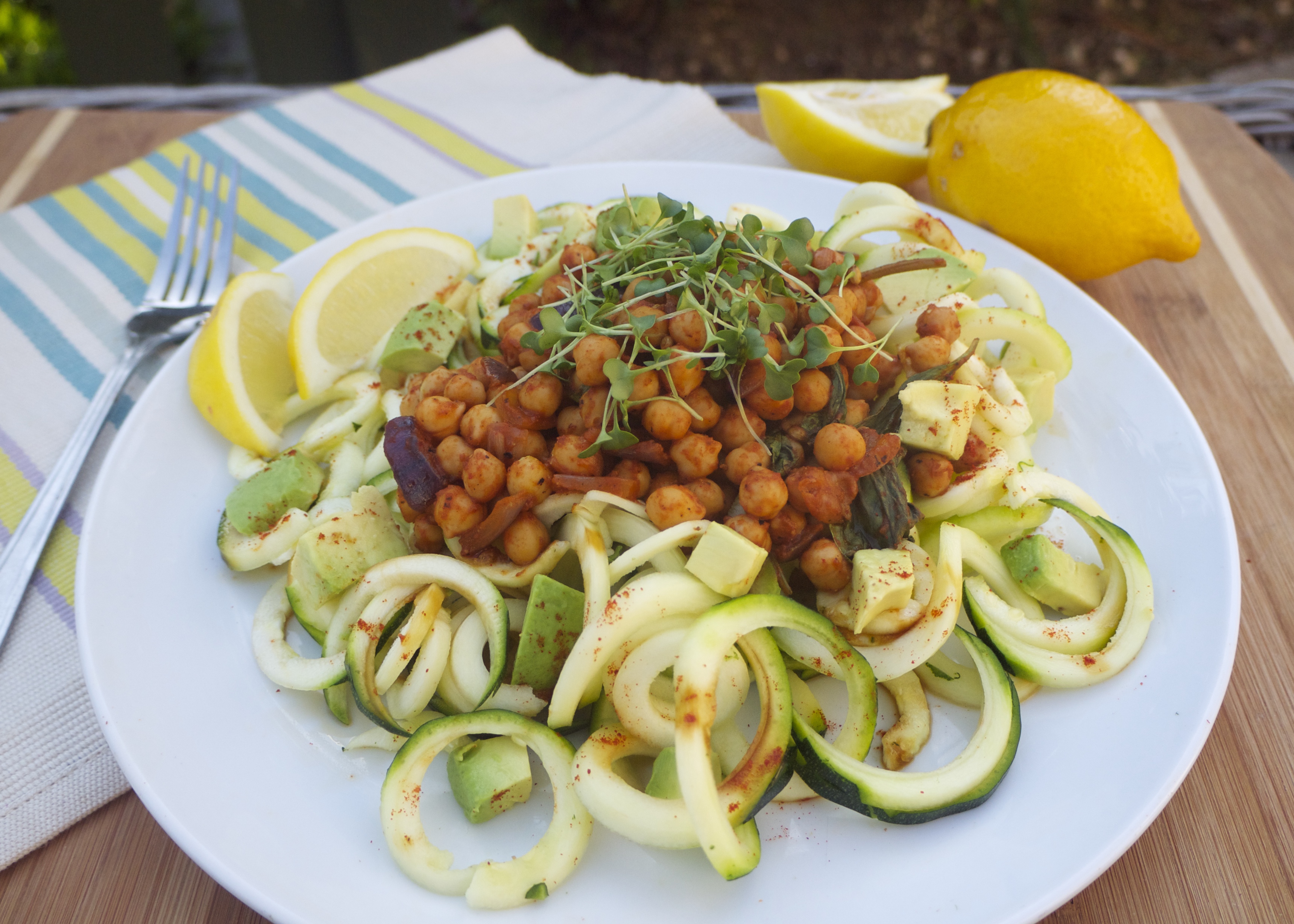 Summer Chickpea Bolognese
2015-04-09 19:13:33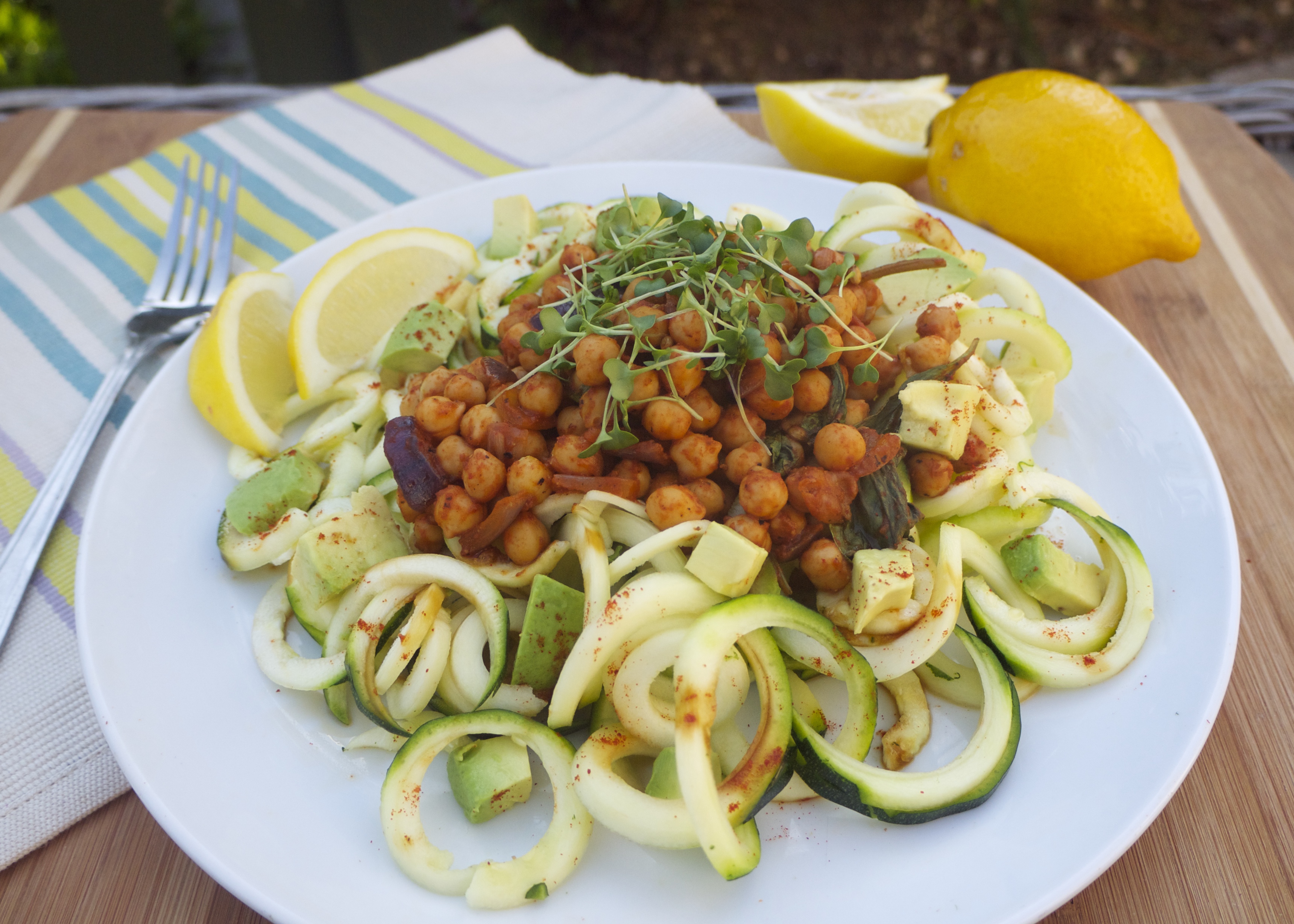 Serves 2
Light, summery, healthy and fresh with a hint of chilli and packed with protein and fibre. The perfect summer supper!
Ingredients
2 medium courgettes
2 tbsp fresh lemon juice
1/2 tsp virgin coconut oil
2 cloves of garlic, minced
1 red onion, finely sliced
164g (1 cup) cooked chickpeas*
125ml tomato passata
2 tbsp nutritional yeast
1 tsp coriander seeds
1 tsp smoked paprika
1 tsp ground cumin
Pinch of cayenne pepper
Himalayan pink rock salt and ground black pepper, to taste
2 handfuls fresh basil leaves
Dash of tamari sauce
1/2 a ripe avocado, pitted, peeled and cut into cubes
Instructions
First, use a spiraliser or vegetable peeler to create the courgetti in a large bowl from the two courgettes.
Add the lemon juice and a pinch of salt, toss it all together and leave aside.
In a saucepan over a medium heat, heat up the coconut oil and sauté the garlic and onion until lightly browned.
Add in the chickpeas and stir for 1 minute, then add the tomato passata, nutritional yeast, coriander seeds, smoked paprika, ground cumin, cayenne pepper and seasoning. Allow it to simmer gently for about ten minutes, stirring frequently.
Remove saucepan from the heat and add in the basil, stirring to allow it to gently wilt.
Serve topped with avocado cubes, a drizzle of tamari sauce and a sprinkle of smoked paprika.
Leftovers will keep in a covered container in the fridge for up to 2 days.
Notes
*Before cooking dried chickpeas, the first thing you will have to do is soak them. Place chickpeas in a large bowl and cover completely with cold water. Allow to soak overnight, for about 12 hours. Once chickpeas have soaked, drain and transfer to a large cooking pot. Cover with water twice the amount of chickpeas and bring to a boil. Cover and allow to simmer for approximately one hour. Do a taste test at this point to make sure they are tender enough for your liking. Drain and allow to cool for 15 minutes.
Rosanna Davison Nutrition https://www.rosannadavisonnutrition.com/