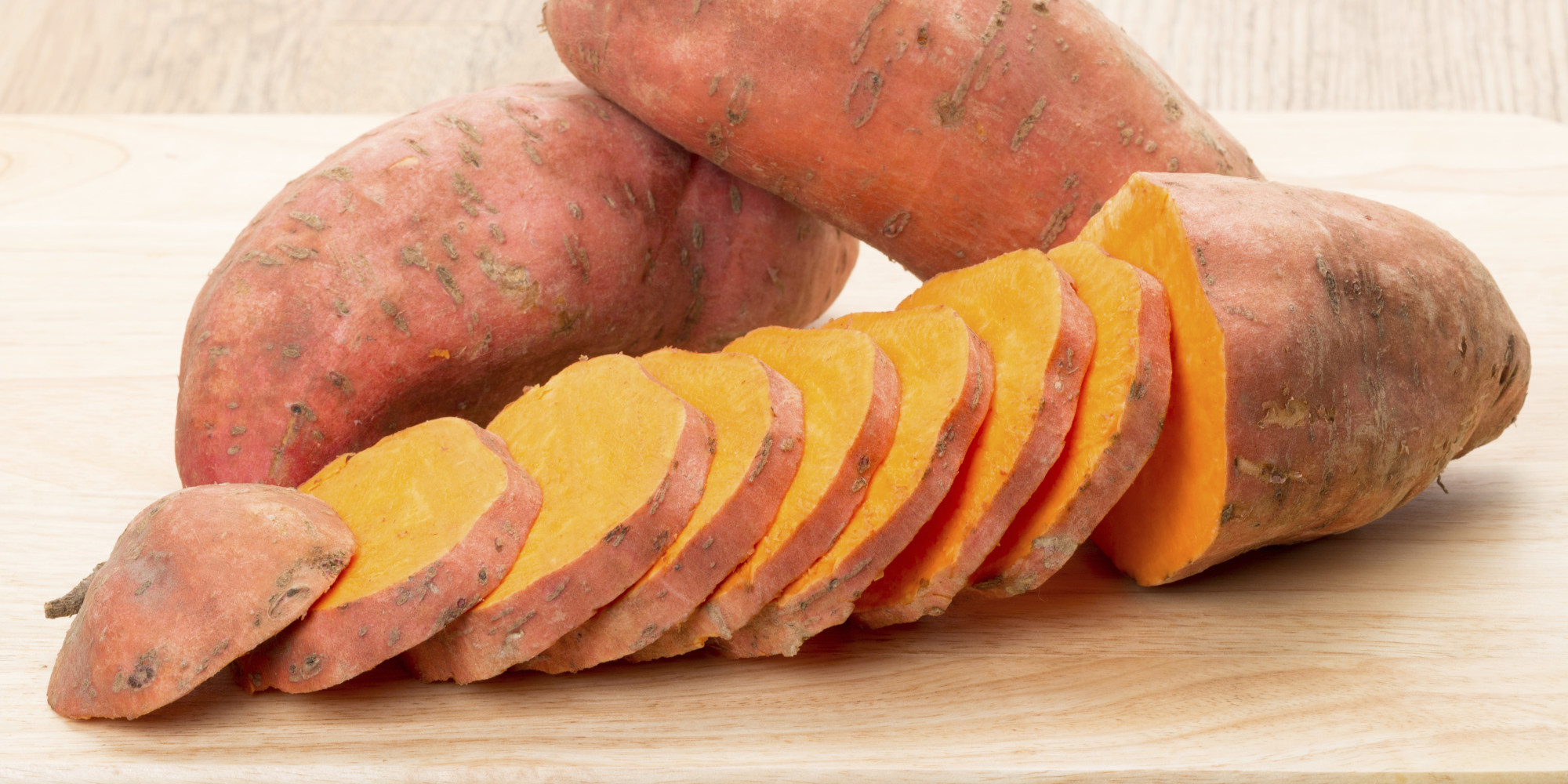 Ever tried using sweet potato slices in place of bread? The Italian favourite just got a whole lot healthier with my crisp, roasted sweet potato version of bruschetta. Normally made using white bread, the slices of sweet potato are far more filling and nutritious, topped with a thick spread of smoky red pepper hummus and chopped veggies.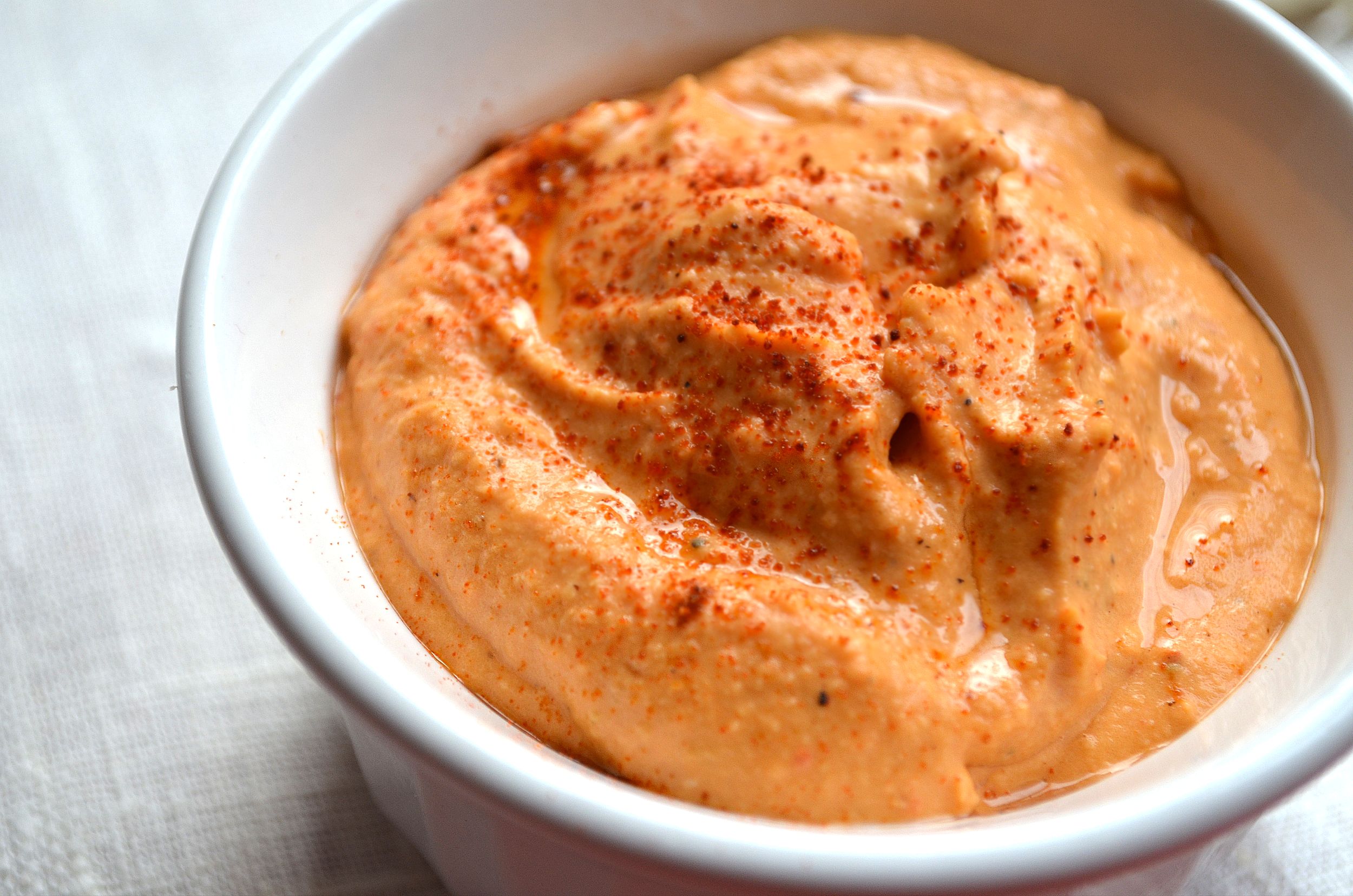 It makes a super easy meal and I love that you can change up the topping to suit whatever your favourite flavours are. It works well with black olive tapenade, fresh guacamole, salsa and even almond or cashew butter for a boost of amino acids and healthy fats.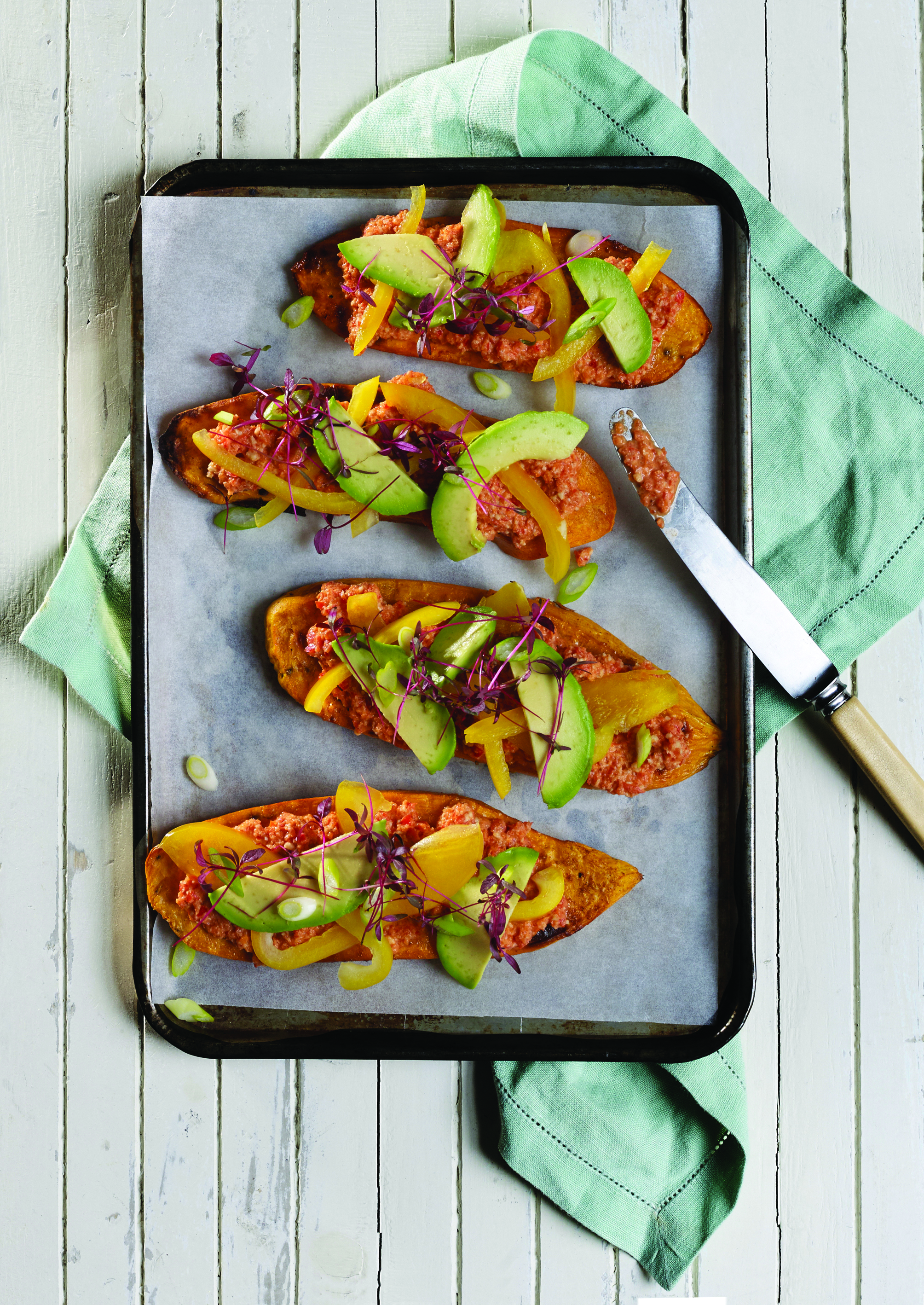 Let me know if you give this Sweet Potato and Avocado Bruschetta with Smoky Red Pepper Hummus a go and I love to see all your creations on social media! Simply tag #RosannaDavisonNutrition on Instagram or Twitter or come on over to my Facebook to say hello 🙂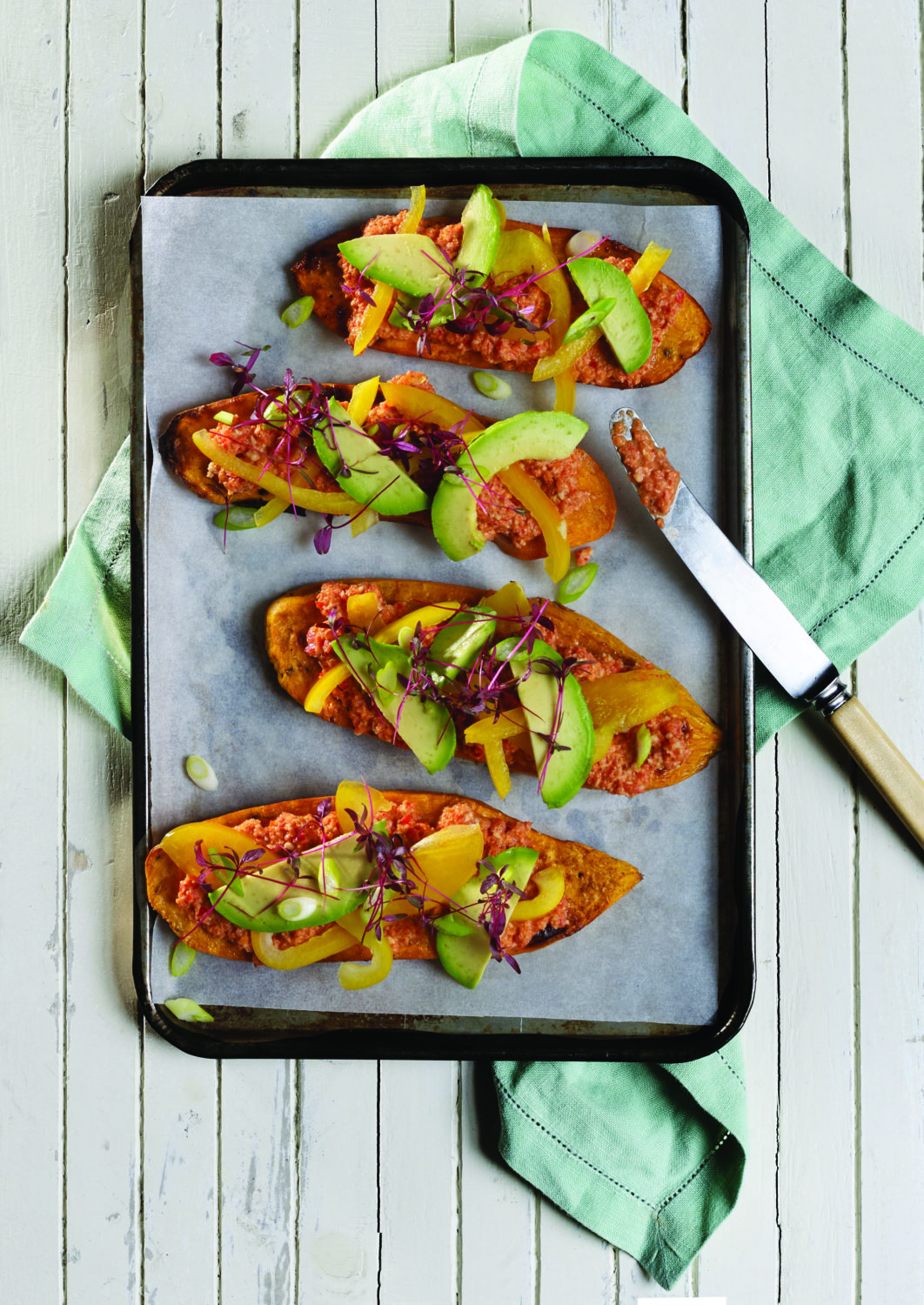 Sweet Potato and Avocado Bruschetta with Smoky Red Pepper Hummus
2017-02-20 11:28:07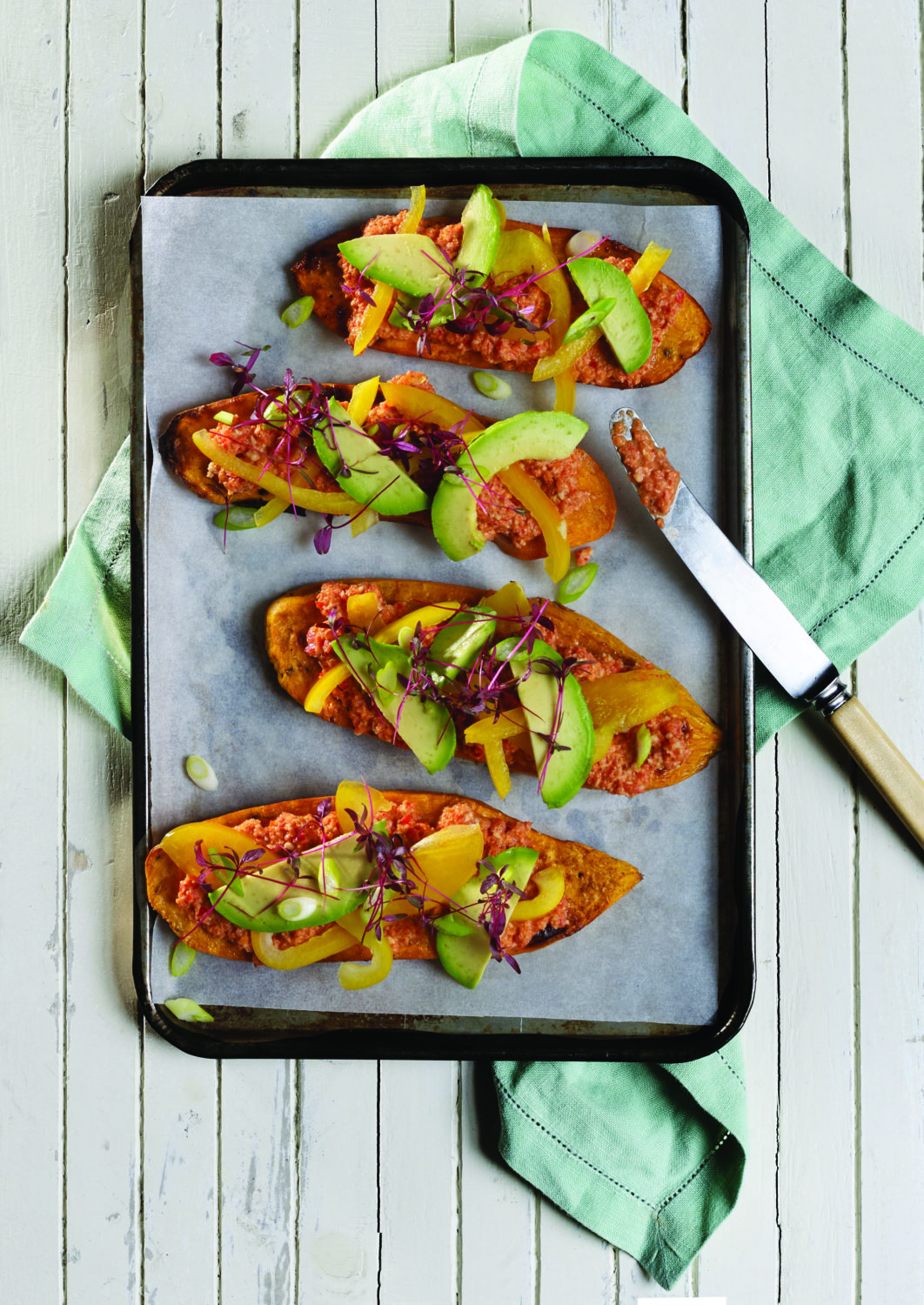 Serves 2
A simple yet nutritious and filling meal, which can be topped with your own favourite spreads, dips and foods. The perfect mid-week supper. Per serving: 536 calories, 11.4g protein, 51.3g carbs, 25.2g fat
For the Sweet Potato and Avocado Bruschetta
coconut oil, to grease
2 medium sweet potatoes
1 tbsp tamari
1 tsp smoked paprika
pinch of salt and pepper, to taste
1 ripe avocado, peeled, pitted and thinly sliced
1 red or yellow bell pepper, cored, deseeded and finely sliced
2 spring onions, chopped
1 handful fresh coriander, chopped
For the Smoky Red Pepper Hummus
50g raw walnuts, chopped
2 large red bell peppers, cored, deseeded and roughly chopped
2-4 tbsp unsweetened almond milk, to blend
1 tsp smoked paprika
1 clove of garlic, chopped
Pinch of sea salt and ground black pepper to taste
Pinch of cayenne pepper (optional)
Instructions
Preheat the oven to 200C and lightly grease a baking tray with coconut oil or line with a sheet of greaseproof paper.
Peel the sweet potatoes and use a sharp serrated knife to slice each of them lengthways into about three slices. Make it four if you prefer them thinner.
Lay out the slices on the baking tray, drizzle with tamari and sprinkle with smoked paprika, salt and pepper, to taste.
Bake the potatoes at 200C for 20-25 minutes, until they turn golden-brown and crisp around the edges. Remove from the heat and set aside.
To make the hummus, place all ingredients into a food processor or blender. If your machine has trouble with blending the walnuts, soak them first in a bowl of cold water for 1-2 hours.
Blend on high speed until the mixture is smooth, using extra almond milk or water to blend, if necessary.
Spread the hummus on top of the sweet potato bruschetta, then top with avocado, pepper, spring onions and coriander. Season again, as needed.
Notes
Any leftovers can be stored in an airtight container in the fridge for 2-3 days.
Rosanna Davison Nutrition https://www.rosannadavisonnutrition.com/