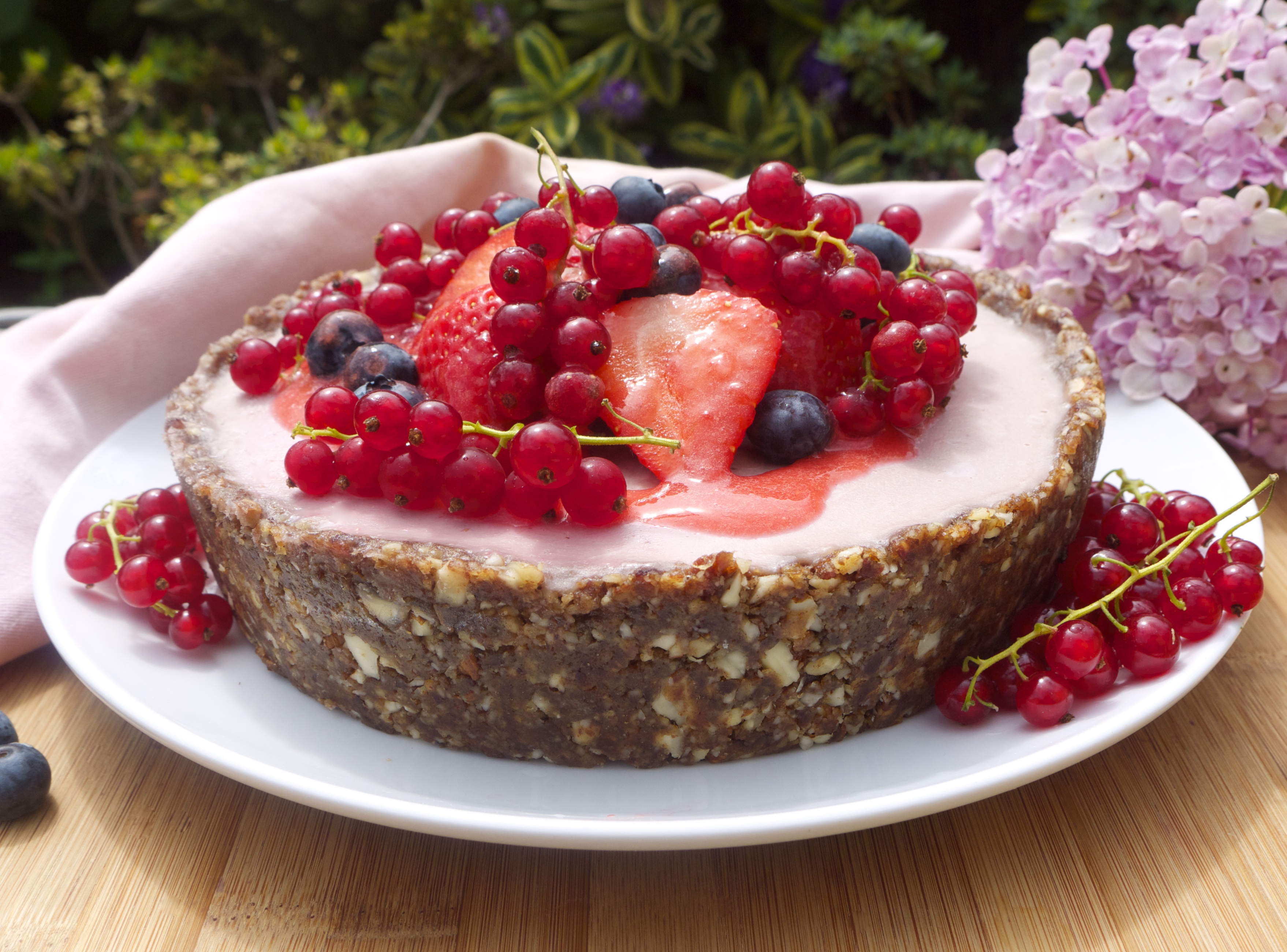 I definitely have strawberries on the brain this week. I think my little obsession was triggered from spending the past two consecutive weekends in Co. Wexford, where the strawberries are quite possibly the best in the entire universe! Fresh, sweet, juicy, crisp, bright and incredibly fresh. It's seriously difficult to beat a Wexford strawberry.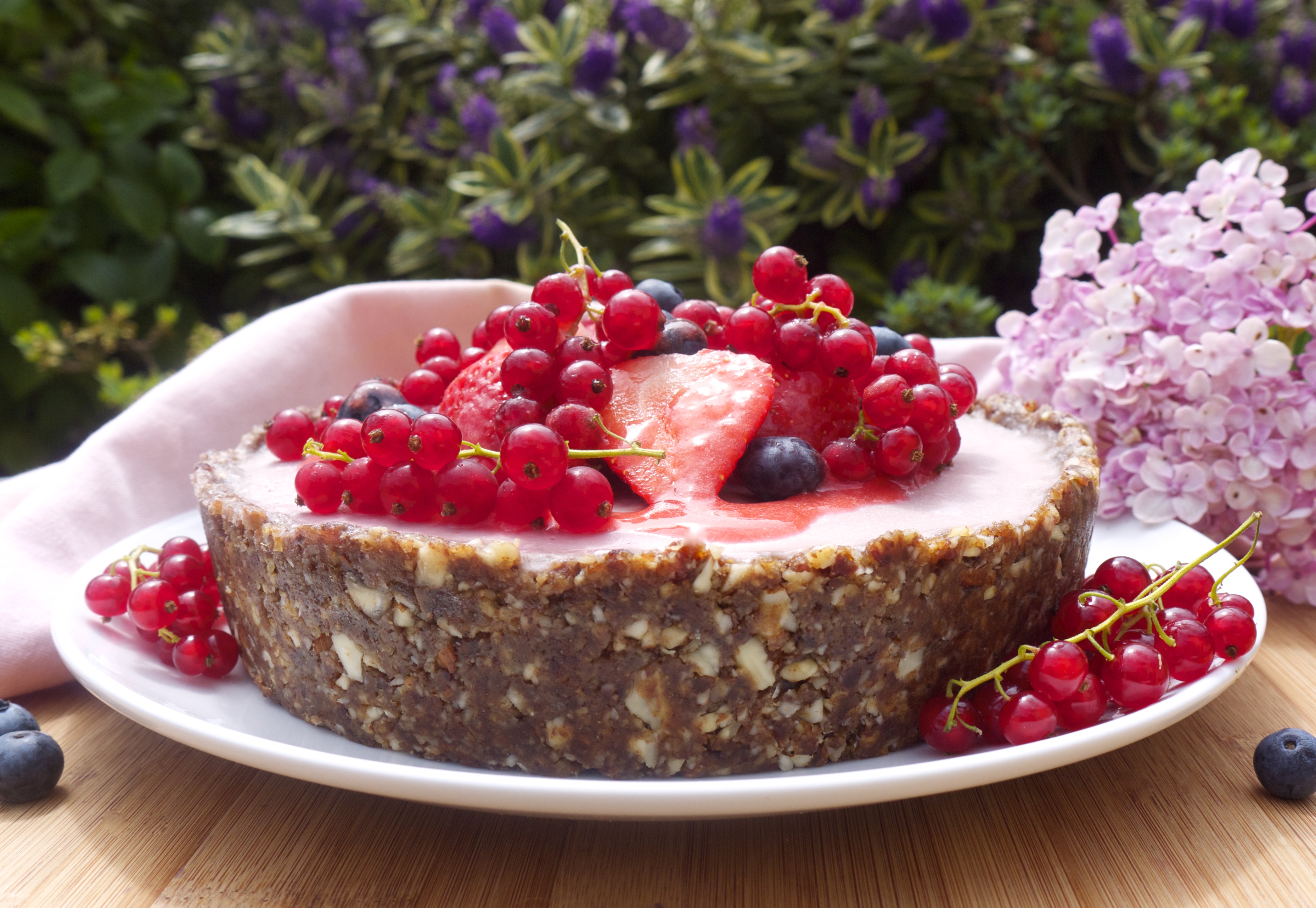 It's obviously the best time of year to create simple, fresh dishes with seasonal produce, and now is the time to enjoy summer berries.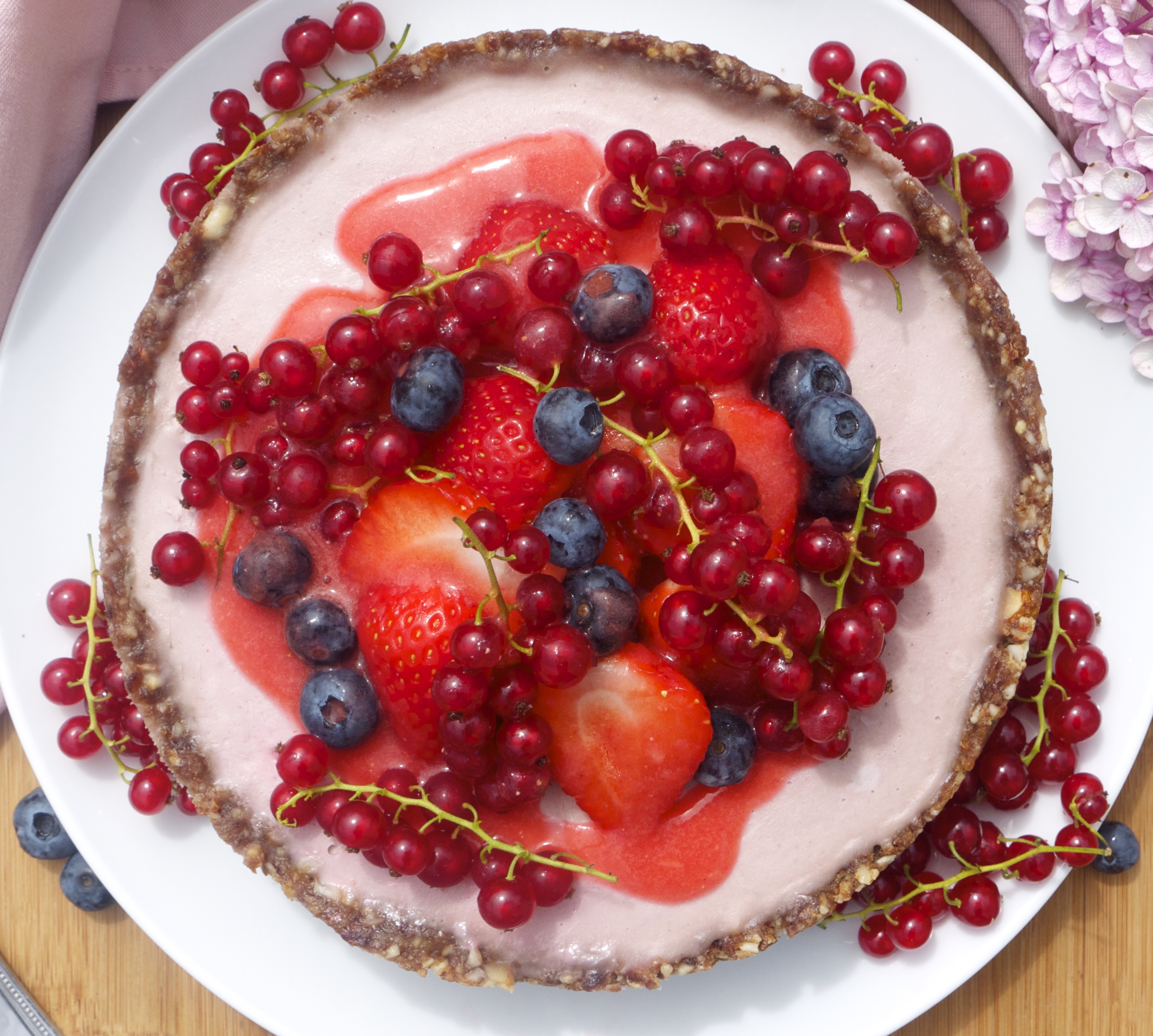 I love this simple cheesecake recipe, which I've adapted on a number of occasions to create both raspberry and chocolate cheesecakes (a ridiculously delicious dessert included in my new book!)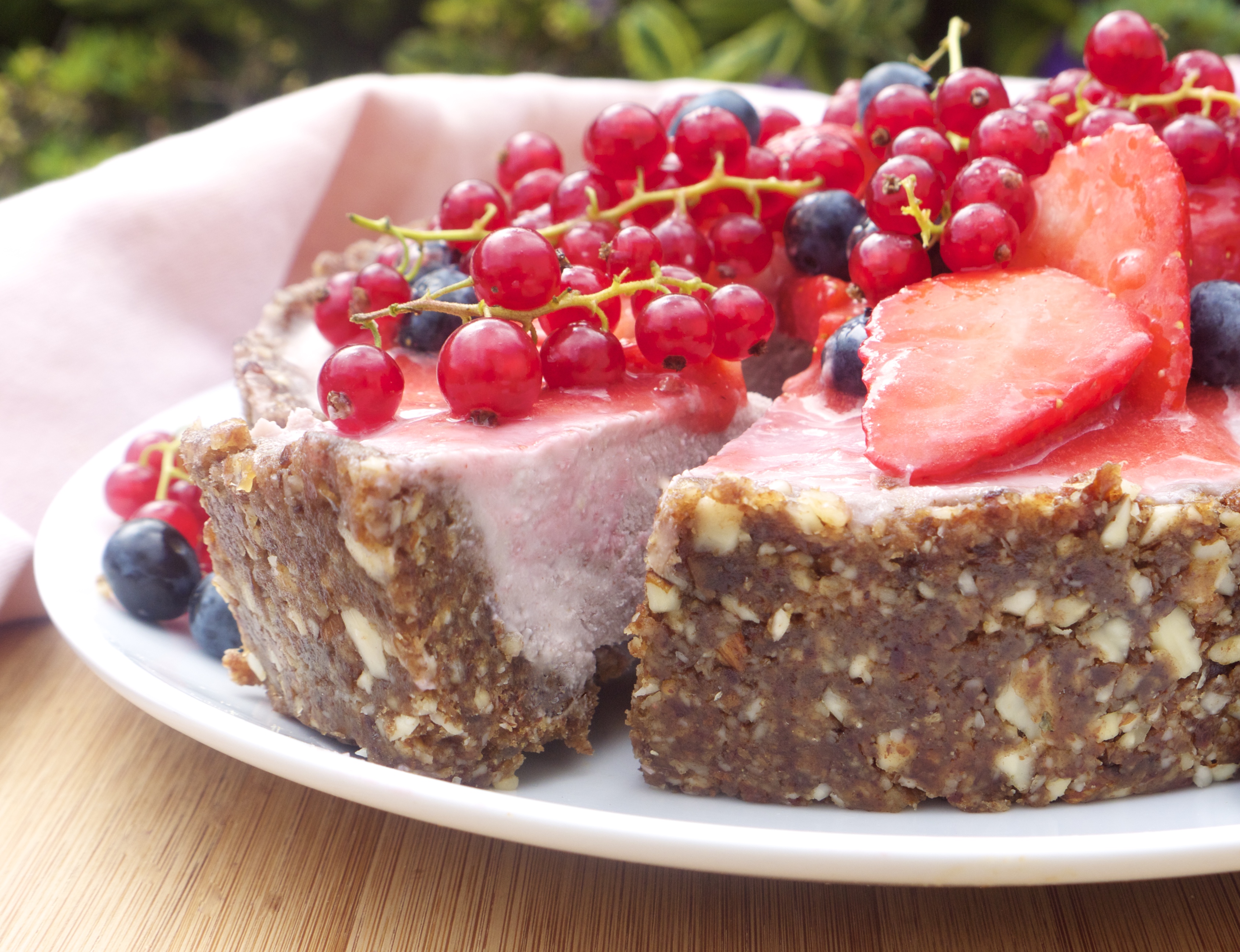 It's raw, free from sugar, dairy and wheat, and contains very healthy and wholesome ingredients, many of which are probably already in your kitchen cupboard. Plus it doesn't need to be baked!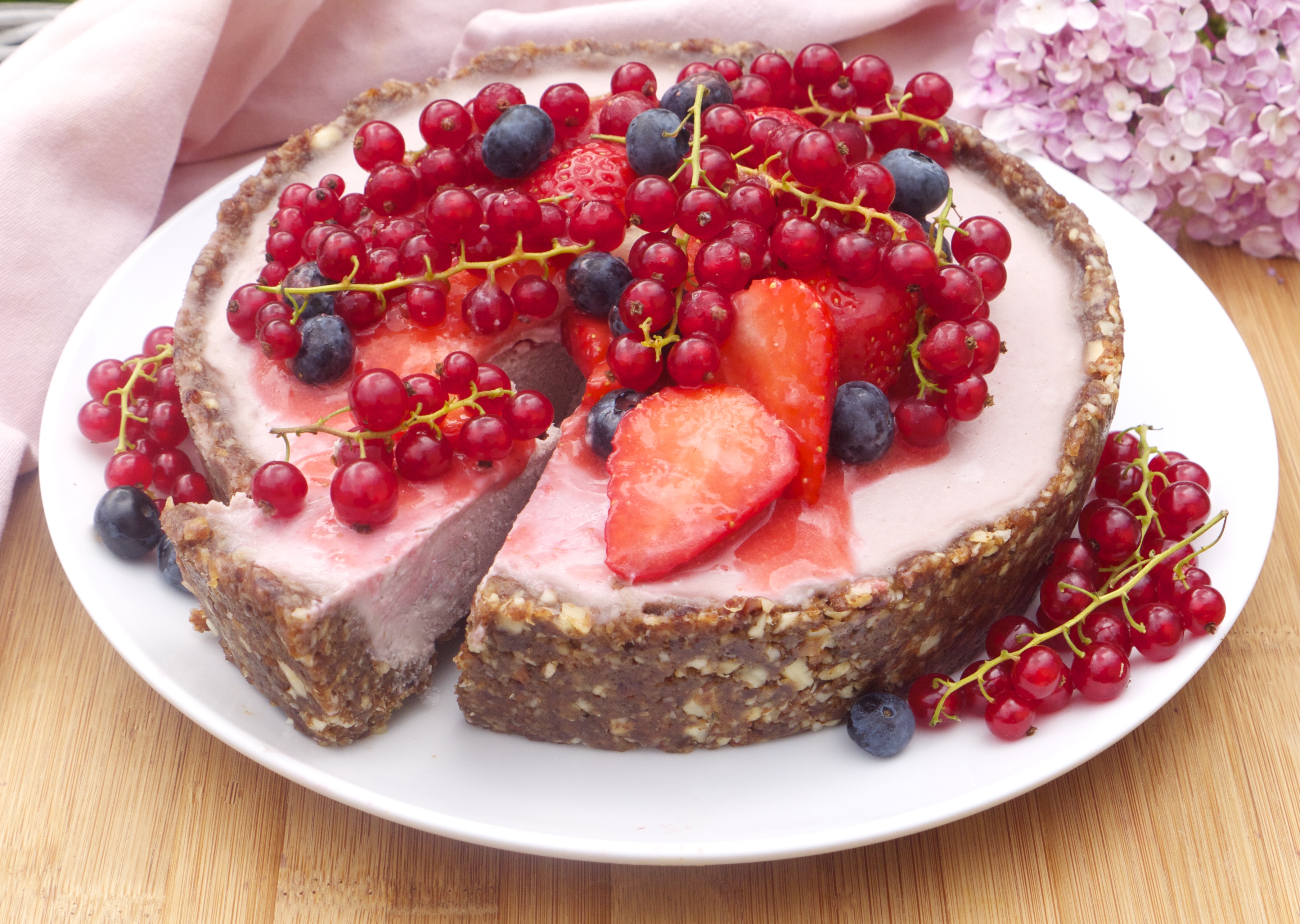 The base is a combination of soaked dates, almonds, walnuts, coconut oil and vanilla, while the filling was just whizzed up in the blender until it resembled a thick, fruit yoghurt (and tasted a little bit like one too). For the filling, I used chilled and hardened coconut milk, avocado, cashews, maple syrup, strawberries, coconut oil and vanilla. Together, they create a deliciously thick, creamy and sweet mixture that actually taste just as delicious eaten as a breakfast treat with a sprinkle of granola 😉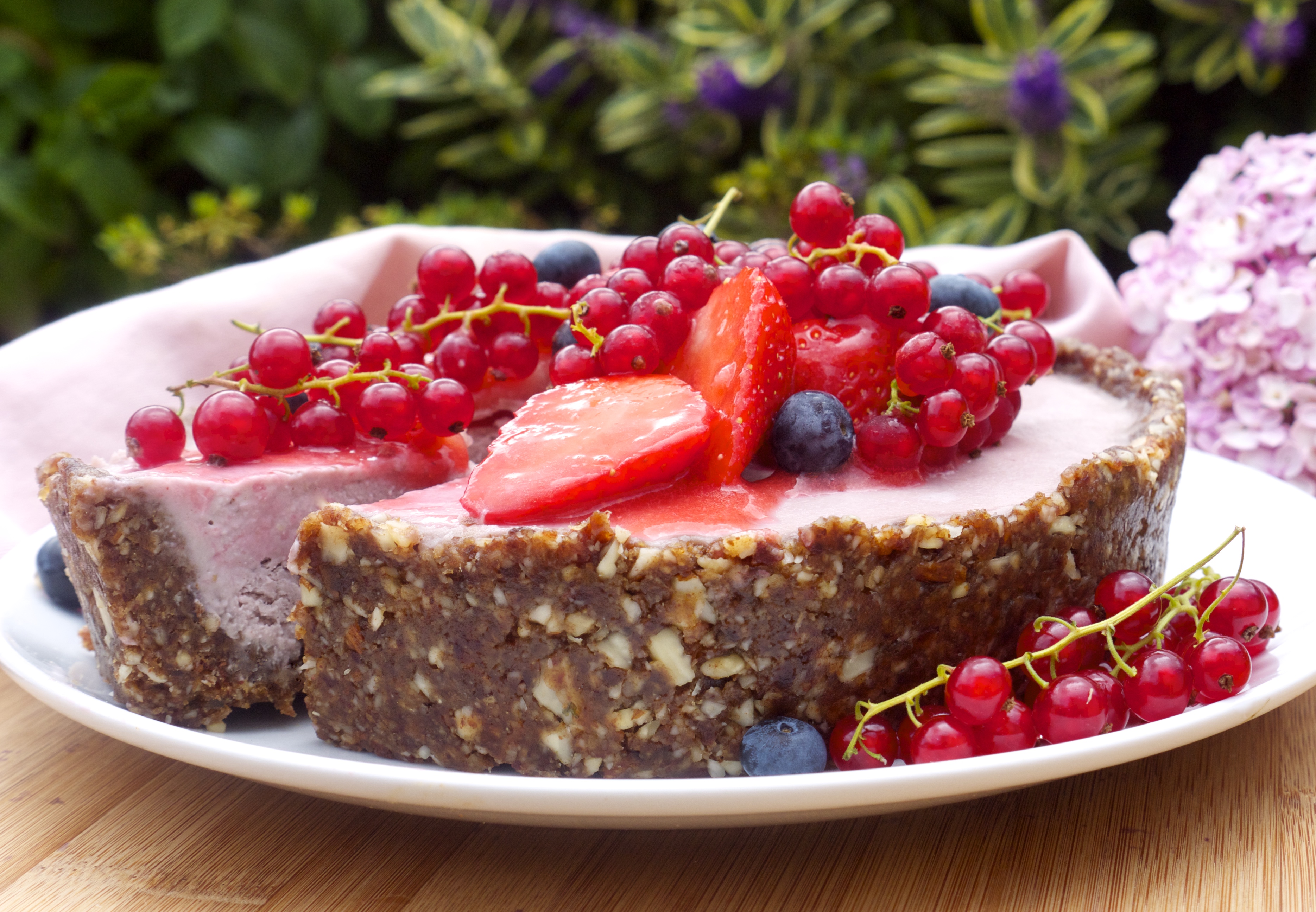 The cheesecake's decoration couldn't have been easier either, as fresh berries make the perfect sweet, juicy and colourful garnish. Redcurrants always make dishes look so festive and they're jam-packed with antioxidants too.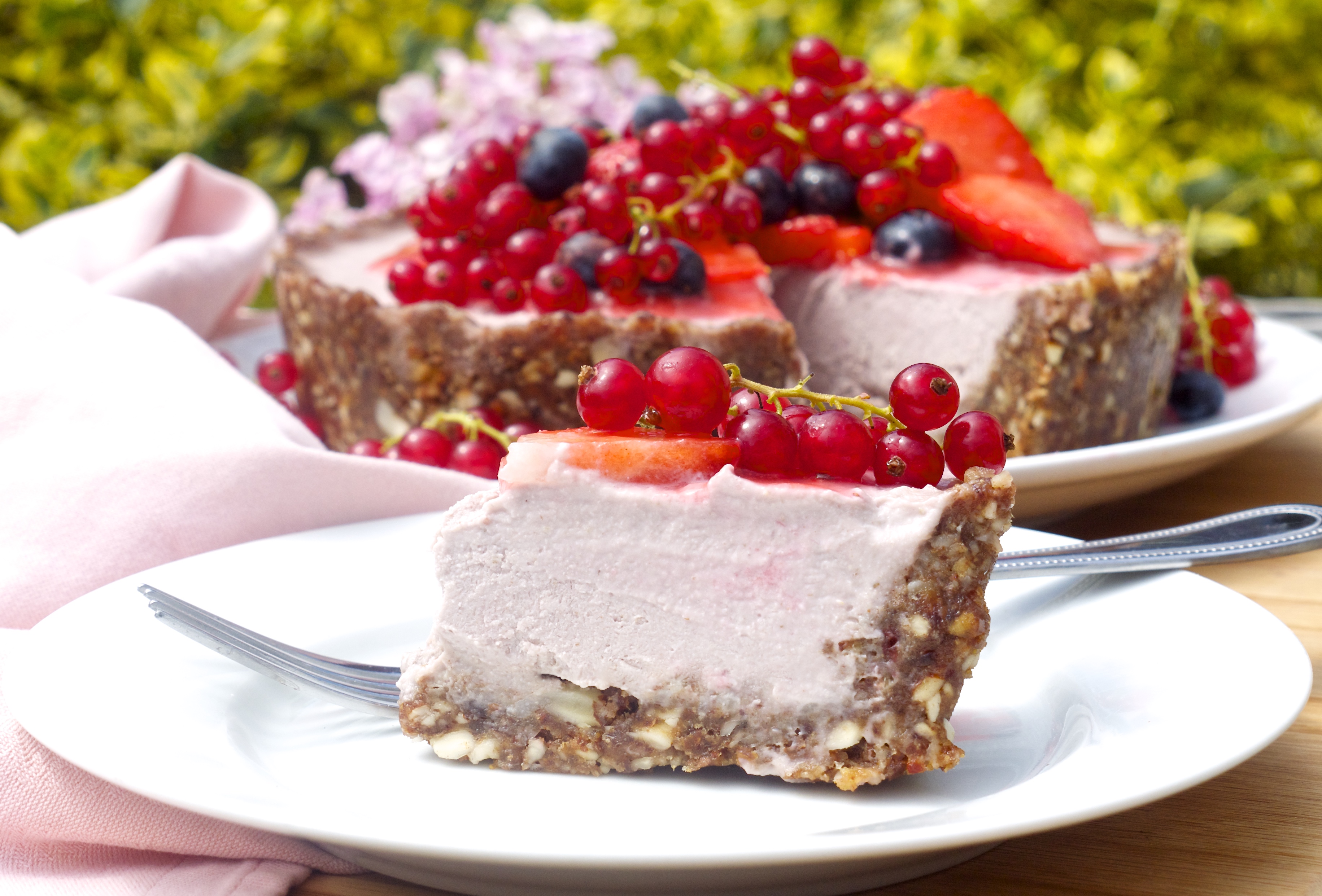 I even blitzed 5 fresh strawberries with a splash of cold water to make a simple strawberry sauce, which I drizzled on top for a little extra colour.
It really makes an amazing dessert to bring along to summer parties, events, BBQs and gatherings, as it's so fresh, healthy and created for everyone to enjoy.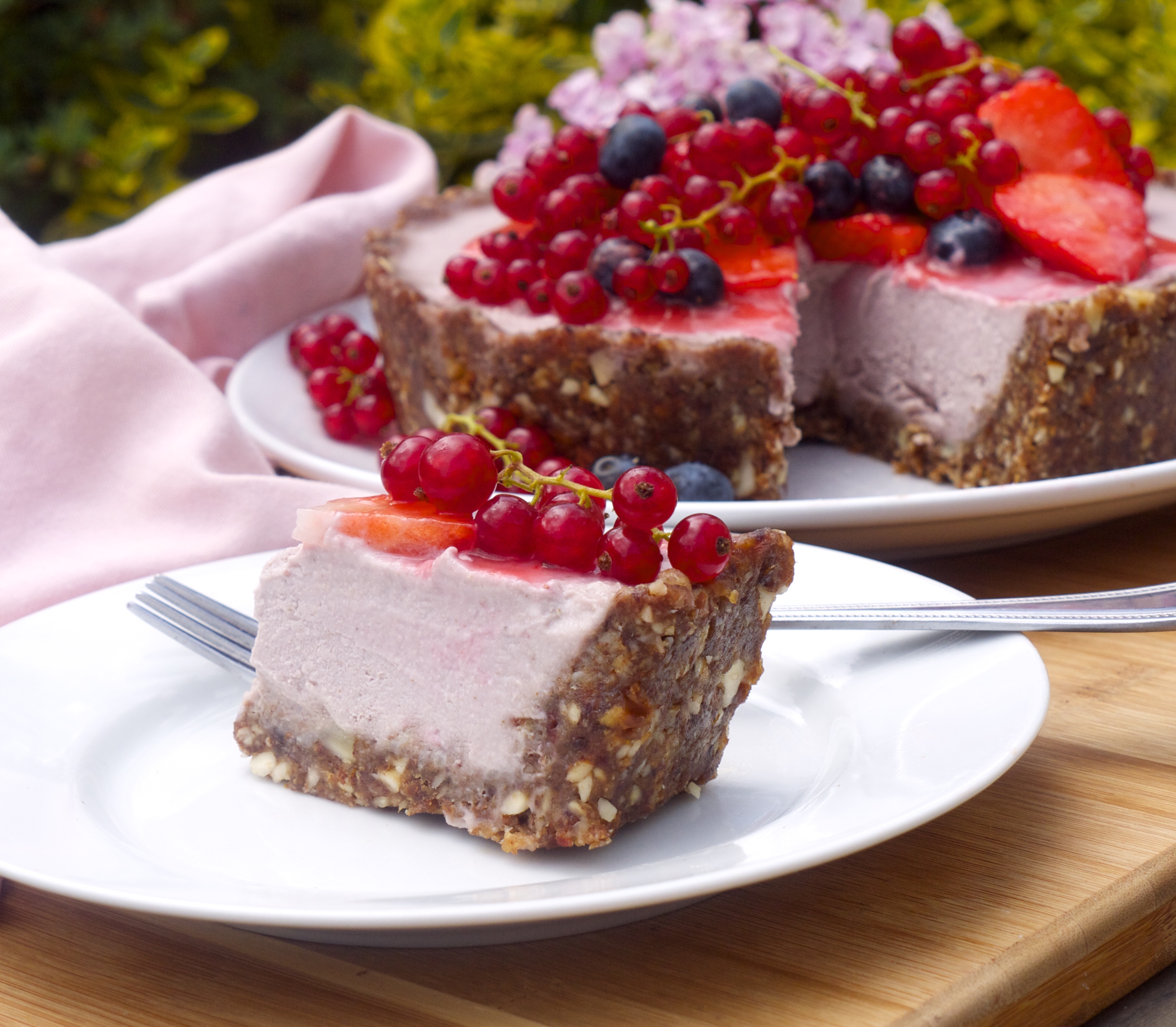 I would love to know if you get a chance to make this Strawberry Cheesecake! Simply tag #RosannaDavisonNutrition on Instagram or Twitter or come on over to my Facebook to say hello 🙂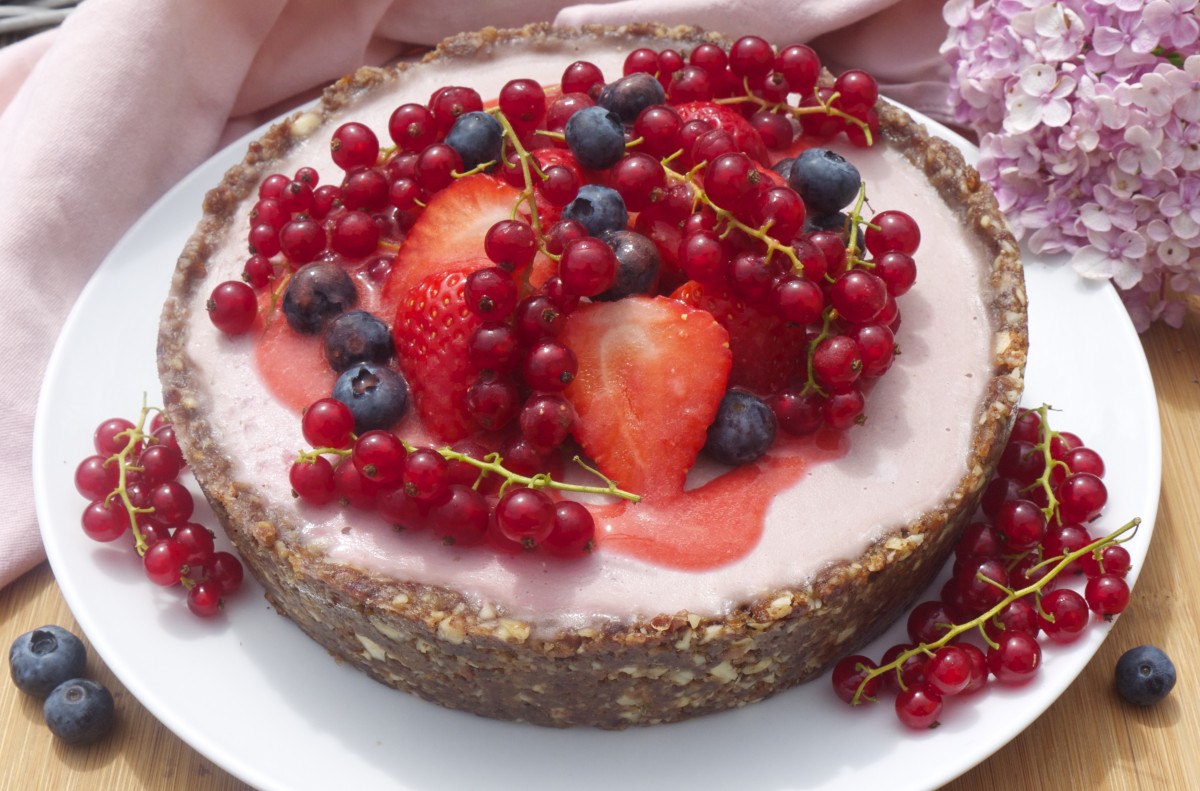 Strawberry Cheesecake
2016-07-08 17:12:07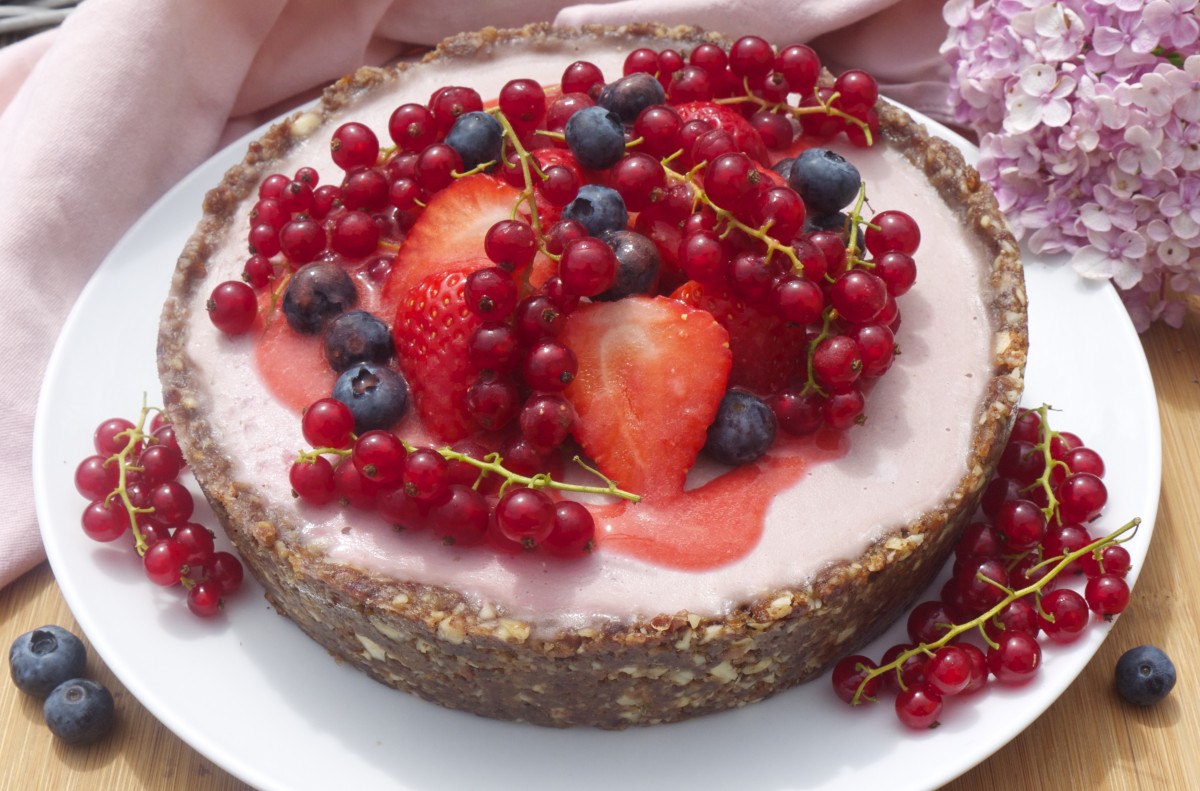 Serves 12
A creamy, fruity and delicious summer strawberry cheesecake. Raw, free from sugar, gluten and dairy and made from wholesome ingredients, it's perfect to bring to summer parties and gatherings. Nutrition information per serving: 337 calories, 7.2g protein, 31.2g carbs, 23.1g fat, 2.4g fibre.
For the Base
250g dates, pitted and soaked for 20 minutes in hot water to soften
150g raw unsalted almonds
50g raw unsalted walnuts
1 tsp vanilla extract
2 tbsp peanut butter or almond butter (or your favourite nut/seed butter)
1 tbsp coconut oil
For the Cheesecake Filling
2 cans of full-fat coconut milk, chilled overnight in the fridge
200g fresh strawberries, rinsed and hulled
1/2 a ripe avocado, pitted and peeled
2 tbsp coconut oil
150g raw unsalted cashews, soaked in cold water for 10-15 minutes
5 tbsp maple syrup or honey
2 tsp vanilla extract
dash of unsweetened almond milk, to blend
A drop or two of beetroot powder or natural red food colouring to increase the pink colour of the filling (optional)
To serve: fresh berries
Instructions
To make the base, drain the soaked dates and place them in a food processor with the almonds, walnuts, vanilla, nut butter and coconut oil.
Combine well until a thick, sticky 'dough' forms.
Transfer the dough into an 8" diameter circular springform cake tray or silicon container.
Use your fingers to mould the base in the tin, bringing it up the edges and pressing it well into the container until smooth and even.
Place the base in the freezer to set while you make the filling.
To make the filling, gently open the chilled cans of coconut milk. The coconut cream should have separated from the water and hardened at one end of the cans. Use a tablespoon to scoop out 6 tablespoons of the hardened coconut cream and place it into a blender or food processor.
Add in the strawberries, avocado, coconut oil, soaked and drained cashews, maple syrup and vanilla extract.
Blend the ingredients at high speed, adding a dash of almond milk to help blend if necessary. You may need to stop and scrape down the edges a couple of times. The cheesecake filling should end up as smooth as possible and very similar in texture to thick yoghurt.
Remove the base from the freezer and pour in the filling, ensuring the top is smooth and even.
Place back into the freezer and allow it to set for at least 2-3 hours. I like to set it without freezing it too much, as larger ice crystals may form in the filling if it's left in too long.
When it has set, remove it from the freezer and decorate with fresh berries. I used sliced strawberries, blueberries and redcurrants for plenty of colour and flavour. I also blended up 5 strawberries with a little cold water to create a strawberry sauce to drizzle over the cake.
Keep the cheesecake chilled in the fridge until ready to serve.
Notes
Leftovers can be stored in the fridge for 2-3 days or frozen for up to 6 months.
Rosanna Davison Nutrition https://www.rosannadavisonnutrition.com/