This is a deliciously warming and easy dish, plus it's a cheap and filling option for families, students and anyone watching the pennies. Kids will love the natural sweetness of the butternut squash and peppers.
Orange, red and green veggies are full of carotenoids and other important antioxidants to support health and the immune system. Beta-carotene, which gives the squash and peppers their vibrant colour, is especially important for bright healthy eyes, good vision and glowing skin.
I added in red lentils and spinach for a healthy dose of plant protein, and finished off the dish with raw pumpkin seeds. Beta-carotene is better absorbed by the body in the presence of a little dietary fat, so seeds, nuts or avocado are great additions to a colourful veggie dish.
The chopped mushrooms give it a meatier texture, but can be left out if you don't like them. I find people either really love or really hate them!
Onion and garlic aren't just tasty additions to the dish, they have sulphur-containing nutrients to boost liver detoxification. This stew is great on its own or served with quinoa or brown rice for hungrier tummies.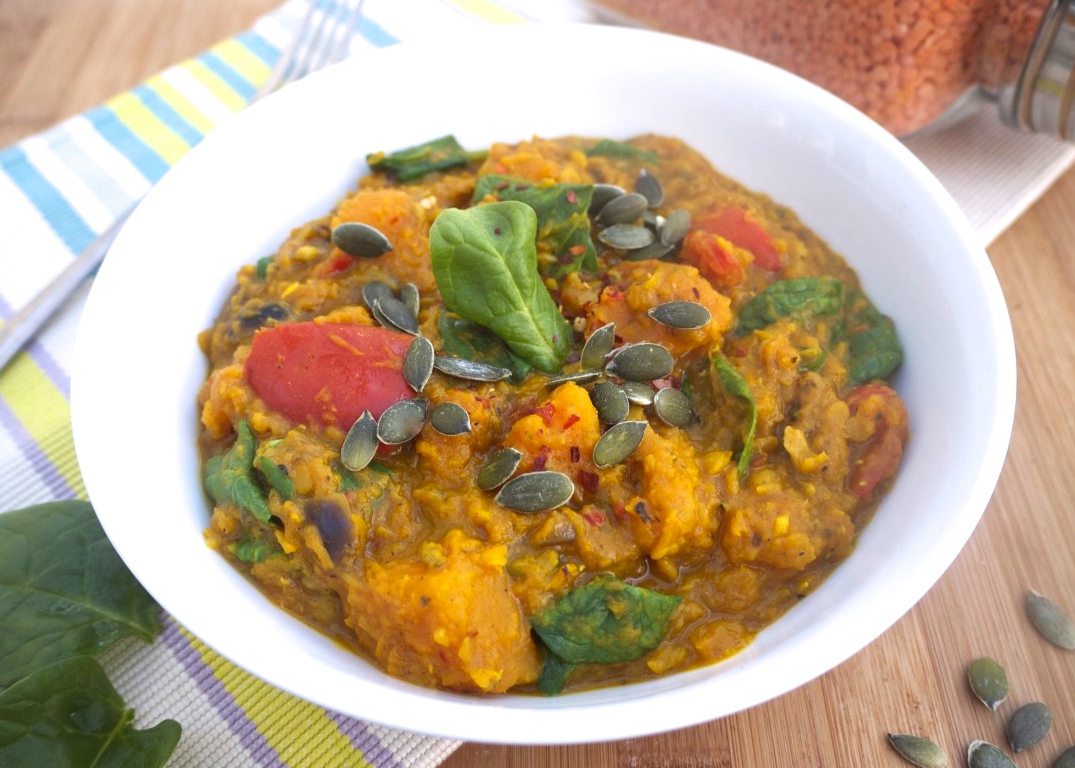 Roast Butternut Squash and Spinach Stew
2015-03-04 23:05:25
Serves 4
A healthy, filling and easy meal that can be prepared in larger batches. Great for families, students and anyone on a budget!
Ingredients
coconut oil, to grease
1 butternut squash
1 low-sodium stock cube
500ml hot water
1 tsp coconut oil
1 medium red onion, diced
1 clove garlic, minced
1 tsp fresh root ginger, grated
2 red bell peppers, chopped
70g (one cup) mushrooms, sliced
4 heaped tbsp red split lentils
60g (2 cups) baby spinach
120ml (1/2 cup) low-fat coconut milk
1 tbsp curry powder
1 tsp turmeric
1/2 tsp smoked paprika
1/2 tsp cumin powder
Pinch of dried chilli flakes, to taste
Salt and pepper, to taste
Instructions
Preheat the oven to 200C
Wash the butternut squash and place it in the oven on a lightly greased baking tray.
Roast it for 20-25 minutes until softened and gently browned on the outside.
Dissolve the vegetable stock cube in 500ml hot water.
Remove the squash from the oven and allow it to cool for 10 minutes before removing the skin and pulp and cutting the flesh into bite-size chunks.
In a large saucepan over a medium heat, heat up the coconut oil and sauteé the onion, garlic and ginger until they begin to turn brown and caramelise.
Add the chopped mushrooms, peppers and squash. Stir for 1-2 minutes.
Add the vegetable stock and bring to the boil for 2 minutes.
Turn down the heat to a simmer, add the lentils, coconut milk, spices and seasoning.
Partly cover with the lid and allow the stew to simmer for 15-20 minutes until much of the liquid has evaporated, creating a thick stew. Stir regularly to avoid letting it burn.
Remove from the heat, take off the lid and stir in the spinach, allowing it to wilt.
Taste and season, if desired.
Serve with a side of quinoa, brown rice, millet or a big green salad
Notes
Any leftovers will store in a covered container in the fridge for 2-3 days.
Rosanna Davison Nutrition https://www.rosannadavisonnutrition.com/