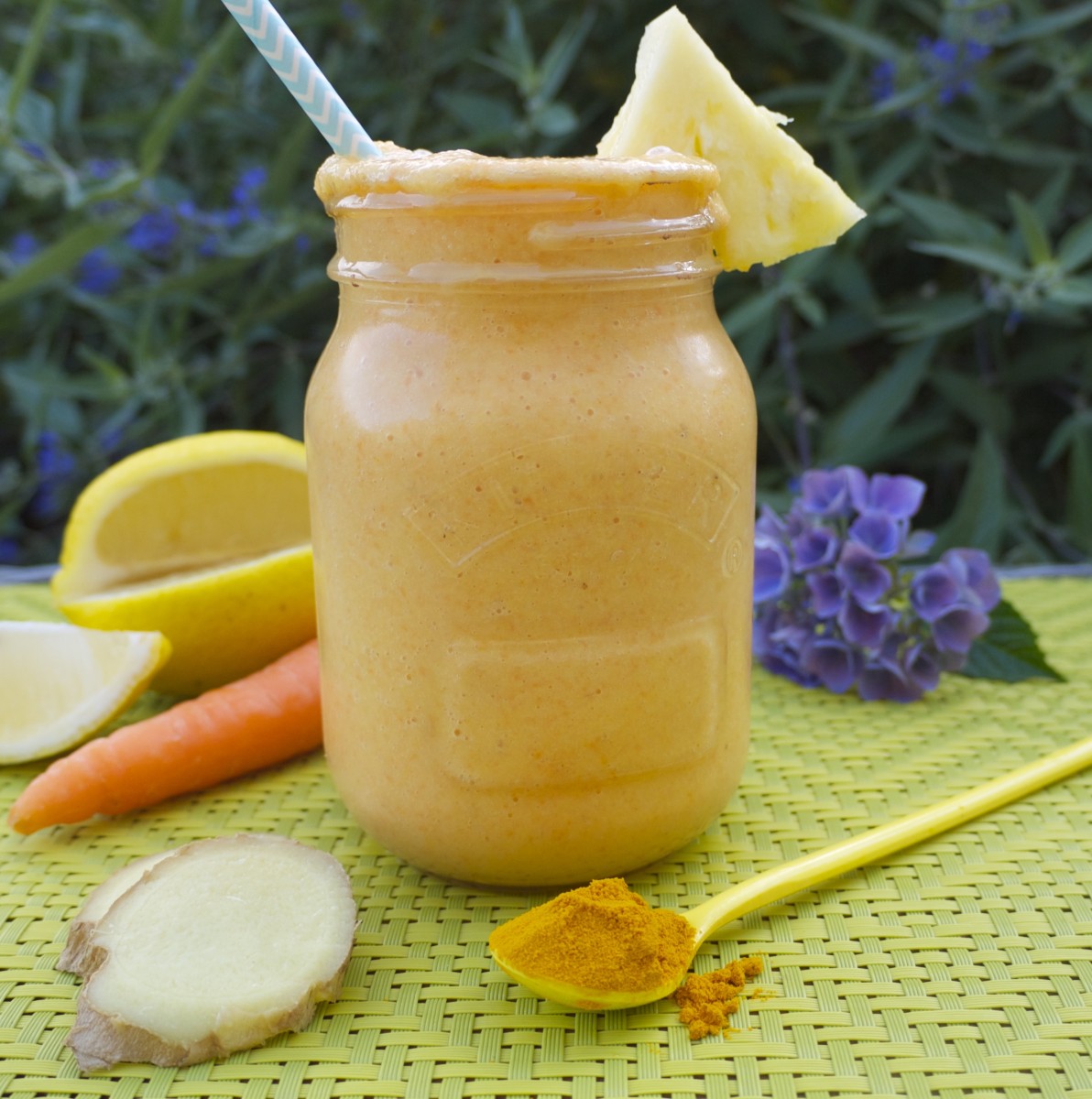 This anti-inflammatory carrot, ginger and turmeric smoothie is a great example of what functional nutrition is all about. It's food found in its most natural form, with no funny additives or chemicals in sight, that's simple to assemble and tastes great! But most importantly, it contains the natural healing properties needed to help support certain health complaints.
In this case, the turmeric, ginger and pineapple I used to make this smoothie, contain some powerful anti-inflammatory compounds…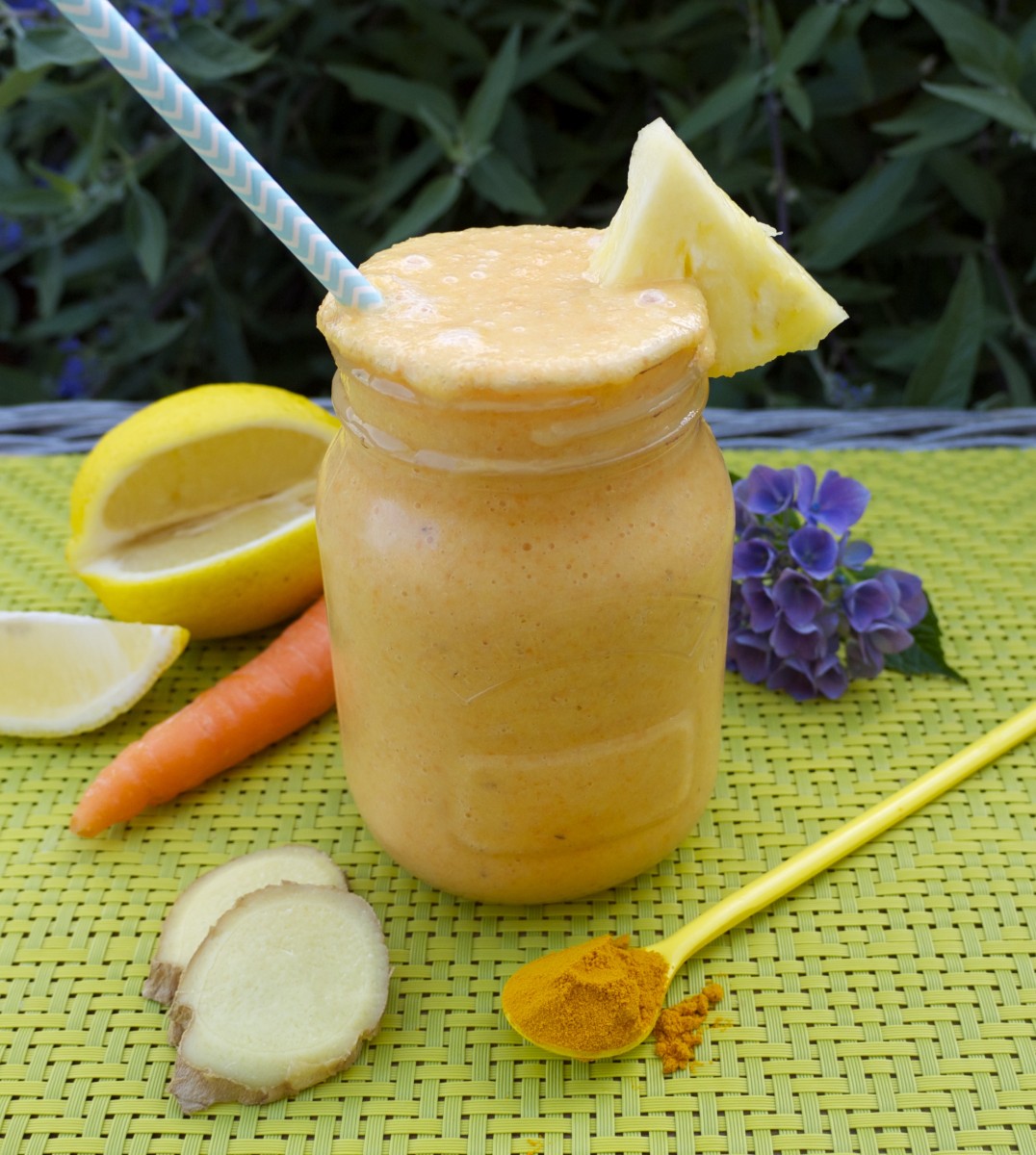 Turmeric has been used as a medicinal spice in India for centuries, and its anti-inflammatory compound is called curcumin. It helps to powerfully inhibit the many underlying factors that cause inflammation in the body, whether it's tenderness in your muscles, joints or even inflammatory skin conditions including acne and psoriasis.
Ginger contains powerful bioactive compounds called gingerols, which is why so many people suffering with osteoarthritis or rheumatoid arthritis report noticeable improvements in their pain levels when they consume ginger on a regular basis. It also really helps to boost digestion and soothe nausea.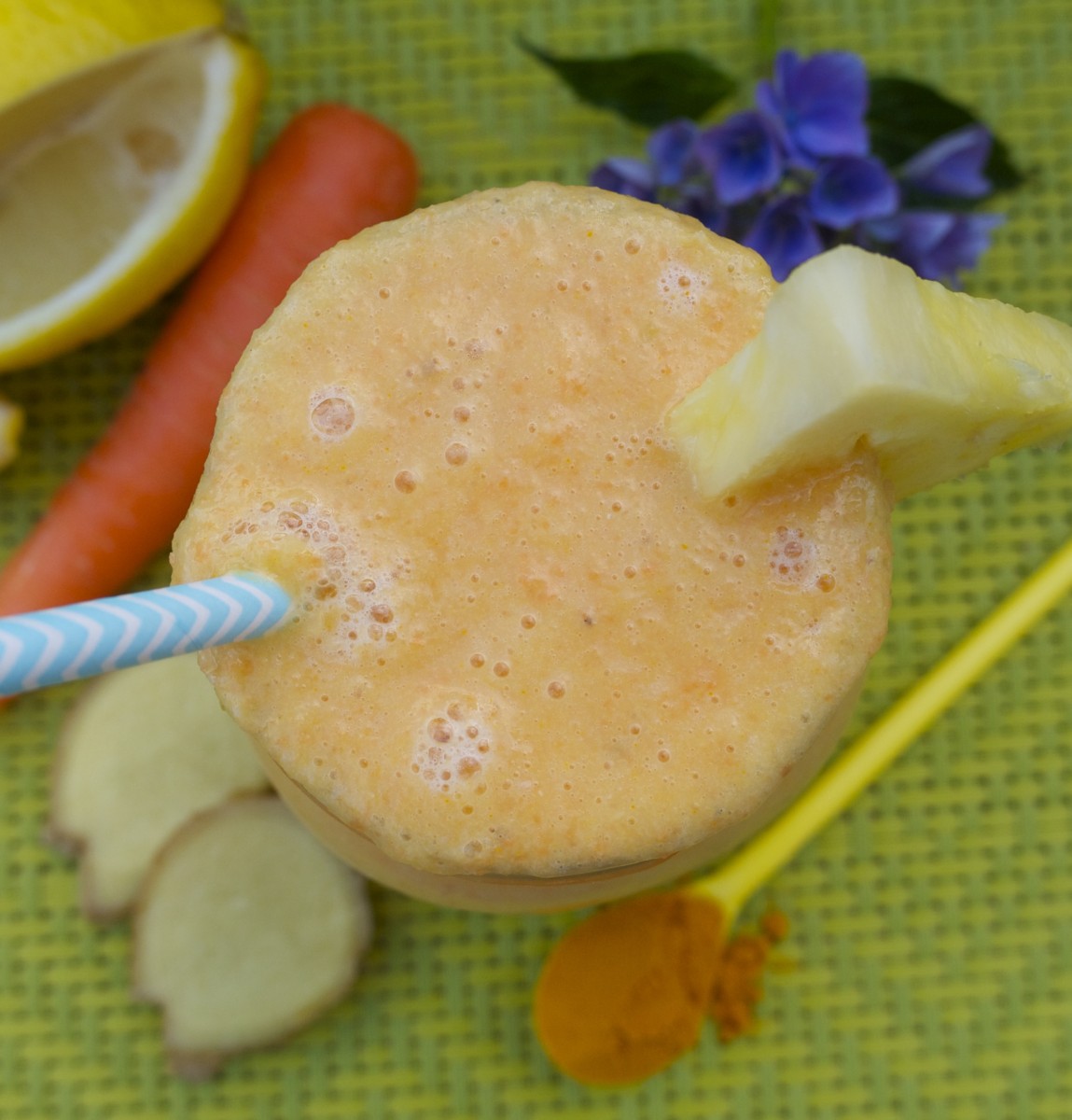 Pineapple contains a 'proteolytic' enzyme called bromelain, which is also anti-inflammatory and improves digestion by breaking down protein fibres in the food you eat. That's why I often advise people to eat a bit of pineapple before a cooked meal, as it helps to digest the food so much better. But make sure you use the core of the fruit, as that's where most of the bromelain is found! Pineapple makes a great addition to smoothies as you can pop in the core too.
The carrot, frozen banana and lemon juice add another dose of beta-carotene and vitamin C for glowing, supple skin, vitamin B6 to improve your mood, and a whole host of other health-promoting and beautifying nutrients! I made this smoothie for myself yesterday because my muscles were feeling sore from training and I wanted them to heal up quickly so I could actually make it downstairs like a normal person and not do a crab walk! It was fruity, refreshing and I'm in way less pain today. Result! 😉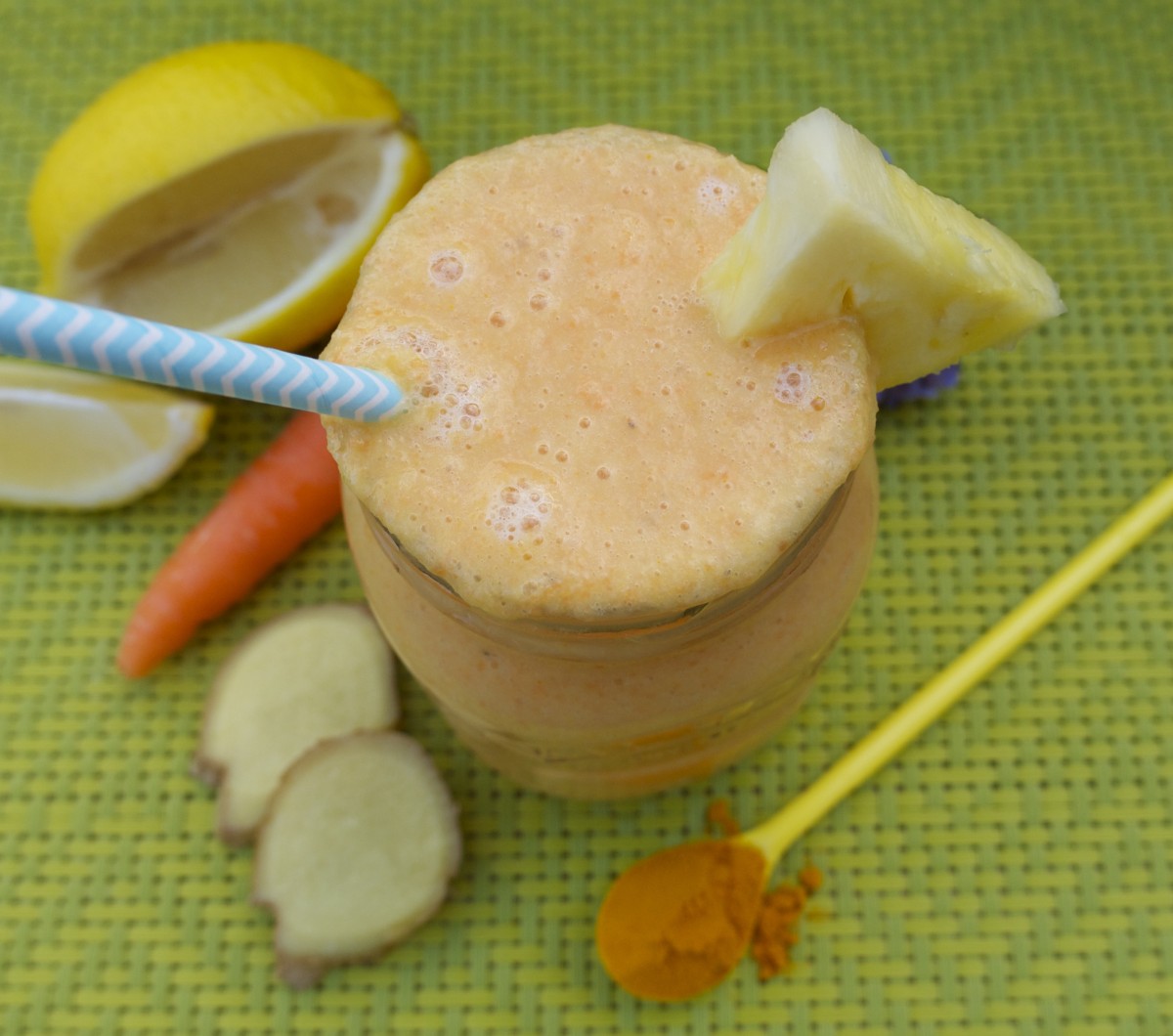 Let me know if you give this anti-inflammatory carrot, ginger and turmeric smoothie recipe a go and I love to see all your creations on social media! Simply tag #RosannaDavisonNutrition on Instagram or Twitter or come on over to my Facebook to say hello 🙂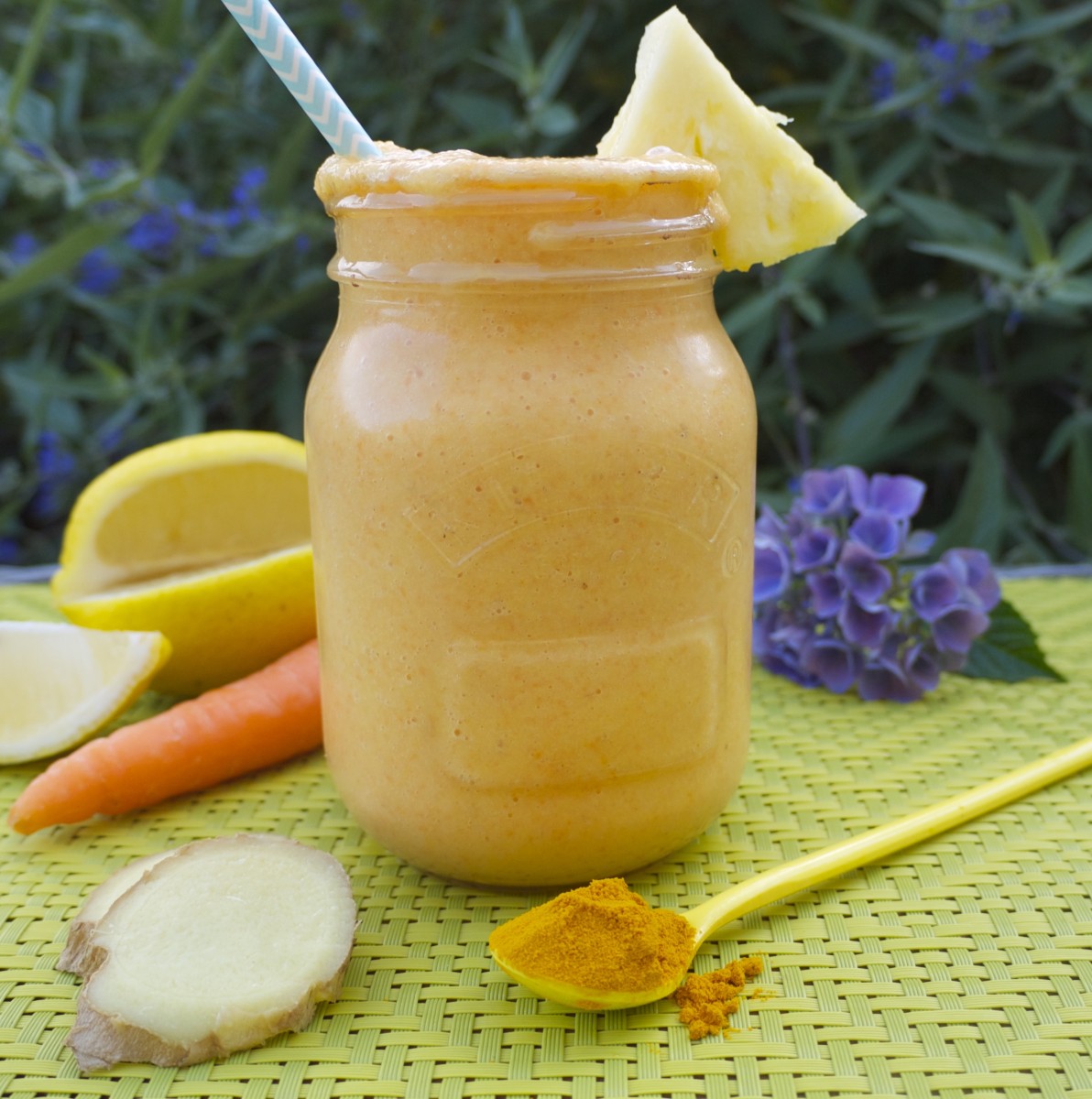 Anti-Inflammatory Carrot, Ginger and Turmeric Smoothie
2015-08-17 20:09:55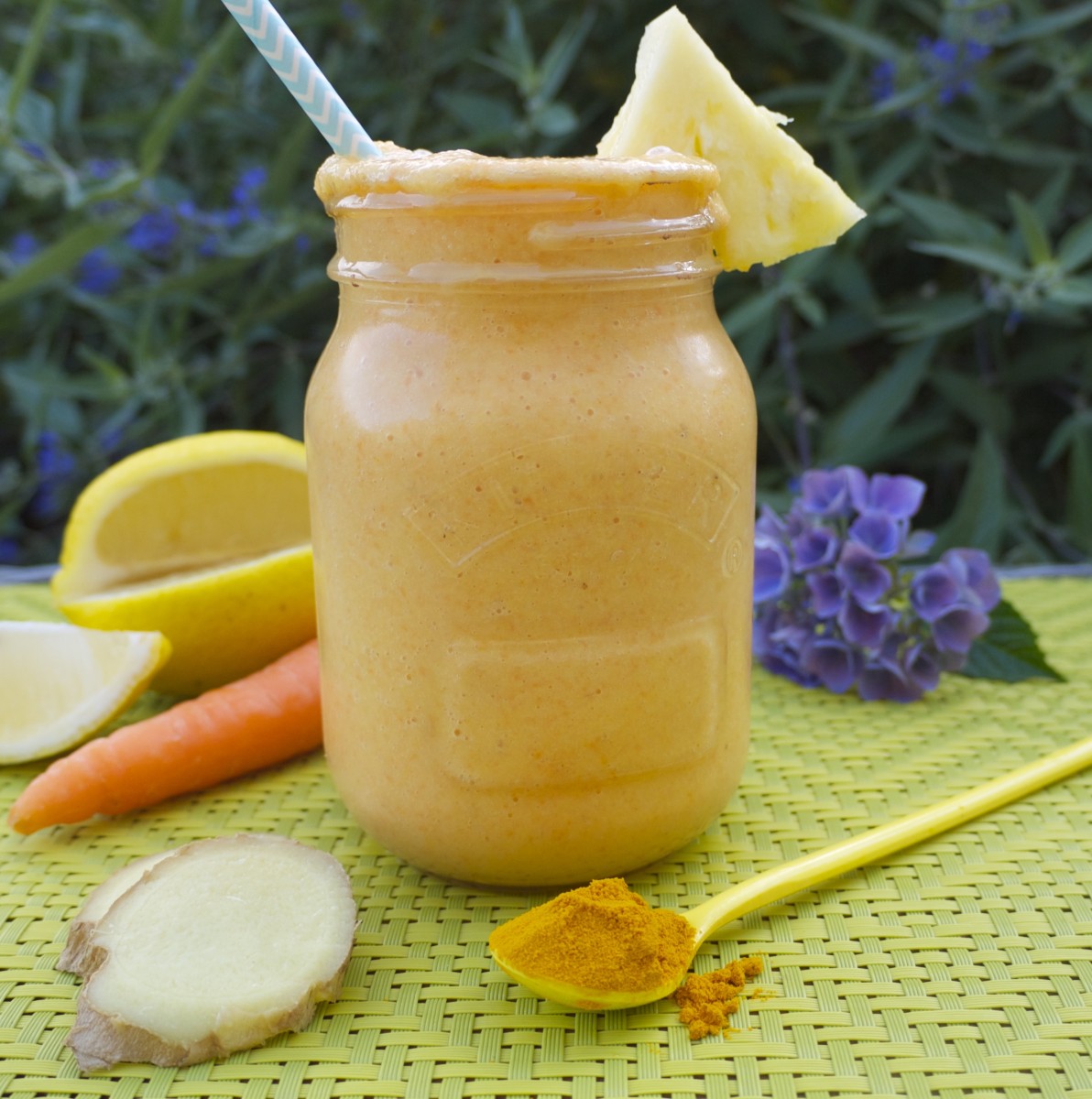 Serves 1
A deliciously fruity smoothie with powerful anti-inflammatory properties to help soothe pain and inflammation.
Ingredients
125ml (1/2 cup) unsweetened almond milk
1 medium carrot, peeled and roughly chopped
82g (1/2 cup) fresh pineapple chunks
1 fresh or frozen banana
Juice from a wedge of lemon or lime
1/4 tsp turmeric
1 tsp fresh ginger
2-3 ice cubes
Instructions
Place all ingredients in a blender, beginning with the almond milk. Whizz it up together until smooth and serve chilled.
Notes
Any leftovers can be stored in an airtight container in the fridge for up to 2 days.
Rosanna Davison Nutrition https://www.rosannadavisonnutrition.com/