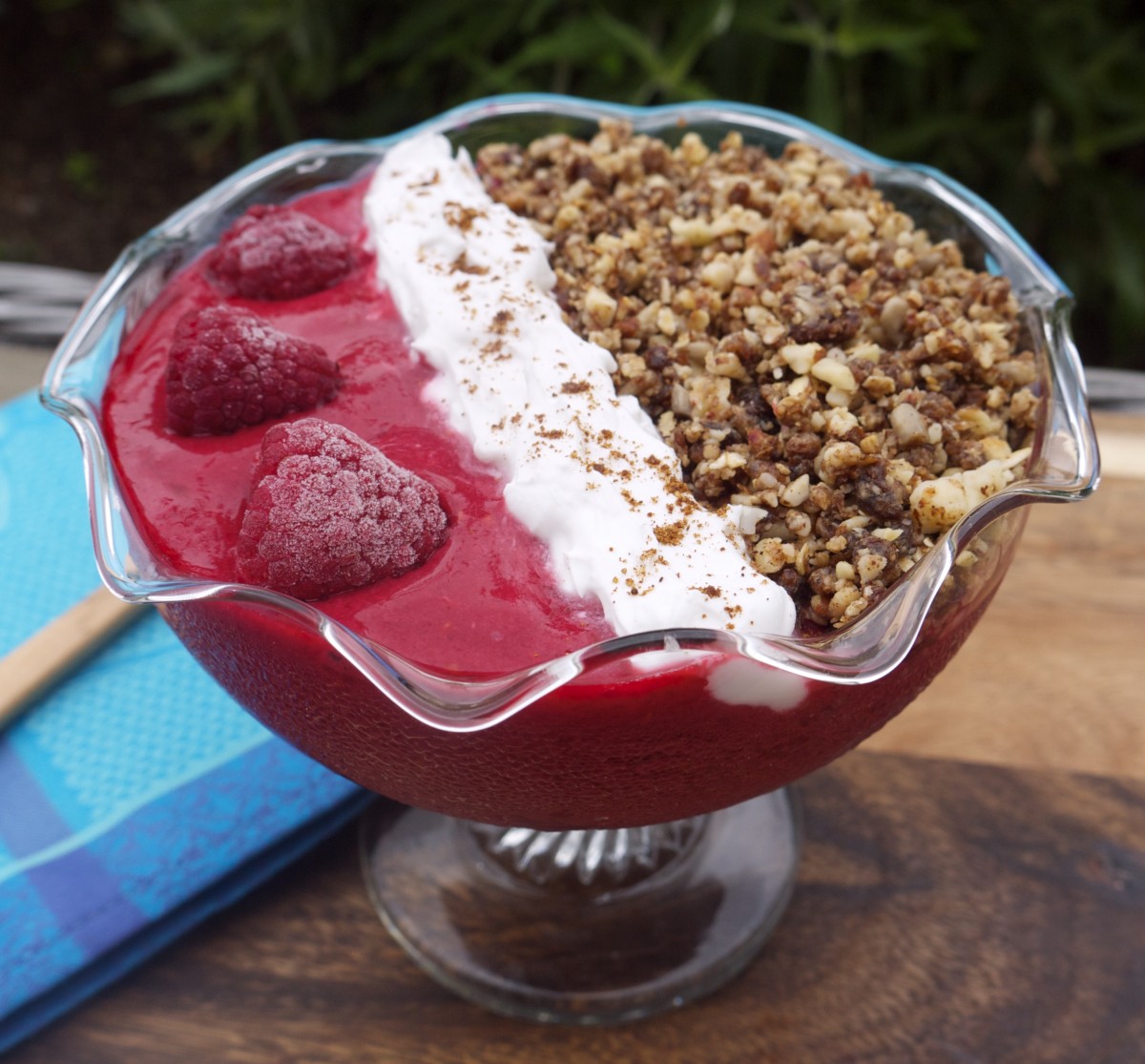 With summer berries in season and so easily available in shops and supermarkets, I've been thinking fondly of the recipes that my mum used to make using the raspberries from her own garden. I used to help her to pick huge baskets of the fruit, which she would then use to make jams and puddings.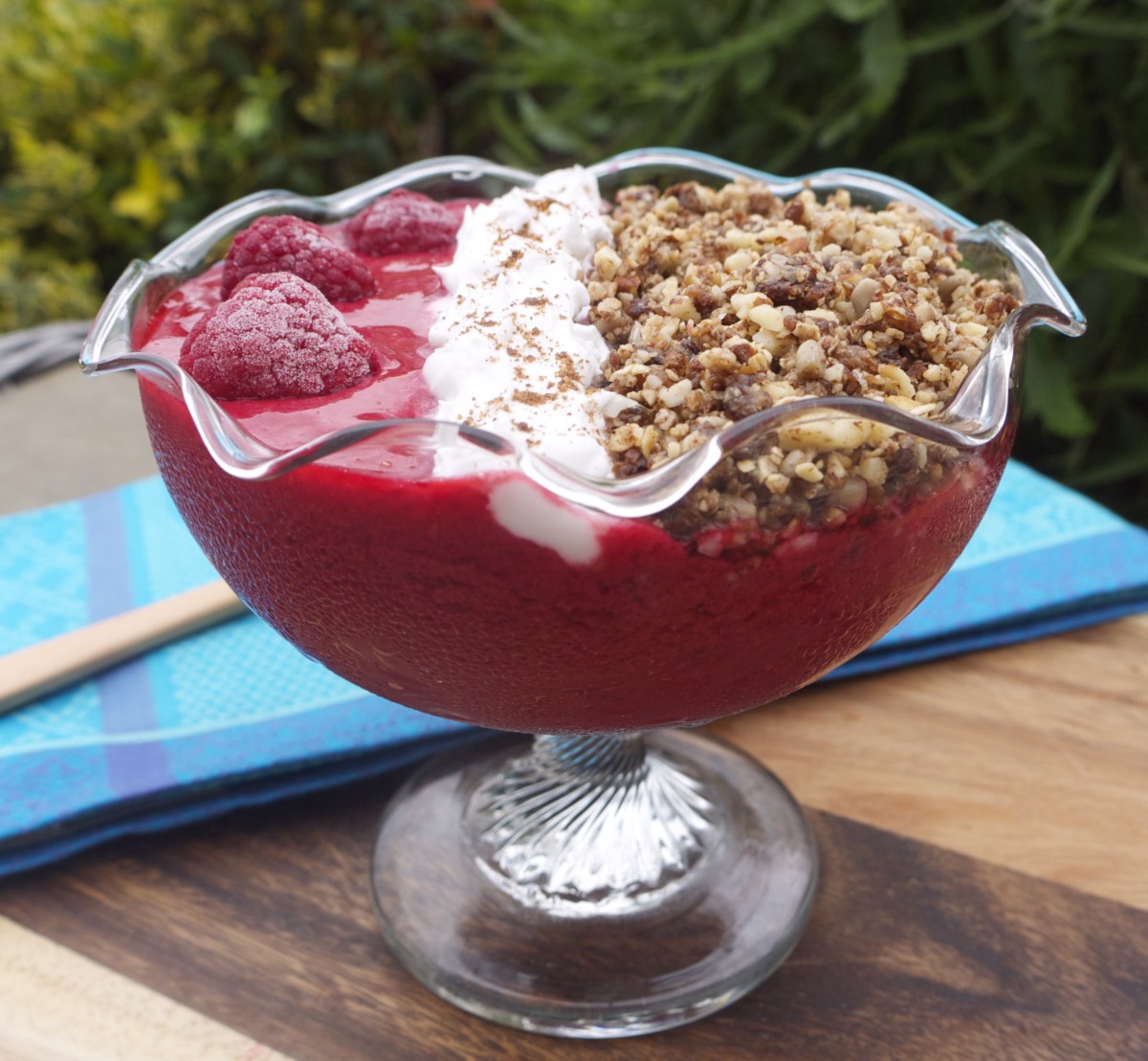 One of my favourite desserts was a raspberry crumble, served with a huge dollop of whipped cream! So I began thinking about how I could make a healthier and preferably raw version… and came up with this creation!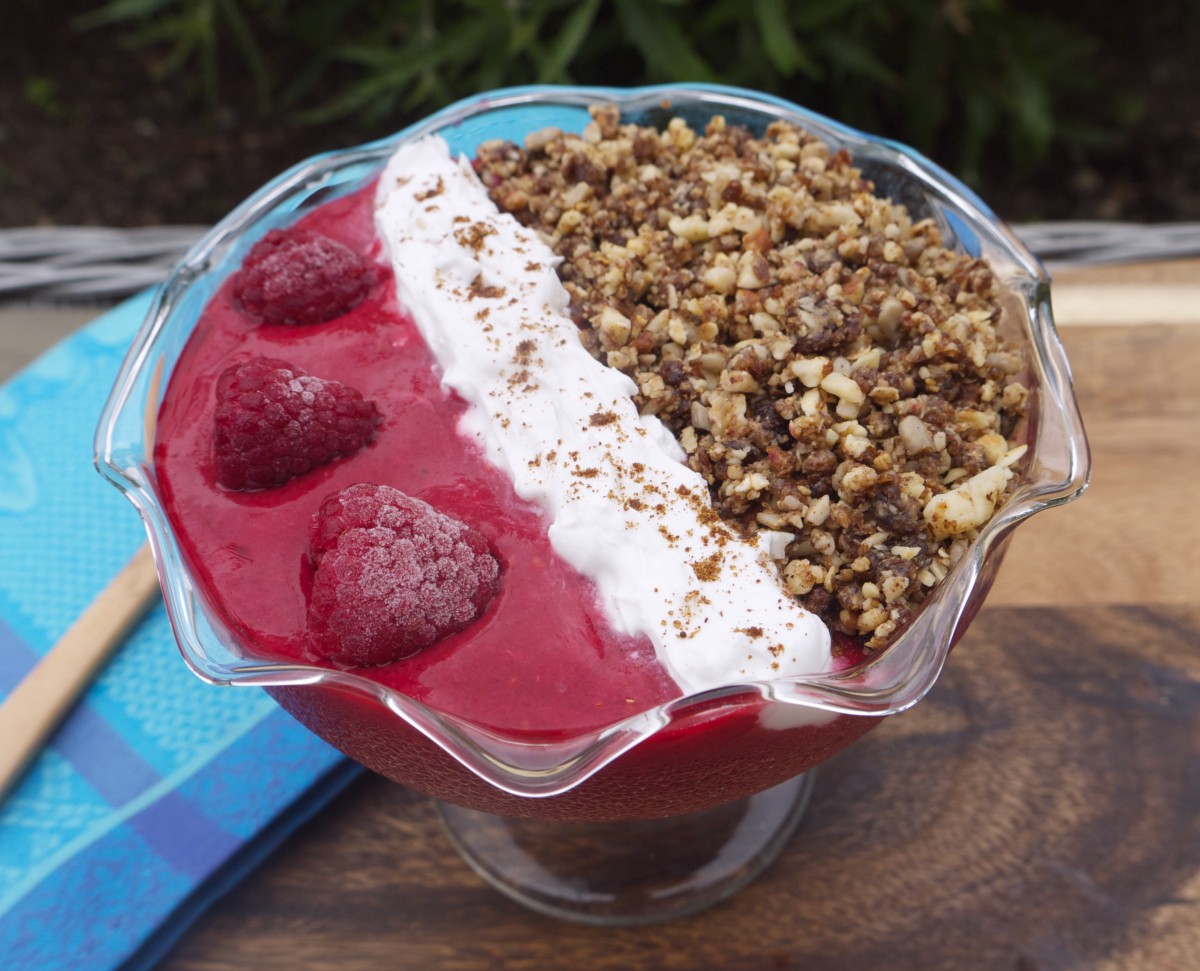 I always keep a few punnets of berries in my freezer, and the smoothie base here is simply frozen raspberries whizzed up in the blender with some banana and ground flaxseed to help thicken it up. I added vanilla to bring out the summery flavour of the raspberries.
But they don't just taste delicious, they're also rich in the antioxidants that help to protect our skin from cellular damage. That's why I eat berries everyday!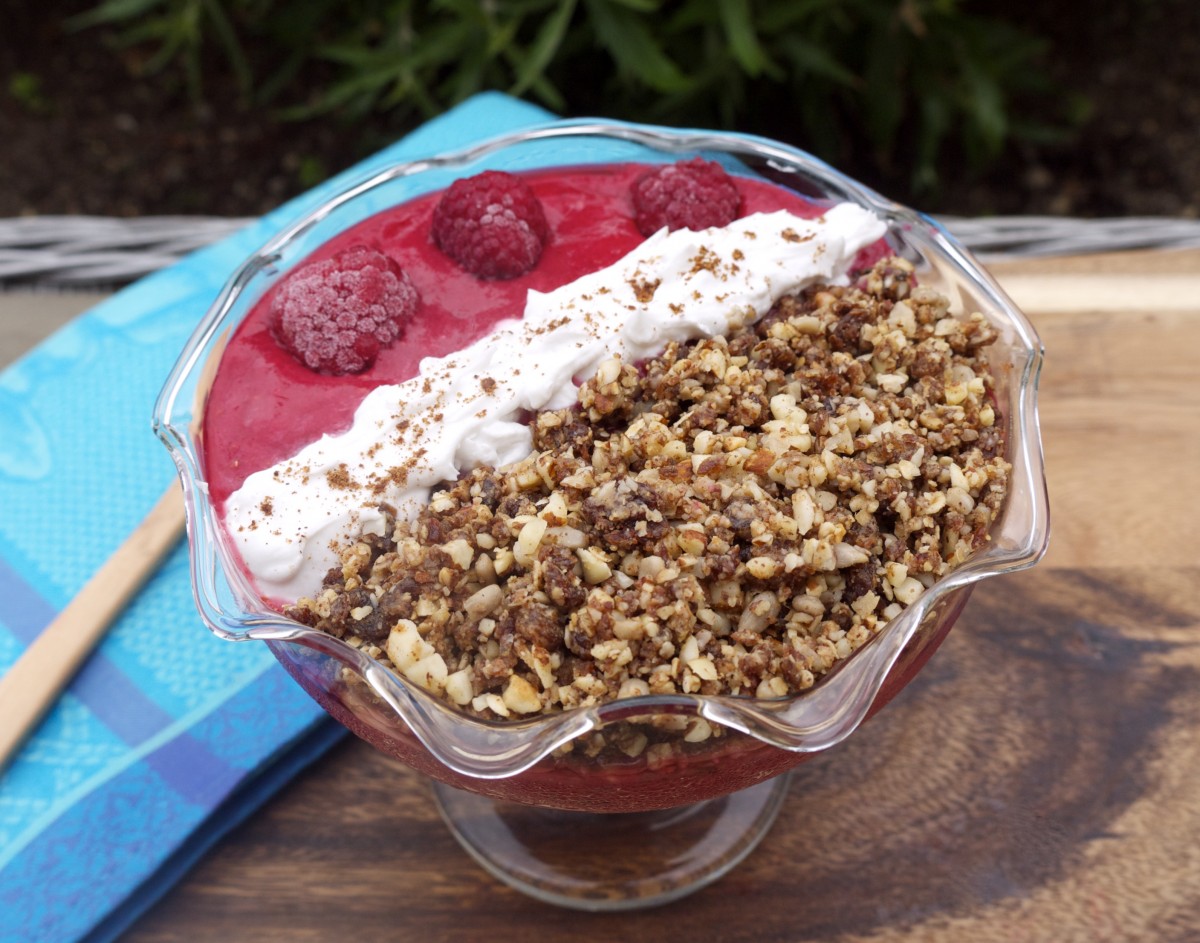 The crumble here is simply made from lightly toasted pecans, raw almonds, sunflower seeds, almond butter, raisins and mixed ground spice, which gives the crumble its fragrant cake taste! The recipe below makes quite a big batch of crumble, but it refrigerates well and can be sprinkled over smoothies or eaten with more coconut milk yoghurt as a granola 🙂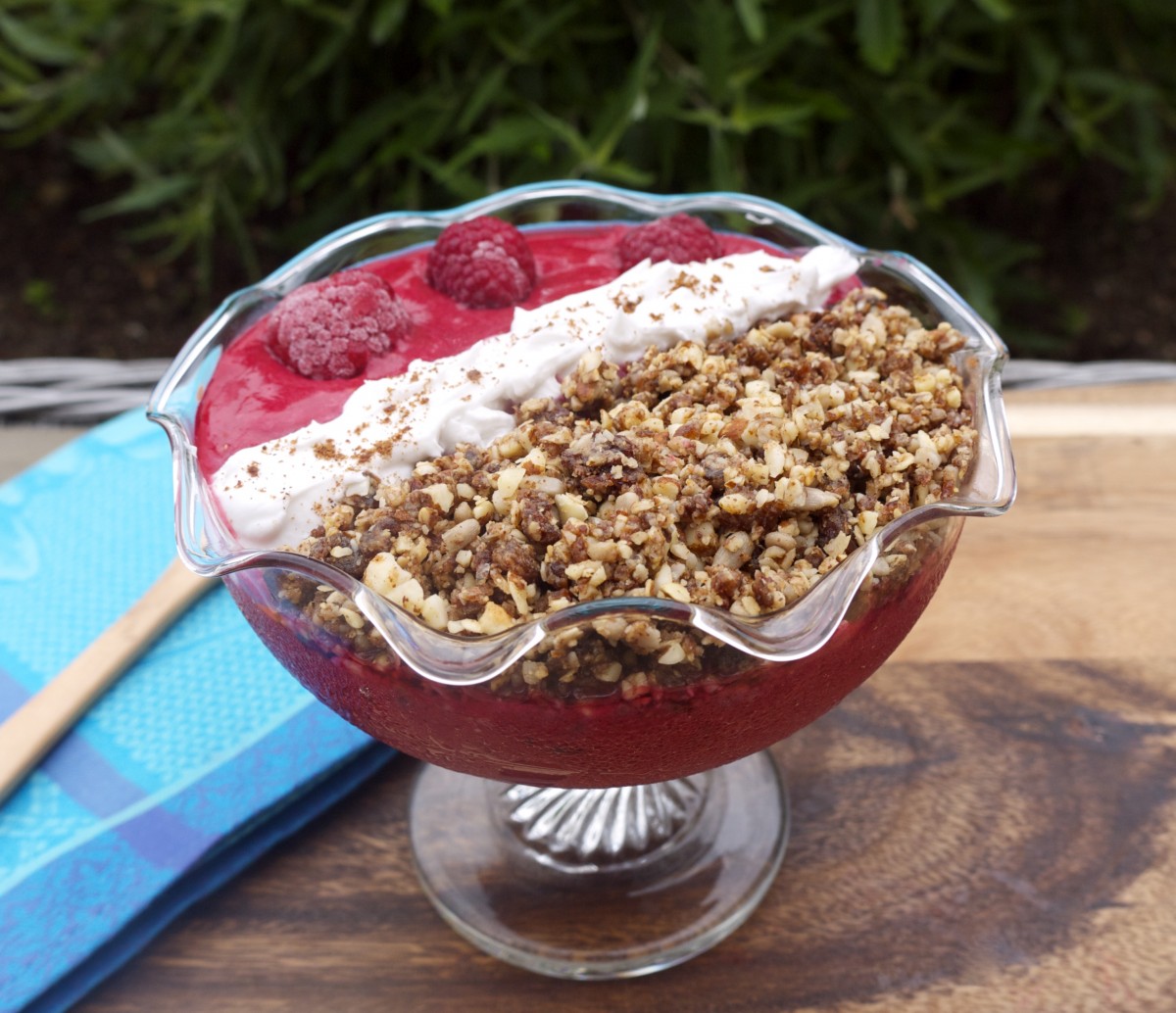 Then rather than using cream, I've added Coyo coconut milk yoghurt, sprinkled with a little cinnamon.
I ate this for breakfast, but it would work just as well as a healthy dessert 🙂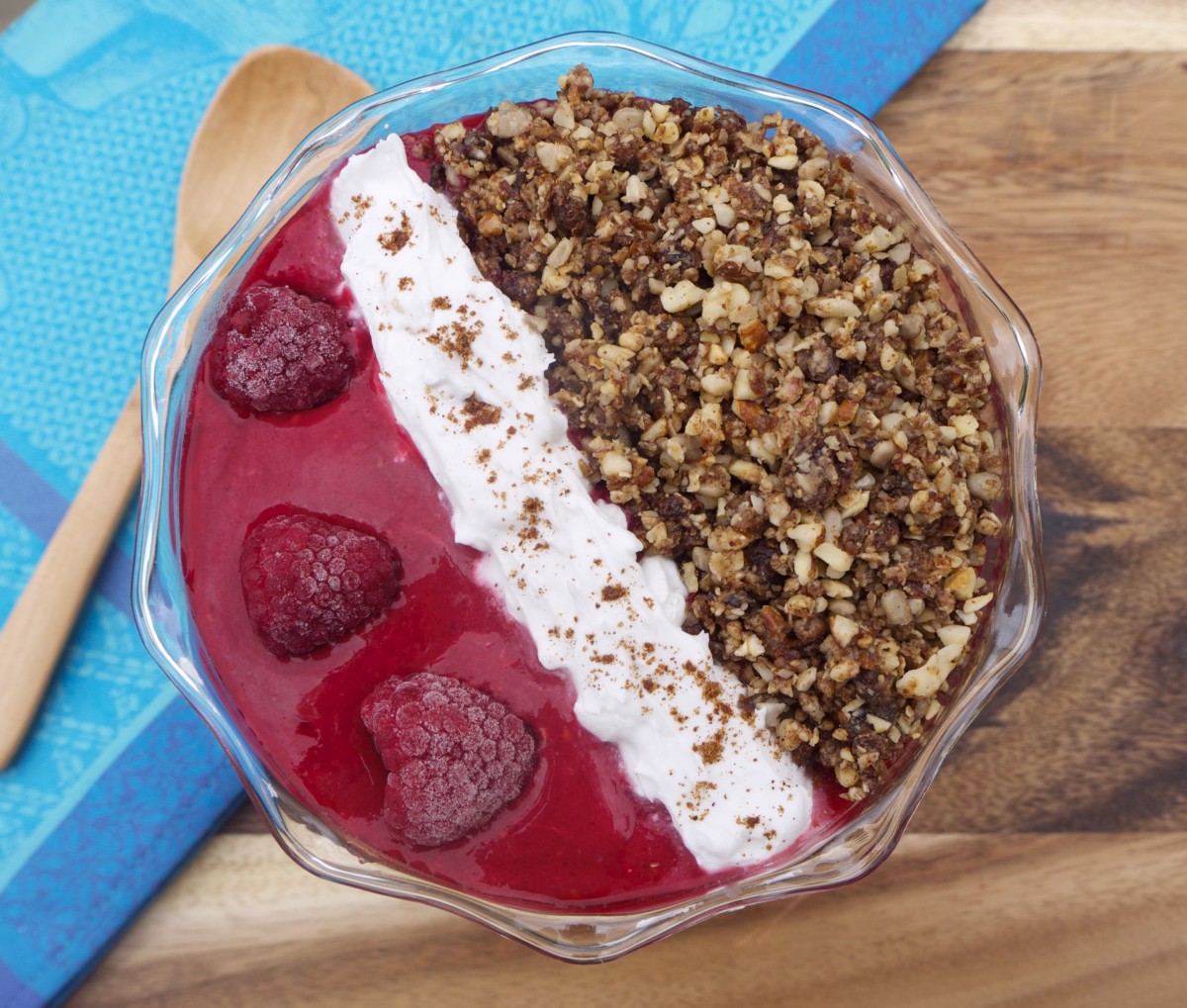 Let me know if you give this smoothie bowl a go and I love to see all your creations on social media! Simply tag #RosannaDavisonNutrition on Instagram or Twitter or come on over to my Facebook to say hello and don't forget to enter my Chia Bia Competition!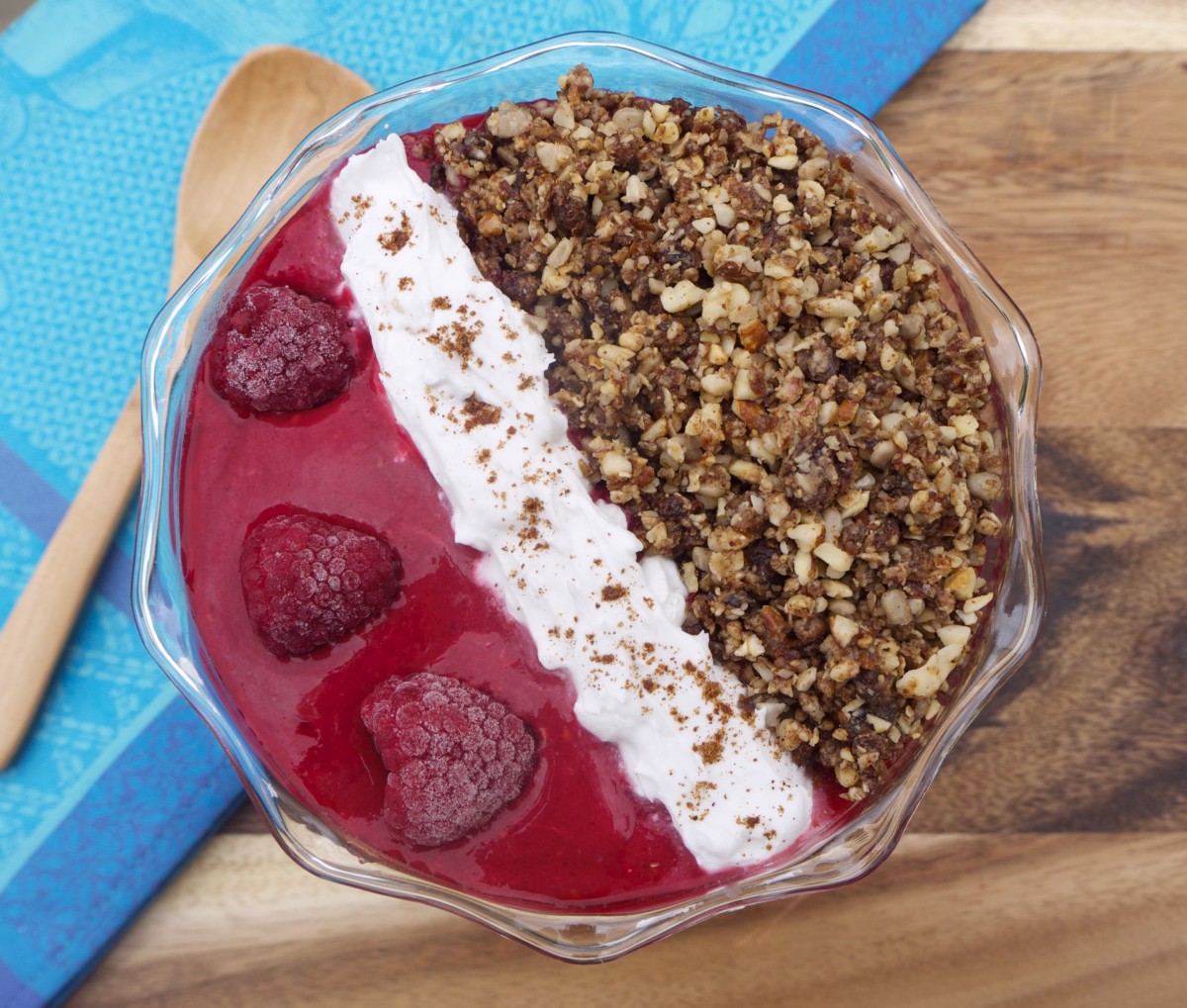 Raspberry Crumble Smoothie Bowl
2015-06-16 14:11:23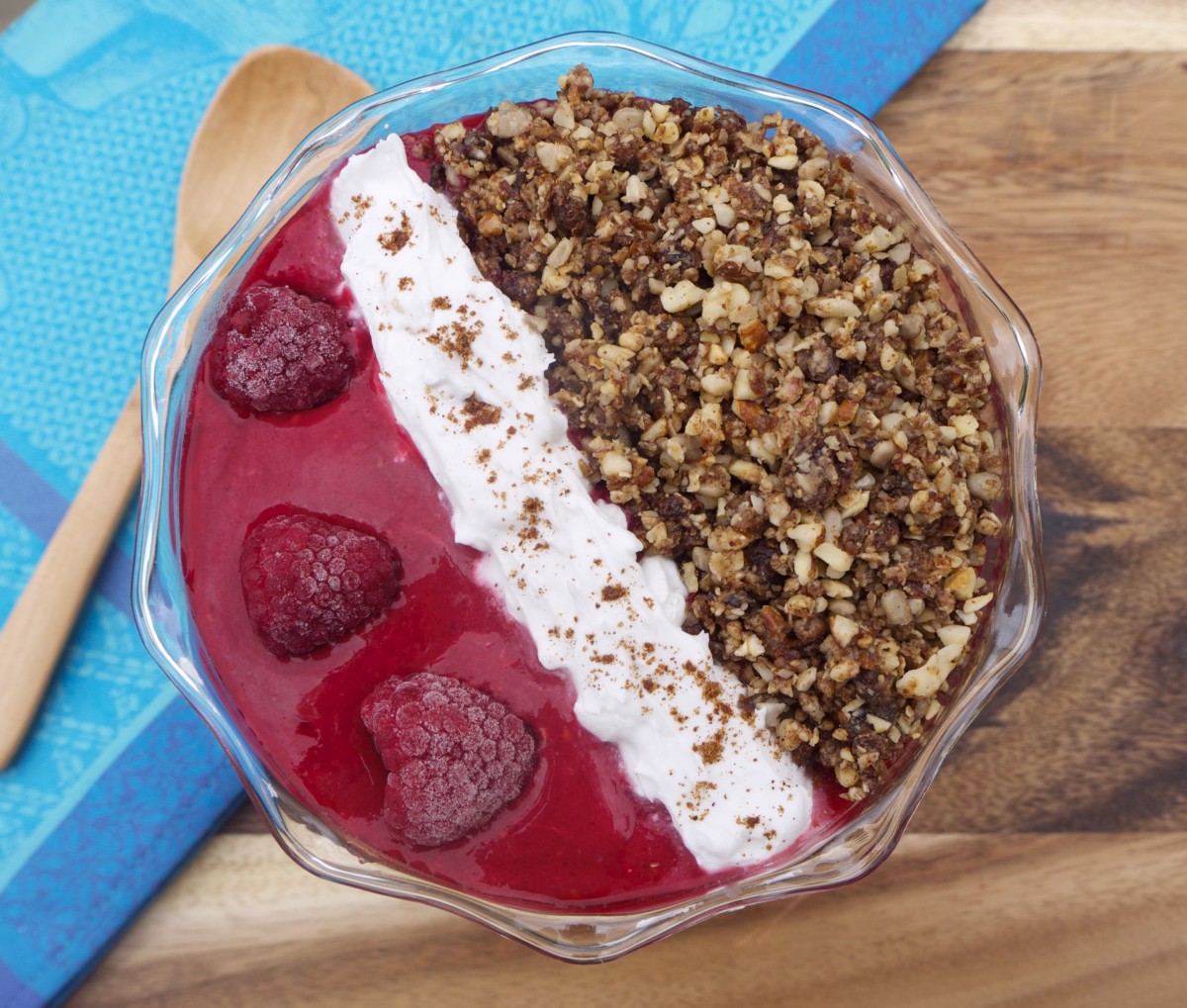 Serves 1
For the smoothie
250g (1 cup) frozen raspberries
1 medium banana
1 tbsp ground flaxseed
1 tsp vanilla extract
splash of unsweetened almond milk, to blend
For the crumble
70g (1/2 cup) whole almonds
30g (1/4 cup) toasted pecans
2 tbsp smooth almond butter
1.5 tsp ground mixed spice
50g (1/3 cup) gluten-free oats
80g (1/2 cup) raisins
2 heaped tbsp sunflower seeds
Coconut milk yoghurt, to serve*
pinch of cinnamon, to serve
Instructions
Make the smoothie by placing all ingredients in a blender and combine until smooth. Use a splash of almond milk to help it blend, if necessary.
Make the crumble by placing all ingredients in a food processor or blender (I used a food processor) and blend until a crumble forms. Taste and add more mixed spice, if desired.
Assemble and serve chilled.
Notes
*If coconut milk yoghurt is unavailable, you can use canned full-fat coconut milk. Allow it to chill overnight in the fridge, then carefully open it up and spoon out the coconut cream, which should have separated from the water. Place a spoonful on top of the smoothie, sprinkle with cinnamon and serve.
Any leftovers can be stored in a covered container in the fridge for 2 days.
Rosanna Davison Nutrition https://www.rosannadavisonnutrition.com/